If you've attended one of the awesome LSC After Dark events recently, you may have spotted the TechnoChic booth, where guests created their own light up flower and bow tie pins. Natasha is the creator and owner of TechnoChic. She is a talented designer who has lived in Jersey City for almost six years. Natasha is currently running a Kickstarter campaign to take her business to the next level. I recently got a chance to sit down with her and chat about her business, life in Jersey City, and how she comes up with her creative ideas.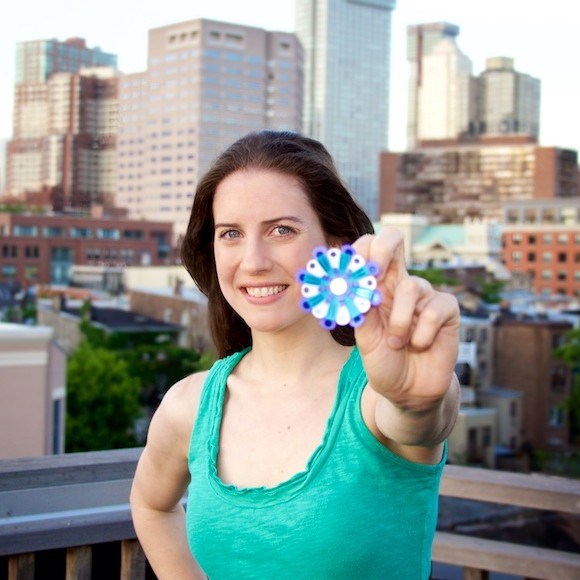 What's your educational/experience background?
I majored in graphic design and advertising for my undergraduate degree. I taught technology for 6 years, and then I went to graduate school for a combination of design and technology at NYU.
When did you start TechnoChic?
I started TechnoChic in 2009 as a jewelry business and it has kept transforming into different things. I started the DIY kits in 2014.
How did you come up with the name?
Technology made fashionable, as in chic fashion/style.
How has the business evolved from jewelry into what it is now?
The first iteration was making jewelry out of circuit boards. As the DIY movement got bigger, I realized I wanted to transition into letting my customers have those DIY experiences with tech.
Did you always like to create things?
Absolutely! I always tell people I think of Michael's as the grades of school– you walk in and there's all the aisles. I feel like I spent about a year in every aisle and I worked my way around the store until I'd done everything there. Now I'm doing tech stuff which is more outside of Michael's. They don't have these types of products there, but hopefully someday they will!
Tell me about the products that you offer through TechnoChic.
The initial product offering was light up pop-up greeting cards. The ideas behind those is that you learn a little bit about building an electronic circuit as well as the folding and math that go into putting together a pop-up book. There are two skill sets there that go together into the hobby kit experience. Those were fun, but after doing them, I realized I wanted to go even simpler so that you could have a product that gets you to the fun light-up part even faster. That's how I came up with the idea for light-up flowers and bow ties. I added the ability to wear them, which is really interesting for a lot of crafters to be able to make something that they can personalize, craft, and wear.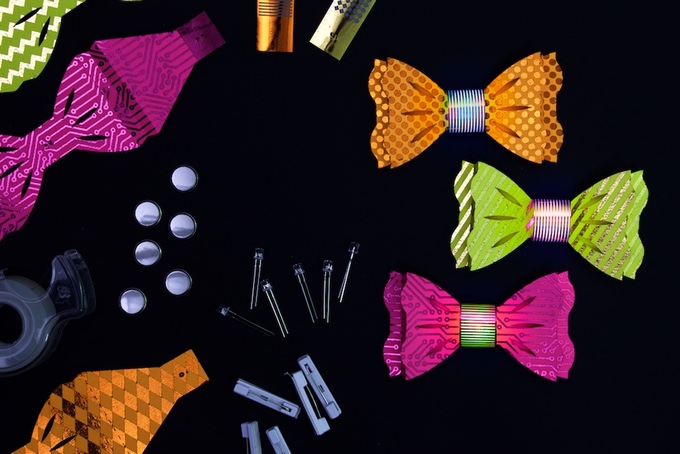 I heard you mention pop-up books. How did you learn how to do pop-up books?
I don't even know… I think I got a pop-up book when I was younger, like younger than 12, and I would make cards for people. Geometry always made sense for me, I am a visual learner. I think I learned it from sewing patterns first, those are flat patterns that become 3-D. You learn how to think in that way, it's similar to folding flat paper that becomes 3-D. I think that's what inspired me to build kits too, it's similar to starting with someone's sewing pattern. You say, I can take what you've done and build off of that.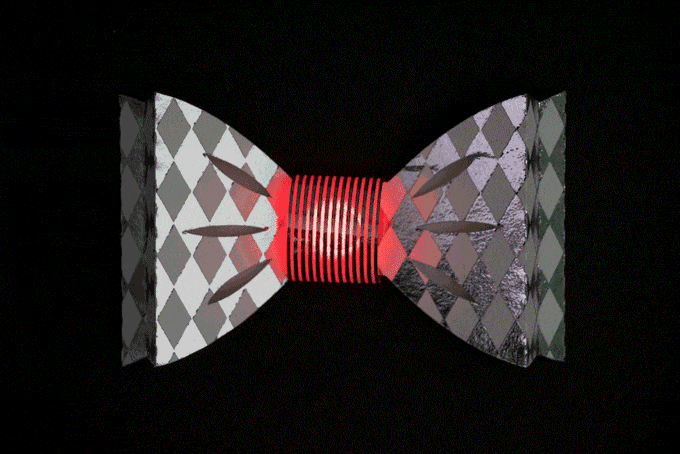 It's interesting that your products are built with paper. Did you always like to work with paper?
Yes, there was probably paper and tape in my crib! I just kept working with them. It's so cheap, you have no fear of failing or messing it up. You can spend an entire day making things with paper, and you've used very few materials which are all recyclable.
What makes your products unique from others that are out there?
What I'm trying to do is make something that feels very attainable. I want customers to look at a kit and think, wow I can do that! A lot of DIY Tech kits start with a circuit board that you have to program, or wires or soldering, and that's awesome but it's not step 1. It's more like step 5. If you don't have step 1 from some other source like school, it means a lot of people get left out. This stuff is too cool to have people left out!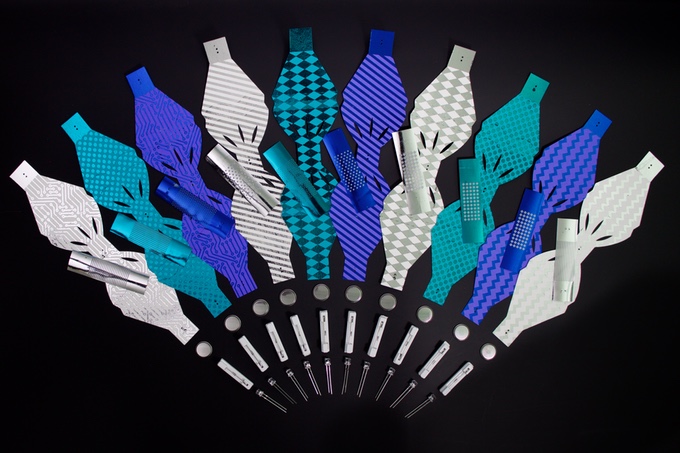 How did you get the idea to add technology to paper crafts?
Years ago, I got one of those musical cards, and I took it all apart. I saw what it was and I thought, "This is cool…I make pop-up cards, I want to include this." I ordered some blank ones from China that you could record (and it would play back what you recorded). 4 months later, it finally arrived and I made some stuff with it. So the inspiration came from commercial cards but then wanting to customize them myself.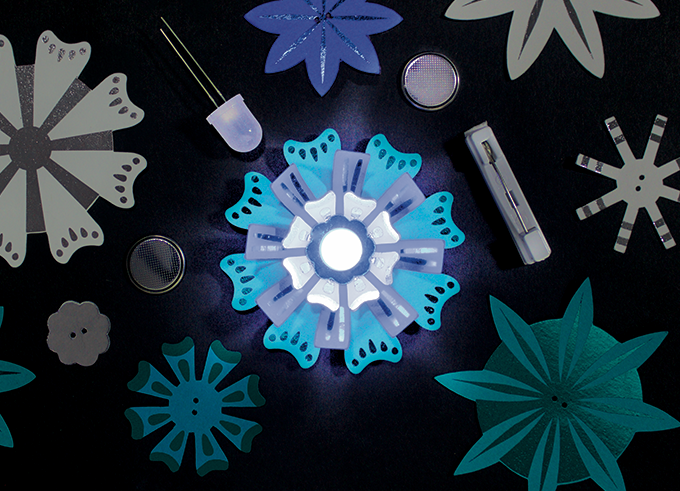 How did you come up with the idea to do flowers and bow ties? Which one came first, what was the design process?
The desire was to make something that was a very quick and easy build, something that could be done in person at a festival or art show. The flowers were the first thing I designed. The idea was to have something that was absolutely customizable, so that everyone who made something would be proud to share their own design. Everyone would have their own petals and colors, and there would be thousands of possible combinations. No two would be alike, like a snowflake. That way you feel like you created something, so it's a combination of my design and your design.
And then the bow ties?
The flowers were great, but guys are not always into flowers. I wanted to make sure I wasn't excluding men from my brand. The bow ties were a great complement to flowers since it's the other part of formal wear. The nice thing about them is it's a bow, so you can put them in your hair. It's just as versatile as a flower, but it has the trendy appeal of a bow tie.
How long do the flowers and bow ties take to put together?
5 minutes to put the circuit together, longer if you want to spend time picking out petals.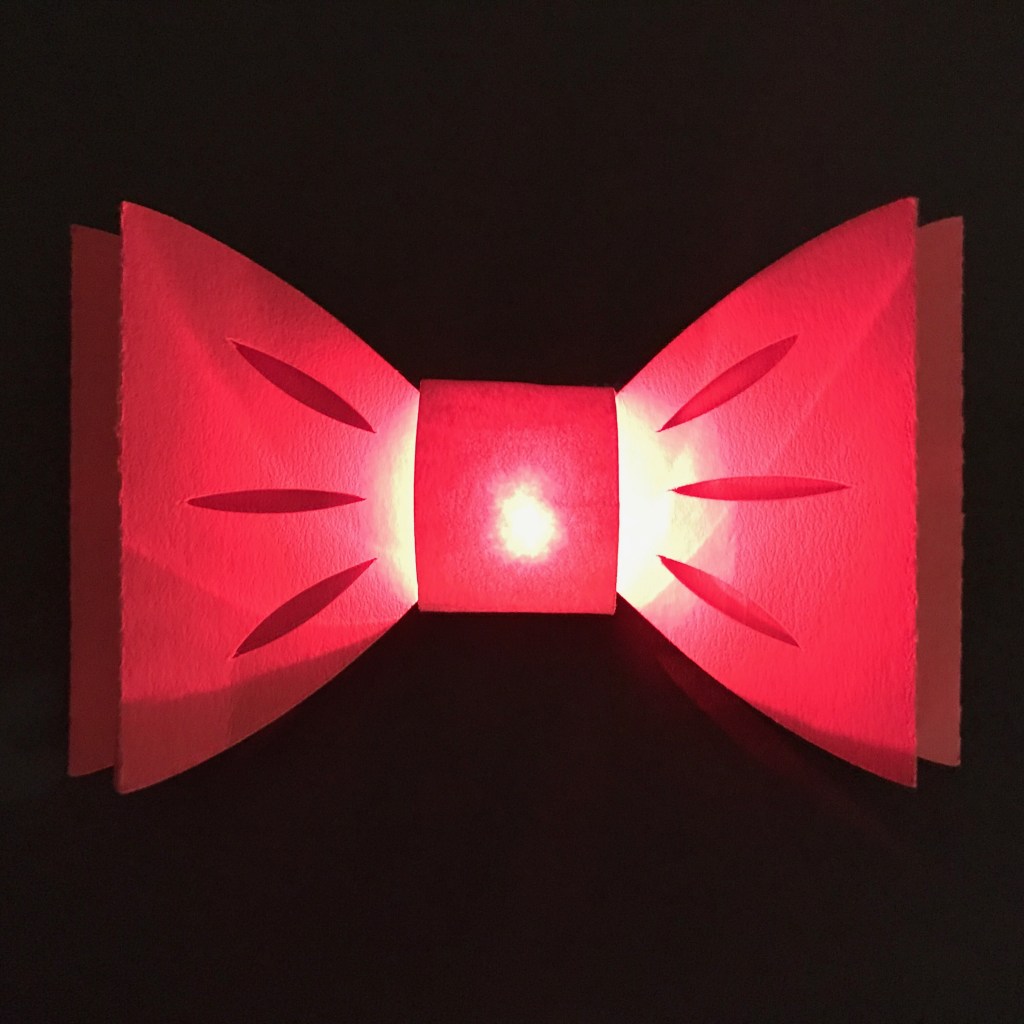 What's your goal for your business and where do you want to see it go?
The goal is to produce these on a larger scale so that I can spend more time designing. I hope to sell my products in major craft retailers and to create a community around the products. These are the first in a long line of product ideas that I have plans for. I'd love to focus on the party, gift, and craft markets.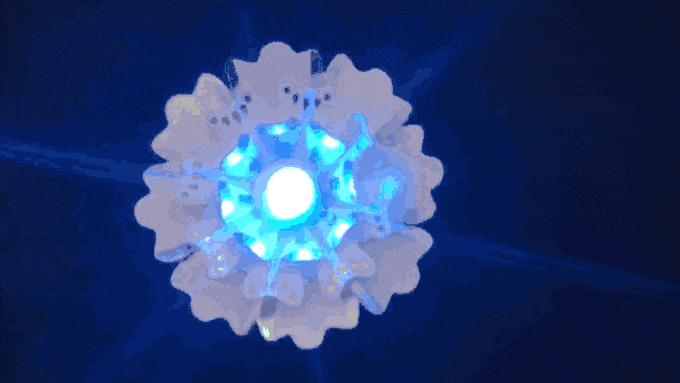 What's the most important thing you've learned since you started TechnoChic?
I've learned a lot about business, but I have a lot more to learn. Starting on Etsy was great, but if you want to grow –it's hard to keep doing it all. Figuring out a way to grow is the challenge. I've learned that it takes a lot of money. I've learned the value of products. We expect things to be so cheap, and they're just not. Sometimes you have to think about all the people and all the effort that went into the product.
What's your best advice for someone starting a new business?
I recommend Rising Capital – the business class I took. They had a great class that goes over the basics of starting your business. They're here in Jersey City. I wish I could have taken that class before I started anything. It would have gotten my brain thinking before doing. It sets you up for success. I would highly recommend it.
What's the best part of living in JC?
The views! Having a dog park, having great neighbors. I think watching the city grow has been really exciting.
What's your favorite activity around town?
Riding bikes around Liberty State Park!
What's your favorite JC spot?
Down by Exchange Place, the Hyatt… There's a sundial on the end of the pier. That's the perfect view of New York. I love that spot. And watching the fireworks from it!
What social media links would you like to share?
If you're interested in learning more about TechnoChic products, check out the website and visit the Kickstarter! The Kickstarter is running now through April 7th.