Written by Shannon Coleman
---
Paris: the city of lights, romance and love. You hear so many wonderful things about Paris – the music, food, breathtaking sights – and the city definitely does not disappoint. The city is as magical and beautiful as they say it is. After living and studying in Paris for five months, here is my take on everything to know about Paris and my advice for how to explore the city.
Geography
Paris is structured in the shape of a large circle and has twenty districts, called "les arrondissements." A unique fact about these arrondissements is that they are organized in a spiral starting from the inside of the city to the outside, just like the shape of a snail's shell. Could that scream anymore French? There is a river running down the middle of Paris called "La Seine." This divides the city and its arrondissements into "left-bank" and "right-bank." Each district is known for different attractions, cultures and more. Here is a breakdown of each one and what you can find!
The 1st Arrondissement is one of the wealthiest, most expensive and most popular areas. It is known for places such as the Louvre, the Royal Palais Tuileries Gardens, Pont des Art, Place de Vendôme and more. Along the seine in the 1st, you can see a beautiful view of the Eiffel Tower.
The 2nd Arrondissement is the smallest arrondissement in the city. There are not many main attractions, but it is an area with a lot of beautiful shops and nice architecture. 
The 3rd and 4th Arrondissement, also known as The Marais, is an area with a lot of luxury boutiques and stores. Some places to visit in this area are Place de Bastille, Notre Dame, Shakespeare and Company and Hôtel de Ville. You can also find the Gayborhood in this area as well! The 3rd and 4th are great for walking along the Seine, window shopping, and going to cute and yummy cafes and wine bars. 
The 5th Arrondissement, also known as the Latin Quarter, is an area with lots of small little streets, shops and places to eat. This is a night life area for university students and young adults so there are a lot of bars and places to grab a drink. In the 5th, some places to visit are the Panthéon and Rue de Mouffetard.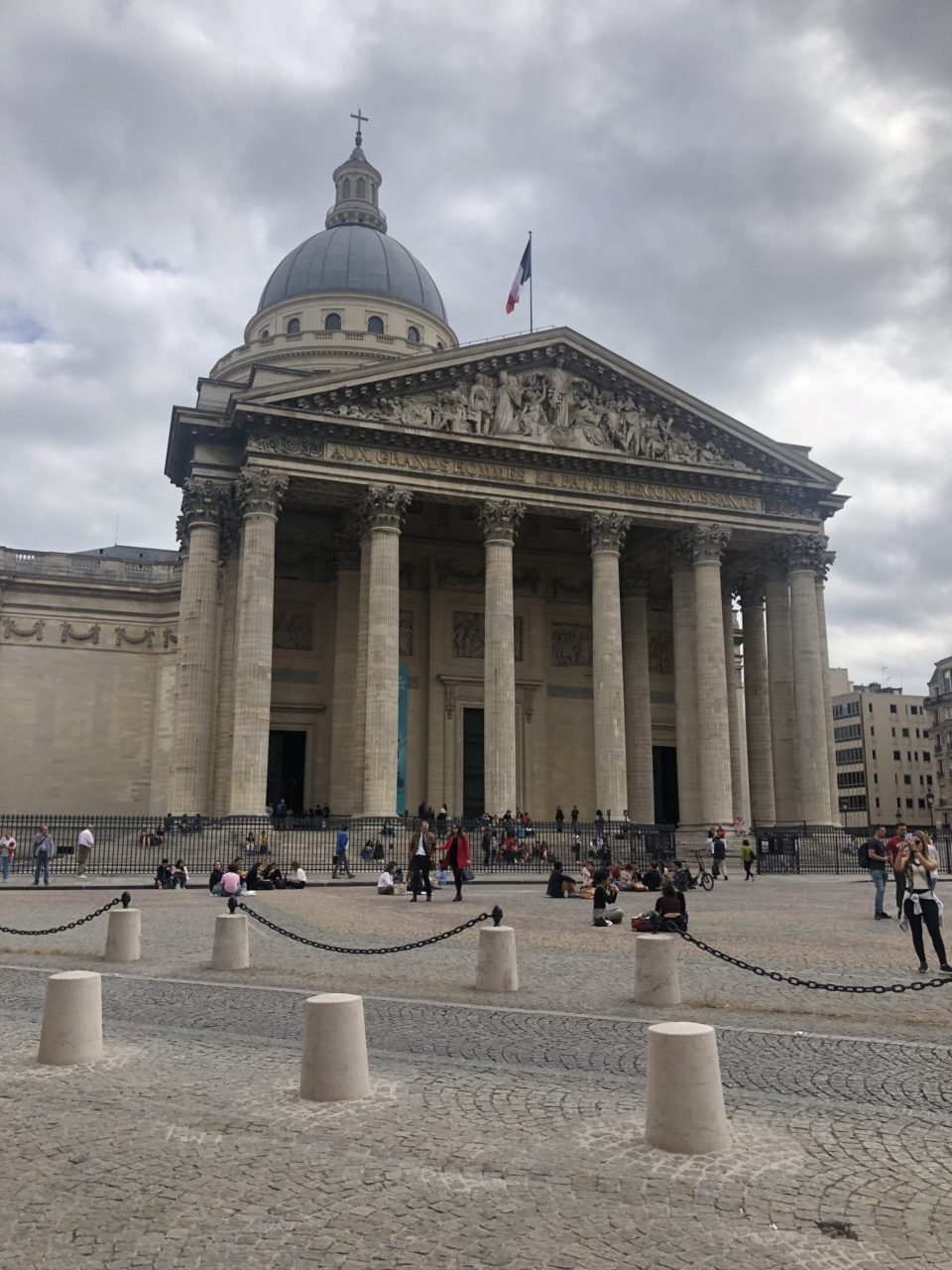 The 6th Arrondissement has a lot of cute sights and things to do! Some of my favorite things in the 6th Arrondissement are Luxembourg Gardens and Saint Sulpice Church. Between these two attractions it is nice to walk around and pop into different stores of cafes. Cafe de Flore and Les Deux Magots are two popular cafes in Paris that are located in the 6th that you can go to.
The 7th Arrondissement is one of the most popular arrondissements in the city because it has the Eiffel Tower! When visiting Paris, you will always pass through and come to this area. It's a really nice area, but definitely extremely touristy and expensive so it might be best not to stay in this area unless you REALLY want to. 
The 8th Arrondissement is known for fashion and luxury shopping, mostly on Rue Montaigne. The Grand Palais is located near the 8th and it is where Chanel hosts the fashion show each season in Paris. The 8th is also where the Sex in the City Finale took place.
The 9th Arrondissement holds attractions like Opéra Garnier, Grands Boulevards, Montmartre and Galaries Lafayette. This area is filled with a lot of fast-paced shopping and tourists in the malls in this area such as Printemps, Bon Marché and more.
The 10th Arrondissement has a busy atmosphere for traveling as Gare du Nord and Gare de L'Est and located here.
The 11th Arrondissement has a cool museum called L'Atelier des Lumières that is definitely worth a visit. Besides that the 11th is filled with a lot of fun and night life for all ages and there are a lot of cool bars and speakeasies to go to. The 11th also has Place de Bastille near it, which is a symbol of the French Revolution. Some protests that are in France often march to or from Place de Bastille, which can cause metro stops in the area to close. It's a really nice area and I suggest staying here, but just be aware and pay attention to the news so that you can adjust accordingly.
The 12th Arrondissement is a very green and residential area of Paris with a lot of parks and families.
The 13th Arrondissement, or Paris Chinatown, is known for its mural program, street art, ethnic food and more.
The 14th and 15th Arrondissements are more residential with lots of families and senior citizens. It is very charming, quiet and a nice area to return to after a long day out in the city. 
The 16th and 17th is a more upscale residential area as it is close by to the Arc de Triomphe. In the 16th you can also find the Louis Vuitton Foundation Museum and Musée Yves Saint Laurent.
The 18th Arrondissement is home to the Sacre Coeur and the Moulin Rouge. Although it has these famous attractions, it is not the nicest area in Paris and I would not recommend staying here, but definitely visit it during your time in Paris!
The 19th and 20th Arrondissements are also residential and there are more of "off the beaten path" area in Paris where you can go and explore if you have the time.
Because of the amazing attractions in the 1st and 7th, you can find really nice hotels, Airbnb, restaurants and high-end fashion houses, but of course these will be the more expensive areas to stay in. Restaurants in these areas will often be more expensive than the average and often times, the servers will try to take advantage of the fact that you are a tourist. They will bring you bottled water instead of tap, suggest supplements to meals that will add more money, etc. In Paris, and most parts of Europe, you NEVER tip, unless your server went above and beyond. You can still find great places to eat and drink in these areas, but obviously, it is important to always be aware of these things when eating in the more tourist-y parts of the city. 
The outer districts of the city tend to be the least expensive to stay in and they have more families and Parisians than tourists. The neighborhoods are actually quite cute, nice and can be a relaxing change from the hustle and bustle of the tourist-y areas. Plus, the subway system is Paris is so easy and amazing that you can get anywhere in the city in under 30 minutes. The arrondissements that I would recommend staying in for a more relaxed environment and to feel like a true residential Parisian are the 14th and 15th. 
There are a few areas of Paris that I would definitely avoid staying in. Of course you can visit them during the day if you would like, but personally I would be caught in any of these areas at night or staying there, unless I was with a group of family and friends. These areas are near Gare de L'Est and Gare du Nord, two of the main train stations in Paris. I would also avoid the Sacre-Coeur area. These are the 10th and 13th districts. I feel fine going to these areas during the day while using precaution, but I really don't like going there too much unless I have to. A lot of my opinions on these areas have to do with the fact that I am a 21-year-old American living in France, and their gender equality and how they act towards women is extremely different, which actually really shocked me when first coming here. Again, this is my personal opinion, but if you are with a group of people you feel comfortable with and use precaution, you should be okay.
Public Transportation in Paris
Paris's public transportation system is one of the largest and quickest I have seen both in the United States and all of the countries I have traveled to while being abroad so far. You can use the public transportation system to get anywhere in Paris, its surrounding suburbs and even Orly and Charles de Gaulle Airports. You can buy your Navigo Pass in any metro station in Paris either from the machine or the worker at the booth in your station. The pass works for all different types of transportation in Paris including the metro, buses and trams. You can choose from a variety of ticket packages, depending on how long you are stay in Paris and how far you want to go. There are one, three, and five-day ticket options and monthly passes, as well single journey tickets that are only good for one swipe. These tickets also very in price by what zones you would like to travel in. Zone one contains the entire city of Paris, zones two and three contain the Paris suburbs, Zone four contains Orly Airport and The Palace of Versailles, and Zone five contains Charles de Gaulle Airport. If you plan on using the metro to get to and from either Orly Airport or Charles de Gaulle, or if you plan on visiting the gorgeous Palace of Versailles, you should definitely get tickets for zones one through five. Getting to and from Orly Airport requires you to take the Orly Bus (included in the Navigo Pass), while getting to and from The Palace of Versailles and Charles de Gaulle Airport, you take a suburban train. If you put into your maps on your phone a place you want to get to in Paris or its suburbs, and then click "transit" it will show you the exact transportation methods you will use to get to your destination. The Public Transportation officials will also check your tickets, especially in the more tourist-y stations, so it is important to keep your ticket, even if it is just a one swipe!  Make sure to always keep your receipt when buying your Navigo. If you lose your pass you can go to the booth in a metro station and show the worker your receipt and they will give you a new one.
What to See
Paris is a large city, with so much to do, see and experience. I have been living here for three months now and everyday there is something new and exciting to do! Here are the top things to do while visiting Paris.
Le Tour Eiffel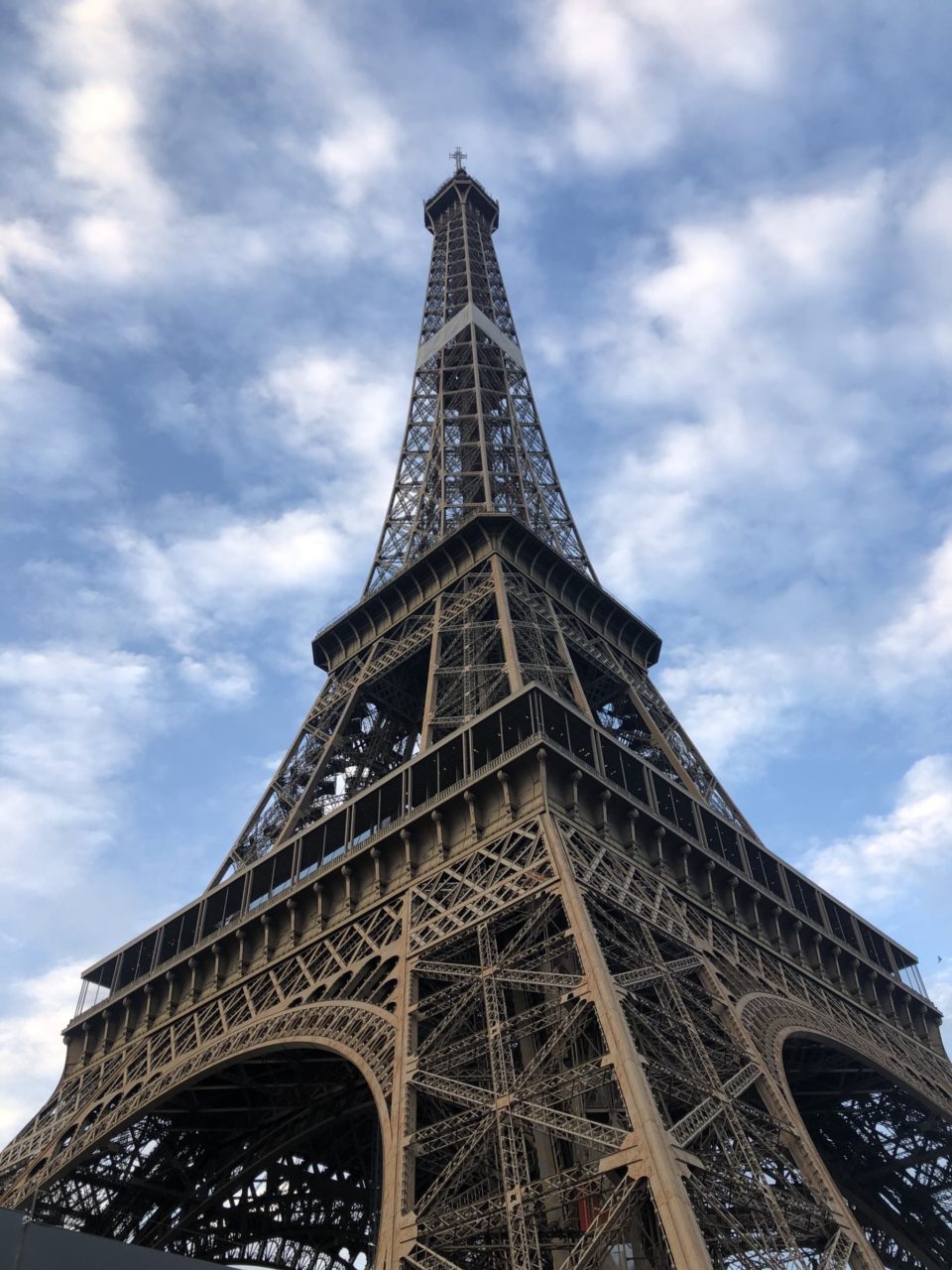 The Eiffel Tower is one of, if not THE main attraction in Paris. It is important to see the Eiffel both during the day and night to get the full experience! I recommend visiting the Eiffel Tower an hour or two before sunset. You can bring food, wine, etc. and relax on the Champ du Mars lawn or up near the Trocadero with friends, family or just yourself! This way you get to see the Eiffel Tower during the day and night! The Eiffel Tower begins to light up at sunset as it gets dark and sparkles every hour, on the hour for five minutes straight. No picture will ever depict how beautiful and breathtaking it truly is in person!
If interested, you can buy tickets to go up into the Eiffel Tower. I recommend buying these tickets online well in advance. If you wait to purchase them the day of, you will most likely be standing in line for a good duration of your day. There are also two different restaurants inside of the Eiffel Tower that you can make reservations for and eat at. Obviously these restaurants are more expensive, but c'est la vie.
If you spend time on Champ du Mars, I also recommend walking up to the Trocadero to see the Eiffel Tower from that view as well! From the Trocadero platform you can see the Eiffel Tower as well as more of the city as Paris! There are also some tasty crêpe stands there and what could be more perfect than eating a crêpe in front of the Eiffel Tower….like, come on. 
L'Arc de Triomphe
The Arc de Triomphe is another widely known symbol of Paris. It is along with Le Champs-Elysees with expensive shops, restaurants, etc., similar to 5th Ave of New York City. The Arc is a great symbol of the nation for France. On Bastille Day, French Independence Day, they host a large parade going down the Champs-Elysees to the Arc de Triomphe, where the tomb of the unknown soldier lays. To get to the Arc de Triomphe, you will most likely take the 1 metro line (yellow). I recommend getting off at George V stop because it is the perfect stop that is right in the middle of the Champs-Elysées leading up to the Arc de Triomphe. If you are facing the arc from Le Champs-Elysées, there is a tunnel passageway on the right side of the street that will lead you to the platform of the arc where you can go right below it, take pictures and visit the tomb of the unknown soldier. You can also buy tickets to go to the top of the Arc and see a breathtaking view of Paris.
Le Louvre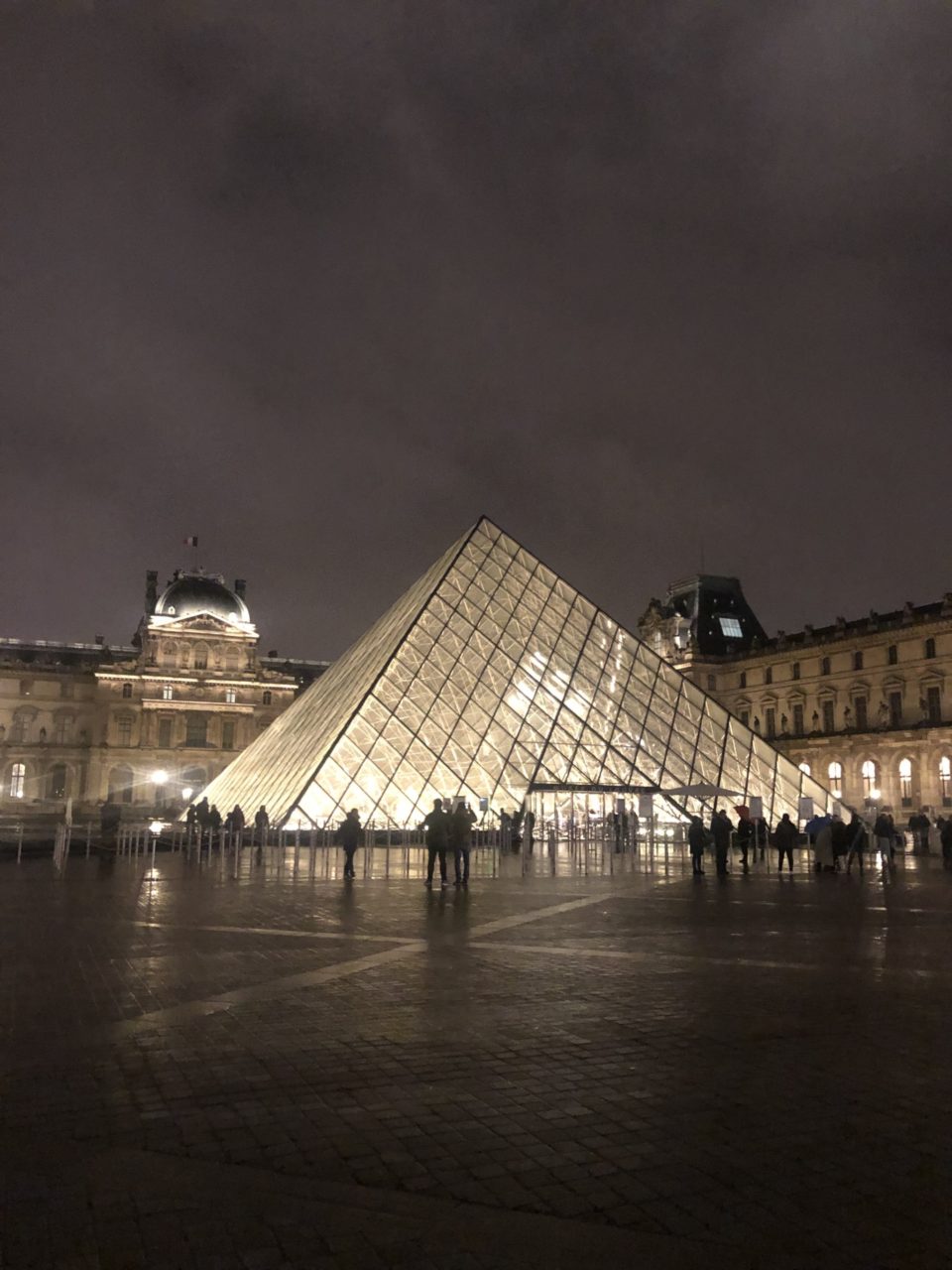 The Louvre is one of the most famous art museums in the entire world and is home to many world-renowned pieces like the Mona Lisa and Viva La Vida.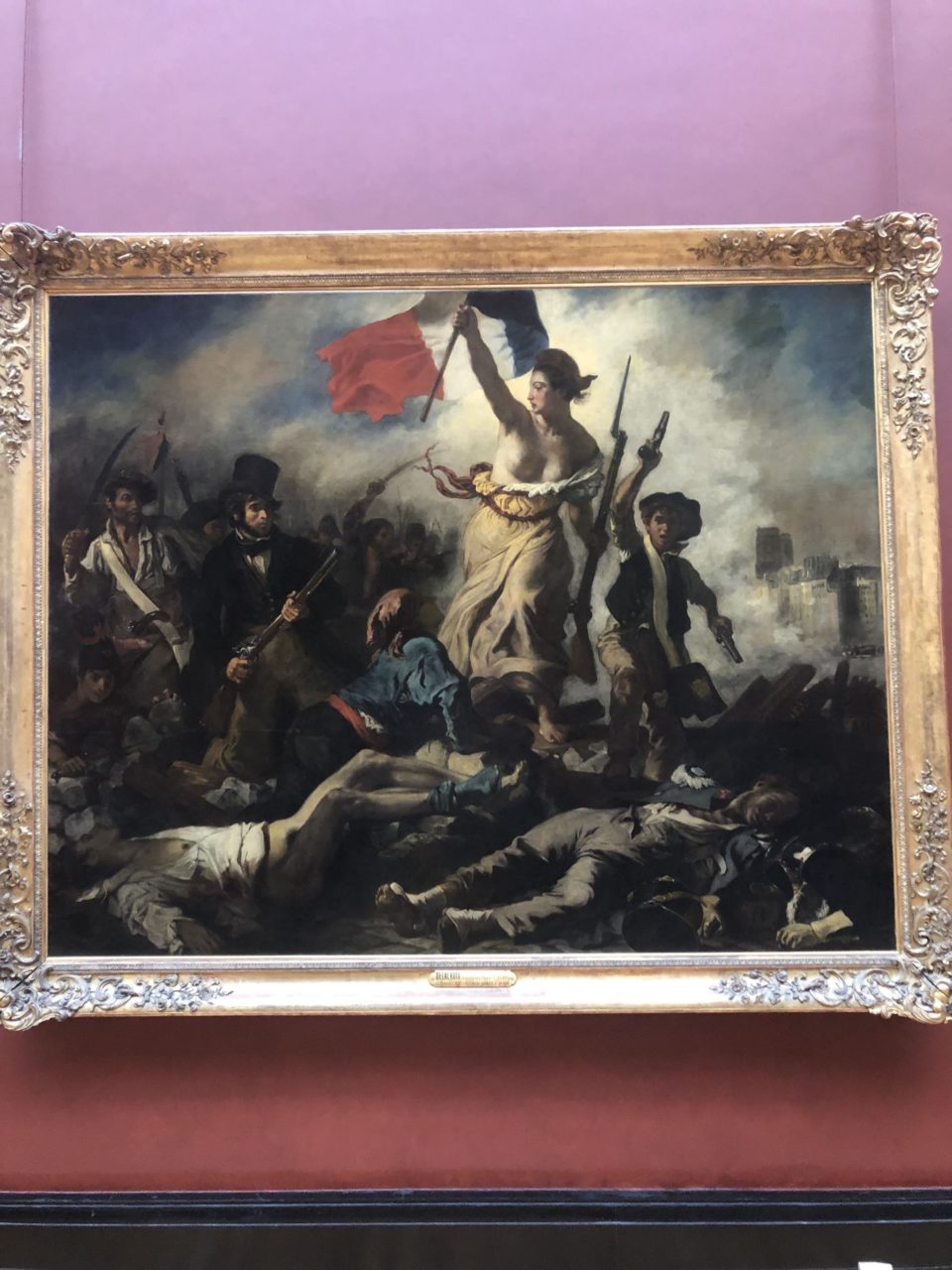 You can buy tickets to visit the museum or just go to take pictures in front of the iconic glass pyramids. If you choose to buy tickets and visit the museum they offer a ticket option that includes a DS that shows a map of the museum, its different exhibitions and pieces and tracks your location with the DS. The Louvre Museum is extremely large and, in my opinion, confusing, so I would definitely recommend this option.
Palais Royale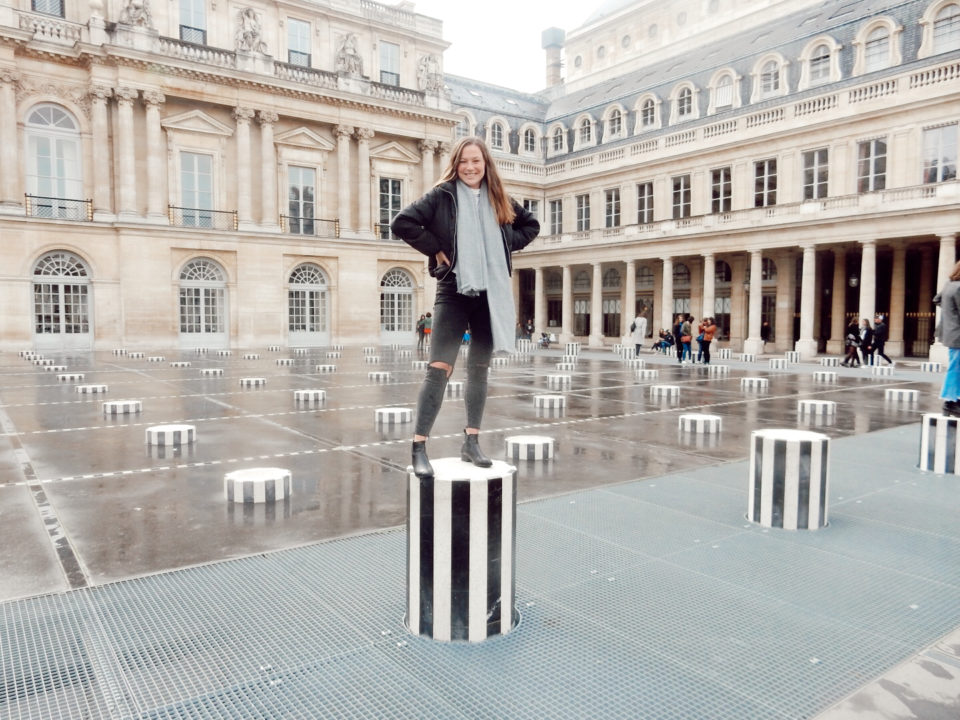 Palais Royale is located right next to the louvre and is an art filled park to walk around in! It's one of my favorite places to go to Paris because I just find it so nice and relaxing. It's very enjoyable to walk around and enjoy the environment around you.
Le Notre Dame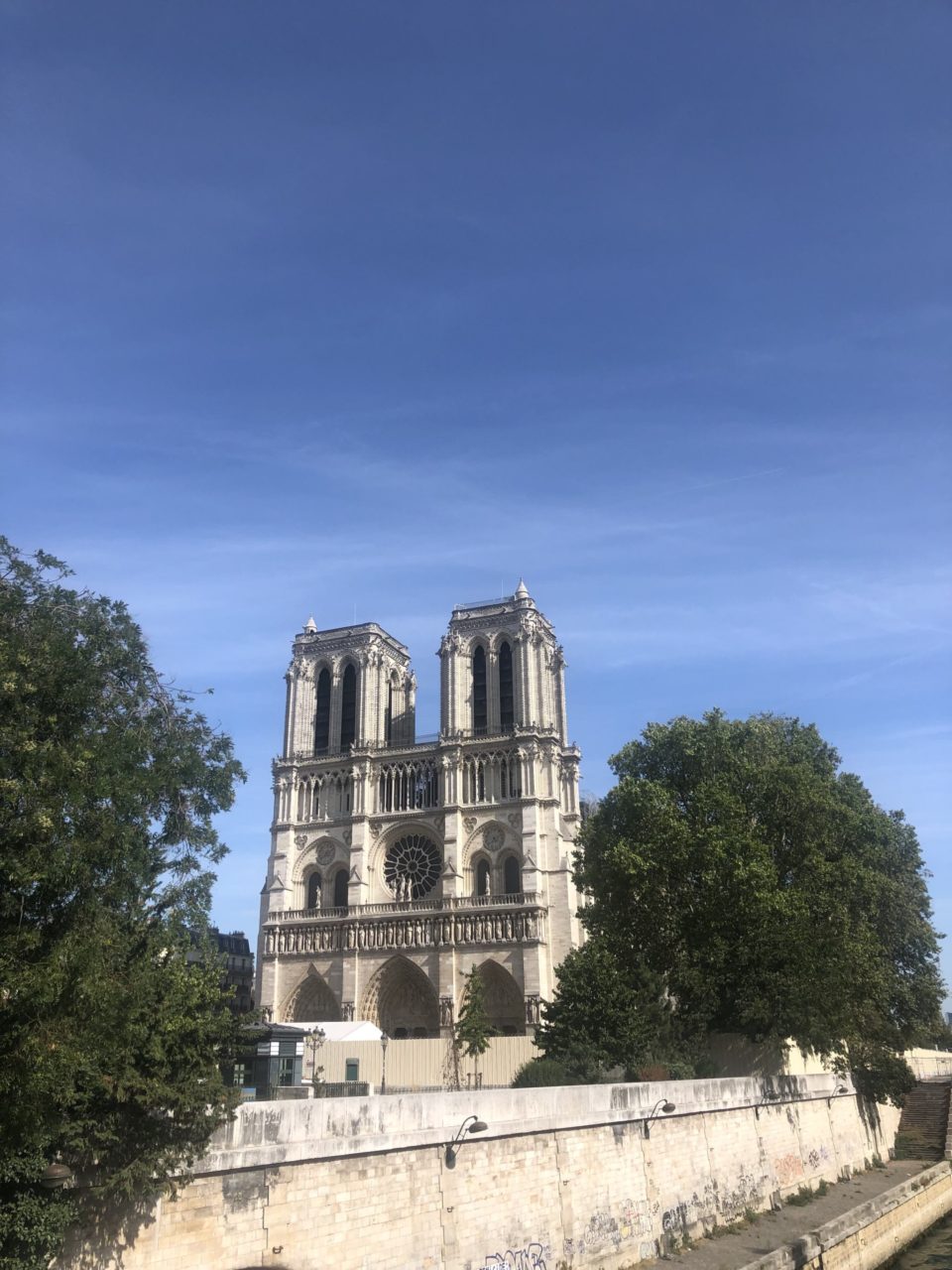 Le Notre Dame is another top attraction in Paris. Sadly because of the fire in the Spring of 2019, you can no longer enter the cathedral or go close to it, due to construction and safety reasons, but you can still admire its beauty from the surrounding areas. The area around Notre Dame is beautiful and there is so much to do! It is a really nice area to just walk around and enjoy your surroundings. There are a lot of great cafes, shops and street artwork to admire.
Shakespeare and Company
Shakespeare and Company is Paris's oldest bookstore in the city. It is located right next to the Notre Dame and is an awesome place to pop in while exploring the area. The bookstore has an adorable cat named Aggy that lives in the store. You can often find her walking around or taking a nap in her chair. She is so sweet and you should definitely pay her and this shop a visit while staying in Paris. 
The Seine
The Seine is the name of the river that runs through Paris. During the day it is nice to walk along the seine near Notre Dame or the Louvre Museum to just take in the scenery and look at the street art!
The Latin Quarter
The Latin Quartier is an area in Paris that spreads between the 5th and 6th arrondissements and is within walking-distance of the Notre Dame. In the Latin Quarter you can find lots of grab and go places to eat, shops and boutiques, cafes as well as night life for university students and young adults. This is another cute area of the city to walk around and experience both in the day and nighttime. 
Luxembourg Gardens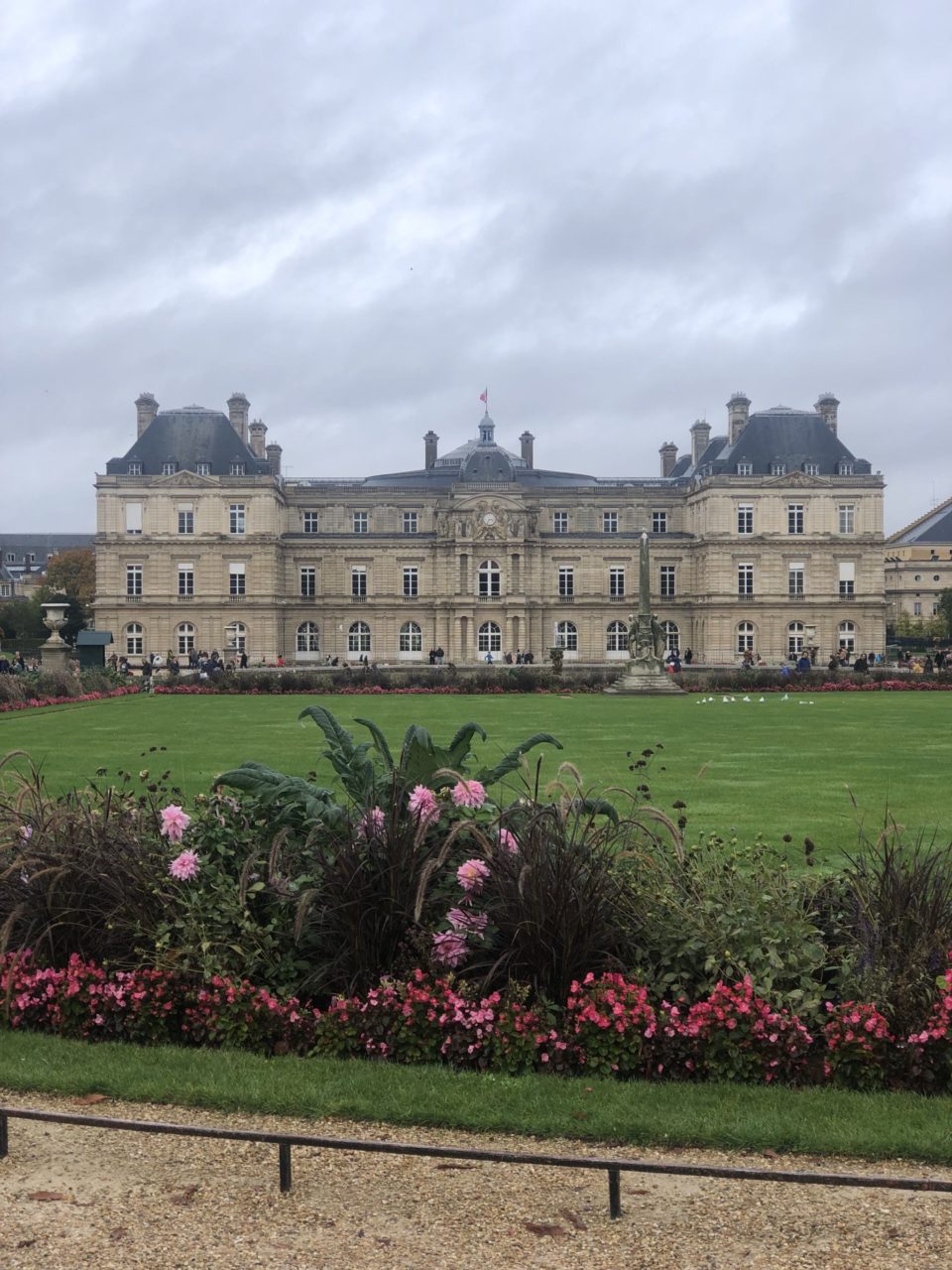 Besides being beautiful, Luxembourg Gardens is a great place to take an early morning or mid-day walk and relax! They have chairs set up all around the gardens where you can sit and people watch. During the summertime you can bring a picnic to the gardens and enjoy a nice day with family and friends. There are some shops right on the border of the gardens and cute cafes. One cafe that is a staple in Paris that you have to visit is Angelina's. You can stop in and grab things to bring to the park or sit down for teatime. 
Jewish Quarter
Something that is extremely unique and historic to Paris is the Jewish Quarter located in the 4th district. The city's most famous Jewish neighborhood known as the Pletzl – Yiddish for little place. In this area of the city you will find Jewish restaurants, bookshops, boulangeries and charcuteries along with synagogues and shtiebels. 
Le Musée d'Orsay
Le Musée d'Orsay is another amazing museum in Paris. Personally, I like it a lot more than the Louvre because it is smaller and I like a lot of the pieces inside. The building itself has amazing architecture and there are a lot of famous pieces inside such as Bal du moulin de la Galette and Starry Night Over the Rhône.
Sacre Coeur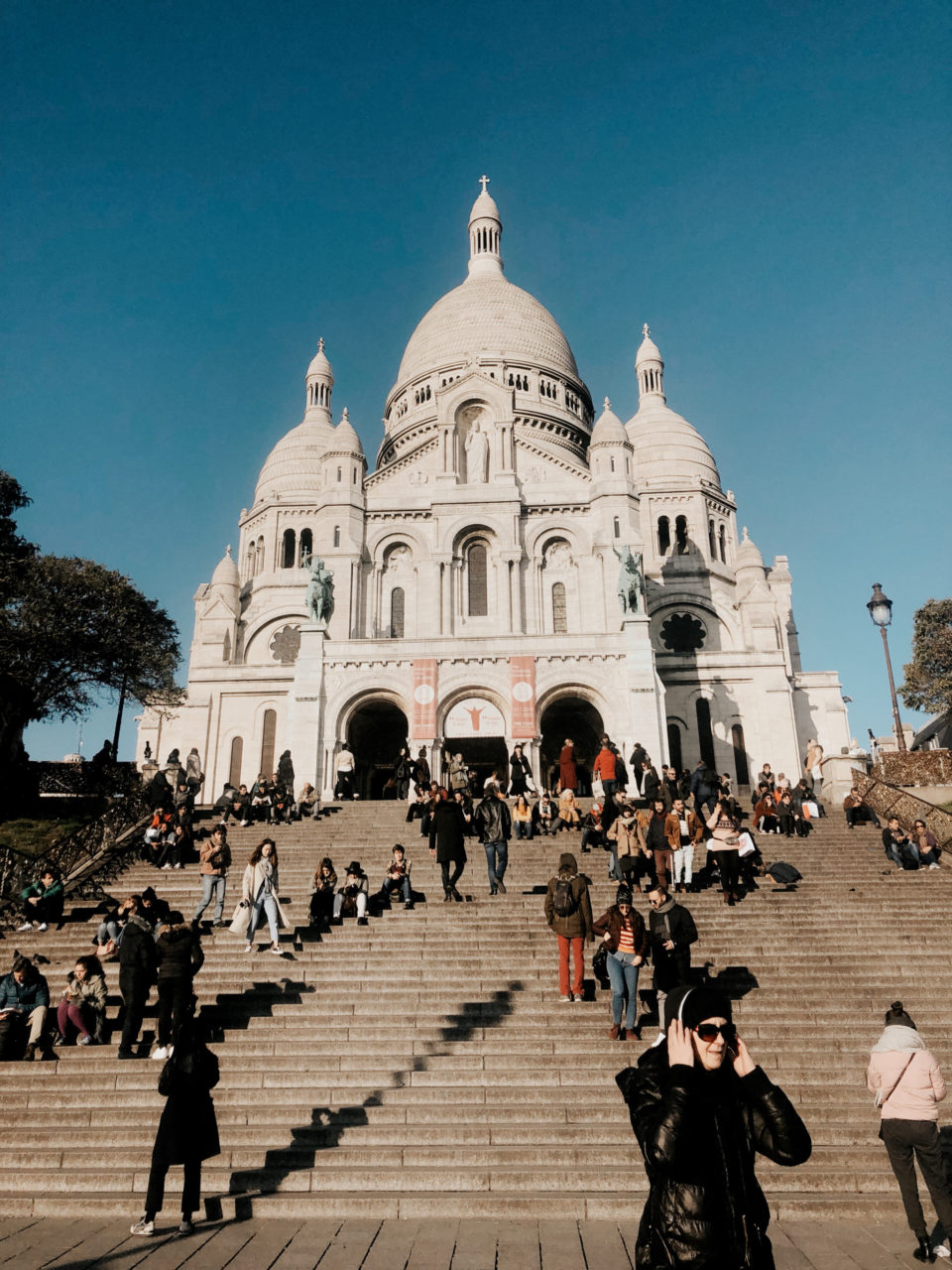 The Sacre Coeur is a famous basilica in Paris. The Basilica itself is beautiful and it is at one of the highest points in Paris, so it has a great view over the entire city. 
Moulin Rouge
Moulin Rouge is a famous and historic burlesque club in Paris that you can go and visit.
Galeries Lafayette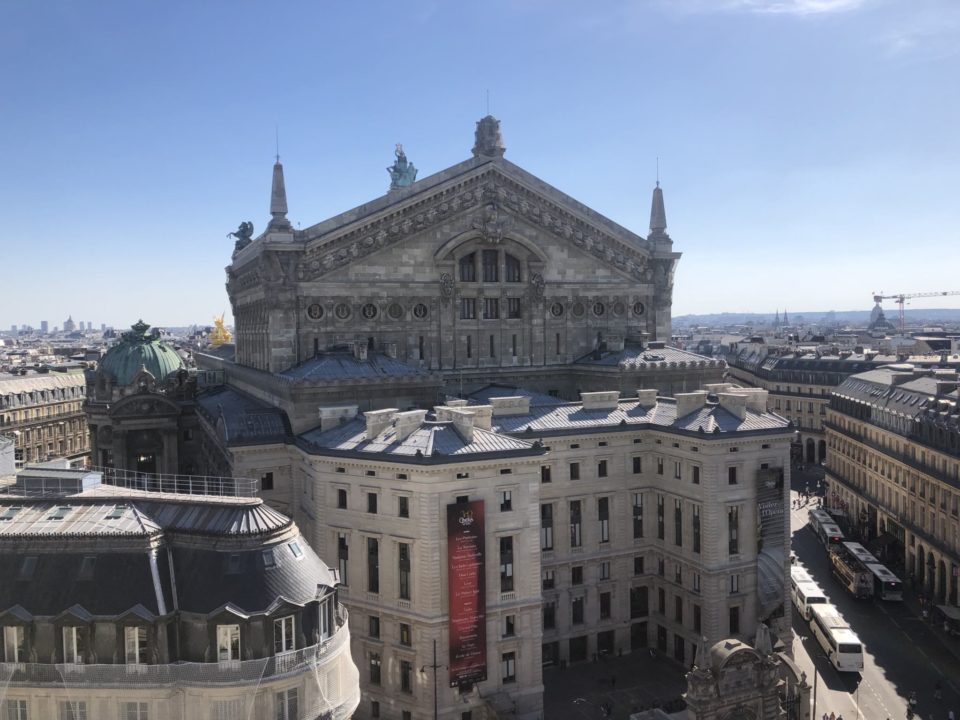 Galeries Lafayette is the name of a famous chain of shopping malls in France. These shopping malls are nothing like those in America. The main Galeries Lafayette in Paris has two buildings right across from each other: One is filled with amazing food, drinks, etc. where you can find French pastries, sandwiches, wine bars, cocktails and more. The other building contains all high-end luxury stores. In this building you can go to the top floor where there is a rooftop restaurant and bar that has a wonderful view of Paris's Opera House, the Eiffel Tower and the entire city. 
Palace of Versailles
Palace of Versailles is a place definitely worth the trip. It located a 45-minute train ride outside of Paris taking a suburban train to the town of Versailles. Visiting the Palace will definitely take a lot of time, so I suggest planning a day trip so that you can take your time and fully experience it. I would suggest buying tickets ahead of time because the line to buy tickets at the Palace can be extremely long depending on the day and how busy it is. The Palace has both inside the Palace and the gardens as well. Both parts of the Palace are beautiful, but awfully large. I would recommend booking a bike tour for the Palace's gardens so that you can fully experience the entire Palace, without getting too tired. Trust me, it is a lot of walking throughout both the Palace and the Gardens so I think the bike tour is definitely needed and worth it.  
Places to eat and drink
One of the things that the French are known for is food and they definitely do not disappoint. One of the best things about Paris is that all the cafes you stumble upon while exploring the city are REALLY good. I've never found a cafe that I didn't like. Plus, most if not all of the seating is outside so it creates such a nice environment for every meal.
In Paris, I am living with a host family, which is such a unique and awesome experience that has definitely pushed me outside of my comfort zone. I eat dinner with my host family three nights a week, so I don't eat out in Paris THAT much. Honestly, that might be a good thing because after all, I am a college student studying abroad and I try to save most of my spending money for the weekends when I am traveling to other cities and countries. But, when I am staying in Paris, here are some of the places that I absolutely LOVE!
Le Refuge Fondus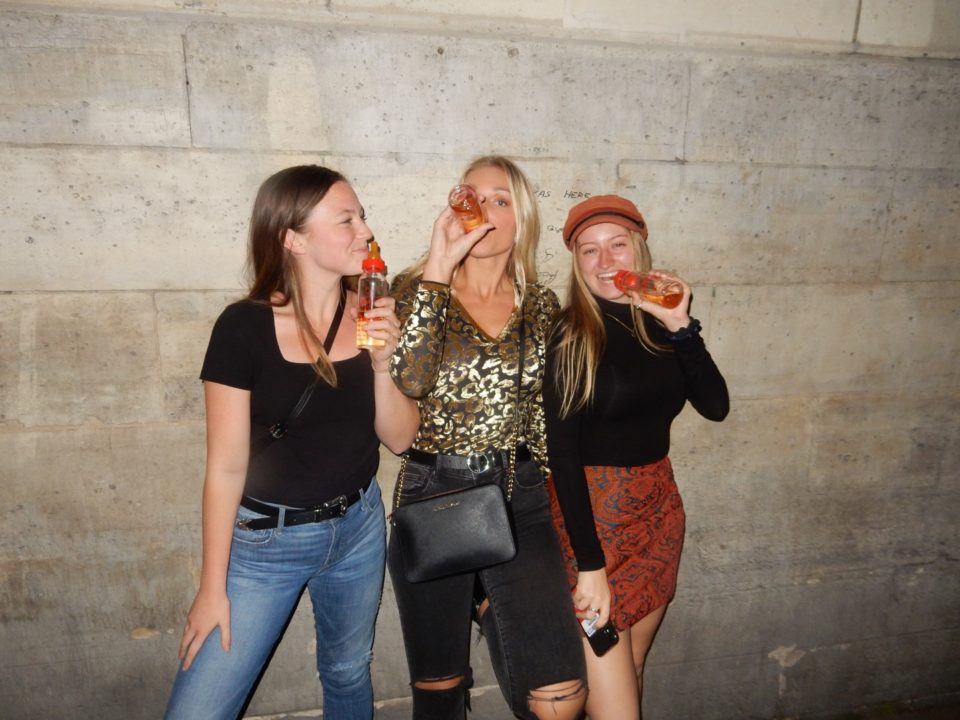 If you take one this away from this blog, GO TO EAT HERE!! Le Refuge Fondus is located in the 18th arrondissement. I would definitely make reservations before going because it is a smaller place and is packed all of the time. Le Refuge Fondus is a Fondue restaurant with a fixed menu and rate, meaning everyone that goes gets the exact same thing for the same price, which is honestly really nice, especially in Paris where things can be on the more expensive side. I went with a group of 6 and we got two cheese fondues and a meat fondue. With the fondues came unlimited bread, potatoes and other things to dip in. You also get a baby bottle that has two glasses of wine in it and you can pick from house red, white or rose. This place has such a fun and exciting atmosphere. If you are visiting Paris, definitely plan to come here, you won't regret it. 
Les Deux Palais
If you find yourself along La Seine, near the Notre Dame area, there are a lot of cute and delicious cafes that you can find! A particular favorite of mine is called Les Deux Palais. I like going here for breakfast because they have delicious crepes, omelettes, and of course coffee. In general, the Notre Dame area has a lot of nice cafes that aren't too expensive, which is surprising for the area that they're in. Plus, they're in a very central location so you can grab a bite to each and then visit the Notre Dame and Shakespeare and Company, and then walk up La Seine to the Louvre and the Palais Royale.
Lou Lou's
Lou Lou's is a cute, retro cafe that a friend and I stumbled upon one day when walking around the city and we just had to stop in, mostly for the color scheme, aesthetic and ambiance. When we sat down we realized their menu was amazing! They had eggs benedict, French toast, matcha lattes – everything you could dream of. It definitely hit the spot and is a place that I have visited time and time again while being in Paris 
Passager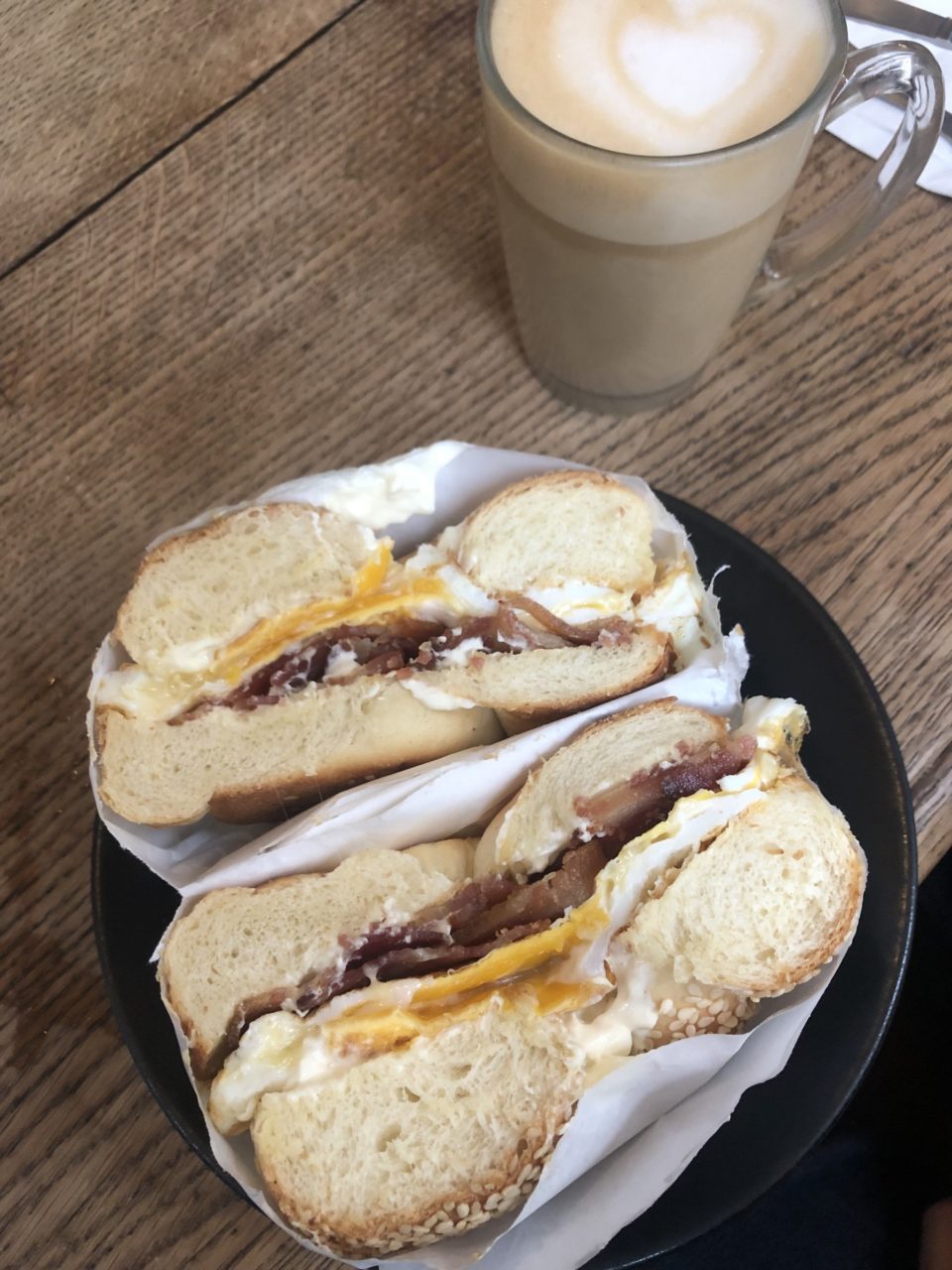 Passager is a cute cafe near Place de Bastille that I found because I was missing food from home. They serve breakfast all day long and it definitely reminded me of placed from home, which made me feel great. They have pancakes, drip coffee (which is super hard to come by over here), bacon, egg and cheese on BAGELS which you can't find anywhere (at least a good one) and more. Overall, it was a really nice environment and just what I needed when I was missing home.
Ciel de Paris
If you're looking to splurge while in Paris on an amazing meal and dining experience, this is the place to go. It is a rooftop restaurant and bar that has a beautiful look out over Paris and at the Eiffel Tower. 
Pierre Hermes and Ladurée
Pierre Herme and Laudrée are staples of Paris that you must go to when you visit Paris! They sell a variety of French pastries and desserts, but they are most famously known for their macaroons. Go, get a box of macaroons and split it with your friends at the Eiffel Tower or walking along Le Seine or Le Champs-Elysées.
Angelina's
Angelina's is another staple of Paris that you must visit. They are known for their amazing hot chocolate and over the top French desserts and pastries. You can even get sample towers that have a little bit of everything. You can go in quickly and grab something quick from the counter, or you can sit down inside the cafe. I would definitely sit down inside and enjoy the experience. 
Lavomatic
Lavomatic is speakeasy that is a bar disguised as a laundromat. You enter the speakeasy in a washing machine and find yourself in a cozy cocktail bar, that has so many specialty drinks to choose from. It is a great environment to go to with friends to talk, hang out and have a chill night. 
Moonshiners
Moonshiners is another speakeasy that is disguised as a Pizza Shop. It operates as a pizza shop, but has a hidden bar in the back. You enter the bar through the restaurant's freezer. So, if you want a bite to eat go to the pizza restaurant then pop into the freezer for a drink afterwards! 
---
I hope that this guide helps you on your visit to Paris! This is all based on my personal experiences and what I have learned living here, but each person's experience and opinions are different! Make sure to explore different options, areas in the city and places to go. Living is Paris has been one of the best and most important experiences of my life and I wouldn't change it for anything. Paris is an amazing city with endless possibilities and things to do. I'm sure that when you will visit you'll fall in love with it, just like I did.