This January, I got to travel out of the United States for the first time without a parent, and instead with my friend Leslie. After several months of trying to figure out where we were going to go, we finally decided on Toronto in Ontario, Canada.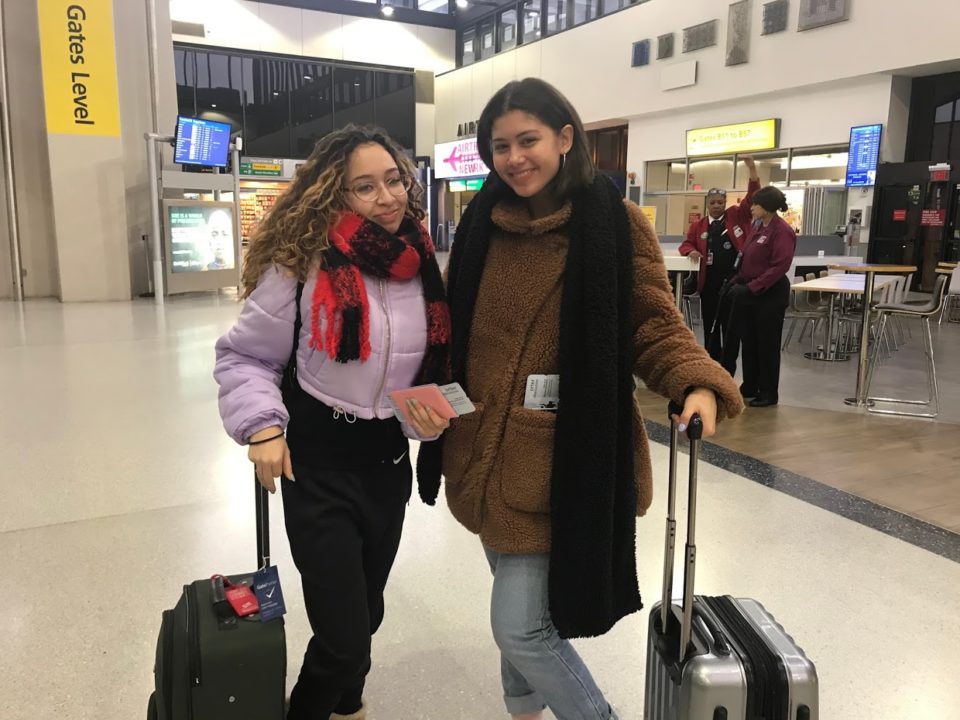 Flights & Accommodations
Since it was two teenage girls going on their first out of the country trip, we definitely kept things on the cheaper side. I usually use the Google Flights widget to check for the cheapest flights. We paid a total of $454.64 for two round trip tickets between Newark and Toronto. We would be staying in Toronto from Saturday, January 5 through Wednesday, January 9. We found a room with two beds in the middle of Chinatown that cost us a total of $250. It wasn't necessarily in the center of things, but we were a 10 minute walk to the Kensington Market neighborhood, where we ended up going to eat a lot.
Money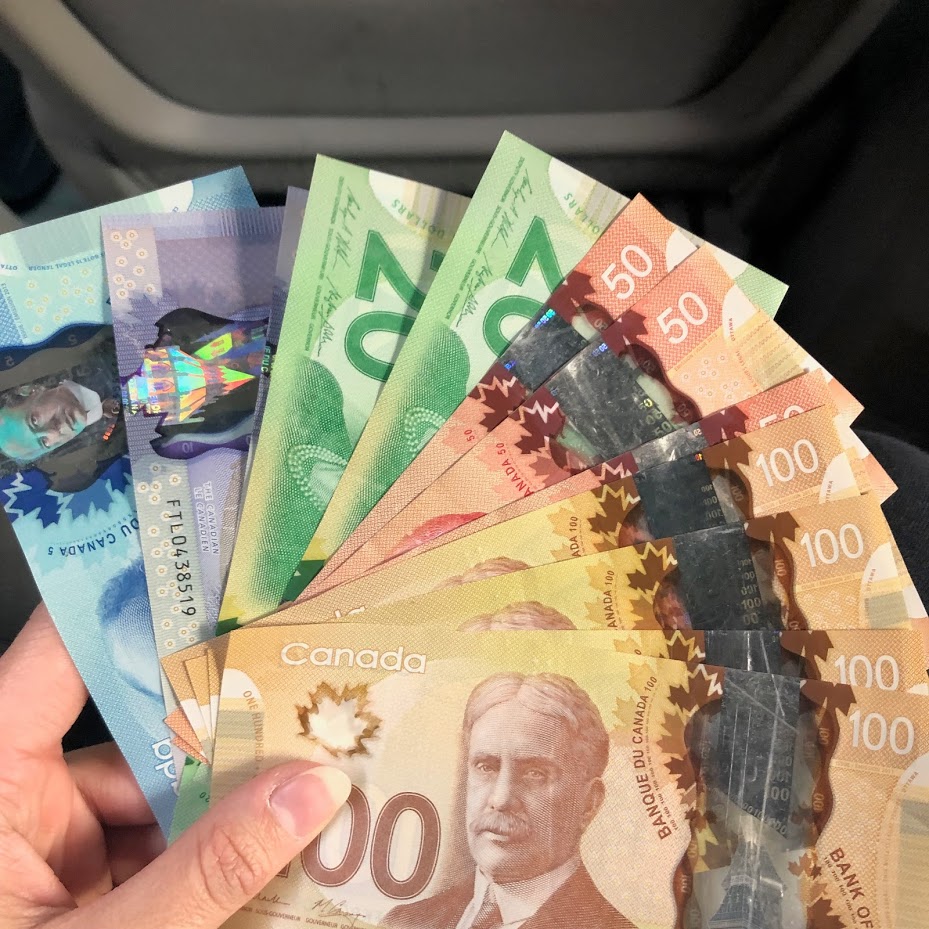 I did convert my money to CAD before I arrived in Canada. Yes, it kind of smells like maple syrup! I paid $500 USD (including fees) and got $635 CAD. Their lowest dollar bill is a 5, and the rest comes in coins ($2, $1, .50¢, .25¢, .10¢, .05¢) I also had been collecting Canadian pennies from my job to use on the trip, but when I finally got to use them at a restaurant, the waitress told me that Canada had taken the penny out of circulation a few years ago, and hadn't seen any in a while. Normally all checks are rounded to avoid the pennies, but they had forgotten to do so on this check. Wish America would do the same!
Packing
Toronto is in the same time zone as NJ, and they also have four seasons like we do. We went to Toronto in January, where it's freezing back home, so obviously pack sweaters, jeans, leggings, scarves, gloves (I lost my original pair) and a coat! If you visit during another season, essentially pack clothing that you would be already wearing in Jersey City. 
Day One – CN Tower

Our flight to Toronto was at 12:35pm leaving from Newark Airport on Porter Airlines. The flight was pretty short, only an hour and 40 minutes. After arriving at Billy Bishop Toronto City Airport and going through customs, we ordered a car to our Airbnb. We settled into the room before walking over to The Dirty Bird Chicken + Waffles.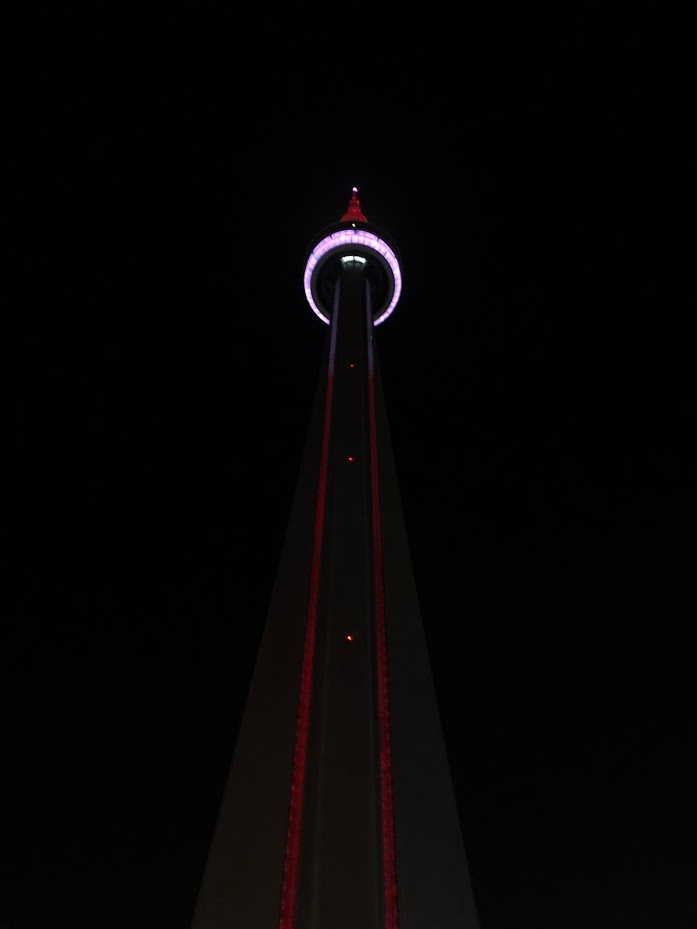 We took a car from there to the CN Tower. It's the world's 9th tallest free-standing structure, towering over Toronto at 1,815.3 feet (553.3 meters). There are multiple "tower experiences" offered, but we went for General Admission + SkyPod ($53 CAD). SkyPod is the highest observation level at 1,465 feet, LookOut Level is at 1,136 feet, and the famous Glass Floor and SkyTerrace are at 1,122 feet. Even though it was night time, there were still plenty of people in the tower. It was breathtaking to see all of the city lights, and I'm sure the day view is even more spectacular, but it would have also been ten times more packed.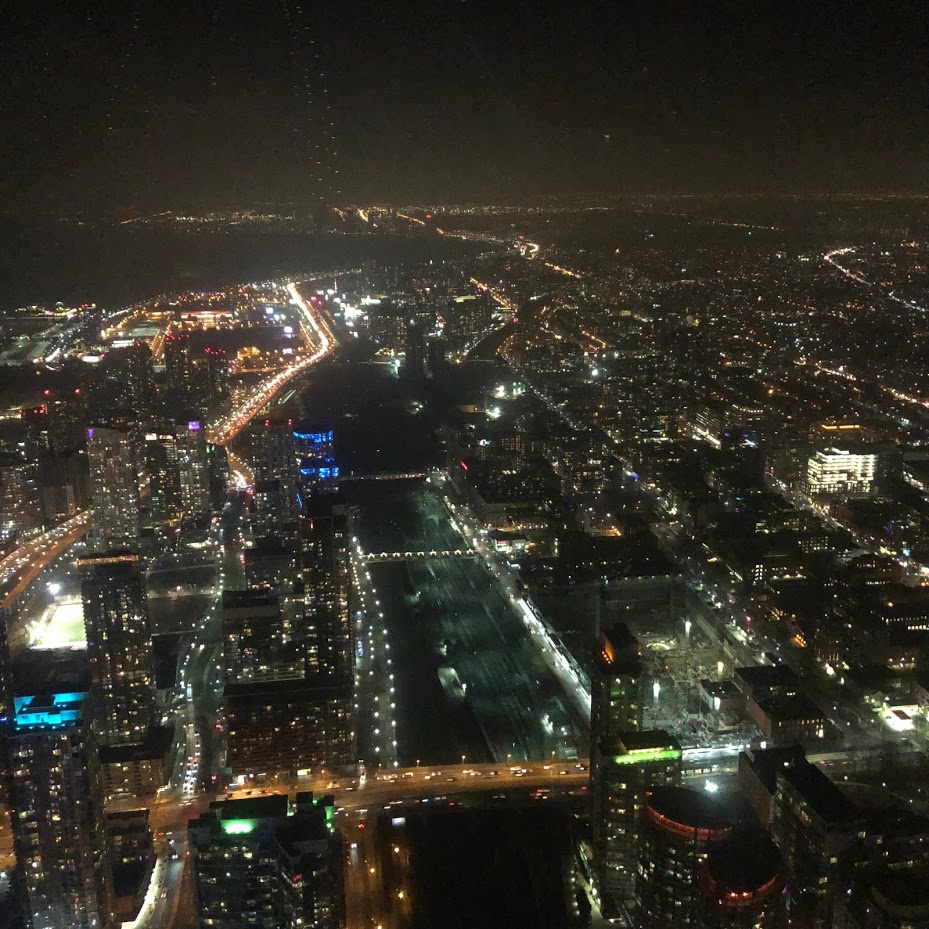 Another popular attraction that is right next door is Ripley's Aquarium of Canada. We passed on going here since it seems like more of a family-oriented place, and not something we were interested in. 
After the CN Tower, we ate at Millie Creperie. It's a cute local crepe dessert shop, but they stand apart because they offer "savoury" crepes, almost like a snack-wrap or burrito. I tried the Teriyaki Chicken one, and my friend had a sweet crepe – the Banana Split.
Day Two – Casa Loma
First thing in the morning, we went back to Kensington Market and ate at Our Spot. I ordered a breakfast platter and Leslie ordered a breakfast sandwich. One thing I noticed in Canada is that all of the breakfast platters I ordered always came with some fresh fruit (typically oranges), which was nice. From there, we took a car to Casa Loma.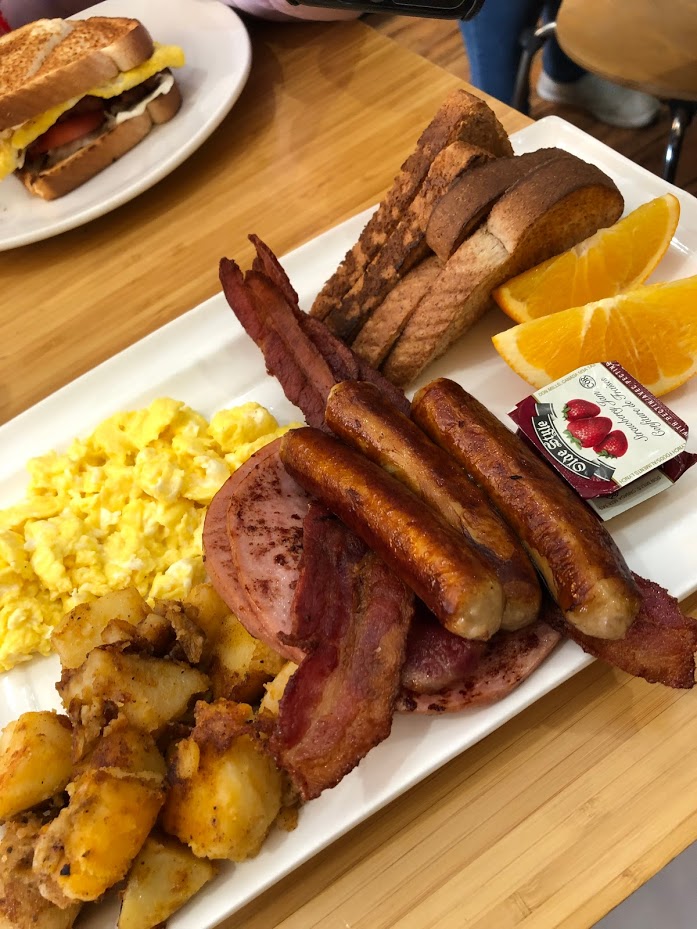 Casa Loma is literally a castle in the middle of Toronto. Built in 1914 by Sir Henry Pellatt, the castle is now a tourist hot-spot, a venue for weddings and has had many famous movies filmed inside of it (including X-Men and Scott Pilgrim vs. the World). Throughout the entire castle, you can learn about Canadian history, explore the two towers, the garage and garden, as well as the many, many rooms inside the castle.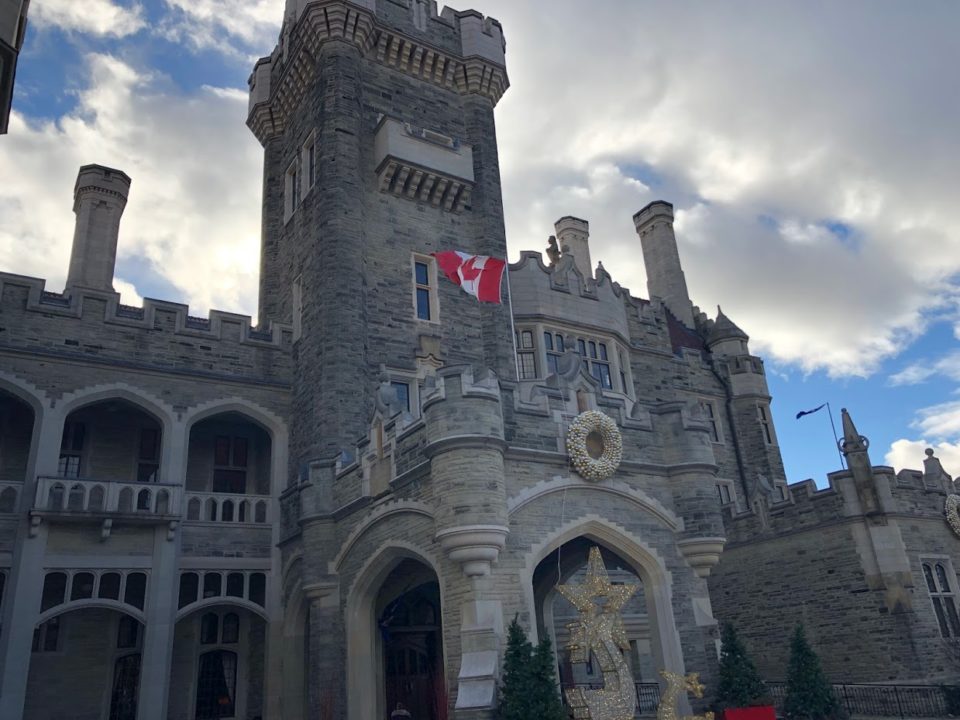 When it came down to entering the castle and buying tickets, there was a little mishap. At the time Leslie was 18 and I was 17, but Leslie looks really young. We both asked for youth tickets ($25 CAD) but I still got charged as an adult ($30 CAD). Ironic since I was really the younger one and she was the adult.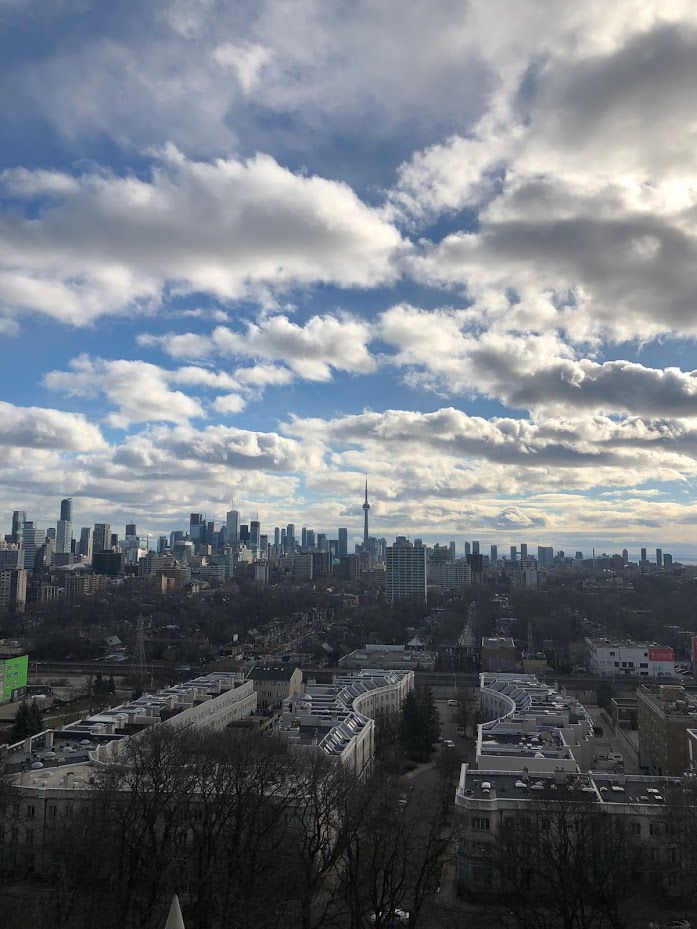 After Casa Loma, we went back to our Airbnb, rested for a bit and went back out to have some of the BEST tacos I've ever had. We went to Seven Lives – a taco place we actually wanted to try on our first day but we passed on because of how packed it was. We both got a single taco (definitely should have gotten more), but they were super flavorful and you could tell that the ingredients were fresh.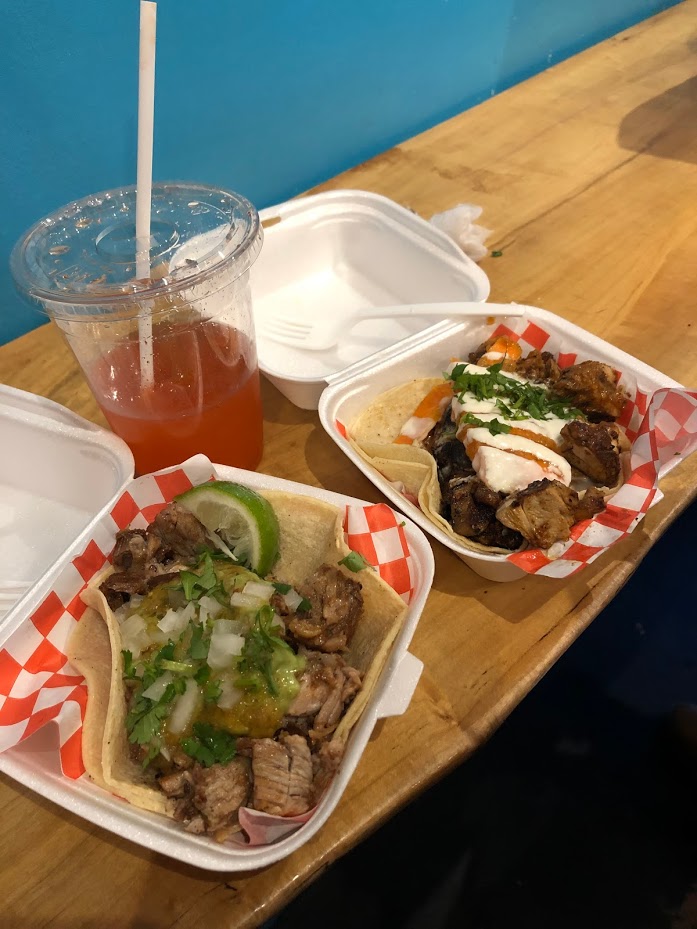 We chilled out at our Airbnb until we got hungry again, and ran to Moo Frites, which is your one-stop-shop for everything French fries. All they sell is literally French fries, all customizable with toppings and sauces, and of course they serve a Canadian classic – poutine! 
Day Three – Allan Gardens Conservatory, Elgin and Winter Garden Theatre Centre, and Nathan Phillips Square
Day three was event filled! We started off our day eating breakfast at this restaurant called Karine's Fresh. It's located in a food court (we couldn't find it at first), but the restaurant still radiates a comforting feel. The food was delicious, and the owner, Karine, took our orders and was super sweet!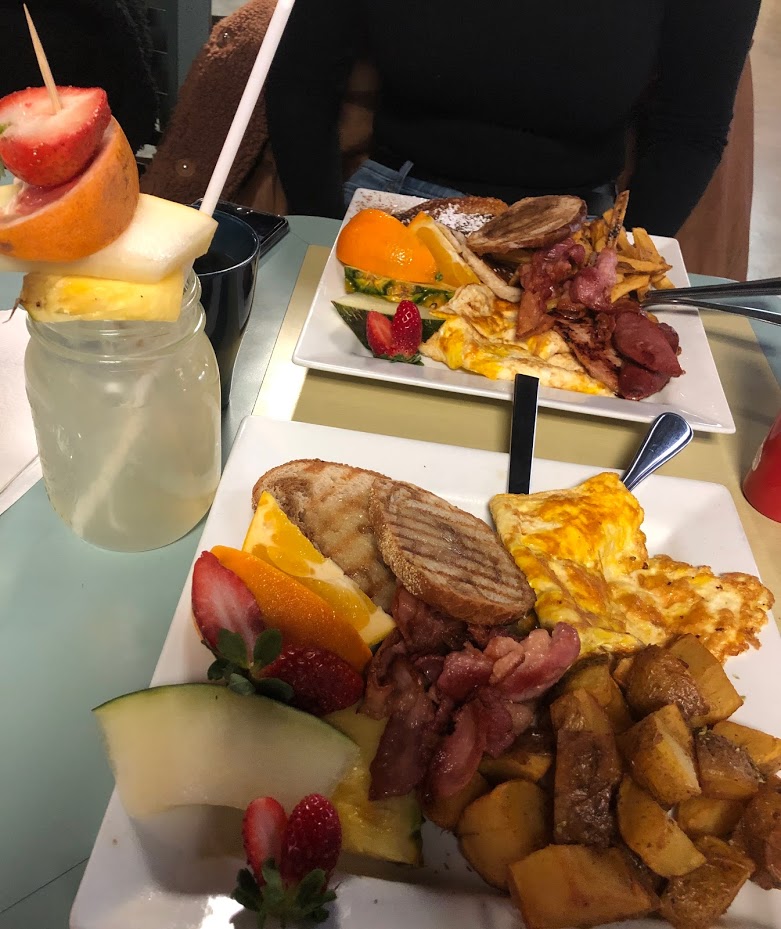 From there, we went to the Allan Gardens Conservatory. Open daily between 10am to 5pm, it was free to enter and explore. I always like to see different and unique plants, and all the nature was beautiful. Especially when the trees outside are barren, it was freezing cold and starting to snow. 
We walked over to Yonge-Dundas Square, which is like a mini Times Square. The Toronto Eaton Centre, along with plenty of other stores and restaurants, surround Yonge-Dundas Square. For lunch, we tried Blaze Pizza (there are locations in the US, but none near JC) and shopped at Forever 21 until it was time to go to the Elgin and Winter Garden Theatre Centre.

I had discovered the Elgin and Winter Garden Theatre online, learning that the top floor theatre had been decorated to look like a forest – with tree trucks, leaves, and beautiful lanterns above your head. There are tours every week to visit and explore the theatre – Mondays at 5pm, and Saturdays at 10am. It's cash only, $12 CAD for adults, and $10 CAD for students and seniors. It was a small group of us, and one of the first things we learned about the theatres is that they were originally built to be a part of the Loew's theatre chain (aka the same chain that the Loew's in Journal Square was built for – small world)! We got to learn about the culture of theatres in the 1900s, explore both theatres and heard some ghost stories, and of course, get to see the gorgeous Winter Garden Theatre in person.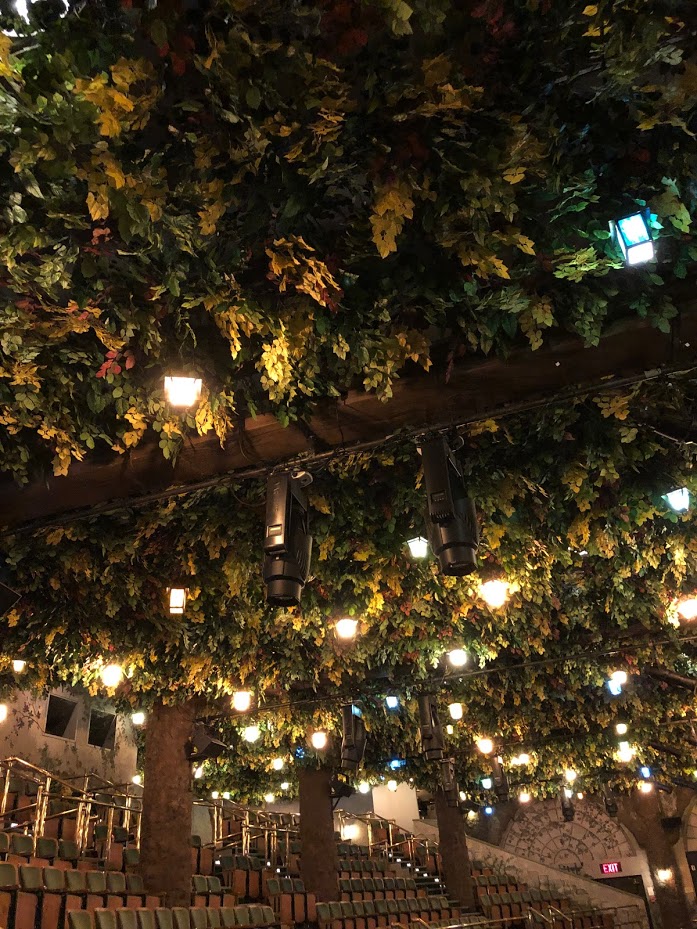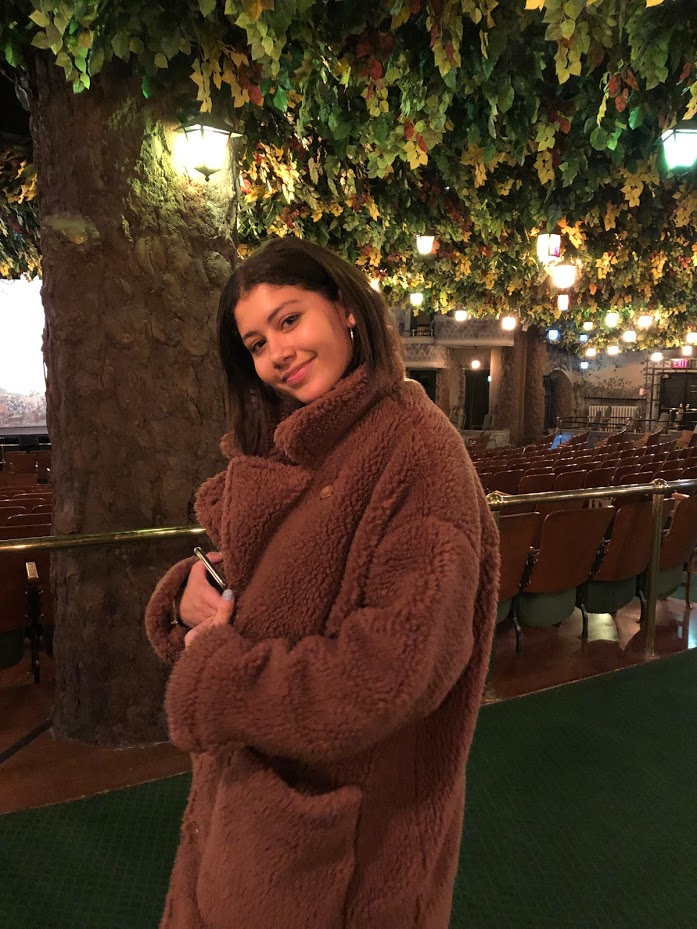 The tour was wonderful, and after it was finished, we went ice skating in the Nathan Phillips Square, known for its glowing Toronto sign. We had a good time, except for this drunk dude yelling at us and other guests. We told an employee who was skating on ice about him (he was there for accidents and emergencies) and he skated around with us. I learned that he was actually only 16 years old and we launched into a discussion about US and Canadian healthcare (he couldn't believe that some people don't go to hospitals when they are ill because they can't afford it). 
After our hour of skating was up, we ate at Sansotei Ramen. To be honest, this was my first time eating ramen at a restaurant, and I don't know why it took me this long to. Super delicious!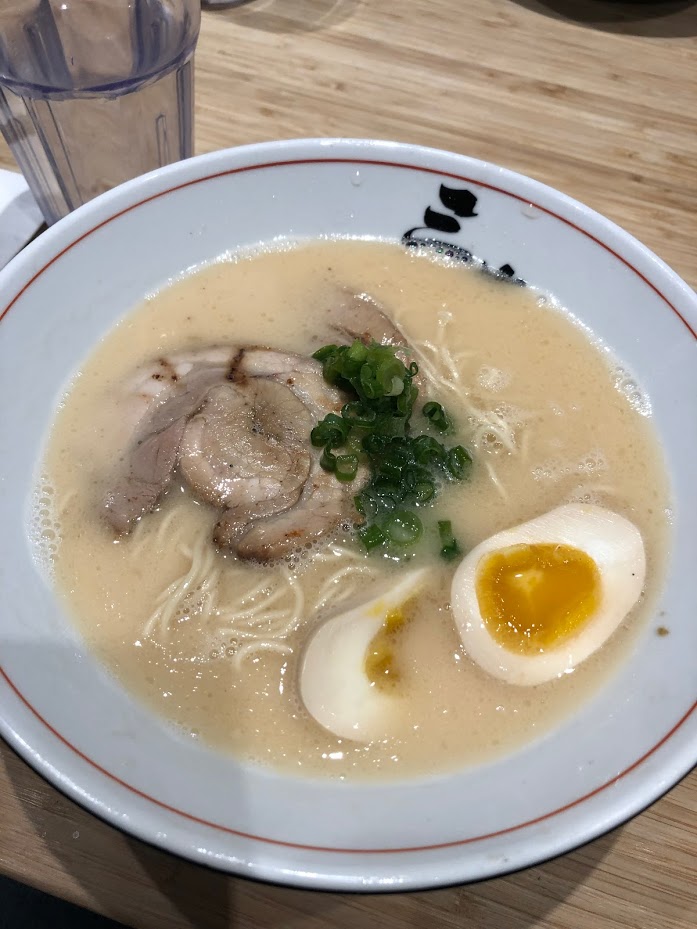 Day Four – AGO, The Monkey's Paw and Body Blitz Spa
Our last full day in Toronto! For breakfast we went to Egg Bae, this cute little breakfast sandwich shop. I also finally tried Tim Horton's because it's a classic Canadian thing. Maybe ordering a cold drink in January wasn't the smartest thing, but it was definitely on the same level as a Dunkin Donuts drink. 

Next stop: the Art Gallery of Ontario (AGO). Anyone 25 years old and under can enter for free, and regular admission starts at $25 CAD. I love visiting art museums, and AGO definitely has some amazing, thought-provoking pieces of art.



After AGO, we headed to this vintage book store called The Monkey's Paw. The main attraction there is this cool machine called the Biblio-Mat, where you stick a token inside and receive a unique vintage book. Unfortunately, it wasn't working when we went, but I still got two books to bring home with me. Lunch/dinner was at Station Bar and Kitchen!

One of the most relaxing things we experienced on the trip was visiting a spa. We went to Body Blitz Spa West, a female-only therapeutic water spa. A trip to the spa cost us each $58 CAD since we went on a Tuesday, and it's ten dollars more the rest of the week. We had access to three different pools: a warm Dead Sea salt pool, hot Espom salt pool, a cold plunge pool, a steam room and a sauna, as well as complimentary use of the showers, lockers, robes, towels and sandals. There's a suggested water circuit, which we tried, and then we relaxed in the warm Dead Sea salt pool. Phones and any electronics are NOT allowed past the lockers because 1)  there's water everywhere and 2) tops are optional. I loved the spa as it was something new for me and it was really relaxing, and I literally felt like a new person walking out of the spa.
Day Five – Lesson Learned
Our last day in Toronto and also the worst part of our trip. I had taken us to the airport we entered Canada from – Billy Bishop (YTZ), but we were actually supposed to go to the Toronto Pearson International Airport (YYZ). Since the two airports have similar airport codes, I didn't even realize it until we were inside Billy Bishop. By the time we got to YYZ (after taking a shuttle bus back to Union Station and an Uber to the CORRECT airport), the flight was departing in 40 minutes but it was too late for us to check in and receive our boarding passes. The flight itself was supposedly United but operated by Air Canada. It's a bit confusing on how flights operated by another airline work, but basically both companies make some money off the tickets. For us though, it was even more of a problem when figuring out how to book a ticket for the next flight available. I went to Air Canada employees, who bounced me to United, back to Air Canada, back to United, you get the point. Finally, Air Canada got us on a flight for an additional $105 CAD (about $80 USD), but it was in another six hours. Luckily, everything went smoothly after that, but it sucked since it was the first time I was travelling out of the country and I was the one responsible for all the technicalities, and I didn't notice the difference between YTZ and YYZ. Definitely learned my lesson about paying attention to airport codes and arriving to airports with plenty of time to kill!
Overall
Despite the airport mishap, I loved my time in Toronto. It's fun to explore and discover a new place, learn its history, and experience its culture. While Toronto is pretty similar to NJ/NYC, it was still a nice getaway, and going over my trip makes me wish I was back there! There's plenty I didn't get to experience or visit, but considering it was my first trip without my mom, I don't think I did too bad!