When most people go on vacation in January, they think of going to a warm, tropical place. Instead, my friend Leslie and I decided to go somewhere even COLDER than New Jersey – Toronto, Canada. Less than two hours away by plane, this bustling city is one of the most multicultural places in the world and is full of so much rich history. We stayed in Toronto for five days, and with some tips on how to prepare, here are the highlights of my time in Canada!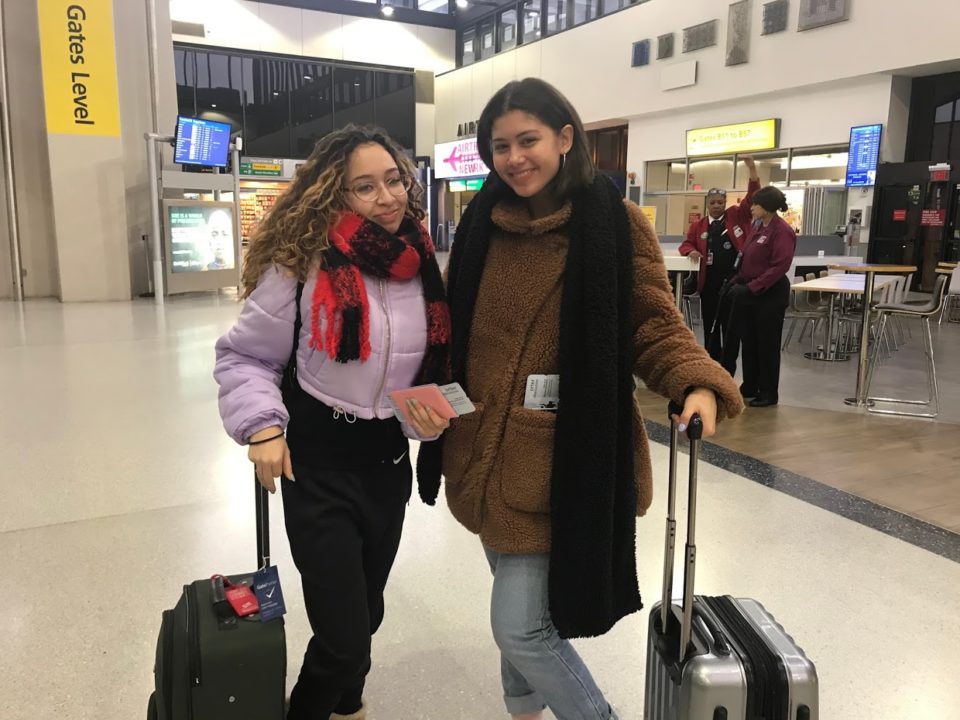 How to Prepare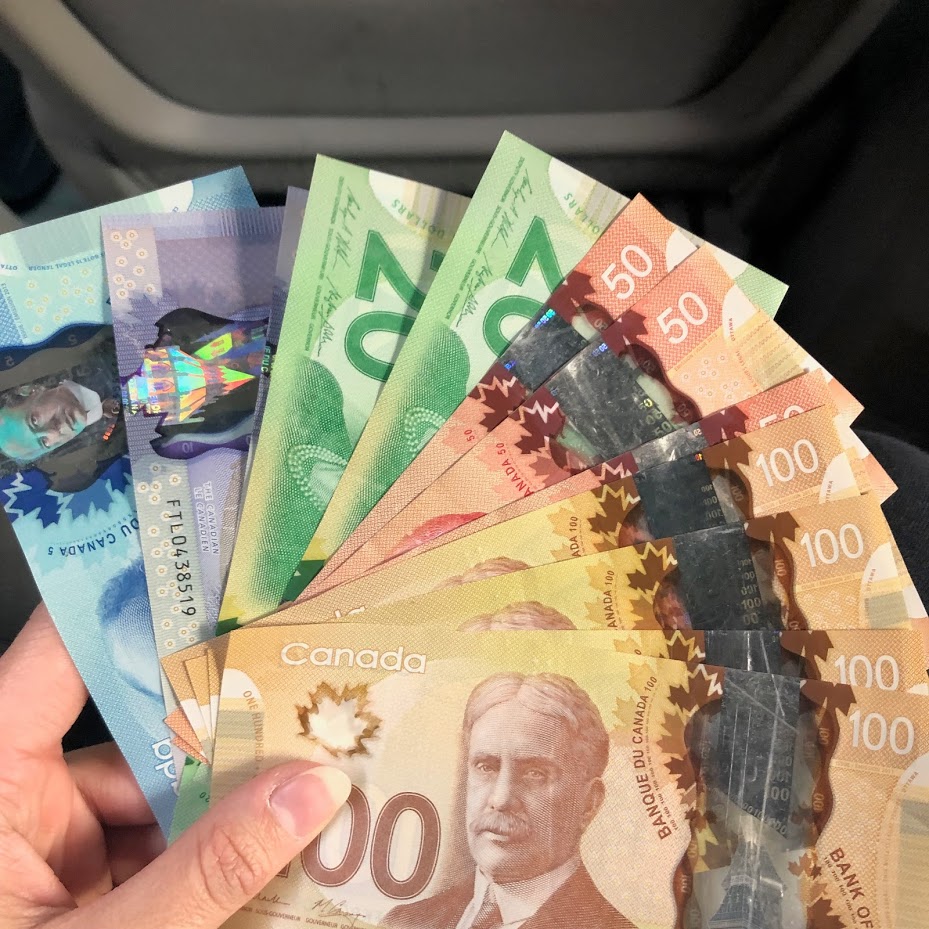 Whenever you start planning a trip, you have to find flights, accommodations, convert money, and figure out what you're packing in your suitcase! Two round trip tickets between Newark and Toronto for five days in early January cost us under $500, and we found a room with two beds in Chinatown for $250. We weren't in the center of Toronto, but we were only a 10 minute walk to Kensington Market, which has a lot of cool thrift shops and tons of delicious places to eat! Canada has their own form of currency – the Canadian dollar (and it does sort of smell like maple syrup). I did convert my money through my bank before arriving in Canada, and $500 USD (including fees) got me $635 CAD to spend. Luckily for New Jerseyans, Toronto weather is similar to NJs, making packing a lot easier. Make sure you bring season appropriate clothing, which in my case meant packing tons of sweaters and gloves! Double check on your favorite weather app for any differences closer to the date.
Places to Visit
CN Tower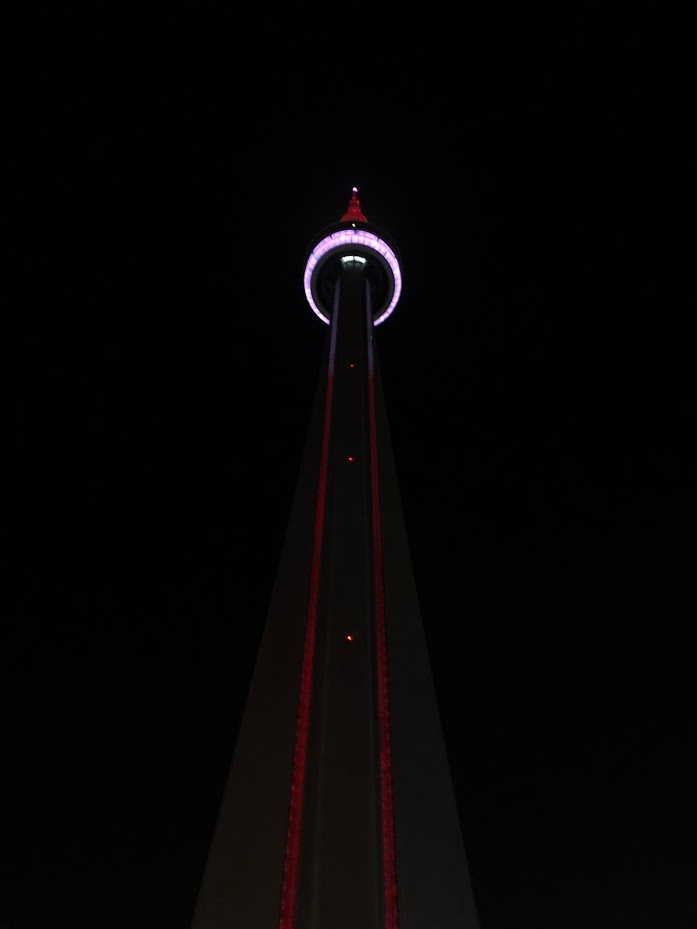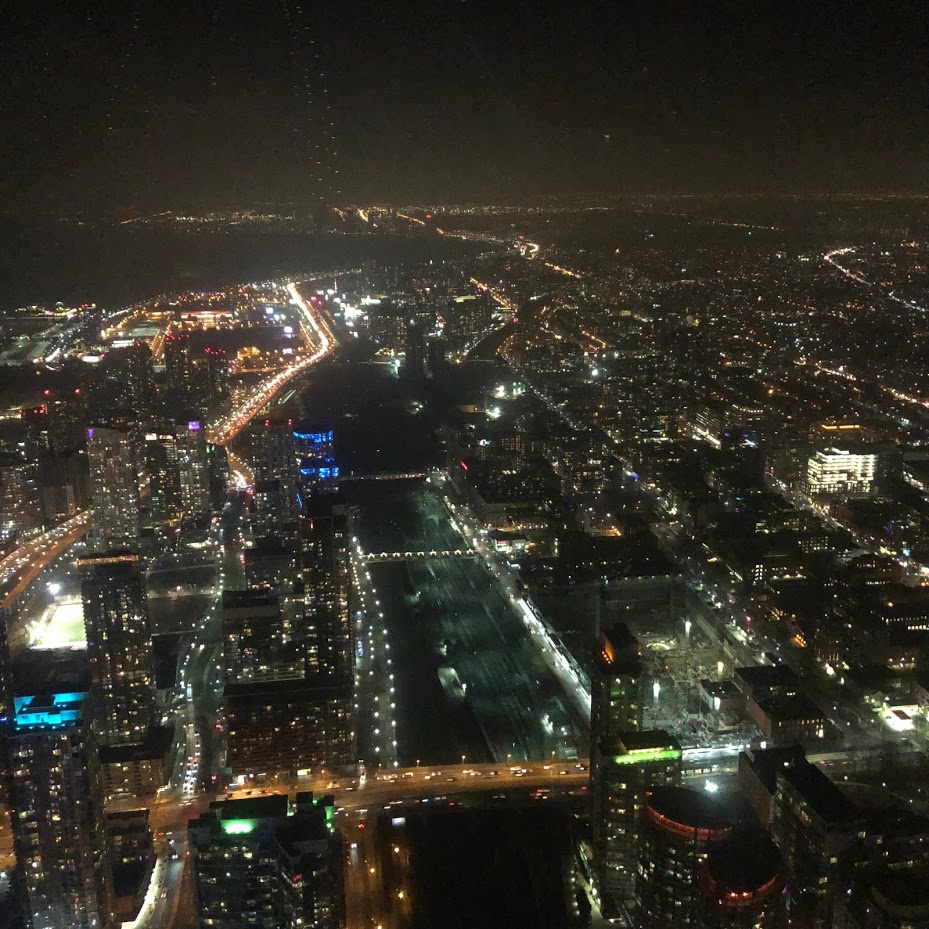 Every famous city has their tallest building that becomes a huge tourist attraction, whether it is because of its history or height, or maybe a little bit of both. Either way, in Toronto, this attraction is called the CN Tower. It is the world's 9th tallest free-standing structure, towering over Toronto at 1,815.3 feet (553.3 meters). Inside, there are three levels from which you can see the sprawling metropolis below: SkyPod is the highest observation level at 1,465 feet, LookOut Level is at 1,136 feet, and the famous Glass Floor and SkyTerrace are at 1,122 feet. You can shoot up to the LookOut Level in under a minute as Toronto shrinks beneath you. We visited at night time, and it was absolutely breathtaking to see all of the city lights twinkling from up that high.
Casa Loma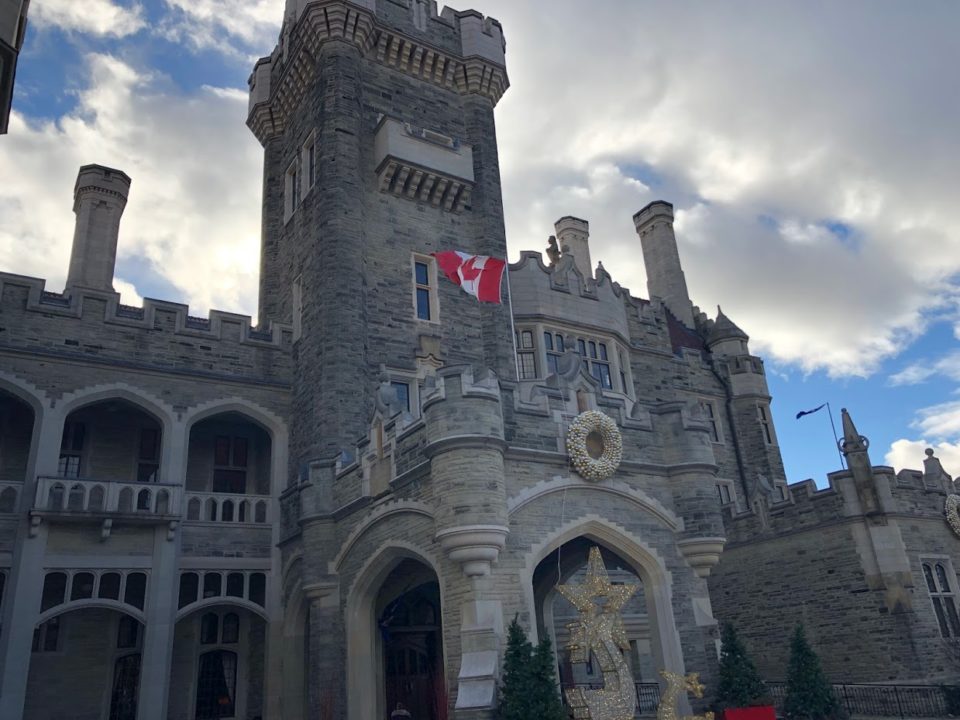 If you ever wanted to casually explore a castle in the smack middle of town, here is your chance! Casa Loma was originally built in 1914 by Sir Henry Pellatt, and now is a tourist hot-spot, a venue for weddings and a popular film location (movies including X-Men and Scott Pilgrim vs. the World have scenes located here). Throughout the castle, Canadian history is everywhere from the architecture to daily life in the early 1900s to even Canadian military history (who would have thought a country that says 'Sorry' so much would even need a military). There are almost 100 different rooms to explore, two towers that have an amazing view of the Toronto skyline, a five acre garden and even a tunnel connecting the castle to the Hunting Lodge and stables.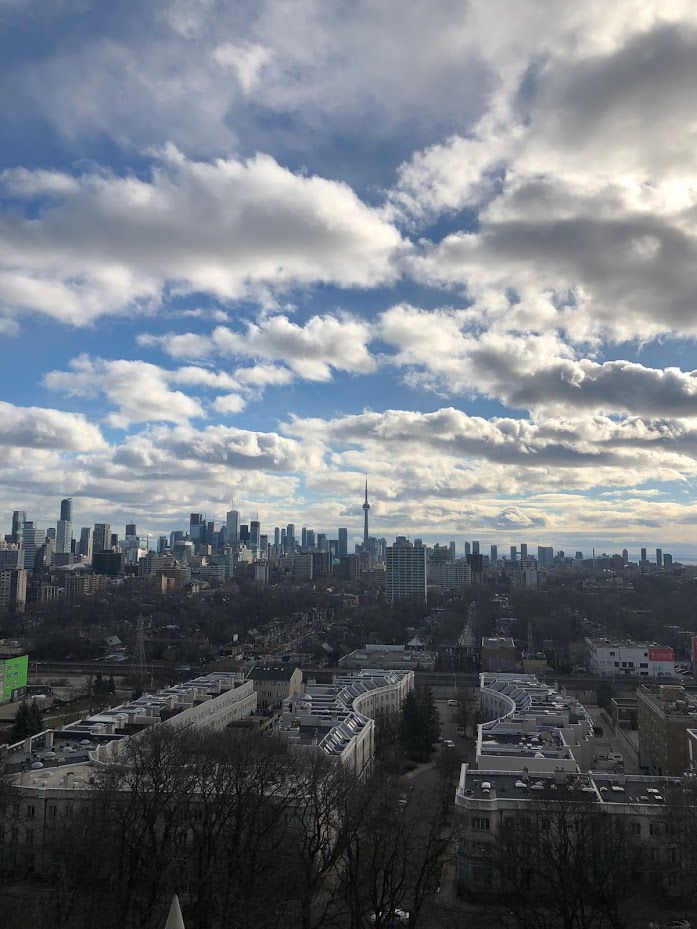 Elgin and Winter Garden Theatre Centre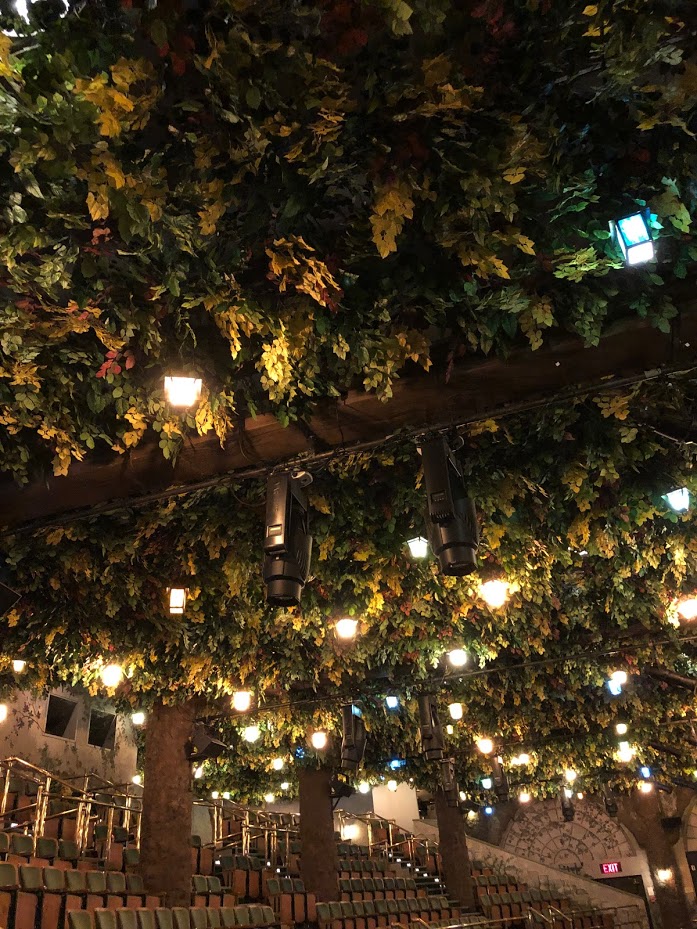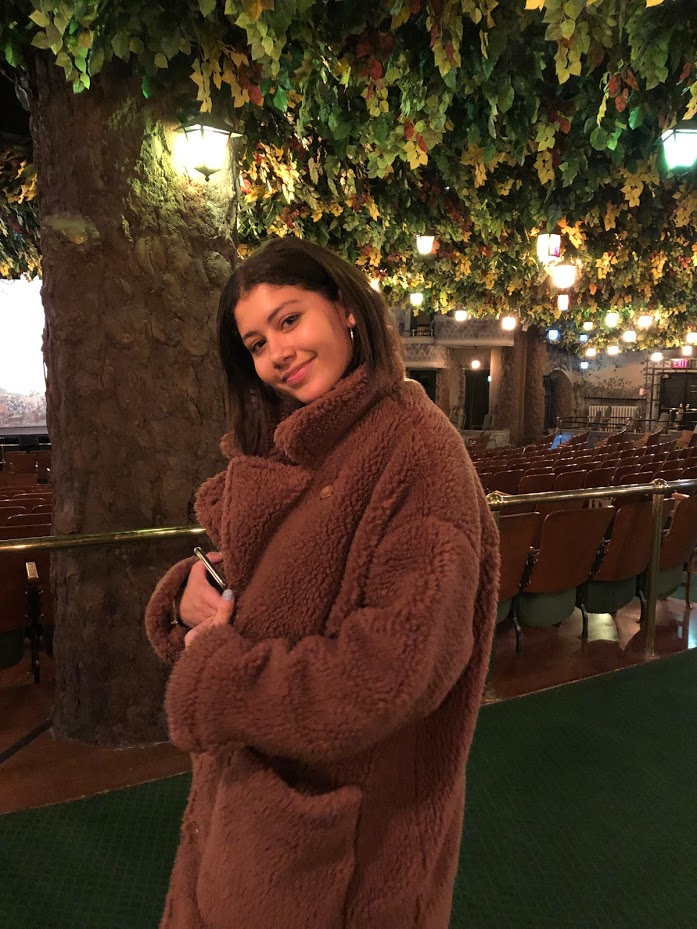 I discovered the Elgin and Winter Garden Theatre Centre online, learning that the top floor theatre had been decorated to look like a forest – with tree trunks, leaves, and beautiful lanterns above your head. There are tours every week to visit and explore the theatre – Mondays at 5pm, and Saturdays at 10am. It's cash only, $12 CAD for adults, and $10 CAD for students and seniors. It was a small group of us, and one of the first things we learned about the theatres is that they were originally built to be a part of the Loew's theatre chain (which is the same chain that the Loew's in Journal Square was built for – small world)! We got to learn about the culture of theatres in the 1900s, explore both theatres and heard some ghost stories, and of course, get to see the beautiful Winter Garden Theatre in person.
Nathan Phillips Square
We went ice skating in the famous Nathan Phillips Square, known for its glowing Toronto sign. During the summertime, the ice skating rink is a reflective pool, an elevated walkway surrounding the square is open and the Peace Garden is in full bloom. It's free to skate at Nathan Phillips Square, but renting skates starts at $10 CAD for adults for a two hour period. 
The Monkey's Paw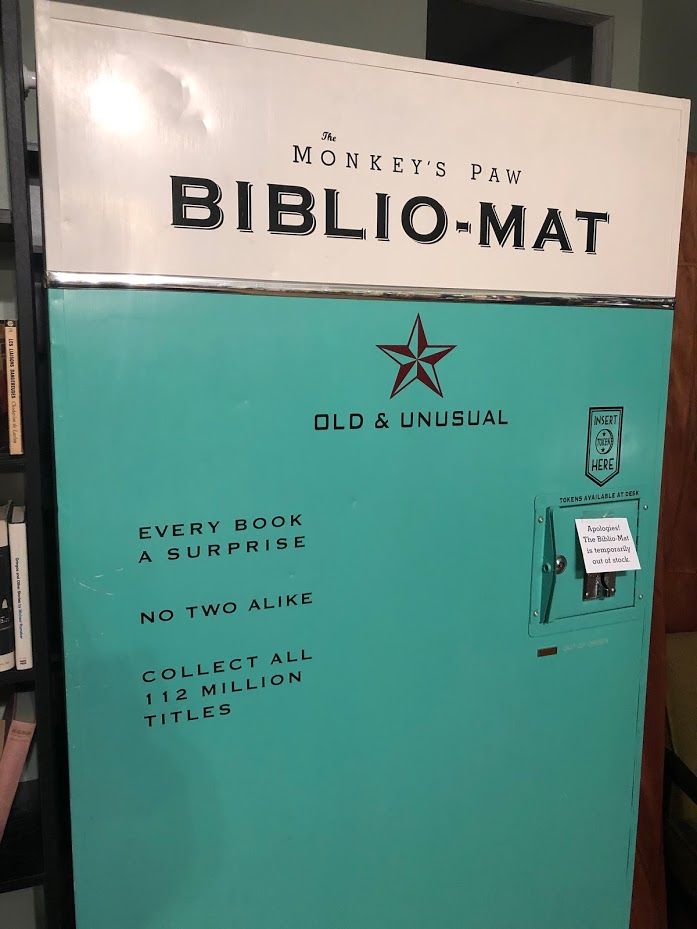 We headed to this vintage book store called The Monkey's Paw. The main attraction here is this machine called the Biblio-Mat, where you insert a token and receive a random and unique vintage book. Unfortunately, it wasn't working when we visited, but it was still cool to actually see genuine vintage books that were published in the 60s and 70s.
Body Blitz Spa
One of the most relaxing things we experienced on the trip was visiting a spa. We went to Body Blitz Spa West, a female-only therapeutic water spa. A trip to the spa normally costs $68 CAD, but it is ten dollars off on Tuesdays, which is when we decided to go. We had access to three different pools: a warm Dead Sea salt pool, hot Epsom salt pool, a cold plunge pool, a steam room and a sauna, as well as complimentary use of the showers, lockers, robes, towels and sandals. There's a suggested water circuit, which we tried, and then we relaxed in the warm Dead Sea salt pool. Phones and any electronics are NOT allowed past the lockers because 1)  there's water everywhere and 2) tops are optional. I loved the spa as it was a completely new experience for me, I left feeling really relaxed and like a new person.
Places to Eat
Seven Lives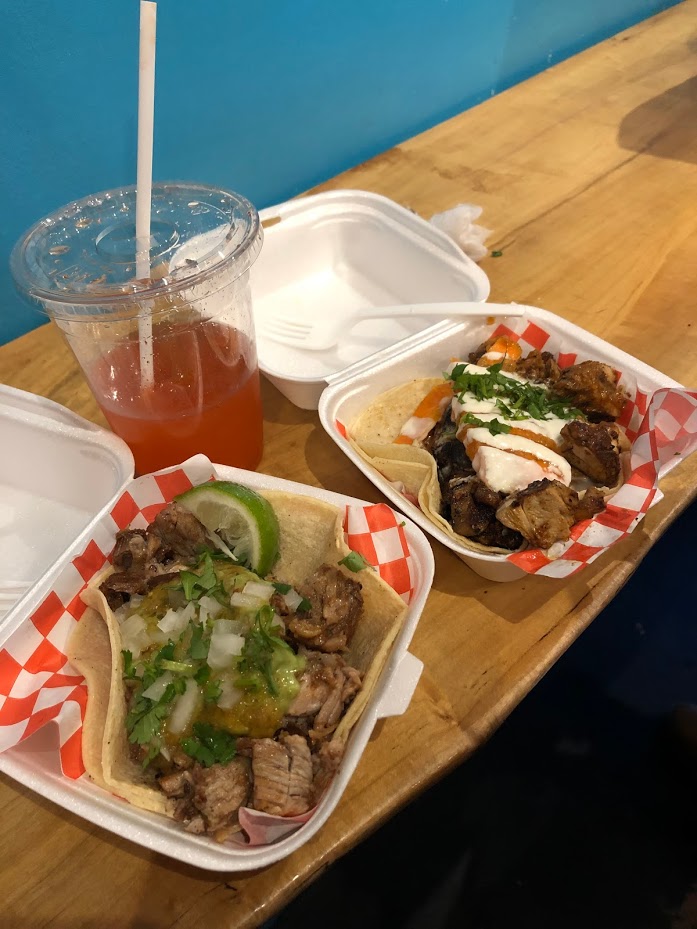 When I say I would fly back to Toronto just to have another Carnitas taco from Seven Lives, I'm 100% serious. When we first passed this taqueria, it was jam-packed with people. The next day we managed to slip inside to get a taste.  We both ordered a single taco (definitely should have gotten more) but they were super flavorful and you could tell that the ingredients were fresh. Seven Lives is cash-only, with a simple but well rounded menu. A must visit for taco connoisseurs.
Moo Frites
Moo Frites is your one-stop-shop for everything French fries. All they sell is literally French fries, all customizable with toppings and unique sauces, and of course they serve a Canadian classic – poutine! If you like your fries plain, keep it simple with a regular cone of fries seasoned with sea salt. Or try one of their many house made sauces, with options from Nosy Wasabi to Peanut Sauce.
Karine's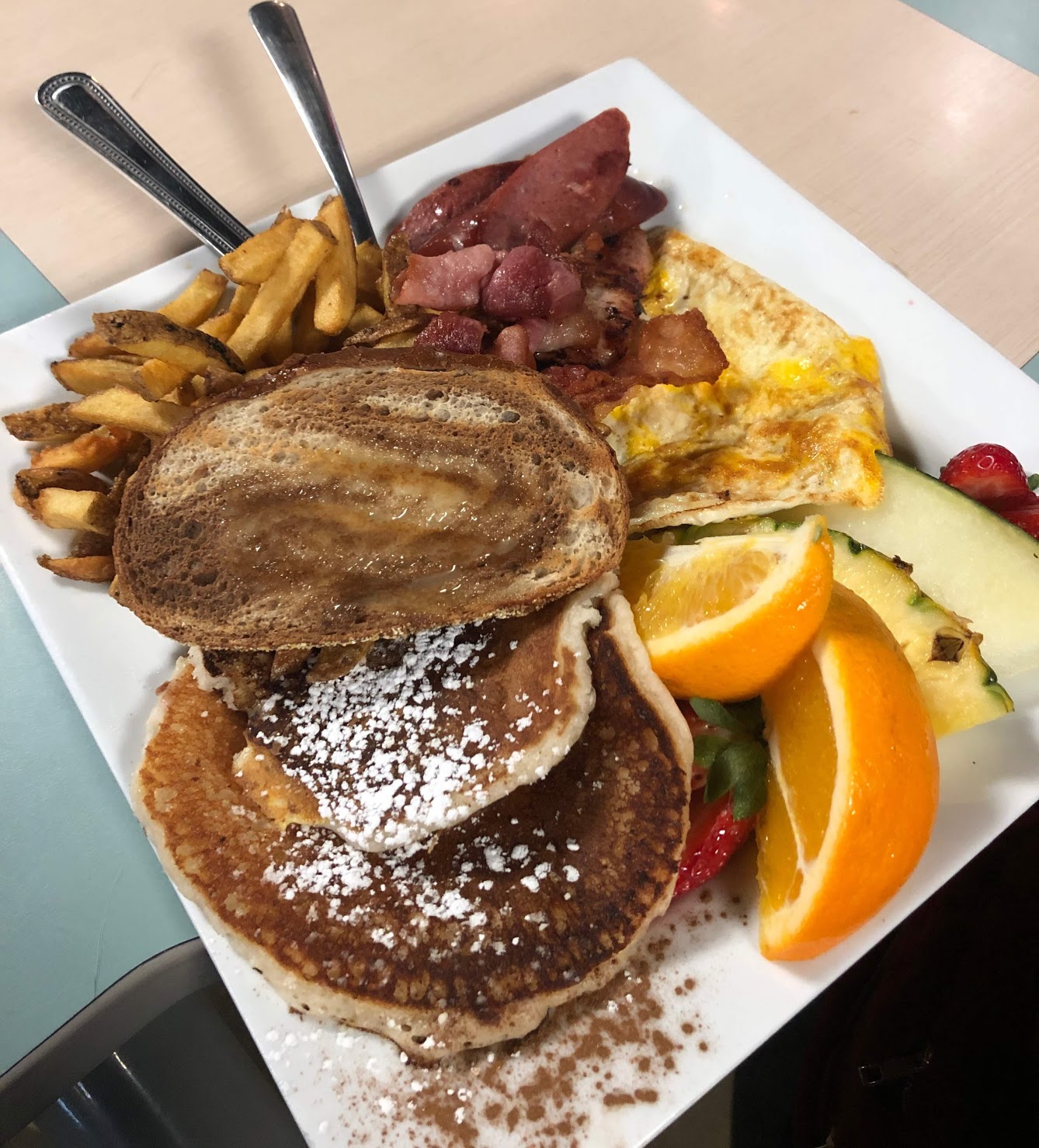 You would never guess that Karine's is located in a food court, with its homey decor and plates filled to the brim with delicious and fresh food. When we finally found it, we met Karine, the owner and a sweet lady who took our orders. They offer all-day breakfast, along with an exclusive vegan menu that includes a tofu omelette and build your own mix-and-match savory platters. I ordered Karine's Supreme, a platter with two pancakes, two eggs, bacon and sausage, toast, and your choice of fries (home, garlic or regular). Leslie tried the Breakfast All Day Everyday, which has two eggs, a choice of bacon or sausage, toast, and a choice of fries. Both platters also came with refreshing mini fruit salads!
Sansotei Ramen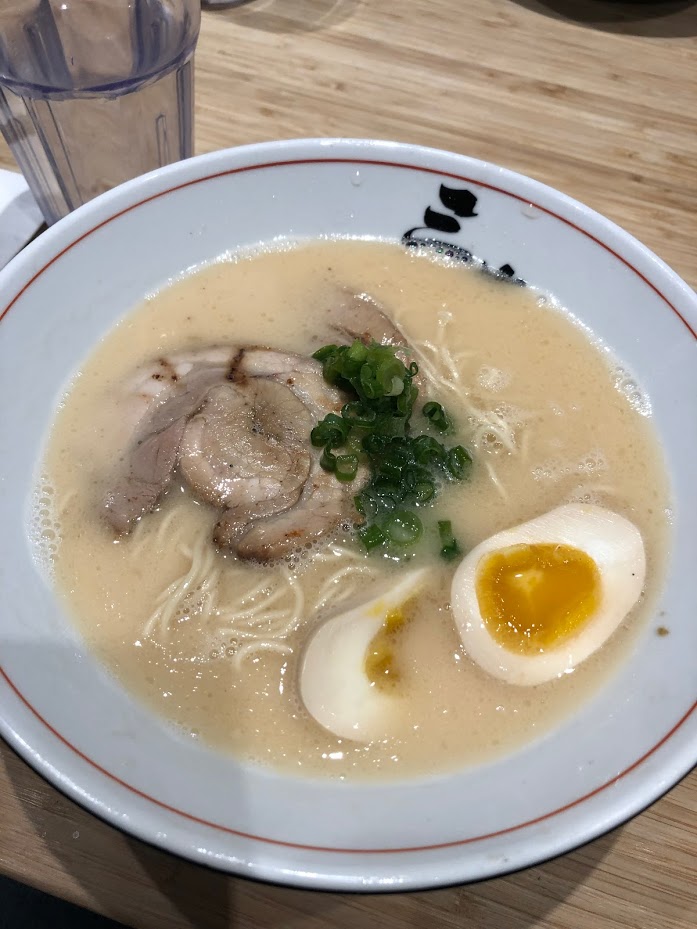 This happened to be my first time eating ramen outside of a foam cup, and I'm glad I chose to lose my ramen virginity here. Sansotei Ramen's simple menu starts with six soups and a choice of thin or thick noodles. You can add extras like pork belly or egg, or instead try some sides like their spicy slow cooked wings or gyoza. I had the Tonkatsu without any black fungus, and it did not disappoint! With a delicious and warming broth, perfectly cooked thin noodles, runny egg yolks and tender pork belly, trying Sansotei Ramen is a must for newbies and full on ramen lovers alike!
Egg Bae

This adorable little breakfast sandwich shop is a hidden gem in Toronto! Filled with tons of egg-themed art, from a full sized mural to pop art paintings of celebrities, Egg Bae is also a perfect place for photos. They offer five different sandwiches, with punny names like "Bae-sic" and "Bae Don't Kale My Vibe." I got the Eh Bae Bae sandwich, which has soft scrambled eggs, sweet and spicy bacon, arugula, and their housemade Bae Sauce as well as muenster cheese, tomato, pickled shallots (I asked for these three ingredients to be removed). I loved the mix between savory and spicy with this sandwich, and the freshness the arugula offered! With vegetarian options as well as hash browns and tater tots as available sides, this place has a sandwich for everyone.
---
Although it was freezing cold, I loved my time in Toronto. While Toronto is a busy metropolis similar to NYC, it's always fun to explore and discover a new place, learn its history, and experience its culture. Recounting my time there makes me wish I was back, getting to explore more of what Toronto has to offer and enjoying myself to the fullest. Hopefully this guide helps you plan your trip to Toronto and decide on the sights to see, where to eat and what to do!