When I was a kid, my parents had an RV and every summer, we would do an epic road trip around the US and Canada. My parents were both entrepreneurs so during the school year, they would work a lot of hours. I would always count the months till the summer came because that would mean me and my squad would hit the road and have some much needed quality time. I had some of my best childhood memories from our travels, and it definitely made me want to see the world as much as possible. But then I grew up and the trips obviously stopped at some point, and then I became a mom. For the first 6 years of my Mia's life, I focused on her, my job, and all the life things.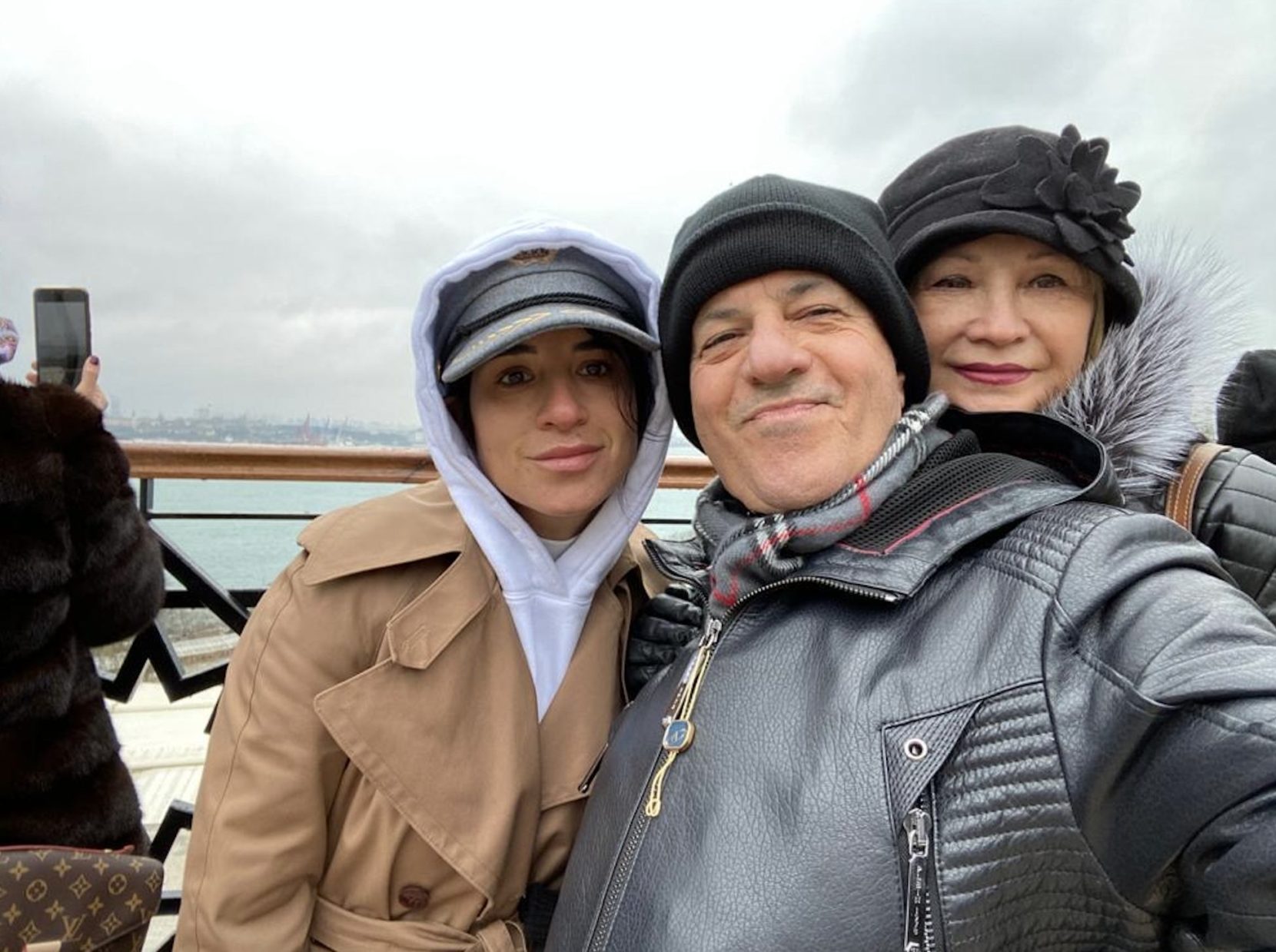 After going through a divorce last year, I decided to go on a solo trip to Thailand (which I know is very cliche) but it changed my life. The travel bug bit me and since then, I've been making it a mission to see the world and write about it. I found that sharing my travels motivates and inspires my readers to do the same, especially my female readers who might fear traveling alone. Since Thailand, I've also been to Puerto Rico, Greece, Moscow and the Dominican Republic all in less than 11 months. I am just getting started.
After a successful family trip to Moscow, I planned to visit my family in Israel for the holiday break and mentioned to my father that it would be cool to check out Istanbul in Turkey since it was only a two hour flight from Tel Aviv.
The next morning, my father texts me an itinerary. We are going to Istanbul for a few days and to celebrate the New Year.
I am most definitely my father's daughter. I was so excited and thankful, but also a little annoyed I had no control over choosing the accommodations. I like boutique hotels with dope architecture, my parents love a good package deal.
We went for 4 days and although the weather was not great, it pretty much rained the whole time we were there, I still had an amazing time. Every trip I go on, its like I find another piece of myself.
Travel So Far, You Find Yourself.
Istanbul Overview
Istanbul is in north-western Turkey within the Marmara Region on a total area of 5,343 square kilometers (2,063 sq mi). The Bosphorus, which connects the Sea of Marmara to the Black Sea, divides the city into a European, Thracian side—comprising the historic and economic centers—and an Asian, Anatolian side. Source
It is also the world's fifth most popular tourist destination! Who knew?!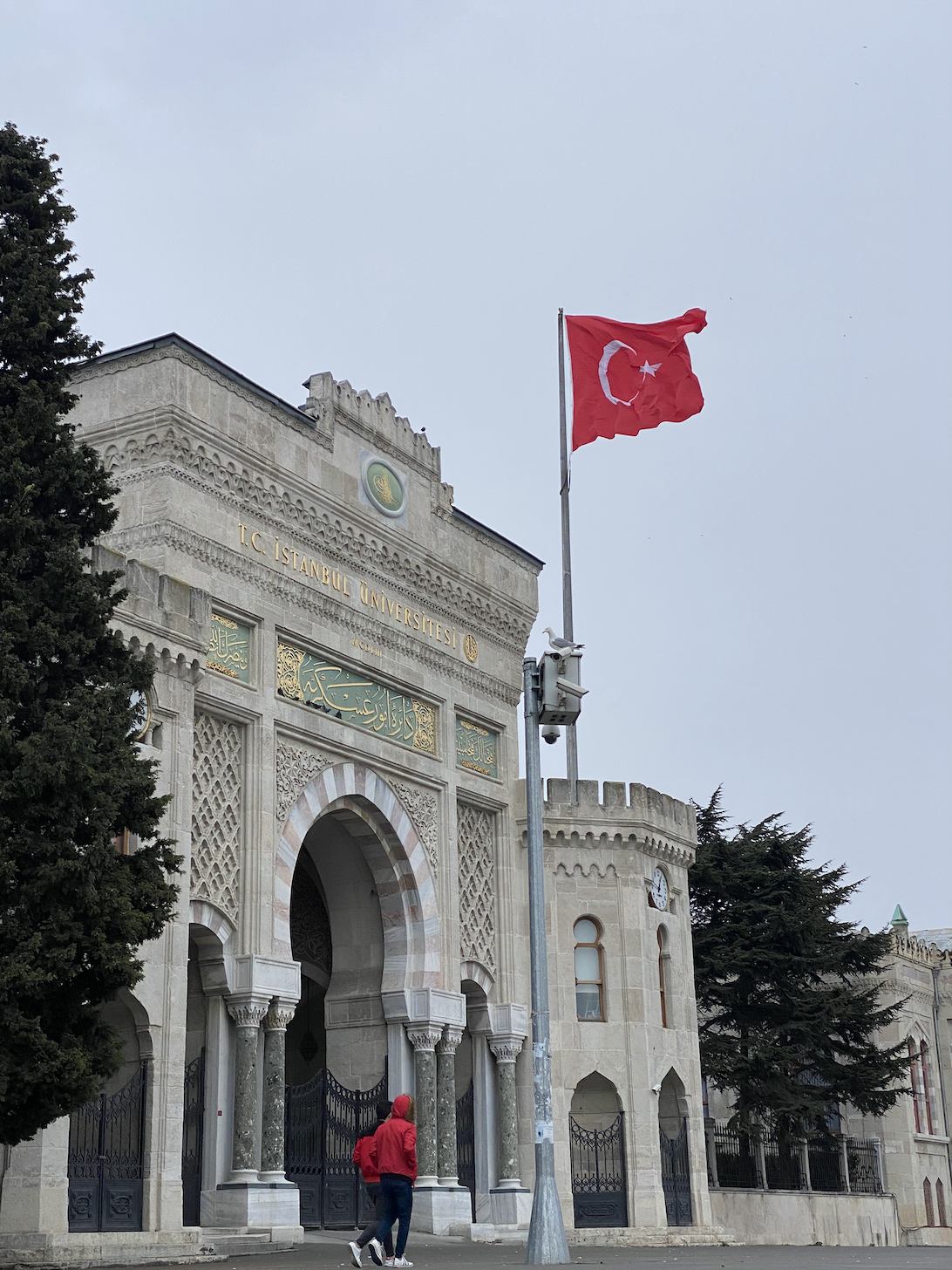 Things To Know Before Traveling To Istanbul
1. You need a visa
You can't travel to Turkey without a Visa, but it's so easy and you can do it online for like $3o. Print it out so you can present it at customs when you land. https://www.evisa.gov.tr/en/
2. You'll need cash
Restaurants and stores do take credit cards but if you're hitting the markets, want to eat street food or have cash on hand in case you take a taxi, you'll need to get Turkish Lira's. Like any country you can withdraw cash from any ATM machine and in Istanbul there are surprisingly alot, like everywhere, like it's actually a little weird at how many ATM machines are around.
3. Getting Around
I was very impressed with Istanbul's transportation options. They have a metro, bus and light rail system so if you're looking to get around on the cheap you're all set. Taxi's aren't too bad either but they might try to screw you on the price. This was a common thing most locals told us is to tell the taxi to run the meter. Uber doesn't really work, a friend told me I could use it and it would get me a taxi but it didn't work at all for me. Your best bet is to get the hotel to call you a cab if you need one.
4. Wi-Fi and connectivity
For anyone who really needs to be connected at all times with unlimited data etc.. heaven forbid you miss an Instagram post opportunity while traveling, I found a local WiFi hot spot rental company, they deliver it to where you're staying and will pick it up when you leave. This was soooo clutch: AllDayWifi.Com
5. Bring an adapter!
When To Go
As I mentioned the weather really sucked, it was cold and rainy and at times kinda uncomf0rtable, but I was also not really prepared and didn't have the right jacket. If I did it wouldn't be that bad. I hear Istanbul is incredible during the warmer months but also insanely crowded. Rule of thumb when traveling, the better the weather, the more crowded it will be and more expensive.
Where To Stay
Since I had no control over booking accommodations for this trip, it's hard to tell where it's best for you to stay. We stayed in the Old Town where all the historical sites are located, the big markets and access to all public transportation. We were able to walk pretty much everywhere so I think that's your best bet if you want to be in the center of it all. Accommodations can be cheap AF, depending on what you want. To be honest, if you are traveling to Istanbul to explore you will barely be in your room so there is no point in shelling out hundreds of dollars!
Top Things To Do
So much history and culture in Istanbul, you can literally get lost for days in the markets alone. There's so much to do and see here there's something for everyone.
Historical Sites
1. Visit The Blue Mosque
The Sultan Ahmed Mosque, often called The Blue Mosque for its blue interior, is located in the city center.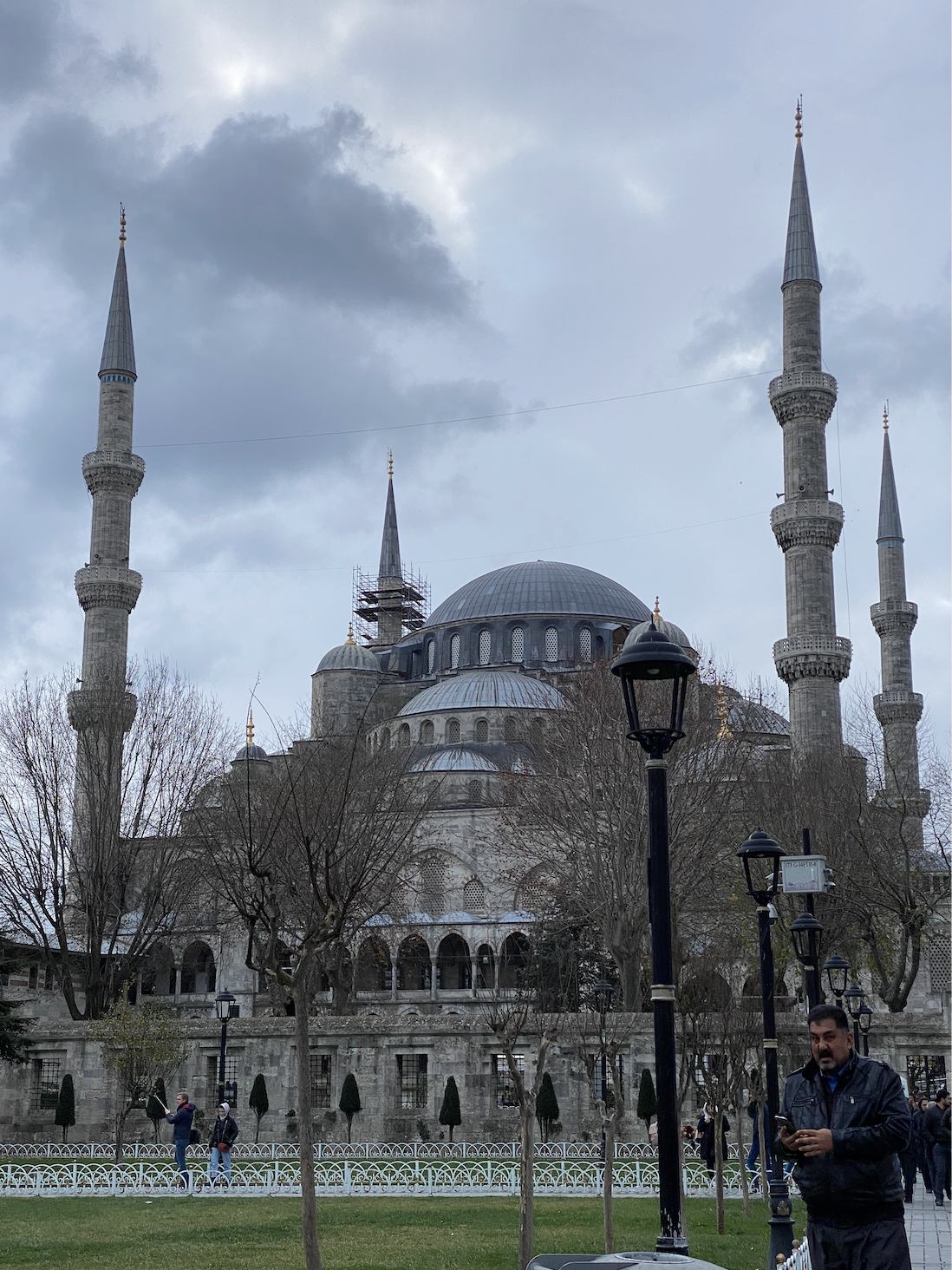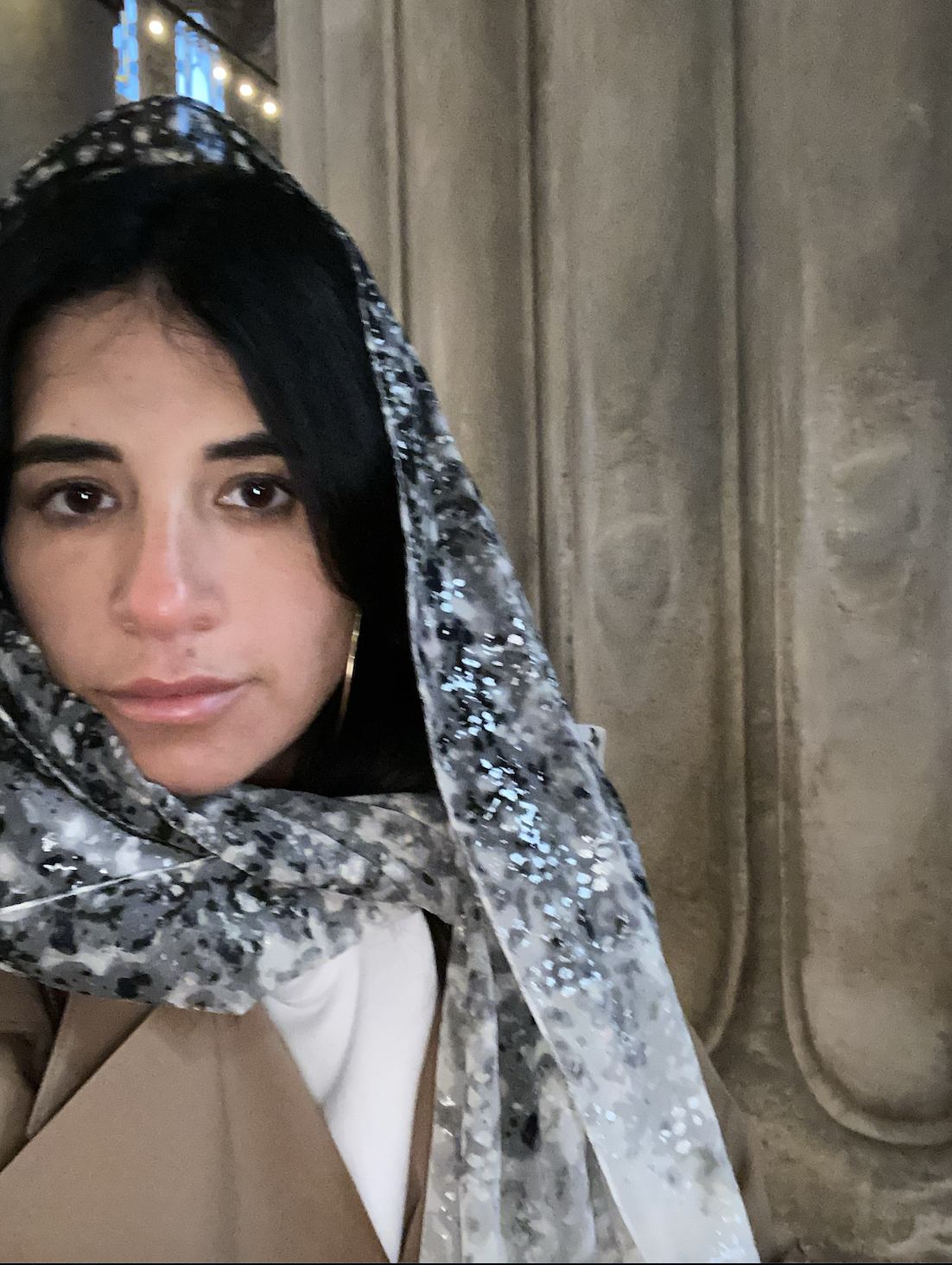 2. Hagia Sophia
Hagia Sophia is the former Greek Orthodox Christian patriarchal cathedral, later an Ottoman imperial mosque and now a museum in Istanbul, Turkey. Built in AD 537 in the Middle Ages, it was famous in particular for its massive dome. It was the world's largest building and an engineering marvel of its time.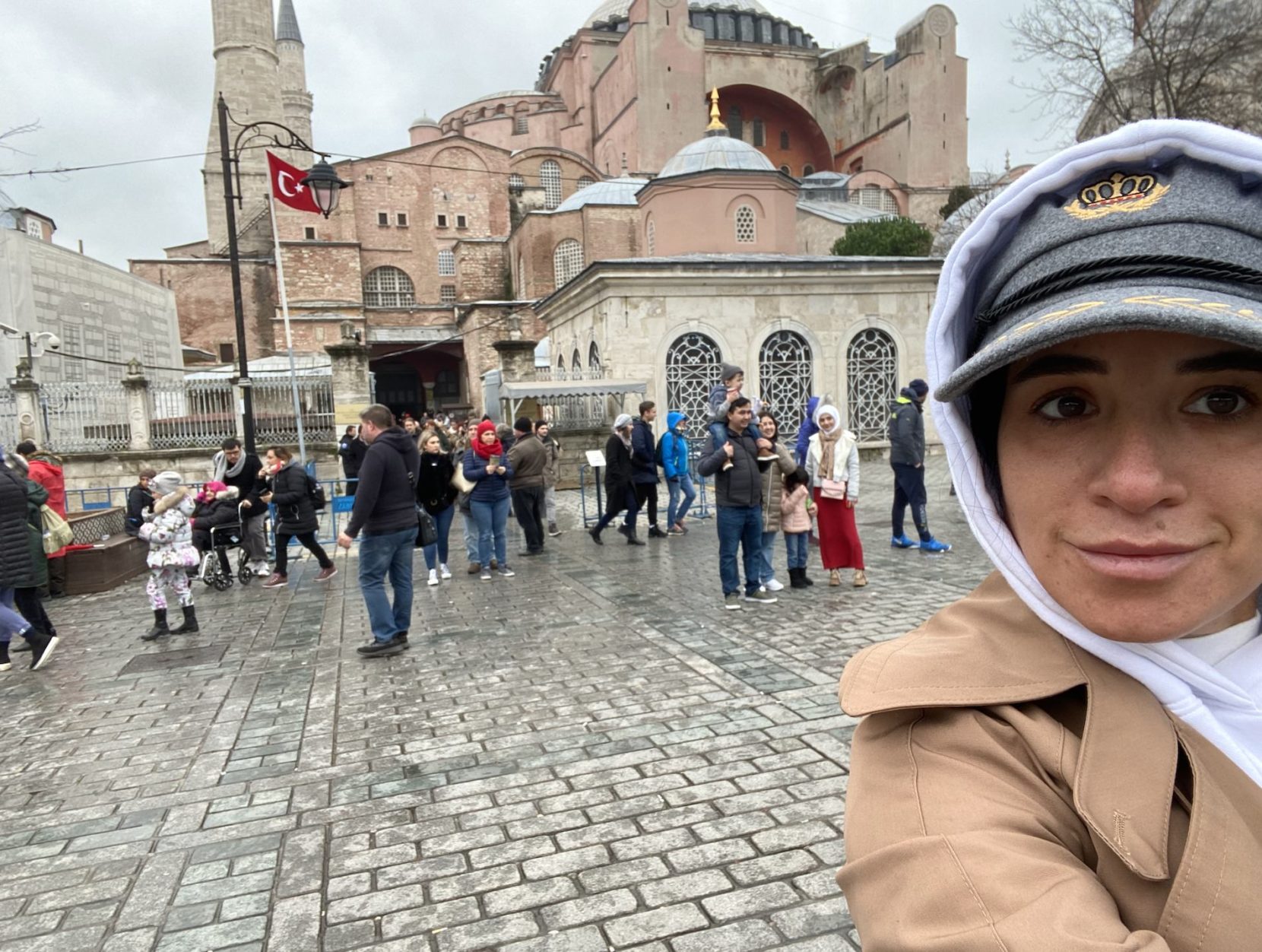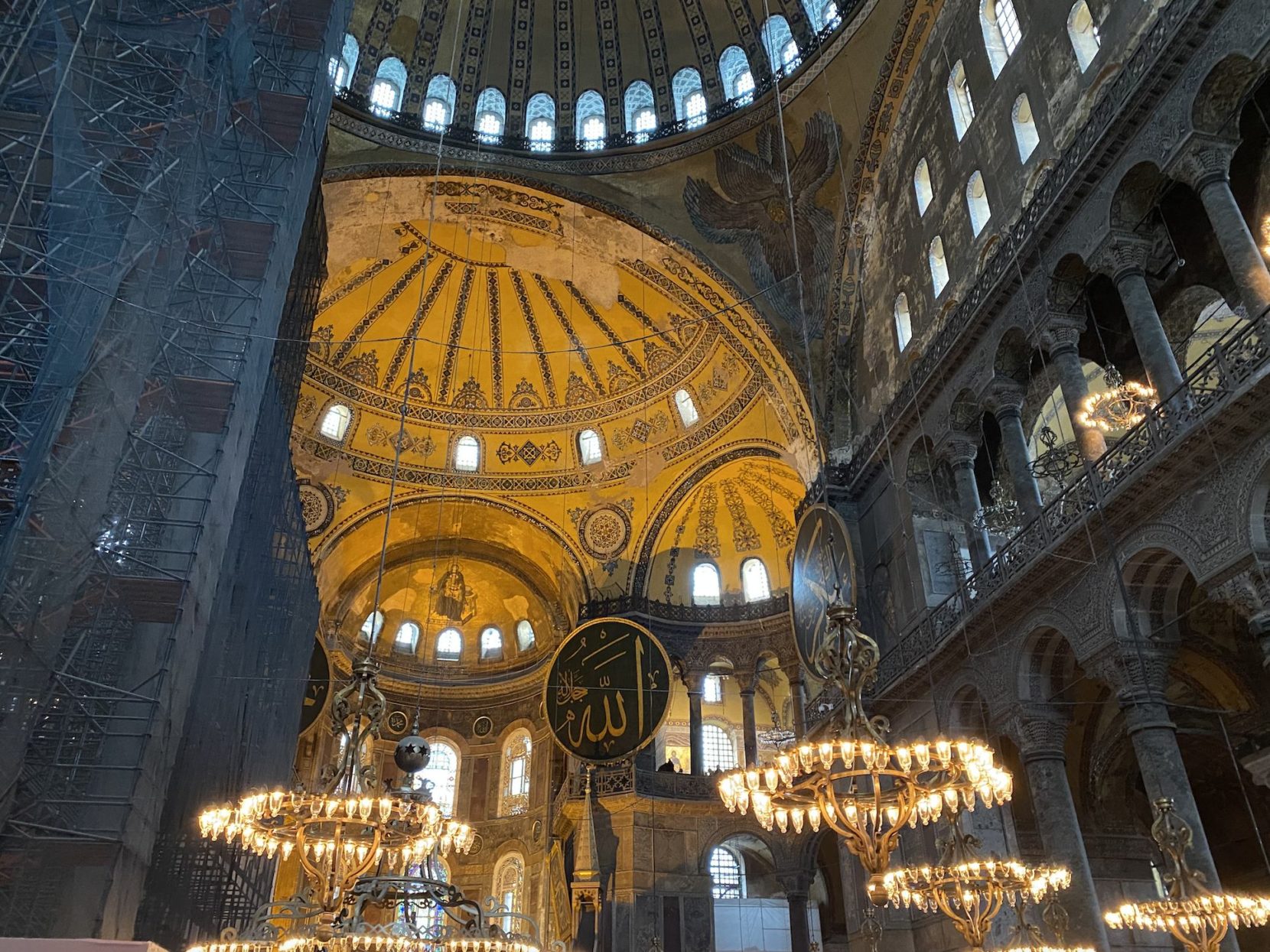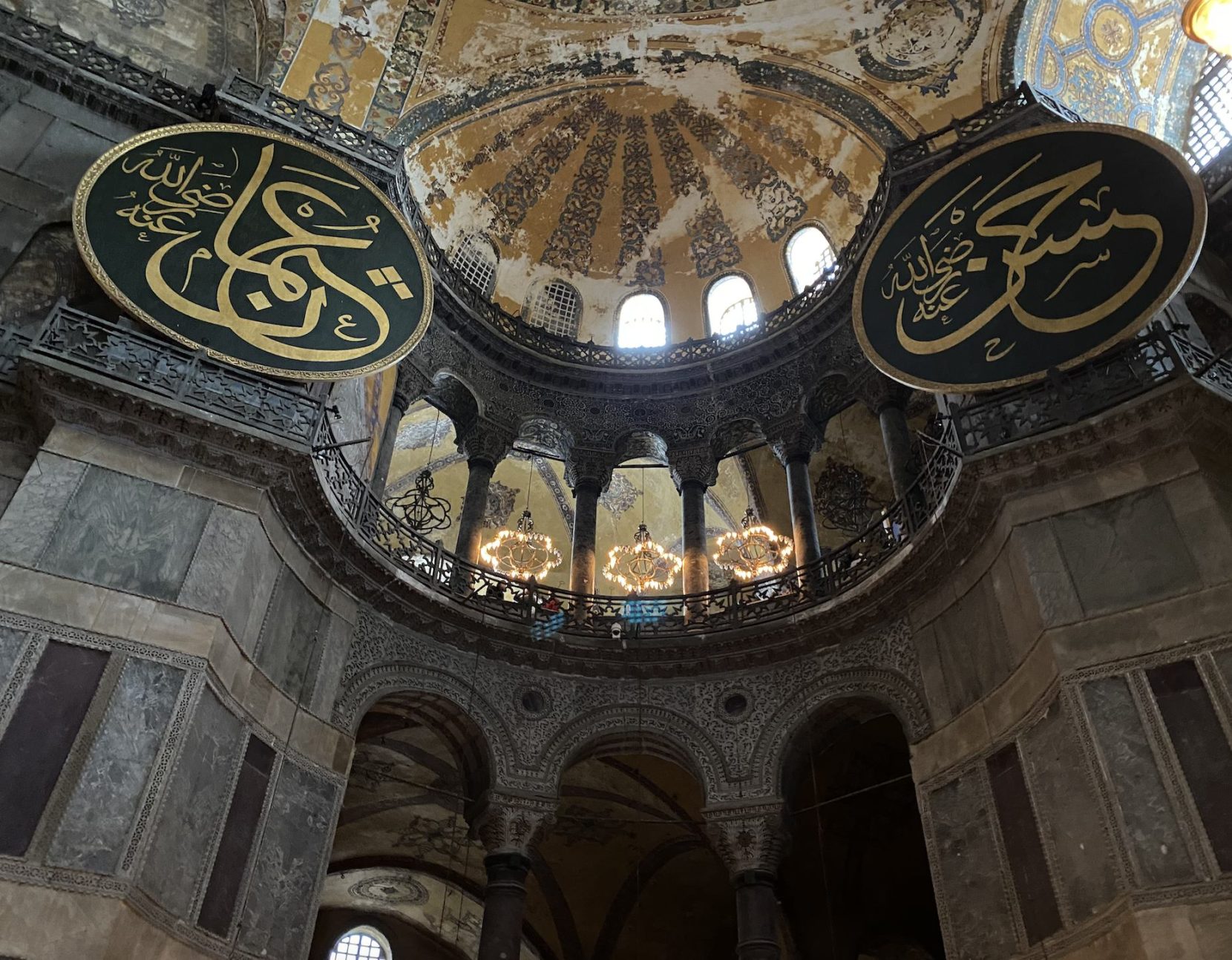 3. Galata Tower
The Galata Tower — called Christea Turris by the Genoese — is a medieval stone tower in the Galata/Karaköy quarter of Istanbul, Turkey, just to the north of the Golden Horn's junction with the Bosphorus
4. Basilica Cistern
The Basilica Cistern, or Cisterna Basilica is the largest of several hundred ancient cisterns that lie beneath the city of Istanbul.
5. TopKaki Palace:
The court of the Ottoman Empire from the 15th to the 19th centuries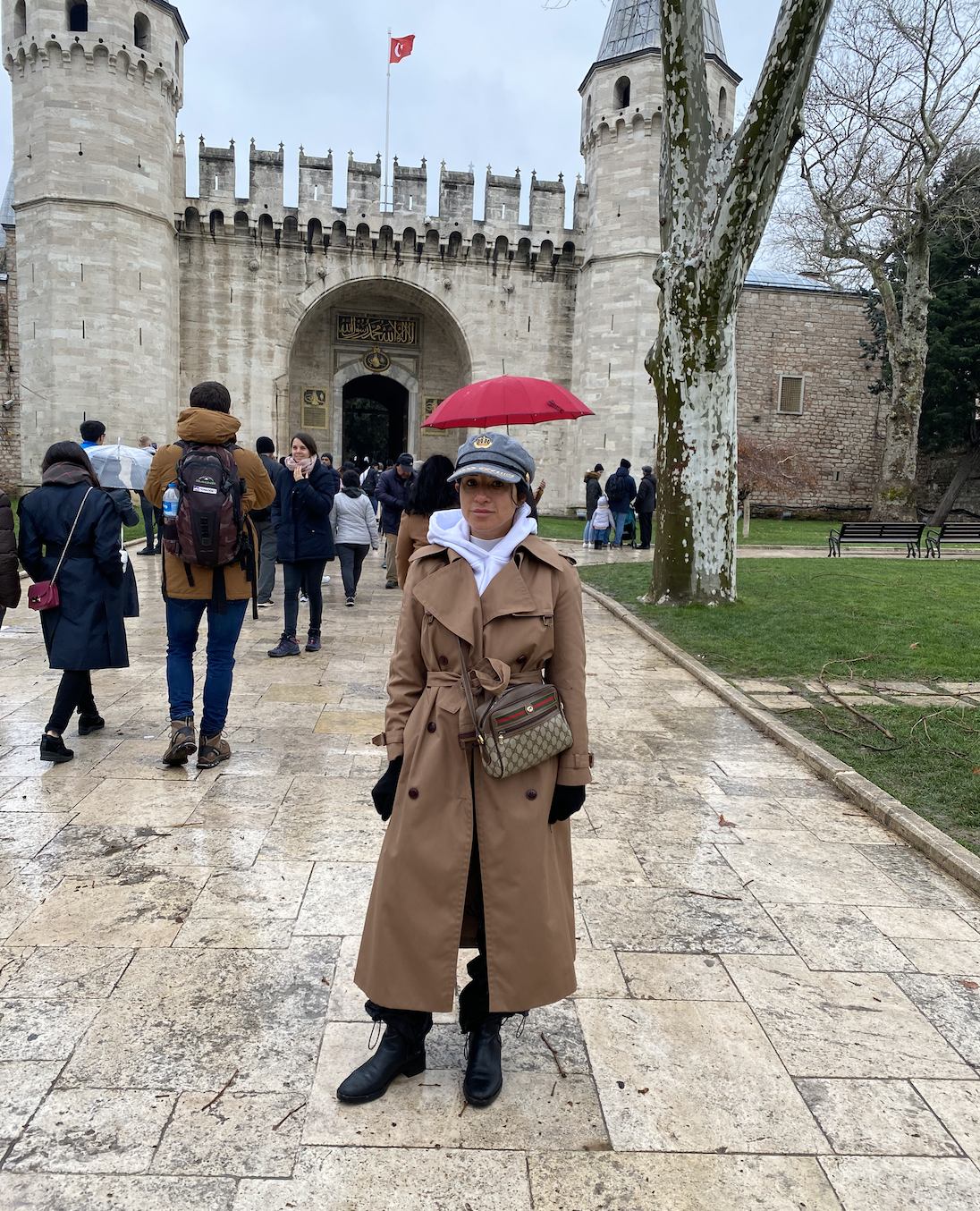 7. Galata Bridge:
Bridge connecting the north and south of European Istanbul.
8. Istiklal Caddesi:
The heart of Beyoğlu and Istanbul's most famous street.
9. Dolmabahce Palace:
The biggest palace in Turkey
Markets & Shopping
Istanbul has everything for every budget and style. From popular outdoor markets, bazaars, carpet, copper working shops, antique and handicraft shops, to designer shops, traditional shops, modern department stores and very big shopping centers; shopping is one of the best things to do in Istanbul.  I HAD NO IDEA. My favorites were ofcourse the outdoor markets and bazaar's where you can easily get lost in for HOURS. A few things to keep in mind, you need to negotiate the fuck out of the prices, I think that goes without saying. The vendors are super aggressive so stand your ground!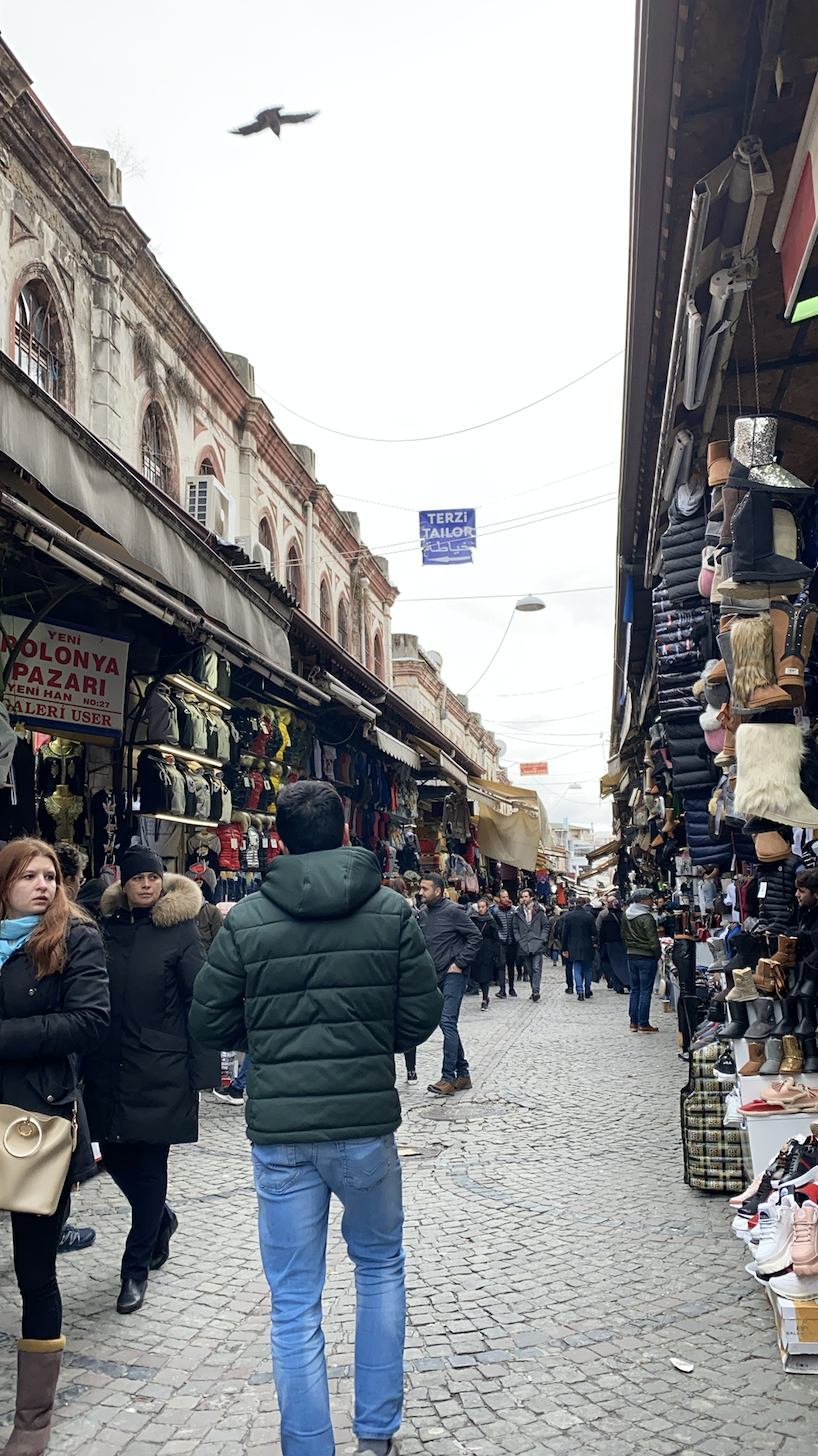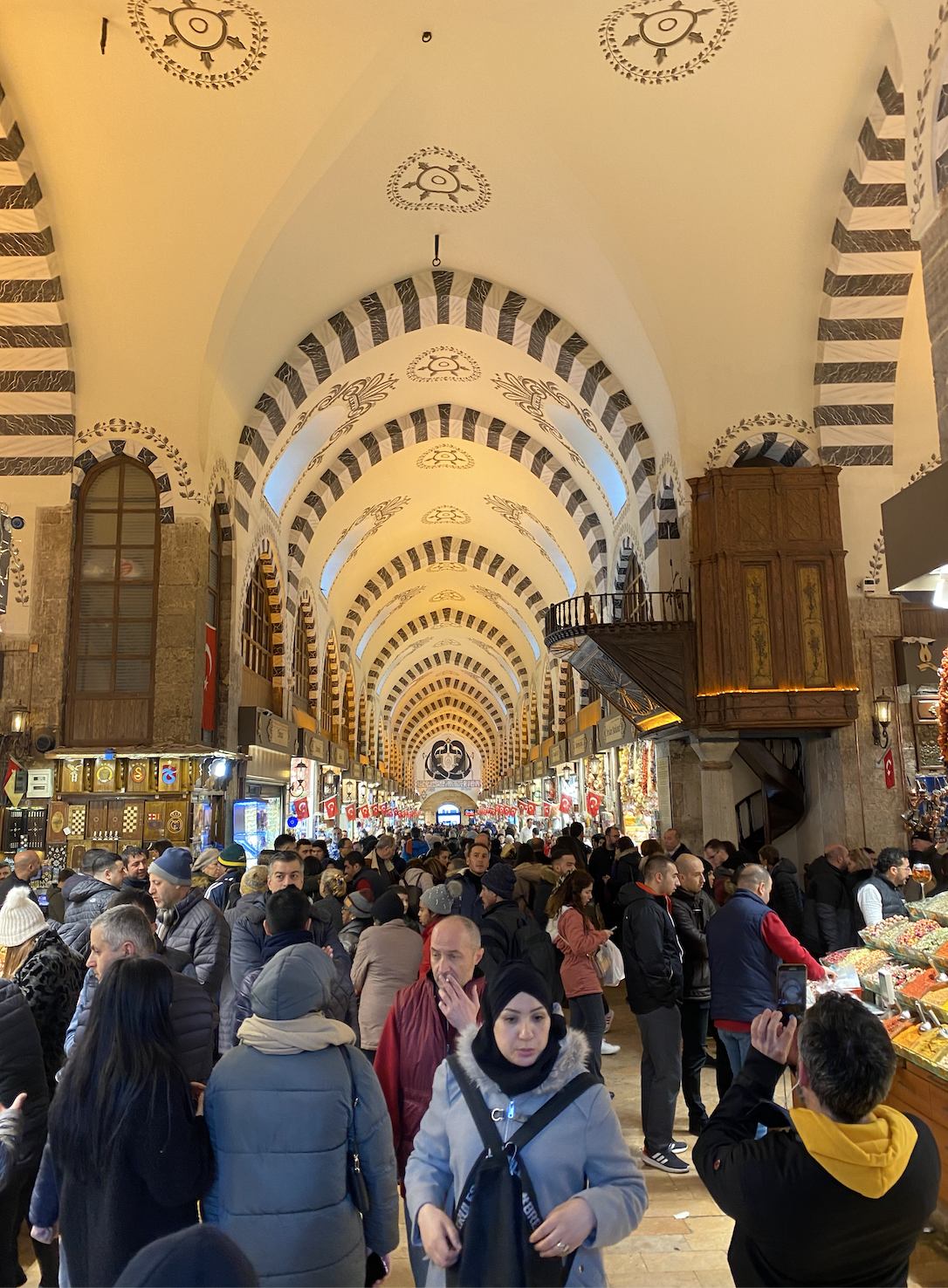 1. Grand Bazaar
This outdoor market is without a doubt is the most popular tourist spot for shopping, and it's MASSIVE. A series of covered streets feature over 4,000 merchants all selling their products and wares. You can find anything here from spices, dried fruits, basketry, drapery, haberdashery, boots and slippers to gold and silver jewelry. Literally everything and it's overwhelming.
2. Egyptian Bazaar
Next to the Grand Bazaar is the Egyptian one where you can find food products, spices and yummy treats. Smells like heaven.
The whole city is filled with shops, so between sight-seeing you will most definetly find things to suit your needs. I really wish I brought an extra suitcase.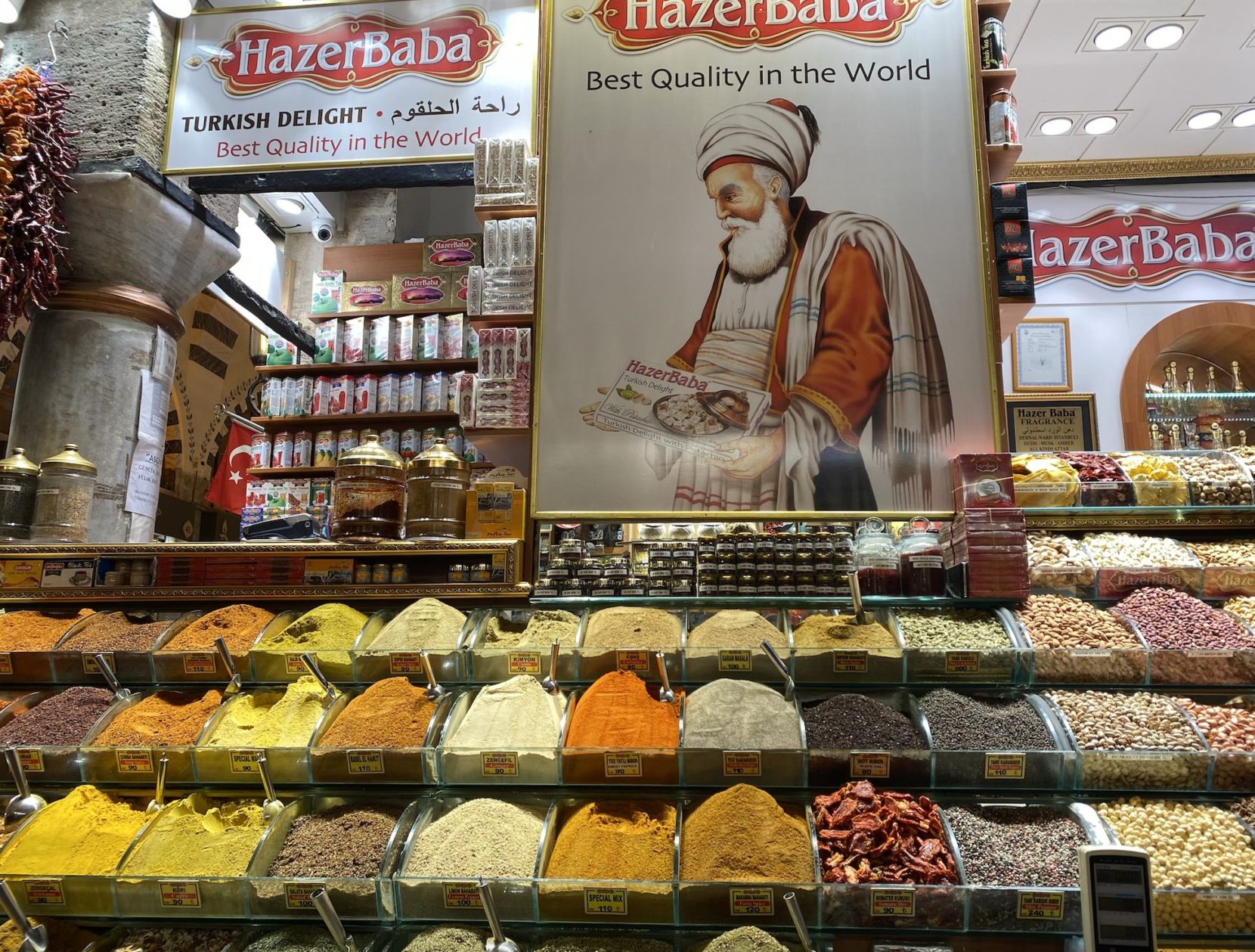 ISTANBUL BUCKET LIST
1. Visit a Turkish Hamam
THIS IS AN ABSOLUTE MUST when visiting Istanbul. It is the most relaxing and cleansing experience I have ever had. Literally changed my life.
Hammams are bathhouses primarily found in Turkey and Morocco. They have been a cultural staple for centuries in those countries and are now a popular stop for tourists who want to clean off, detox, and relax after a long day of exploring.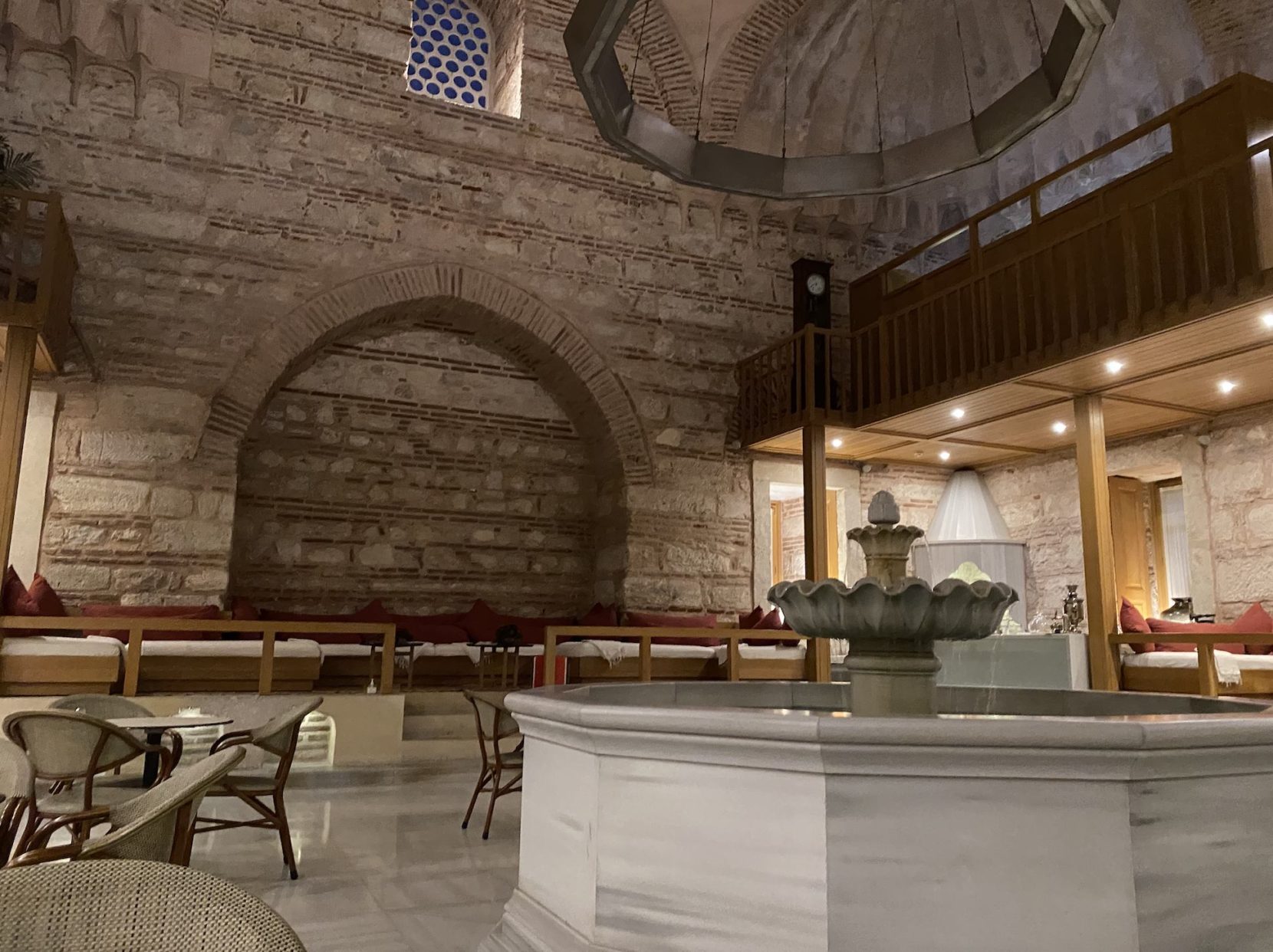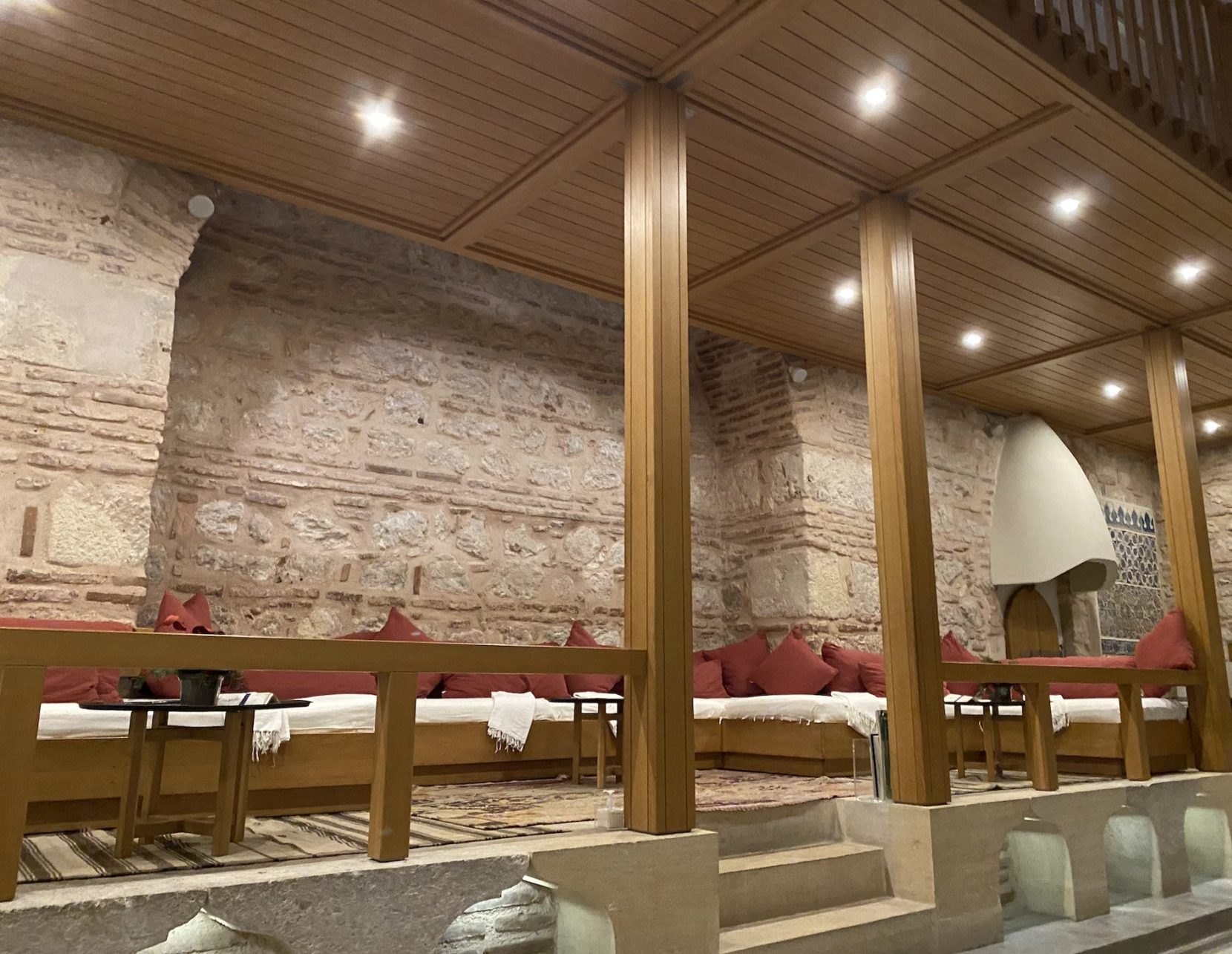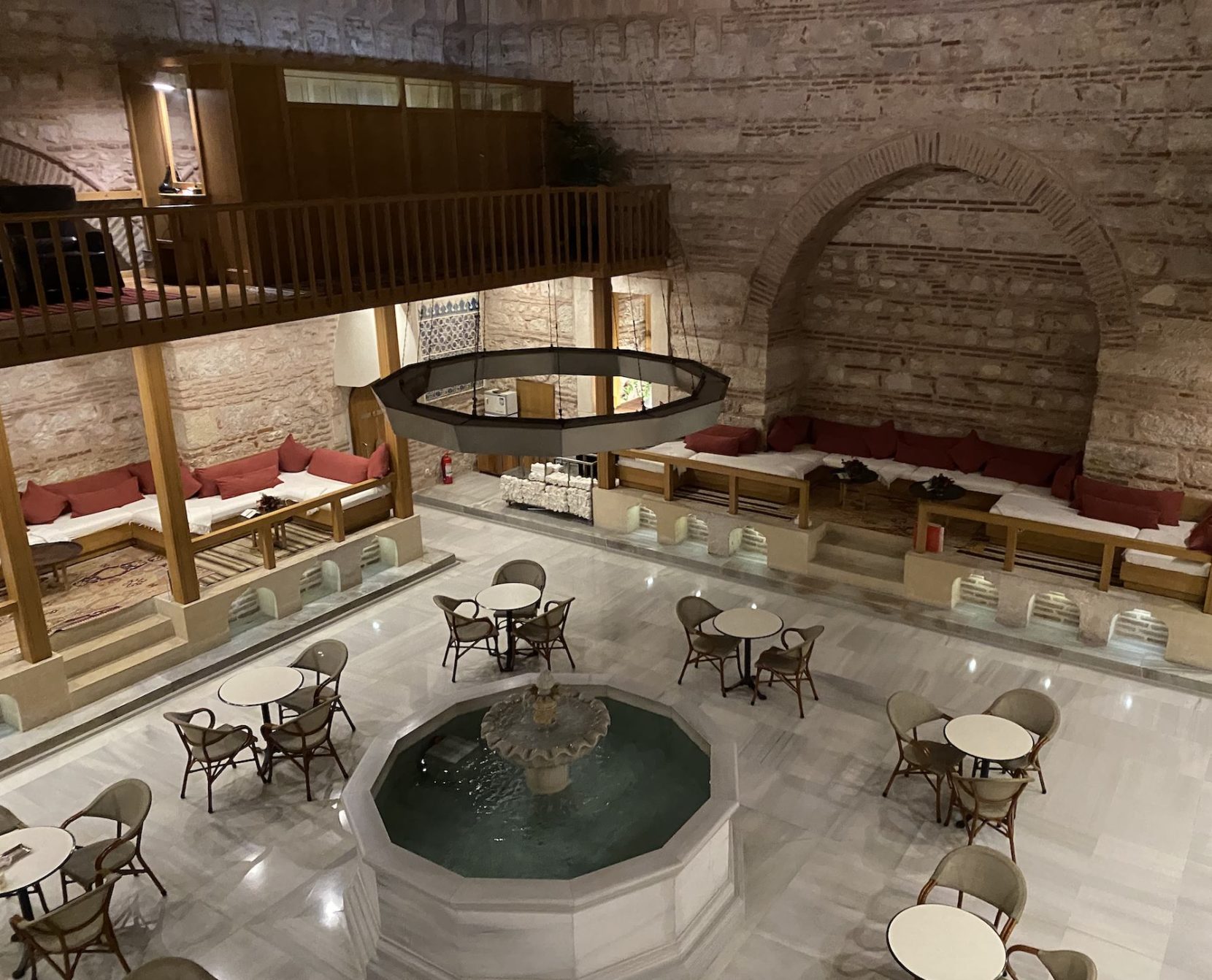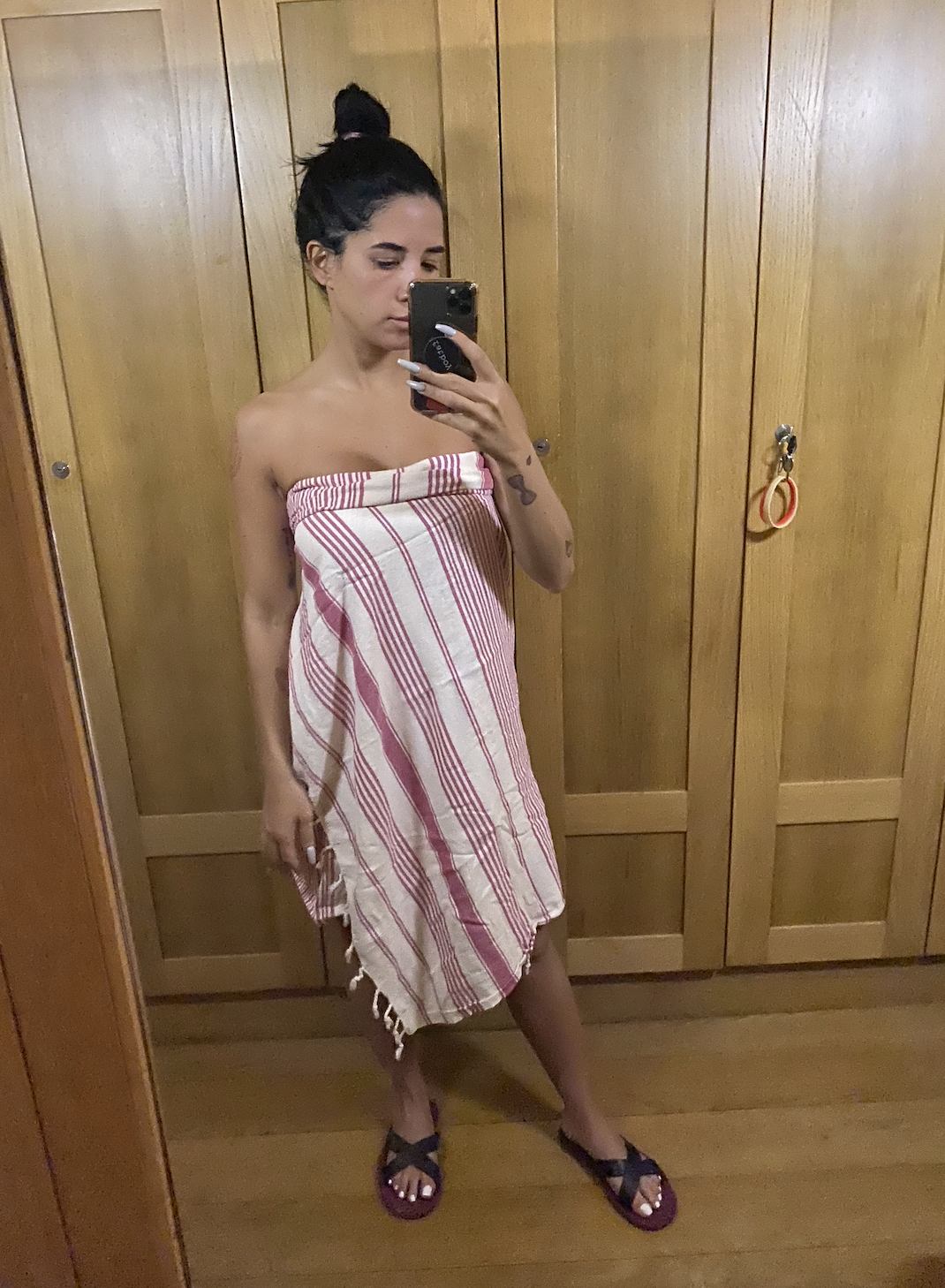 Traditional hammams contain three chambers: a hot room to steam, a warm room to scrub, and a cooler room to relax. Not all hammams have this exact layout, but they all involve a hot marble steam room with a raised circular platforms on which patrons lay to soak in the sweltering heat. The steam rooms also have small alcoves with basins around the perimeter of the room where you can splash yourself with cold water.
The whole experience is WILD. That being said, if you're not into having a complete stranger dump hot water on you and scrub your naked and vulnerable body then this might not be for you.
I enjoyed it so much I did it a few times during my 4 day trip.
The first place I went to was incredible, and I highly recommend going to that one. Very clean. It costs around $55 for the experience. You can also add in a massage treatment.
2. Visit Historical Sites
See list above. Istanbul has so much history. Def a must do to check out all the historical sites.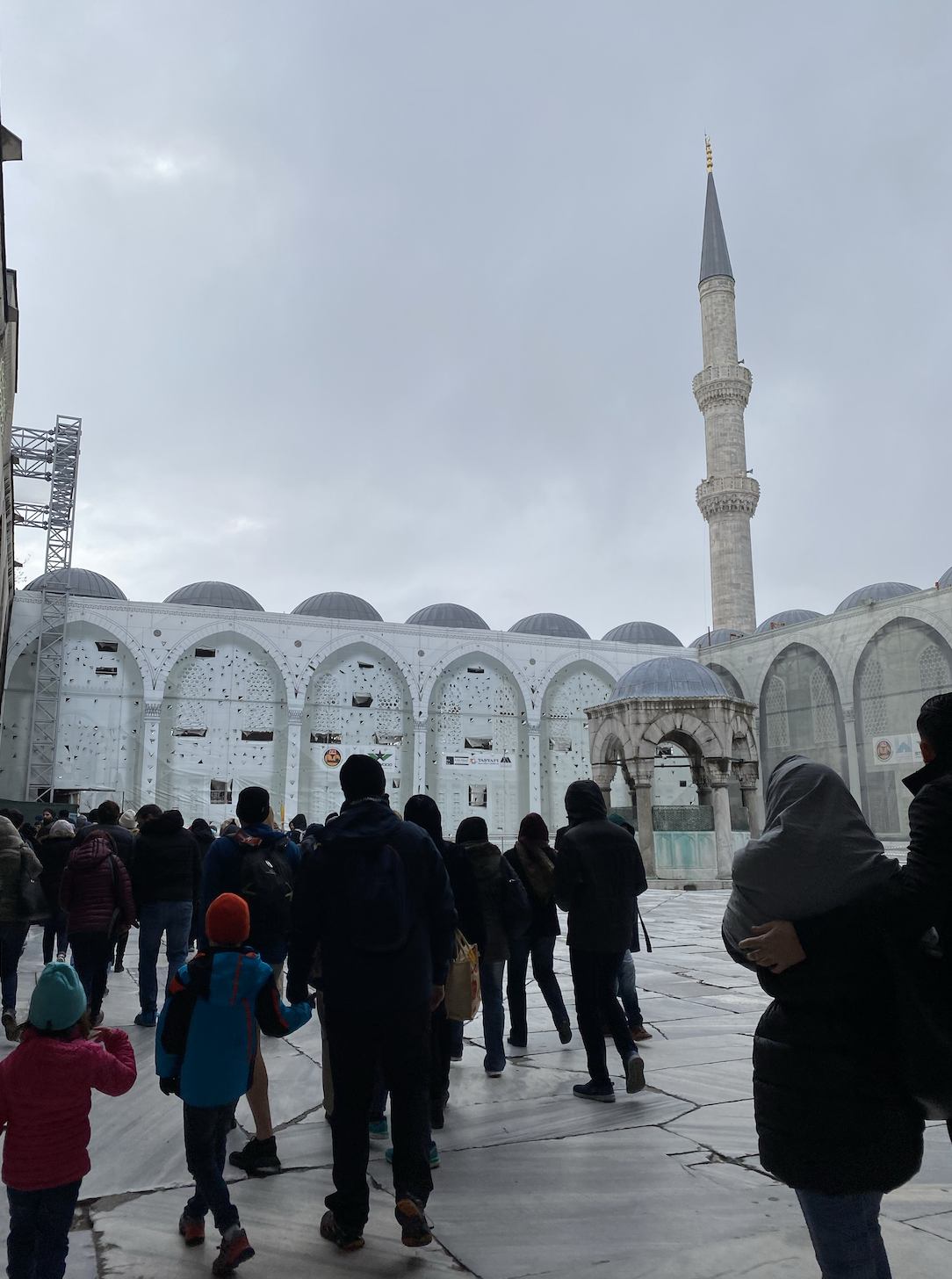 4. Take a cooking class
Didn't have enough time to take a cooking class but generally on all trips you can do this activity and it's a great way to learn more about local food and get a few new recipes to add to your roster.
3. Boat cruise on the Bospherous
The Bosporus or Bosphorus is a narrow, natural strait and an internationally significant waterway located in northwestern Turkey. It forms part of the continental boundary between Europe and Asia, and divides Turkey by separating Anatolia from Thrace. You can take a boat cruise at various hours during the day. Sunset I hear is the best time to do it…. We took the boat cruise on New Year's Eve…. STORY TIME.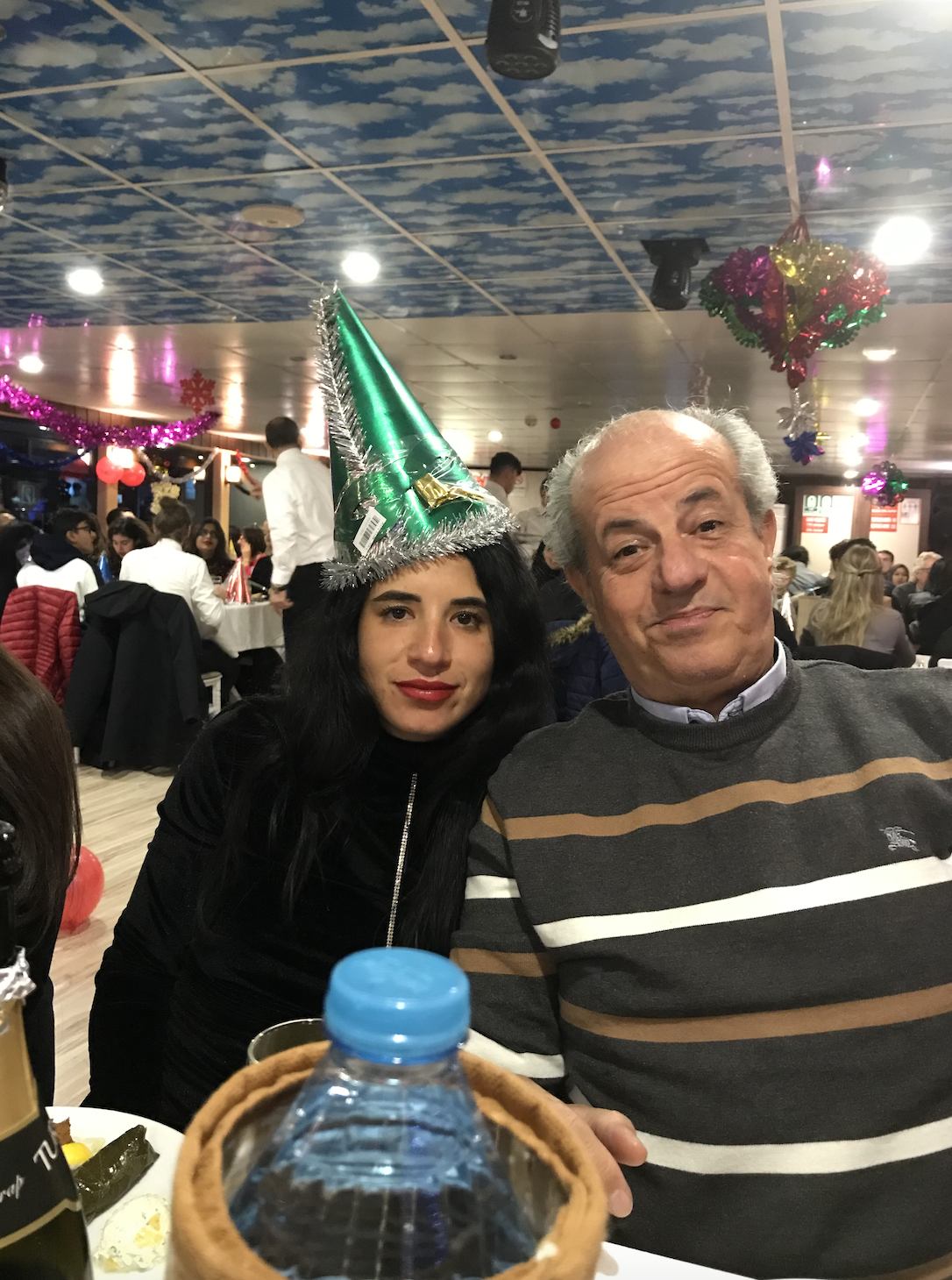 THE NYE FROM HELL TURNED EPIC
We traveled to Istanbul the weekend of New Year's Eve. We weren't sure what to do for NYE but we knew we wanted a good meal and drinks. This would be the first NYE I spend with my lovely parents abroad since childhood. I recommended to my parents we do a sexy rooftop dinner so we can be fancy and dress up, my father said "let's kill two birds with one stone and do the Bospherous boat cruise on NYE". He found a decently priced ticket so I agreed, but in the back of my head thought to myself "this should be interesting".
Boy it was. A FUCKING NIGHTMARE with a very happy ending. I managed to document alot of it on my Instagram Stories. Press Play to see what ensued.
Top Things To Eat
Food in Turkey is fantastic, all we did was stroll and eat. I think we ate every hour on the dot. I love my parents we are food -mates.
Turkish delight: You won't be able to walk a block without seeing these wondrous little treats. I def hit my sugar quota on this trip. Consisting of mouth-watering combinations of chopped dates, pistachios, walnuts or hazelnuts, you will find this treat comes in a range of colourful flavours to suit your tastebuds.
Iskender Kebab: A dish of thinly sliced lamb over warm tomato sauce and pita bread. NUFF SAID.
Baklava: True, Baklava can we find in all meditarranean/middle eastern countries, but still. eat that shit.
Shish Kebab: Chicken, beef or lamb grilled and served on a stick. Delicious, efficient and portable.
Turkish Apple tea: Sweet delicious apple tea, prob loaded with sugar but super yum.
Gozleme: AKA the Turkish grilled cheese sandwich. Cheap, easy to eat and delicious.
Pottery Kebab: A little theatre at the dining table never hurt nobody and ordering a pottery kebab will certainly bring you an entertaining (and tasty) meal. Meat and vegetables are slow-cooked in a sealed pot, and when it arrives at your table, your waiter will bring out a knife and slice the top of the pot right in front of your eyes!
Simit: AKA the Turkish bagel. Found at the small street vendors, just follow the smell. A very crispy bagel which can be eaten on it's own or with cheese or my favorite, Nutella.
Turkish coffee- It's strong so be careful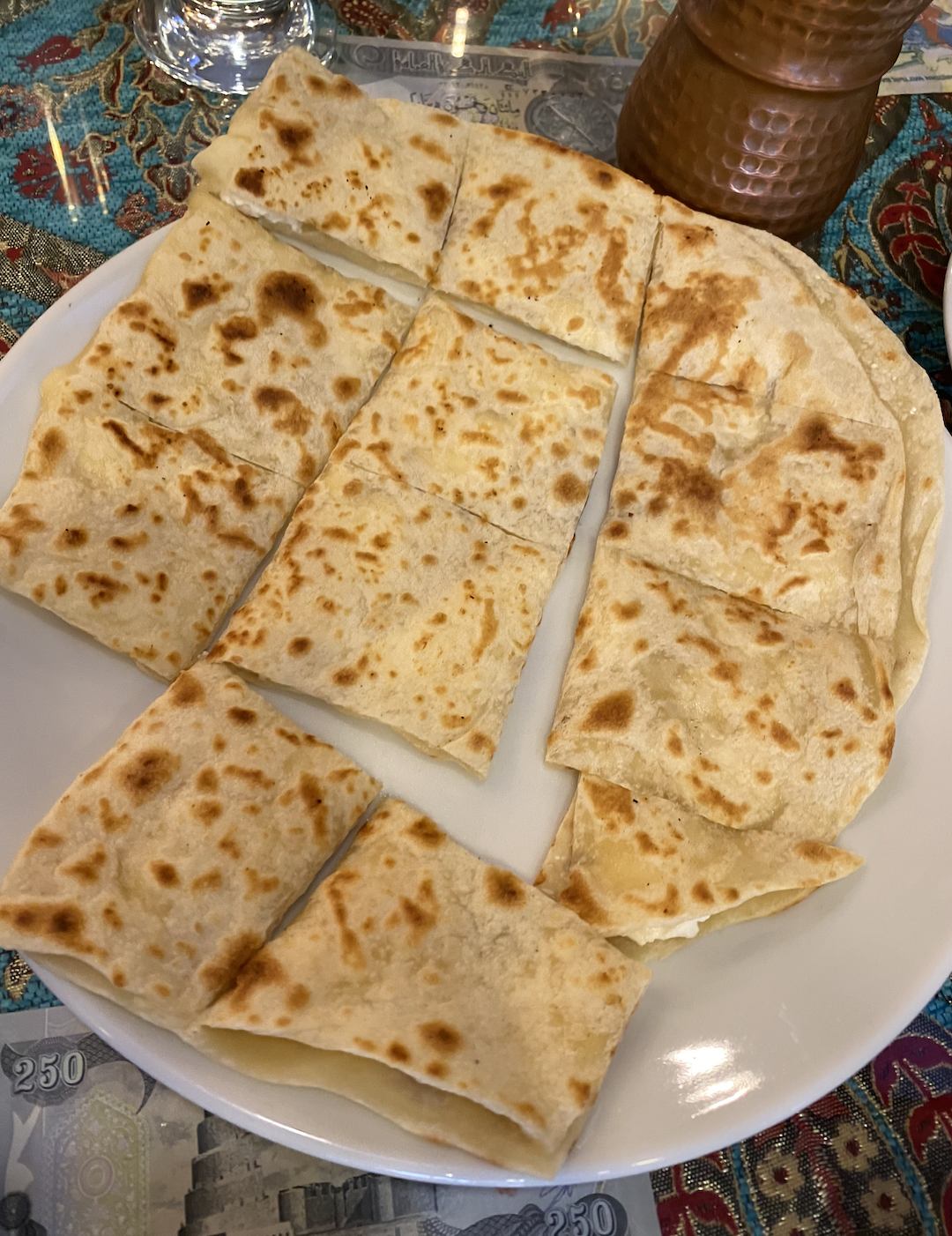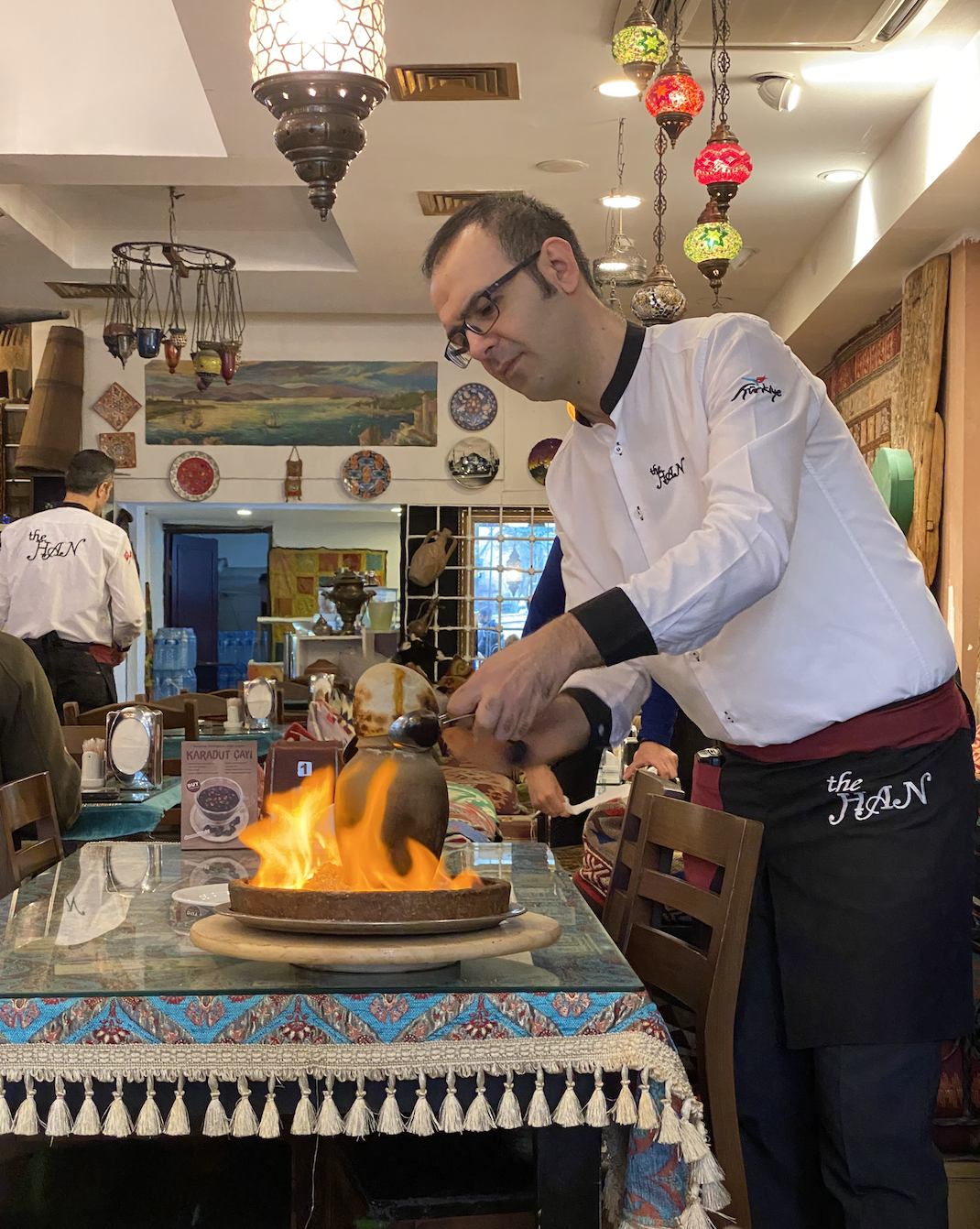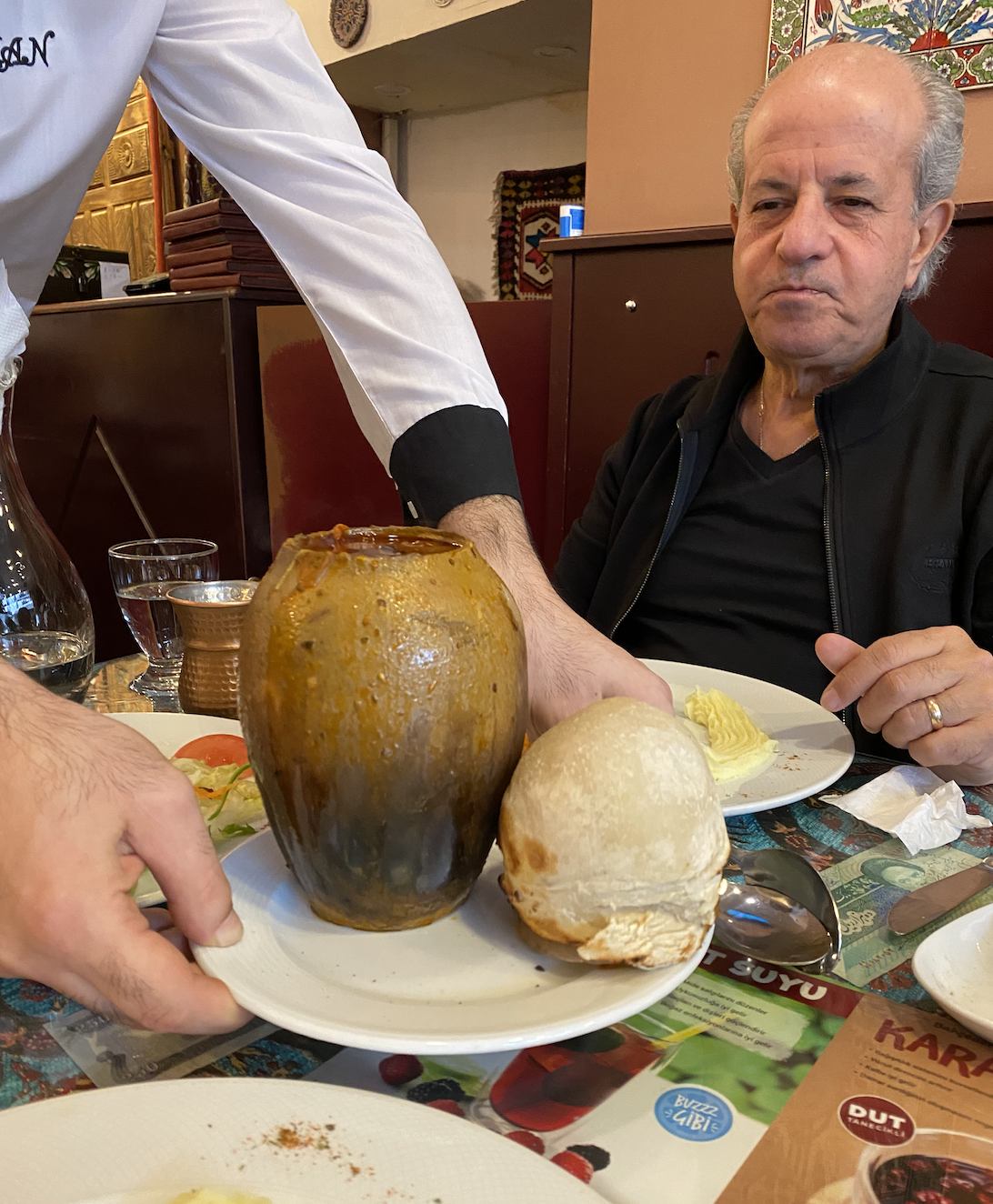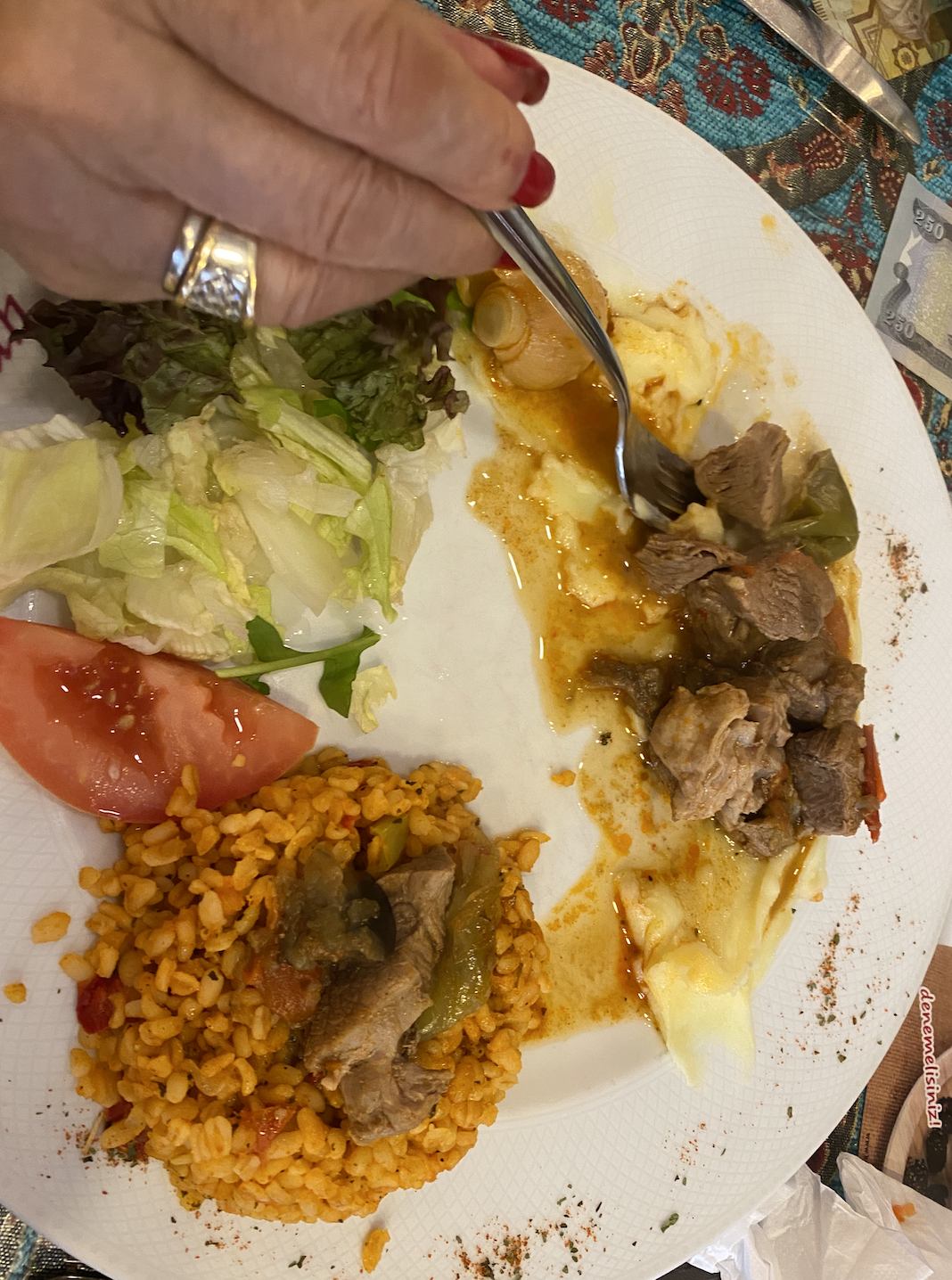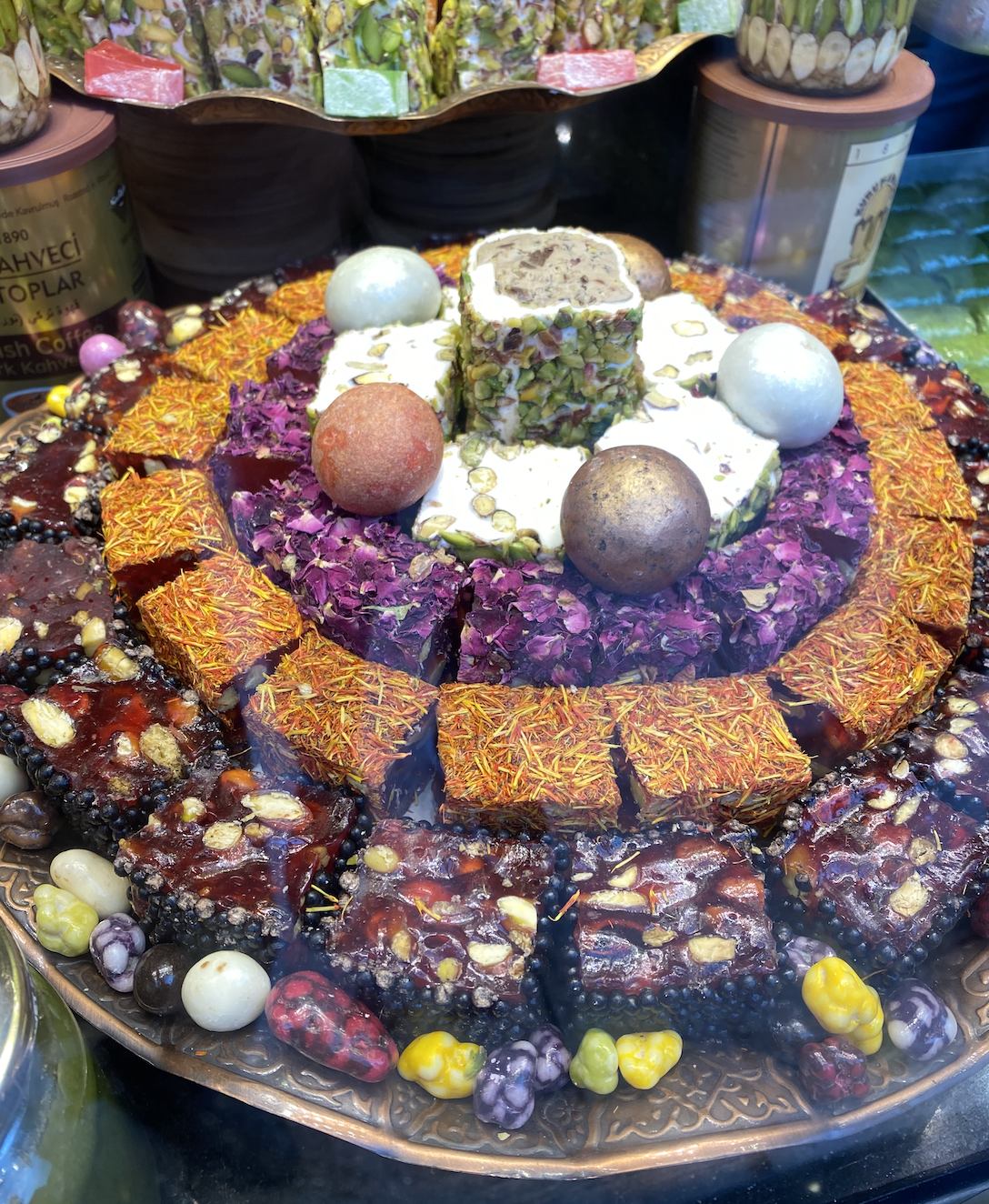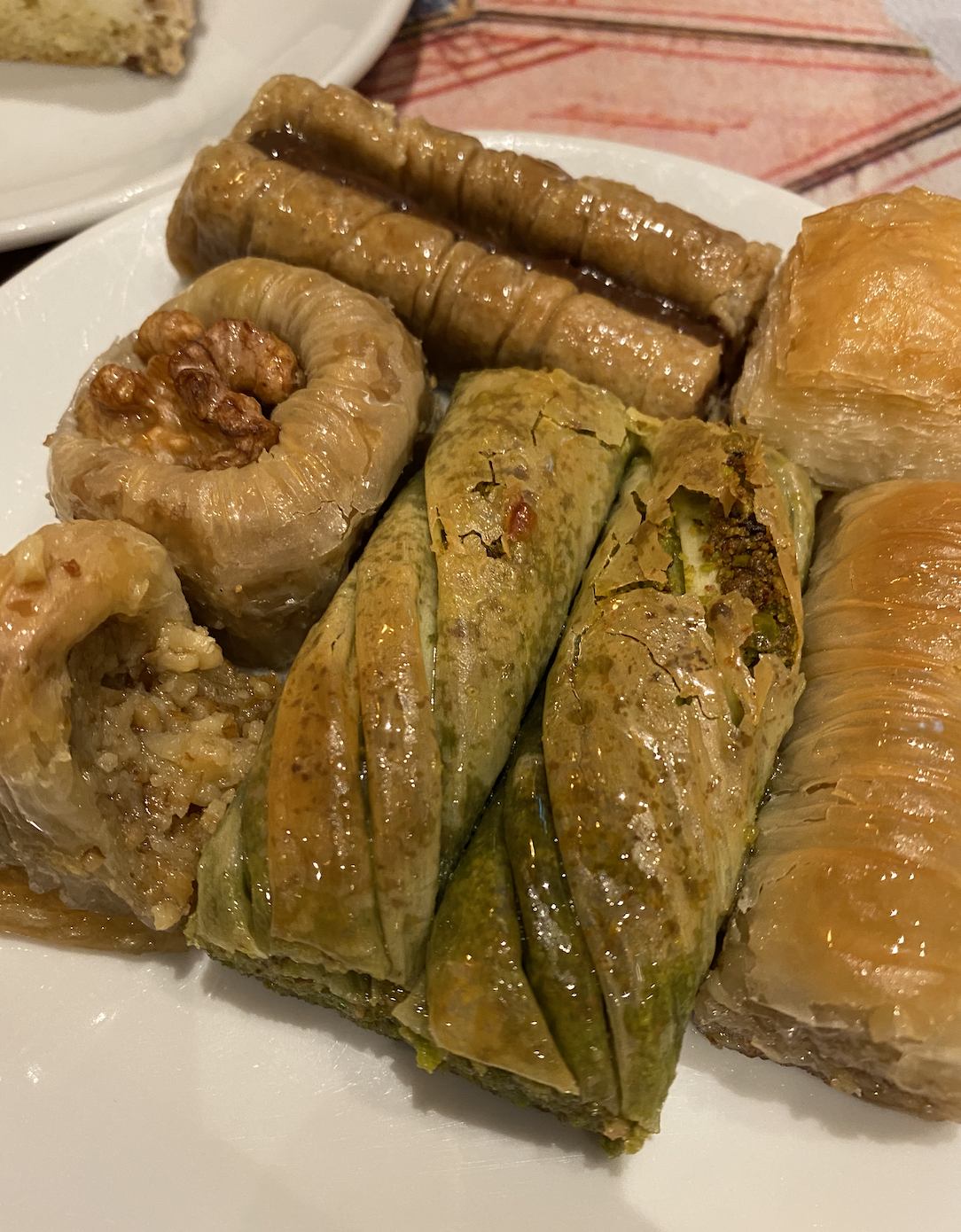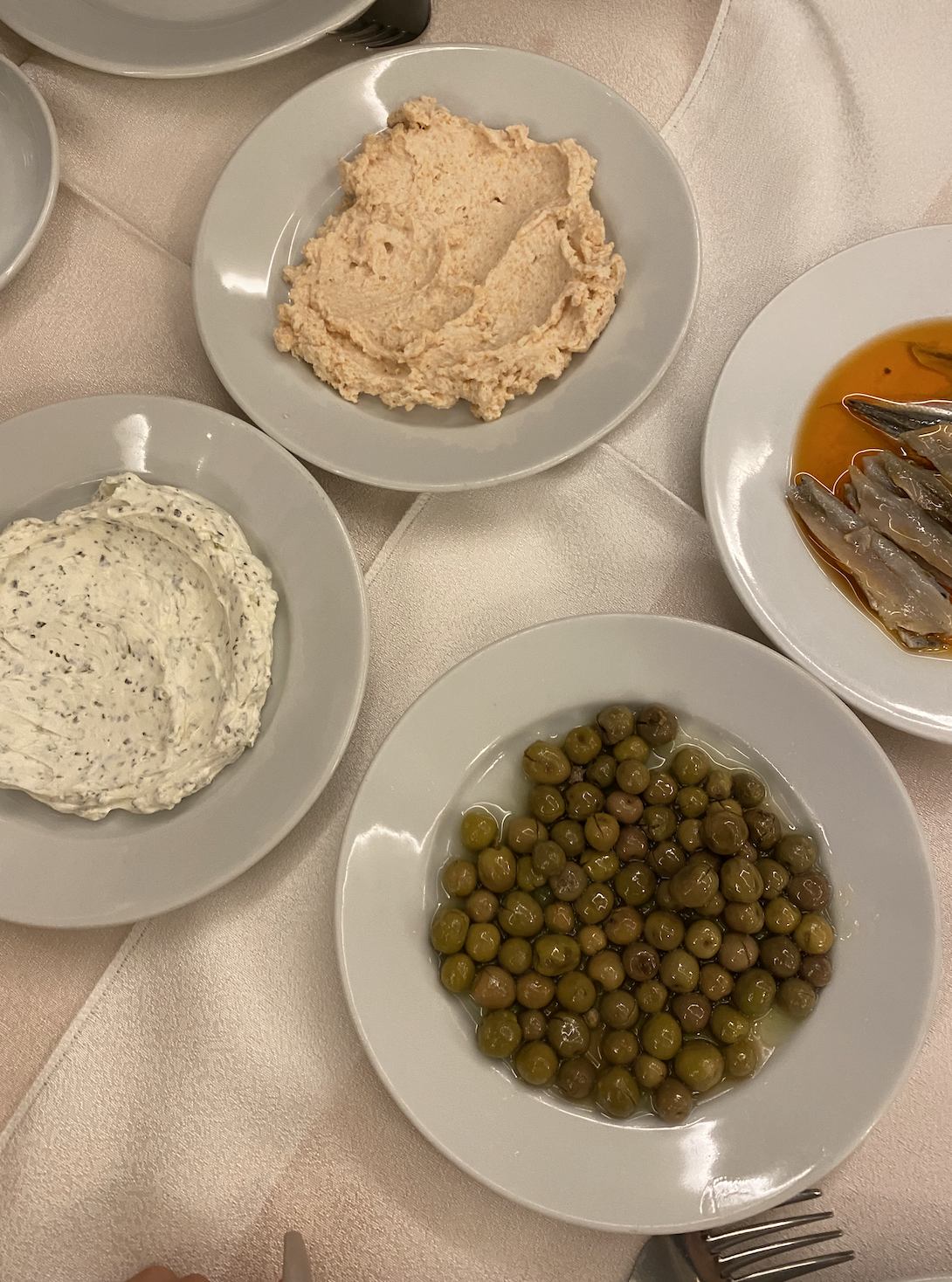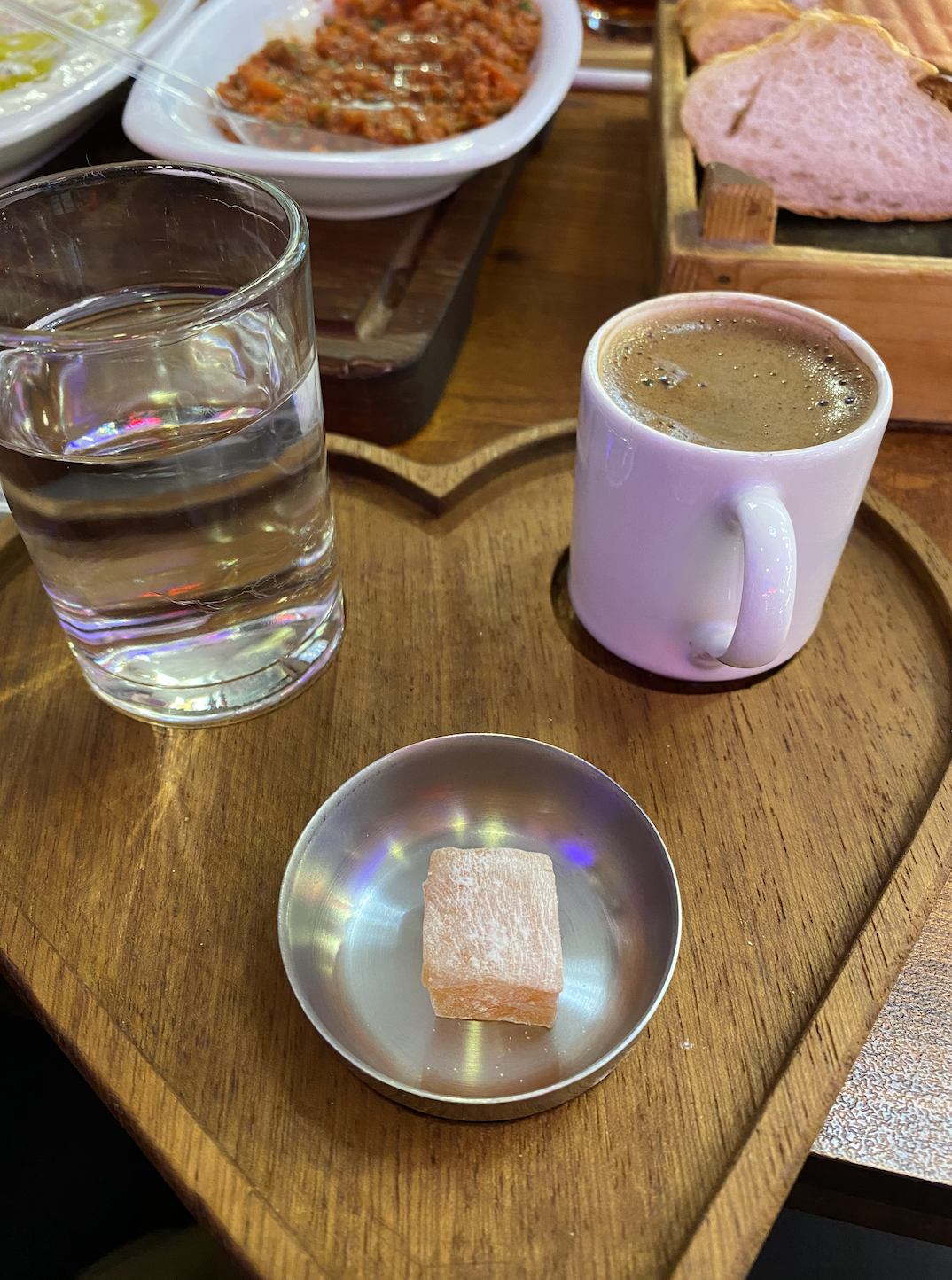 Where To Eat?
So many amazing restaurants, too many to list. Below are links to blog posts for your reference.
https://www.eater.com/maps/best-restaurants-istanbul-38
Thank you Istanbul! You're awesome,
Until the next journey!
Lynn