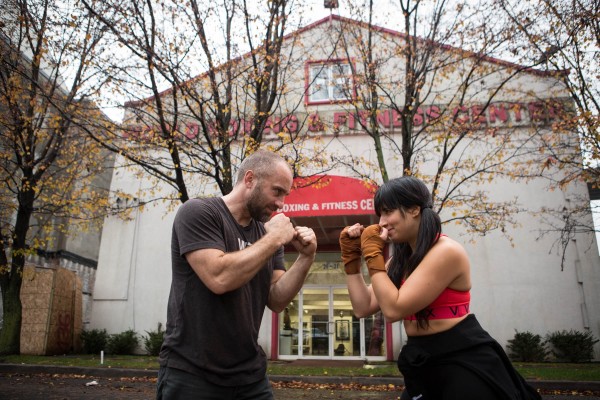 It's the first week of January which means many of us are getting back to the gym to shed the holiday weight gain to get in shape in time for spring. I am a huge advocate of health and fitness but I also indulge… a lot. Especially since I started writing this blog, I've been eating way more than I used to. That is why I have to work out even harder and try new things to keep my body guessing.
I met Adam, owner of World Boxing Gym this summer at the Italian Festival and he invited me to come visit his gym and get a workout in. Since there is a ring at this gym, I had a fantasy of being Ronda Rousey for one day so I called up friend and photog Greg Pallante to come with me and help me out…. and funny enough he is a member at the gym!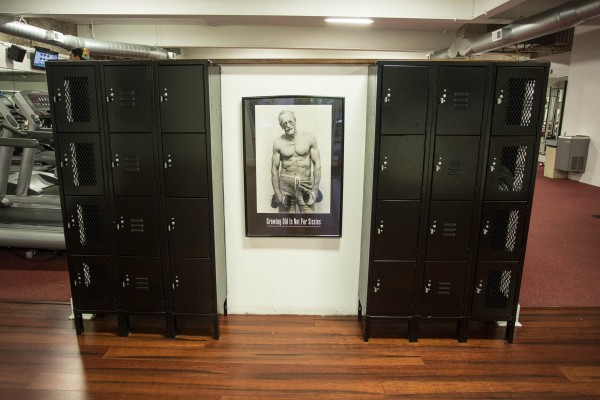 Adam gave me a tour of the place, let me punch some bags and we sparred in the boxing ring. This must have been the most physically exhausting interview I've ever done!! After this interview, I was hooked and I am planning on going back for more. What I love about this gym is that it is a no frills place where everyone is welcome, no judgement, no fancy gym clothes and the best part… the gym membership is only $55 a month or $480 for the whole year and it has a huge onsite parking lot that's free for members! You can also get a personal trainer for as little last $60 an hour. Now get your ass to the gym. #noexcuses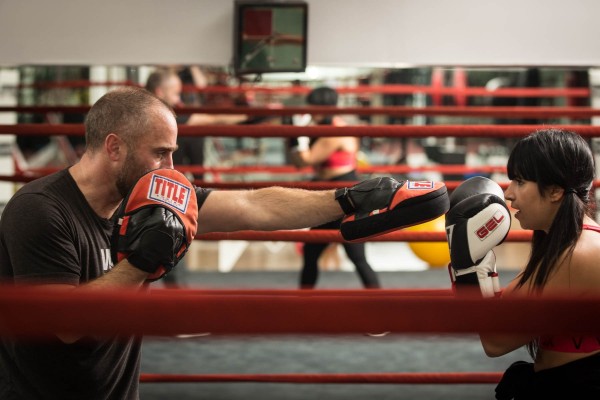 What's your name? Adam.
What do you do? I am the owner of the World Boxing Gym.
How long have you been an owner here? Three and a half years.
Can you give me a tour: 
This is our first floor where we have all of our cardio equipment: treadmills, ellipticals, and all our free-weight stuff, dumbbells, bench presses, step lifts, squat racks; pretty much all the equipment you could possibly use for a gym.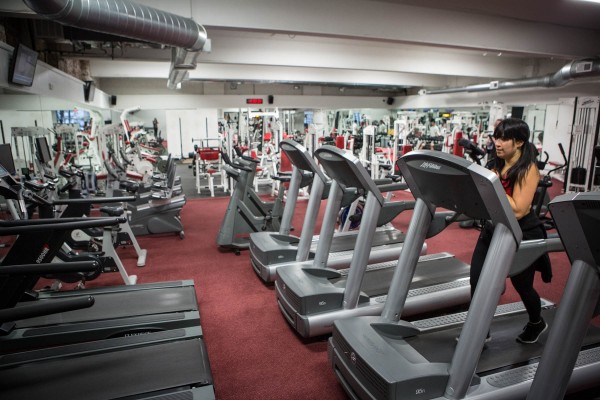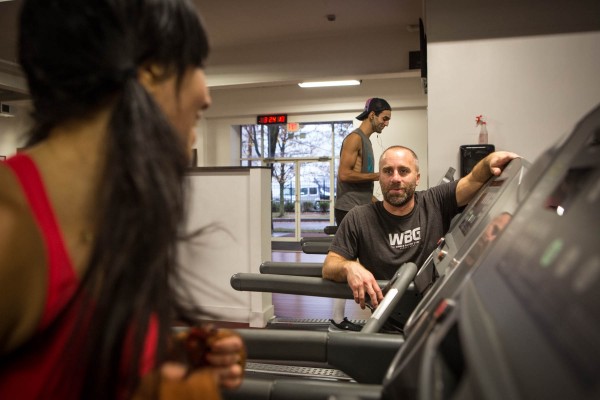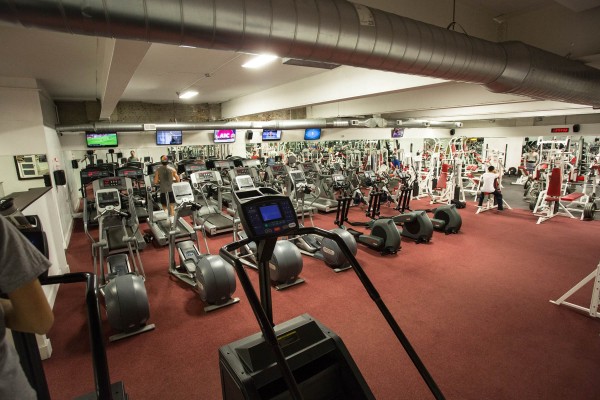 This used to be just a warehouse—the second floor was just strictly boxing and Marciano's eventually moved down here and took over.
And this is our second floor which has all our hammer strength free-weight equipment and our ring and bags—it's got the bolt in the ceiling. You've got an open training space over here, that's John Gioffre, he's a trainer, and he's training this guy right now. This parquet floor area's going to be our next adventure, we're going to be taking that big mechanism out and putting down rubber matting and putting in a powerlifting station with a Rogue M-10 Monster Rig.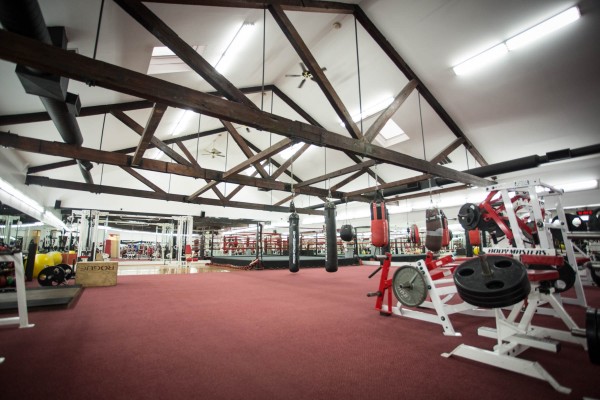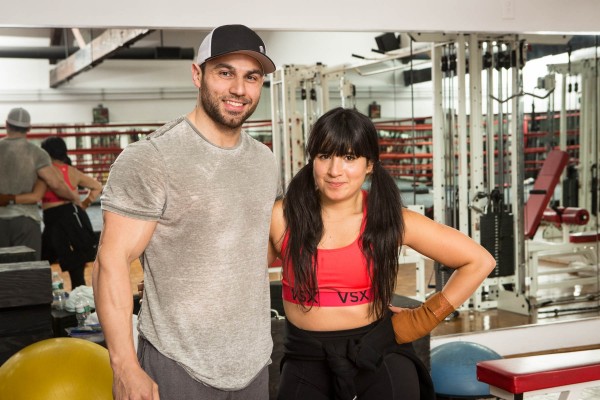 So what are your hours? We are 5:30AM to 11:00PM during the week and 8:00AM to 8:00PM on the weekends.
What is this room? 
So this is our studio room where we do our yoga class. We're doing Zumba, you see the speakers completely wired with headsets and everything. The first thing I did, this used to be just a wall with a mirror on it, you could see through it and that was my first project as a contractor here. I took the wall down and put the glass wall up and now it's got a great view of the rest of the gym.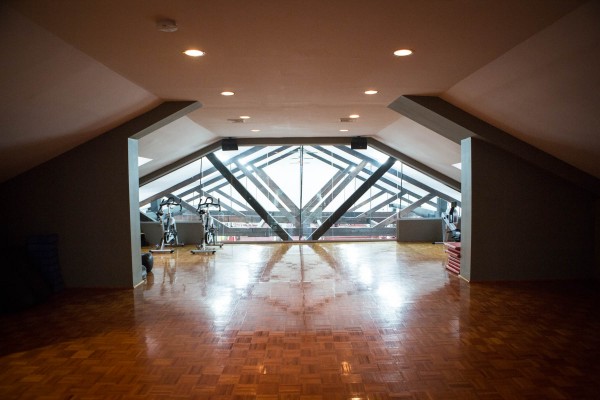 Tell me about the classes that go on here. Right now we have Yoga with Fernanda and Karuna; there are seven classes a week of yoga—that's included in your membership. Boxing, we have three times a week with Moe and Danny; they're both super skilled martial artists and boxers. Moe's a Wing Chun black belt which is what Bruce Lee's style, he's for real. So they're super skilled.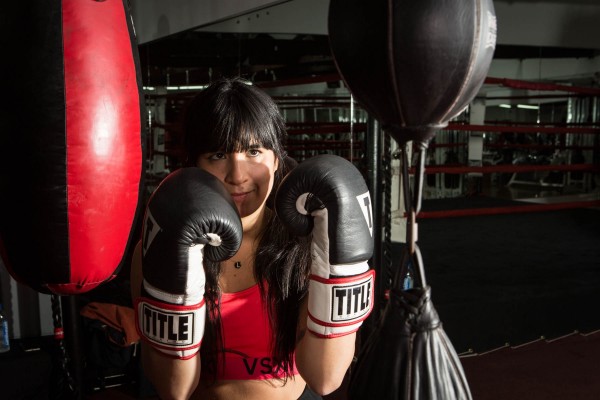 So is this boxing? Straight up boxing. What they do is they'll put you on a rotation: you'll be on one bag, somebody else will be on a different bag, somebody will be on the ring working pad work, other people will be on jump ropes and you'll rotate around.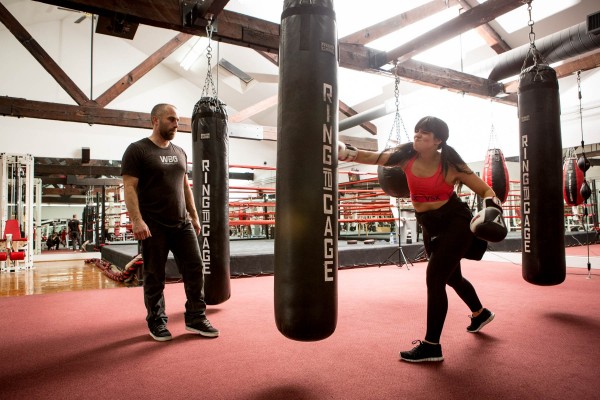 How skilled do you have to be in boxing? Its entry level right up to someone's who's got some skill. Once they've got some decent skill, if they're looking to do more with it then we send them over to Ralph Mendez who is our head trainer. He works with a lot of the Golden Gloves and professional athletes and people looking to go to the next level.
I kind of want to get into boxing now. Yeah? You should.
Tell me about this ring here. Yeah, this ring's been here since '89 or '90 when Peter Marciano, Rocky Marciano's brother, opened this place and it used to be just boxing on the second floor. They had two rings and the rest of it was all bags and what not. The third floor was actually the barracks where the boxers slept and they brought a lot of people to come overseas for training. It was a real legit boxing gym back in the early 90s. Lots of pro athletes: Arturo Gatti trained here, Michael Moore trained here, Mike Tyson trained here for one fight with Teddy Atlas. It was also partially owned by Andrew Golota who was a Polish heavyweight, he bought it from Peter Marciano and that's actually who I brought it from—Andrew Golota and Ziggy Rozalski who's a boxing promoter.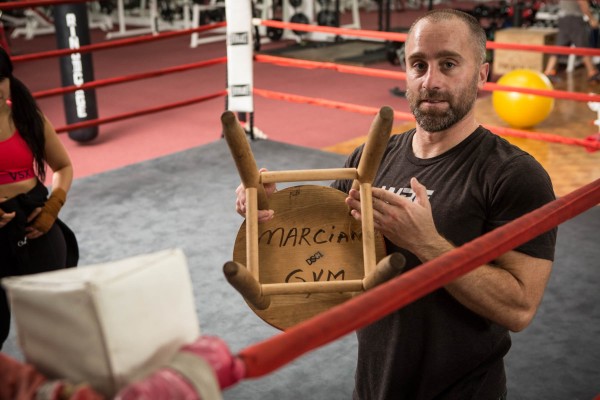 This place has a lot of boxing history. It has a ton of boxing history; it's been a fitness center for almost twenty years now. When I took over it was kind of falling apart a little bit, they weren't paying as much attention to detail so I came in and I'm a contractor by trade in real estate and construction so I knew what I could do. I've done it all myself every bit of the renovation over the last three and a half years. It's a 12000sqft gym so it literally broke my back doing it all, but I'm very proud of this place and it's only phase one. We're going to go to phase two now, so we're going to do flooring and lighting and equipment upgrades and exterior.
Do you have a boxing background? I don't, but I've been an athlete all my whole life and I train for triathlons and just every day sports, just a very competitive person.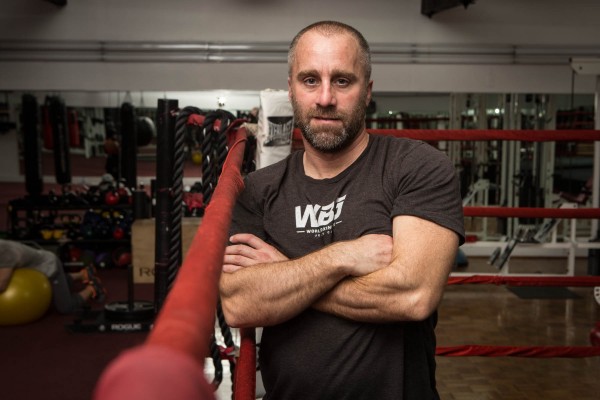 How often do you work out? I don't work out as much as I'd like to in my own gym because it kind of gets tough. I'd come in and work out for ten minutes and then I'd start fixing a piece of equipment or somebody starts talking to me—not at much as I'd like, but I still stay in shape. I do a lot of one on one training with Ralph Mendez who the mayor was working with over the summer.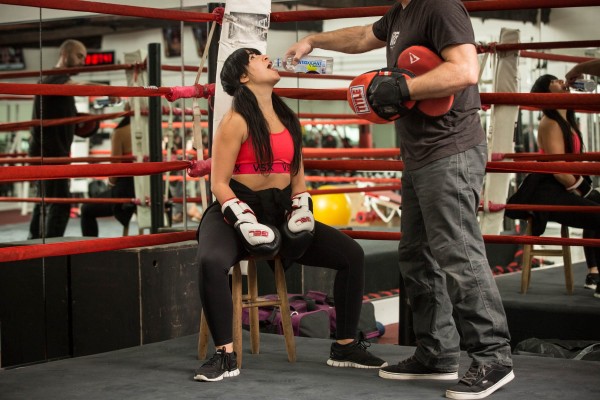 How many personal trainers do you have? We set it up different than most gyms—we have three in-house personal trainers and between twelve and fifteen independent contractor trainers. So we're very trainer friendly, any trainer can come in and train their clients here as per a few rules, they pay a session fee. We do it as independent contracting.
Can people come with their own trainers? Yeah. We just had a guy come in today filled out our trainer app and he trained his client today. We don't care what they charge—they just pay our flat rate every time—we're looking for trainers.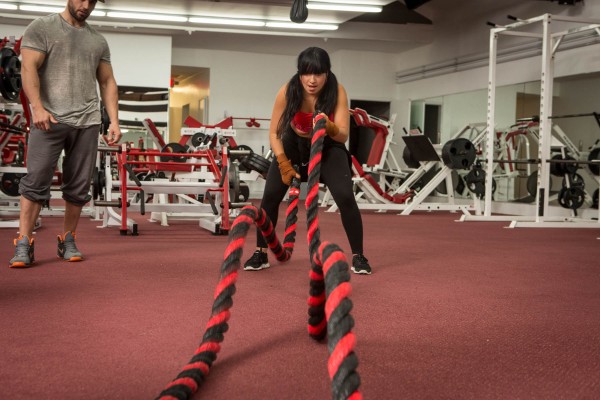 Let's say if somebody's interested in personal training, what are the rates like? We're $60 an hour.
That's pretty decent. It's super reasonable.
And it's all day? It really depends on what you want to learn, we have people here that can cover all the bases. We're trying to work with the community as much as possible. One of our trainers, Ron Angle, he runs a boot camp through here as an independent contractor, it's called Be Fit JC. He's starting to ramp up that—what I'm talking to him about doing is expanding to more classes; we want to have more trainers involved with different core workouts and have it all be under the same umbrella. So we're kind of looking to expand class wise too.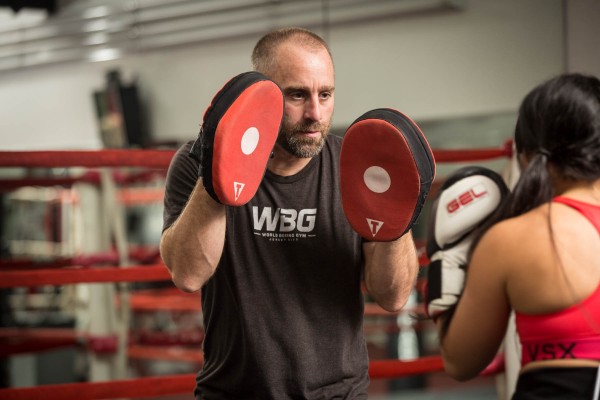 It seems like a very laid back environment. It is. Our kind of motto is it's a "No Frills Neighborhood Gym," that's really what we're going for. Everybody comes in, does their thing, and moves on. Everybody's super nice and it's a community and a family, but it's not necessarily a social place, it's not a club.
What are the memberships like? We have a day pass for $10, we have a month pass for $55, we have a six-month pass for $280, and a full year for $490.
What are do you mostly serve? Well, we have fifty parking spots which are free.
You have free parking? There's a huge parking lot that is free.  We have an outdoor workout area as well –part of the parking lot has a power rack (Rogue M-10 rig) and a large tire. We have people come down the Hill for years, a lot of the Heights and Journal Square.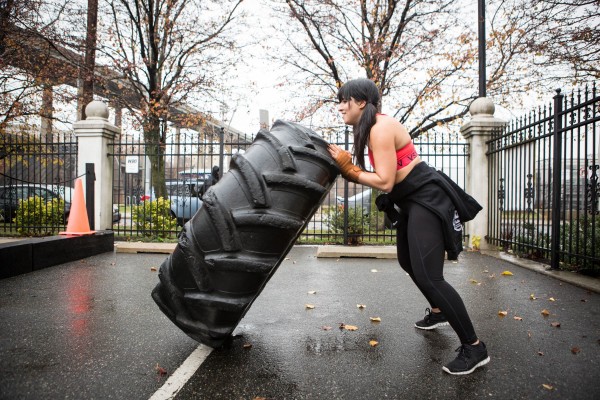 Because you're central—Very centrally located and the neighborhood as it's changing, they're starting to find us. We're getting to that point where we're ready to invite everybody to come check us out.
Are you from Jersey City? I'm actually from North Jersey. I moved here in 2004, but after I moved here I found out that my both my grandparents lived in Jersey City. My grandmother was raised in Jersey City, my dad and two of my uncles were born in The Hague and the church bells that I hear going off in my backyard is where my grandparents got married. I had no idea until I moved here so it's kind of a home away from home for me now.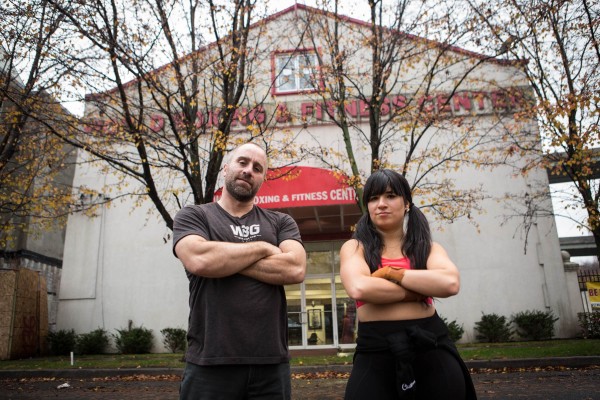 Do you have a favorite Jersey City hangout spot? White Star Bar is my local.
What are your future plans? We do slow upgrades here, we're slowly renovating. It's a solid gym right now, but we want to add and even bigger custom training area with more power racks, TRX cables, rings and all that. That's what we want to really be known for is kind of an elite training facility. I mean it's a workout facility, even though it says "boxing" in our name we're much more than that, that's just our history. We accommodate everyone. We want people to know that our first floor is exclusively a fitness center. You're not necessarily mixing in with the boxers and all that kind of stuff.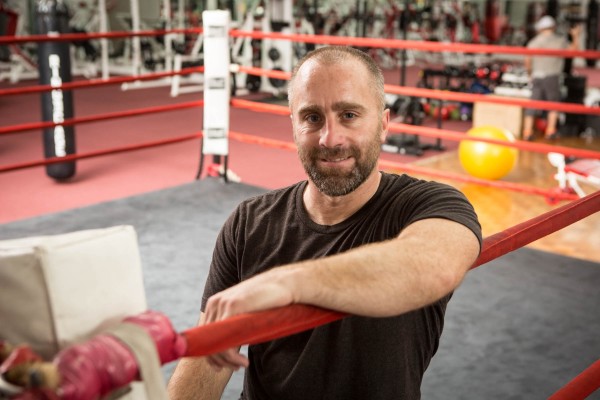 But it's good that you have everything. You have classes, you have boxing, you have weight training, and it's massive. We are a complete workout facility. I've spent the last three years working really hard on finding all the right front desk people; I mean we have such a great front desk. It's just a great place.
It's like a laid back family place. That's it, that's what we're going for.
World Boxing Gym
29 Division St
Jersey City, NJ 07302
201.222.6565
NEW CLASS ALERT!
Join World Boxing Gym for BEGINNER BOXING Tuesdays at 7:00PM. Expect an amazing workout tha will push you towards power, both inner and outer.