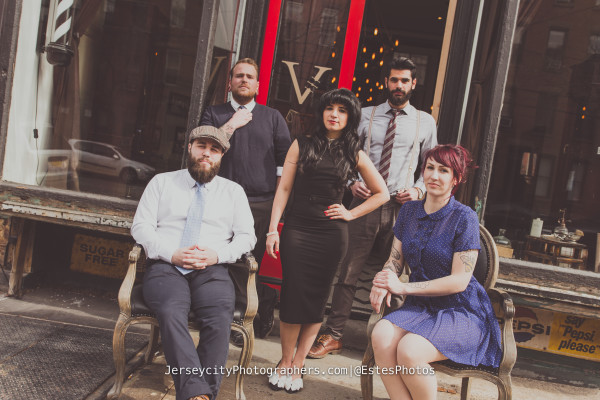 There is no secret that I am a huge fan of the Virile Barber & Shop on Jersey Ave. Ever since my week long theme week, I've been itching for an excuse to go back there and hang out. Since then I've become good friends with "Stylish Peep" Andre who is now running the JC location.
Virile is turning one this week which is a huge milestone, and to celebrate Andre invited me back to the shop to meet his new team, take some dope pictures and kick it old school barbershop style. They are also throwing a bash at LITM Saturday night which I will be covering on ChicpeaJC!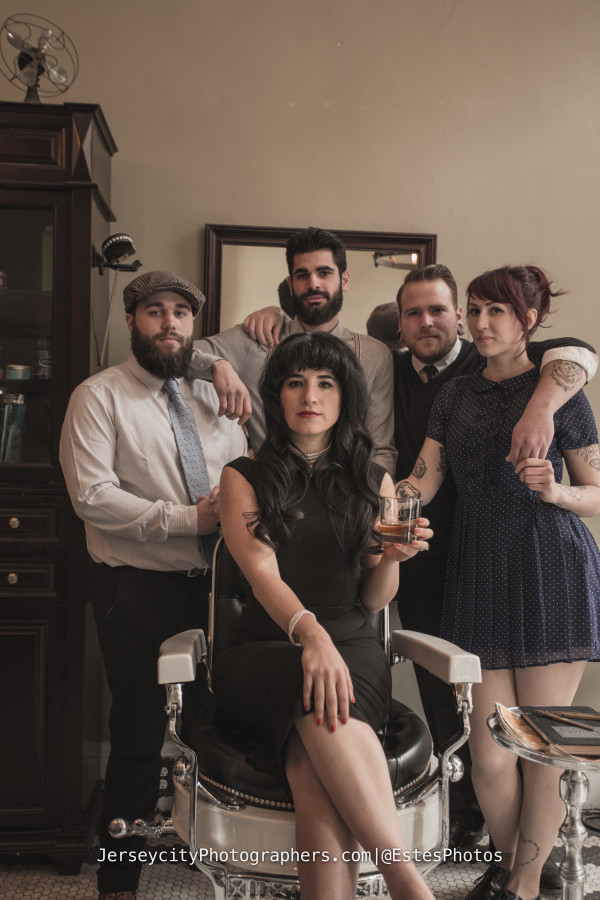 ---
 Andre Fersa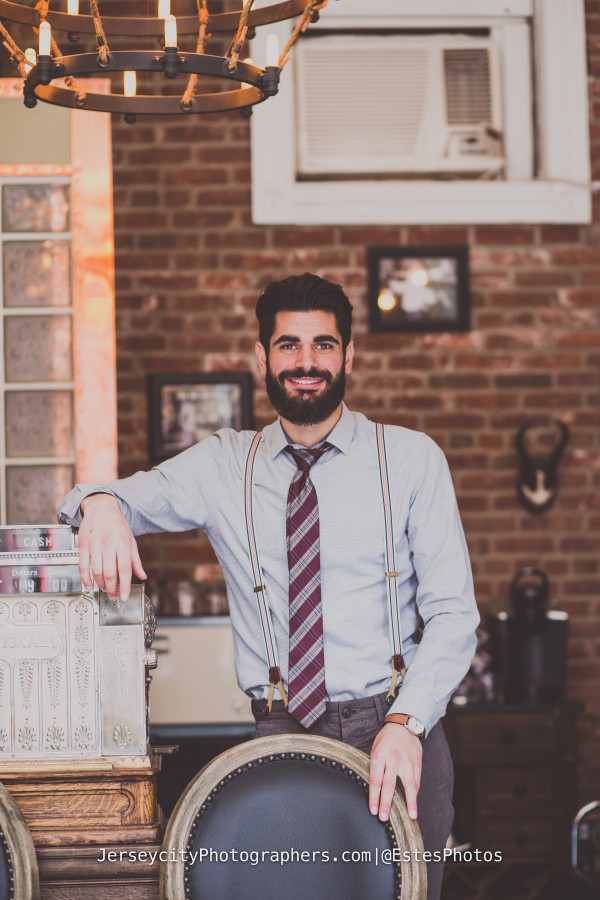 What's your name? Andre Fersa.
We already know that, because I already interviewed you! Second time around, I am honored.
What do you do? I cut hair.
But you are the "grand puba" of the Jersey City shop…. Yeah, I recently purchased the business from Adam, we still work very closely together, he runs Waldwick and I run Jersey City. Adam has a product line coming out, which he spends most of his time developing. It's his baby.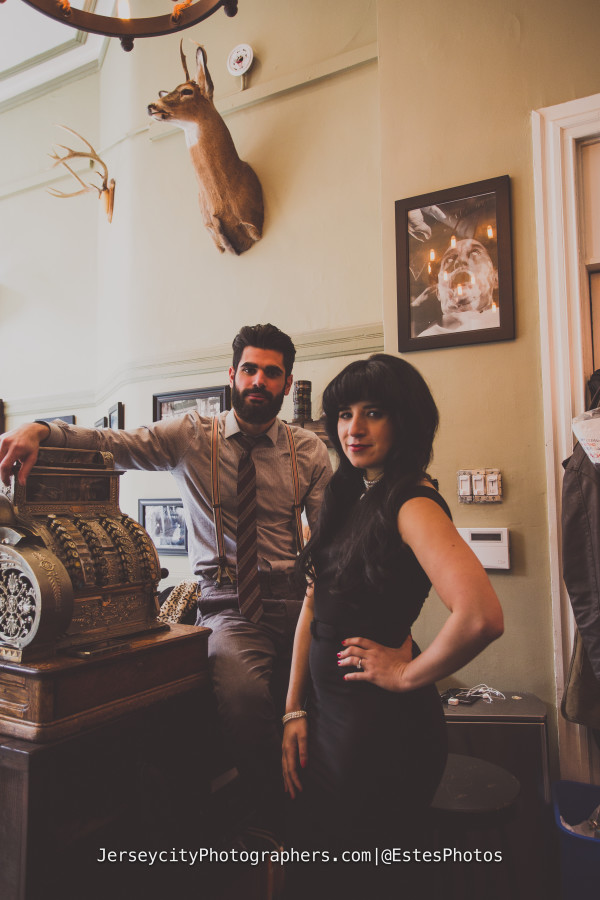 Tell me more about the product line…. At the inception of Virile Barber & Shop of Waldwick, Adam Ramos, the brains behind Virile, did a lot of experimenting with various ingredients to create a product he was comfortable with using on himself and clients alike. Almost four years later with the help of a great R&D team and chemists, the product line is turning into something tangible. Virile Heart & Heritage, an array of male grooming essentials from pomades to badger hair brushes will be available this summer!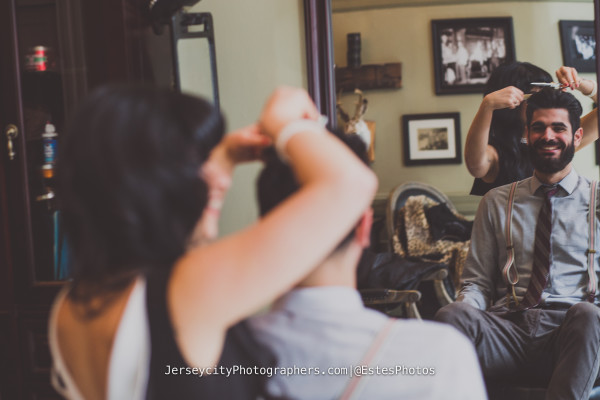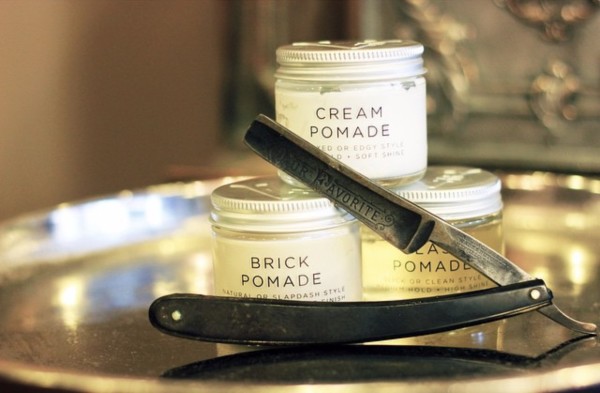 Can you tell me a little bit more about the people that joined your team? Emmy's been with us the longest. She's tough as nails and can certainly hang with the guys. She does great work. She's currently apprenticing but she's on her way to becoming a barber. Rich started about two months ago and he's young, hungry and eager to learn. He really impresses me with his scissor work.  Dan's been here about 3 months now, he was in Waldwick and we're happy to have him in Jersey City. He adds a great dynamic to The shop. Him and Rich are like sponges, they absorb everything. It makes my job a lot easier.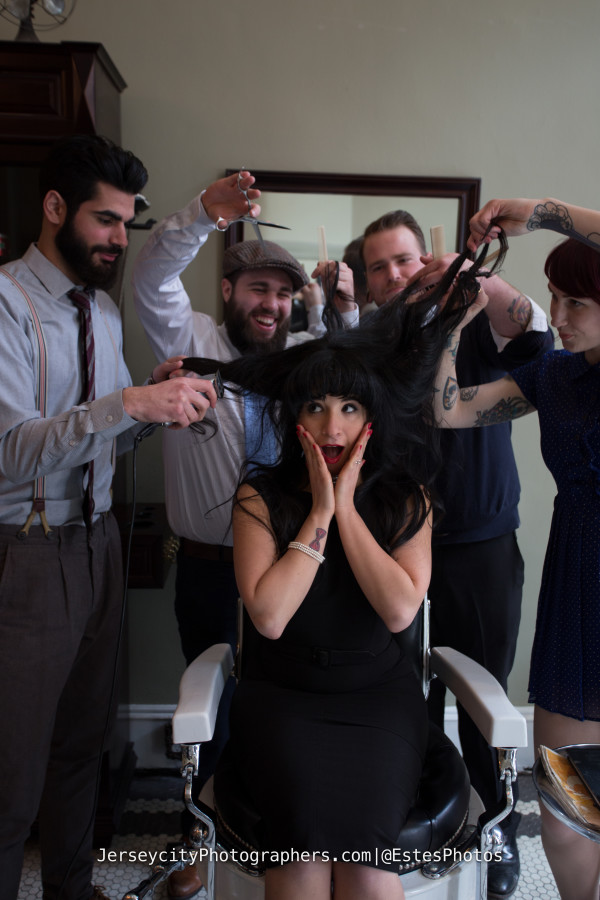 You've been killing it though… Yeah it's been a grind.. but we are starting to see the fruits of our labor pay off.
Virile Jersey City is turning 1, what does that mean to you? It's pretty personal…I feel like we put in alot of work into this shop and 1 year is a huge milestone…We're having a party at LITM. Livestockjc is catering it and Dancing Tony will be DJ'ing. We're also handing out cool gift boxes.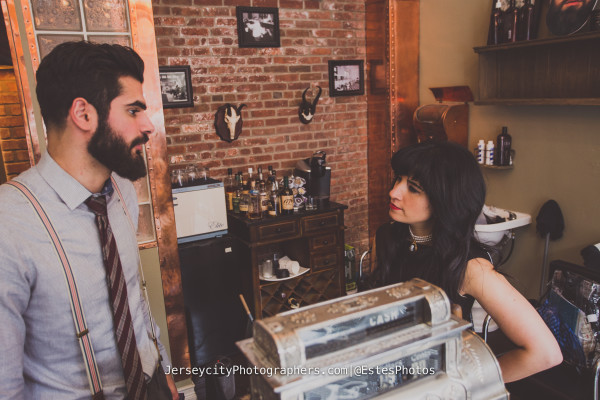 What's next for Virile? Just to continue doing what we are doing! Cut hair and remain a staple in Jersey City.
---
 Dick Fonde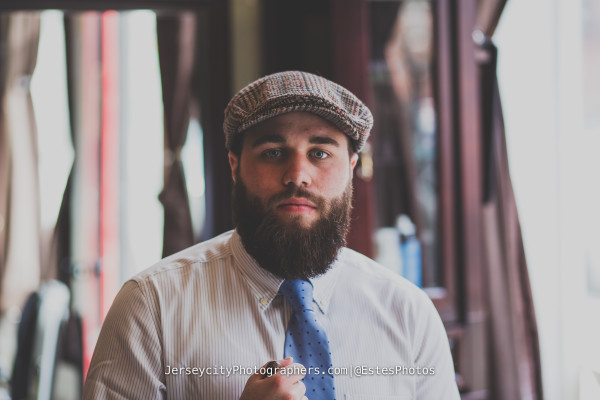 What's your name? Richard Philip William Fonde.
You have 4 names. I have 4 names, first name is my dad and the two middle ones are my grandfathers.
What do you do? I cut hair.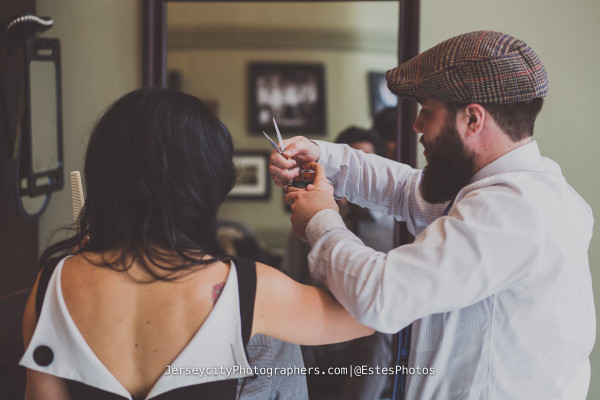 How long have you been cutting hair? I started when I was a junior in High School so about 3/4years. Nothing serious until a year ago.
How do you like Virile? I love it, it's definitely the place for me.
You look very happy. I come down here, I feel comfortable. It's a family environment, we are all really close and we have a good time.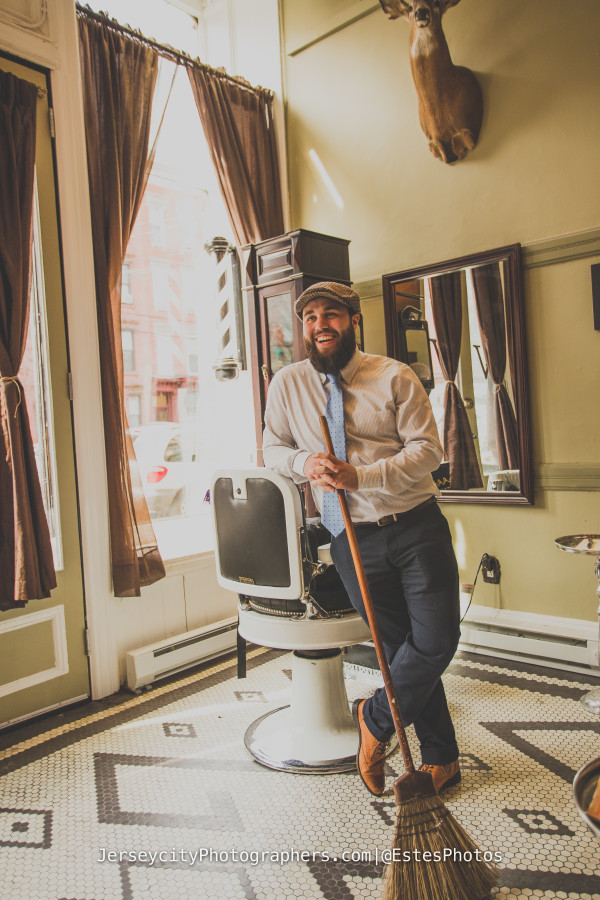 Do you have a favorite haircut? I like shears all around, I just like classic barbering. Scissor cuts.
Do you have a favorite Jersey City hangout spot? I love Left Bank.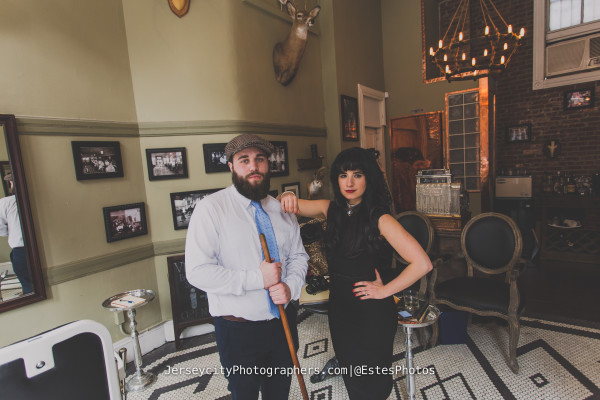 How do you feel Virile is different? I've been to different barbershops and there is a certain class to this place that I've never seen in other shops.
---
 Dan Boyle

What's your name? Dan.
What do you do? I am a barber here at Virile.
How do you like it? I love it. It's something I really enjoy. I enjoy working with my hands, creating something and helping people achieve a look they can be proud of.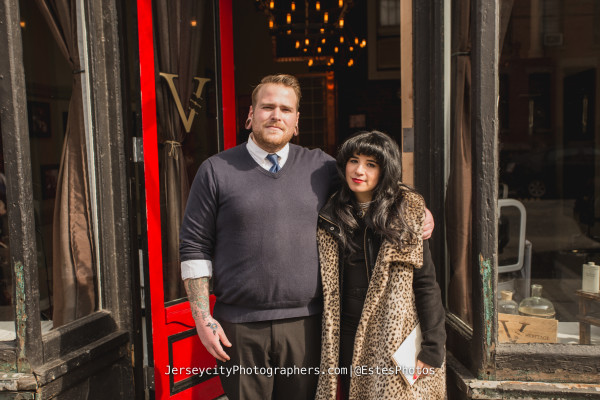 How's it been working at Virile? I make the shop what it is apparently haha. It's been great, Andre has been teaching me a lot.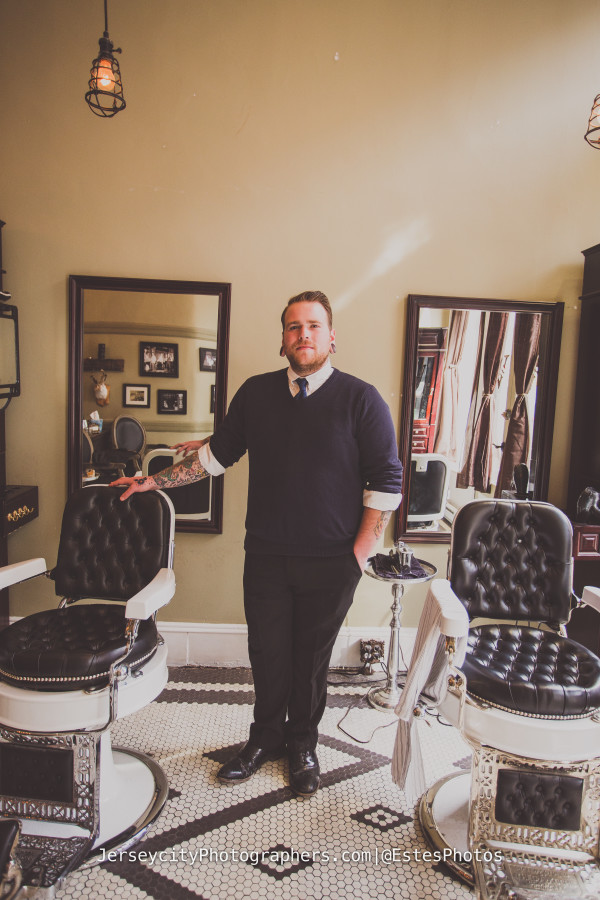 Do you have a favorite Jersey City hangout spot? I like Left Bank Burger and Barcade.
What's your favorite haircut? I like side parts or undercuts.
---
 Emmy Feyeux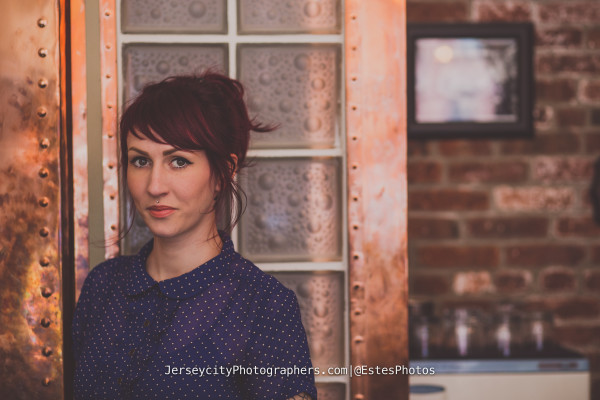 What's your name? Emmy.
What do you do? I'm a barber.
How do you like working at Virile? I love it. I feel like I'm at home. It's one of the first times that I felt like I belonged somewhere. I get along with everybody…. Andre is really thorough with us and he is also a confidence booster too. I feel like this is what I am supposed to be doing.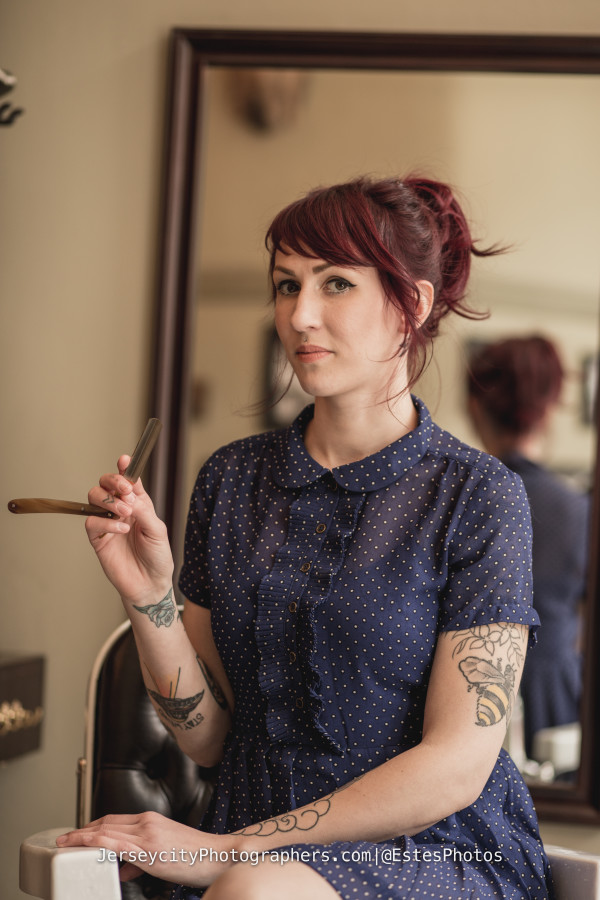 That's great. You found your passion! I didn't expect it.
What do you like about barbering? Well I feel like here at Virile, we really appreciate the craft of the old school techniques. I just like to be able to make someone feel good at the end of the day.
Is it tough to be around dudes all the time? Honestly, I am as close to one as I can get myself. So that is why I feel comfortable.
Haha me too!! So I feel like I am home,  hanging out with my brothers. I think people respect me here, in a way I should be in this industry. I am glad that this place gives me the opportunity….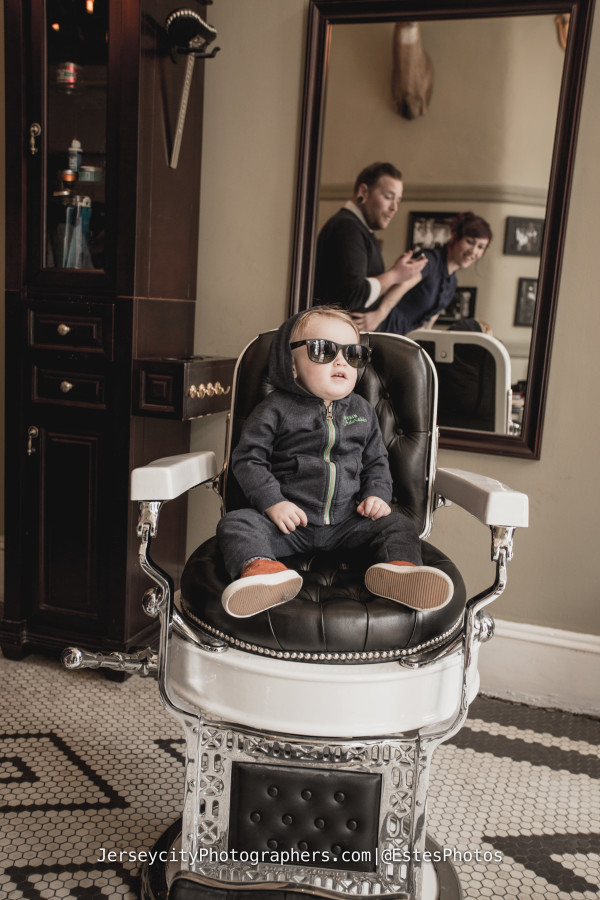 Favorite haircut? I love adding texture and balance to what suits the person… My favorite thing to do is hot towel shaving. I like how delicate I get to be…. I like to be detailed and I am a little OCD.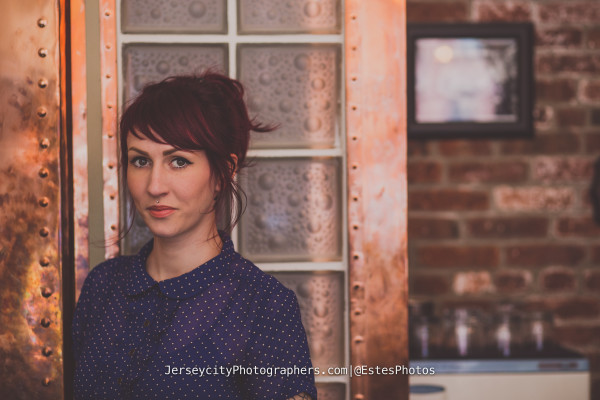 Favorite JC hangout spot? We go to Left Bank and LITM a lot.
How do you feel Virile is different? We really try to keep it old school and cater to all our clients.
---
Happy Birthday Virile!!
Love ChicpeaJC.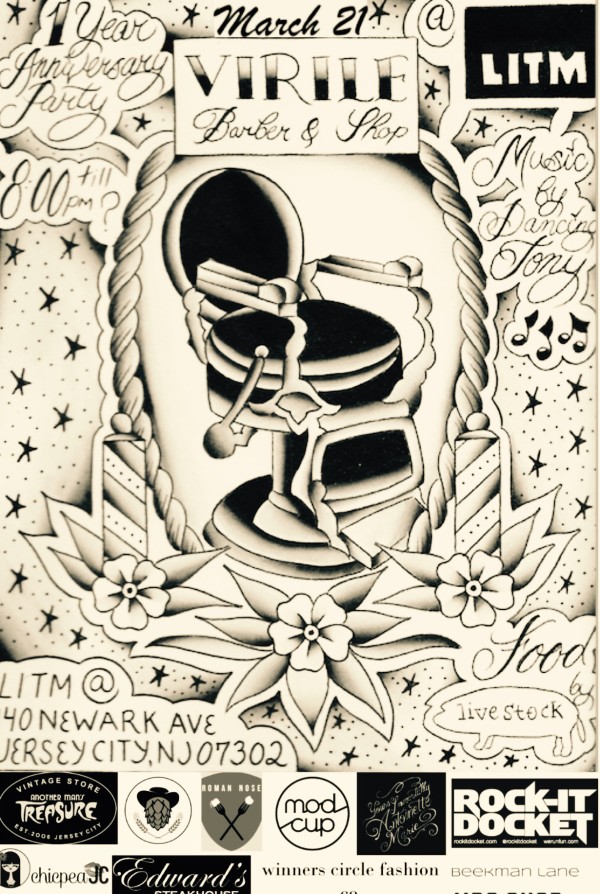 [wc_googlemap title="Virile Barber & Shop " location="510 Jersey Ave, Jersey City, New Jersey 07302″ zoom="16″ height="250″ title_on_load="yes" class=""]