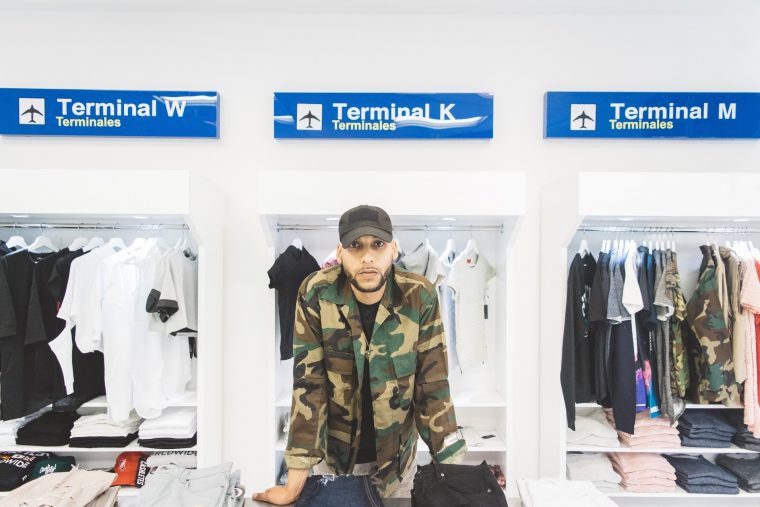 I am lucky to say that I am surrounded by many talented and hardworking people. Haytham, aka Hayoner is one of those people. We've been friends for a while now, and he's grown to be someone I admire very much, he is one of my closest Jersey City friends. He is my homie.
Haytham is the type of person that commands a room with his outgoing energy, there is no way you will ever be in a bad mood around him (or else he will call you out). In fact, he's hosted my first year blog anniversary and my most recent one as well where he literally stole the show.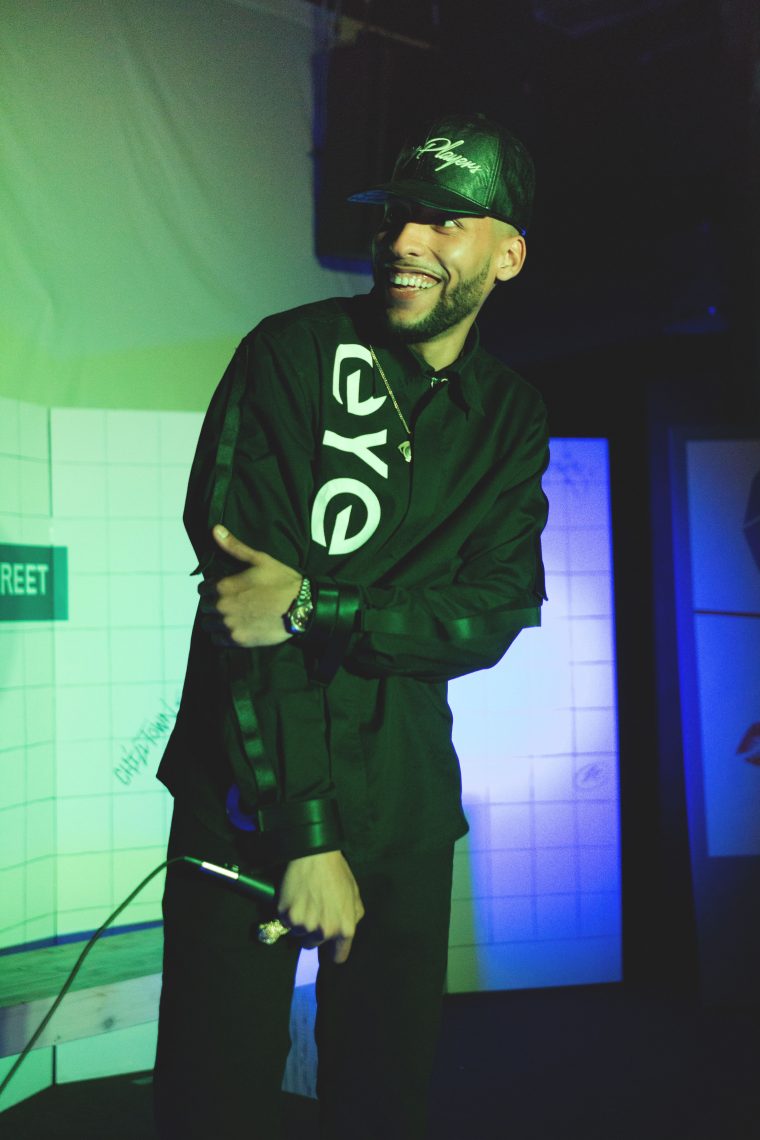 For the past year I've seen him work so hard on his brand Eye Create, his pop-up shops and now on his new store opening in just a few days…. The Clearport "Wear you get fly".
Haytham had the store under wraps for months, even me who I thought I had an "in" didn't see it until he finally invited me to come check it out. As soon as I walked in I was in total disbelief and I said to Hay "Are we really in Jersey City?". The store looks like an airport, an airport "wear you get fly". It's f-ing genius. The store is a whole concept and experience. Haytham thought of every single detail down to having charging stations by the seats, to a security x-ray scanner that brings you to the changing room.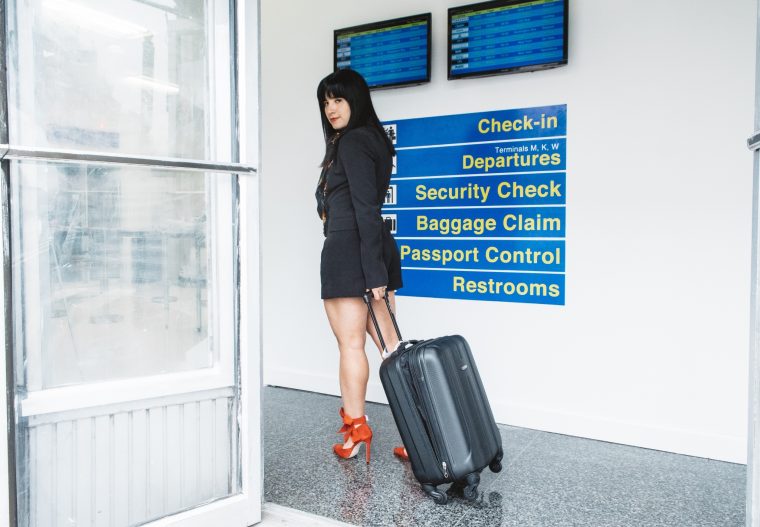 I am so proud of him and I am beyond excited to be part of his journey… 30,000 feet above the clouds.
What's your name?
Haytham: My name is Haytham Elgawly also known as Hayoner.
So this is like my fourth interview with you. I think.
Haytham: I'm a busy person; I do a lot of things.
What have you been up to since our last interview?
Haytham: So, a lot has changed. My life has made a complete 360. I found myself. I found my passion, you know. Ive realized what love and good energy is. Im ready to take-off.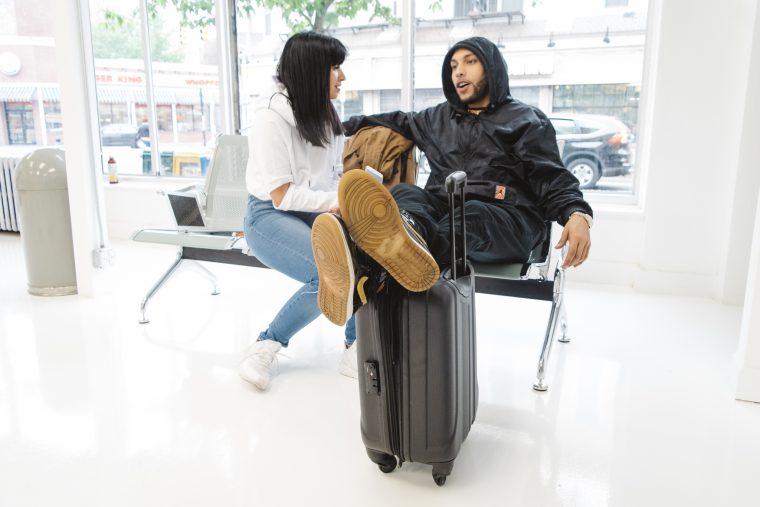 How did the Clearport start?
Haytham: First, let me explain what the Clearport is. The Clearport is a conceptual retail experience, it's not a store. It's a full family streetwear and contemporary retail space 30,000 feet above the clouds in a sense. The idea came into fruition from me being a fan of words and calling myself one of the flyest people in the city. Someone gave me the nickname Frank Abagnale and Young Boeing 747 and eventually like everything else, it became a lifestyle. Fly is a slang term that refers to something sharp, on point, or out of this world in a sense. A Clearport is a private airport for private jets. The runway, which you do a catwalk on, is also a runway for airplanes and those get fly. So on and so on.
How did you come up with the concept?
Haytham: Honestly, the same way I come up with everything else. A lot of thought, a lot of experience, and a lot of creativity.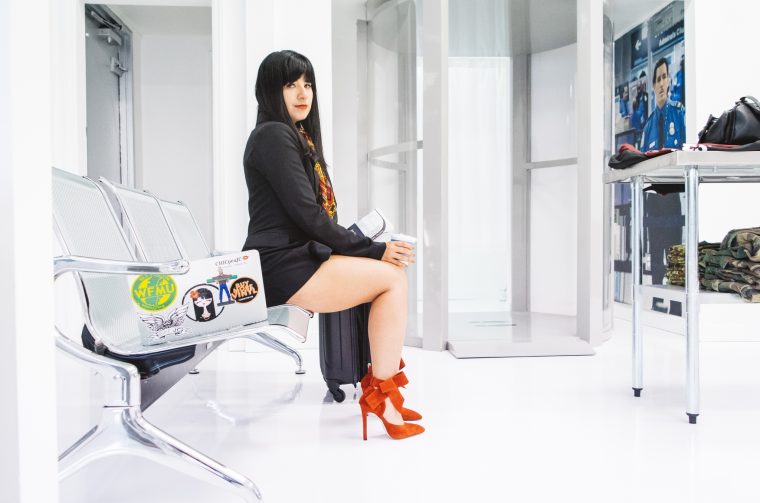 So let's talk about your opening, its on May 21st.
Haytham: Mayor Fulop will be here at 10 am for a ribbon cutting and obviously ChicpeaJC will host it. So 11 am to 7 pm is our celebratory grand opening event. So it's going to be an all-day event. Come by and get fly basically. I might have a surprise I just can't leak it yet. I'm going to have a whole bunch of DJs. I'm trying to have a new DJ go on every hour. It's going to be a phenomenal event basically exposing this concept to Jersey City and seeing how people feel about it. Then of course at night we are having the grand opening after party at Transmission hosted by ChicpeaJC of course, as well. That's going to be fun. If its anything like your last party, its going to be amazing!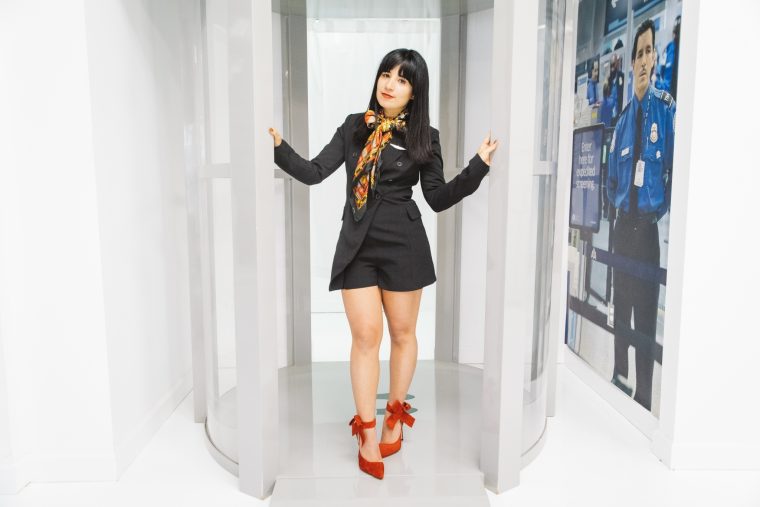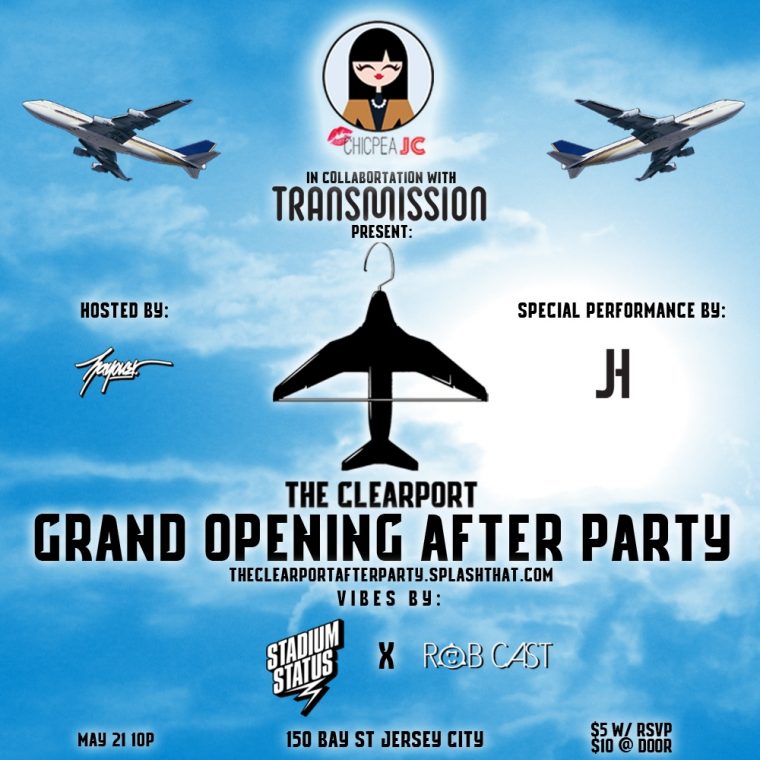 What are your future plans for the store?
Haytham: More destinations, you know just like any airport, you have to fly somewhere else. I just hope everybody appreciates this concept as much as I appreciated building it. When I was thinking about this concept I really wanted to create a platform for creatives just to be them. I wanted to create a store that was a photo op, every corner you turn. I wanted to create a sensation in my city, seemed like every other store that you go to over here has been the same exact idea. There idea of business is come in, give me your money and leave- don't call me unless you want something else. This is totally different, this is an experience, kind of like disney land. There's terminals in here, there is going to be a loyalty program called the mile high club, where for every dollar you spend you get a mile and redeem the miles for cool garments. I have USB chargers on my chair so you can charge your phone; my fitting room for God sakes is a metal detector!! That is the honest truth, step by step and trying to really take over this game and motivate creative ideas, not just ideas for capitalism.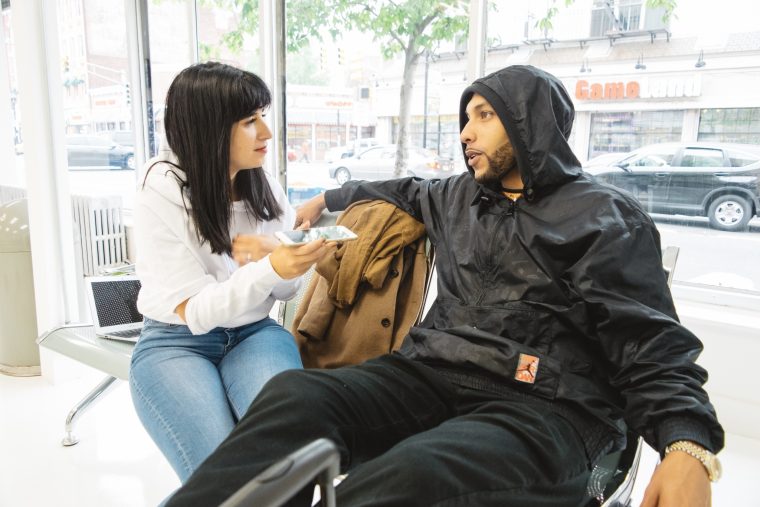 Can you tell me about the labels and stuff you are carrying here?
Haytham: Yeah for sure. I'm carrying a lot of street wear labels; I am carrying a lot of contemporary brands. I am carrying things I see missing in our environment. I want to carry things where you can come in and get dressed up for your day-to-day activities and also get dressed for your nightlife. The Clearport will be carrying men, women and kids clothing, so it's a full family boutique. I am trying to cater to the whole family. I am going to be getting more and more brands as we go obviously, but right now I just want people to concentrate on experience and enjoy the space. I just want people to appreciate the type of aesthetics we are trying to bring to our city.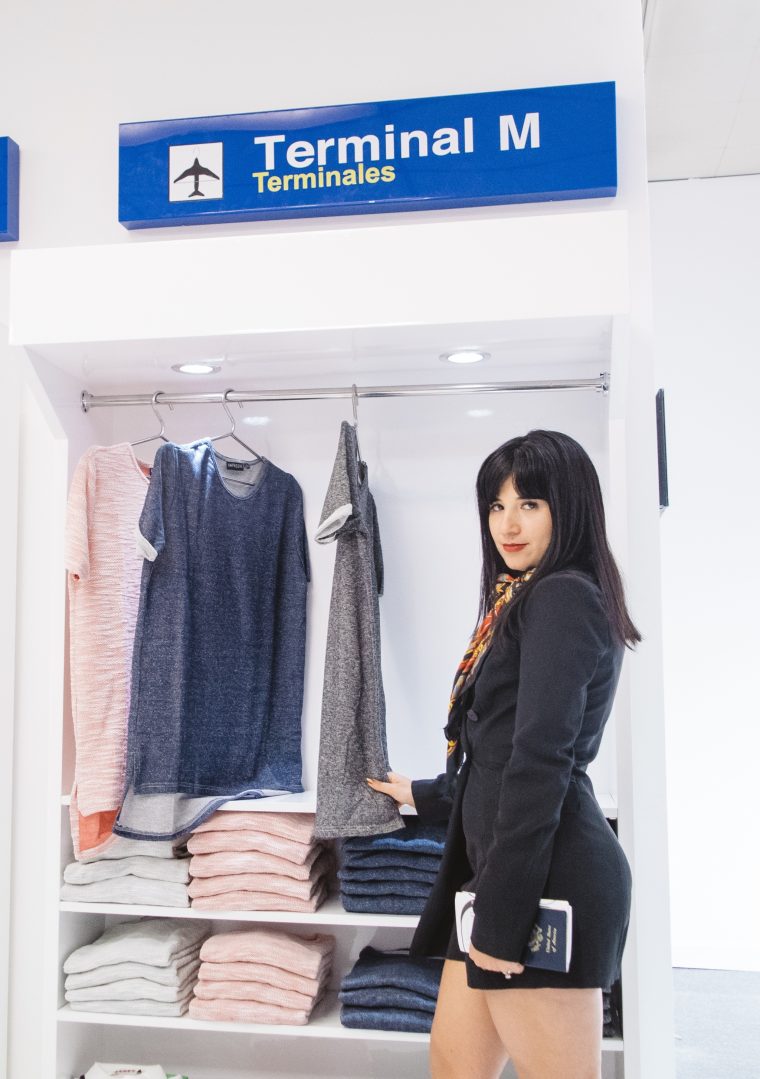 I love it.
We have talked about this before, you are born and raised in Jersey City, how do you feel now being a business owner?
Haytham: Yes, I was born and raised in Jersey City- down the block actually-at the old Medical Center. I also lived a few blocks away from this location so I've been in this radius my whole life. My dad owned a store a few blocks away from here, a grocery store. So I've been around this area since I was younger, I used to play basketball in the armory a block away here every other day after school. I am very embedded in this neighborhood and very deep rooted in this location. I've passed by this store since I was maybe four years old. It's just incredible to even know I have this storefront. I am a part of the system now. I am part of the growth; I am a part of this culture. That's why I have to change it now.
Any last words?
Haytham: Yeah. Clearport. Wear you fly, come get fly, let's be fly ( hahaha)  and take off on May 21st. I just hope everybody enjoys this and really sees how much hard work was put into this.
Congrats.
Haytham: Thank you hummus.
Grand Opening After Party Tickets: theclearportafterparty.splashthat.com