Photography by Greg Pallante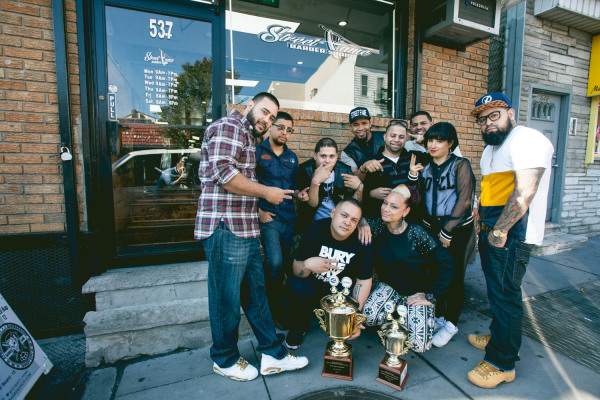 A few months ago I found the most stylish/bad ass female barber on Instagram; Lady Jaekutz who I wanted to be my next "Stylish Peep" and she so happens to work at Street Fame, a barbershop on Newark ave. It's been a minute (a month) since my Virile Barbershop post which was one of my favorites, so I knew it was time for another one. This time I wanted to cover a shop with some street fame (no pun intended). I went to the shop to meet all the barbers and had a sit down with Johnny, the boss man of the shop to get the background story on this dope spot.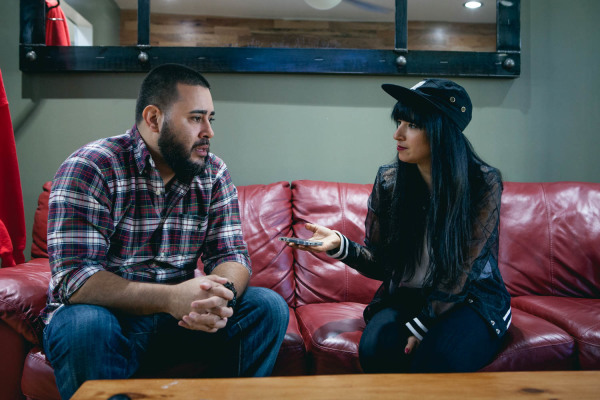 What's your name? Johnny, I am the owner of Street Fame.
How long has Street Fame been open? About a year now. It all started with me just talking to my manager Kenny. He was working out of his home and he told me I should open up a shop. My girlfriend had her license so she gave me the green light. I had money saved up and it was something I've always wanted to do so I went for it.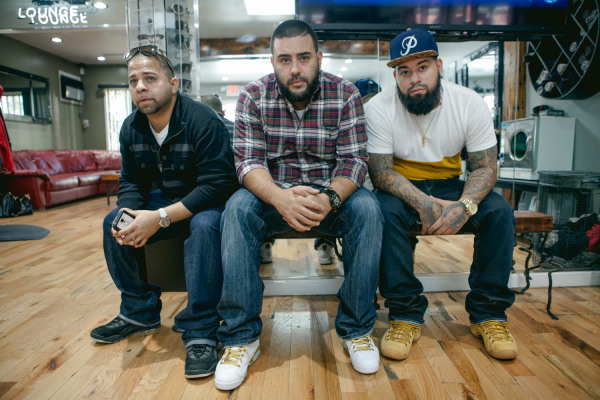 Do you have a barbering background? Myself? No. My girlfriends been a beautician for about 10 years and my manager Kenny has been doing for about 18 years.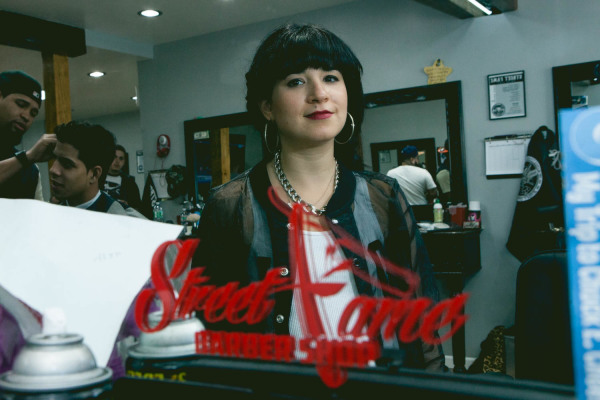 What kind of services do you offer? Straight razor, hot towel, we do designs…. we do it all here.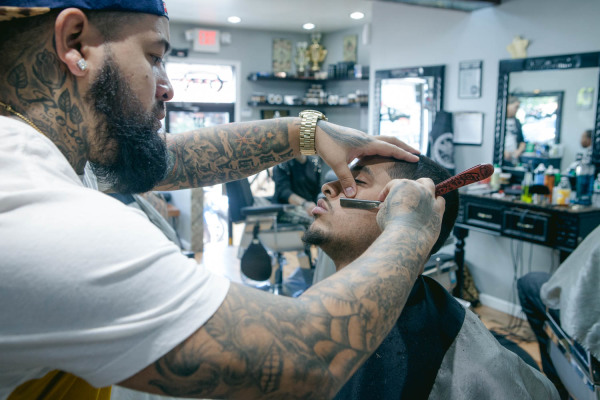 It's a cool environment. Yeah it's family friendly. I pretty much have the guys here and they bring their kids here while they are working. Customers come hang out here in the lounge sometimes… I try to cater to the barbers as much as possible because I don't have a shop without them..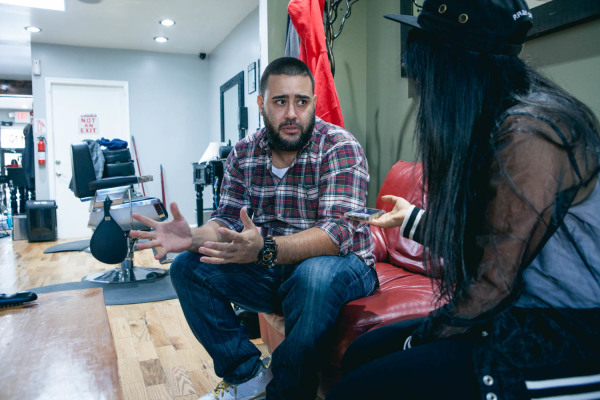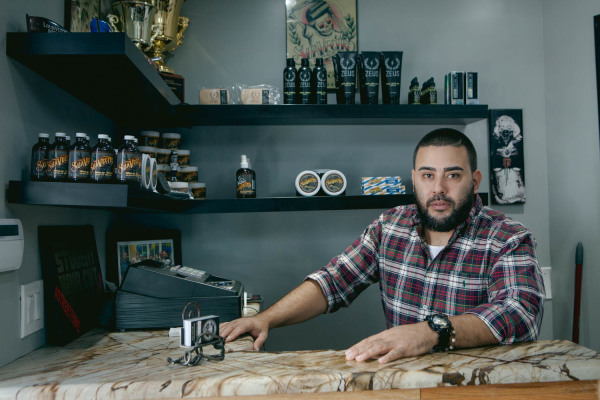 Can you tell me about the barbers that work here? Lady J (@ladyjaekutz) ; There is nothing like a female working in a barber shop. To me that's huge! She has this swag about her…. she is really focused on her barbering. She is a very intense barber!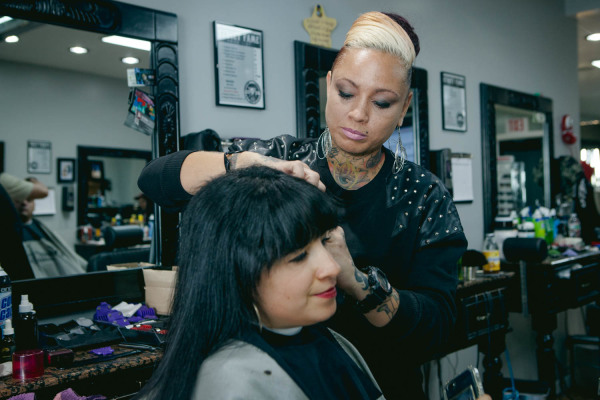 Kenny (@pernil_cutz) my manager, he is pretty much old school and brings a lot of energy.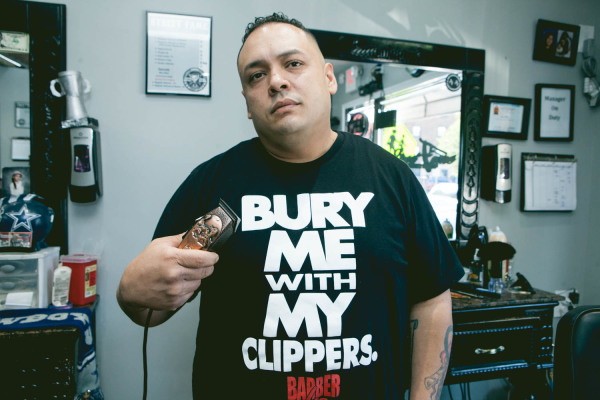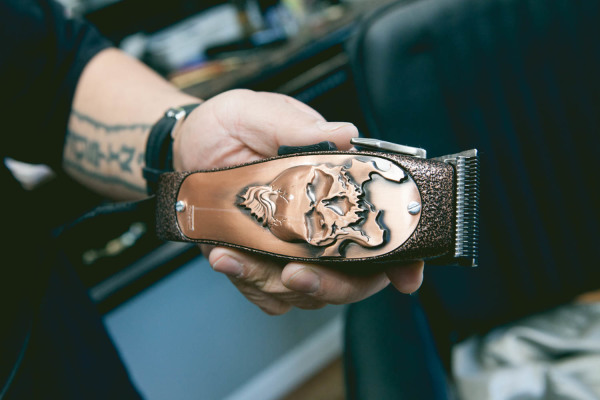 Ghost (@luxurygang_ghost) he revives the shop… he is always laughing and has a lot of energy.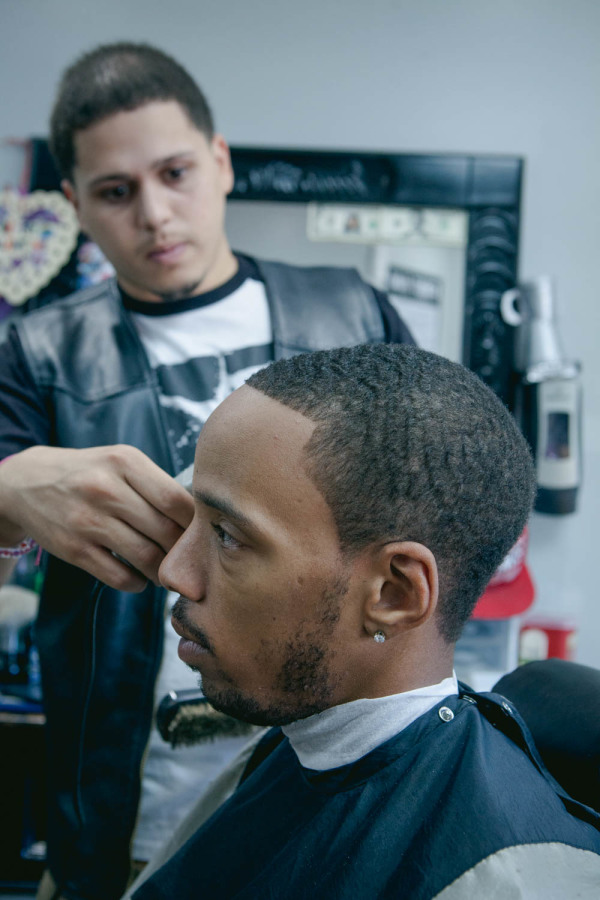 Luis (@luis05610) is my other barber, I call him Luis Scissor hands cause he is great with the scissors, very talented barber… very patient.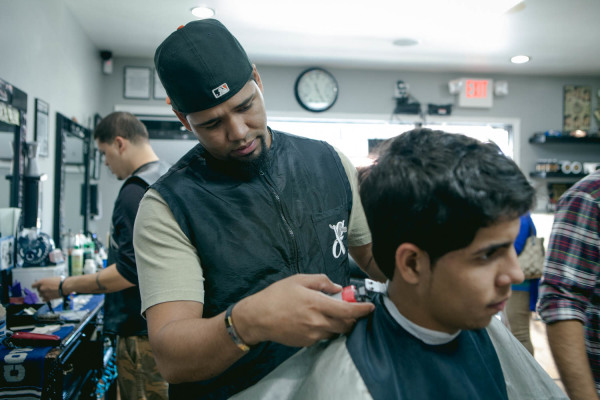 Then there is Hollywood Lou, he is hollywood, demands a lot of attention. He is very skilled.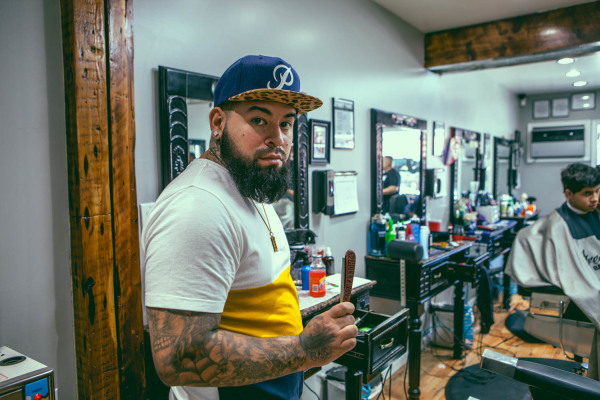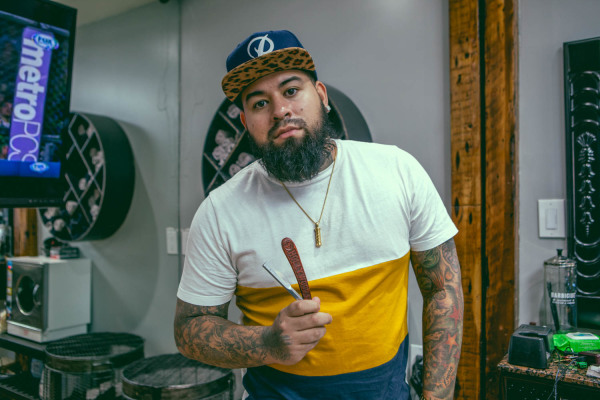 Then I have Willy (@elbarber_chiquitin), he is the young gun.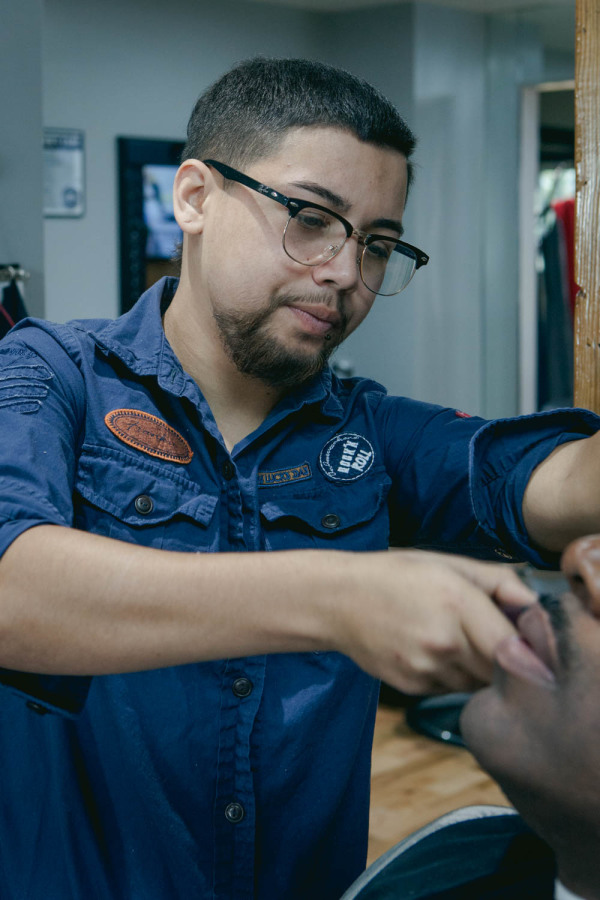 He looks kind of like a hipster! He is, he has his following. He brings this aura about him…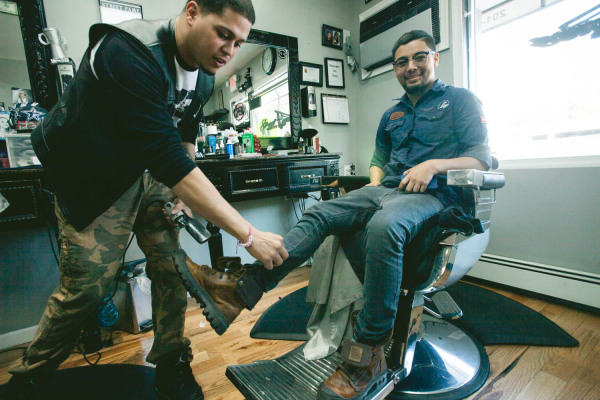 I have another barber that isn't here but he is a DJ and his nickname is Macho (@dj_anxious). This guy is a quiet but cool cat…. Another barber Angel, super calm and collected. Everyone here gets along and they love what they do….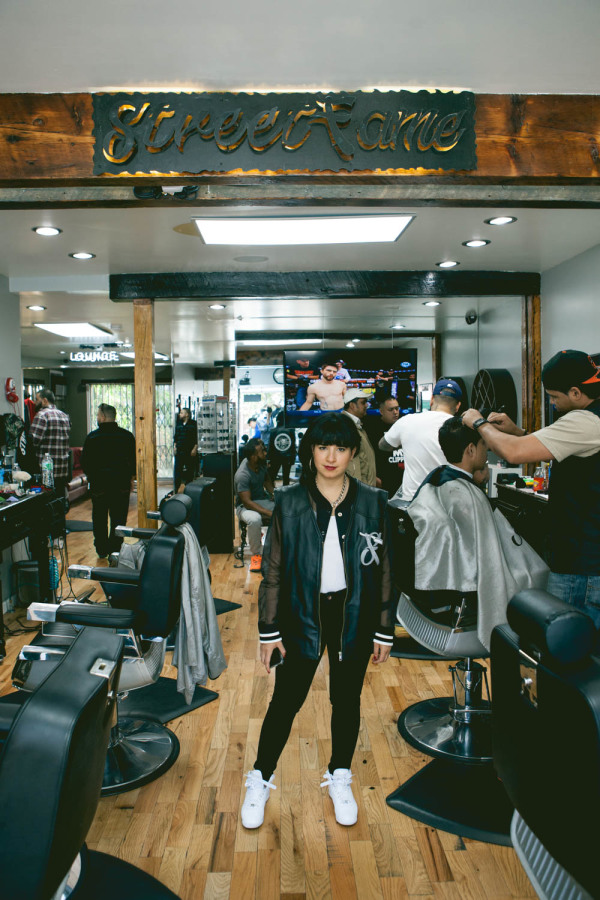 Do you guys ever bust each others chops? We do that a lot! We challenge each other. Everybody gets along and the customers like to hang out here. It's a beautiful atmosphere.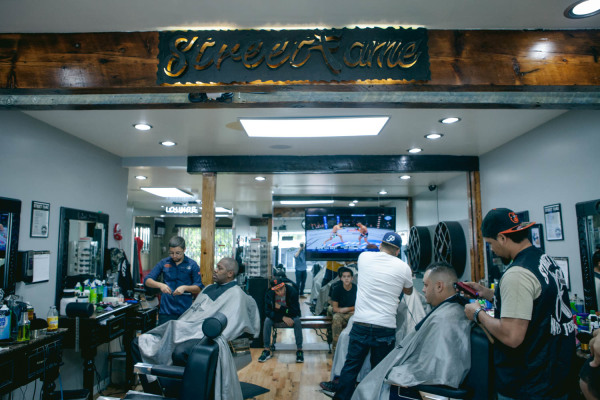 Do you cut women's hair? Yes we do. My girlfriend cuts women's hair. We call her boss lady Jojo.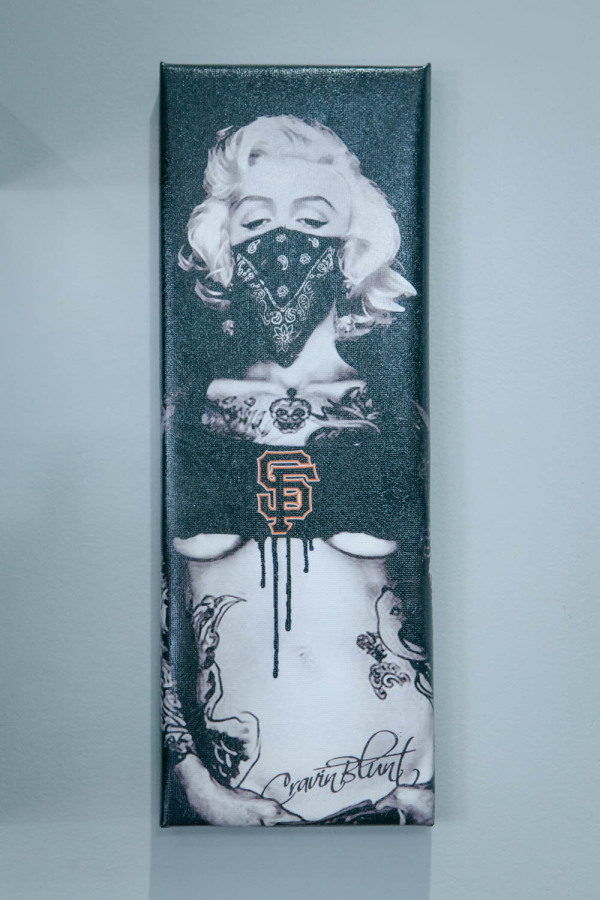 Is she here today? She's at home taking care of our twins… but when she is here she does everything, color, haircut, styling….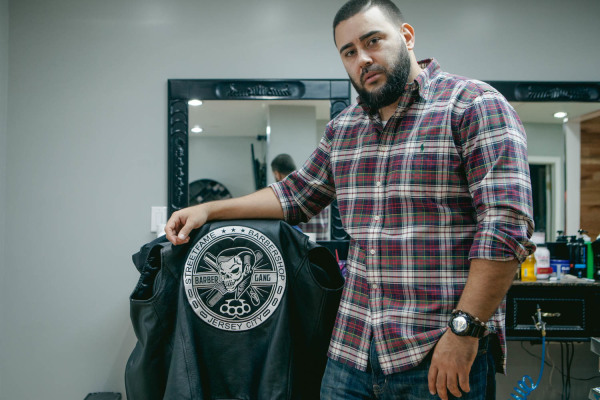 What are your future plans for street fame? I want to bring out the best in my barbers, have them do more competitions. I want everyone here to succeed.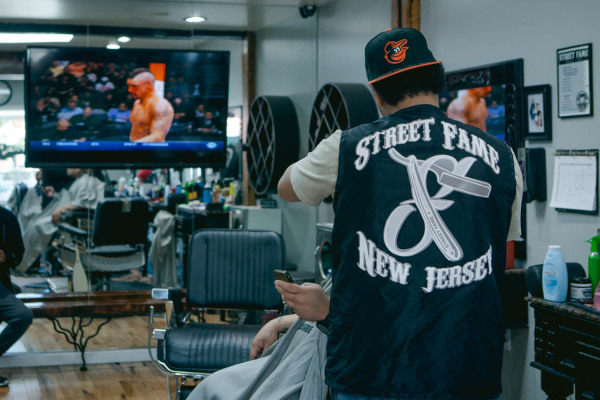 Are you from Jersey City? Born and raised.
Do you have a favorite hangout spot? I hang out here! All the time. I like to eat at Carmines.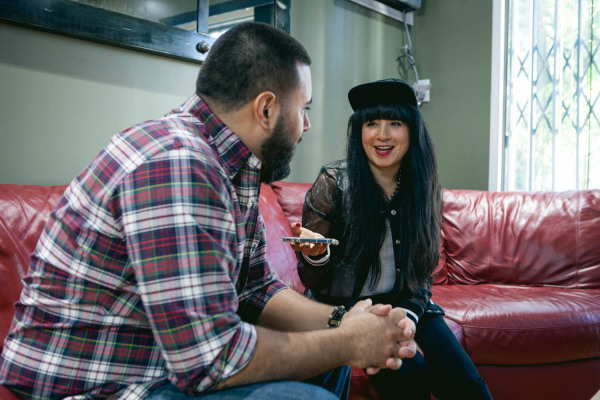 Can you tell me about the competition you guys were in recently? We recently competed in the barber expo in Philadelphia. That was pretty intense… I had Kenny participate in the fastest fade, and I had Lady J participate in the freestyle competition. There was probably 3 or 4 women in the competition and she came in thirds in the whole thing. In my heart she deserved first place.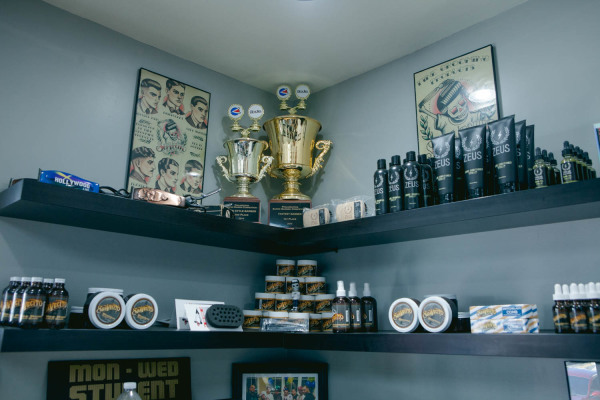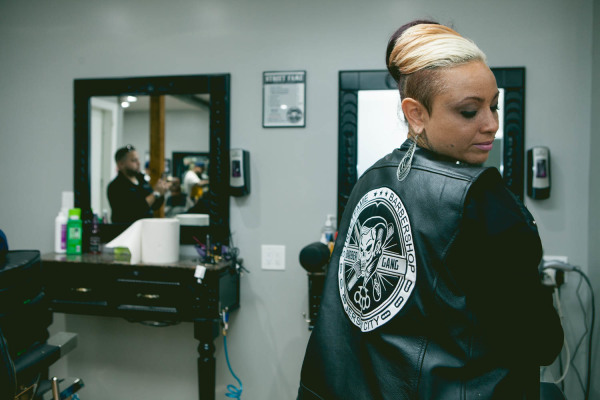 What kind of dynamic does she add to the team? I will tell you something… she is intimidating. She commands your respect. She has all the barbers on their toes. For me looking out in, she brings the best out of all of them…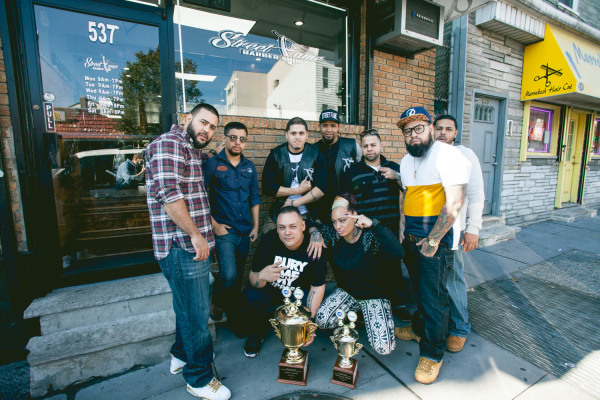 To be continued…