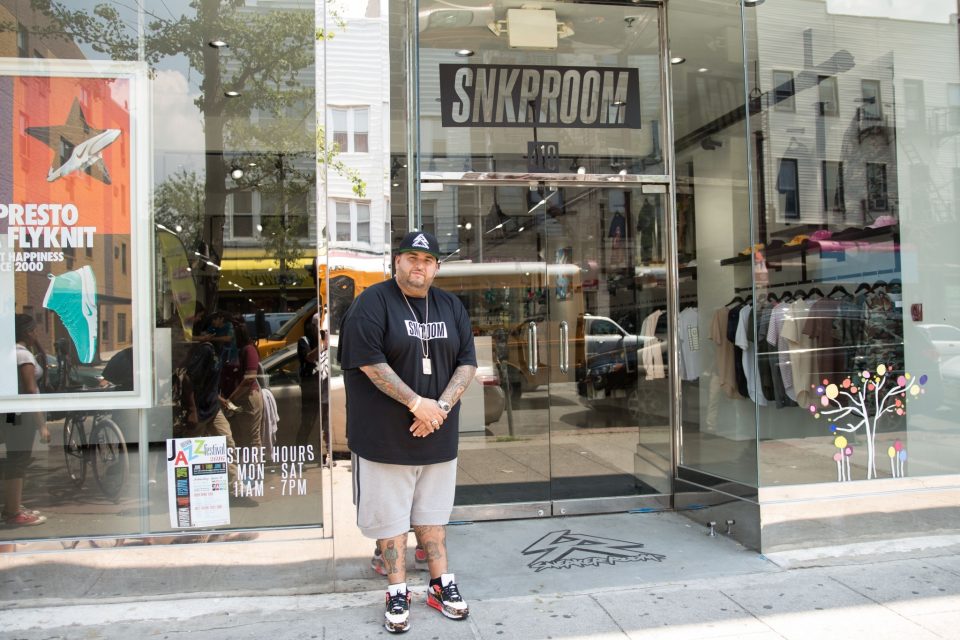 Almost two years ago, I walked in to Sneaker Room with David Diaz, the Central Avenue Special Improvement District manager for the first time. I remember being completely surprised that a store like this existed in the heights of Jersey City. As a result I decided on the spot to conduct an interview with the two people who were working in the store that day. I interviewed Haytham Elgawly who was the Creative Director at the time (who now moved on) and artist Jeff Rose who is an extremely talented visual artist, people call him the Andy Warhol of our generation.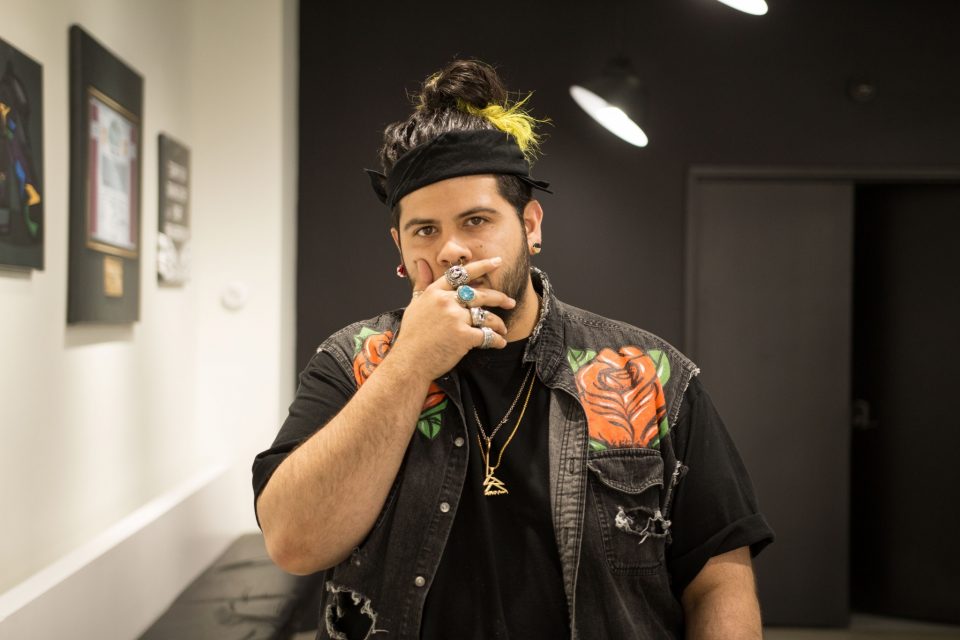 They both spoke about Suraj Kaufman who owns the store, and while interviewing them Suraj seemed like this elusive character, a mogul that I probably would never be able to meet. Suraj built an amazing brand a long with a team of really talented creatives who each have their own strengths and talents. It's important to mention that I ended up interviewing each of his teammates separately for their own posts. Jen Twice was one of them. She is a sneaker head to the core! Jen owns a gazillion pair of sneakers and runs her own sneaker website… Suffice to say Suraj has an amazing team.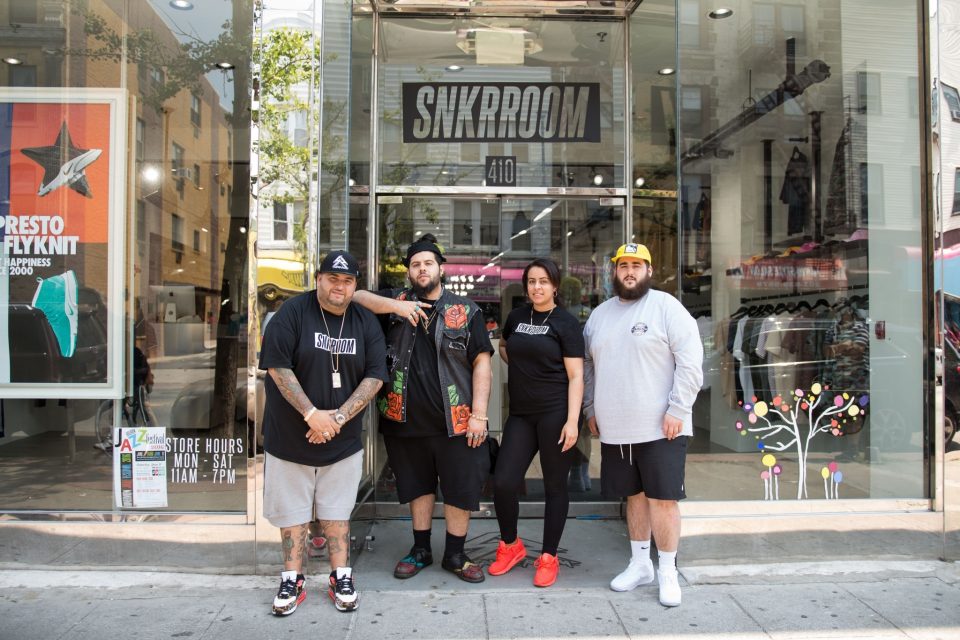 Anyway, it took about a year for me to actually cross paths with Suraj and get to know him better. Suraj is a not only a successful business owner, he is also a proud family man, and an active member of the Jersey City community. He tries to involve himself and give back whenever he can. Suraj has been extremely supportive with my efforts and my blog which means a lot from someone who was born and raised in Jersey City.
Since I interviewed almost everyone in his store, it was time to get the Sneaker Room story straight from the source.
What's your name?
Suraj Kaufman.
What do you do?
Suraj: I own Sneaker Room.
So tell me the story of Sneaker Room.
Suraj: You want the long story or the make you cry story?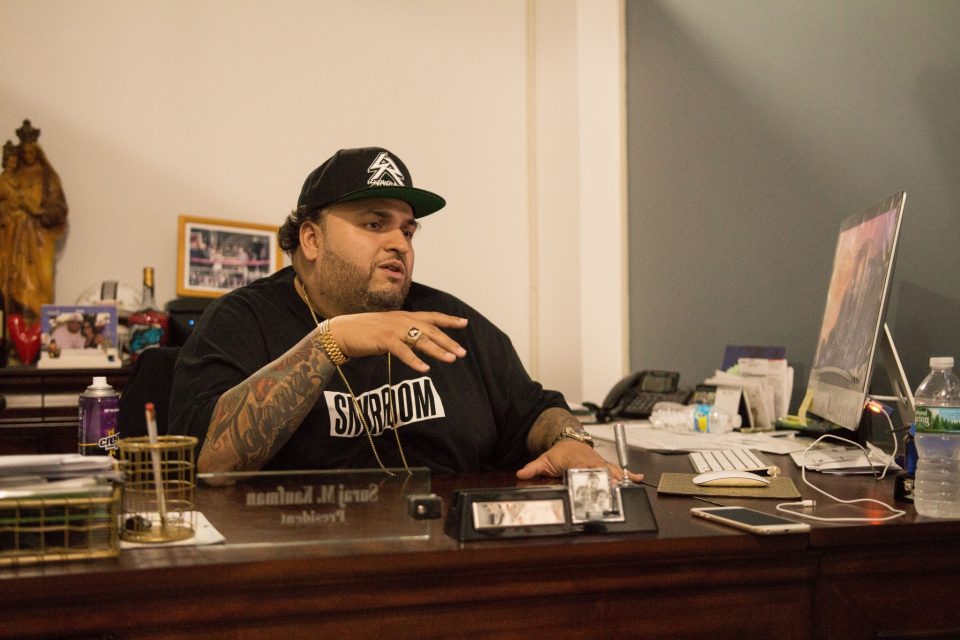 I want the in between story.
Suraj: I opened Sneaker Room in 2006 on Brunswick Street in Downtown, Jersey City, 300 square feet, it was the size of about your walk-in closet. I grew up in Jersey City in the Marion projects came from very humble beginnings. I had my first child at nineteen, and my wife was nineteen. I had my second child in 2006 in February.
What happened was that my mom got diagnosed with cancer in February of 2006 and about one month after she passed (she died in May) I got a box in the mail. It was a piece of Nike stock, and what it said was, "To Suraj, A piece of Nike you won't wear out. Love, Mom." I went to my aunt and told me that she knows when we were growing up I couldn't afford all the shoes and all, so she wanted to leave me a pair of sneakers.
I got the idea to open up this store in Jersey City as a reseller. I used to buy sneakers from Footlocker or other people, and I would resell them for a profit. I opened up Sneaker Room in October of 2006.
The name Sneaker Room also came from my mom because in my house we had a room where my kids always were and maybe like 20 to 30 pairs of sneakers that I bought over time. And when she got sick she said I am sorry I took over your "sneaker room" because we put the hospice bed in there.
Aw.
Suraj: So to be very honest with you the whole story and the start of Sneaker Room came from my mom dying. I wear it here, I have the actual stock… It has the date, June 12th.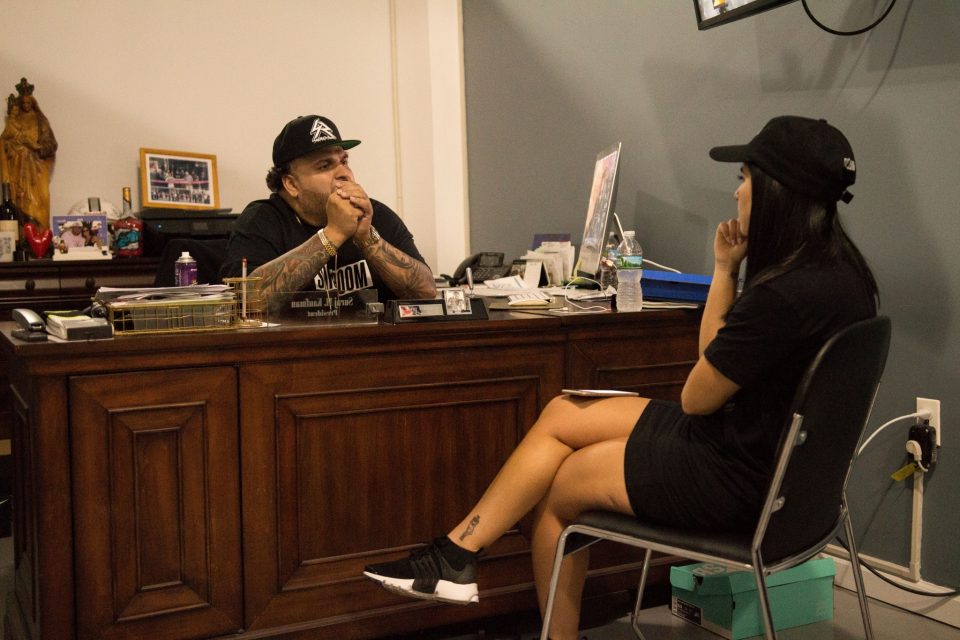 Wow.
Suraj: She died May 25th, 2006. So it came after she passed away. It's like my prized possession. I opened up the store. I went to my dad, "Lend me 20 grand," and he looked at me like I was crazy. He lends me the 20 grand, and I opened up the store. I did it for two years and made no money. I went broke because buying and selling sneakers is hard. It is not as easy as people think.
At that time we were the first store in Hudson County as a reseller… there were other stores, but not resellers. Nobody at that time thought about buying Jordans and selling them for more. So I did it for two years. Then I went to work for KD, which is on Martin Luther King in the hood and I worked there as a sales consultant. Helping them with their business, but also teaching them my business. They opened up a store in Newark called the 6th Borough, and I went and worked for them over there.
I got my start and meeting people and getting to know what I wanted to do. I met with a friend and me and him started a partnership. We called it Take Over. I owned it in Montclair for a year and then we opened it up in Jersey City on Central Avenue in 2011. I then realized a partnership is the worst idea you could ever do. So he and I split up in 2012. Then I took the store on Central Avenue, I kept it and renamed it back to Sneaker Room and then we are here now in 2016. We went from 300 square feet to 3000 square feet.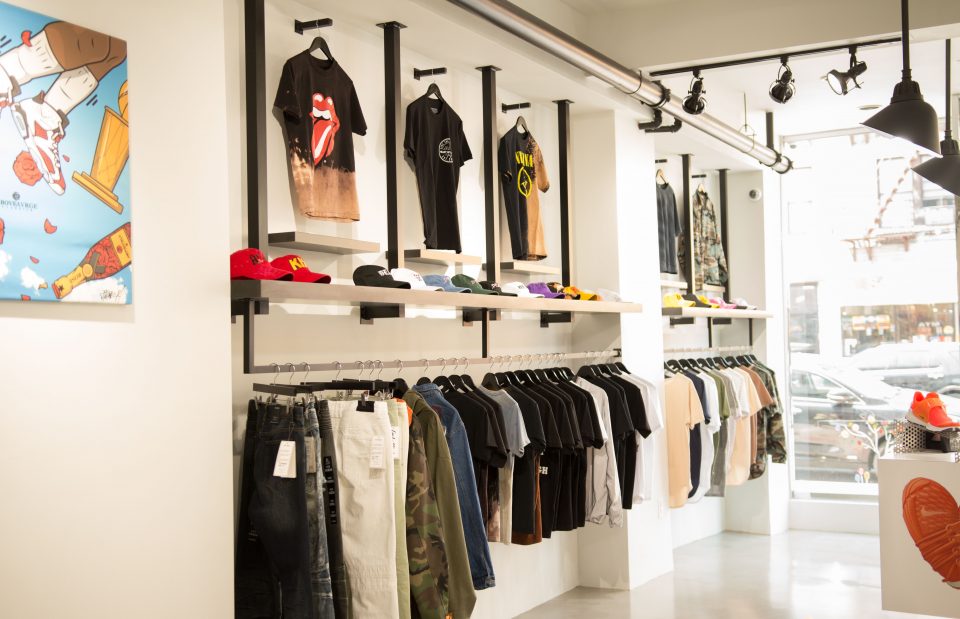 How was that change from going to that store to this one?
Suraj: There is a lot more cleaning to do! I mean we were always known as a spot where you come in and had good conversations. Has it changed? I don't think we have, because now we could fit more people to have more conversations, but you still get that one on one relationship here even though it's a bigger space.
It's just now we could put more stuff in here and have more products, and it looks better because everything was black there and now it's all glass and white. I think its more of a chill environment because there if you had twelve people in the store you were crowded. Here if you have fifty people in the store, it still looks empty. So it hasn't changed we are still going with the live-the-lifestyle theme and we are still doing business the way we use to its just on a bigger scale and hopefully bringing in more flavor or more brands and stuff to try out because now we have space to put it.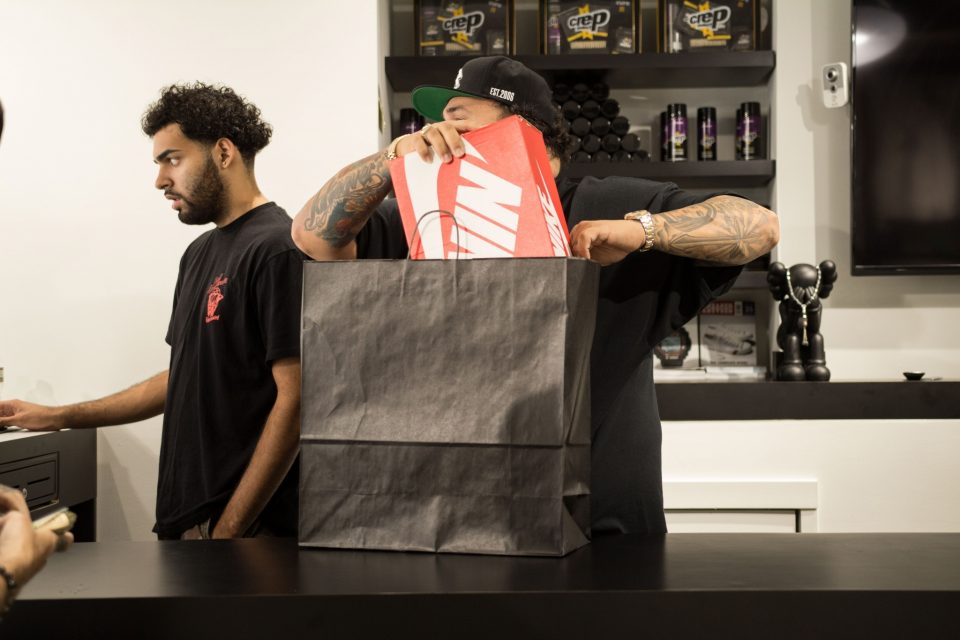 See I don't get the camping over night for a shoe.
Suraj: Just like you don't get why a pair of Yeezy's cost 1,000 dollars. Okay, I will give you a breakdown of why they camp out and why shoes go for more. It's very simple. Sneakers are like the drug game. It's a legal hustle. So what happens is we get a certain shoe, like tomorrow it's going to be the Jordan 12 flu game coming out. So people want the shoe they are $190.
The shoe as of today if you go on to some of the websites Flight Club or other sites that are consignment shops and all. The show is selling already for $272.90 when its only $190.00 on the box because people know that there is not enough in the marketplace and that stores like us for everybody. So there it is. And then you say well why doesn't the company give you more pairs? If we had a 100 or 200 pair people wouldn't want the shoe. There wouldn't be that demand. It's supply and demand. As corporate as these companies are it's so street based. If you make it, and you have a few, we'll want it. If we over-saturate it, you won't want it.
That is really what it comes down to. The thing about kids is that children can only afford $190.00. That is why they do it. They can't afford to pay $300 for that shoe. There is the catch.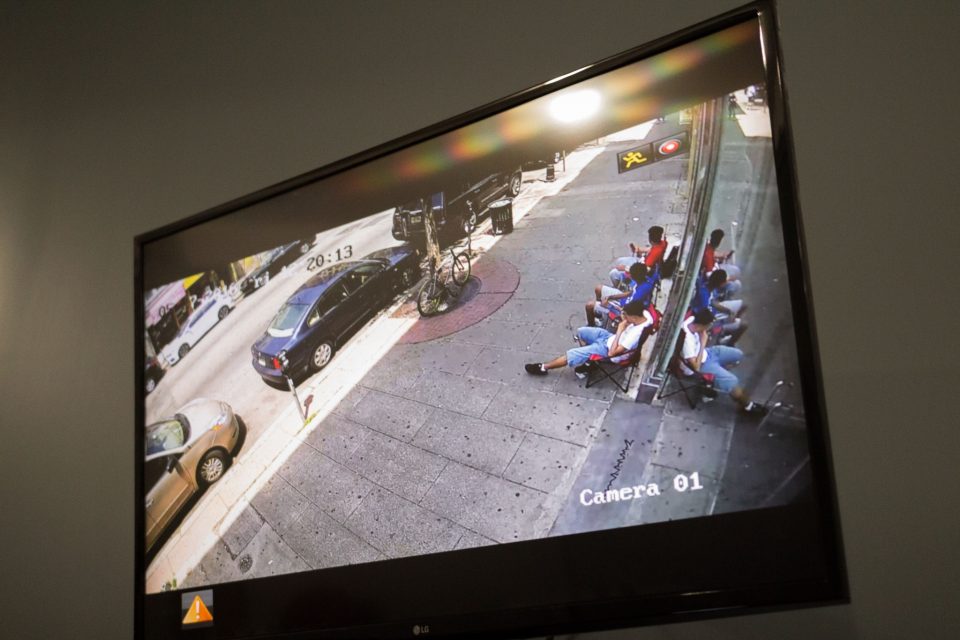 Do they sleep all night?
Suraj: They don't sleep. This is the thing about a camp out that people don't understand. Thank God, every business that I have had, in a 10-year process, we've never had an incident because when you come into this store, it's like a melting pot. You'll see Asian, Spanish, White, African American, Indian all these nationalities that would probably not talk to each other outside, but talking to each other in here because there is a common denominator. The sneaker culture, so it falls into that on the line, too.
We don't let them camp out during the day because I don't want them cutting school to camp out in front of my store. So 7:00 PM when we close you can stand online. So think of it this way you are going to be there from 7 PM to 11 AM, so that is 16 hours. First, you are not going to sleep because no one sleeps outside, second of all, its a little bit like a party, but not a party because you got like 20 to 30 people talking about the same shit all day. They all talk about sneakers, and they start communicating. Plus, it's not like ten years ago when we didn't have electronics, now they have the iPhone, their iPads, Beats, how many hours is it? 12 hours.
Same thing as camping out right? You keep yourself occupied with your electronics?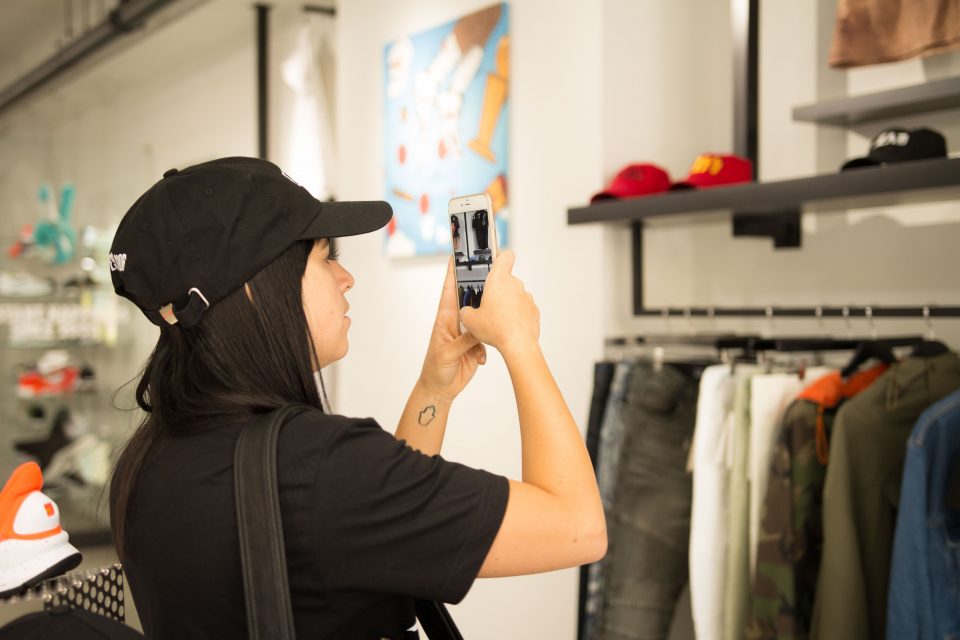 Yeah.

Suraj: Same thing they do. They keep themselves occupied. It's kind of like cool. We have never had problems in the winter we bring them hot chocolate. Sometimes we'll bring them pizza, and if I am out sometimes we got them McDonalds, and they are still out there chilling.
It's a good activity.

Suraj: Yeah, even parents come to us and go to us "Well would you like your son hanging out?" because I have a 16-year-old, 100% because we have never had an incident, and it's like a group activity, and they all got each others back. Like they are not going to let someone run up on one of them and rob them. As crazy as it sounds, it's also crazy in a good way. In the cold, I think you are nuts like you are going to catch frostbite. People have been out there with like tents and blankets. That is over the top. Like today it's going to be 85 degrees so it will drop to maybe 70 that is not a bad thing to just hang outside and do it. A ChicpeaJC activity can be to camp out and see what goes on out there! Put on a little disguise.
That's a good idea! That would be so dope. I'd be like, "Yo, what's up." I would probably be like the only chick there.
Suraj: No, because the girls come for the grade school sizes, which is 3 ½ to 7. So the girls are out there. Like in Bayonne, we got four girls that go to Bayonne High School and at 7 o'clock they are the first four. They are out there, and it's like a little hangout. That is really what this is. It's like a culture; it is like a cult.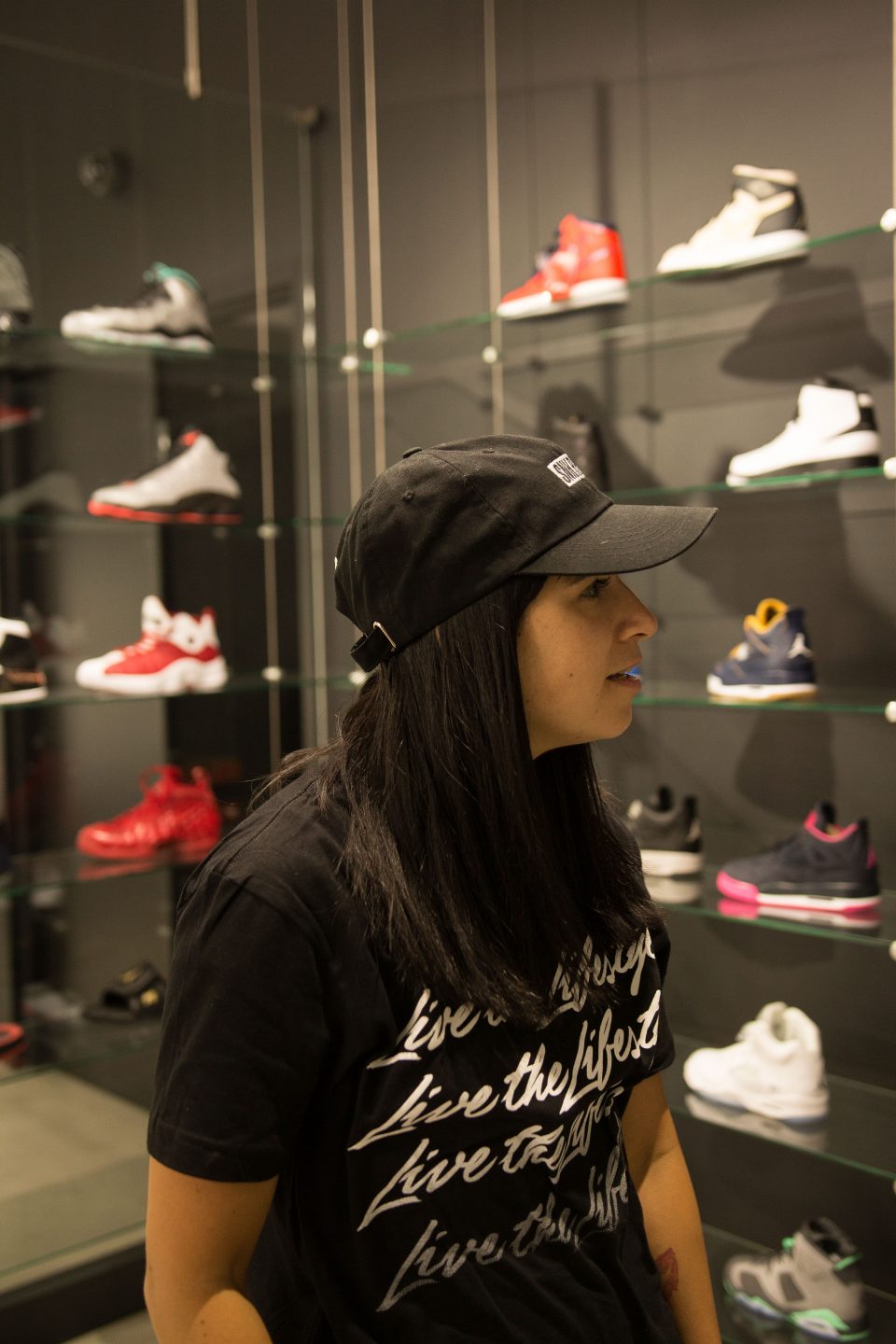 Sneakers are a culture.
Suraj: People that have tattoos now get tattoos at 18 years old. They don't know what the hell they are going to be when they grow up. Then they wind up becoming a lawyer or becoming a doctor and they have what used to be called taboo on their arm, but it's not. It's the same thing about sneakers. These kids are buying these sneakers and are into Jordans and Nikes, Adidas, everything, and they start buying it young. Then when they figure out what they are going to do for a career, they become stockbrokers, they become doctors.
Like I had a guy come in here the other day, and I would have never thought he was a doctor. We were having a conversation, laid back some nice pants, tank top on and Vans very chill dude. He brought a few things, and I asked him what do you do for a living, and I thought he might have been in finance because a lot of people don't dress the part. He tells me, Oh I am a doctor in Senai. I was like for real? He said, Yeah I am a gynecologist. He tells me he lived on the West Coast and always been into sneakers, because of the good weather all year round. So he says, "Just because I became a doctor this is still my culture. I wear scrubs and instead of wearing clogs I wear air max sneakers."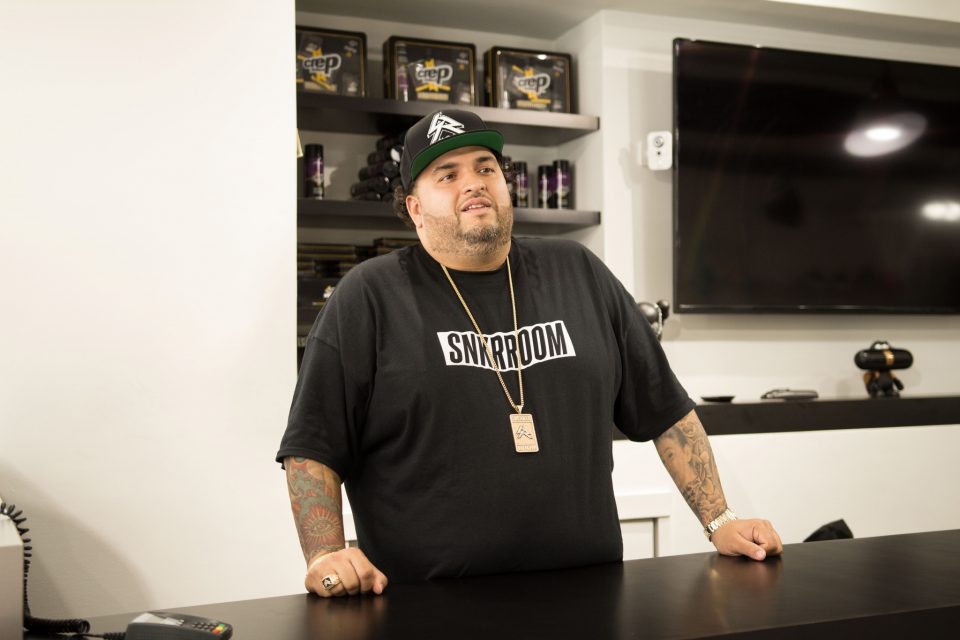 We all have these habits that we get when we are younger, and they continue as we go into our professions. Like myself, I have been into sneakers all my life. I own my store cool. I just spoke at Fortlee High School this week at career day for their business academy. I went in there with shorts on, a white button down shirt and a pair of sneakers. When I walked into the business academy everybody else that was speaking, the father's that were speaking were Bergen County Treasurer, Financial Planner for Wells Fargo, and a whole bunch of others they looked at me, and they all had ties on. I own my own business, so I get to wear shorts. They didn't get to wear shorts.
I go to City Hall wearing crop tops like I don't care.
Suraj: I went to meet the mayor last week to talk about some stuff, and I wore shorts and sneakers. It's not taboo anymore. Like Mayor Fulop was here yesterday and he was talking to me and asking questions about sneakers that he knows. Cause you know, he grew up around this. It's different people that grew up in the generation before us they know about the 80s. The 80s babies they know what they are talking about when it comes to that. We know our sneakers, and it's only getting worse because the sneaker heads are getting younger and younger. As it comes, you are going to see hard bottoms and all that stuff are not going to be around.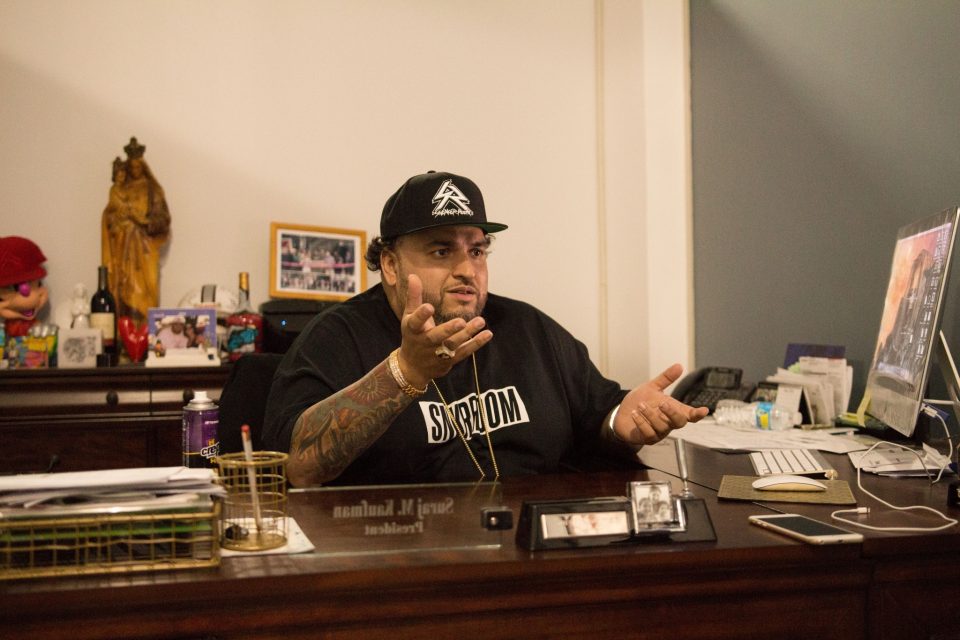 How many sneakers do you have?
Suraj: Realistically, I probably have from anywhere from 350 pairs that I wear that's on rotation. That's either used upstairs like in my house and then in my garage I probably have last time I counted 400 brand new dead stock that I never wore. My office in Bayonne has last time I counted about 225 that I haven't worn. I am at 625, and then you are in my office now, and I have only been here a week. I have ten pairs here that I haven't even touched yet.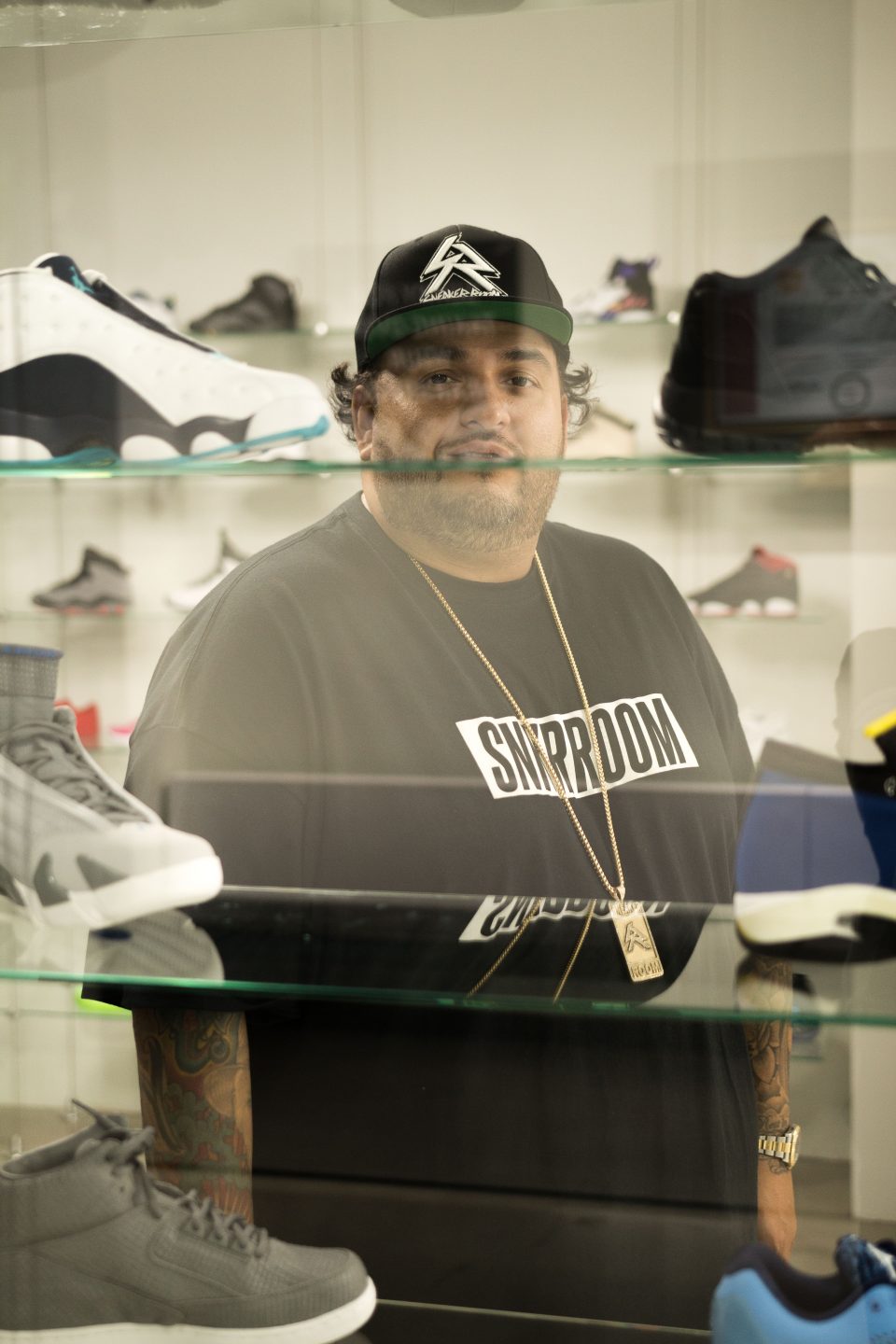 Do you wear a different shoe every day?
Suraj: I try to, but to be honest with it's just a headache, no. No. Like literally, the ones that are in the closet upstairs it's so easy to go to because they are upstairs. So it's like I'm going to wear this, but if I have to go to the garage and look through it. It's like oh my God. Then one time my wife did it where she took pictures when I was not there I was in Vegas for vacation. She took pictures and cataloged my collection. I was like you must love me. She stapled them, but staples started falling out, so you know how that went, but she took the time out to do it. I have a serious footwear fetish.
I mean obviously, you own a store.
Suraj: It's bad, it's like a dealer getting high on their own supply.
You guys have an amazing social media following. How did you guys get it to that level?
Suraj: Very, very much grassroots, we never paid anything for it. It was just basically everybody that worked for us and worked with us all have creative minds. So I am not even going to sit here and say I did it at all. Anyone that used to work for me or works for me for me, we all did it together being creative.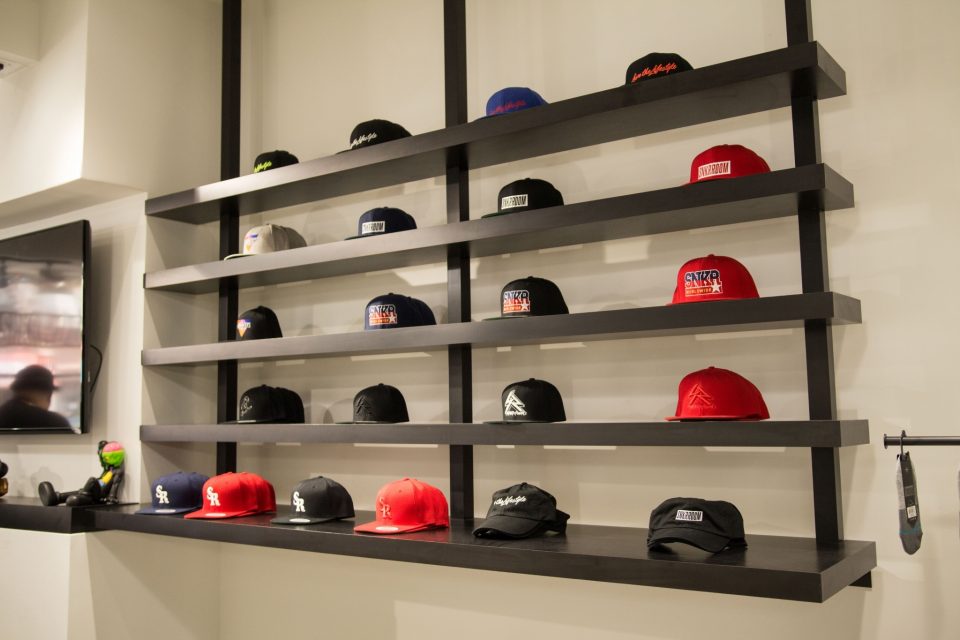 I noticed it is organic because you guys don't work with bloggers and its not like oh this person is wearing my shoe, its all like.
Suraj: Think of it this way. We treat everyone like they are a celebrity. When you come in here you have been in here when Victor Cruz was here, Justin Tucks, Jadakiss, Fabolous; you know what I mean. Like really its like if you are here we are going to talk to them, but we are not going to ignore you when you walk through the doors. You get the same conversation, or when they are not here, we treat you the same way we treat them when they're here.
You come in and it doesn't matter if you are buying something, or spending $25 or whether you are spending $100 a consumer is a consumer. You have to give them a shopping experience you want to make them want to come back. And when you make them want to come back what happens with social media you walk in, snaps a picture, oh I was at Sneaker Room today great customer service. If she has a hundred followers, maybe 10 of them start following you. Then they come in and post up one of their ten so don't get me wrong it wasn't built overnight it wasn't like oh my God we got 100 followers a day or whatever, whatever. It was built very organically.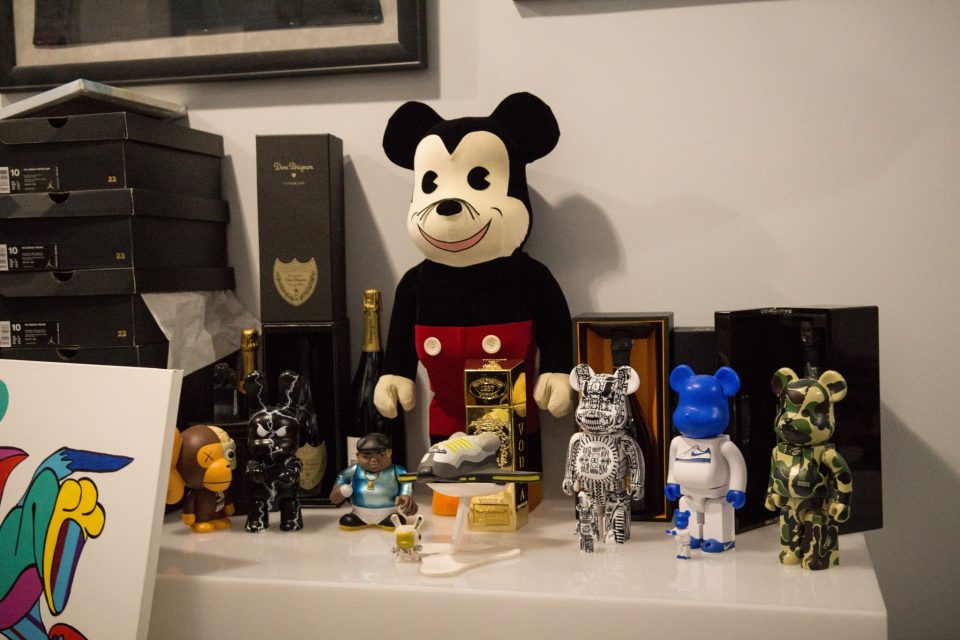 Like I said everyone that works for us is very, very creative and everyone loves what they do. So when you come in its not work. So you don't mind posting stuff up and doing stuff. Also, I think we run our Instagram a little bit differently. The stores that are in Jersey City, footwear-wise I think we since we were the first ones out here, we were the first ones with the videos and stuff like that and I think it's organic. Don't get me wrong whether they do them, or they don't do them it's just finding how you find your following.
And I think that is what sets us apart. You know the pictures that we take are not always in the store. They are outside at little like murals or something in Jersey City or like the video that have been done in the past or videos that are done here. No one was doing videos. If I show you right now what's going up for the sneakers that are coming out tomorrow and show it to you while we talk, Jeff did it and bodied it.
Jeff is an amazing artist.
Suraj: Jeff is one of the dopest graphic artists of our time. Point blank. He is very creative.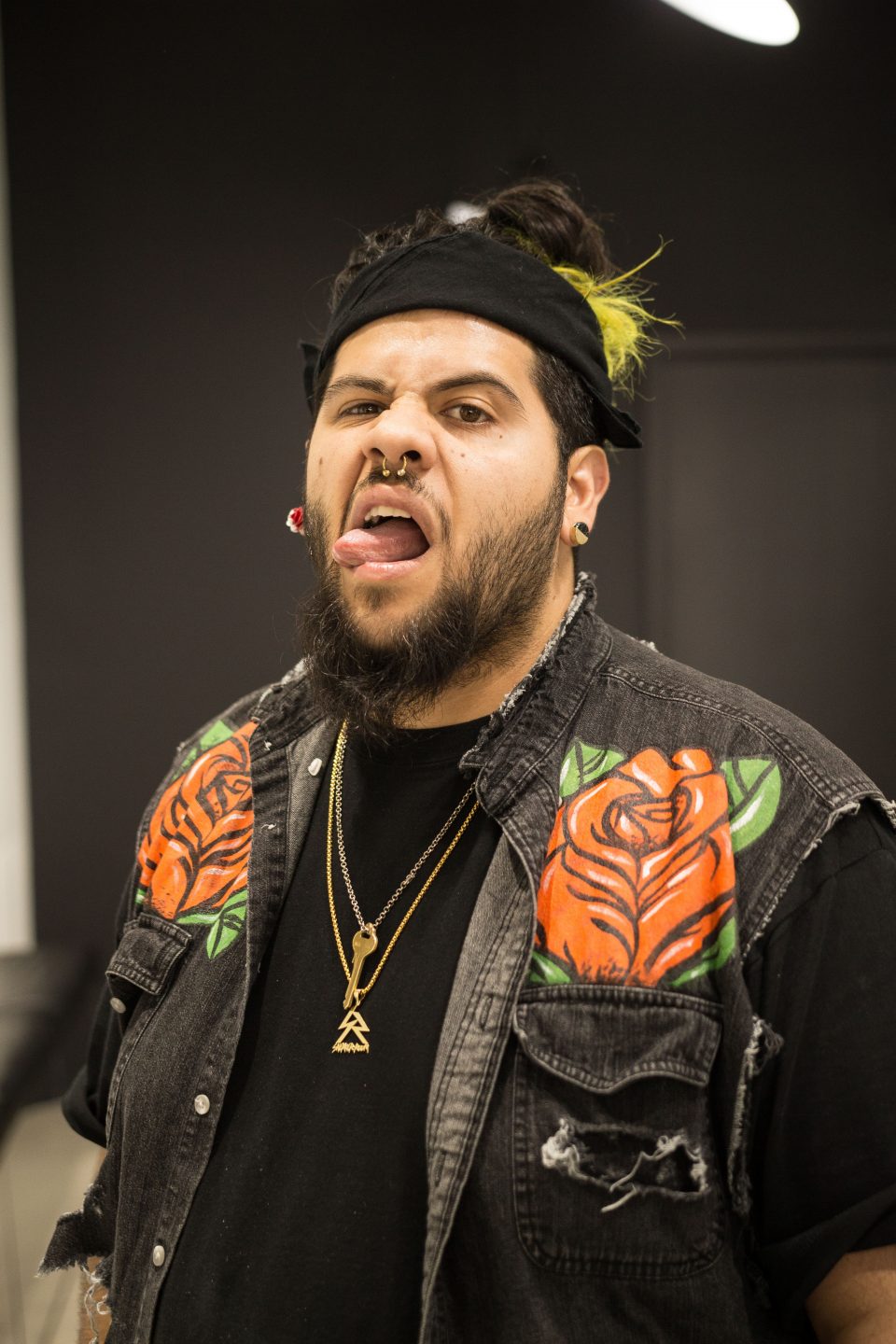 I think when you creative quality content people will want to follow you.
Suraj: It's the same thing with you. Why do people follow your blog because there are stories that we want to read? See what I am saying? If you build it, they will come. The dope thing about it like I said we started in 2006, we were one of the first stores around. There are a lot of stores popping out now, and I think it's dope, it's creative. I am not going to sit here and say we are the number one spot. There can be 12 stores in the city. Realistically, it's cool. First of all, this is something I never understood about store owners, point blank period. I don't get enough for everybody period.
Every release people want to start talking to me. There are enough consumers to go around. That is what I never understood. Three years ago you and I would have been having this interview my answers would be a lot different, but going through things, trials and tribulations, learning and understanding how business works, holy shit there is enough business to go around for everybody. You just have to do your business how you want to do yours, and I will do it the way I want to do mine, and that is it. If I get 24 pairs, or 48 pairs, I can sell out 100 pairs and there is another store that has 24 pairs, cool. I am not hurting you, and you are not hurting me.
How do you feel the fashion game in Jersey City is moving?
Suraj: Listen to me, I am a big guy, so I have always said this since I started my business I am not that fashionable. I am not going to sit here and tell you; I am a big guy, so big guys don't get fashionable. Big guys don't know fashion that much. I like fashion. Like, I can pick a dope outfit for my son who wears a men size large and a 34 waist you know he is a perfect size. I don't do it because I am big.
I wear Polo and my brand. I think the street culture in Jersey City is changing, its dope. I have watched the whole evolution. I watched the red tag omavies, baggie jeans with Timbaland boots, going to Levis and the straight pants and tight pants and baggie pants. I think it's dope, and the culture is there. Jersey City is a melting pot, and it's evolving. There are so many different flavors here. That no matter what fashion you are into it, it survives. Like, I like a little vintage store downtown, Jersey City I go in there all the time.
They don't have anything for me, but I go in for my wife and my son because I always find like a vintage T-shirt or like a jacket or something. I think that's flavor. There are other stores that sell clothes that I don't sell and are more expensive or cheaper. I think that the fashion game in Jersey City is evolving. I think it is also because we are getting so many new people to move here. That their flavor and their style is also coming into Jersey City. You are getting people from the West Coast, New York, from south states like Atlanta, and those people dress differently than we do.
Plus, we are next to New York and New York always tends to get a trend a little bit quicker than we do. Jersey goes a little slower, but now I can say like five years ago. Now Jersey is grabbing trends first, so it's crazy I think it's evolving.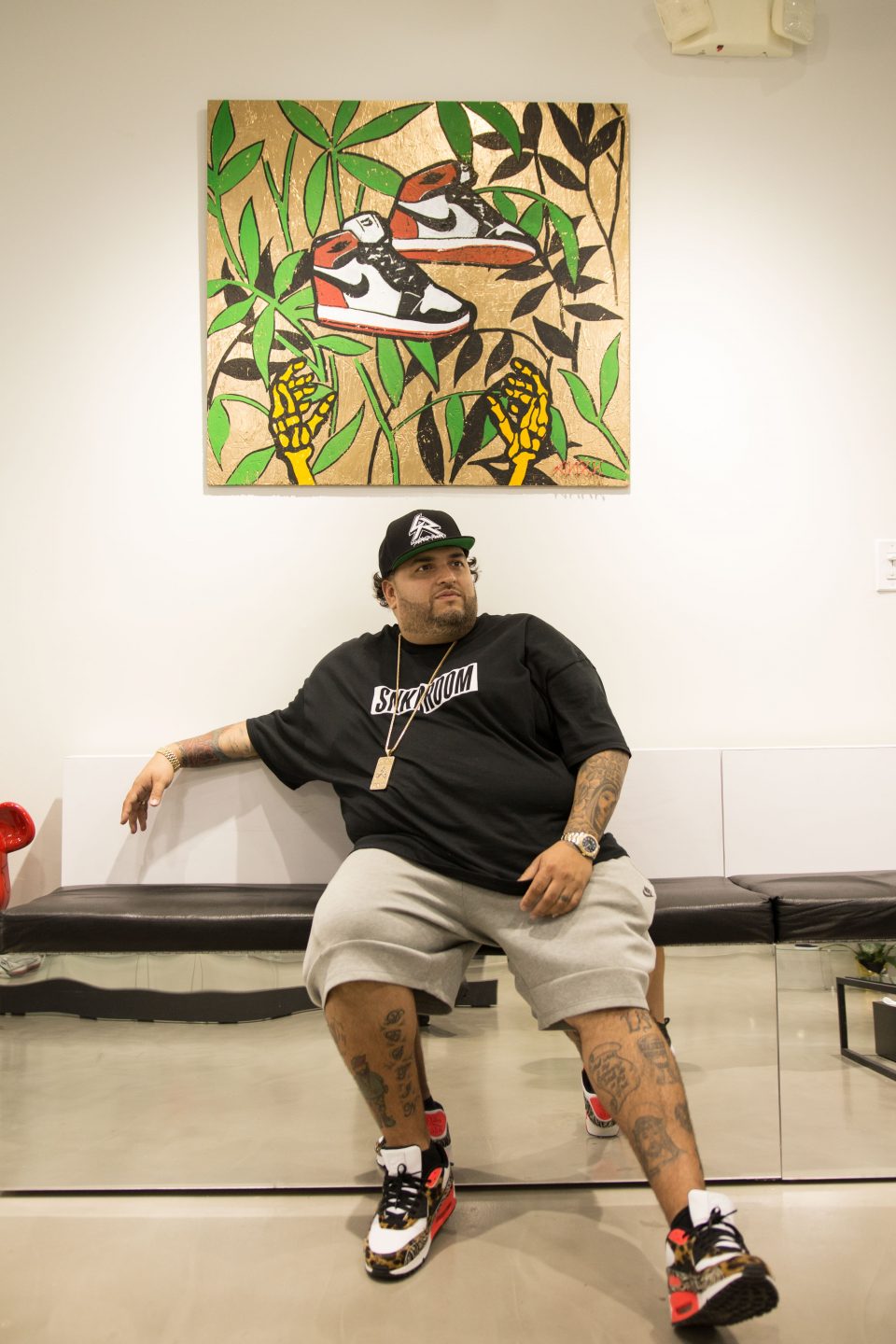 How do you feel about the changes in Jersey City?
Suraj: Jersey City is changing a lot. Like I love that downtown has that green street that to me is amazing. Growing up in Jersey City we never had a block that we could walk on with our kids outside in the middle of the street during the day. Even up here in the Heights look at the businesses that are coming.
We just moved into a bigger space, you got Wonder Bagel coming up here, you have the Colombian bakery coming, you got Noches de Colombia that just opened up, you got a Japanese spot coming, you got a Juice Bar coming so like it's evolving. Even Journal Square is changing. We were down the block for five years we moved up the block two weeks ago, and just the amount of people and different people that we see here to down there bugs me out. The changes are amazing.
All the way to Martin Luther King now there are stores. When you go on Monticello, there are stores. Jersey City is changing, and it's good cause it's not only downtown. Everyone likes to say its only downtown, but it's not only downtown. Up here in the Heights it's doing good…
People are going in and buying Brownstones whether it's the hood or not and they are renovating these Brownstones, and they are living there. They are becoming part of the community, and that is dope. Especially for me because I grew up here, I lived in Marion projects, then to Logan Avenue, then went to another street and then to where I am now.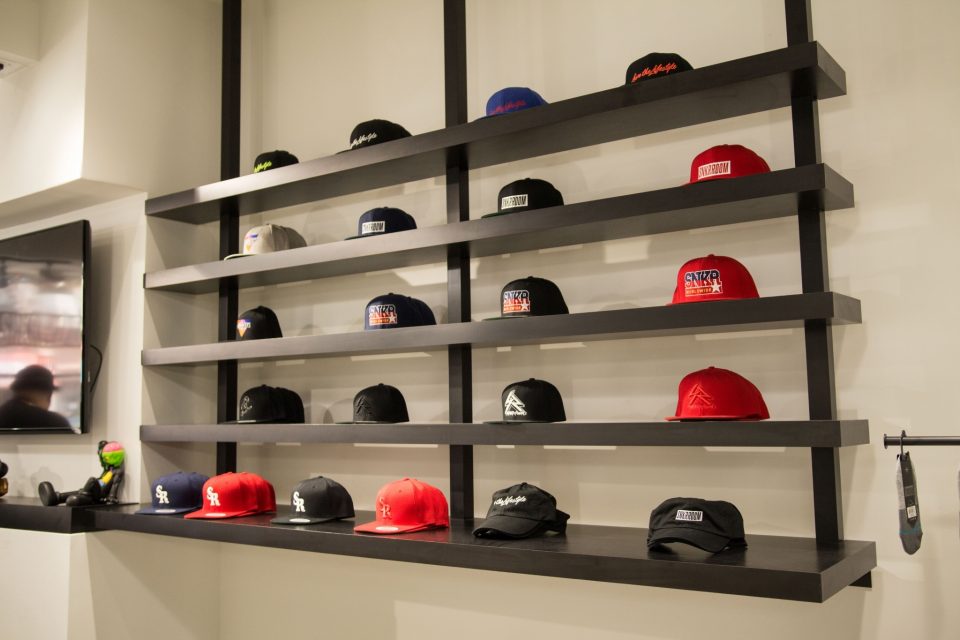 It is our community, and it's what we do. My kids go to public school they could go to private school, but they don't need to the public school's are fine. My son plays sports for a public school here, why do you need to be in private? Like, Jersey City is changing, whether it's due to the mayor, the citizens, whether it's due to bloggers like you it is changing. The only thing that I hope is that the people that are here hope their mentalities change with the city.
The sneaker thing is cool don't get me wrong, but it's also about the city. I love sneakers, and I love business, but it's more about what is going on in gere. Your blog is based on Jersey City, and the stores that are popping up are going hard here. The economy in Jersey City is pretty good right now no matter what neighborhood you are in. A lot of businesses here are owned by residents of Jersey City, which is good.
Do you have a favorite Jersey City hang out spot?
Suraj: Yeah I do, but you are not going to like it.
What is it?
Suraj: Ringside.
I need to interview Mario.
Suraj: I like ringside because I have known Mario for 18 years. I grew up with his nephew. So that has been our spot for 18 years.
Right.
Suraj: Like wherever we went we were there.
I need to interview this guy.
Suraj: I did my baby showers at Ringside. Like, Ringside upstairs a lot of people don't know about that. There is an upstairs.
Any last words?
Suraj: As corny as it sounds, I am just happy to see Jersey City changing. I grew up here and back in the day there was nothing to do, but go to Journal Square and go shopping. Even when I grew up, there was no Newport Mall. That came as I was getting older. It is just really dope to see what they city has become and where the future is going. Like still to this day I am so bugged out by the skyscraper in Journal Square.
To see now this big building that I can see from literally in Bayonne when I am at my other store it shows what is happening to this city. The best thing is not even about me or about sneakers it's just dope to see Jersey City changing and evolving.