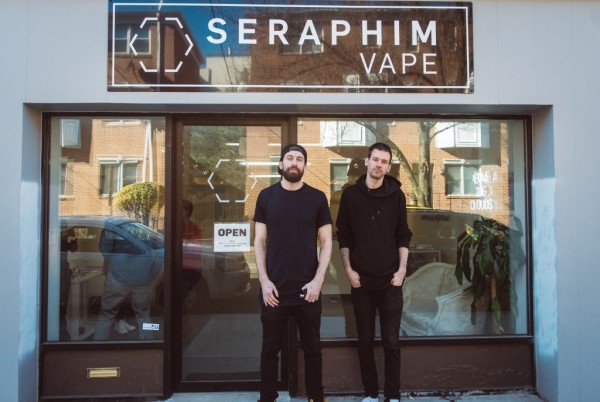 I met the "Scully Brothers" almost a year ago,  they are permanent fixtures in the JC nightlife scene and they throw the best parties!! Kevin and Brian opened Seraphim Vape Shop six months ago in Downtown Jersey City. Which if you remember we already covered here on ChicpeaJC, thanks to our editor Crystal Davis. Since then I've gotten to know the brothers personally and I gave myself the title of the unofficial third Scully brother. They are the coolest dudes, friendly, funny, down-to-earth. I just love them to pieces.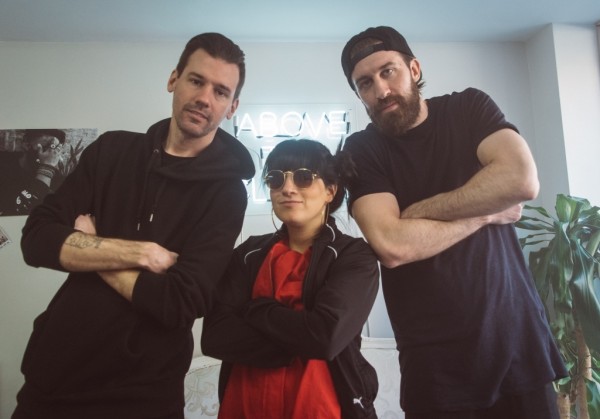 Even though we technically wrote about them. I needed to know more, I was always intrigued with "Vape" culture. What is vaping? is it a healthier alternative than cigarettes? What does it taste like?  Why do some people look so obnoxious when they vape? I reached out to the brothers and told them it was time for ChicpeaJC to vape. #vapelife
They invited me to the shop with friend and photog Nabil, and I got to hear their story and they taught me everything I wanted to know about Vaping. At one point a customer came into the shop and asked for "Creme Brûlée" and the brothers didn't even flinch. My question was, instead of eating ice cream can I smoke it? to which Kevin said, "Here, try our mint chocolate chip."
Now I am in no means advocating people to start smoking, do your research, read this post. Be an adult. And mom, relax this is my job. I need to try new things sometimes OK?!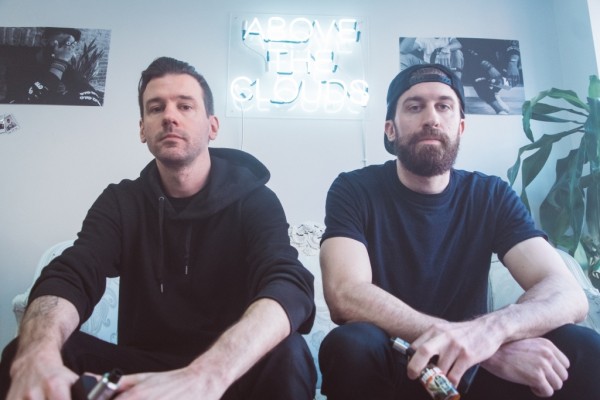 What are your names? Kevin Scully and Brian Scully.
What do you guys do?
Brian: We own Seraphim Vape Shop in Downtown, Jersey City on Monmouth Street.
And you do a lot of other things too.
Our background was always in the music industry, Kevin is a DJ. He's been DJing for five or six years now and he's managed recording studios and worked at major labels. I was always in publicity and marketing. We moved to Jersey City about six years ago, got really involved in the community, started throwing parties out here. Kev's been DJing at Porta and Miss Wong's and Talde.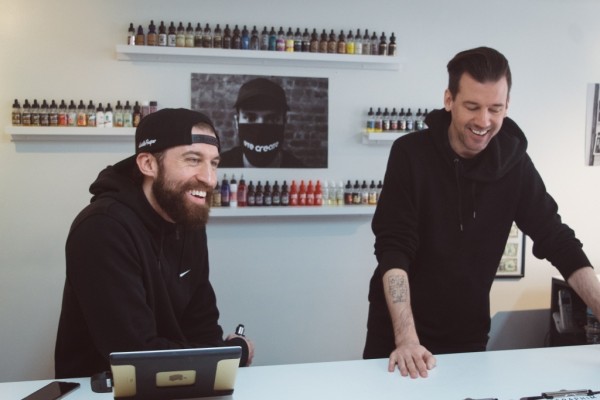 What's your DJ name?
Kevin: Stadium Status.
Brian: We met a whole bunch of really great people out here and wanted to start getting involved in the community. We also did a coat drive in December; we're trying to not just do parties to do parties—we're trying to do positive stuff for the community too.
And you guys are brothers too?
Kevin: Yup, we're known as the Scully Brothers. Just coming from music we've always been connected to creatives in general from fashion to art. We always had that thought in mind so you see the design in the shop and what we're doing in the shop with the galleries and popups. We want to give a platform for that out here and also getting involved in the community through the DJing and stuff like that. We just love the city in general and the community so that's why we want to do stuff like the coat drive and other things we have in mind down the line. How our careers moved and opportunities came up we transitioned into the vaping but still keeping that background and that influence with the brand.
Brian: We approach everything with that creative cultural direction.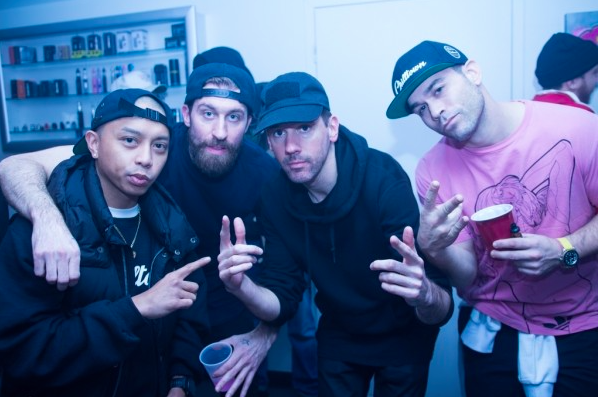 Why is your DJ name Stadium Status?
Kevin: It's really funny because Kanye is playing right now in the background, but I pulled it from a reference from one of his songs. I always liked it, it was something that stuck with me that he said in the beginning of "Big Brother," and it's a mind frame. Stadium Status wasn't meaning I was going to be DJing in stadiums but you can take it that way.
It's a mindset.
Exactly, I have the bigger picture in mind.
How did Seraphim start?
We got into about three years ago. One of my really good friends, he was in the vape industry before it blew up. His first shop was actually the third vape shop in the whole country. Basically, just from being around there and being around the influences I started getting into vaping, I ended up working at one of the shops, and then helping my mom quit smoking. She's been smoking for forty years and once she got into vaping, instantaneously the switch just happened. Her mind is still blown. Now she picks up a cigarette and she's like, "This is disgusting."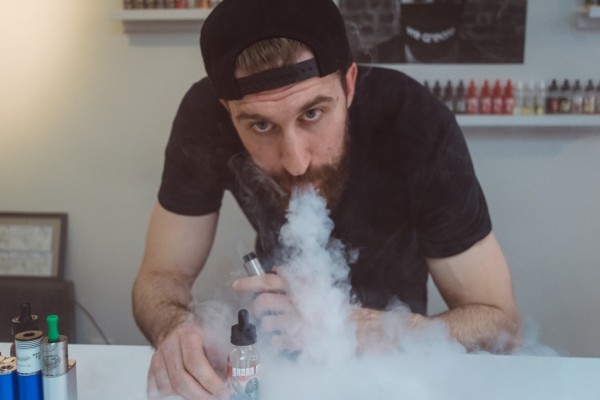 Brian: And me being a former smoker, it keeps me from going back to social smoking or smoking when you're drinking temptations. You buy a pack because you want to smoke while your drinking but you only smoke two or three and then you've got this pack sitting in your house tempting you. It resonated with us, the positive side of it and we saw the cultural wave shifting over to vaping. We were so close to it, we saw the beginning of the industry.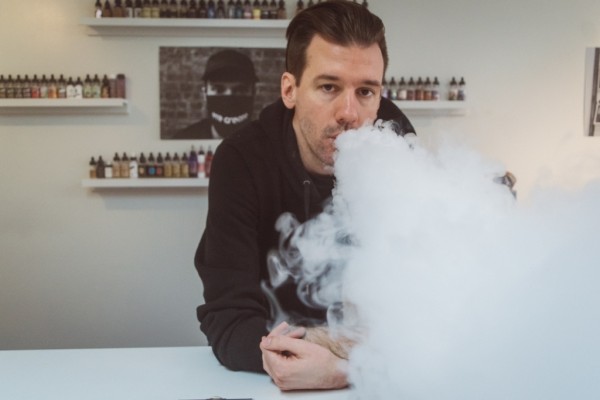 Kevin: Our friend is actually Rizz from 9South Vapes which is a huge vaping brand and he's super influential in the vaping industry. Having his support and having him as the person who taught me about everything, you couldn't have asked for someone better.
Brian: This is somebody that we've known since he was six years old.
When did Seraphim open?
Kevin: In August 2015, so we're at six months now.
How's it going?
Brian: The reception's been really awesome. People are still finding out about us, every month it's growing, I feel like we're introducing it to the Downtown area because there wasn't a vape shop down here. We're seeing local bartenders come in and they want to quit smoking and it works so well for them and the next thing you know the waiters from that bar or the managers are coming in. It's really introducing it to the area.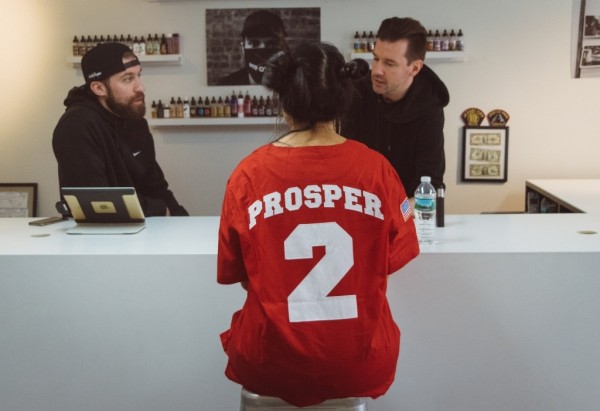 Kevin: Just our experience with vape shops and just being aware of the industry, we wanted to create a different experience. Just from the concept of the store and the way we designed it out is completely different than what we've ever experienced and we felt that that it was going to have an impact. To have that idea and bring it to life and have so many people comment on the design of the store and their experience, it was a testament to what we were trying to accomplish. It feels good when people are reacting to the way you had it in your mind. We're just happy to add to the culture, add to the experience. As vaping grows, we want to give a different experience and open it up to different people. The store used to be an art gallery so it set us up to what we were trying to do. With us always having that culture mind frame and creating it to what we love and our background we started bringing in local photographers and using this space as a pop-up shop and helping local designers and brands and other people we believe in. Let's use our resources and give other people a platform through our platform, that's why we've been bringing in brands. The first one was with Chilltown Collective and then the second one was with Eye Create with Haytham.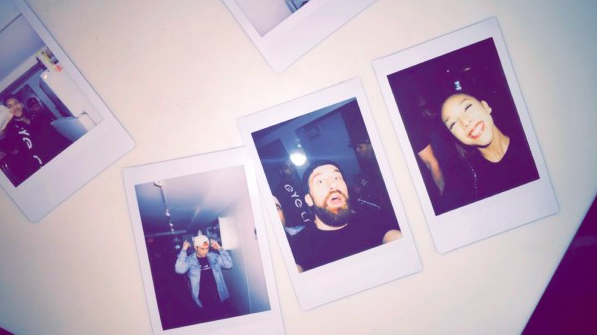 I think it's important as we build the culture out here while artists and all the creatives are building their presence it's important to reach outside of Jersey City. It helps our brands and helps build the city on a national level.
Brian: That goes back to what we were doing with the Saturday parties at Miss Wong's bringing in Nina Sky and Dirty South Jo and Fool's Gold. People who are in the surrounding area that recognize that Jersey City's got cool stuff going on and they want to come out here and do stuff.
One important thing is a lot of the vape shops or the vape community in general, they tend to just market to themselves. Every event in a vape shop is a vape-related event which makes sense, but it doesn't broaden the appeal of vaping to anyone. We did a trick competition and it went really well here and we plan on doing more of those too. We see our role as broadening the appeal on vaping to a bigger audience because there's a lot of backlashes that it gets, a lot of people have questions about it.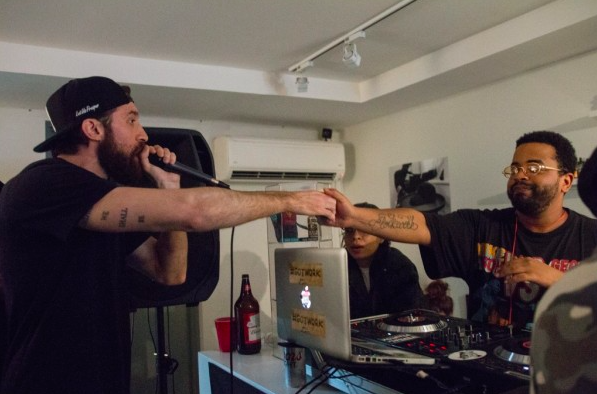 What is vaping?
Brian: So vaping started with electronic cigarettes and those were the blue cigarette lookalikes the NJOY that you can find in any bodega or convenience store. This is the expansion of that concept, they're both vaporizing what they called e-liquid which is a combination of two different sugar substitutes and hard candy flavoring. It's all stuff that you've ingested before. Vaping is the evolution of electronic cigarettes, so these are the larger devices that you see that increase the experience. A lot of people didn't find the e-cigs to be satisfying and they'd go right back to cigarettes.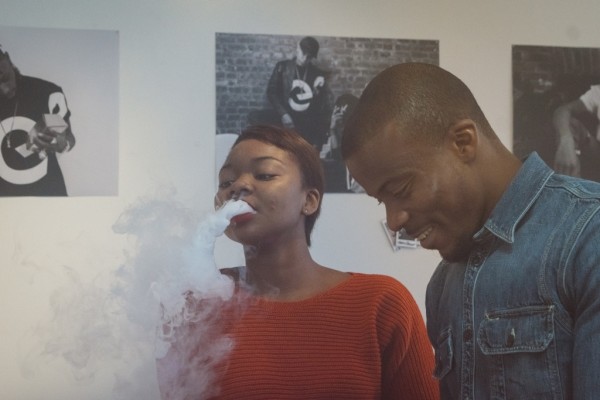 Is it smokier?
It's not the same experience it doesn't deliver it to you the way a cigarette does. Whereas with the vapes, they're more advanced in their technology, they're also more powerful, they feel more satisfying. They're also a lot more customizable too, you can mix and match your parts, you can choose from way more flavors, many more different levels of nicotine. So it really becomes a customizable experience for you, where with cigarettes, you get what you get—regular or menthol. Vaping gets you away from the harmful combustible cigarettes where you're actually inhaling smoke. This isn't smoke, it just heats up the liquid to the point that it vaporizes it.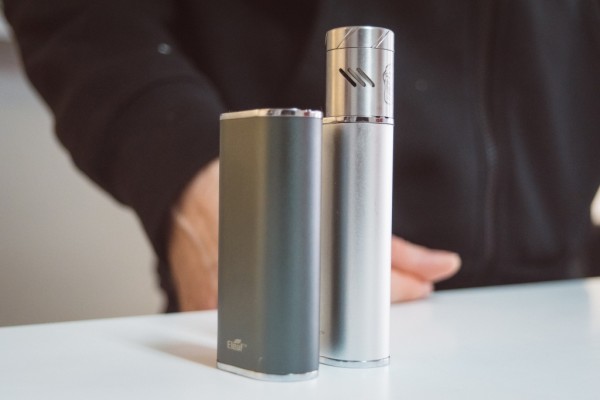 Is it healthier than smoking cigarettes?
Most of the credible studies say that it's healthier. There's definitely a debate, the scientific community is definitely doing their thing right now to figure that out. One of our biggest studies from last year was the public health UK where their governmental body came out and said it's 95% less harmful than smoking tobacco. In the UK, they're actually moving to allow it to be prescribed by doctors to help people quit smoking. The Mayo Clinic came out to say that it helps people quit smoking—so there's a lot of things that say that it's healthier and something that vape companies are trying to focus on is harm reduction. We're not saying that this is healthy for you, going for a jog and drinking a smoothie is healthy for you.
It's less harmful than cigarettes.
We can't just imagine that smoking is going to disappear tomorrow in a perfect world. We're doing something to give people an opportunity to do something they're going to do anyway but in a less harmful way.
What are some other misconceptions that you want to clear up?
It's extremely obnoxious. I think that's where all the meme's come from.
Like douchey.
We get the "You Vape?" type memes. It's not that way, ID magazine which is through Vice put up an article about a label at fashion week that ran their models down the runway with vapes in their hand. It's definitely something that is being embraced by more than just people who want to blow obnoxiously large clouds.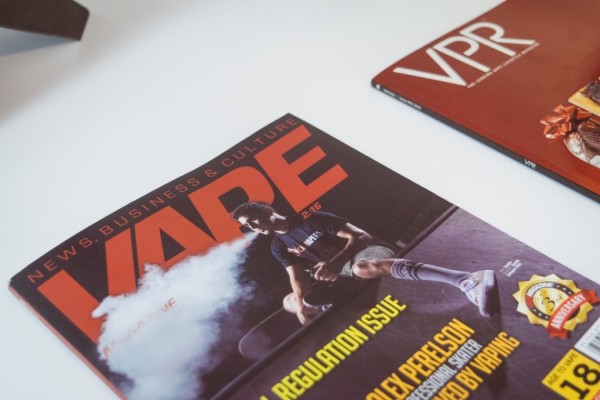 Can you vape indoors?
Not in New Jersey.
So let's talk about what you guys have here.
So these are our menus, we have over ninety different flavors now. They basically range from four different categories, you have tobacco, menthol, fruit, and dessert, and then there's some crossovers.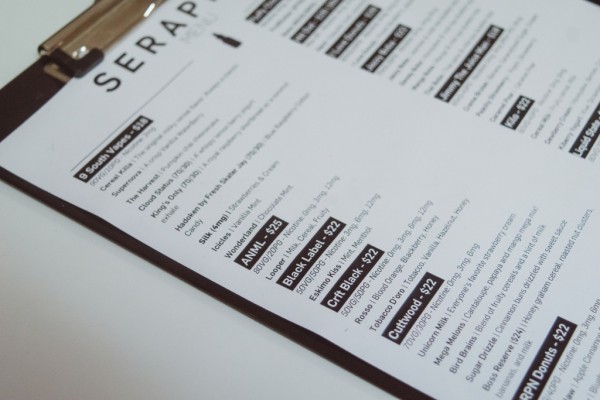 What is your most popular flavor?
Our most popular flavor is Easy Does It by Ruthless. It's strawberry watermelon, a pretty straightforward candy flavor.
How much does a vape cost?
Kevin: They range from about $40 to $300. The average starting is going to be around $100, you can start for $60 but the average starter is usually from $100 to $115.
And people can come in and try any flavor?
Yeah.
Brian: And that's startup with the device, battery, and the juice.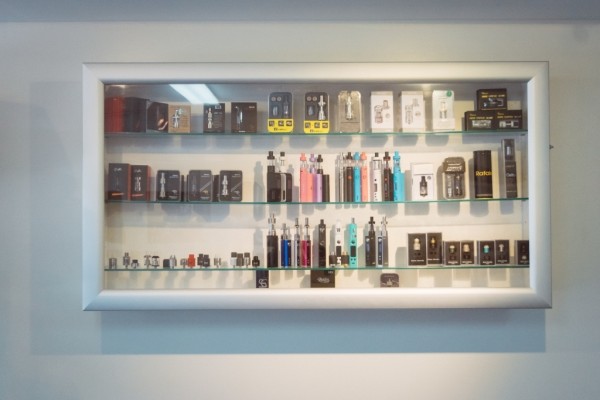 What are your favorite Jersey City hangout spots?
I think Dullboy hands down.
Kevin: Yeah, Dullboy is definitely our go to spot.
Brian: We're friends with all the guys there. We've been supporting Brian since Park and Sixth first opened here.
Kevin: Park and Sixth was our first spot when it opened up, it was like our Cheers. We support what Bri does and Dullboy, we love what they created there and the whole staff.
Brian: Porta is definitely a go-to hangout spot. LITM is the OG spot, we've been going there since there was nowhere else to go.
Kevin: Late night Lucky's.
Brian: Typical Jersey City bar circuit.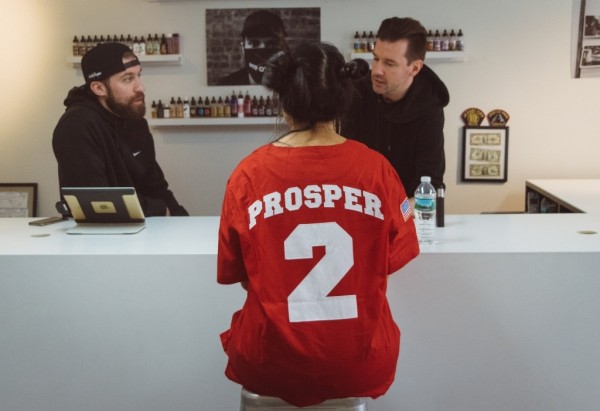 What are you future plans for the shop?
Kevin: We're getting ready to launch our own juice line. We're starting off with two flavors and from there keep the events going and doing different things.
Brian: We're open to experimenting, we don't see any boundaries for the place.
Anything you'd like people to know about you or vaping?
I think it's important for people to know that the whole industry is going through a lot of pending legislation. There's the potential if certain people have their way, for the industry to not even exist anymore and that could happen at any time. There's a lot of battles going on right now and it's been really positive to see the whole community come together to get petitions. They petitioned the White House and we had the third most signatures at that moment and we reached that hundred-thousand goal to make sure that President Obama has to review it. I don't think the mainstream knows that that is going on right now. It's really important because people need choices. Everybody who is vaping who's been able to go away from cigarettes can't get what they want anymore they're going to have to go back to smoking cigarettes. I'd like people to keep an open mind and do their own research. I think we do a pretty good job of educating people, I just encourage people to do their own research about it before coming to a judgment.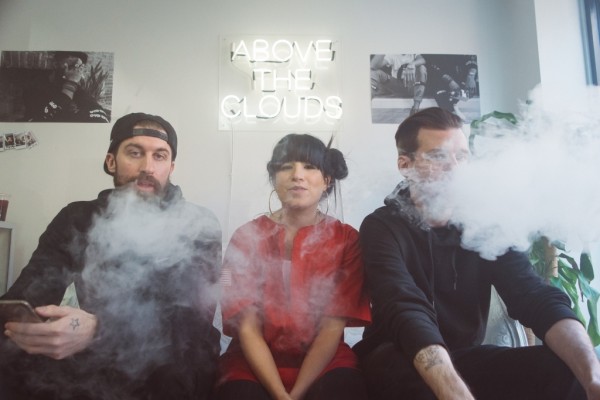 Any last words?
If you're curious about it, come in, ask questions. We're open every day, noon to nine and Sunday's we close at seven. It's always me or Kevin or both of us here, ask for us, ask questions. We'll run you through the entire process of it and you can decide for yourself. As a former smoker I can say that patches and pills and gums, it doesn't work. This is tangible, it helps people get away from smoking.
#Vapelife
Seraphim Vape Shop
383 Monmouth St, Jersey City, NJ 07302