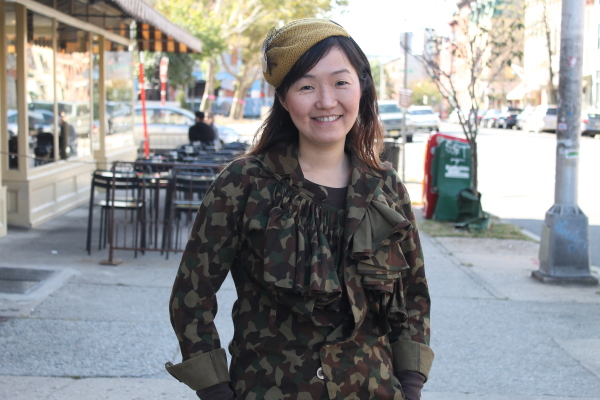 Growing up my mother would force me to wear matching hats or hair accessories with all my outfits, which I hated! To get back at her, I made a point to dress more like Eminem when I was a teen… which I sort of grew out of.
These days, I have a collection of beautiful hats and hair accessories. I first found out about Republic of Pigtails when I went to one of the street fairs here in Jersey City. Now whenever I go into E.Tittlemouse & Co I can't stop myself from getting a new matching accessory for my #ootd (outfit of the day).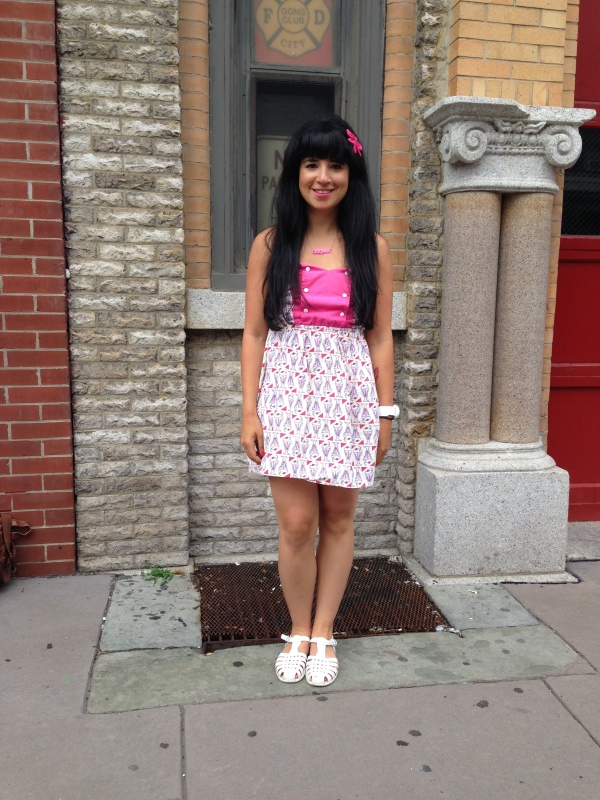 Rika, the owner of Republic of Pigtails stopped me in Hamilton Park one day at a fair (I am obsessed) and gave me her card, since then we've seen each other a few times during happy hour at  Van Vorst park with our kids. Every time I see her she is dressed in such funky outfits with a hair accessory to match and her daughter is always dressed like she just came out of a magazine shoot.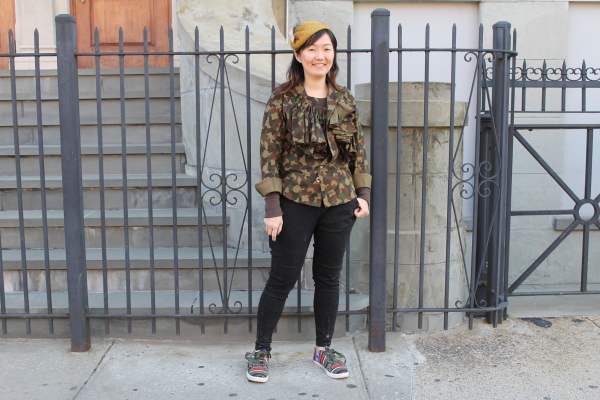 We set up a tea date at Beechwood to talk fashion, balancing mommy hood and looking fab. I couldn't stop gushing over all her headpieces! I feel so bad for the barista's at Beechwood for having to listen to me and my girl Kyra say "omg, stop, gorge, love.." over and over again, sorry!!
What's your name? Rika Gunawan
What do you do? I am a hair accessory designer, but I am an interior designer by trade. I own Republic of Pigtails.
How long have you been designing hair accessories? Since 2012. It started out as a hobby…. I was working as an interior designer for mostly the healthcare environment which can be boring sometimes. There is not much of creative flexibility because you have to comply with health codes.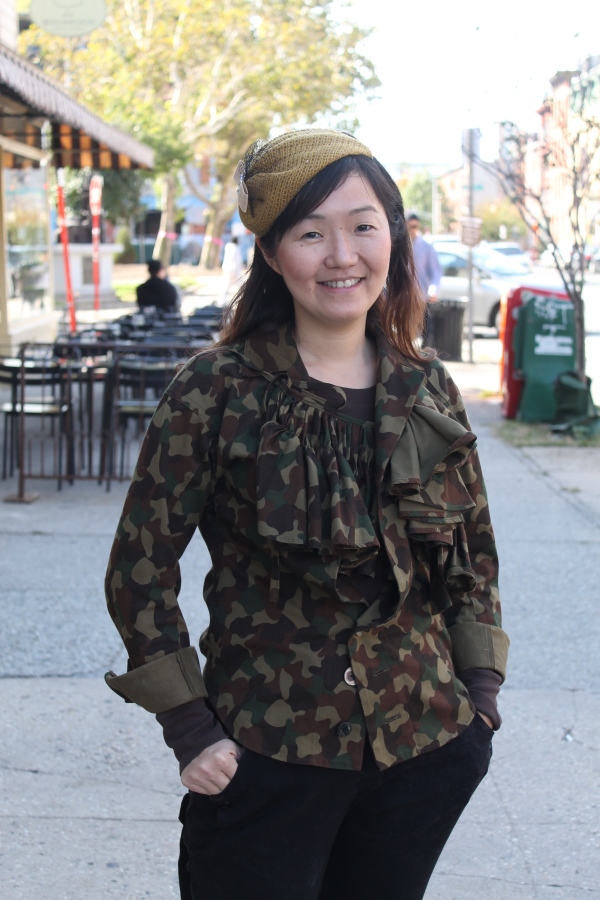 Then my daughter was born in 2008…. Ever since she was I was always excited about dressing her up.. you know how it is having a daughter. I used to shop online and I did a lot of research… I found that fun hair accessories where sort of lacking so I started making my own and then I showed it to my friends. In 2012 I got laid off from my job so I looked at this as a great opportunity to start my own business. In October of 2012 I went into Henri Bendel to show my adult line, and they liked it and accepted me as vendor for the trunk show so that's how I started!
Awesome! So where do you sell your accessories now? Online and boutiques all over the US. Locally at E.Tittlemouse and Hazel Baby.
How do you balance being a mom and a business owner? It's hard I have to say… I still do interior design two days a week so I have a lot of late nights. Sometimes I have to work weekends… I somehow manage it well!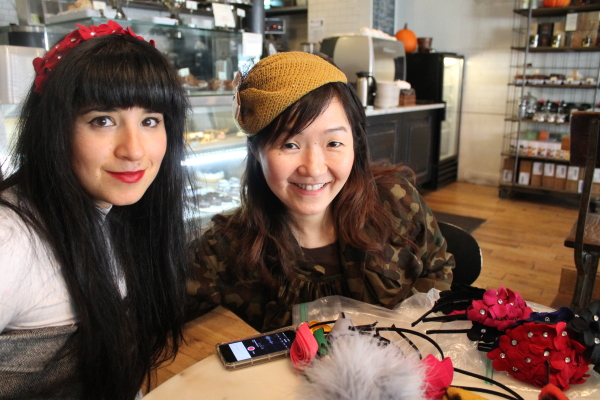 My daughter refuses to put anything in her hair… any tips on how I can make it happen? When my daughter was a baby, before I put something on her head I tried to distract her with something in her hands. She didn't realize after that.
What inspires your designs? A lot of things. Sometimes what's in fashion or what's trendy… I am working with my sister a lot who lives in Indonesia. She helps me with my production for bigger quantities… When I am working on a prototype I always ask for her opinion. Plus, we live in the NYC area, where fashion is just everywhere.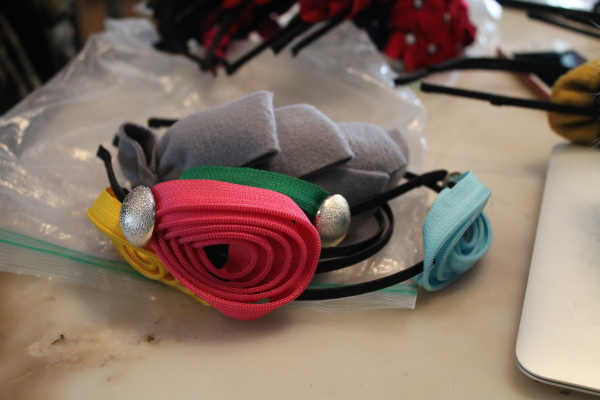 What I love about your stuff is that kids and adults can wear it. Exactly! I think it's cute. It's the whole idea! Once you are a mother you sometimes forget about yourself and how you are supposed to look and I think it's important to not only have a stylish kid but be a stylish mom as well.
Do you want to show me some of your stuff? This is what I call a cross over between a hat and headband.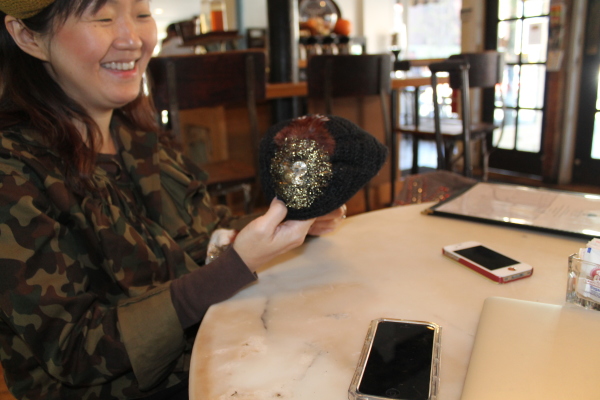 Oh my. I love!! You look so adorable!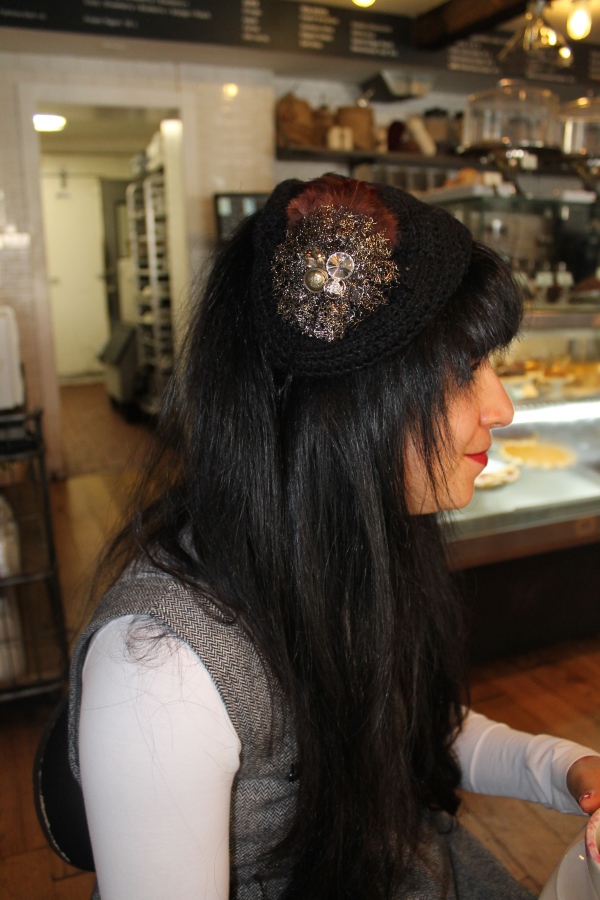 It's so pretty. Henri Bendel actually carried this at one point.
These are all so amazing. I would buy each of these accessories. Growing up my mom would always accessorize me; hats, flowers you name it! My mom too and I think that's why I love hair accessories so much. This is the one I am wearing.
Wow. I love this one too!! So cute. This is my latest design, animal print.
(Lynn and Kyra in unison) Stop…. haha you guys are too funny. A lot of accessories are inspired from vintage pieces.
Wow. Can you bury me in this please? Hahah Sure!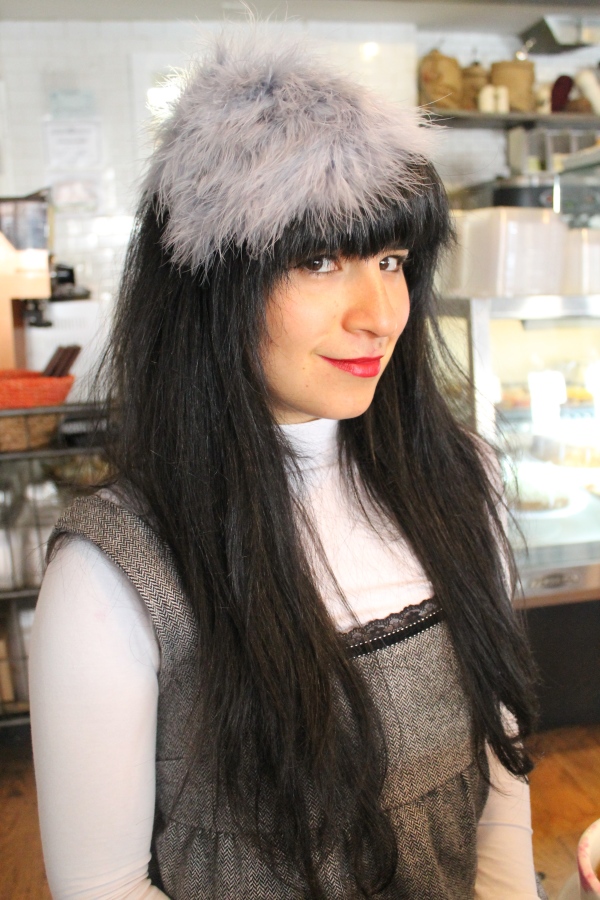 How long have you been in JC? I am originally from Indonesia and moved to Seattle for college, then transferred to art school (SCAD) in Savannah, GA. I met my husband in college. Then we moved to Boston after we graduated. Two years after we got married, we moved to JC in 2006. My daughter was born here!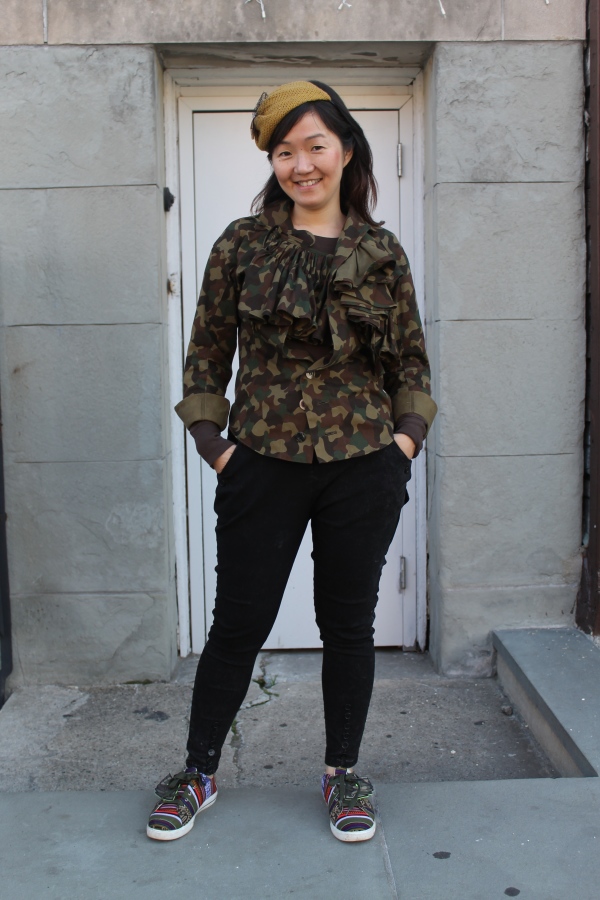 What is your favorite hangout spot? Here actually. We have a Woman's group that meets here to network and talk about business. It's all for women entrepreneurs…. We also hangout at the park as you know haha. For food we like Union Republic, the Brownstone Diner and Toricos of course.
What are your future plans? Wholesale definitely and just to grow the business.  I am also coming out with a wedding line!
Ok cool. Well just letting you know I am keeping this one. Thanks.