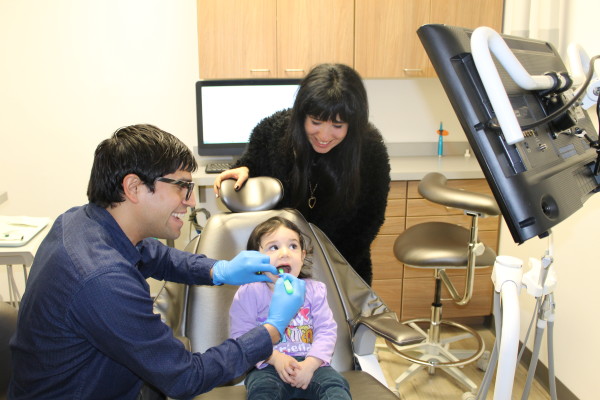 Yes, I said it, going to Modern Family Dentistry with the whole family was fun! It's been a few months since I interviewed Jen and Ari after they opened their new practice. It was time for my whole family to get their check up, cleaning and for me to get a cavity fixed (don't judge me) and also feed my vanity with teeth bleaching to get my pearly whites into hollywood. When I called Jen, I asked her if I should make separate appointments for the familia but she said "Bring the whole gang".
To be honest, the idea of all 3 of us going to the dentist at the same time made me nervous. Especially given the fact that Mia was not a big fan of getting her teeth checked/cleaned, like she wouldn't even let us brush her teeth at home… I though it would be a disaster and result in THE meltdown of the year.
We got there at around 9am and Mia started playing with all the toys in the waiting room… I sighed in relief, we are off to a good start.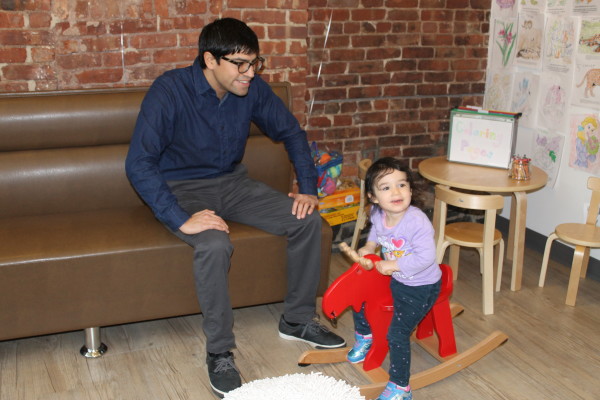 I was up first, I did my X-ray's first while Mia and Hubby were hanging out. Jenn even took the time to explain what was going on in my mouth… she kept it simple and did not overwhelm me with information which my ADD brain really appreciated.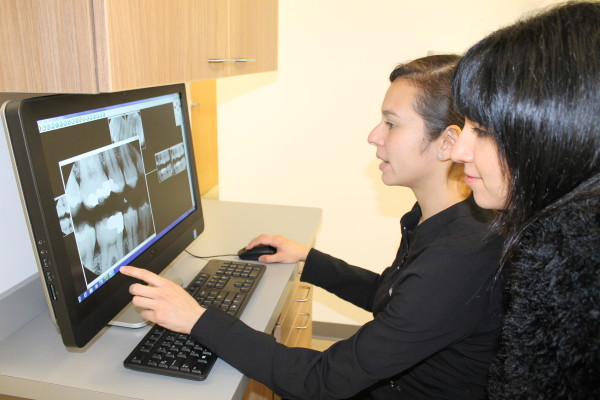 Mia was playing all over the office, Jen and Ari's dental assistant and admin person were playing and entertaining and running after her while my hubby and I were getting the love and care our teeth needed. Since I knew Mia was in good hands, I was able to relax! Seriously, it was the first time in months I was able to just lay down and watch TV! They have TV's attached to the ceiling, so I got to watch two Modern Family episodes!! When Jen was done with me, I literally said to her "Keep going, I want to watch another one!"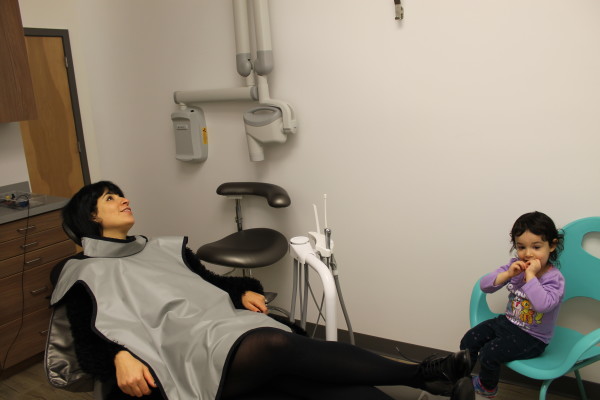 At a point Mia was sitting calmly in another room watching Elmo so we all thought it would be the perfect time for her to get her checkup. I was so nervous, everything was going so smoothly. Is she going to start freaking out?!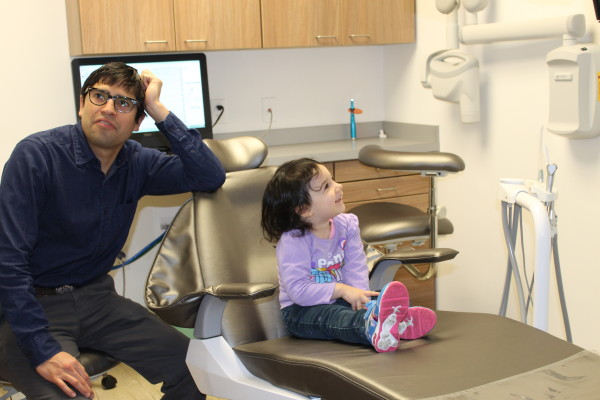 To my surprise, she was so good! she let them check her teeth, brush and even floss!! I was amazed!!! Since then, Mia has been brushing her teeth every night before going to bed with no issues whatsoever thanks to Ari and Jen.
Now on to my teeth whitening…. The whole process took around 30 minutes, I watched an episode and then voila! I was ready for my next photo shoot.
Jen, Can you tell me a little more about the Whitening Service you now provide? Whitening is an excellent way to boost your confidence when you smile!  At Modern Family Dentistry, we believe in the importance of expressing yourself through a genuine grin.  The system we use in our office is very effective in producing desirable results for our patients.  Feel free to call our office is you would like to learn more about our services!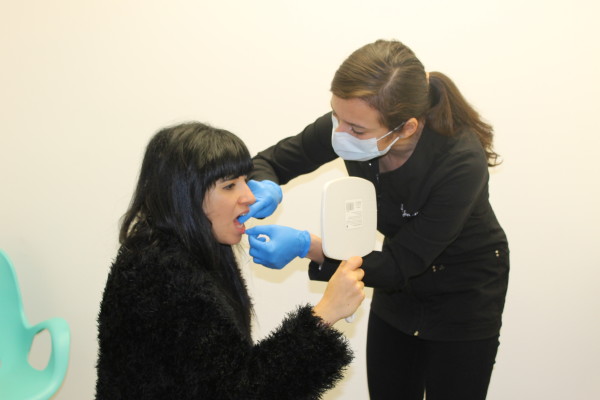 Anything else going on? We are excited to announce the launch of our orthodontic services at Modern Family Dentistry!  Dr. Maria Cecilia Duprat is a New Jersey orthodontist with years of experience and offers orthodontics for children and adults.  This means that our fellow neighbors in downtown Jersey City no longer have to travel far to receive high quality orthodontic care.
The next day I posted this on Facebook: Yo on the real. The people 
Modern Family Dentistry
 are so f-ing awesome. I actually enjoyed going to the dentist. Not exaggerating whatsoever. I highly recommend them! They take care of you. Even my toddler kept saying "I wanna brush my teeth". Go there and take your family. My teeth are so shiny they will blind you.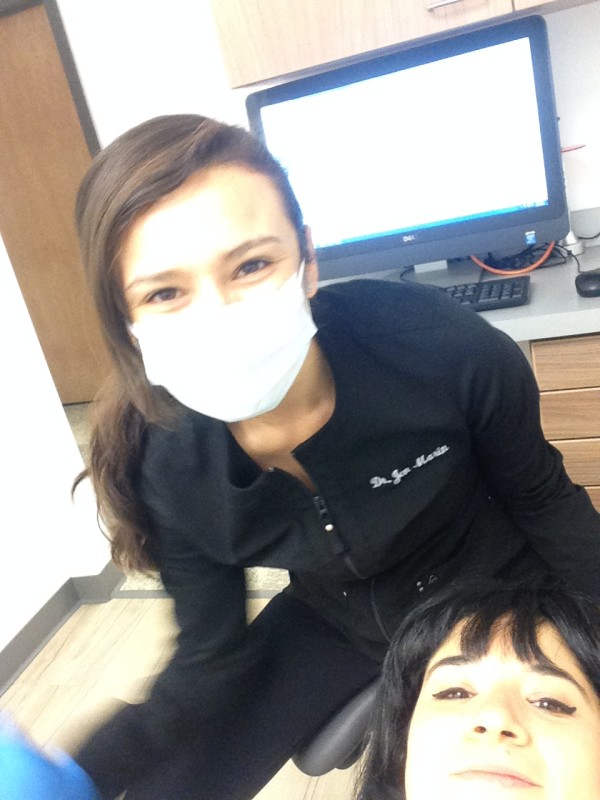 Good times. Also, from the bottom of my heart I say this…. Jen and Ari are amazing human beings, passionate about what they do and the care they provide is top-notch… the office is filled with the latest and best equipment. They even have a room filled with art work of local artists!!! Last thing, about a week later while Jen and Ari were vacationing in Puerto Rico, Jen texted me to ask how my teeth felt!! Who does that?!
I love you Modern Family Dentistry.
Location:
551 Jersey Ave
Jersey City, New Jersey 07302
(201) 798-1000
[wc_googlemap title="Modern Family Dentistry" location="551 Jersey Ave, Jersey City, New Jersey 07302″ zoom="16″ height="250″ title_on_load="yes" class=""]
---
Check Out:
instagram.com/modern_family_dentistry
facebook.com/modfamdentistryjc
---