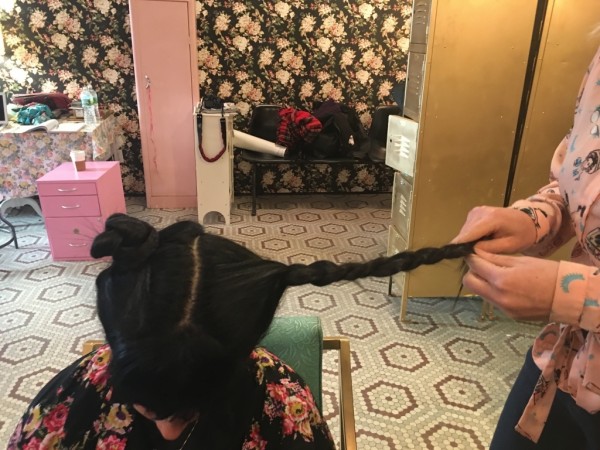 Winter is upon on us and it takes every ounce of energy I have to get out of my warm, cozy bed and venture into the bitter cold. My lack of motivation ultimately leads to less time getting my hair in fabulous shape and more time staying toasty. If you can relate, I'm here to give you three easy styles that will help any lazy girl master a few fabulous no maintenance looks this winter!
The first step in enjoying more snuggle time and less mirror time is knowing your hair. No two heads are the same, some of us are blessed with frizz-free, long, locks, others have simple fine hair that couldn't hold a curl to save their life. In knowing how your unique texture will respond to certain products and styles, you can save time and a lot of energy! There's nothing worse than fighting with a flat iron for 30 minutes to walk outside and completely turn into a poodle. Someone who has learned how to understand her hair better is none other than Chicpea herself, Lynn Hazan!
About six months ago I gave Lynn a keratin treatment that has dramatically changed the way her hair reacts to environmental elements as well as her daily styling routine. By understanding her thick locks were naturally susceptible to frizz and unwanted curling, the treatment was able to eliminate 95% of frizz, making her curly hair more manageable. Knowing is half the battle!
So who better than Lynn to help demonstrate these lazy-girl-no-maintenance hairdos?
The first look is my go-to lazy girl look – the off-duty model top knot! Along with many other 90's trends that are making a come back this year, knots are taking over. This look was made popular by fashion mavens Gigi Hadid, Kendall Jenner, even JLo. This look can be achieved many ways, work with your hair, not against it. For Lynn's look, you will need: Bobby Pins, Dry Shampoo, a Teasing Brush
Start by sectioning the top of your hair with the tip of your teasing brush (don't have a teasing brush – you need one!) use your temples (or end of your brows) as a guide and create a U or V shape section. Thick hair (like Lynn) can benefit from a deeper U shape, whereas finer hair is best in a smaller V shape). Using your favorite Dry Shampoo, spray at the roots to create texture, use your teasing brush in a C motion near the roots to create volume. Wrap your ends around the textured tease you have created and secure with two bobby pins.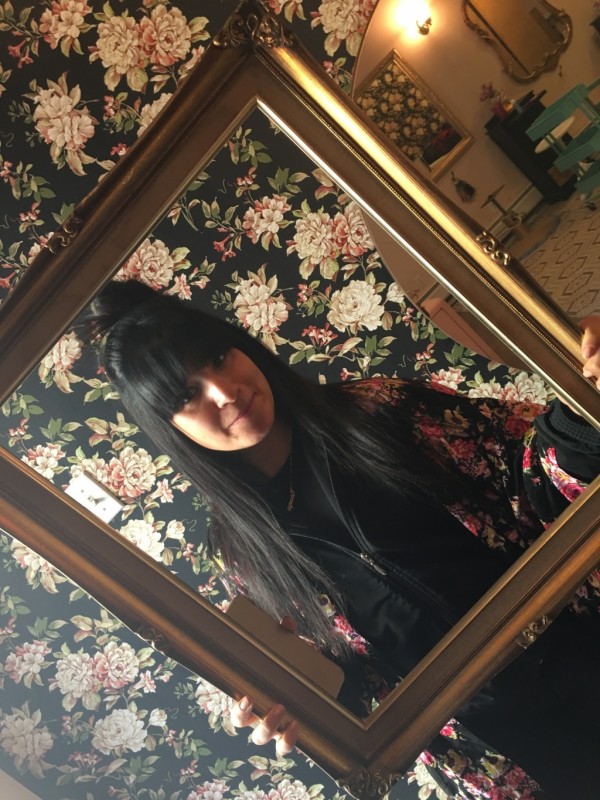 A variation on the off-duty model top knot is the half up pony, another huge 90's trend – hello Stephanie Tanner! I love this look because it is youthful and fun and who doesn't want to be both of those things! Using your favorite no crease elastic that you'd scored from The Hair Room JC, take your U or V shape section and secure in a cute pony.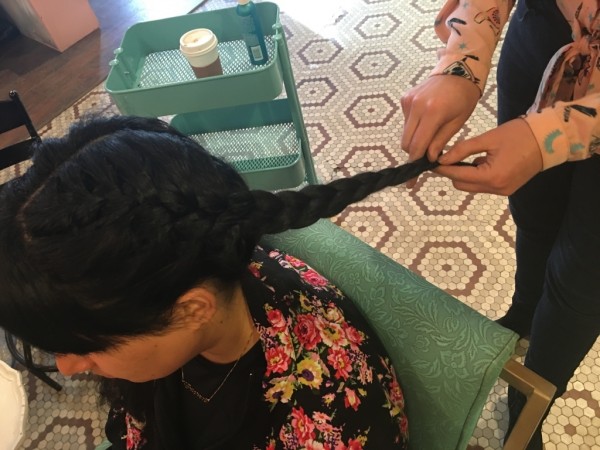 The next look is also a go-to for me when I reach day 5/6 of not washing my hair. I've had a busy week, actually made it to Yoga three times this week and need to squeeze out one more day before I shampoo. In struts the sleek, low bun with texture. For this style, you will need: a Teasing Brush, Flexible Hair Spray, Dry Shampoo, a No Crease Elastic, Bobby Pins
I'm really into center parts right now, but creating a deep side part or even a zig-zag part is definitely an option, work with YOUR face shape and what flatters YOU. Your teasing brush can also double as a smoothing brush! Spritz your hair with your favorite flexible hold hairspray and smooth down flyaways with your brush. Secure your hair at the nape of your neck with that no crease elastic. Taking small sections, spray your dry shampoo throughout your ponytail. Taking your teasing brush, tease your hair towards your ponytail creating tons of texture. Depending on the density of your hair take 2-4 sections, twisting in opposite directions around the ponytail and secure with bobby pins. You can jazz up this style with properly utilizing colored bobby pins to create a fun design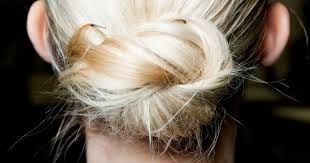 For our advanced "lazy girls" we have braids! On Lynn, we did a simple french braid pigtail look.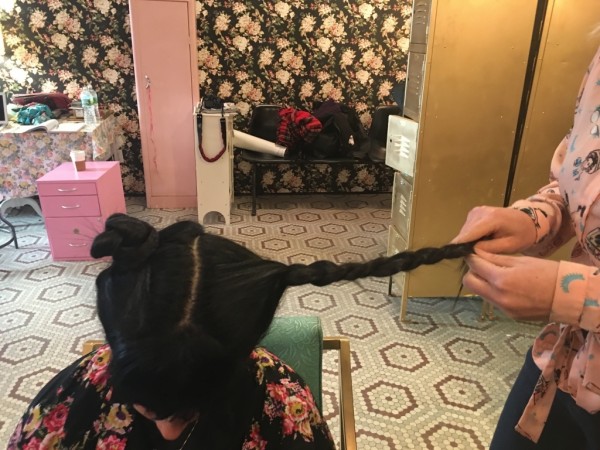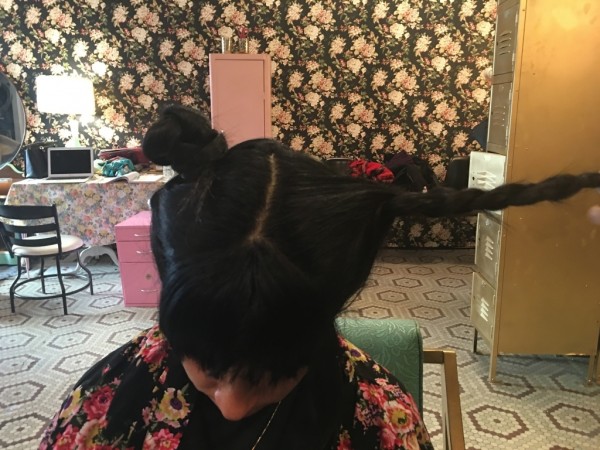 You're seeing everyone from Rita Ora, Beyonce, Rihanna and dare I say, even the Kardashian/Jenner girls sporting this throwback style. The options are endless with braids, embrace your texture and chose a braid that works best with your hair. If braids aren't your jam, have no fear, The Hair Room JC is here to help! We will be hosting events all year long focusing on teaching yourself to better achieve salon-worthy hair in between your visits and Braiding 101 is on the list!
For the final style, I chose a look so easy you can do it in bed! Before you hit the hay, section your hair in 3-5 sections depending on the density of your hair, for myself I used four. Braid each section, leaving out the last .5 inch out, twist and secure with a bobby pin or two. Using a bobby pin versus a rubber band is more gentle on the hair since we will now be going to sleep! Before you lay your head down to rest, spritz your favorite sea salt spray on your locks then fall into a deep slumber. Upon waking, remove bobby pins, unravel your braids, spritz a little more spray and scrunch your hair from the ends towards the top of your hand. Voila! Your natural, texture and wave pattern increased with a little shut eye! This is how I chose to style my hair today, along with my favorite, half up pony!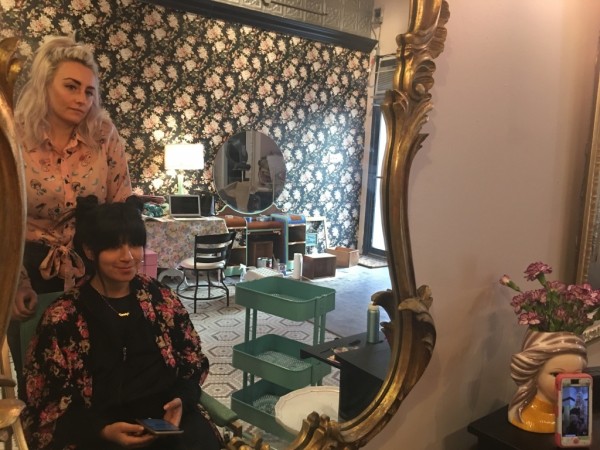 Lazy Girls can still look fabulous and your dos can be done in no time at all! Work with your hair, not against it and have fun! And as I have said for years: Your hair is your best accessory, you wear it with everything!
About the writer:
Growing up in her mother's salon instilled a die hard passion for the beauty industry, both creatively and managerially in Anatalie David. Anatalie made a name for herself in the service industry prior to becoming a stylist, as her natural administrative skills and zeal for customer service allowed her to emerge as the leader she is.
Seeking a more creative profession, Anatalie sought a professional career as a cosmetologist in Texas. It was there that she began as an assistant stylist under two well-established salon owners and educators for Tigi and Loreal. Dedicated to honing her craft and simultaneously learning the business of the salon industry, she branched out to study the techniques of other manufacturers such as Goldwell, Wella, and CHI as a Sales Consultant for a major beauty supply company. Anatalie decided to take her high level of professionalism, leadership and customer service and relocate to Downtown Jersey City, NJ in 2012.
She quickly was recruited and became the Lead Colorist as part of the opening staff at The Red Door in Union Square, New York City. In 2014 Anatalie decided to embark on a new journey, combining her wide ranging beauty skill set with her resilient business and retail knowledge to create The Hair Room JC. While Anatalie has a look that's hard to forget, it's her range of technical skills that keeps clients loyal. Anatalie's portfolio speaks volumes with extensive training in color, cutting, styling, and makeup. Her true vigor for everything beauty and her earnest gratitude to her clients have been foundation of her success that she instills as the Owner of The Hair Room JC.