I think I might be going through some sort of quarter/midlife crisis. In the past 7 months I developed a slight obsession/addiction for tattoos.
I got my first one at the age of 21…let's just say this tattoo was not necessarily well planned. It is not a tramp stamp per se but it isn't the classiest choice I could of made. That being said I love it and have no regrets!!
9 years later, after the birth of my child , when I got back to my pre baby hot bod I decided I wanted to get a tattoo…. after hours of scouring Pinterest I decided on a traditional old school tattoo as I am really feeling the pin up/retro style these days. I also think they are classic and I know when I am 80 I will still like them.
I can't wait to be a BAD ASS granny!! haha
I went to a shop in the East Village in NYC and got an anchor with my daughters initials and a heart on my middle finger (its supposed to be ironic!!). I was satisfied with my results but felt like the anchor lacked oomph and color so I decided recently to upgrade it and also get a new one (hey while I am there, why the fuck not?)
I asked stylish people around Jersey City and everyone recommended Jersey City tattoo,  I decided to give them a try and support a local Jersey City business.
Top 5 things to look for when choosing a Tattoo shop:
Sanitary

This is a given, the shop needs to be clean, everything needs to be sterile, the artist needs to wear gloves etc… You should not fuck around when it comes to getting a tattoo at a sanitary place.

Artist does the style tattoo you are looking for : i.e traditional, japanese etc

If you want a traditional tattoo don't go into a shop that does tribal, or potraits. Stick to the artist and shop that will do the style you want. Here is a link to a site that has pictures of various styles, it is a pretty helpful visual guide!
http://facepunch.com/showthread.php

"Word of mouth" – Recommended through people you know

This is I think extremely important, going to places recommended by your tattooed friends is the way to go! Its like getting a recommendation for a good restaurant, waxer and gyno (although going to the same obgyn as your mother is a little creepy….)

Comfortable with the artist and the environment

You need to feel comfortable with the artist that will be tattooing you, if you feel like the person is a fucking dick than he/she won't listen to you and you will be stuck with a portrait of Stewy and not your first born child.

Tattoo artist with experience

Duh. Not sure having your cousin who is "experimenting" with being an artist give you a tattoo. #just saying.
Back to my story…
Fast forward to my appointment: I came into the shop, this place takes a lot of pride in making sure everything is EXTREMELY clean and sterilized, you could honestly eat cake off the floor! The people that worked there where very chill, I really felt comfortable and relaxed.
Adam, a local JC resident since 2004 and owner of the shop did my tattoos. this guy is legit!  He made me feel comfortable, and was talking to me throughout the whole time so I could forget about what he was doing.

Adam is a pro when it comes to the traditional style tattoo, when I told him I wanted a rose he was able to draw it perfectly with a sharpie! The result: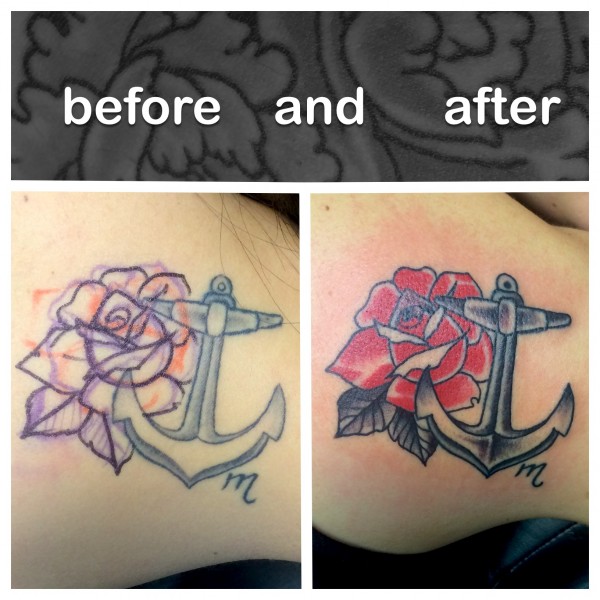 I am loving this tattoo.
Now on to the second one, I got a tattoo of a kiss on my arm… maybe a touch narcisstic… there is no meaning behind it. I like to wear red lipstick and thought it would be a cute tattoo!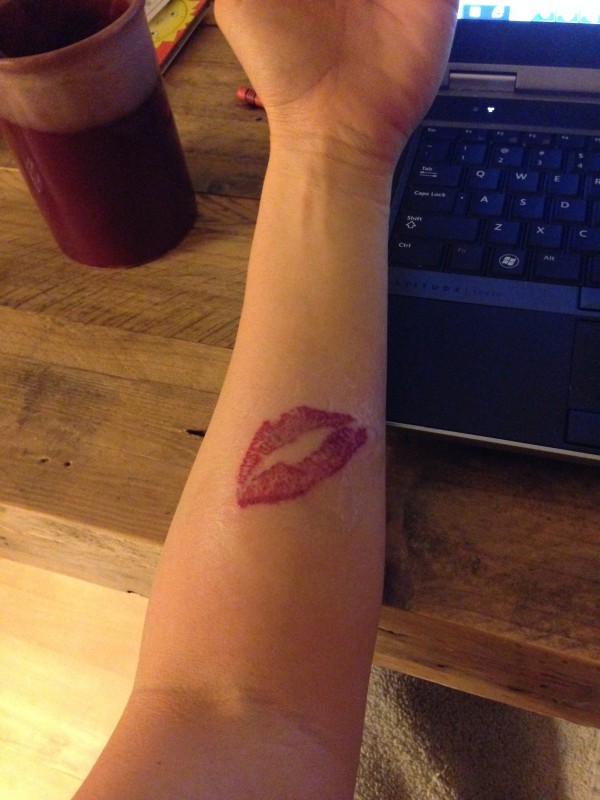 If you want a great quality traditional or japanese style tattoo I highly recommend visiting them.
Jersey City Tattoo
253 Newark Ave
Jersey City, NJ 07302
jerseycitytattoo.com
201.360.0139
What am I wearing?