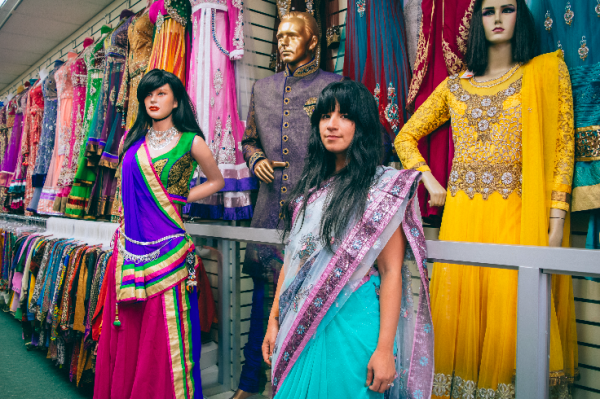 The more time I spend in India Square the more I fall in love with it. India Square is probably less than a mile long, but there is so much culture and things to do you can pretty much get lost there for a day. As part of the Navatri festival happening this month, I sought out to learn more about our amazing Indian community. When I asked people where they shopped for their traditional outfits everyone told me Deen Boutique was the best place.
Brian Platt, my new partner in crime, and liaison to India Square from the Mayor's office, introduced me to Hares who runs the shop and Menali, a shop keeper dressed me up in a beautiful sari I didn't want to take off. I was now ready to party it up at the Navatri festival that weekend (post coming soon).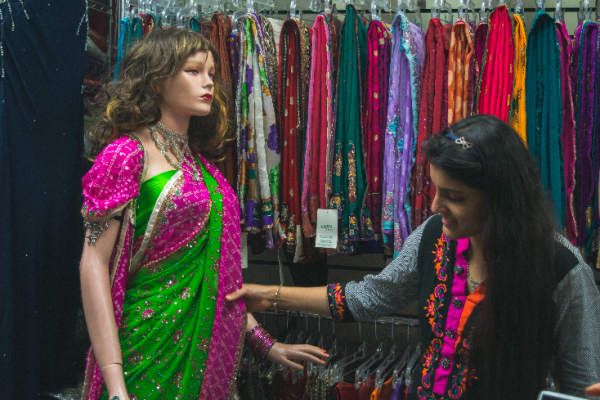 What's your name? Menali.
What do you do? I'm just working here and [I] like [a] housewife.
What do you do here? Selling [clothing].
How long does it take to put on one of these things? Two to three minutes.
What can people wear to the Navratri festival? It's a Cheniya Choli, it's a colorful one.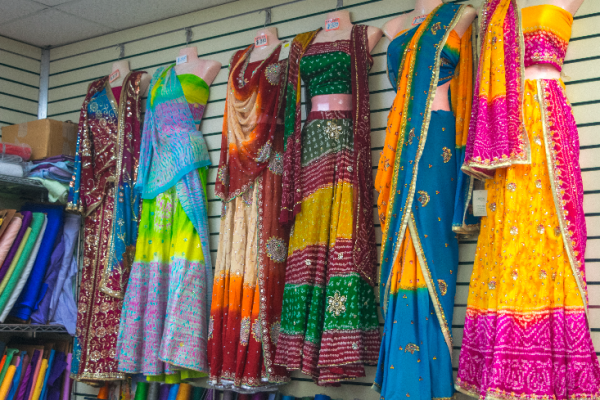 So is it because it's more colorful? Yes, and it has lots of beads on it and it looks nice in the night.
What are you going to wear to the Navratri? Something like this.
Do you live in Jersey City? Yes.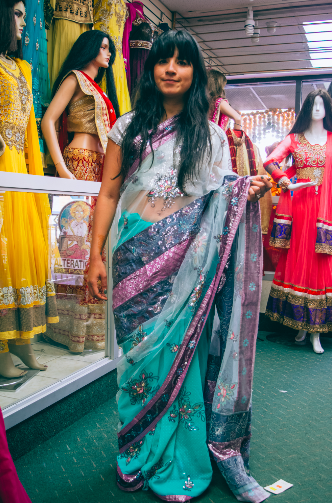 How long have you lived here? Just one and a half years.
Do you like it? I like it.
Do you have a favorite restaurant? Rasoi and Mithaas.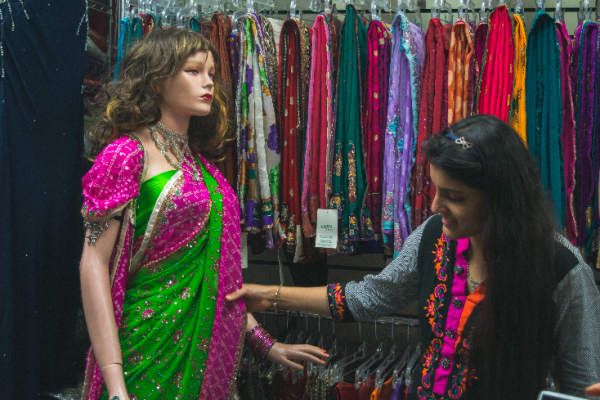 What is your name? My name is Hares.
Are you the owner of Deen Boutique? No, it's my brother's shop.
How long has Deen Boutique been around? It's been here [for] 22 years. Opened 1992.
What do you like about working in the store? Everything. Tailoring, selling, everything.
What would you recommend people wear to Navratri? Only scarves with the traditional shoes.
Can you tell me about the Navratri celebration? Navratri is like music and dancing in the street. They go out and they pray and sing songs. [It] starts from 9 o'clock to 2 o'clock.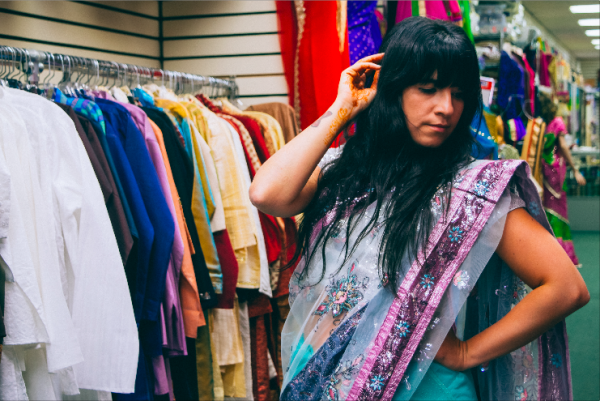 Everyone has said to buy traditional garb from Deen Boutique. Yeah, Deen Boutique. Dresses are for Navratri.
Are you from Jersey City? Yeah, I live in Jersey City.
What is your favorite Jersey City restaurant? Rasoi, Mithaas, [those] are nice places.
Deen Boutique 
787 Newark Ave, Jersey City, NJ 07306