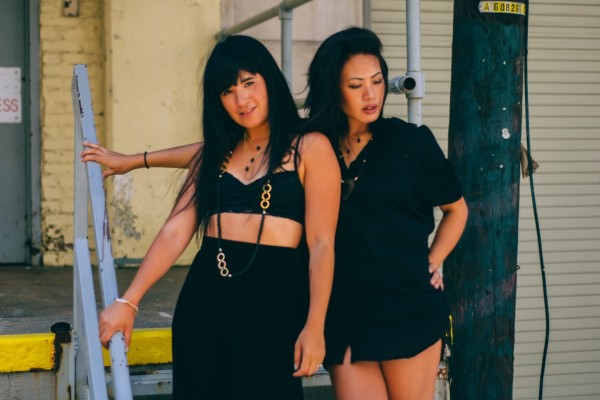 The first time I ever came across "Caviar Noir" was at a local trunk show and that is when I met Julie Ramos, the girlboss and jewelry designer behind this uber chic brand. I remember putting on one of her head pieces and in an instant I felt fierce, sexy and edgy. I loved it so much I did not want to take it off! It is amazing what a statement piece can do to an outfit, since then I was hooked.
Julie Ramos is not only a talented designer, she is business mogul. What is most impressive about her, is that she has no design background, everything she's done to date was self-taught. Julie runs a successful jewelry brand from design to marketing and sales.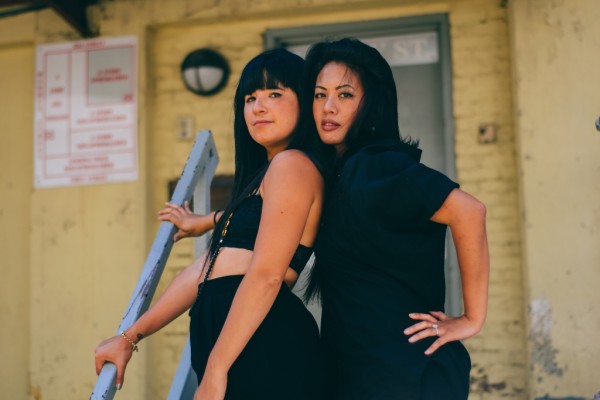 I met Julie at The Warehouse Cafe to hear her background story and to see all her pieces. I had so many questions to ask her, it was hard to keep this interview short! Julie is extremely intriguing and she is also incredibly beautiful! I was barely able to keep my hands off her… jewelry!! Come on guys, what do you think this is?!
After the interview we went outside with friend and photog Nabil and did a fun photo shoot and Julie basically took over, styling me, telling me how to pose. This girl is no joke! I know it will only be a matter of time before the biggest celebrities will be rocking her stuff. My favorite piece right now is a pearl necklace with handcuffs! So sexy.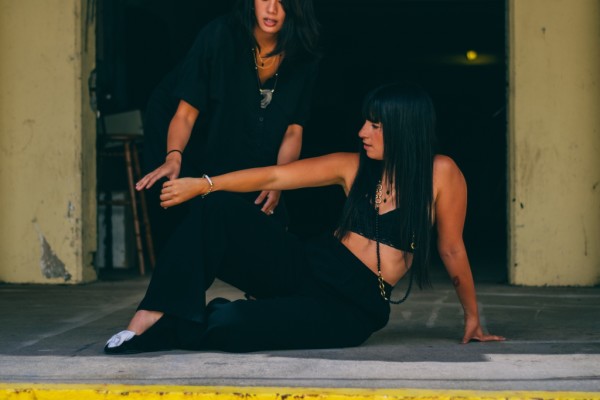 What's your name? Julie Ramos-Cruz.
What do you do? I am a jewelry designer and owner of a brand called Caviar Noir.
How long have you been a jewelry designer? I've done it since 2012.
It's been Caviar Noir since 2012? It's been Caviar Noir since 2012.
How did you get into it? So I had a very stressful job and I was at my breaking point at that moment. I walked out; I didn't know what I was going to do with my life….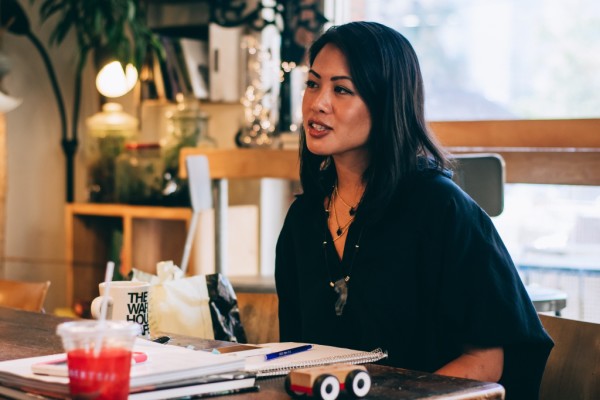 What were you doing before? I was working in the pharmaceutical industry in the medical education side. So I traveled a lot, I didn't get to see my friends and my family and it took a toll on me. I started becoming not a nice person to people around me that I love. So I knew it was time to go, when I made the decision everybody was really happy for me.
I wanted to create body jewelry that I couldn't find in stores and this was at a time when there was no body jewelry out there, it was very uncommon. I [used] YouTube, I was very self-taught, I read books and I would watch lots of videos. I went to a store in New York, I got materials…I didn't know what I liked, but I just got a whole bunch of gunmetal because I loved gunmetal  at the time, I still do, and then I just made something out of it.
It actually was a hand chain that went all the way up, I was very daring with my designs when I first started. I wore it to a club when we were going out and everyone stopped me and everyone wanted to know where I got that. I felt like I was on to something and then I started posting my designs on Facebook and I got so much good feedback off of it and I was like, "This… might be something that I can do."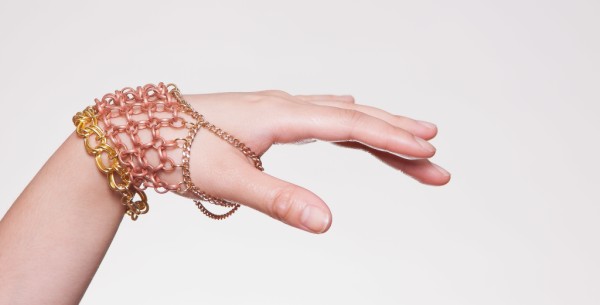 And you don't have any design background in jewelry or anything like that? I don't have any design background other than—I love putting things together—I like assembling desks from IKEA, I like following instructions and doing that stuff.
That's amazing. That's such a great story and then what happened? You just started rolling with it? I started rolling with it, but I think that my designs were so crazy out there—it was harder to gain traction just because it didn't appeal to everybody. It was so out there and it was so ahead of the time, people loved it, it was like a work of art but something they wouldn't wear.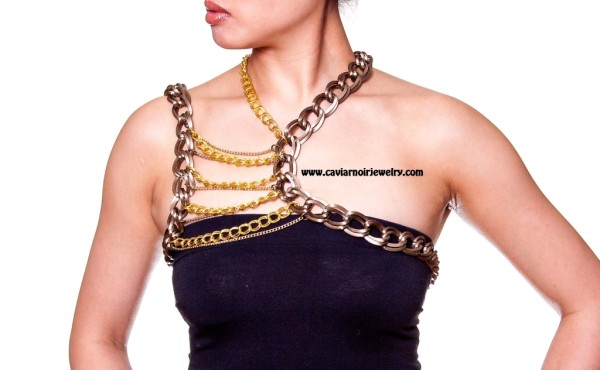 It's intense. It's intense, it's very intense. Throughout the process, I started making jewelry that's a little more safe but still me. It's still edgy but not as crazy-elaborate as these shoulder pad chains and all of that stuff. My mind was all over the place, I was like a dreamer, I had so many ideas that I put it into my jewelry and it was just works of art.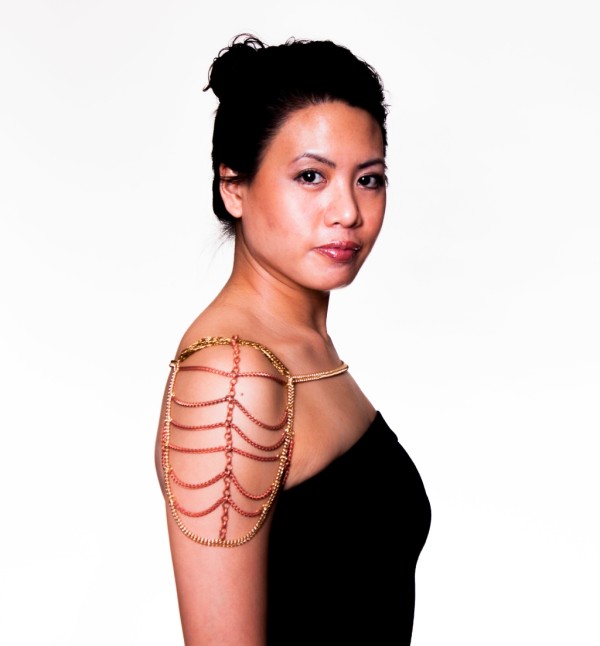 Why did you call it "Caviar Noir?" I called it "Caviar Noir" because of the materials that I used. When I think of "Caviar" I think of sophisticated, I think of elegance, and refined, I think of pearls. Starting off I used a lot of pearls in my designs because I love pearls. I have a different side to me as well. I'm elegant and I'm sophisticated, but I love chains, I love that edgy side and that's the "Noir" part, it's like the dark edgy part, so I wanted to combine that because my designs are both. They're two sides of the spectrum; they're two extremes or what people may see as extremes.
It's true, that's your style. I always see you dressed very elegantly, all black and you just add your jewelry that's more edgy, the gunmetal. Yeah, exactly.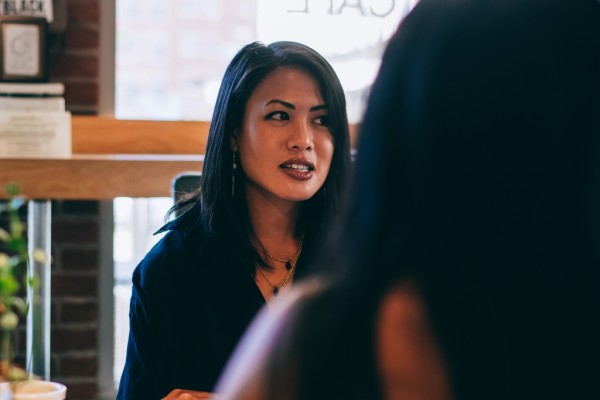 Then you went from making daring pieces to more wearable ones and then what happened? Throughout the years I feel like it has become more acceptable to be a little more daring. So I do custom pieces for those who are bold with it and I do a lot of pieces that are a little easier to wear. I think society has accepted that edgy, rebellious type of side.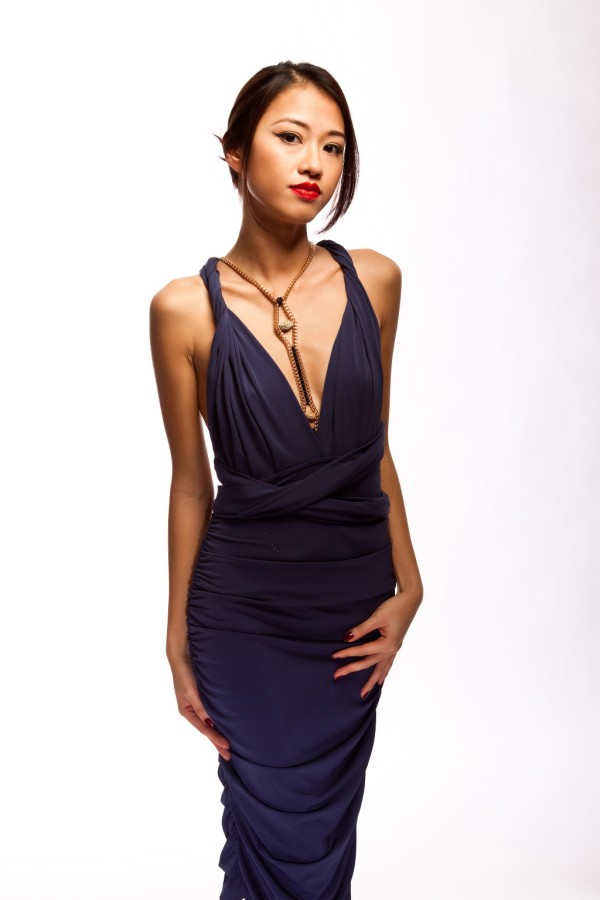 Where do you sell your stuff? I have some stuff at Feena Boutique; I was actually in Bene Rialto in New York City, but I'm actually going to be back in the fall 'cause I pulled my stuff out there; I'm in Canada; I do a lot of drop shipping with twenty-two different store throughout the world. I'm in California.
Do you sell your stuff online too? I sell it online on my website. So I'm pretty much like all over.
So you custom make each and every piece? How do you manufacture it? Since it's smaller I can handle the manufacturing, I also do get some help in New York City for the metalwork, but for the most part everything is made and designed by me.
So this is your fulltime job? This is my fulltime job.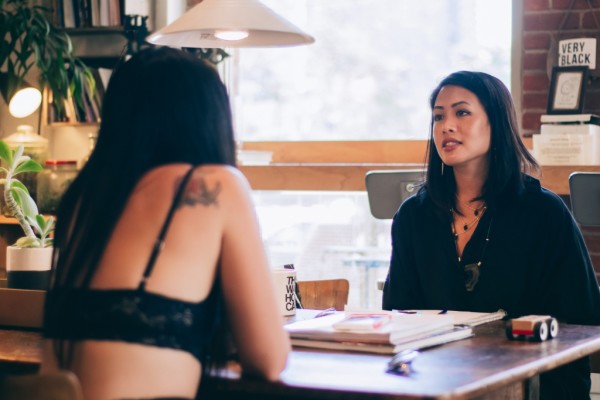 That's amazing. So tell me what a typical day is for you. I wake up; I do a lot of marketing and advertising. I'm always keeping in touch with the stores that carry me, making sure that I keep the connection close, I want there to be a good trusting partnership with us. I'm kind of like the right hand man for everyone that carries my stuff because they believe in my product and I want to show my support to that I'm there whenever they need me.
Any plans to have more of a presence in Jersey City? Yeah, I know it's developing really quickly and I really hope that one day I can have a store here and I don't want to only carry my jewelry, I want to someday carry other types of clothing, something that represents what Caviar Noir stands for and why I made my jewelry in the first place.
I think we need a boutique with classic clothing and jewelry for like the everyday woman. Just all black, just call it Caviar Noir. 'Cause I wear lots of black, you can pretty much transform it into anything, you can reuse it. I'm all into that—my slogan would be like, "Anything but basic." It's gonna happen.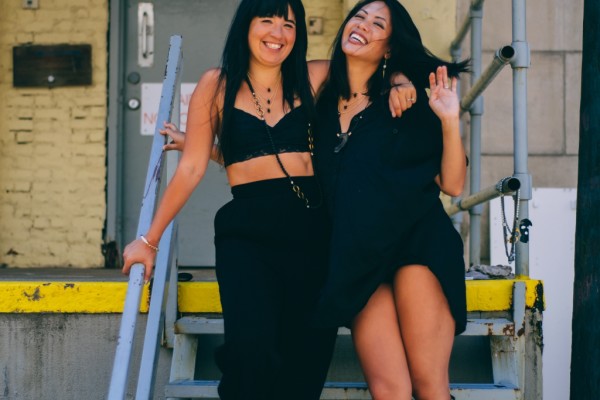 How long have you been in Jersey City? I've been here for about six years.
Where in Jersey City? Downtown.
How do you feel Jersey City has changed in the past couple of years? I was born in Jersey City so in that time—in '83—we have a property here— I would always come back because my parents would manage it. So I would always come to visit growing up and it was really, really bad, the street that we lived on in Downtown, it was full of drug dealers. So when I moved here, it was still changing, now it's transformed and it's still going. I was at my boyfriend's house at the time and I looked out the window and I saw maybe a seven-year-old child riding his bike alone and I said to myself, "Oh my god! Why is that child alone? Something's gonna happen!" But I think it signified times were changing because that would never have happened a few years ago. I love that it's safer, it feels safer, I like the change.
Do you have a favorite Jersey City hangout spot? In terms of location I like Bistro just because I like to people watch, I love to observe and that's the corner where everyone comes out of so I could just do that all day. I could just sit down with my glass of wine and just watch people, it's so interesting.
Would you like to talk about your pieces? I think that this piece really represents Caviar Noir.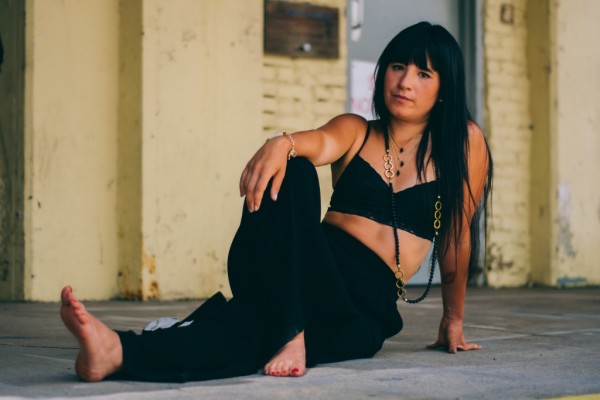 I love! Love! Beautiful! This is called "My Lady Rebel," I'm really proud of the design, it really represents my brand.
It's like naughty but nice. Not one person is one-dimensional; we have so many different sides to ourselves and with this jewelry, I want to be able to have it mold to the wearer, I want them to be able to express how they're feeling at that moment. Like if you get up and you're feeling sexy then you'll wear this jewelry and it'll become part of you and it'll be sexy, it'll accentuate how you feel. And if you feel elegant and sophisticated, you wear that too, it's just the way you carry yourself. The jewelry is an extension of you, it's edgy, it's classy, it's everything in between. It's who you are.
I love mixing colors. I love jewelry that has depth so I combine matte finishes and shiny finishes. This is all silver and one is oxidized and one is shiny. Just the depth of it and combining different colors, it just adds more to it.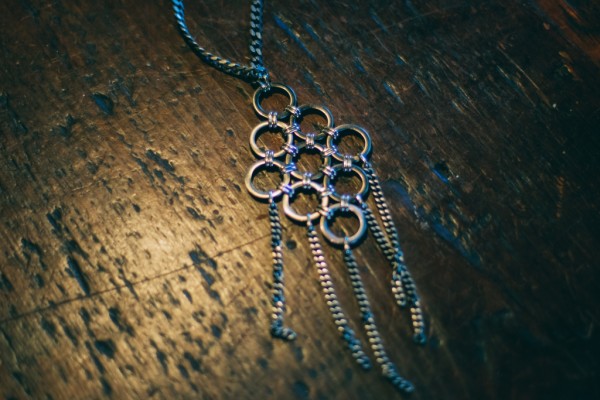 This is a great statement piece, just wearing all black and this. Yeah. I like to do anything but basic. I'm a jeans and T-shirt type of girl, I'll just wear anything simple, something easy to wear and just dress it up.
I love this! I want it all! I love the marble feel, it just feels so expensive. It's like a pearl necklace but it has a crazy spin to it.
And it's like heavy. Yeah all the stones I use are semi-precious and I wanted to add something unexpected just because I'm using it as metaphors. When you see a person you automatically judge them and put them into a category, I like that as you get to know them, it's like the unexpected. You see things that you would have never noticed in them.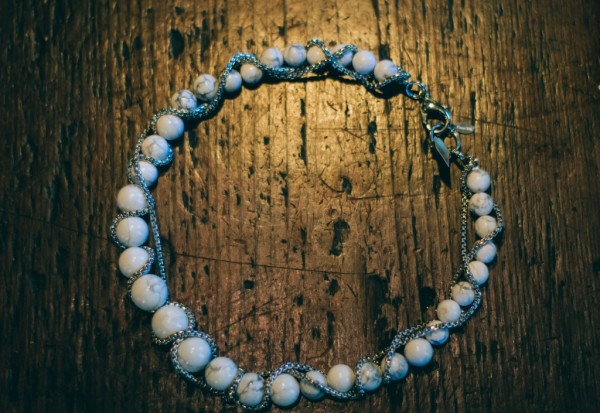 I love that you just hand-created all of these. It's so amazing. This is oxidized silver and cat-eye beads. This to me signifies lots of hard work.
How long did it take you to do this one? Because I have it down to a science now, it's a lot easier, but honestly like an hour. I hand weave every single bead on to there.
Do you sit and watch TV while you're doing it or do you just sit and focus on your work? I actually have to focus on it just because it's so intricate that I might miss it and then I have to start all over again and it's not going to be pretty and then I'll be in a bad mood.
This one is very popular and easy to wear.
That is beautiful. I've really never seen anything like that out there.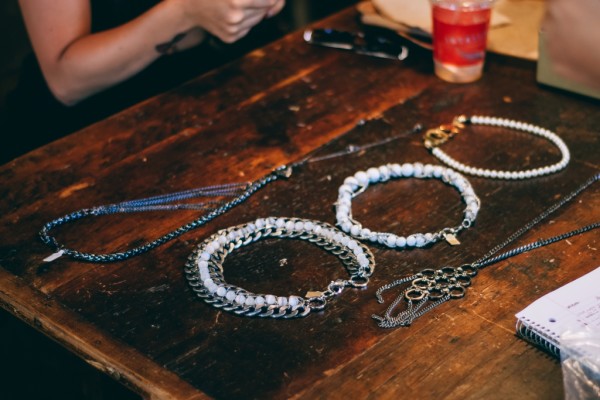 Yeah, your stuff is very different. I love asymmetry because nothing is ever perfect and this just symbolizes that.
This is beautiful. This is like high-fashion stuff. I want all of it! How much?
This is again like another piece that has matte finish and shiny. These are matte onyx beads and then these are gold-plated and it's so easy to just throw on and then I have this also in like that marble type of feel.
And you also make earrings right? Oh yeah.
Do you still make body harnesses? I do them on request.
And what about the headpieces? So my headpieces are what got me noticed in the first place. Henri Bendel picked me up.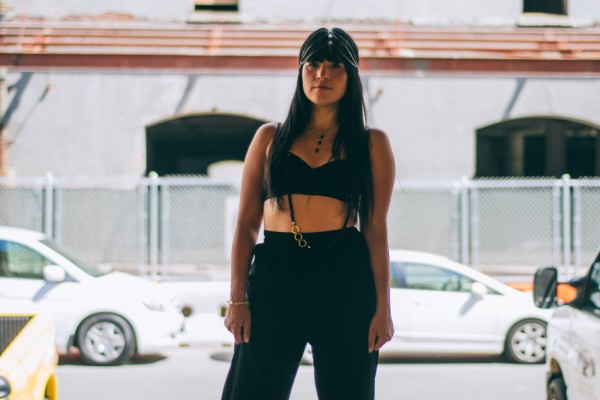 Oh look at this earring! So those are three-dimensional. I like to call them my three-dimensional earrings just because they're three pieces, one goes in the back and one goes in the front. I made these before, it was really common and people just didn't understand how it went. It's like an earring jacket and they're all Swarovski, I set all these pearls and these are all Swarovski too.
So what is your price range around? I would say for the bracelets, they start from $40 and then they end all the way up to maybe $350.
That's pretty decent for such good quality jewelry. So my headpieces are what actually got me through the door in a lot of stores. I always used to apply to contests and open-calls and thankfully I was given the opportunity to showcase my things in high-end stores. Michelle Williams [actually] wore one of my pieces.
This feels really good on my head too. Right? I designed it so that you could wear it with your hair up or down, so it fits like a glove and doesn't move.
What else you got? This is very out there, it's a necklace. It's very different; it's like a collar necklace. I don't know what makes me design pieces—these are designs that I designed a long time ago. My head was very filled with ideas and I got to become more creative with my work. Now I feel like I'm a little more structured with what I do, but before I was just more free-flowing, I'm so proud of what I've created.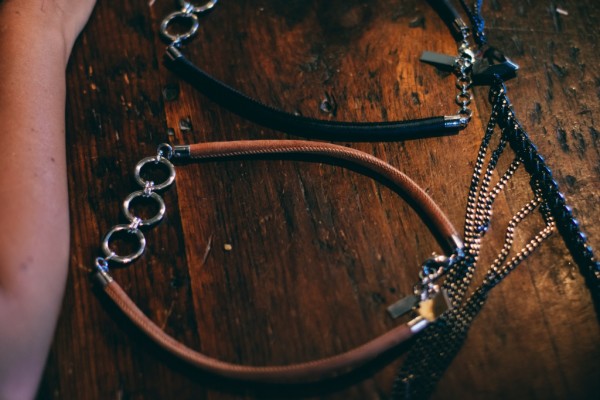 It's amazing. I'm proud of you too. Thank you.
I did lots of leather after I came back from my travels for when I got married. I went to Venice and it really inspired me to work with different materials and leather is badass and every time I think of leather, it's badass. So I do lots of leather now.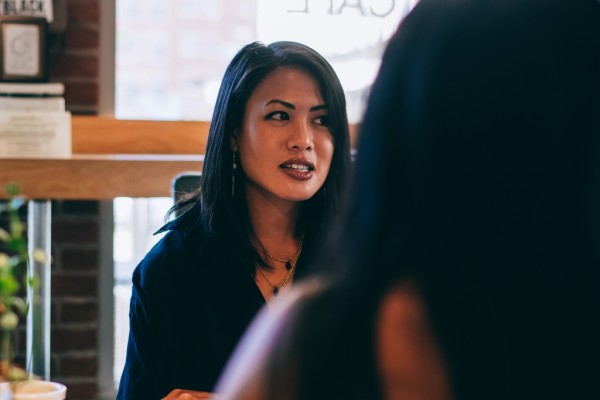 Where do you get all your ideas? To tell you the truth, it just comes. Before I felt more all over the place sometimes I would just be talking to you and then all of a sudden I'd just look to the side because I'm just like, "I have an idea!" Sometimes it would come so fast that I would have to write it down, I'd have to sketch it. I have a design book where I just have pages and pages of designs that either I actually made something out of it or I haven't yet, but I have something there. So sometimes I may look back at it, I'm like, "Oh! Now I know what I'm gonna do with it."
Any upcoming Jersey City events? I am going to be at the All About Downtown Street Fair, Saturday the 19th, I am sharing a booth with Deen Boutique. I am also involved with a charity: Dress For Success, the Jersey City affiliate, where I will be making bracelets and donating ALL of the proceeds to the cause. They are bracelets that symbolize strength, self-confidence, and self-worth. I am involved with this organization because I believe in empowering women to take control of their future no matter what bad hand they were dealt in life.
What are your future plans for the brand? One day I want to have my own studio so that I don't have to work outside of my house. I want it to be a popular name brand that can be accessed throughout the world. I want to be in China, I want to be in Australia, I want to be everywhere in the world.