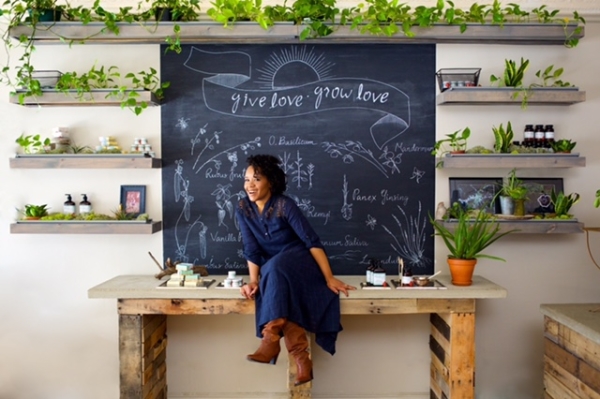 942 Summit is a co-op shared by Who's Gluten Free?, Do You Tea? and Bloomsbury Square- a total trifecta for all things natural and delicious. (Owners Niambi Cacchioli and Kelly of Do You Tea?  even share some ingredients for their teas and skincare products.)  You immediately feel at home when you step into this shop, and a big part of that reason is Niambi.  I won't go into much too much detail now because I feel like the interview speaks for itself,  but the instant you meet Niambi you realize she's not just a salesperson trying to sell you her skincare line.  This business comes from her heart.  She's not just selling lotions and bath soaps.  She's creating an entire community.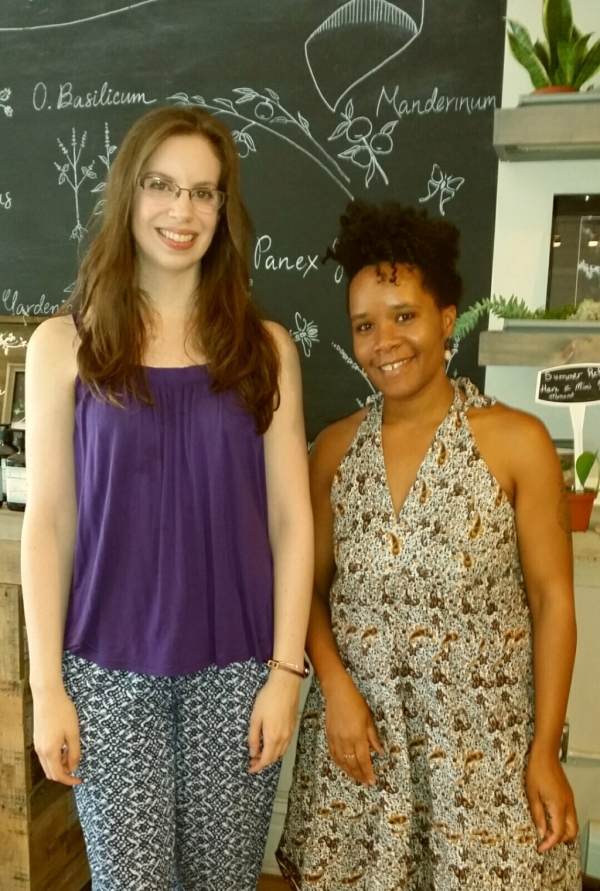 Starting a brick-and-mortar is pretty challenging and even getting to the point of signing a lease has its own sort of challenges.  All your fears come up, but to do that with someone else has been great and to really pull our resources together so that we can create a space that is welcoming for people..I just don't think, I know that I couldn't do that by myself, so it just put jetpacks on our businesses.  And then, this is really neat, like I can be in the back and making my products- as I was just doing [laughs]- and because I have a sales person, we can sell, we can make and sell right in the same place which is pretty rare for skincare.  It's really rare.  Usually you just have internet, market and retail placements, so it gives me an advantage because I can sell everyday without having to arrange a market or you know.
You have an e-retail store as well, right?
I do, I do.  That's the next step.  I have my website, but it took all of me to figure out how to transition from being a small maker and a market vendor to actually running a retail store that has consistency and you know I want people to have an experience when they come here.  I want  them to feel welcome, and I really want them to understand what they're putting on their skin.   I don't want them to buy something just because I tell them or my salesperson tells them.  I am slow in a lot of ways. [laughs]  It takes me time.
It's a good thing though.
I think so!  I think it's to my benefit, honestly. To be able to meet the neighbors, meet my customers, sell something to them and then have them come back, and give their feedback, is great because when you're selling once a month at markets, you don't always get that feedback after. Feedback is really improved and to me can really scale up my growth and I know now that people are getting my products, are getting ones that are really well made and really thought out and really well-tested products.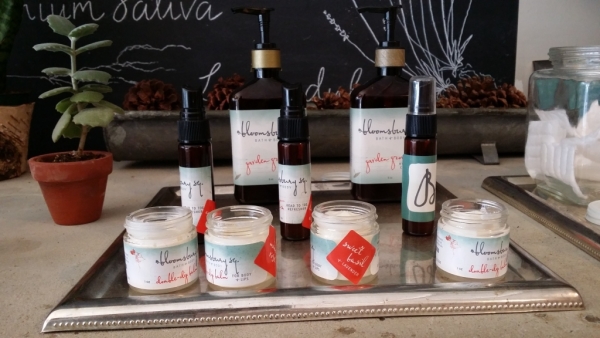 It seems like a great overall feeling because you know that you're contributing to the wellness of your customers.
Yeah, I kind of leaned to wellness.  I sort of backed into it because I am a sociologist.  I was a social historian.
Really?  No, we didn't chat about that the very first time I stopped in.
Yeah, I did my grad school in London, and I was supposed to be there for a year, the calendar year, and I met someone and fell in love and I was like nope!  Not going back!  So the name of the company "Bloomsbury Square" is actually all about my loves because Bloomsbury was the neighborhood where I met my husband and then Bloomsbury Square was the garden near my campus, so it's all about where this busy urbanite go-getter, it's where I restore and how I make calm for myself and I used to work on these cultural outreach programs when I lived abroad, and I came back home really wanted to do something in wellness but I got nervous because I hadn't lived in the US in 12 years and I was worried about trying what I really wanted to do, you know?  I wanted to go for something that was more secure.
I think there's always that dynamic, that fear of knowing what you really want to do even it that's different and trailblazing versus a stable-
-yeah, and especially because I had gone away to grad school I think I felt like when I came back I had to have a certain kind of job so people would understand what I was doing while I was away, but really what I was doing while I was away was just figuring out what my values are, and getting over some of my shyness.  I was very shy.  And learning how to do things my way, and wellness was a big part of that because I was always in my head so that way I would balance myself out is with aromatherapy, making my own products.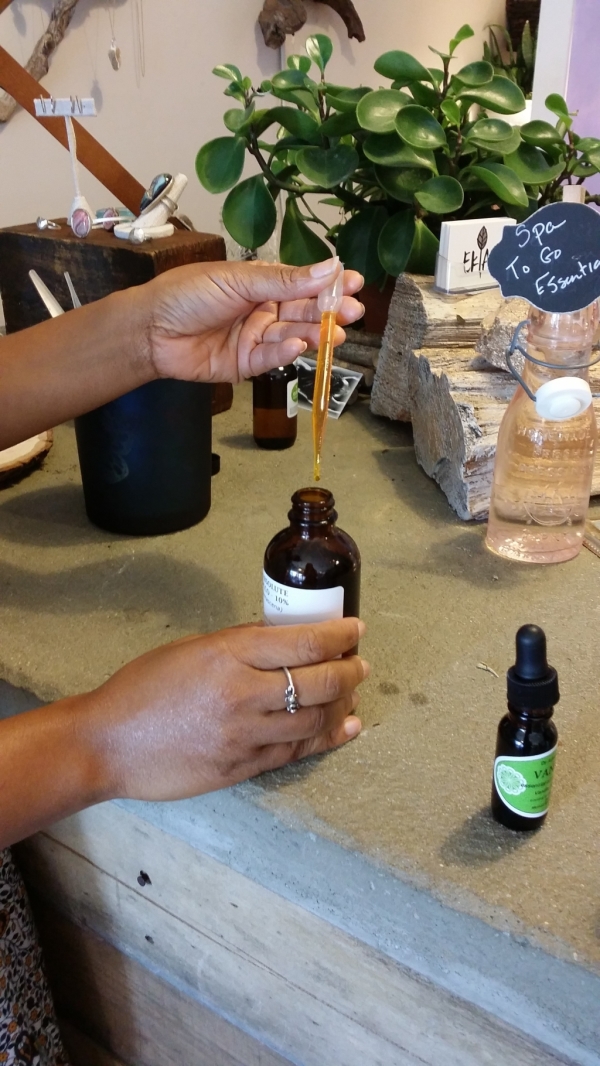 When I came back I taught at Rutgers and that was great.  I loved teaching, but I needed something that was more grassroots, more direct community involvement and I was doing so much research at the time I felt very distant from this new place I had moved to, so I started doing wellness DIY socials through a local makeup store called Luxe.  It's in Hoboken, I didn't want to make any products.  I just wanted to make, you know we'd do like a scrub or floral bath salts and I found at some point we had to have waiting lists for the socials because it was 1 of the only places in Hoboken where super busy city girls who are very driven could come and pause, and then could connect with each other.  There's always these interesting connections, and then they would also get to learn about essential oils.   So that was my goal.  It still is creating spaces, and opportunity for women in particular in this area to slow down, and meet each other and put some really safe, healthy ingredients on their skin.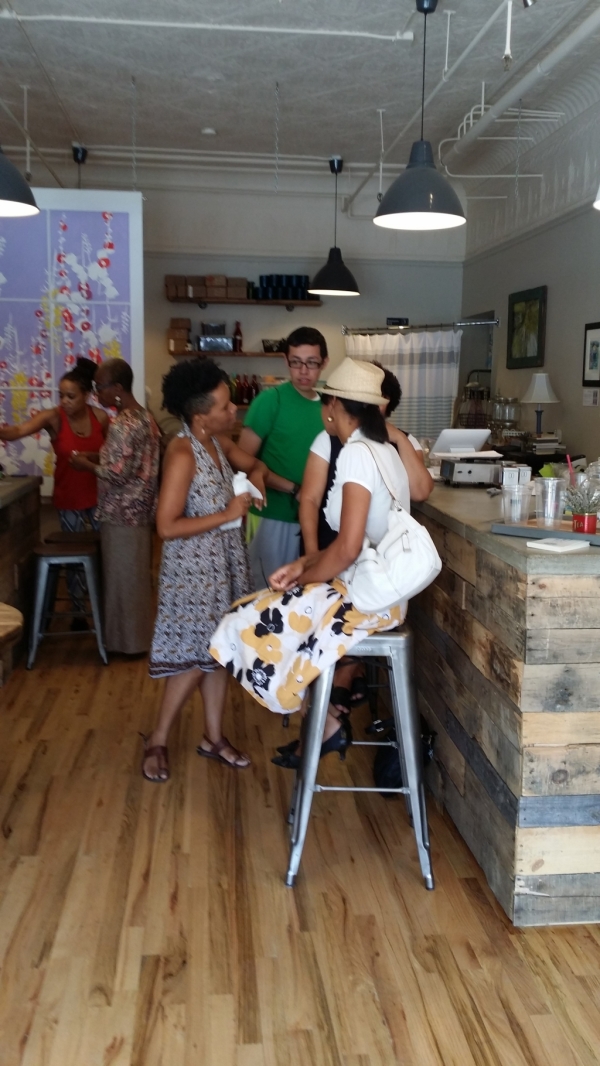 So it just so happens that the collection was a way of actually reaching out to people, but I find that they're really affected so this is a- I don't want to get too emotional about it- but this is sort of everything I'm about all-in-one space because I'm making products, using my hands.  The essential oils make a difference in people's moods.  They uplift.  There's a blend that can bring focus so as a sociologist that's a really easy way to get people to be more grounded and mindful, and then that. I moved to Union City in 2010 and I kept asking people, "Who's doing ladies nights?" "Where are they around here?"  "Like who does girls night out where are people hanging out, you know where is everything?"  The farmer's market is like a health, wellness haven.  The produce is affordable.  They have all of these cultural programming free events that they do.
Yeah, I go to the one in Journal Square by me all the time.  I love it.
It's insane.  I mean, they're doing a lot more than just selling products and providing tables for small vendors. They're bringing people out of the woodwork.  So the first time I went to that, I was like, "Who are all these people! Where did they come from?!" [laughs] And then I saw that when it gets cold, that liveliness and those connections- you know also the gardens are such green spaces- but everything is outdoors you know, the gardens, the markets, Modcup outside when it gets cold outside.
You basically lose all that.
Yeah, you lose it, so when Kelly [Do You Tea?] and I were looking at the space, it was large enough to renovate into a gathering spot and we pitched in an idea of a co-working space for us, which really lowers the risk, and to make it like a community hub so a lot of the events that you see are organized by neighborhood associations or other local vendors and it's really put us in contact with so many people.  So the next step for me is really to- like this past year, I told myself it's going to be the year of "Why not?"  Like if I have an event idea, if I have a DIY idea, I'm not going to overthink it as an academic, I'm just going to plan it and…
…and go for it!!
If six people come, that's six people I didn't know before.  If it's jam-packed, that's great and the next step is really to go for the collection, really to expand the products, and to make a really sophisticated but affordable set of products that one can enjoy.  And I'm psyched!  We're right in the middle of finalizing those, so they're going to be out starting in October.  We're going to start rolling them out so they'll be out by the holidays.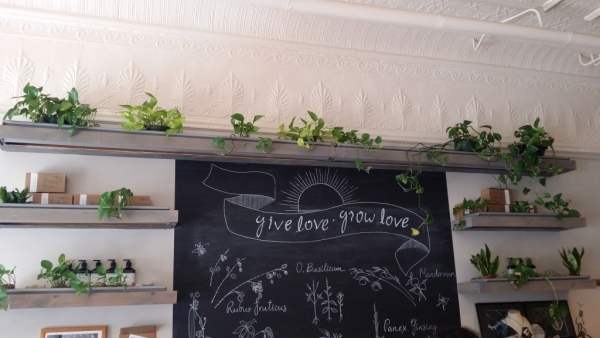 Are there any little teasers about these scents that you want to give, or anything else you want to share about them?
Absolutely!  My core, my intention for 2014 was give love, grow love and that ended up manifesting itself in this space, and 2015 was balance is beautiful, and that ended up being more of a personal one, but it also guided my love for oils, so I find that oils are really helpful for balancing your skin if you choose the right ones, so that's why the skin nectar- we make two different kinds- they're straight oils that have been infused with Chinese herbs and they do so well.
We talk to our customers in terms of how to balance out our own oils..so the overall framework for the new products is my urban haven.  I really think that if you live in a city, cities are great, they're over-stimulating, so everybody needs to have their go-to haven, their refuge, whatever you want to call it, and I thought about my favorite ones.  I have one collection that is "Hammam," we'll have one that is "Greenhouse," we'll have one that is "Solarium," and we'll have one where we're introducing unisex but geared more towards men and so that will be wooded trails.  We haven't quite figured out the name for it, but it'll be that moment where you took a day trip out to the woods like 40 minutes away, just that sense of space and breath, so more of the woody scents like cedar wood, berries, juniper, but I'm really excited about "Hammam" because we're going to have blends of jasmine, vanilla, some rose, some ginger which will bring some spicier elements that are pretty new for Bloomsbury Square.  "Solarium" is all about recharge, so it's going to be sunny.  We're going to get some citruses in the Wintertime.  We're going to get some yuzu fruits.  I'm just excited about the idea of playing with collections that reflect urban havens.
I love how much thought you put into it.  It's like a whole story for each collection.
Yeah, it helps me as well to focus it.
That's very cool.
Thank you!
So do you want to speak a little about why you chose Jersey City specifically to create your business?
Oh yeah, absolutely!  So I live in Union City.  I live right at the edge of Union and Jersey City and.. I was invited to do the-well first of all, I am a member of the Riverview Community Garden and for me, that is my source.  I have a plot there.  My kids can run around there.  I'm from Kentucky, so I grew up with green, and we didn't call it "green living" or "sustainable living."  Everyone had a garden and everyone had backyards with fruit trees and that was the norm.  I prefer to live in this region, but I feel like there's a disconnect between our lifestyles and green spaces so the fact that there's enclosed gems has really impacted my family.  I love it. I talk about it all the time.  [laughs] I'm obsessed with it.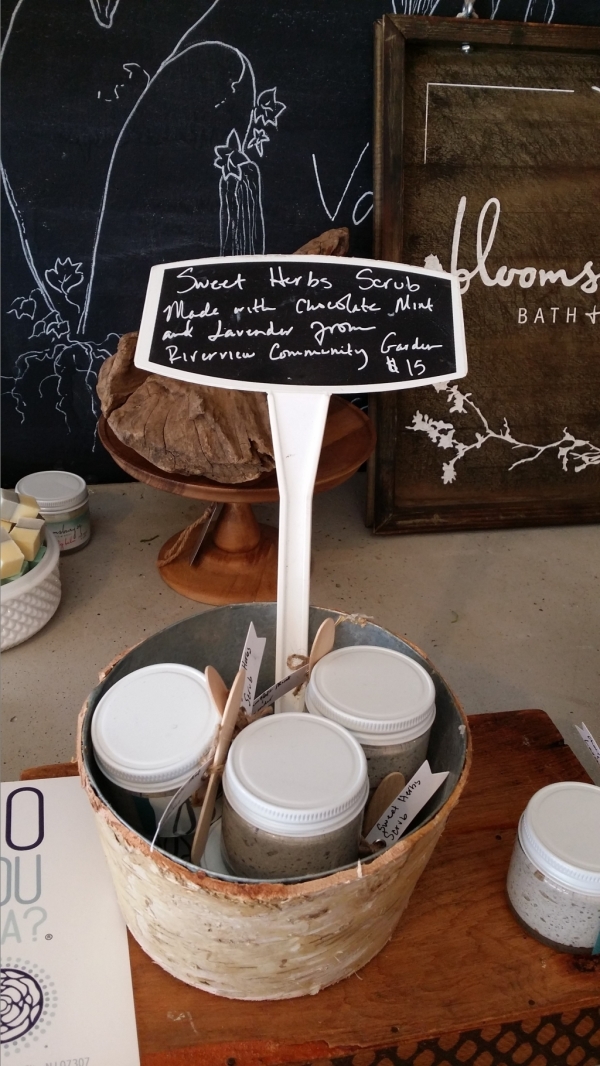 So that was the first connection with Jersey City Heights, and then I was invited to do the farmer's market at Riverview Park, and customers are so supportive.  They get really excited about any new product that I do.  I feel like they generally care about me as a person and a business owner, and they want Bloomsbury Square to succeed.  Also I think it's interesting-I don't know if anyone else has written about this- but the Heights in particular, these community associations are really green-minded.  The Washington Park Association, Pershing Field, Riverview Neighborhood Association, Riverview Community Garden. I know there are many others but I have not lived in a place where I know so much about the reservoir!  We are really surrounded by green spaces, so Jersey City Heights gets overlooked often I think in the past, but the fact that there are so many people here who, for generations,  have invested in green living- not just like the last five years-
-it's not just a trending thing.
No, there have been people of various incomes, which is important for me, that have really month after month, year after year really have worked to improve and protect green spaces, so I feel like there's no other place other than the Heights.  It's a very healthy place, and it's a really good fit for Bloomsbury Square's values, so they already get what I'm doing and then I do also think the mayor and universities and Rising Tide. I've lived in other places where there are a lot of resources that helped a lot of businesses not fall through the cracks.  It's nice to know that they know how challenging it is just to get it started, and we have people dropping in saying they're here to help and these are the organizations you can contact, so I don't feel like I have to do everything by myself.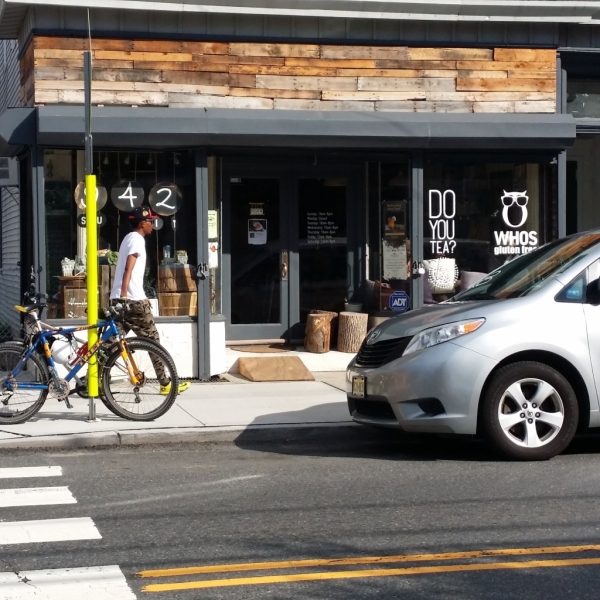 Wow, that's awesome.  It all sounds like such an organic, centered type of thing because you're coming in with a sense of community because you have Who's Gluten Free?, Do You Tea?  all in one space within a community where you have organizations reaching out.
Yeah, because it's one thing if you've gone to business school and you come out of the gate with your own business, or your family has a traditional business.  I'm a daughter of civil servants, so everything about everybody in my family is non-profit, so I'm a non-profit person as well, so to have a business, I don't always know where to start.  I make really great products.  My skill is cultivating a team.  You know, Honora is out there.  She's been here a month and she's just beloved.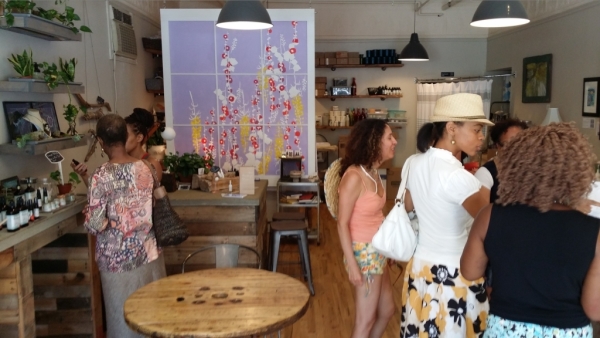 She seems like she's been doing this forever.
I know!  She's very relaxed, and she gets it.  So I feel like I don't have to be out on the floor because she's providing that experience that I would want to, so I feel like that is my strength.   But there is a lot to sustaining a business, and the resources are more available here.  You definitely have to ask for help, but I do feel like if you ask for help or support, information or contacts, people will really assist you.
What are your favorite spots to go to in Jersey City (besides here)?
I love Feena.  It's really cosmopolitan and chic.  The owner is super friendly and when I want to shop, it's an extremely feminine experience to go there so I love that place. The Riverview Community Garden, of course, Sundays the farmer's market and community garden experience is bliss. I love Choc O Pain.
Oh my God.  Me, too!
She is such a thoughtful person.  She's a foodie.  You can tell that she loves doing business.  She actually made me feel like it was possible because she's also a mom and I saw how she has mentored her staff.  When I go into her location, anybody that I get behind the counter, they know me by name, so those are the things that count for me.
I love Kannibal Home.  I think what they do well is that no matter where they are, they are their own thing.  They just have such a unique take.  I really love their craft nights and Kristen does this thing where she- I don't know if she does it now- but initially she was doing craft nights where the guest artists get to take home all of the fee, so that's good and very generous. I have two kids so I don't get to food much [laughs].  Choc O Pain definitely though, yeah!
Are there any upcoming events here that people can look forward to?
We have so many!  Look out for our "Hammam Night"  because we're going to debut the "Hammam" jasmine garden-inspired collection, so that will be sometime in October.
Awesome, thank you so much for this interview!
Interested in finding out more about Bloomsbury Square? You can find them on their homepage and Facebook!