Balance Salon is not just a hair salon, it's a community center, a congregation…a spaceship. There is nothing like this place in Jersey City or anywhere else.  Writing about Balance is like writing about the Mayor or the JC Pimp. It's the holy grail of all ChicpeaJC blog posts and I've been waiting for a while now for the right moment to cover this JC hang out spot.
People often say that Balance is a "Punk Rock" salon, but it really isn't just that. They cater to everyone, from wall street dudes, to kids to the fabulous moms in Jersey City. Punk Rock is a state of mind friends! Don't judge a book by its cover. They do really great hair and will make you look the way you want to look and you will have a fun time while they work their magic. I am honestly surprised they don't have their own reality T.V show.. Spend here an hour and you will know exactly what I mean.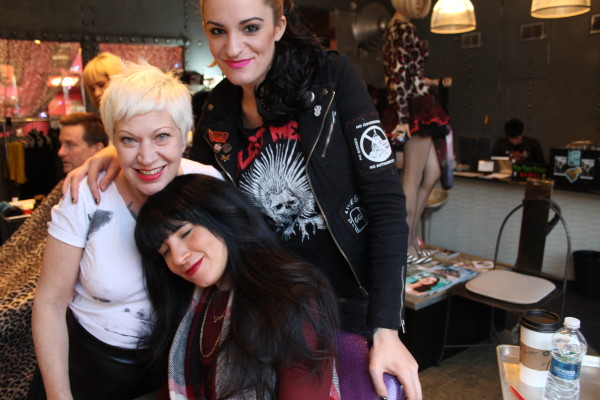 I met Carla years ago at the old Balance location on Erie street before they moved to Newark ave. Carla is a character, she is a Jersey City fixture and represents what's cool and groovy in JC. What I love about Carla most, is she is real, always honest and tells it like it is. Carla is the mother hen of Balance Salon, which is a family… By just walking in through the doors you are made part of this family… dysfunctional at times but real and so fun.
Right as I walked in they handed me a cup of coffee, and I later found out there was Baileys in it! How dope is that?! I mean, how rock n roll is that?! Carla and her team also gave me a fierce makeover and I looked so bad ass! Balance Salon gives me faith that there are still local business owners out there that truly care about their employees, their customers and will also having a blast and enjoy the fruits of their labor. I love you Carla.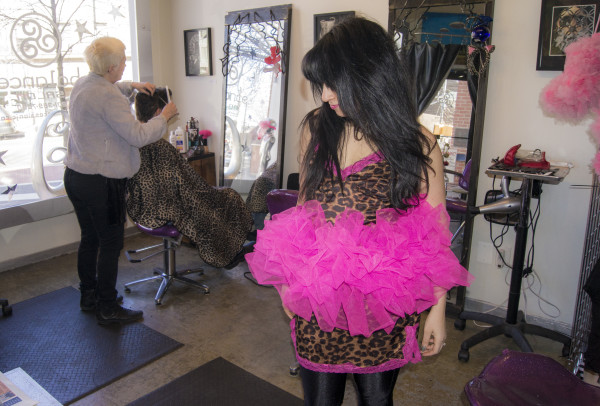 Balance is not just a hair salon, they also sell great vintage gear and beauty products…. It's a hangout spot and art gallery and they are always hosting fun events; comedy shows, art shows, parties etc… Artist and stylish peep Vincent Minervini designed the space and also curated all the art work, even though he doesn't work at Balance he is a fixture there and such a character!
Today's post is all about Carla and the background story on Balance. Every week I will be featuring one of the cool Balance stylists because they are all so groovy and worthy of their own "Stylish Peep" post (Carla totally got me to say this word repeatedly!) as well as some interviews with a few of their diverse clients! I think April is Balance month!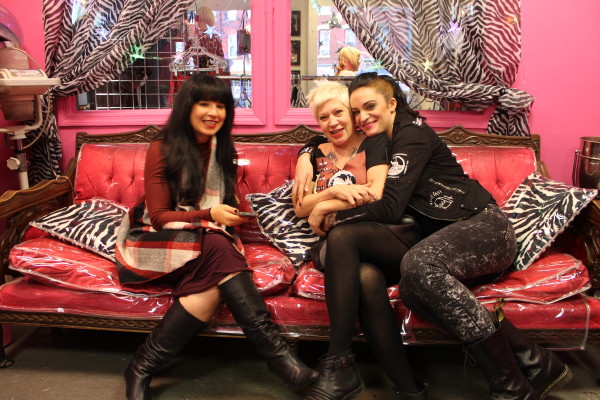 What's your name? Carla Anderson.
How long have you been in Jersey City? I've been in JC 30 years
How long has Balance been around? 12 years.
What was the story of you leading up to Balance?  At 21 I got my license, after I decided to stop getting arrested and bar tending…At the time I had been working at a punk rock after hours club in the city…. I grew up in Union, so I started getting my experience there. I thought I would take things seriously and get a career going, so I went to hair school. It was the 80s so it was all mohawks… when I actually got licensed I needed experience, and it wasn't my first thought to go into the city, I thought I had to be good enough first, so I started assisting in Milburne and all these douchebags places. The clientele sucked and was conservative…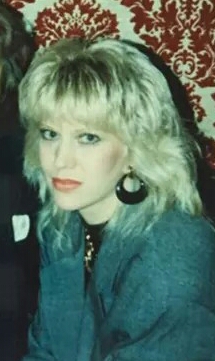 I finally I moved here on Jersey ave, then moved over to the heights because Jersey ave was so ghetto, and I was assisting in the morning and hosting at a Japanese entertainment place at night. Then my girlfriend had the idea that we should stop all that and go back into the bar business and dance. So I danced for 10 years
Danced? Yeah, stripping, but it was the most fun I ever had. I don't have pictures but I did that from 26 til 35. I was an extra in Carlito's Way, everything was Motley Crue and "girls, girls, girls". Pretty much…. I was a professional drinker, and could speak really well, I got out of bad situations. I danced all the time, got drunk all the time. And at 35 I got married, and I quit. And that's when I started doing short hair. Got a real job and cut off all my hair. I was wild. I cut my hair so I wouldn't go back to it.
To make a long story short before I got here I was working in Hoboken, because there was no Jersey City and I was living here the whole time and I realized if you wanna do something right you gotta do it yourself. I just wanted to do my own thing and I was sick of listening to shitty music, you can get really catty with hairdressers, and you know what I thought it doesn't need to be this hard, we're doing hair it's not brain surgery, we're talented artists, so why can't we have fun while we do it? So I built my own place, you know and I've been going that way for 12 years.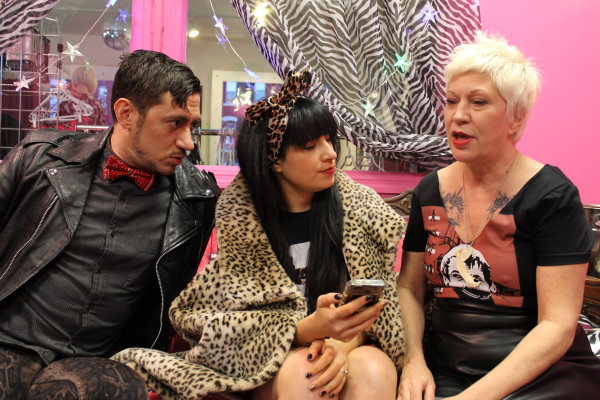 It's funny because no matter how many people go through the door, employee wise, and no matter how much I wanna bitch and moan or carry on, I hire the same people all the time because I like it, because I'm comfortable. We're all very free-spirited, and I say that all the time, everybody here is very good, but we're really free-spirited, but I like that. We argue, we have funny moments,
You're like family. We cuddle, everything is really good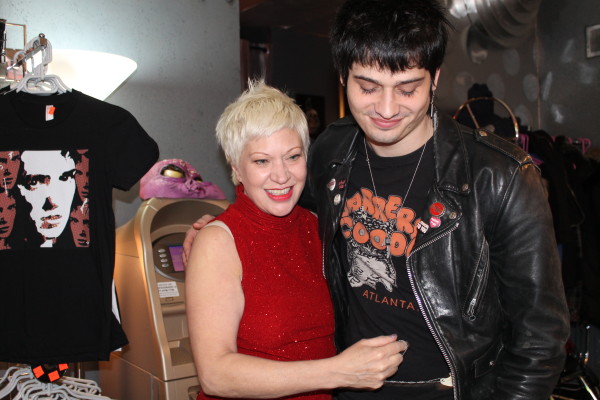 Can you tell me that aspect of it being more like a community center, and not just a hair salon? It's more than a community center, this is like the Manson family, we're a bunch of characters, definitely a bunch of characters in here, and that's fine, you know what I mean, and I don't know why talented people are such characters, I guess they just think different. Creative people come together, and it's not in a hateful way at all. And I've worked with a bunch of people before where it was just hate hate hate, mine mine mine, this and that, and I really do think we work as a team.
I believe in sexual harassment in the work place (laughs) I believe in keeping it real. I believe if you're sick don't come back…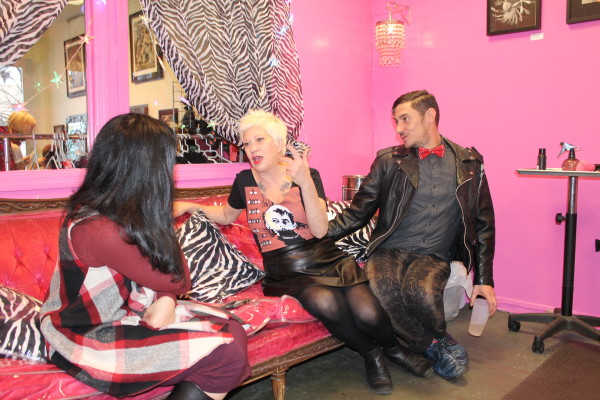 It's a fun place. It's a fun place but it's also a REAL place…I think its okay to say Fuck You to a coworker and its okay to say Fuck You to the boss sometimes too because you gotta straighten me up. It's all good….
How was the transition from the old location to the new location? I cried, I cried when we were gonna move. I sat in the yard and just cried after one of our comedy shows. The old Balance we had performances there, older style vintage store. After the last comedy show we had I sat and cried because I knew I had to go. I'm the one that declared we had to go, no one else said we had to go. Everybody was renovating around us, somehow we have this reputation as a punk rock salon, and if someone says it one more time I'm going to kick them in the face, we have no idea why. (laughing)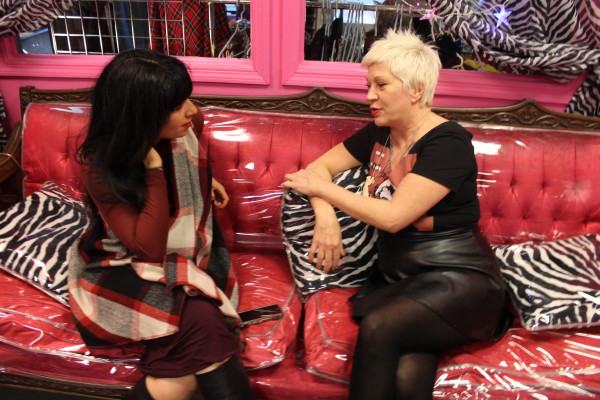 So how would you define balance? If you wanna define it like that, I've decided to own it, I've decided to just brand it… okay so we're a punk rock salon. You know I'm not following any rules of conduct. Shit happens, you know what I mean, we do good hair….we don't hold back the screaming or anything like that. It's all in a good way, we want the real life stuff. We don't want someone to walk in and just get quiet we want to keep going and you kinda just get involved in that.
I don't want to lure people in here under false pretences that were going to be conservative in any way, shape, or form. We're gonna do really good hair and it could be a shitshow… you got coffee with baileys.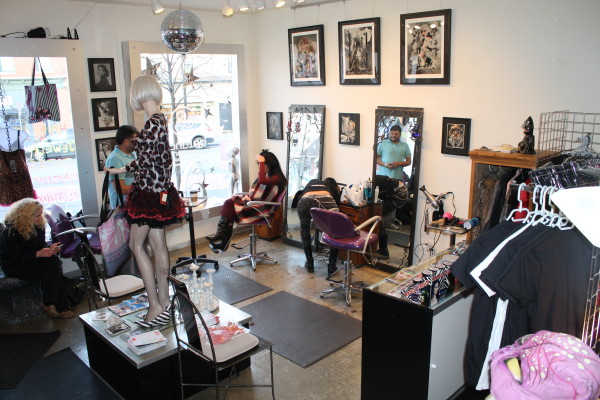 Baileys in my coffee?! Is that what I had?! Its mad entertaining here!
So for the past hour I've spent here I have this vibe that I really want to be part of this family, and I'm just wondering how can I be part of it! Can I get a job? As soon as you walk in you're part of it, you're very involved.
Can you tell me a little more about the people who do work here? The people who work here are very talented, we're like family. Whenever I hire somebody, I hire them thinking 'am I gonna want to spend a day with them?' and then when I hire the next person, I think well not only do I want to spend the whole day with them but does the other person want to spend the day with them? So then I really hire with chemistry, I don't hire anyone here that actually doesn't fit in, and I don't mean that in a bad way. I hire like-minded people, people with a sense of humor, and people who are very talented. And pretty people.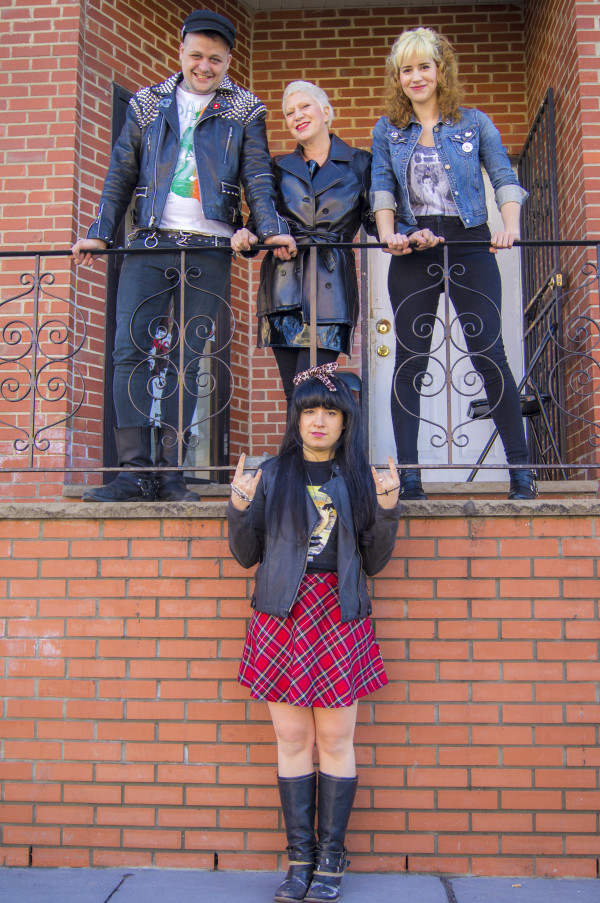 Other than here, do you hang out at other places? Third and vine. Hands down. I'm at the point now where I just want to have a nice cocktail get something to eat and go home, I'm not trying to trip the light fantastic. I love to see Dave when he Dj's at Lucky 7's.
Do you have any funny stories you'd like to share?  We're working one day in the old balance, and my ex husband and his cousin were going to come in one time to see me, and she made an appointment and she comes from a very big Italian family, and I thought oh, she's coming in to spy on us because they never met me outside of dinner. I was always all dressed up and done up lady like and now she was coming to see me at Balance, which is a completely different thing than me sitting at dinner.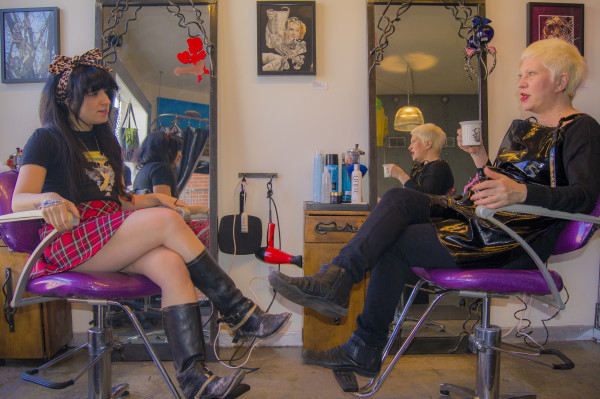 I told him don't worry I'll be my very best behavior. So I'm sitting in the yard with my coworker and I decided she needed to see some real porn, she was single mom, and I go let's go to the porn store. A Saturday morning in JC let's go to a porn store. I announced to everyone in the salon that we're going to the porn store, and everyone is sitting in the chairs the salon is full, and you figure they're gonna be there for about an hour, so they see us all walking out and they're all laughing… The staff is laughing, my receptionist is saying to me at the time, Jailbait, what what what what what? And I'm like Shutup Jailbait! I'm going to get some porn! I'll be back! And she's trying to tell me something and I blow her off and we walk out.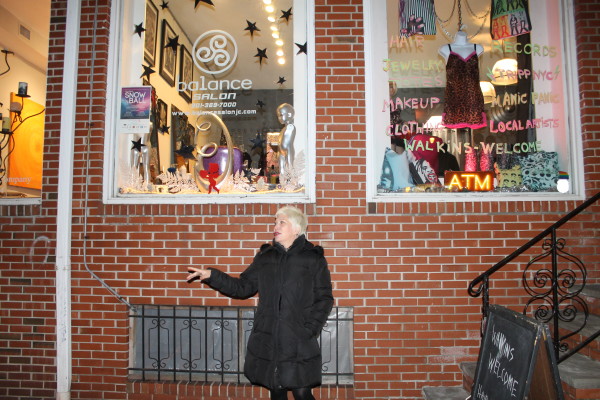 We're gone for about a half hour, got some porn, coming back, I say OMG I'm really late I hope I didn't miss my next client. I get back and I go to Jailbait and I go is my next client here? And she goes no and I go thank god, and I tell everyone in the chairs I got porn! We got porn! So call my next client! Jailbait goes, she was here when you left! And I go excuse me? I was trying to tell you, it was Sid's cousin, omg I said I was going to get porn in front of my husband's cousin! So I had my other assistant go to the store and get me corn, I had like 3 giant stalks of corn! And so I called my husband hysterical, told her to come back and she comes in looking at me like im crazy and I'm like "HI! How are YA! Come in!" and I tell her "I'm so sorry I had to go to the store and get some CORN!"
That is fucking funny. It's just stupid things, you know what I mean. I'm never afraid to let everybody in on the joke, we all have fun. Life can be stupid. Just enjoy.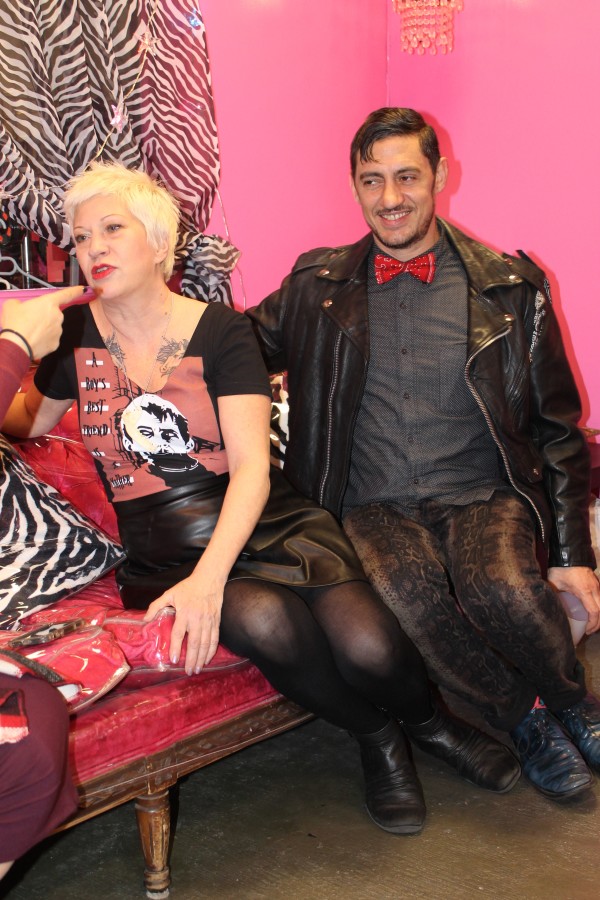 I know that you always like change your hair, and dye it different colors… Only when I'm having a breakdown, when I was building the place I had like 4 different colors hair…
You were stressed out so why, like why color your hair? I got 4 major tattoos and colored my hair like 4 times.
Where did you get them? JC tattoo…what is my theme? You know what my theme is? Mystical, I have princesses, I have unicorns, I have dolphins. The older I get, the more tattoos I'm gonna get. My skin is going to start going down so I cover it with tattoos.
How do you think JC has changed over the past couple of years? It's safer, I used to leave my mother's house to come here and she goes be careful. And its safer now. I'm hoping with White Eagle Hall coming in, it's going to bring more life to the rock n roll scene here. I love what's going on over here, I love that its tattoo, wellness, smoke shop, hair, thrift. All this stuff. I am in the middle of putting together a vintage store in here again after all.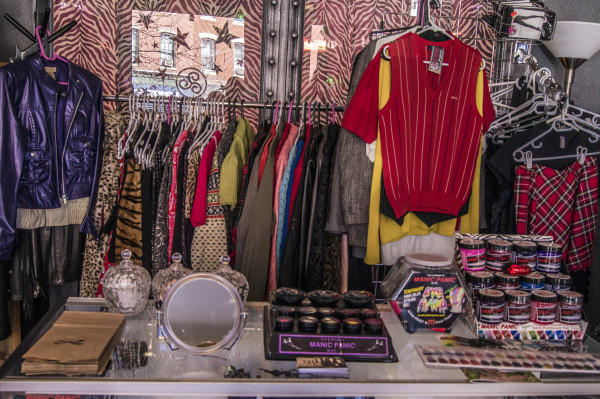 Can you tell me a little more about the clothing you're selling? I decided to actually really brand the place, okay so we're punk rock, so I thought I would go to the manufacturers of Trip and Manic Panic, it has a Patricia Field kind of feel to it where you can get your hair done and shop at the same time. I really have all women in mind, because I am in my 50s and I still dress like this. And its okay as long as you're wearing the right size. Women can look cute too and be rock n roll. We're not going to make you into soccer mom, but if you want to get clothing here too we'll totally bring your look together.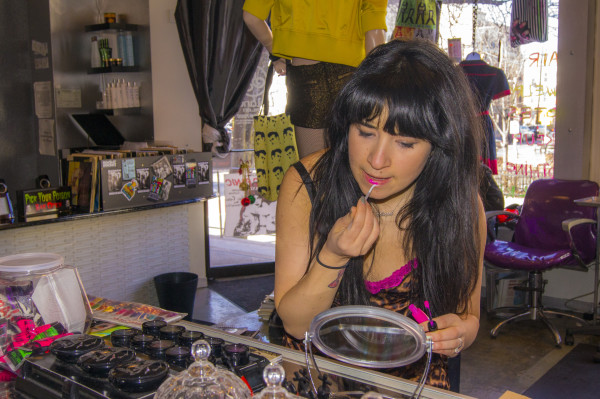 It's good to know people can get clothing here. I love this vest, I have to buy it. It's hip and its groovy.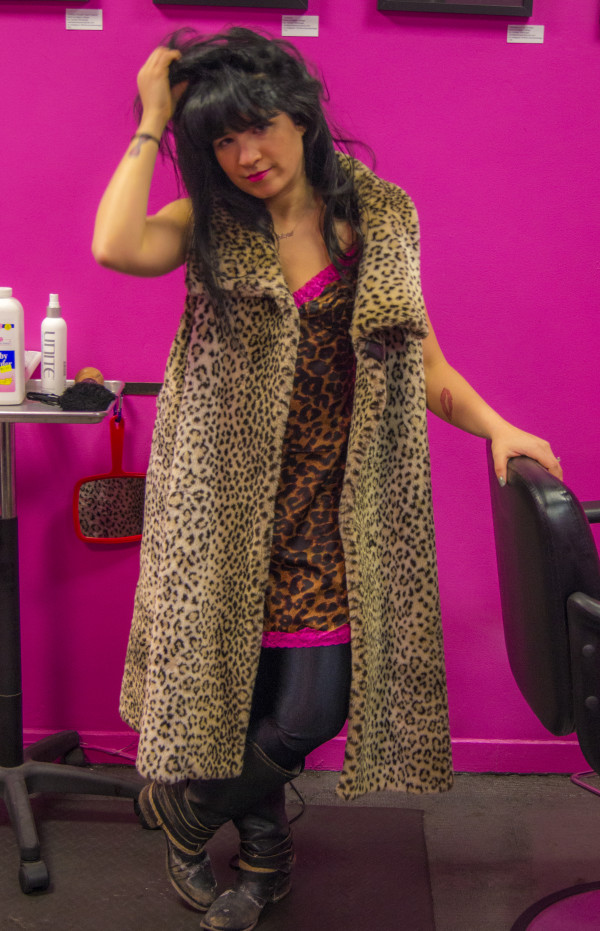 Is there anything else you want people to know? I want people to know if they want to look really good, and they want to feel youthful, and they want to feel cutting edge, they get their hair cut they shop here and they can buy Iris records here too. This is the kinder gentler Balance, everyone thought we would lose our vibe, and we didn't we just got better. This is our super groovy VIP room. This is where I like to work. I can shut the door, for bridal parties or rowdy children. Private room is great for that, or if people want to get sized for a wig.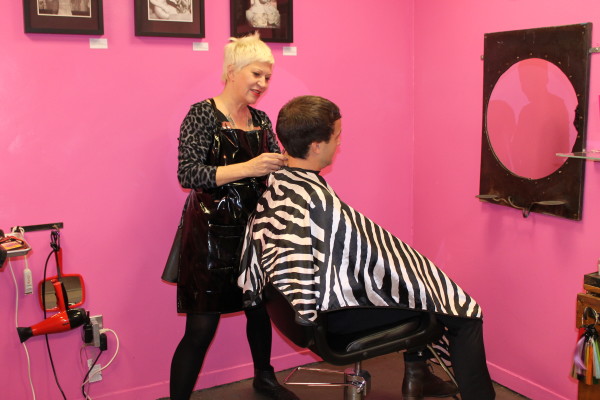 So you do hair, makeup, clothing, sell records, what else? We do vintage clothing, another mans treasure, and world of style vintage are going to have presence in here on the rack. Art gallery. Latest show is human wreckage. We had a great turnout.
What your next event? Comedy shows again, first Fridays. Business as usual, you know. Fashion show outside in the springtime is possible.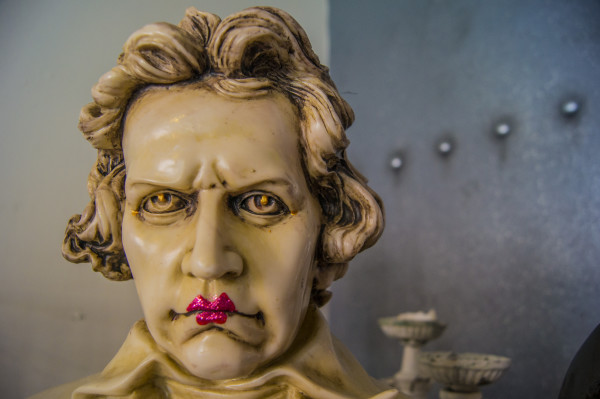 Why is it called the spaceship? Because that's what it is, it's the Spaceship gallery, at Balance.
How did you come up with that concept? Well you know, its long and coming, and the UFO art and the UFO talk, I'm actually going to cohost a UFO show in fact.
Have you always been a UFO enthusiast? Carla: I've been really good friends with Tim Beckly with Global Life Communications for like the past 20 years and I've gone to Costa Rica to check out the volcanoes and the spheres and the haunted inns, and I love doing this stuff, im definitely a believer. I thought Spaceship would be a fun modern look.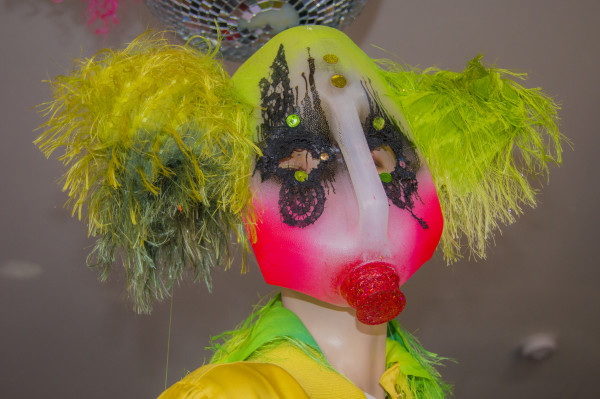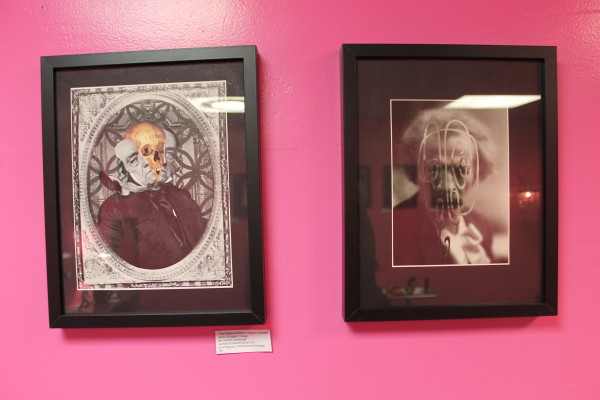 It's definitely very different than other hair salons, and you wanna hang out here… you know I've been saying for a long time I was going to build a spaceship and fly away and it was a funny thing.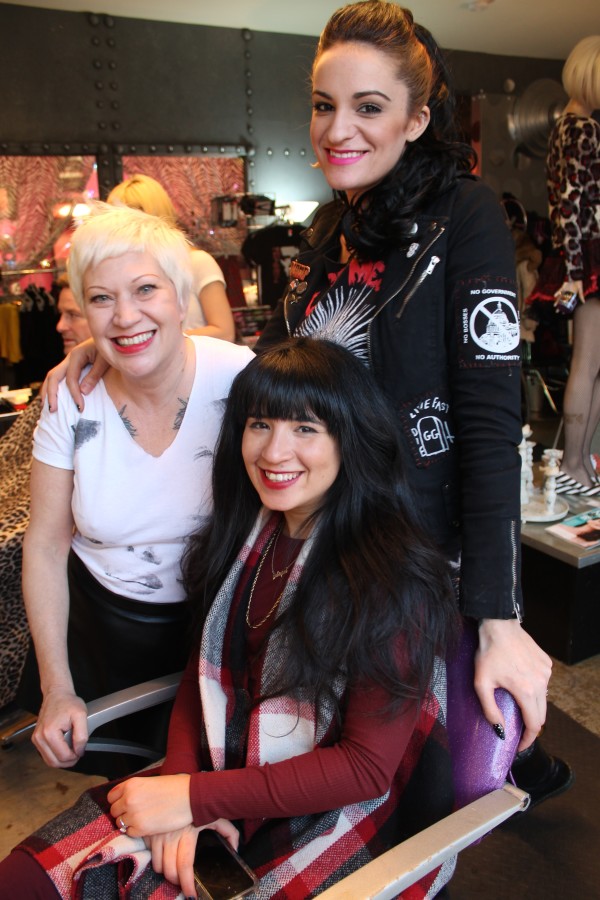 Is there anything else you want people to know about balance? We do really good hair. Don't be scared. That's the first thing. Don't be scared to come in, we're just doing something different. We're lots of fun it's a relaxing atmosphere. I dunno why you would want to get your hair done in a different environment. You can relax, you can communicate because were very open. We're cutting edge. Were not going to make you into a soccer mom, at all ever. We give cool haircuts, but its not too cool, where its not for everyone. If you wanna look your very best, in a relaxed atmosphere. We're friendly people with good stylists and have a nice shopping experience as well, I'd say youre in the right place.
[wc_googlemap title="Balance Salon" location="353 2nd Street, Jersey City, New Jersey 07302″ zoom="16″ height="250″ title_on_load="yes" class=""]