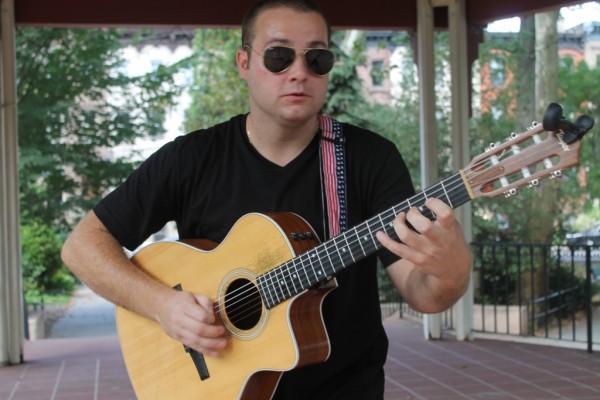 I saw Matty D. perform for the first time at a festival by Hamilton Park almost a year ago and I loved his energy. Matty D, is a natural born entertainer, an extremely skilled guitar player that was put on this earth to make people smile and have a good time.
Matty D. is honestly one of my favorite musicians in Jersey City, because he is such a positive and fun guy. We really need more people like him in the world! He is one of the happiest people I've ever met. When he sings he conveys that and it's infectious. I thought he was so awesome so I asked him to play at mini-chicpea's third birthday and everyone loved him. He sang kid songs and even did a fun rendition of Big Pun's "I'm not a player." The kids and adults had a blast.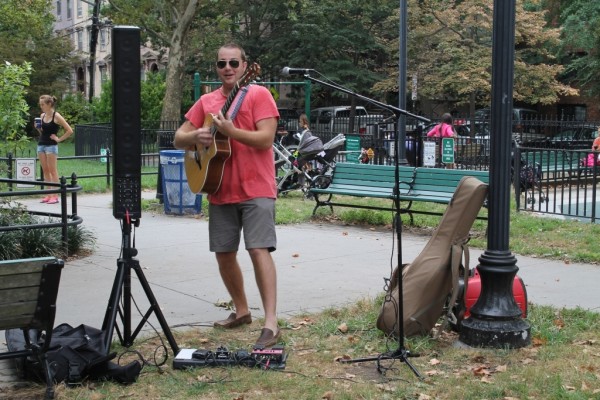 Matty D. is a full time musician, and one of the hardest working people I know. He plays almost every single day at venues all over New Jersey and Manhattan.
He asked me to be in his music video of his cover song "Louie Louie" along with The Big Hair Girls. So much fun!
I met up with Matty D. a few days ago at Van Vorst Park to catch up and hear his story.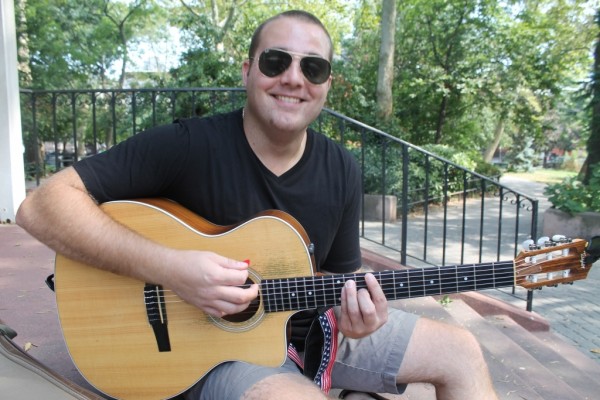 What's your name? Matty D.
What do you do? I sing and play the guitar for a living.
Is that your full-time gig? Yeah, it's my full-time job.
Not many people can say that. How are you able to do that? I'm a one-man band so I get to keep all the money and I book pretty hard and I've been fortunate that a lot of places I play asked me to keep coming back.
What kind of music do you play? I play Rock 'N' Roll, Cuban music, Spanish Guitar, I like Hip-Hop—I don't rap, but I enjoy Hip-Hop.
Do you do covers or do you have your original music? I do both. I do covers primarily when I play out, but I'm also writing a lot of originals and I'm slowly incorporating them.
How long have you been a singer-songwriter? Since I was a child, like when I was twelve years old.
What started it? I just loved to play the guitar. I heard a song on the radio and I just said I wanted to do that.
So what were you doing before when you started this full-time? I was a mortgage banker; I worked for my father in an office.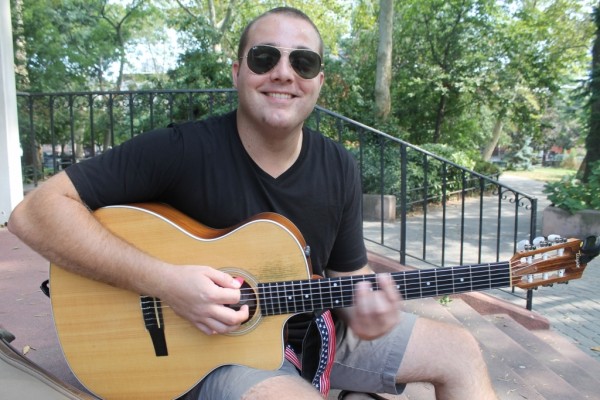 What did he say when you left? At first he was a little concerned, but once he started seeing I was booking gigs and making a living, I think he was more happy and proud. But at first he was not okay with it, disapproving.
Can you tell me about your local gigs? I'm the house guitar player at The Liberty House; I'll play there every Thursday. I play regularly at GP's, Hamilton Park, for brunch on Sundays [and] Wednesday evenings. I play at the Bistro, Grove Square, give or take every Friday or Saturday night and I'm the house guitarist at the Carlton Hotel in Manhattan. So I'm at a lot of different places in Jersey City.
So are you playing music every day? Every day, except for Tuesdays!
What do you do on your days off usually? I watch HBO and listen to history Podcasts.
How long have you been in Jersey City? Five years.
What brought you to Jersey City? My best friend moved here, because I was a mortgage banker, and we did his mortgage and when I moved him into his house I looked around the neighborhood and just felt in love with it.
How do you feel Jersey City has changed in the past couple of years? I think Jersey City has become more cosmopolitan and more conducive to a young musician or a young artist, people who are in their late twenties, early thirties doing their thing.
Do you have a favorite Jersey City hangout spot? I love GP's, Hamilton Park.
What are your future plans? I have an album coming out.  I think that the music business fundamentally has totally changed now and writing people are like, "I'm coming out with an album!" I think there [are] a lot of fallacies in the music business. I think the music business now is all about singles; it's all about writing singles and making a music video. So I'm just going to keep writing singles and making music videos.
In October I'm playing at Univision for the studio audience during a talk show. I'll probably go to Miami in the winter [for] weddings.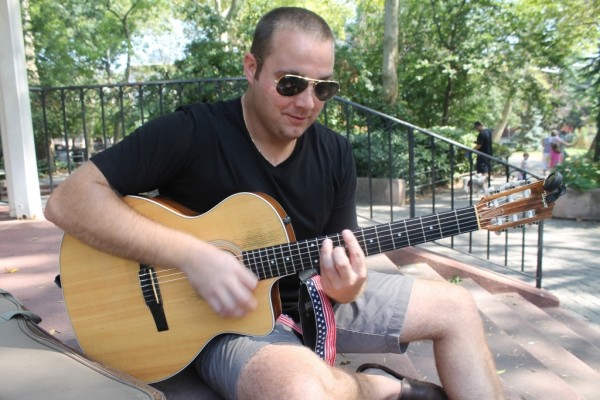 We shot a video together! Can you tell me about it? Yeah, we did a video together kind of just celebrating the people in Downtown, Jersey City.
Who else is in the video? The Big Hair Girls.
And what's the name of the song? "Louie Louie" it's an old song written by The Kingsmen in the 1950s. We did our own version to it and it's on Instagram and it got a lot of hits on Instagram.
Anything else you'd like people to know about Matty D? I believe in a music realm where music is supposed to make people energized and have fun. So come check me out if you want to have a good time.