A while back, we took to Instagram to ask our Jersey City pet parents about all the places and people you love and count on to help you make your pets' lives the best they can be.  You all gave great feedback and recommendations on the best of the best in JC. I compiled your responses into this petcare hot list. If you're looking for recommendations for any pet services, here's what the Pets of JC community has to say!  It was impossible to include every company/service mentioned, so if you would like to check out the original post for more ideas, you can click here. 
Dog Walkers/Pet Sitters
It comes as no surprise that Jersey City pet owners had plenty of feedback about dog walking and pet sitting services. After all, leaving our beloved pets (and homes) in the hands of someone else requires a lot of trust. When looking for companions for fur friends, people look for walkers and companies who are reliable, have great availability, communicate frequently, offer competitive rates and, obviously, show strong bonds with our pets. 
Tails on Trails was by far the most raved about pet care company mentioned when I reached out to the Jersey City community.  The company services downtown JC, Hamilton Park, Powerhouse Arts District, and Paulus Hook. They offer reasonable rates and provide services such as walking and boarding for your dogs and cats.  
@lauracelines01 said,"Tailsontrailsllc is the best all around!  I use them for dog walking, dog sitting, and they even took care of my doggie on my wedding day to bring her to Central Park for photos! They are so helpful, friendly, and really treat my puppy as family."
Another sitter mentioned frequently in our post was Sofia to the Rescue.  This highly dependable sitter is perfect for daily walks, but specializes in sitting for vacations and weekends away.  She even does small pocket pets and comes with 20 years of experience at animal hospitals Many residents talked about her personal attention, dependability, and trustworthiness.  
"Sofia to the Rescue is the absolute best pet buddy and walker around!!  My animals love her more than me!!!"- @janellefalc 
"Sofia to the Rescue is amazing! She takes the best care of our pets when we are out of town!" – @owlpower
Other petcare companies that were recommended by our residents include Bark Buildings, an in-house company used in many of the luxury buildings around Jersey City, Like Home Pet Care, Trusty Tails, Anything's Pawsible (who ventures out into exotic pet care as well), Downtown Dog Walk and Pawfessional Pet Care.  For a more luxurious daycare experience, some JC folks recommend the Executive Dog Lounge. I highly encourage you to check out their website.  I definitely wouldn't hate spending my days there if I were a dog. 
Veterinarians
Jersey City has spoken and, hands down, Veterinaire Pet Care is your favorite place to take your beloved pets for their healthcare needs.  Dr. Waxman in the downtown office and Dr. Jones at Journal Square have definitely earned your trust and love.  Many of you mentioned the high quality of care for reasonable prices. We recently did an interview for ChicpeaJC with Dr. Jones on natural healthcare for your pets if you would like more information. 
Another clinic mentioned was Jersey City Animal Hospital and Downtown Veterinary Associates, which is where I first took Felicity when I rescued her. 
Pet Supply Stores
Downtown Jersey City is lucky to be home to two great pet supply stores that you guys raved about. Fussy Friends, in the pedestrian plaza of Newark Ave, is a beloved favorite that you guys find to be reasonably priced.  Felicity and I have been there so many times that she beelines right inside the door every time we pass. They have a nice selection of products and the staff is very friendly.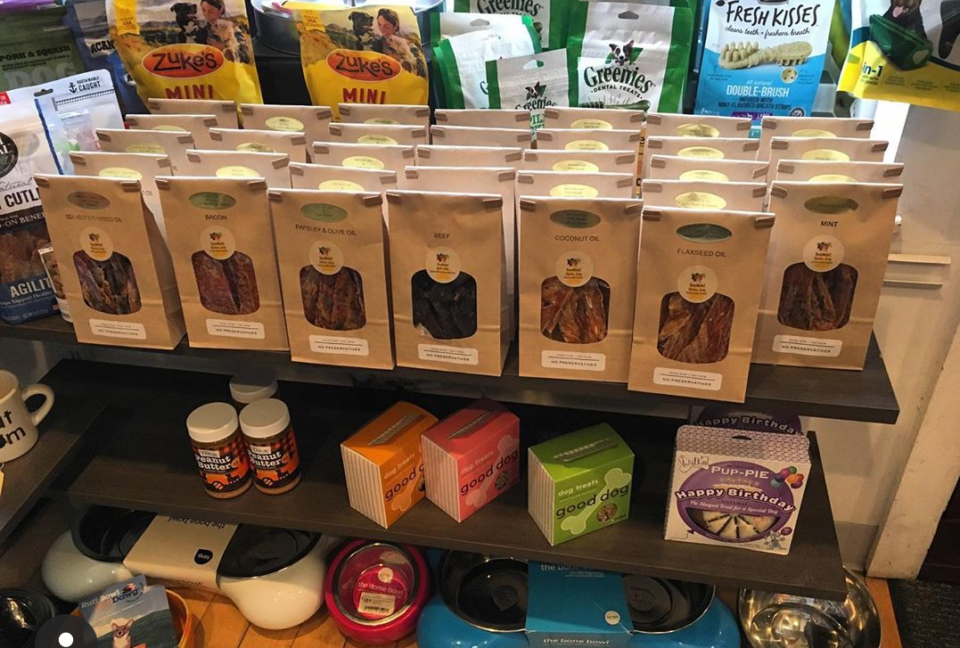 Hound About Town was also mentioned as a pet supply favorite.  This small boutique store has two locations: 17 McWilliams Place and 218 Montgomery Street.
"We get our @openfarmpet food products and treats from there and totally reasonable.  Definitely depends on what you're getting as some brands of food can be pricey, only because of the brand.  They don't overcharge on food compared to the brand's website and provide the best service."- @zipthefrenchie 
Other honorable mentions for pet supplies were Beowolf in Hoboken, Chewy, and the good ol' Amazon.  I personally have found some of Felicity's best and most durable outfits on Amazon for fantastic prices. 
Grooming
We had a few recommendations for go-to groomers in our city on the post, as well. Glamour Pet Salon and Spa is a high end boutique dog spa located on Marin Blvd by the Executive Dog Lounge. Services include complete packages with aromatherapy shampoo, facials, teeth brushing, and protective nail and paw treatment. 
You Lucky Dog Spa, attached to the Journal Square Veterinaire Pet Care, boasts affordable prices, customer loyalty programs, all natural grooming products, and walk-in nail trims.  Downtown Woody's Grooming was mentioned by local Jersey City dog Lupo Cappuccino as a best budget grooming service.  They are "gentle, super sweet and affordable." Finally, The Grooming S'paw offers $30.00 baths and full s'paw sessions with haircuts starting at $65.00.
Photography
If you are active at all on local pet accounts, it's probably impossible to have missed Puparazzi. Will Ferman, the man behind the craze, has become the "it guy" for photo sessions in Hoboken, Jersey City, and NYC.  You can book him for private sessions, meet-ups and doggy birthday parties. He charges $200.00 for an hour, including 20 photos.  Another photographer mentioned was @3v3ntive, and Bowie Shoots – specializing in those funny school picture sessions – should be making her Jersey City debut very soon.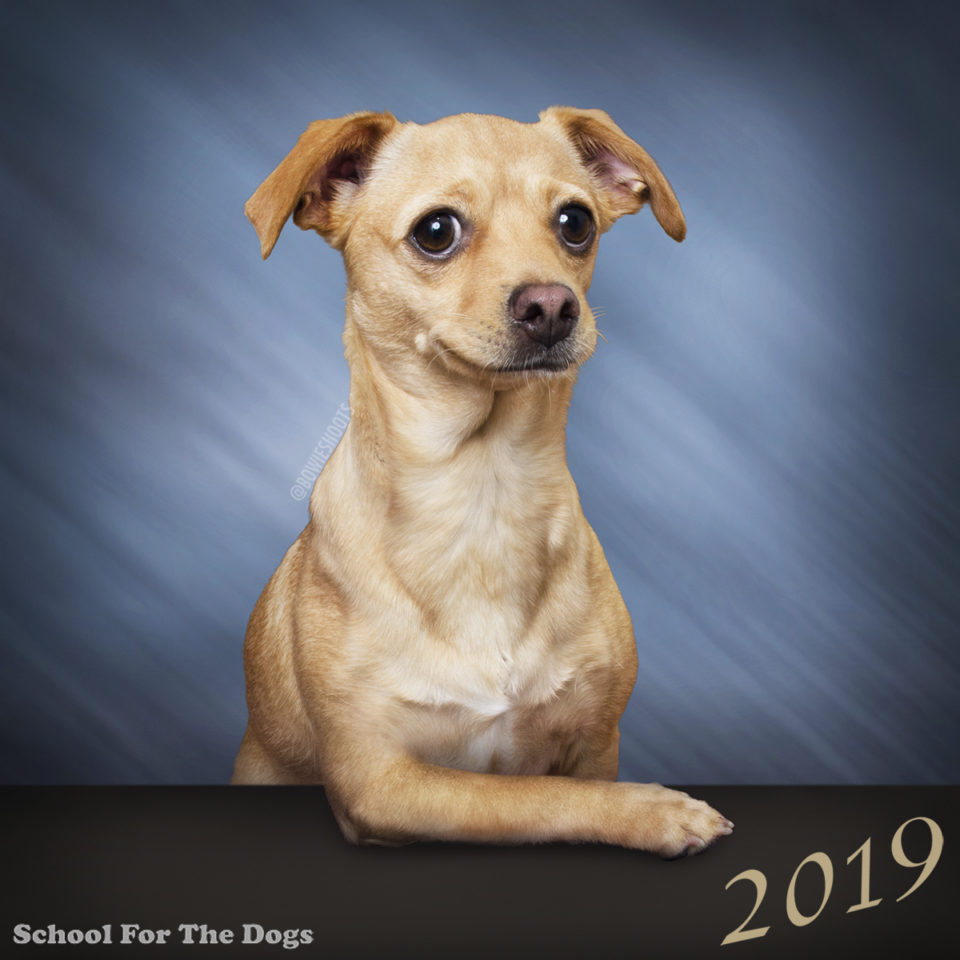 For more budget friendly photos, the Google Pixel 3 (which I use) and new iPhones take their fair share of excellent pictures, especially on portrait mode.  Taking advantage of soft natural light can result in pretty images. It also can be fun discovering which toys, treats, and noise makers help your special friends make the cutest faces for the camera. 
While we know there are many more incredible companies/people in the pet world located in Jersey City, we hope we captured all of your recommendations and preferences.  If there is someone you would love for us to know about, direct message @felicitythechiweenie and we will make sure to give them a shout out.