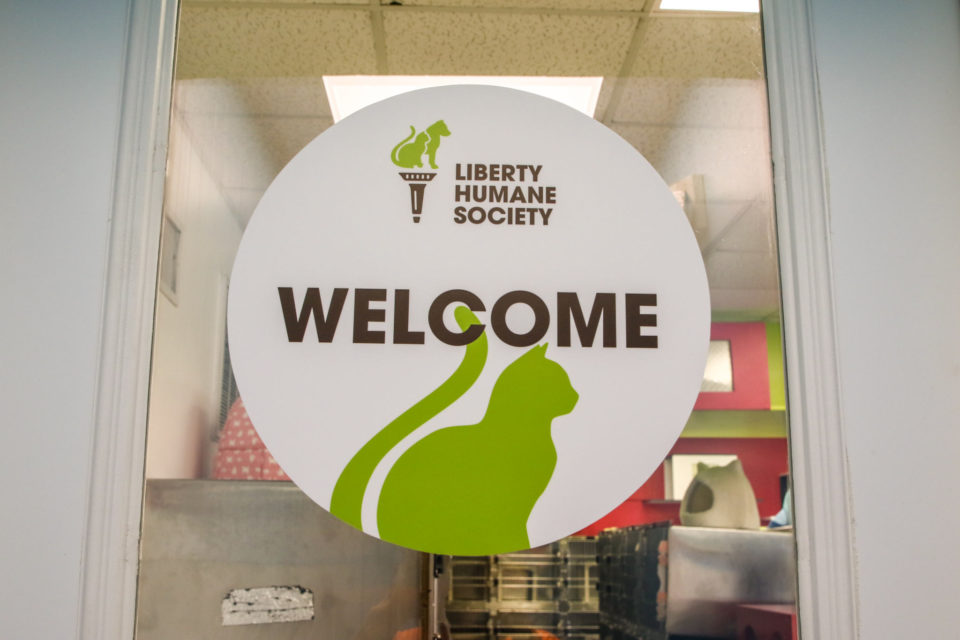 It was one of those brutally hot days back in July when I made my way to the Liberty Humane Society.  The ChicpeaJC team had been invited to see the renovations to the cat sanctuary space. While I was excited to see the progress they were making first hand, I couldn't help but wonder how the volunteers were faring in the suffocating heat.  As I climbed the steps to the cat sanctuary, I was taken aback at all the smiling and energetic faces of volunteers working hard to revitalize a space for the center's shelter cats and kittens. At the time, the space was still in pieces, mid-project, dotted with paint cans, lumber, tools, and drop cloths.  Today, the space is completely revitalized and a literal and figurative "sanctuary for cats". Recently, I had the opportunity to talk to Irene Borngraeber, executive director of Liberty Humane Society, and I quickly realized that this project not only served as a physical transformation of the feline space, but has served as a life transformation for its four-legged residents as well.  
In 2004, when the Liberty Humane Society took over an old garage on 235 Jersey City Blvd (close to Liberty Science Center), the idea was for a temporary conversion and not a long-term animal shelter facility.  The plan had been to tear down the old space and build an entirely new facility which was specifically designed to house animals. Fast forward 15 years to the present, and the organization is still housed in the same garage.  With determination and passion, the volunteers and employees have strived to make the space the best they could for those living and working there. They have worked hard over the years to make repairs, replace the roofing and ventilation, and make the space more functional overall.  However, when GreaterGood.Org reached out to them to let them know they had chosen LHS to work with on a remodelling and rebuilding project, they jumped at the chance.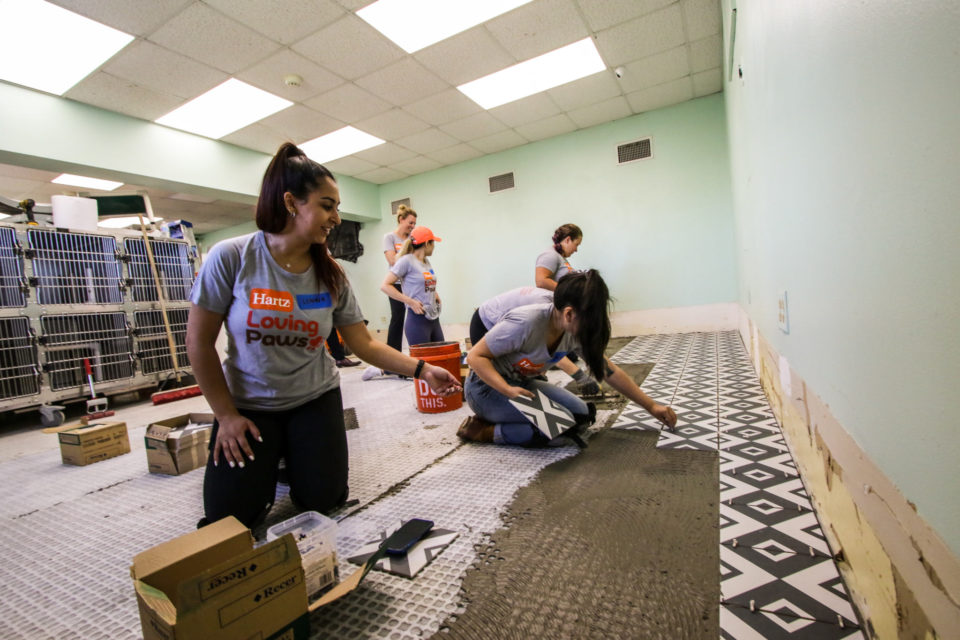 GreaterGood.Org's "Rescue and Rebuild" program goes into animal shelters and facilities to design projects to make them better by using experts in animal design as well as an awesome team of volunteers.  This particular project teamed with volunteers from the Hartz pet company and chose LHS because they have been able to come so far with so little.
"This was such an exciting project for us," Irene stated.  "The cattery was okay. It had come a long way from the original pop up crates to stainless steel cages which are easier to clean.  However, domestic animals are not meant to live in cages. They're meant to be in homes, yards, and outdoor environments."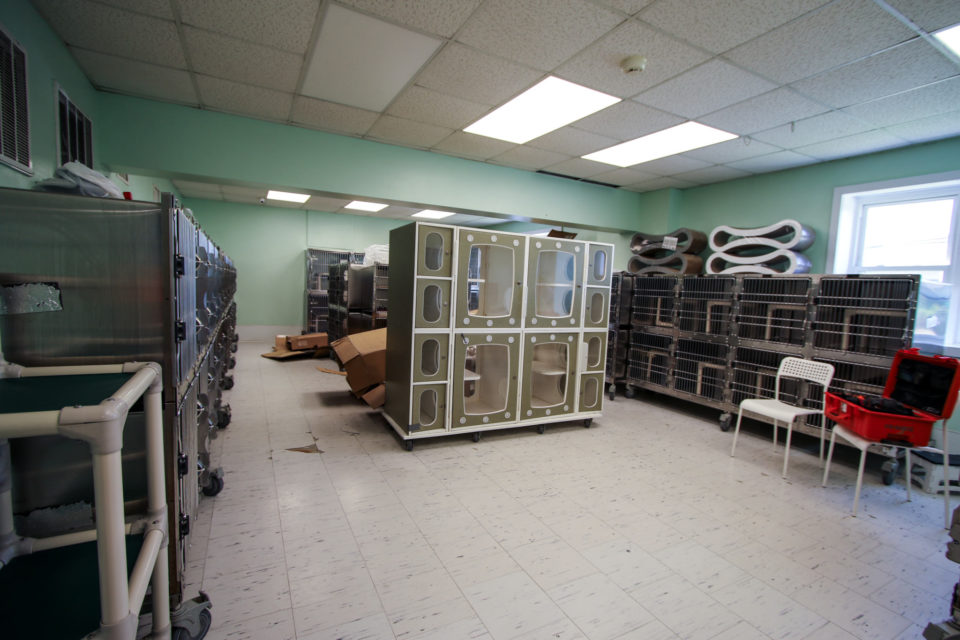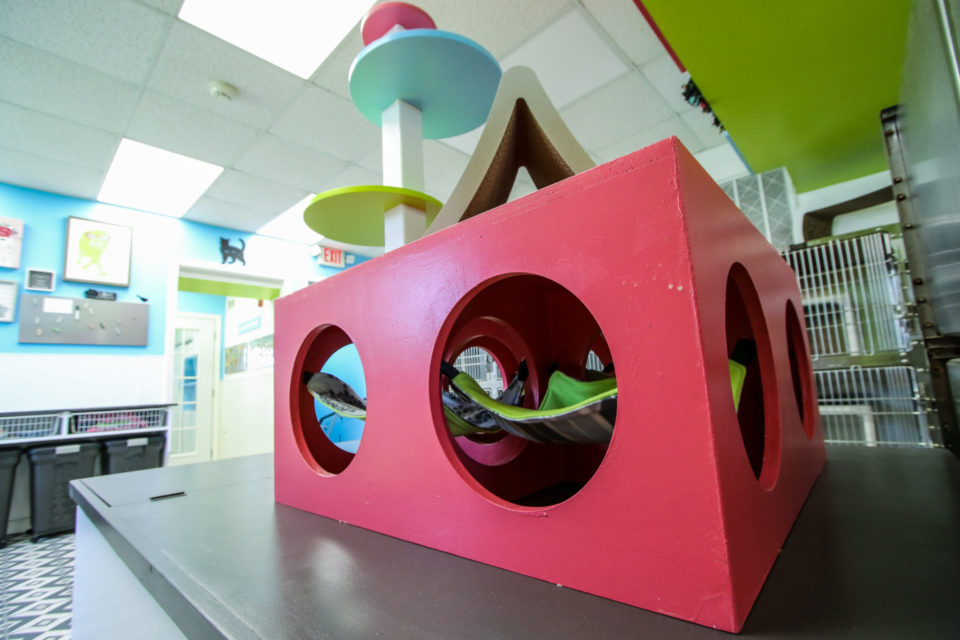 While New Jersey State law does call for enclosures and more contained spaces for cats who are less socialized and exhibit more aggressive behaviors, the Liberty Humane Society really recognized the need for a more open space which would allow the cats to tap into their natural behaviors, making the transition from an enclosure to their new family's home less difficult.  
As the organization began to make plans for the new space, there was one issue: timing. When GreaterGood.Org called LHS to let them know they had been selected for the project, the facility was at the height of kitten season and its shelter cat population was well over the usual amount.  In order to complete this rebuilding project, the cats and kittens couldn't be there and LHS was met with the problem of quickly finding foster homes for 200+ cats and kittens, some of which had behavior issues and special needs. The center reached out to the Jersey City community for help and quickly had a volunteer pool lined up 2 weeks in advance to help out and foster. 
The project was led by Zach Baker, program director of Rescue and Rebuild, who worked with LHS and designer Kate Benjamin to create a space that is functional, beautiful, and geared specifically towards cat behavior. Benjamin, founder of hauspanther is a renowned cat stylist, who has been featured in the NY Times, Washington Post, USA Today, and O (Oprah's magazine) to name a few.  The team did not want just any ordinary cat shelter space when they envisioned the new cat sanctuary, however.  
"Jersey City is the most diverse city in the country.  I didn't want this space to look like everywhere else. We are in a funky space (with a lime green exterior) and we kinda wanted to run with it," Irene laughed.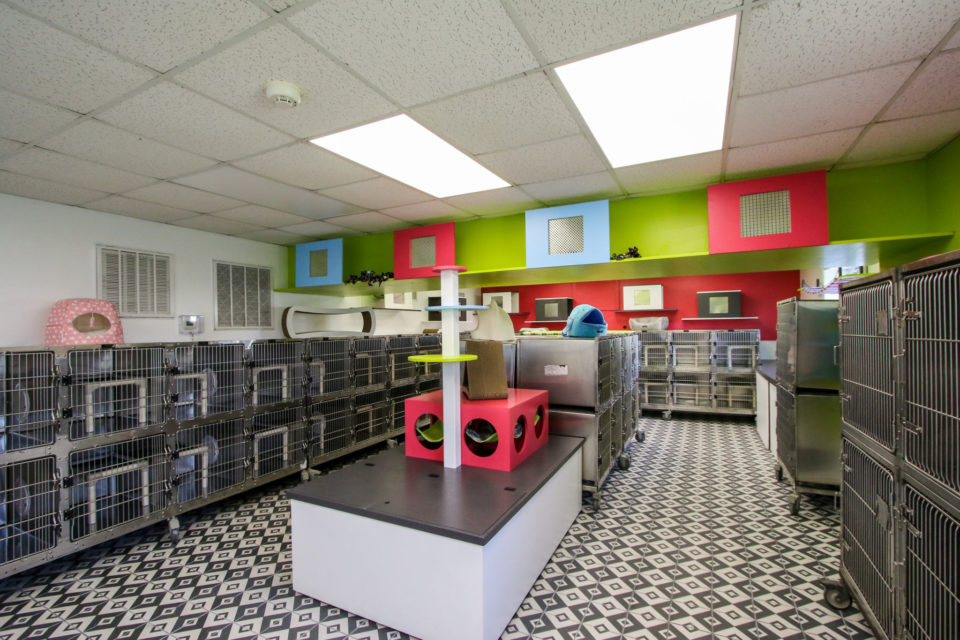 When thinking about a space designed specifically for cats and kittens, the team had to think vertically as well as horizontally.  The new space was developed with some very unique design elements that offered the cats three-dimensional roaming, while also providing the center with much needed storage.  There are built-in benches for climbing as well as offering internal storage. These lower, built-in storage elements not only allowed the staff and volunteers the opportunity to hide their clutter and free up space, but also created an upper secondary platform running along the perimeter of the ceiling.  Basically, the center now has a cat superhighway. Additionally, the new sanctuary space offers the furry residents hammocks and hiding spaces for a more well-rounded experience.
As a bonus to the main group housing area, the volunteers were also able to make changes to a second room in the back.  As a rescue operation, the facility needed a place to house cats who might not like other cats and need to be in a separate area.  The team was able to split the backroom into two more private areas for higher need cats, offering them a more secluded space where they can feel more comfortable.  
In addition to being a complete physical space transformation for the Liberty Humane Society, the staff and volunteers were blown away at how quickly, the cats themselves also seemed to transform once given more freedom and space.
"Cats are extremely territorial and space is so important for them," Irene informed me.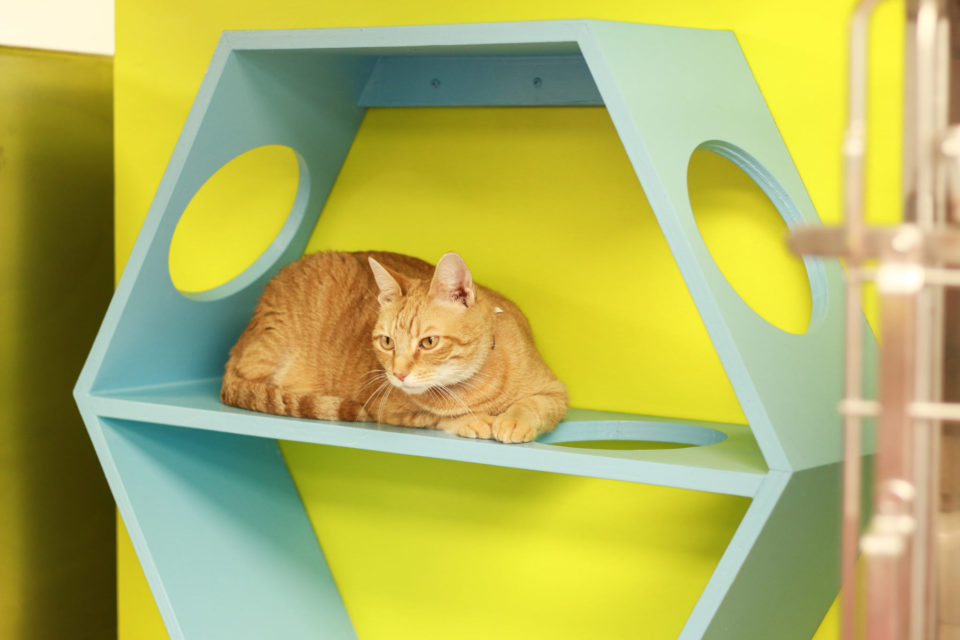 The cats, while being fostered, had the opportunity to work with humans in a home environment and behaviors began to shift before the cats even returned to the center.  Once returning to the new cat sanctuary, the cats and kittens continued to thrive. Even cats with special needs and behavior issues underwent quick and positive changes. 
If you are interested in learning more about rge local organization, please visit http://www.libertyhumane.org/.   
Wanting to adopt or foster? You can find the online application here and there are volunteers who will work with you to find the right animal to fit your specific needs. While there are several dogs and cats listed on the website, Irene suggests coming to the center in person as many of the animals are not always listed on the website.  
If you would like to support in other ways, LHS is now on Round Up, an app that will round your change to the nearest dollar and be given to the charity of your choice.  You can also make a direct donation to LHS by clicking here.  
It is also possible to donate specific items through the organization's wish lists.  
Irene and the rest of the Liberty Humane Society crew would also like to extend an invitation to one of their biggest fundraisers, "Bark in the Park" in Hoboken on September 28th.  
For up to date information and events, be sure to follow LHS on Instagram.