The York Street Project is a great organization, specifically focused on helping women and families get the support they need through clothing, education, and more to get them back on their feet. It's not just about empowering them with shelter, but also providing them with resources they would need to get out of the cycle.
I had the honor of visiting York Street Project and speaking with Executive Director Susanne Byrne on the wonderful things they do for the women and families of the community.
---
What's your name?
Susanne Byrne.
What do you do?
I'm the Executive Director at the York Street Project.
What does York Street Project do?
We are a multi-faceted social service agency that serves homeless and financially disadvantaged children by providing them with housing and educational services.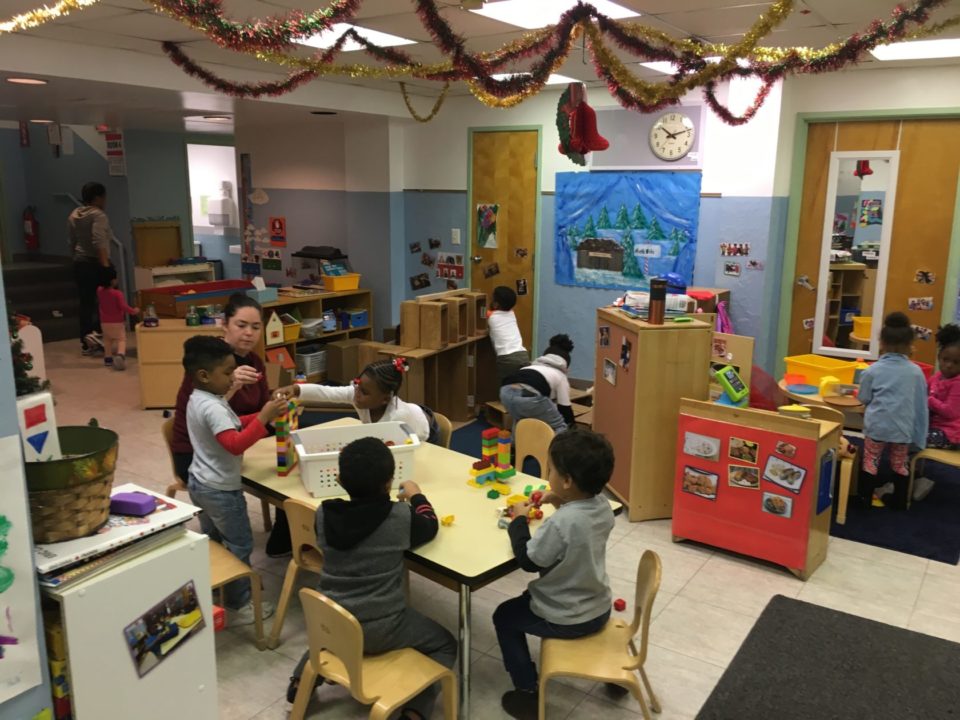 How long have you guys been around?
28 years.
Wow! How did it start?
It started with the Sisters of St. Joseph of Peace. They're the founders and the sponsors. The founder of the sisters' congregation actually came over to Jersey City from England back in the late 1800s. She came through Ellis Island and settled here in Jersey City and started these ministries. She bought the three properties that house our buildings now. She purchased those between 1884 and the early 1890s. St. Mary's residence was the Hotel Washington. This area was actually a carriage house at the time, and then the building next door, she built that and it was an orphanage.at the start. When they built the building here, it became a sisters printing press and when she bought the St. Mary's residence next door, she turned that into a rooming house for Irish immigrant women coming into the United States through Ellis Island who needed a place to stay.
That's amazing. How long have you been with the organization?
I started with the organization back in 1998. I started out as an administrative assistant in the Child Development Center, and I was there for two years. Then I became a case manager at the Transitional Housing Program. I was there for 8 years, and then I left for a year. I came back as Executive Director in 2009.
Can you tell us a little bit more about your work in Hudson County and what the process is?
About a year and a half ago, St. Joseph's home for nearly 27 years had operated as a transitional housing program. Homeless families would come to us and stay there for about 18 to 24 months. We were funded through HUD, as well as private funding, but primarily through HUD. What happened about a year and a half ago was HUD changed their priorities and they didn't want to fund transitional housing programs that were similar to ours, with one onsite location. We met with people from the county who oversee the HUD dollars to come into Hudson County and they had asked us to consider converting to an emergency shelter. We're still serving families with homeless women and children, but the difference now is that they can't stay with us for as long as they used to be able to. We're now, instead of being funded through HUD, funded through the Division of Social Service here in Hudson County, which is the welfare division and still through private donations and fundraising events.
The county does a good job of trying to get the agencies to collaborate, to gather and work together to make sure the people aren't duplicating services, that the families are really getting served to the best of our ability. We work with a lot of agencies throughout the county – Garden State Episcopal CDC is the coordinated entry program here in Hudson County. For St Joseph's home, while the families don't have to come through Garden State – we get a lot through welfare, we get a lot through the 211 line. 211 is a statewide program started through the United Way. It's basically a social service line. You would call 211 if you need some time of social service help. If you need housing, some sort of substance abuse treatment, or emergency shelter, people call the 211 line and they try to direct them to agencies that can help them. What also happened with the dollars we had from HUD at St Joseph's Home, the county asked us to reapply for the same dollars but in the form of a rapid rehousing brand. Rapid rehousing is a national model that HUD prefers to transitional housing. It's scattered site housing, the families can stay there for 2 years and while they're in the program, we'd provide them with intensive wraparound services and ideally, they'll be able to maintain their housing at the end of those 2 years. It's tough, though. Here in Hudson County, the housing is so expensive.
Right. A lot of people talk about that – people are getting pushed out. We can't really "fix" the problem, but how can we make it better?
One way is for the municipalities throughout Hudson County to seriously consider inclusionary zoning ordinances. Newark just passed one, and what that does is it enables the county developers to develop a certain number of affordable units on the site of their development. Some places allow it to be offsite, and certainly throughout Hudson County would make more sense to, whenever possible, do the affordable units onsite. I heard Jersey City is committing additional dollars in their budget that's supposed to be going toward housing, which would be a great start. Another thing that happens in Jersey City, which is good, is they have an affordable housing trust fund. Right now, there's a fee that developers pay into this trust fund when they're granted tax abatements or other types of allowances for their developments here in Jersey City. Hudson County itself has the homeless trust fund, which is very helpful. That is funded through a surcharge in their realty transfer fee, so that is also a benefit. There is a lot that's happening in Hudson County that the one thing I've seen happen elsewhere that's not happening as much here yet is the inclusionary zoning ordinances.
When I interviewed PERC Shelter, they were telling me that the rates for homelessness have increased in the last few years. Are you seeing the same thing?
Yes. I certainly haven't seen it decrease. I've seen it go up and part of it might have to do with the conversion to an emergency shelter from transitional housing. When we were transitional housing, there was a waiting list. Our turnover is not as high as it is now, and when people came to us they'd be in the midst of their crisis, but it was usually 3-6 months before people could get into the program. Now, operating as an emergency shelter, we're getting a lot of families who are fleeing domestic violence, we're seeing a lot of families where there are serious substance use disorders, and a lot of families who are heavily involved in the child welfare system. Not only has it not gone down, but I feel like a lot of the trauma they're experiencing lately is worse than what it has been before.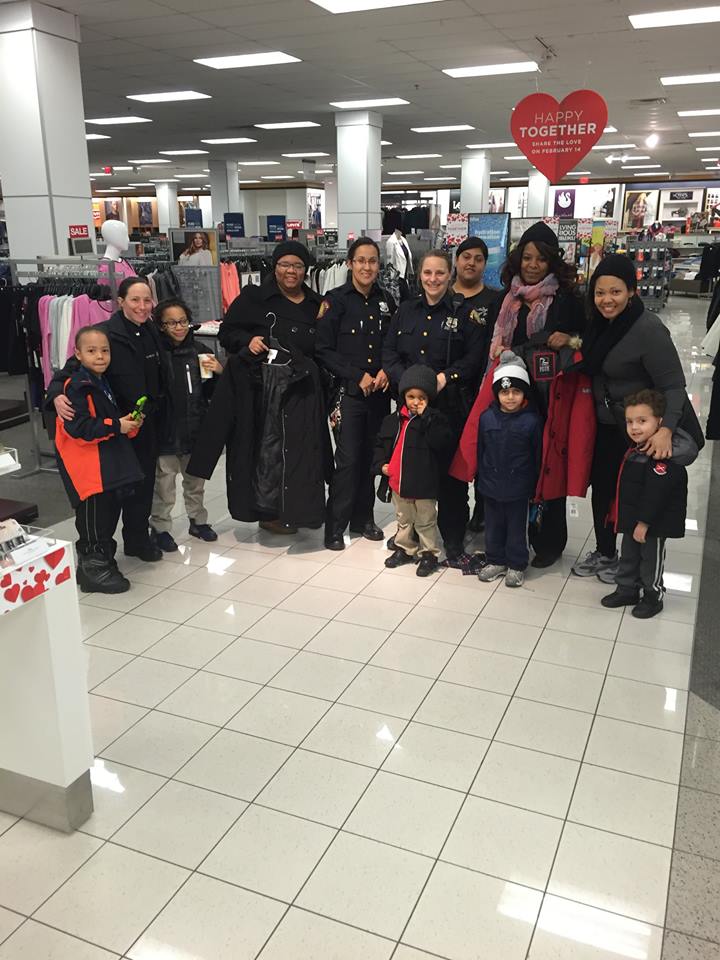 Wow. What do you do for fundraising?
We have three fundraising events – we have our golf outing, our Spring event, and our Evening Under the Stars. In addition to that, we do a lot of grant writing for applications, we do direct mail solicitations, we do email solicitations, and we're constantly trying to cultivate new donors. Our location is a huge benefit to us, being here in Downtown, we have good relationships with a lot of the corporations here that support us both financially and as well with volunteers and other types of donations.
That's great. What would you like to see happen in the next couple of years?
We don't only have the shelter, we also have the alternative high school, the Early Childhood development program, and we also have the rooming house.
What's an alternative high school?
Kenmare is a high school accredited through Middle States, so the students get a high school diploma and they graduate, but students come to us after they've dropped out of the traditional public school system. We work with Middle States to develop a program and a curriculum that's kind of accelerated to a certain extent. The students, if they do everything right, can get through the program within 15 months and get their high school diploma. Very rarely does that happen. We occasionally get students who come here motivated and they're ready to go. Very often for our students, life outside of here gets in the way and it takes them about two years or two-and-a-half years before they're able to graduate. Over 90% of our students are single mothers, they're all in the low-income category, they don't have a support system to help them if their child gets sick and can't come to school. It's just that simple. The alternative program is the fact that they're able to get through the work on a trimester basis, and every trimester is almost the equivalent to a full year in your traditional high school setting.
That's amazing. Anything else you'd like people to know about York Street Project? What are your immediate needs?
We can always use household items. When our families go into their own apartments, there's so much that they need, like basic kitchenware, sheets, and towels. Throughout the year, household items are a wonderful thing for us to get here, so what we can provide the families with what they need when they go into their own apartments.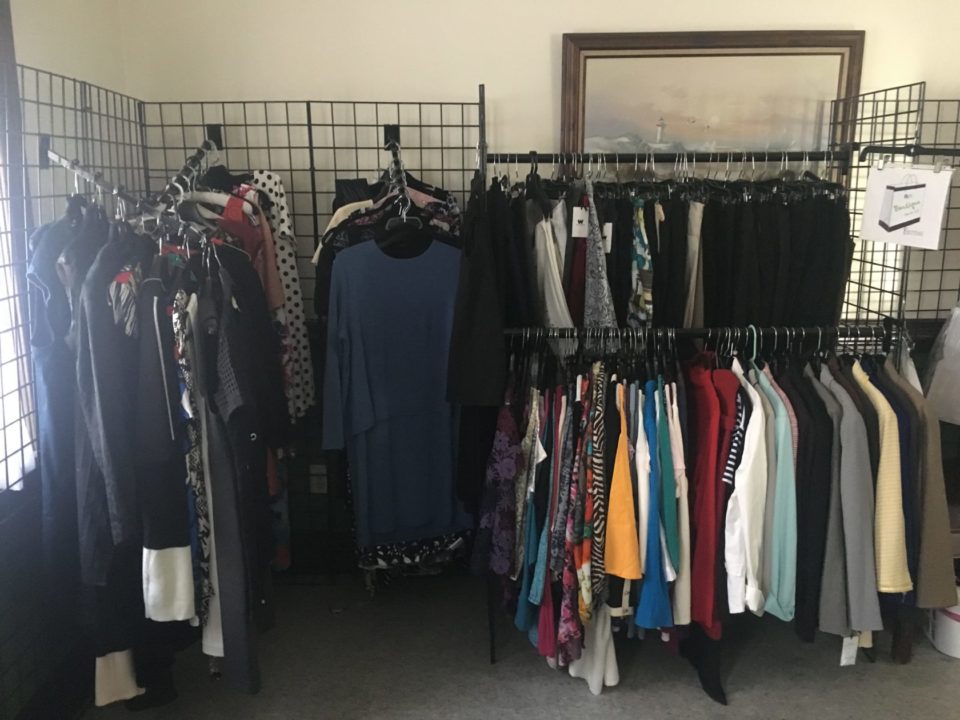 Going back to what I'd like to see with the organization – we're actually about to embark on a comprehensive program and needs assessment here to help us develop a strategic plan. I'm excited about that. The conversion to an emergency shelter has been a bit of a rough one for us, and we've seen a higher turnover since a shelter is not meant to be permanent housing and not meant to be long-term. While with a lot of our families, we've been able to get them into apartments or some type of a subsidy, we can't do it for the number of families that we're seeing right now. What we're really looking at with the shelters is if it is the best model for us to be using going forward or if there is something else that makes more sense and have a better, longer term impact on our families. Same thing with the high school. We have a job readiness component at the high school, and what we're going to be looking at there for these next couple of months is should we be looking to enhance that more, knowing that it's going to have to increase the stay of the women who are in the school, but really making sure they're ready to get a job out of high school and know how to keep the job?  There's a lot of things that I learned growing up. If you weren't going to go to work, you called in. You made sure you got there on time. There's certain expectations on how to behave in the workplace. For a lot of our women, they haven't had any experience in that area so they don't have the right role models to teach them those skills. We certainly try to reinforce those here. They're expected to be on time and be here every day. If they're not coming in, they're expected to call out. We're asking ourselves if there are ways to enhance those skills that people need to get a job and keep a job. I feel a lot of on-the-job training can happen there. We don't need to provide them with the skills they need to work the logistics, they can learn those. What we need to give them while they're here are the basic soft skills.
Which is sometimes something that's overlooked.
They can be. I'm excited for what this next year is going to bring for us. I think it's always good to examine what you're doing and figure out if there's a way to do it better, if there's a way to do it more efficiently, and take another look. There are agencies that come into this city all the time and they're often very small, so we don't necessarily hear about them right away, but we're really taking the time to see what's out there, seeing where we can partner with people, and where we can have the greatest long-term impact on the women and children that we serve. One of the other questions is, Do we open it up to bring men into some of the programs as well? It's just something we're going to be looking at and really making sure we're meeting the most critical needs of the families that we're serving.
The emergency shelter has been a tough transition for us, in terms of the types of traumas we're seeing the families come in with, and it has an impact on the staff. Not being able to keep the families as long as we used to has also been challenging because over the course of 18 months, we'd be able to really see them grow and see the changes that happen when the families are here and learning how to run a household, how to budget, and all of that stuff. We don't have the same amount of time. For the ones in the rapid rehousing program, we had it, which is great. But not all the families that come into the shelter get into the rapid rehousing program. It'll be interesting to see what this assessment tells us. There's an absolute need for emergency shelter, there's no doubt about it. Families are coming in every night. For us and our mission, which is to help these women and children get out of poverty and become self-sufficient, we know that's not something that's going to happen in 18-24 months, but we want to make sure we're able to put them on the right path. It's really important to us.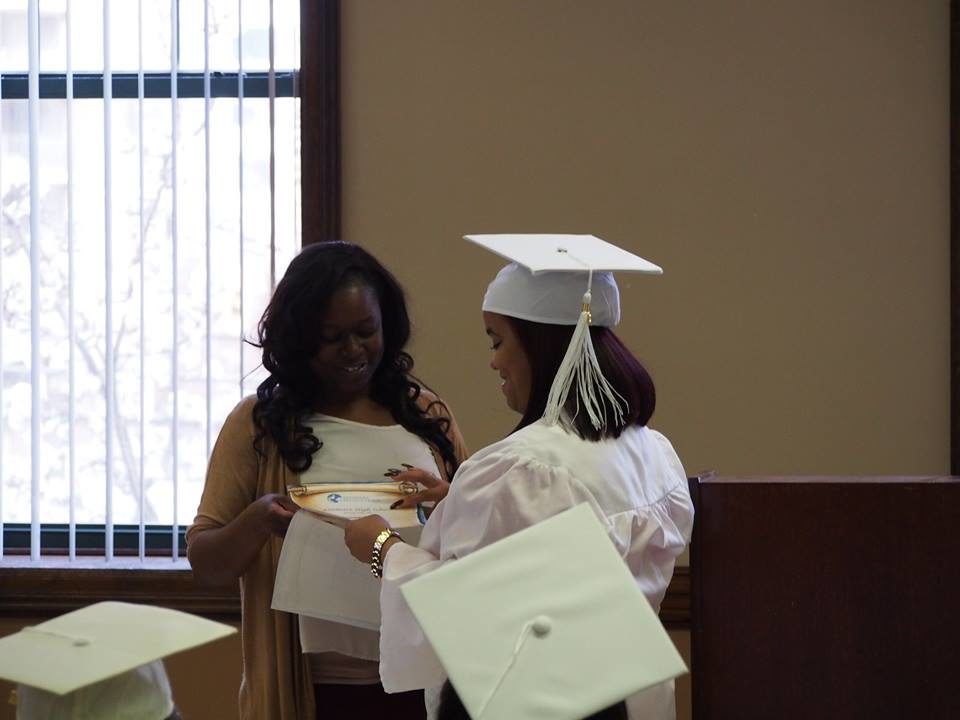 Can you share a story that stands out to you throughout the years you've been here?
There are so many. One I always give as an example of our women not always understanding how to behave and be in the workforce is when I was a caseworker in the traditional housing program, this young woman was working there. She didn't have her high school diploma and she came in to us, but she was very smart. It would've taken her a lot longer to get through our alternative high school, and I felt like she didn't need that much time. She was very bright, had gone pretty far in the traditional high school before she dropped out, so I recommended that she go into a GED program. She sat and passed the GED test within 3 months of her coming in to us, and she got certified as a home health aide. She got this job and was working, and the first workday after the Fourth of July, she stormed into our office and was outraged because she got fired. We asked why she was fired, and she said, "I didn't go to work yesterday." I asked why she didn't go to work, and she said, "It was a holiday." She sat down and talked me through the day, about the woman she took care of. She would go in, get her out of bed, help her get dressed, get her breakfast. I said to her, "So because it's a holiday, do you think that doesn't need to be done?" I told her, I know it's hard and it's a very big change, and I could understand where she was coming from because it was Fourth of July and people have off all over the place. That's what we're here to do – help teach them all kinds of lessons.
Another story was told to me when I first started working here. The nurturing place, the early childhood development center, primarily serves children of the women in Kenmare and St Joseph's Home. We also take some families from the community. We have people who donate their summer homes to us so we're able to take kids on overnight trips throughout the summer. Years ago, there was a family down in Long Beach Island that used to let us use their house, and they had brought a bunch of the kids down there. For a lot of them, it was the first time they'd ever been to the beach or ever seen the ocean. They were out by the beach from the morning to the afternoon, and they were coming back to have dinner. One of the girls, maybe about 5 years old at the time, didn't want to leave and the teachers that were there told her they had to go eat dinner, it'll be fine, they'll come back later. So she left and they went back to the house, which is only about half a block from the beach. They had dinner, they were hanging out, and they decided to take the kids back out to the beach for a few before sunset. In LBI, there are dunes so when you're walking, you can't see the beach or the water until you get on top of the dunes. This little girl ran up, got on top of the dunes, stopped, turned around, and said to the teachers and the rest of the kids, "It's still here!" It's sad because it shows the instability that's in her life that she felt something she was really excited about was going to disappear the second she walked away, but being able to give the kids those kinds of experiences has been such a gift for us as an organization and for the families that we serve. It really is wonderful.
We see women who come back to us years later who have their college diplomas, some have their Master's degrees, and they're teachers. They're counselors. They're nurses. They've gotten into these careers and you talk to them, and so many of them say, "I'm only here because of York Street. I'm only where I am now because you guys took me in and gave me a chance, and you gave me an affordable place to live. When our families come back and tell us they don't have to rent with subsidies anymore, they don't even qualify for them because of their income, that to me is why we're here and why we're doing this. To help these families to the point of self-sufficiency is so important.
That's great!
---
You can find York Street Project on their website, yorkstreetproject.org. You can also find them on Facebook, Twitter, and Instagram.