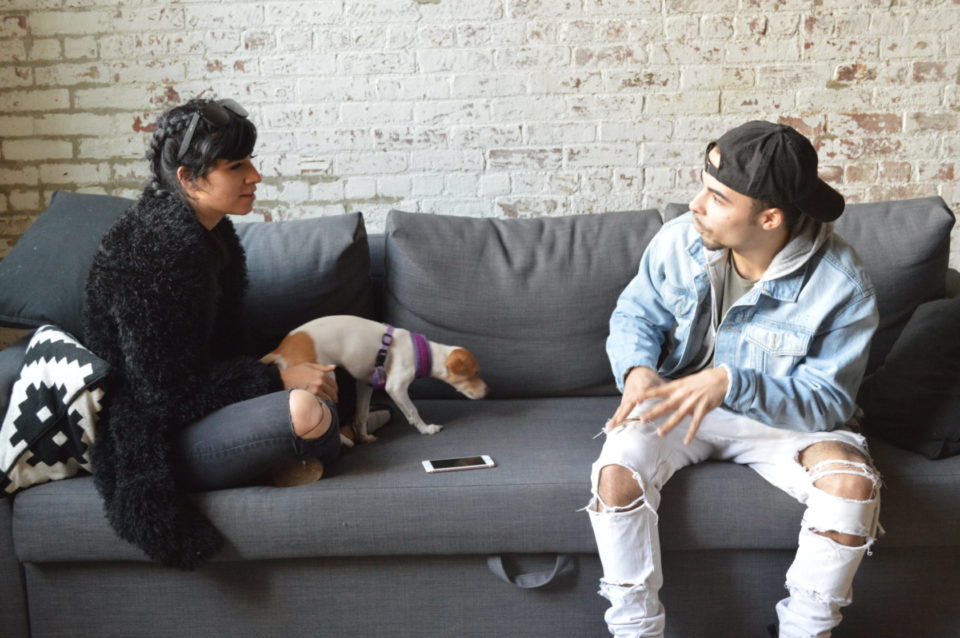 Hudson County does not lack talented individuals… but what's mind boggling is the amount of youth who are out here grinding, and working towards their dreams and passions. Lex is one of those people! I've been following this kid's career for a while now and always admired how mature and how seriously he takes his craft. He is incredibly talented, focused, and I had the opportunity to get to know him a little more.
What's your name?
Lex.
What do you do?
I'm an artist. I engineer, produce, write. Growing up, I liked to dabble into everything. I was always a jack of all trades, but I'm still finding out what's my niche. What I'm really gonna focus on, what I want to step into the industry doing. Right now, I'm just working on trying to figure that out.
When did you get started?
9 years old.
You were 9? That's really young. Why did you start so young?
My brothers. They were always making music. They picked it up from my father, and it was just one of those things like, "I want to be just like my brothers." So I picked it up and eventually grew a passion for it, and I kept doing it. It's funny because I actually started off making beats. I wasn't a rapper. It wasn't until 13, 14 when I actually wanted to make raps. I wrote my first rap to Dead Prez, Hip Hop. I heard the beat and I was like, "Oh, I'm gonna write a little rap to that" and Get Away by Mobb Deep. One of my first raps ever on those beats.
How did your family feel?
Supportive, always supportive. No matter what. I'll get their support as far as what I'm doing, but you have to believe in yourself to really get there, you know?
Right. How old are you?
I'm 20.
You're so mature for 20! That's crazy, you don't seem that young.
I always get that. But I feel like a baby still, I feel like I'm still 13. It's funny because with how long I've been doing it, I feel like I've been doing it for so long like forever, but it's just a small piece of what's to come.
You're just starting out! Where do you live?
I live in Roselle now, but I grew up in Jersey City, in the Heights. I grew up between Jersey City and the Bronx.
How come you moved to Roselle?
The space that we had, it was a small apartment and I have a whole family that I live with – me, my mother, my stepfather, my two brothers, my sister-in-law, my niece, my nephew, my three dogs. It's a big family. We were crammed in that apartment and it's like, we're playing close to $2000 a month for rent when we can be paying close to $2000 for a house toward a mortgage. So we all came together and moved to Roselle.
You do a lot of shows and stuff in Jersey City and Hudson County, right?
Yeah. I started doing Open Mics, but it comes to a point where I just felt like I needed to focus more on my craft. Lately, I've been ghost from the scene. I've been more to myself and making money because I need to invest in myself. It's not gonna just come from thin air. That's where I'm at right now. I've been a little distant from the scene, completely lowkey. But only for the better!
So what's your creative process?
It's the most beautiful thing in the world. I'll have moments where I'm in the middle of sleep and I'll wake up because I'll dream of melodies. I kid you not, I had a dream once and woke up like, "I hear this fucking melody." My studio's right in the basement next to my room, so I'll run straight to the studio and lay that down. Usually when I make songs, I start from the production. I start making the beat and try to find the melody first. Once I have a good melody, I'll think of a concept, a good flow. I always think of the flow before I think of the verse, and then I'll write whatever comes. But I always do it off of emotions, so it'll never be something like, "Oh, let me just make up a story." It's always emotions, whether it's something I went through, something I feel, something that means something to me. It always has a meaning behind it.
That's awesome. How do you feel about the music industry these days?
It's a competition, it's definitely a competition.
There's a lot of hip hop artists in this area. 
Yeah, but you have to be self sufficient and I feel like what separates me is that I engineer my own records, I produce my own records, I record myself, I write my own lyrics. I do everything myself in my basement. I feel like that alone gives me my own niche. Like, "Oh yeah, that's Lex. He does it all." I feel like an underdog, I feel like people know who I am but they don't really see that full potential that I feel every single day.
Where do you want be in 5 years?
I want to be on a yacht, drinking coffee, just chilling.
Nah, I want to be good. I want to be financially free and be able to provide for my family and my friends.
How would you describe your style of music?
It's definitely like an R&B/Soul, then it has Hip-Hop/House… it's weird, I can't really put a genre on it. On the album, you'll hear it. It has R&B on it, it has a little Pop, it has a little Hip-Hop, it has House, it has different feels to it. Definitely Soul. Like, within all my music, even my production, there'll be certain things that I do. All the trumpets that you hear on the records, every single song, I did that with my voice. I didn't use a program instrument, I did it with my voice using autotune. I'll make a whole melody off of just doing that.
It seems like you have a lot of fun with it. Who do you look up to, music-wise?
I look up to Drake, definitely. I look up to J.Cole, Eminem, PartyNextDoor. I have a lot of more recent people that I get inspired off. I get inspired off of people in my own city, people doing it as well.
Anybody you want to mention?
PeteyxKraze. They're humble as hell. My brother Izzy Nyce – that's my righthand. Me and him, we make a lot of music together.
Life in itself also gives me influence and inspiration. Things that I go through, whether it's with people or on my own in my head.
Awesome. What's next for you?
This album! I'm releasing this album, and then after this I'm releasing nothing but visuals. That's my plan. I have content as far as music on Soundcloud, covers, things like that, but I don't have visuals. That's one thing, having a presence and people seeing your face, it's important. It's one of the things I've been missing.
You have to market yourself now. 
Exactly, that's what I'm really focused on right now. I've always been doing it by myself, so it's like I just have to figure out a way to really do it.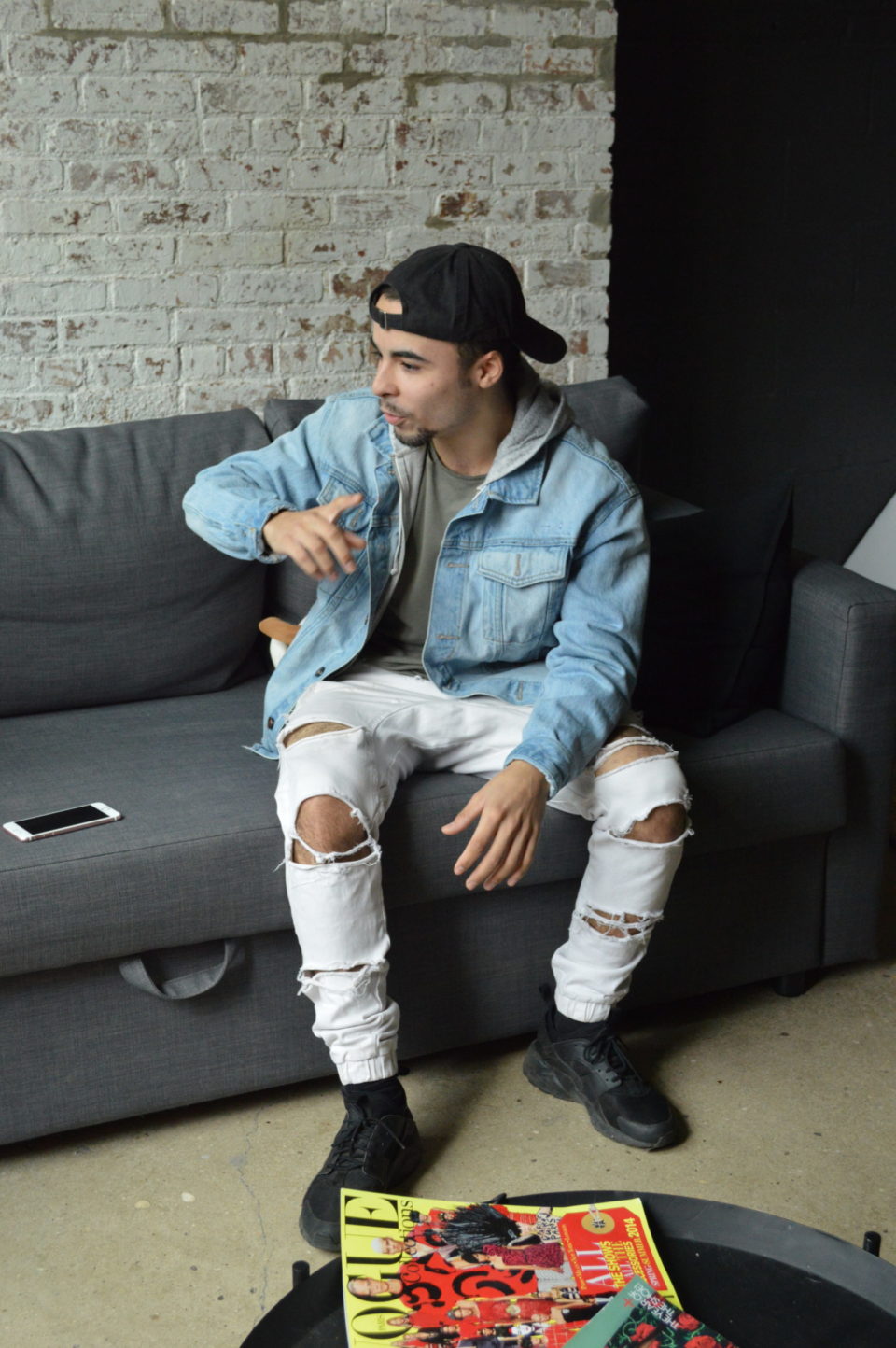 Do you have a favorite Jersey City hangout spot? Do you hangout in JC?
I don't really hang out in Jersey City like that. I like being home. If I'm out, it's at events. If it's anywhere in Jersey City, my favorite place to be is at any local event, whether it's someone's release party or just a gathering. I just love being in that environment, in that culture.
What advice would you give somebody that's maybe a teenager looking to get into music?
Be real. Be real with who you are and be real with yourself and what you do. Just accept the role that you play in your society and the role that you play in your life and the people around you, and just own it. I'm very introverted, so I'll come off as standoffish like I'm stuck up, but it's because I'm shy at first. Once you get to know me, get to know my brain and how I work, it's like, "Oh shit. Word."
Where can people find you?
Soundcloud. Instagram. You can find me everywhere.
This album is going to be available on iTunes, Spotify, Tidal. It's called Heart on My Sleeve, and it'll be out January 21st.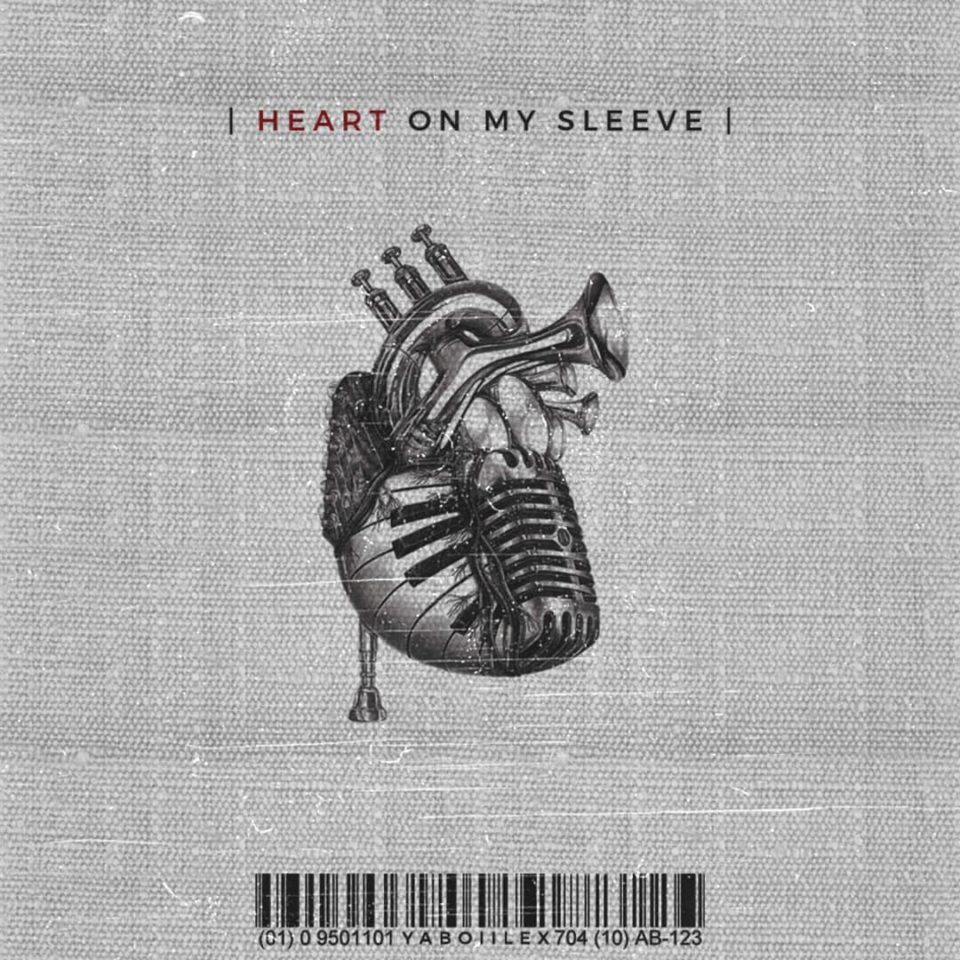 Awesome. 
Keep an eye out for Heart on My Sleeve, available for preorder on iTunes starting January 15th. In the meantime, listen to his new single "Paranoid" on Soundcloud (visuals coming soon!)