In the last few years, I really feel like things are changing and moving forward for the women equality movement, we definitely have a long way to go but I am confident that in the next 5-10 Years women will take over in all industries. We are getting stronger and stronger and I am here for it.
There are so many incredible and inspiring people who live and work in Jersey City, but the amount of women who are making an impact here is astounding. Every month, I want to highlight these local women who do dope shit, who are inspiring AF (sorry for the excessive swearing I am clearly very passionate about this) and who are most definitely making an impact in Jersey City.
God is a woman.
---
Takeria Clark
Takeria dedicates her life to the youth of Jersey City. She is the Queen Bee of double dutch and does so much for the local community. Whenever I am around her I am infected with her energy. She is such a positive person to be around. I love her like bees love honey.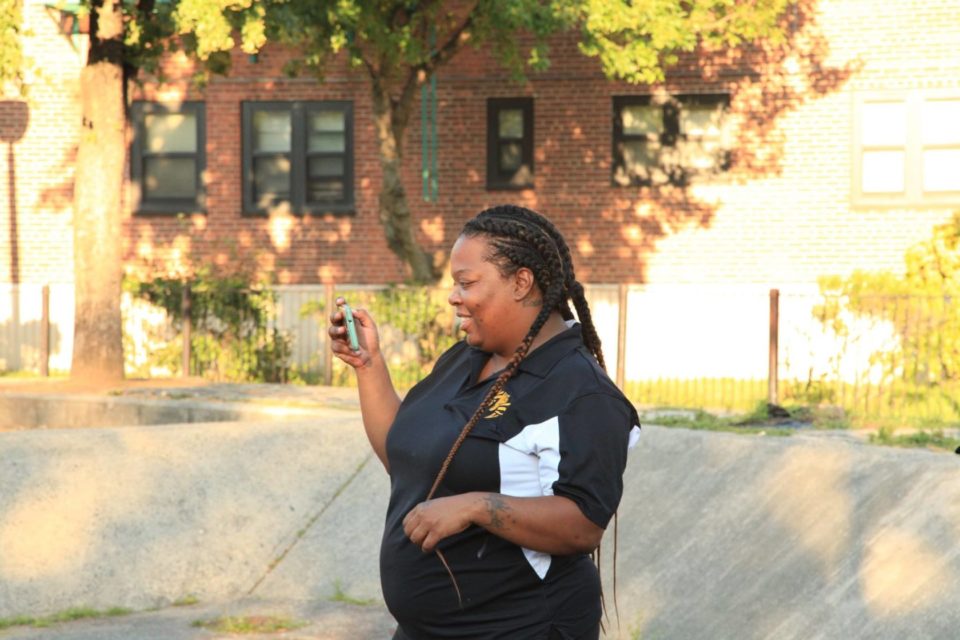 What do you do and how did you get started?
H.O.N.E.Y Organization and H.O.N.E.Y. BEES DOUBLE DUTCH TEAM was founded in 2015. Through many life challenges and feelings of rejection and countless failures, I knew that I wasn't in this alone and that if I was in a position to effectively change my community, I would. Just needed that THING, which would get the attention to raise awareness, and spoke to my mother. I began wanting to lose weight but knew I was inconsistent with the gym. Double dutch was suggested to me so my sisters and I, along my mother and grandmother at the age of 70, would go to the parks and exercise and jump rope together. I would upload my family fun on social media, and people would comment that the youth don't know about double dutch, and how much fun they used to have back in the days. I would see different comments about how this generation was just not living, but existing, and then I would go out in the community and see the same thing.
In April 2015, that all came to a halt as I teamed up with local residents and hosted an event called, "FUNDAY SUNDAY," nothing but wire rope and donated water. We continued to jump in the park. I took it a step further and started writing out structural plans and ideas, and the rest is history. 3 years later, 3 complete competition seasons later, I have 7 to 10 teams who hold National, American, and International Double Dutch League titles. My nonprofit is has its 501(c-3) status and has partnered with many other nonprofits and community events to see that all is well and wherever we can move and be of service, we bus there to pollinate our joy of living and jumping in and out the ropes.
What woman/women inspire you, if any?
I am inspired by one woman, my mother. Even with all odds against her, she persevered with nothing but her smile, always. She gives me hope that I am on the right track and that even in my darkest moments, it's beauty to uncover. I watched her throughout my life sacrifice to provide and protect the family and allow each of her children to be individuals. I am forever grateful for my mom and all that she has done.
If you could give your younger self any advice, what would it be?
If I could give my younger self any advice, I would tell her to PUSH THROUGH IT and STAY FOCUSED. Know that many things that look like fun are the distractions and that your BEST LIFE is awaiting for you, those that are smiling now aren't your friends, and that you need to honestly love and help you. It's ok NOT BEING OK, and understand that you were wired uniquely. Therefore, it's things and places you will be able to go that others can't go. Wait for NOBODY, in time you will reach back if the opportunity presents itself. Your education is very important, retain EVERYTHING and exercise your voice by using it. You're meant and destined for greatness and learn who GOD is NOW and stay humble.
Natalie Jacob
Mixoligist, blogger, content creator, bad ass lady with bright pink hair, Natalie Jacob does not miss a beat. Her social media feed is one of my favorites to follow! Natalie is insanely talented and is behind a lot of your favorite Jersey City cocktails!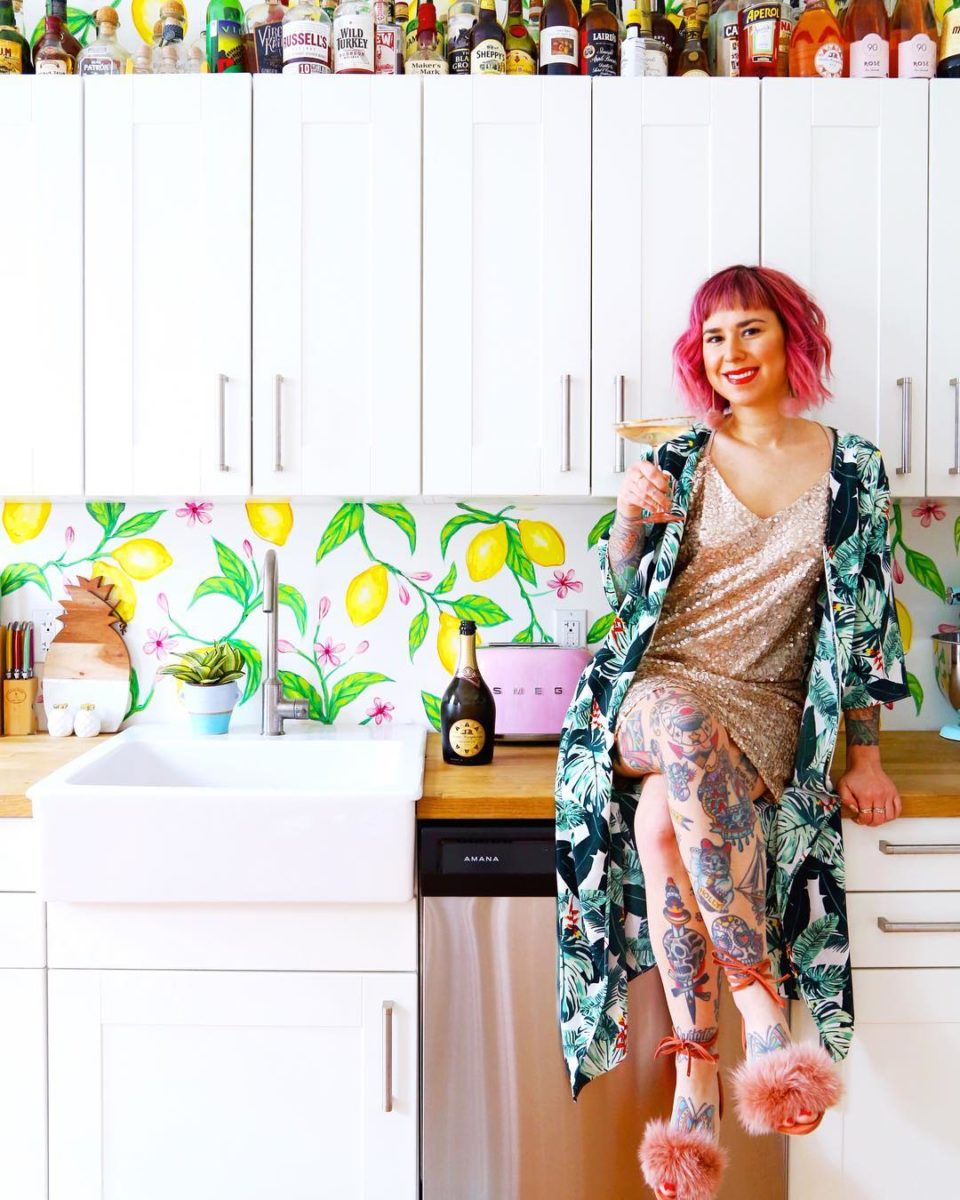 What do you do and how did you get started?
I'm a beverage & creative consultant. I started out bartending in cocktail bars in NYC for many years and then I eventually started consulting with bars, restaurants, and liquor brands to develop recipes for menus and marketing. I started my blog a few years ago as a way to reach and educate consumers but also as a way to meet and work with prospective clients. My business has grown exponentially since then and I get to do so many things that I love because of it. The bulk of my work is recipe development and creating online content, but I also do food & beverage photography, contribute to multiple lifestyle blogs/websites as well as write for my own, travel often for work, plan events, and write. I have a cocktail book coming out July 2019!
What woman/women inspire you, if any?
Honestly, there are so many. The one thing I love about the Instagram community is being able to connect with so many other like minded women/individuals that are trying to run a business and make their dreams come true. My friend Ashley who runs the blog Craft & Cocktails (@craftandcocktails) has always inspired me. She's an amazing cocktail developer, stylist, photographer, and writer. She also has a book coming out next year. My friend Meg (@loveandvictory) is a super talented graphic/product designer. She makes beautiful barware, cocktail-related pins, and attire. She's also a huge women/human rights advocate and is always raising money and donating a portion of her sales to many causes. Lastly, Emma Chapman and Elsie Larson of A Beautiful Mess (@abeautifulmess). They started blogging ages ago and have built a successful lifestyle brand with a few offshoots (@acolorstory, @ouifresh). ABM was my favorite blog for years and when I started my blog they hired me as a cocktail contributor and it was a dream come true to get to work with two women I looked up to for so long.
If you could give your younger self any advice, what would it be?
Whatever it is that you want to do… just start doing it. Things don't happen overnight. Set small daily goals and check them off your list. Before you know it you'll be checking off the big life goals/dreams. But you have to wake up every day and want to do what you're doing and you have to consistently work at it. Most likely a lot of your friends will disappear. Don't worry, because they probably weren't your friends anyways. There will be moments in life when showing up for yourself will mean leaving the people behind who don't. Surround yourself with people that inspire, love, respect, and support you. Prayers for the haters. They're not doing anything to better their own lives and they are just jealous that you are strong enough to do exactly that for yourself.
Marianne Pinaha
I've had the pleasure of getting to know Marianne in the last year as we started collaborating on events with one of my fav hang out spots, Porta! This fiery redhead is behind all the fun events at Porta! I love her energy and her positive attitude. She will go above and beyond for her team and her customers! Marianna is just fucking rad and we love her at ChicpeaJC!
What do you do and how did you get started?
I'm the Assistant General Manager of Porta Jersey City. I am accountable for Nightlife, Promotions, Social Media, Community Outreach, Staff Coaching and Team Building while also being a part of a team of Managers that works hard to ensure impeccable service and curate a warm, fun, inviting environment. I have been a part of the Management Team at Porta Jersey City since we opened in November 2014.
I got my start in the Service Industry 15 years ago as a Hostess at Denny's near my hometown. My hospitable nature made serving others a breeze and was something I was excited to do – it quickly became a major part of my life. I bounced around between majors in college trying to find my passion. I spent years studying Theater, Broadcasting, Communications and Real Estate while Nannying for a Family with Twins as I moved up from Hostess to Barista to Server to Bartender and ultimately Event Planner in a string of restaurants.
I had hit a ceiling. I found myself stuck in a place where I felt lost and uninspired. I didn't feel like I was good enough to take on my future and was unsure of exactly what I wanted it to be. A friend of mine, who was taking on the role of opening Sous Chef at Porta, encouraged me to take a risk by putting myself out there and submitting my resume that was full of experience. I sent my resume, interviewed and was hired to open Porta Jersey City as the Events Manager! I threw myself into the project led by an incredible team and worked hard over the years to be able to take on the role of Assistant General Manager.
Now, it's my job to invite people into my home every night to eat great food and have the best time! I get to entertain guests and throw fun parties alongside people who have become my family for a living – it's the best!
What woman/women inspire you, if any?
I am constantly inspired by the women of my direct communities. I feel so fortunate to be surrounded by so many powerful, talented and beautiful women in Jersey City, at Porta and in SMITH – our restaurant group. I feel especially inspired by Dallas Hlatky and Arielle Horneck.
Not only is Dallas Hlatky a leader of female empowerment and a person who encourages us all to be a stand for our own convictions, but she's also the person who inspired me to get out of my own way. To stop stopping myself! She encouraged me to create possibility and allow myself the room to make mistakes. She inspired me to take a stand for me.
Arielle Horneck inspired me to take action and ask questions later. She's the person who incubated my trial & error nature. She pushed me to follow my instincts and trust myself. She enforced the idea behind me being an expert and inspired me to take risks.
If you could give your younger self any advice, what would it be?
It's okay to have feelings!!!! You're gonna have a LOT of them.