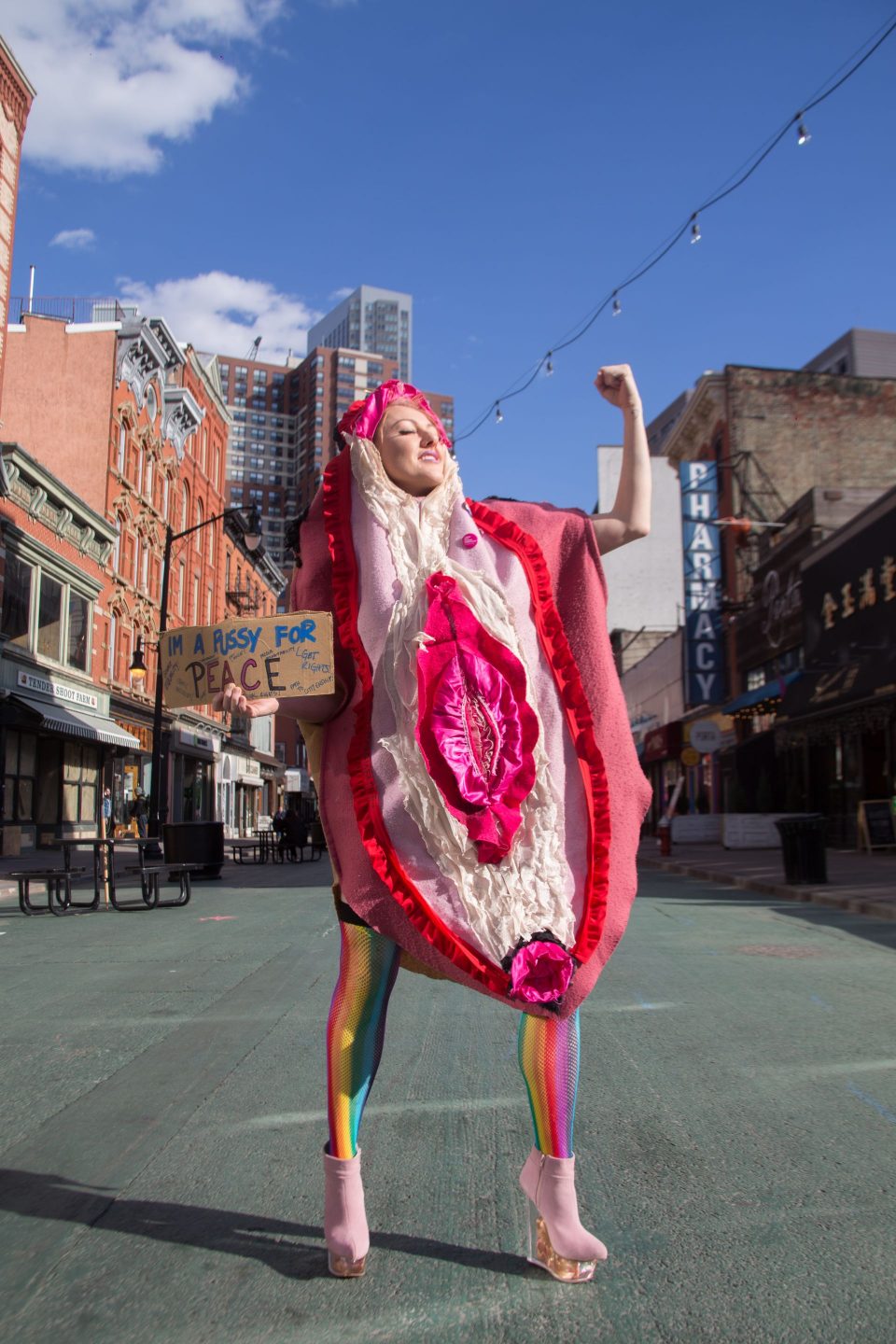 I saw The Vagilante around Jersey City for months before finally sitting down with her and getting all the details on what she does and why she does it.
Amid Trump's candidacy, he made statements about how easy it is for him to take advantage of women and she refused to let it slide. Some people would shy away from making a statement, but she made a felt vagina and walked around as a way to start a discussion on rights for women's bodies. She's a feminist, making her mark by unapologetically taking strides along the Jersey City streets as the Pussy for Peace.
Meet the Vagilante.
Press Play or watch video interview below!
---
What's your name?
I am The Vagilante, feminism's superhero.
I don't even know where to start! Who are you?
I began as The Pussy That Grabs Back, and that happened in October 2016 when Trump's recording came out: "Grab em by the pussy, you can do anything." I said, "Oh, really? Well, I guess I can do anything!" and I became The Pussy That Grabs Back. I went on stage at The Ghost of Uncle Joe's dancing with Bikini Kill.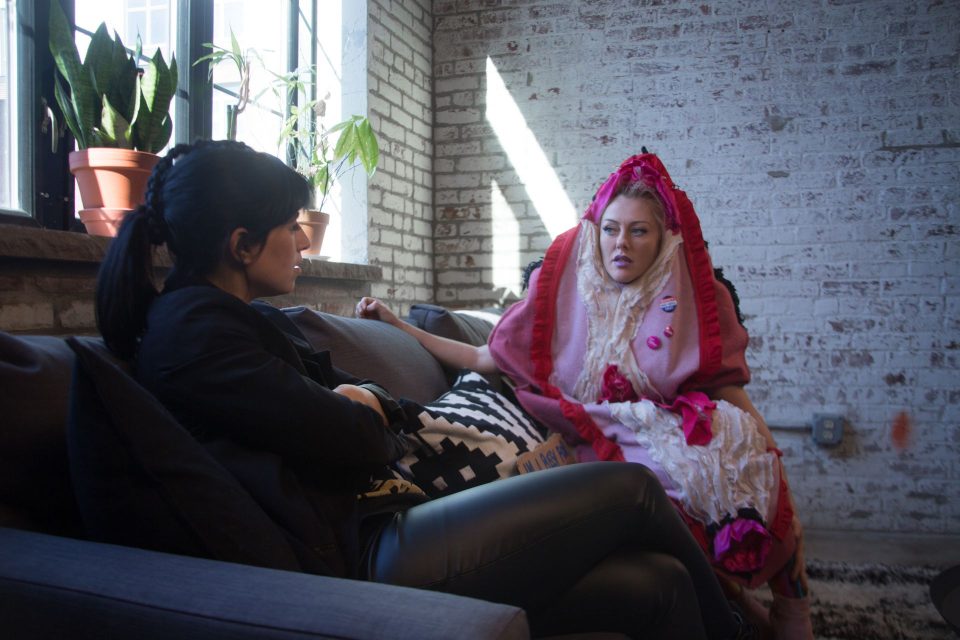 How did you make this?
There are a couple of templates and stuff online, and there's actually also a company in Brooklyn who make handmade vulva costumes and it's a big part of their living. This is handmade, however. I got a template and then freehanded the rest of it.
Tell me a little bit about this.
My face is the clit. Most women are actually not entirely certain of what my face. More men know what my face is almost right away. There's actually a funny meme online of a guy wearing a version of this and he's like, "Is my face the clit?"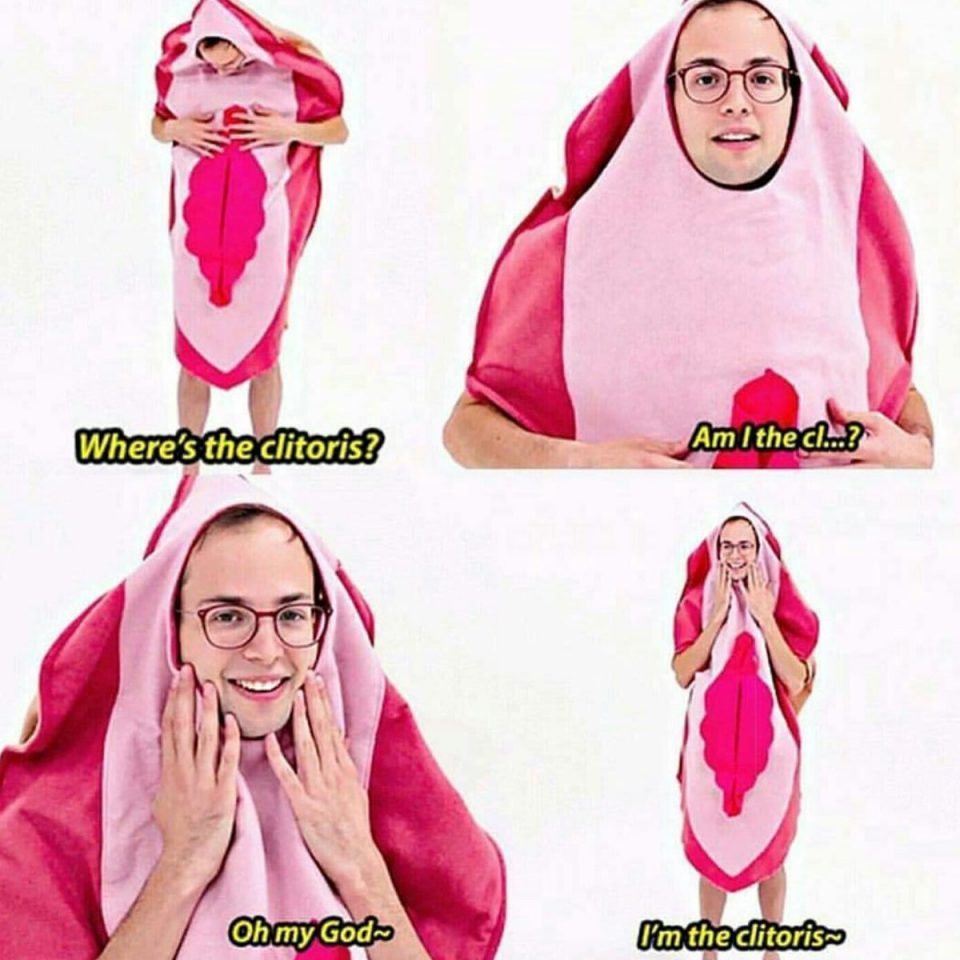 My costume is as anatomically correct as a big felt vagina can be. There's the labia majora, the labia minora, the actually opening of the vagina – it's interactive, as long as you get consent! There's the perineum, which is essentially right in between the vagina and anus, and then there's a butthole. I named the butthole Rosebud, in honor of Citizen Kane. I also included some pubic hair because pubic hair is meant to help protect exposed parts to the elements.
So are you against Brazilian waxes?
No! I'm actually designing my Summer Pussy right now, and she's waxed.
Oh, I love that! So tell me more about what you do and how you went from the Ghost of Uncle Joe's to everything that you're doing now. 
The day that I wore this costume and went out, I started having this really poignant conversations with people about women's rights, about consent, having sexual autonomy, having safety for our bodies. As a woman with a lot of views, I've never really been very outspoken about it. I always saw that there was someone else with more degrees or more education who was maybe better at articulating their ideas, so I never thought that I needed to say anything. As the election started creeping up on us and I was seeing all of this really disturbing stuff in the news, I started to think about the fact that the only time something that has been on the fringe has become mainstream is when we hear about it again and again. I may not be the most articulate, I may not have all of the facts memorized,  but it's important that I am a part of people hearing about women's rights as equal rights, as economic rights. It's doing my part to expose as many people as often as possible to the concept that being a women is being equal.
That doesn't mean to say that being a woman is being the same as a man to be equal. it's sitting as my own right as an individual, not having to speak for my entire gender based on what I'm doing, or to not be put to the litmus of what is male, to verify my value. So there's a thing that I've been saying, which is "Say it as loud as you can, as often as you can, and in as many ways as you can," and I feel like we live in a very eccentric time. I think that a lot of what the far-right, which is now seeping its way into the mainstream just because of the fact that we hear about it so often, is a very eccentric way of viewing the world. I'm kind of balancing the scales, in a way, of getting out there and being a visual stimulus for people to become engaged. I think that resistance against what we don't agree with is necessary.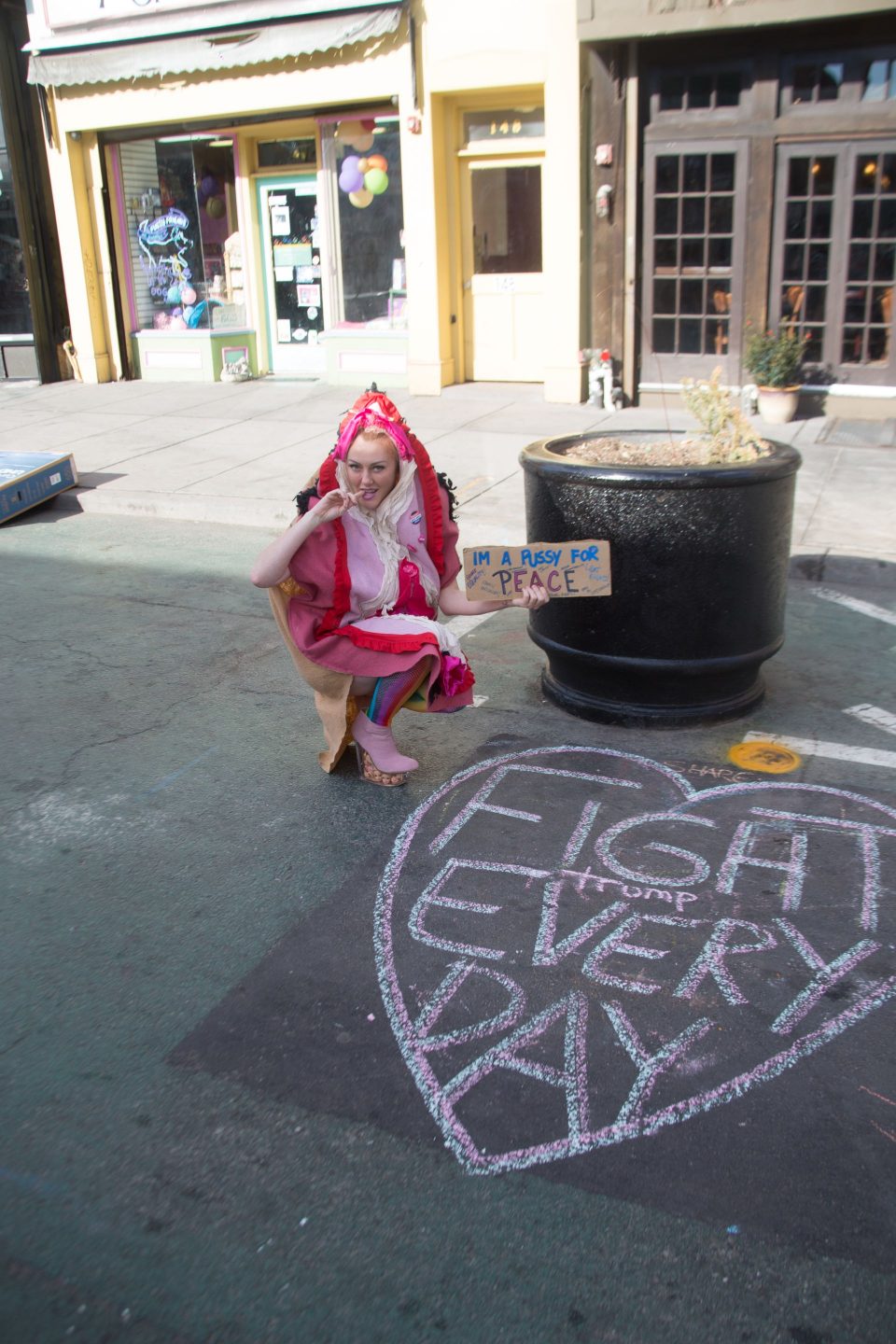 How do people react when they see you?
Because it's New York City, I do get a lot of positive feedback. Every so often, I get an older woman who's like, "You should be ashamed!" Really, for the most part, I get thanked. I had city construction workers stop and call me over, who actually follow me on Instagram and know me! The other day, I was walking down the street and there was a guy who was working as security in a bank, and he was knocking on the window like, "Yeah, yeah!" Another really interesting part of this is that when I just wear the costume, I get a lot of confused looks. People are a little bit nervous. But when I wear it with the sign, it's a totally different experience. People are like, "Oh, okay. Cool! I get it." Something that I started to do in my social media is not just the image of it, which can be construed in a lot of ways, but the image with a message, really anything that's on my mind that I feel like is on a lot of other people's minds. I've just been talking about it and every so often, I get trolled online, which I've come to expect. What's really interesting is a lot of them are like these young boys, like 11 or 12 years old. The other day, some kid said, "Oh, you're a ho!" I replied, "Do you even know what that means?" So I started trolling him back, just for the fun of it. Then I found out he was 13 and I was shocked. I actually put up a comment on it on Instagram because I feel like that is where we need to start, is with children.
I'm speaking at a Hudson SPEAKS event in April and the story of the development of The Vagilante, which really talks about my concept of value and worth from childhood into womanhood, the evolution of that coming up against the world and women's issues, not having a lot of foundational support, having support from my immediate family and friends, from a societal standpoint, not really finding that I could have a dialogue in an open arena… When they asked me to speak and I gave them this explanation of it from the event that they saw me at before, they asked me to make it family-friendly and I told them, "I don't actually know what you mean. I do think that all of these issues are issues that should be discussed with our children, so you'll have to give me some pointers on what that means to you." Women's issues are issues on childbirth, abortion, miscarriage, rape, economic viability, among many other things. It really does vary. The most common thing is the very obtuse observation that I'm a big vagina. They're like, "Oh my god, is that a vagina?!" Yes, it is. Actually, I'm a vulva. I'm the whole thing. It's eccentric, and it should be. We need visual, stunning things to permeate the din of patriarchy that we live within.
You're like the mascot of feminism.
I'm the feminism superhero! Some superheroes have a cape, I have a hood.
What does feminism mean to you?
My friend Brittany Elia said it in a way that resonates with me the best: Feminism is the reminder of the power we possess and always have, and always will. It's a call, it's a cry out. I think more than anything if we have the internal knowing of value just as we are as women, not in comparison to anything else, what we do and what we say, how we behave, or how we view our world would be vastly different than it is right now. We are constantly comparing ourselves to men, to other women. We look to other people for our worth. I'm not a man so I don't know, but from the people that I've talked to, that is not the same experience that a man has. Then of course, you have any non-binary gendered person who has a totally different experience, but that's also based on a litmus of maleness and the mainstream. I think it's to start to take steps as wide as we can, as big as we can, because you hear all the time, "Just wait. Do something smaller." In the words of Martin Luther King, "'Wait' has almost always meant 'Never.'" I don't accept that, and that's why I march. I represent, essentially, the 51% of America's minority, which are females. We're grossly underrepresented in every major institution that governs our country.
It makes no sense.
I agree! It makes absolutely no sense. If you think about what we're constantly told about our intellect, our capability, our sensibility, even the variable nature of women's essence – it's mysterious or it's so changeable. "La donna è mobile." It's crazy. I get the cognitive dissonance sometimes because I am someone who has developed a strong system of value for myself in that I don't feel the need to compare myself to what is the norm, so to speak, but I'm constantly budding up against it.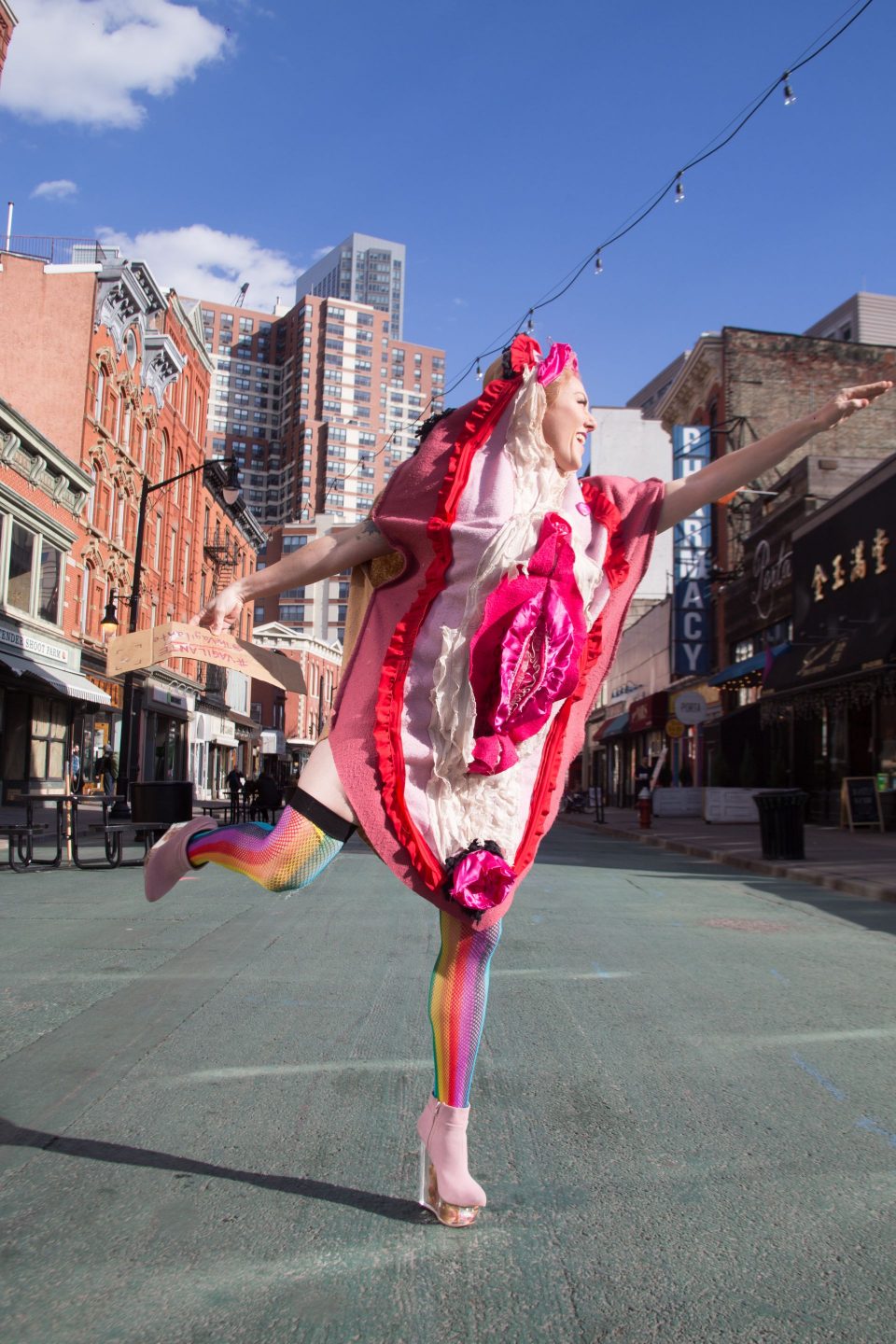 How do you feel about men being accepting of this movement? A few years ago, we weren't seeing this, where men are supporting girl power and it's so mainstream. 
I'm super excited about it. It's really important that we don't get confused with equality as value. There are men who give women their full due and saying, "Actually, without this women in my life, I wouldn't be what I am." My boyfriend, when I told him I was going to dress up as a big vagina, supported me. He was always so proud of me and thinks it's just the coolest thing in the world. To say that I'm a feminist does not mean I think men are evil, I don't think they're bad, and I don't think they're less valuable than me. What I do think is that, for the past however many hundreds or thousands of years, we have been considering the needs and necessities of white men. To be a minority, or to be a woman, we need to make sure that we have more of a focus on our needs and what our goals are. Again, we're grossly underrepresented in all of the governing bodies and systems, whether it's economic, governmental, in business… I don't know if you heard about the little girl statue in front of the bull. I love it so much! I think it's fantastic and does speak to this idea that we are living in a time where we are seeing what it looks like when you're exposed to it again and again, this concept of womanhood being strength. You see it in mainstream media, people are making t-shirts about it, people are talking about it. There's tons of products that are developing around it. I'm all for it, I love it, and I just don't want to ever be a part of the confusion that having a pinpointed focus on the needs of the majority of the population in America means we are "better" or "more important."
Being a feminist doesn't mean you hate men. It's a misconception.
Yeah! And there are women who hate men or anyone who is outside of their scope, but that's not the majority.
Right. How do you feel about everything that's happening? I'm sure people want to know – what can they do to also fight?
I'll say this: I think in order to have a sustained resistance, we have to make it irresistible. Make resistance irresistible. To do that, it has to be fun. There have to be movements, there have to be people in the background who are doing the hard work. When you look at a successful rally or a successful movement, there's a bunch of people that associate it with status. I think the idea is to find ways that are really deeply satisfying. I'm a part of a few groups, like the Jersey City Action Group. I'm a director on the Jersey City Resistance Choir, where we raise money for non-profits in the name of a politician who's against that thing, so we did the Paul Ryan's Choir for Planned Parenthood or the Jefferson Sessions' Choir for Muslims. The Jersey City Young Democrats does amazing work, they do a lot of fun things. New Jersey Working Families just did an event at Zeppelin Hall and a bunch of people got drunk and rallied for a cause, which is incredibly active. There's tons of things you can do. I also think there's a focus on the federal level. I'm never going to really have an affect on any change on a federal level, but I can affect change on a local level. I can email our mayor and get a response back. I can start a movement where the people in my government are going to listen, and you start to see what kind of power we have as a city and as a state to affect changes that we want to see that affect us individually. My needs and your needs, living in a metro area, are really different than rural Alabama or Northwest Oregon. I would say to pick on e or two things, pour yourself into them, enjoy them, focus on things you want to talk about, and then have fun with it. Paint, draw, sing, write letters, or dress up like a big pussy!
It's hard work, it is work, but it's work that's worth it.
What did the mayor say when he met you?
I did not dress like this when I spoke on the panel for the Young Democrats. He has not met The Vagilante. He's only met my alter ego. I'm pretty much the superwoman of New York City.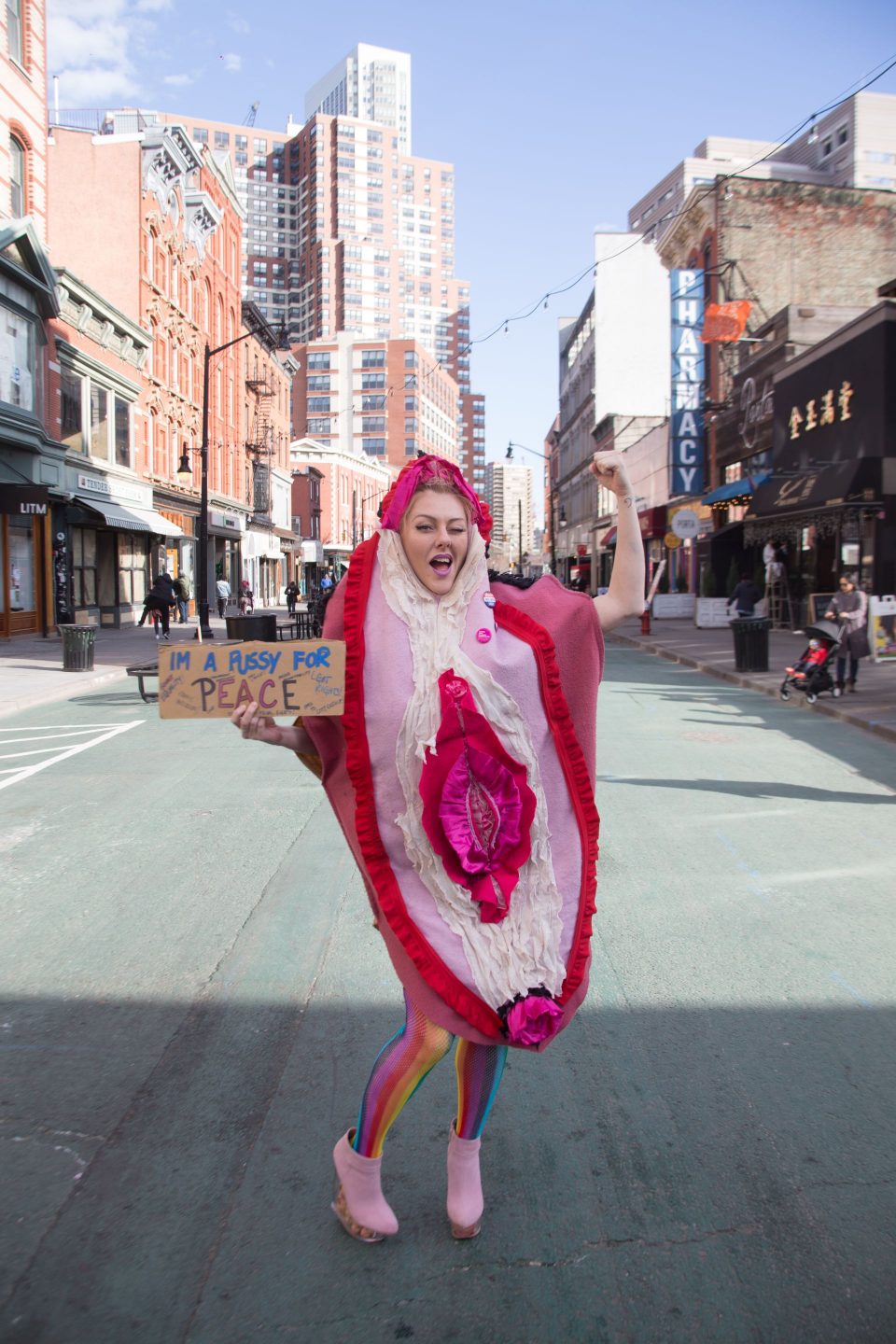 What is your alter ego?
My alter ego is a small business owner. She owns a wellness therapy business in a few states. One of the really fun things about it is I don't have any gender pay gap, I don't hire based on gender, and I employ a lot of women and some single mothers who actually make their living off of what I pay them, which is really empowering.
Follow The Vagilante on her site, on Twitter, on Facebook, and on Instagram.