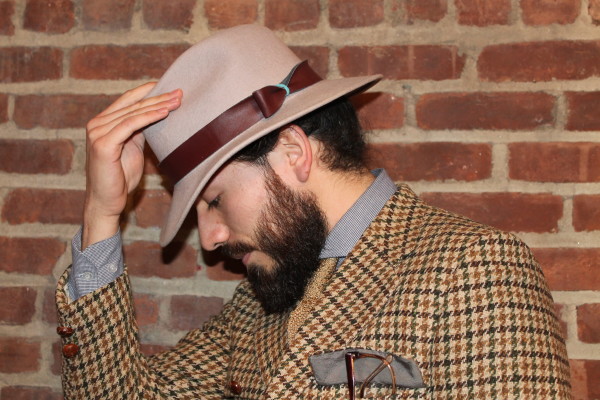 I first met Steven months ago at a JC Friday themed party at the E.Tittlemouse store. As soon as I laid eyes on him, it was like a neon sign lit up on top of his head with an arrow pointing down that said "Stylish Peep". He stood out with his tailored suit, top hat and beard.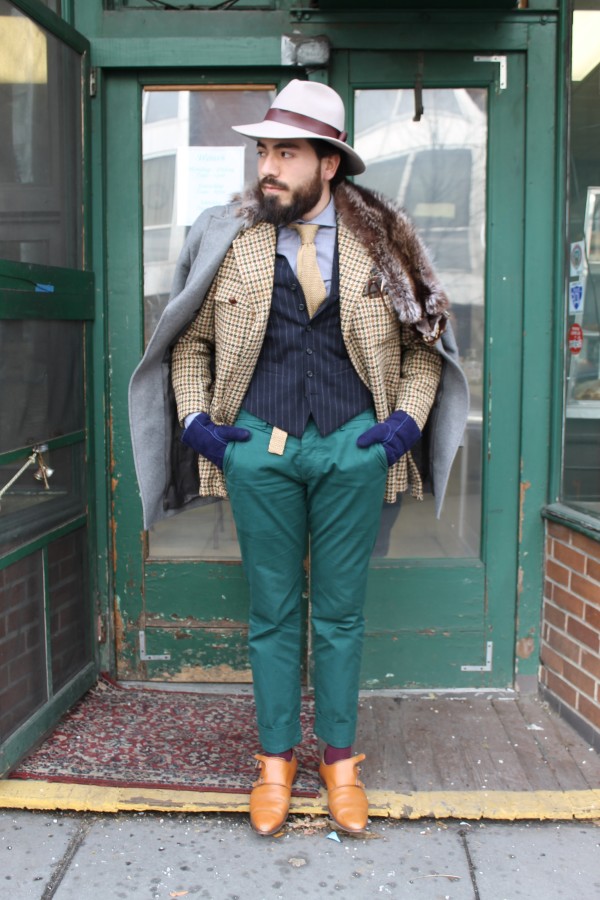 Steven is a true gentleman, his style is his own, and he isn't afraid to mix and match and take risks. Steven doesn't just wear a suit, every piece of clothing he owns has a story; either purchased in a local vintage store, another country or handcrafted by his own hands. He is the most stylish man I've interviewed thus far, not just because of what he wears, but because of the way he carries himself. Steven is an interesting character, a mystery, someone you know was meant to live in another era… and ladies, he is on the market! #chicpeajcdate.com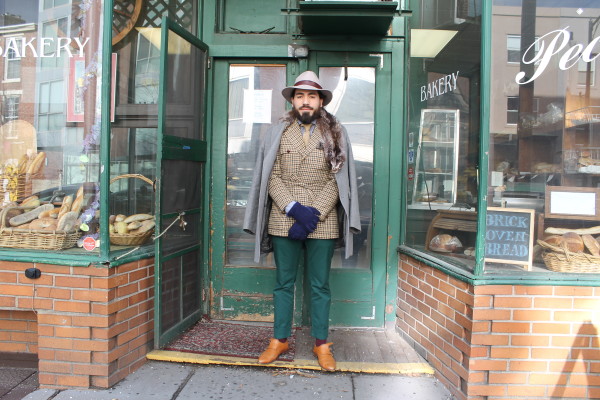 Whats your name? Steven Santander
What do you do?I studied architecture, fine arts my whole life – but I graduated as an architect, I'm an artist, designer, creative…
Whats your official job? I work at a custom flooring company, we do textiles, rugs, carpeting, in-house architect. It's pretty cool. I'd much prefer to say I make suits for a living…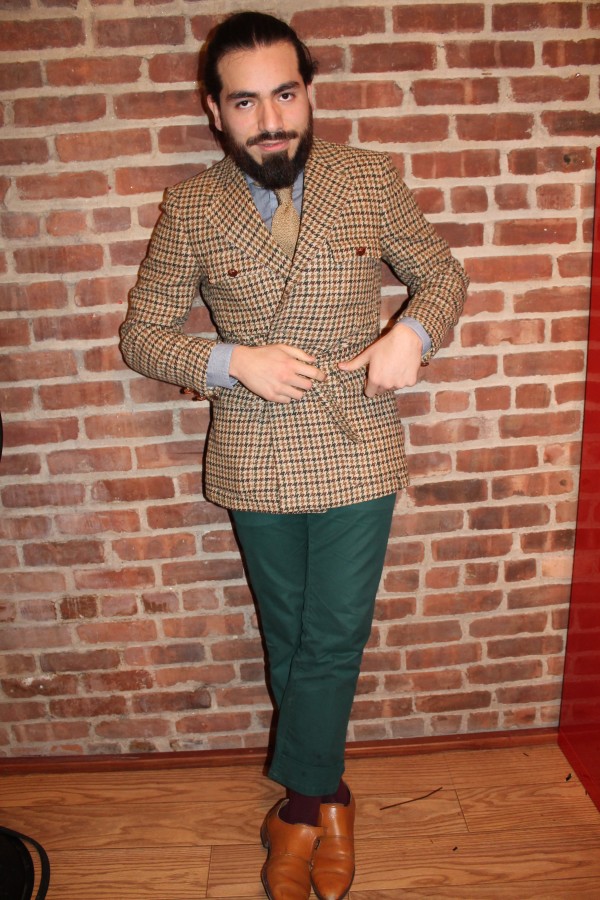 Is that what you want to do? Yea – I'd love to get into that eventually. I apprenticed with a tailor for sometime so I have some experience, I've done a little bit of everything, footwear, outerwear, suits, custom bow ties.
Wow that's awesome – and how would you describe your personal style? That's a tough one… How would you describe it?
Very put together, very well thought out, not boring, dapper, vintage meets gentleman of the 50s… timeless. Timeless – perfect!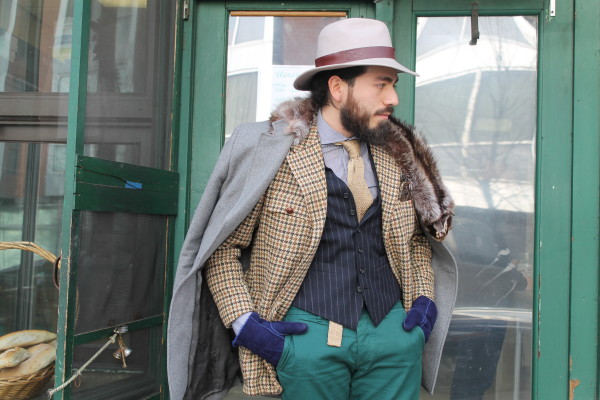 What are you wearing? These shoes are my design, my pants are Made in USA, I cuffed them myself. The shirt is custom – my vest is part of a three-piece vintage suit, Another Mans Treasure, some Italian tie, my little headband with my logo on my hat, my jacket is from Italy, I sewed my own fur lapel on one side cause it got boring –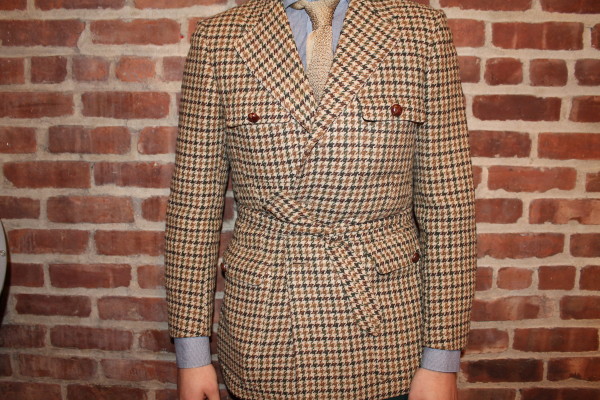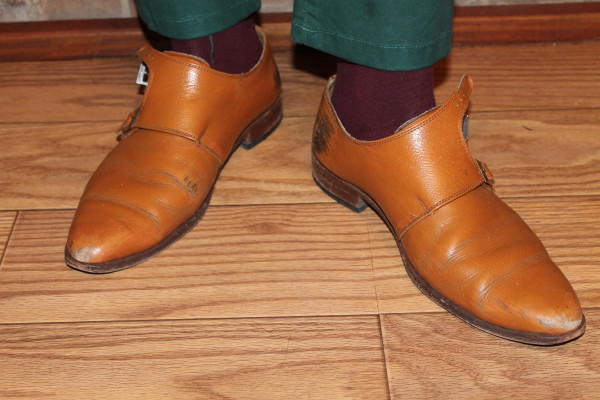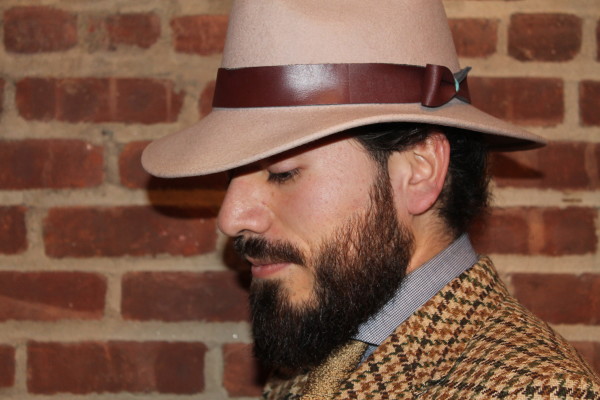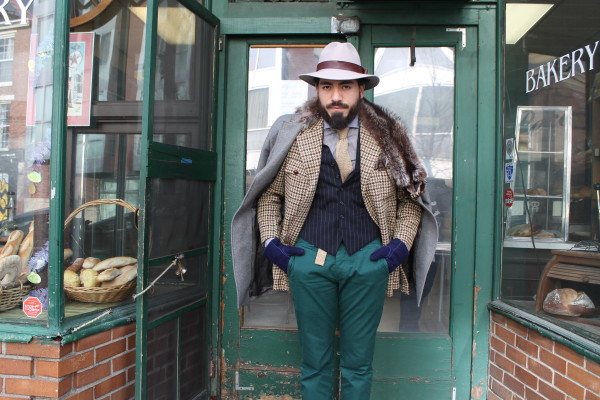 So you make your own clothes too!? I wouldn't say 100% but I definitely have a hand in everything I design or buy, make it my own you know. I make bow ties, and I can do alterations – eventually i'll expand my knowledge.
How long have you been in Jersey City? Born & raised…
Tell me about that…I was born in Christ Hospital, I went to school at PS 16 on Sussex, then middle school at AP academy 1, and then I went to McNair academic.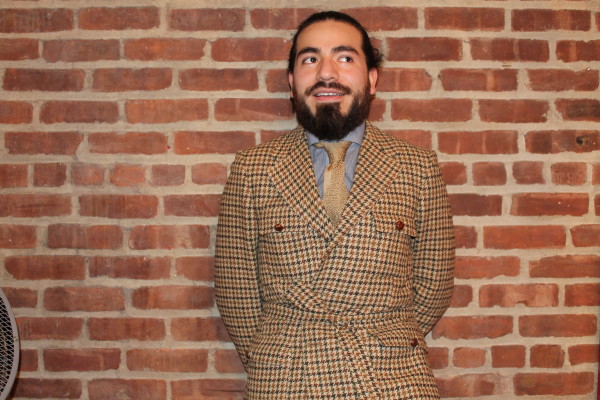 I love that – you never wanted to move anywhere else? New York is so close and convenient, maybe I'll move somewhere – I could see myself living anywhere and everywhere, I could go somewhere in South America or Asia and just learn how to live there.
How do you feel Jersey City has changed? It's amazing – seriously you know more about Jersey City than I do though.
Do you have a favorite JC hangout spot? Light Rail café – it's 1 stop past the Liberty State Park Light Rail…. I'm sure no one else has said it.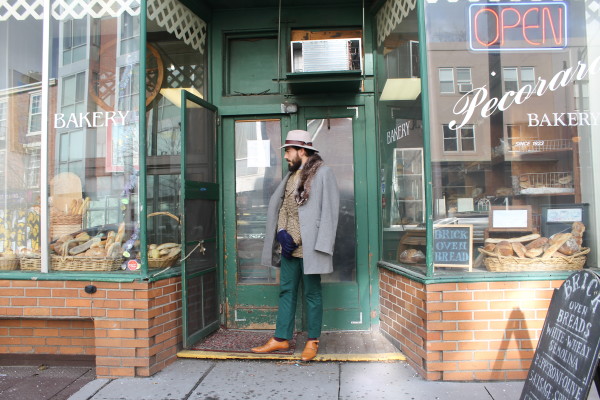 There was a place called Jordans – best cheese steaks ever, they've been closed for a while – so unless you grew up here you might not know about it.
Do you have a favorite place to shop locally? Since I do some of my own stuff, and I buy lots of stuff in NYC I wouldn't say I'm a super Jersey City shopper, but I like Another Mans Treasure, & E.Tittlemouse. I like vintage, so I can definitely get some good vintage stuff around here, and everything else I'll find where I find it.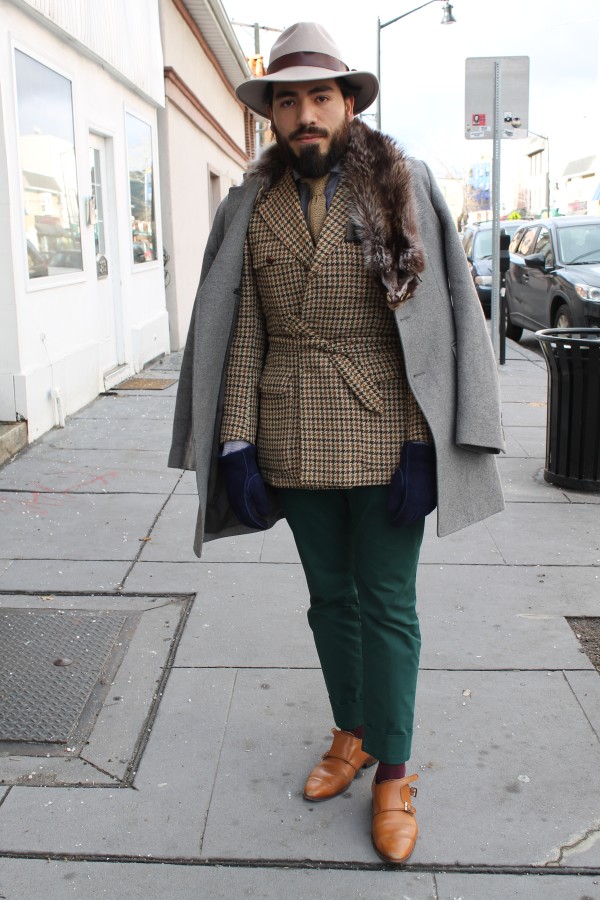 What're you listening to right now? That changes all the time… I love music from all over the world even if it's not mainstream or trendy. Even if you don't listen to mainstream, people still have their set genre… I'm all over the place I love Spanish music, Italian… Right now I am listening to South American folk music, a Bolivian band called Los Kjarkas. I also like to play some instruments.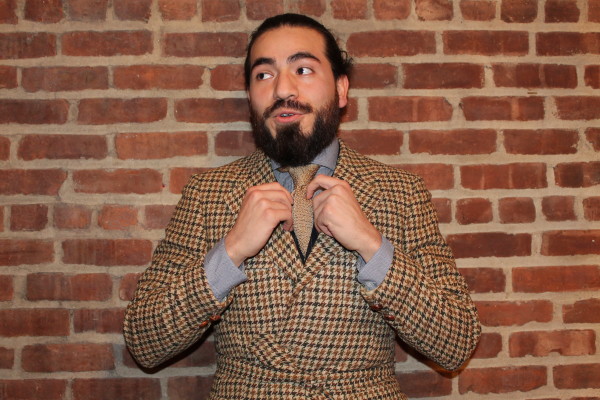 A fun fact about you? I'm a Renaissance man – you can teach me how to do something, I'll learn it immediately, I can learn something within a week, a language, anything.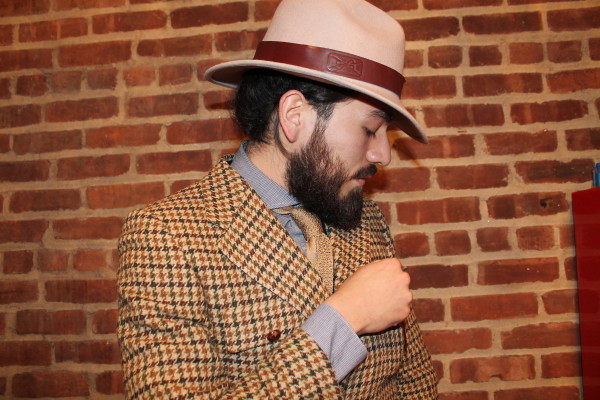 You seem very crafty. I wouldn't say I can speak multiple languages but I can totally teach myself to get by, I was just in Prague over thanks giving and I picked up Czech in like no time, I was teaching myself Mandarin… In High School I tried to teach myself Arabic, but the lettering was so hard. I'm out there, if someone tells me to learn a language in a week I can do it. Or anything for that matter.