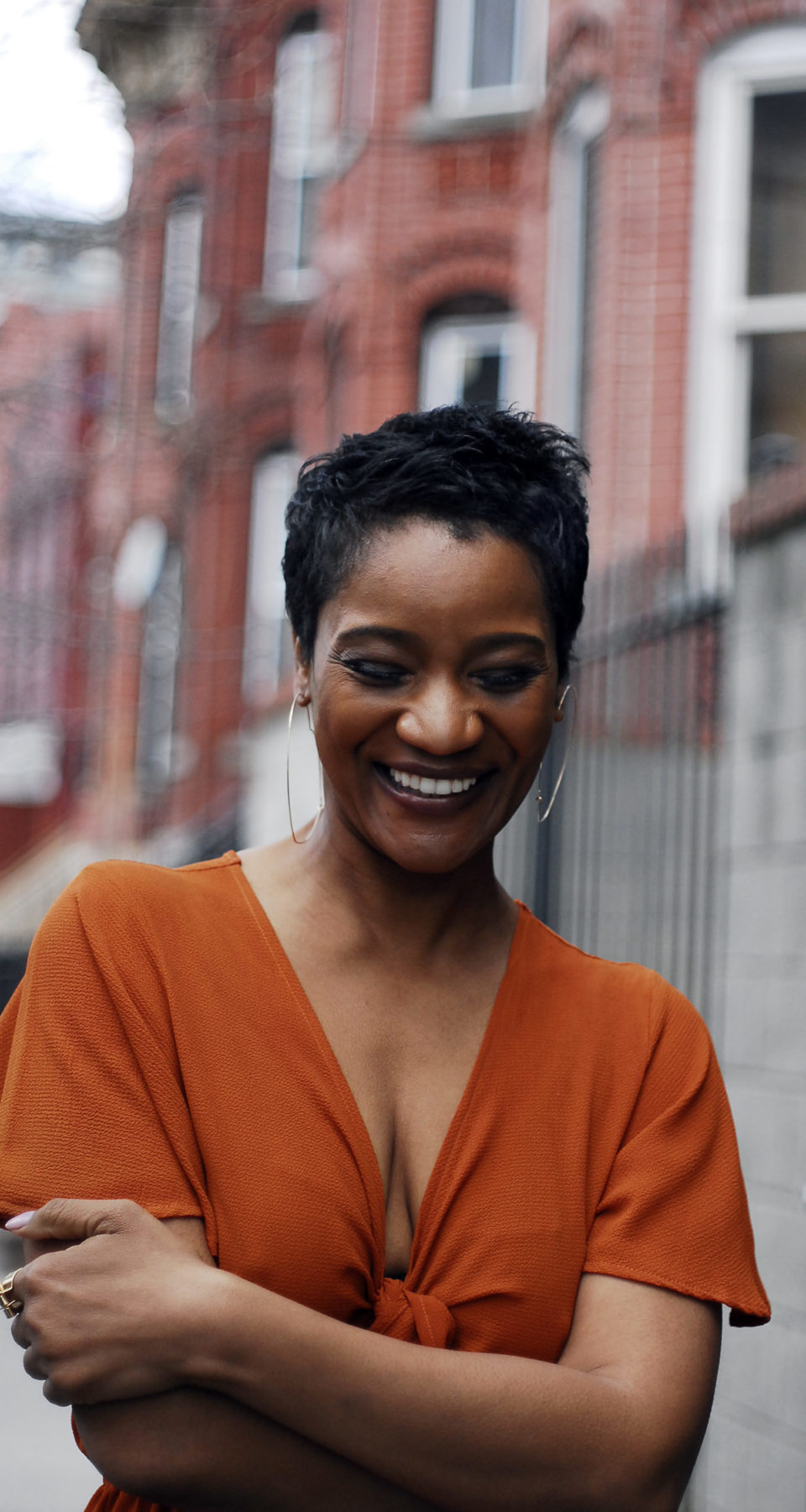 Quiona, the moment I heard her sing, everything stopped. I forgot where I was for a moment and was transported to a different era… a Jazz club in the 50s, with low lights and a sexy crooner singing sweet melodies setting the vibe. Alas, I woke up and was just watching a video clip of her performing on instragram #truestory.
After hearing a few of Quiona's songs I wanted to interview her immediately. We met at local Bergen Lafayette Coffee Shop The Grind and as soon as I saw her in person I got somewhat nervous. Quiona has superstar written all over her, I felt like I was in the presence of greatness.
Quiona's sound is so unique with hints of Aretha, Whitney and Anita Baker and she is so incredibly beautiful, stylish, intelligent, well spoken… I can go on. I'm a fan.
I loved getting to know her and left the interview feeling inspired and thankful that I get to do this for a living. That I get to meet incredibly special people who live in my community and get to share their stories.
When I interviewed her, I was going through a tough time professionally and when I asked her for advice she said.
"Be unapologetically you"
What's your name?
My name is Quiona.
What do you do?
I sing, I model, I have fun with life. All types of stuff.
How long have you been singing?
I've been singing since the age of 6. I come from a church background. My grandparents are pastors here in Jersey City, and I've been singing in the choir since I was 6 years old. Professionally, I've been singing since I was 16.
That's amazing! Did you grow up in Jersey City?
I did!
What are you working on now?
Right now, I am traveling a lot. I just finished my EP, I might add a couple of more songs to it. I'm gearing to go to London, Egypt, Lebanon.
So you get to basically do what you love.
I get to do what I love, meet new people, learn and understand their cultures. It definitely opens up my mind. I get to sing my message.
What is your music influence?
I grew up listening to jazz and gospel. I grew up listening to R&B, of course. Everybody listens to R&B, a little bit of hip hop, a little bit of Anita Baker. In my house, it was mainly gospel. The Dakota Statons of the world. I won't say I'm fully trained jazz-wise, but kind of. A little bit of rock every now and then. I've done the background vocals for U2's Songs of Innocence. I got to do a little bit of Trace Adkins, which is country. A little bit of everything.
Your voice is incredible. How would you define your style of music?
Lifestyle. Conventional vs unconventional. A bit of glam with a little bit of edge, but it's very heavy. Glamorized soul, maybe. It's soul with a bit of rock thrown into it. You can soften up a little bit, but then you can punch.
What's your creative process?
There's no formula. I think it comes to me and I'll either write or just go to the studio and sing it. Sometimes, a pen and paper won't work for me. You kind of want to record it as much as possible.
So you've been singing since 6. When did it become your full-time career?
At 16. I won the Apollo 5 times in a row. I did a Crown Royal ad with Fatman Scoop on the radio. It spun for a while. From there, I did Haitian Experience with Wyclef, Jimmy Fallon with The Roots, Saturday Night Live with Dave Stewart from Eurythmics. I've done background for Kenny G and Foster the People. I've been all over the place.
What is your most memorable experience as a singer?
Singing in Singapore. I sang at a place called Esplanade Theaters On The Bay, and the fact that you're in a totally different time zone and different place and they can actually sing your songs and sing along with you, that kind of touched me. Just being in Singapore and having them receive me. The biggest fear is rejection. You want them to get the music, get what you're doing, and understand and love it.
Who wouldn't love you?
What I learned is that you can't please everybody. I'm a realist.
What's next for you?
Releasing my EP, which is called Signature. Then I'm abroad again. I'm out again, working over there. I'm heading to Beirut. It's all work for me, just singing and hitting more stages, meeting more people, rubbing elbows with people.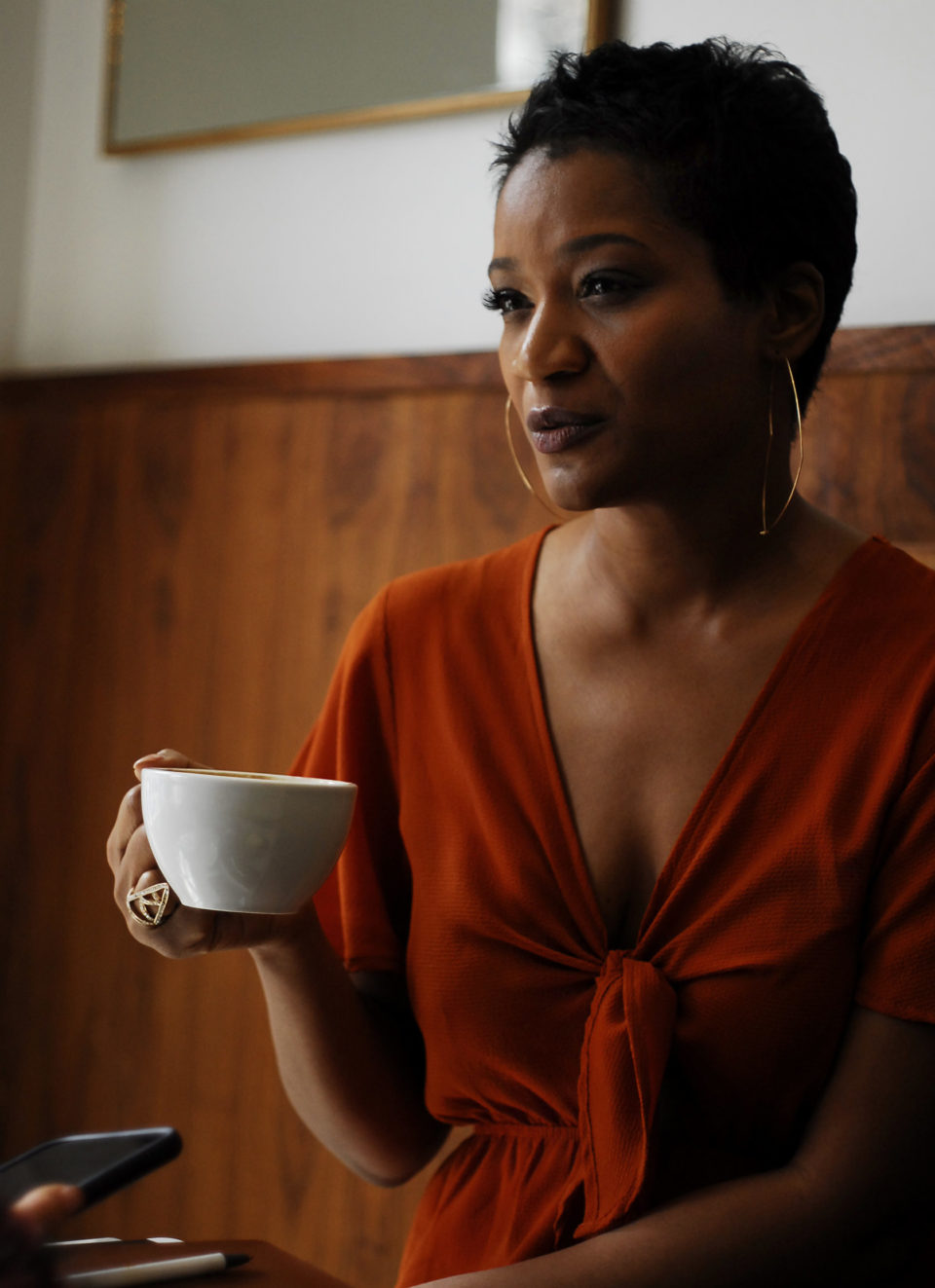 What do you do for fun?
I'm a thrift shopper, I also spend time with my little lady. She's 12. She knows my world and I want to be able to have her travel abroad so she can become just as cultured as I am. I'm a very ambitious mom.
How do you juggle everything?
It's hard. I'm blessed to have a family that will step in when I need them. Her father's really good, as well. I'm blessed to do this for her.
You mentioned you grew up in Jersey City. How do you feel about the changes?
I think the area's changing for the good. I love what it's coming out to, it's very progressive and there's a lot of culture here. There are plenty of wrinkles that need to be ironed out, but for the most part, I've been here all my life. I see it for what it is and what it used to be, and you have to evolve with the time.
Did you ever get to perform here?
I have, a few times. I've been really busy, but I need to do more here. I do help mentor some young girls here through Forever Girls Inc that's run by Takeisha Stewart. Every now and then, I dip in for that. I did stay for the mayor's State of the City address. I'm trying to do a little bit of everything.
Anything else you'd like people to know about you? Where can they find you?
They can find me on my website, www.ilovesuzyq.com. Across the board, it's all @quionaofficial: Twitter, Instagram. Soundcloud
Any last words?
All of you are amazing. Life is about your signature. Being yourself, doing you, nobody can do you. That's your power, the magic you possess is your own. Whatever you do, put glitter on. Just do it. Be your own kind, be yourself.