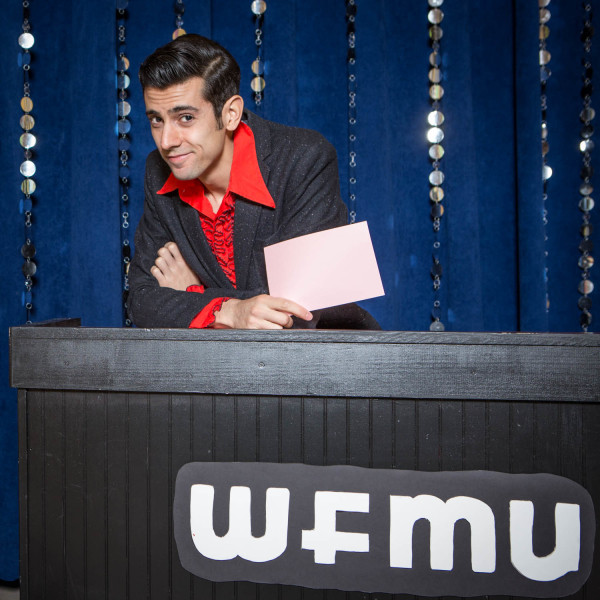 Shot by Greg Pallante
Pat Byrne is a natural-born entertainer. I first heard about him after seeing some buzz online about his DIY Variety Show Prove it All Night live from WFMU's Monty Hall. I've always been a huge fan of late night talk shows and when I heard Jersey City had its own, I knew I had to check it out. I listened to a few of his shows on the WFMU archives, and there was one segment called "The Ghost Heckler" which brought me to tears, I couldn't wait to see him live and in action.
Friend and photographer Greg Pallante, put me in touch with Pat, so I went to Monty Hall to interview him and get his background story. He also turned the tables on me and interviewed me for a fun little ChicpeaTV episode (coming soon).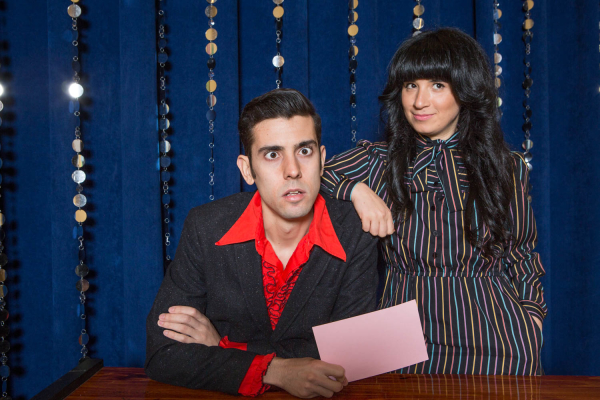 Two weeks after interviewing Pat, I went to see the show and I absolutely loved it. Prove it All Night is the best thing to do on a Saturday night in Jersey City. I haven't laughed like that in a very long time, the show was so good that I forgot to take pictures! Thankfully Greg was there and captured the fun.
Pat Byrne is hilarious, and incredibly talented. I really see him having his own television show one day, and I would definitely stay past my bedtime to watch him… he is THAT good.
What's your name? Pat Byrne.
What do you do? I am a DIY Late Night Talk Show Host with WFMU.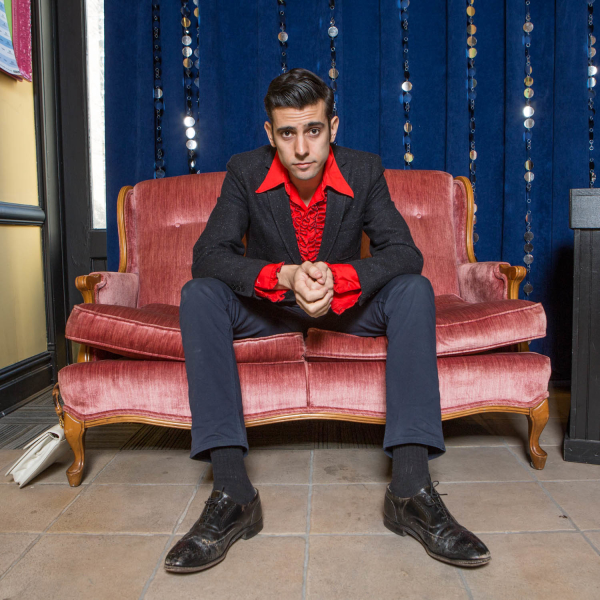 What's the show called? The show is called Prove it All Night with Pat Byrne.
How long have you been doing this show? We've had six episodes in Monty Hall with a live audience and a bunch also in the studio up stairs, I got the time slot right before the winter scheduled break. Before that, I was on the overnight shift.

Can you tell me more about Prove It All Night? [When] I first got here at WFMU, I was a volunteer for many years and then I got my own time-slot in the overnight, [from] 3 to 6 am. I did that show for almost two years, it was called Redundancy Radio. When our station manager Ken Freedmen was building this place, Monty Hall, it used to be a real estate agency down here. We owned the building, but they were in here. It was vacant for a few years and he wanted to turn it into a venue and being a Jersey City resident, I really wanted a venue to be here. When he told me there were going to be cameras in here and they were going to be able stream shows live, I just said, "I want to do a variety show." I just started pitching it before this place even opened. And finally he was like "Alright," like he saw I was very eager.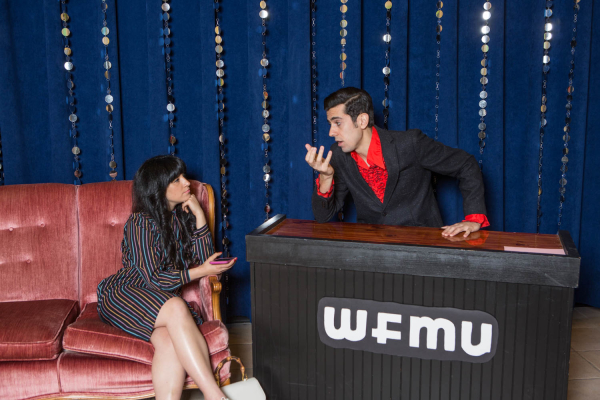 I did the first ever Prove It All Night last August. That show sold out, Monty Hall was still in its infant stage and I came in, did the show, we had a house band and guests, and musical guests.
Joe Jack Talcum did our first show, and it was a success, right out of the gate. That was a lifelong dream for me, I've always wanted to do kind of like a DIY late night talk show…it was a hit. The next one we did was in October that was with Wreckless Eric, which is huge to get him as a music guest and we had a bunch of comedians as well…it was a success, it also sold out.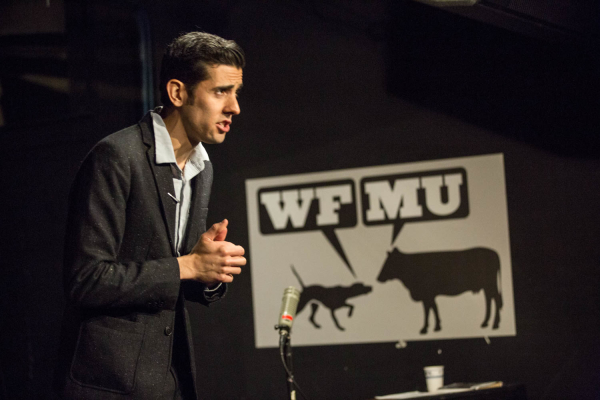 Why "Prove it All Night?" The term Prove It All Night, it's a Springsteen reference, but personally, it was what I was doing every Tuesday night from 3 to 6. I was trying to stay awake all night. I was trying to host a radio show from 3 to 6 am, I was literally proving it all night, every week, and we would say that as joke. We would say—"You're listening to Redundancy Radio with DJ Disk Jockey. Your three-hour passport to insomnia, where we prove it all night and more."
A variety show is entertaining, it's better than just going to a comedy show or going to a concert. People keep stopping me to say it's the best thing to do on a Saturday night in Jersey City, that's the compliment I keep getting. I thank everyone who has said that so far. As I am thanking people, when they're leaving, I stand right here almost, 'cause I usually get carried out from a cannibal crowd. We have this big ending every month where I almost get eaten or I get kidnapped, I always somehow get carried out.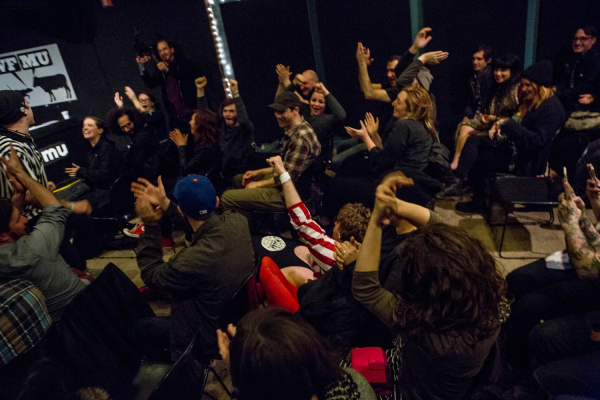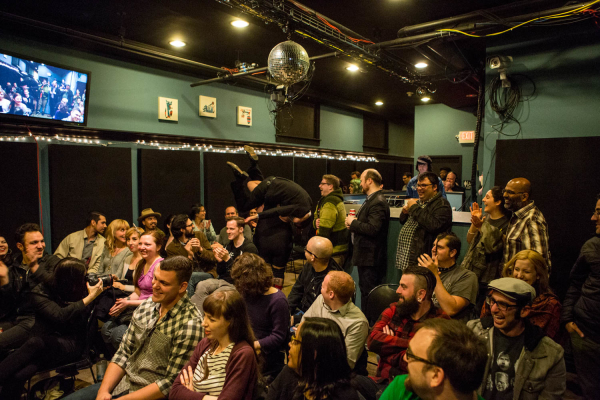 And I'm here, and people are leaving and I'm usually thanking them like they're at my Italian wedding or something, and I'm saying goodbye to them at the end of the church. And people are like "It's the best thing to do on a Saturday night." It's $5, it's a very cheap date.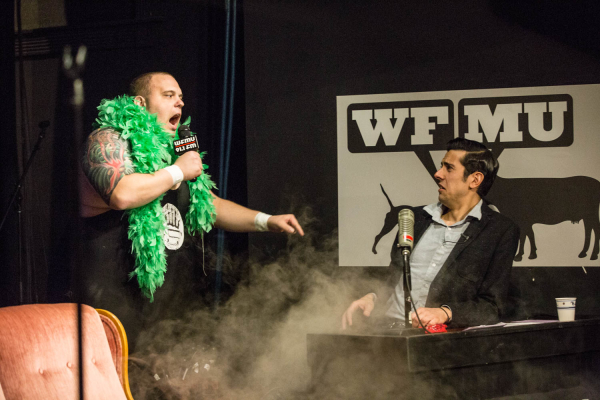 Can you tell me a little more about the format? I've always been a late night TV junkie. Since I was a kid, I couldn't really ever sleep very well or didn't want to fall asleep. So I would stay up late and watch Late Night with Conan or David Letterman. So many shows, even as a kid, I would watch reruns of The Tonight show with Johnny Carson, and I would absorb that.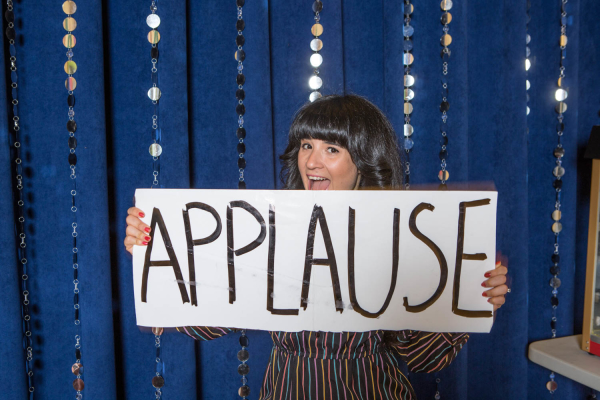 What shoes influenced you the most on WFMU? Definitely Tom Scharpling, I work for him now. I grew up listening to "The Best Show", since high school, when it started, and I later helped him produce the show from WFMU and I actually still help him produce the show weekly at TheBestShow.net, but he did a breakthrough comedy show here at WFMU.
Everybody who's anybody in comedy listened to that show and they still do. He's had so many guests, Patton Oswalt, John Hodgman, Julie Klausner, Jen Kirkman. Zack Galifianakis has been in this building, he's a fan of Tom's and the stuff he did with Jon Wurster, is on a level that no one will ever be able to come close to matching. There has been a lull in the state of comedy on WFMU since he left. But since he's left I am now one of the three or four comedy shows on this network. Jo Firestone has a show, Dave Hill has a show, and I do this. We've had to make four shows to make up for the gap lost by "The Best Show", but it's a gap that will never be filled. He practically bought this space, he raised $200,000 in like three hours once, on his last marathon show. " He created so much security for this station, and really made us known way more worldwide than we had ever been just from his show. It was called The Best Show for a reason, even though that name started out as a joke.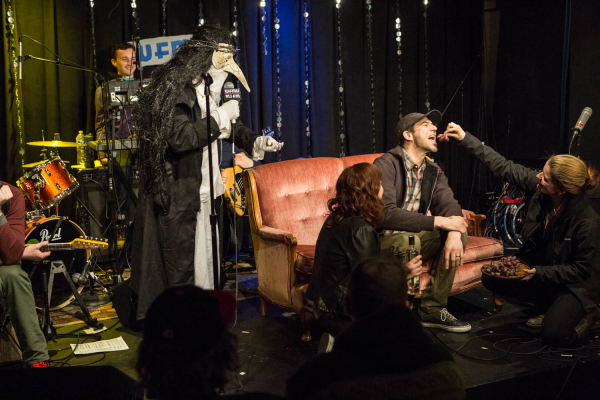 Tom Scharpling was a guest on my show a couple months ago. A running gag on this show is that I don't have a mug because I have to earn it. I'm not just going to walk out here, and start drinking from the mug and being totally arrogant, I have to earn the mug as a talk show host. So, I told this to Tom before he came on the show, I'm thinking maybe if he thought I earned it he'd bring me a mug, but he didn't. He said in the interview—"You've about earned a Dixie cup." So I was like, "Okay." At the next show, he and his wife were in the audience, and I mentioned it out loud to the audience—"Tom was on the show last month and he mentioned that I was going to earn a Dixie cup, but I never found out where I could pick it up." And then all of a sudden the band plays him on with his theme then he walks out and just throws me a Dixie cup. And I'm like "It's Tom Scharpling everyone!" So I've had the Dixie cup now on all the shows since.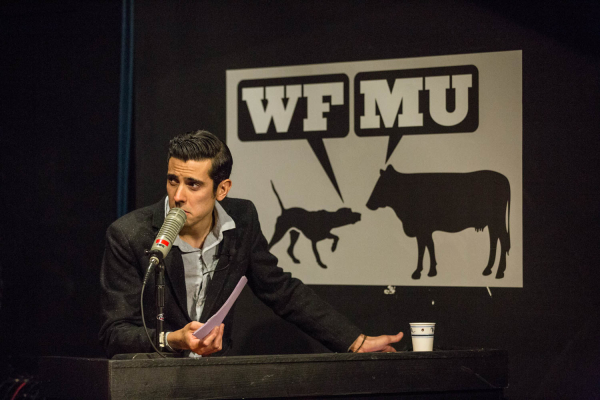 What are your future plans for Prove It All Night? I'd like to do a summer music series, we're working on that, that way there is something happening in here every other Saturday. So I'll be doing a studio show one Saturday night, the next Saturday will always be at Monty Hall. If there is music series happening here, that would be less of a variety show, more of me just hosting two or three bands every other Saturday, and the last Saturday of the month being the big variety show where we have comedy and music happening at once.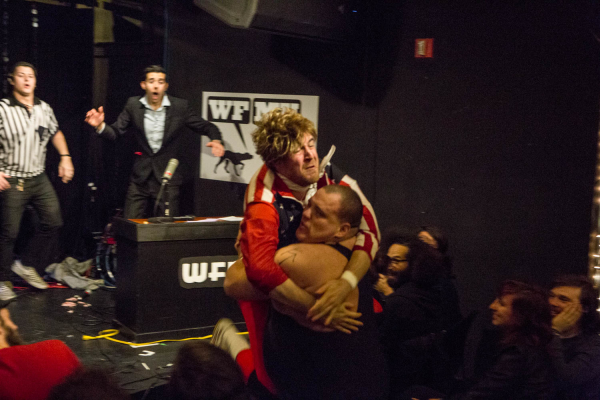 What are your long-term plans? Do you want to be on TV? I'm a freelance comedy writer and I've always wanted to pursue comedy writing as a career. My dream job would be a staff writing position on any late night talk show, and I mean any late night talk show, I don't care what it is. Because I don't have an agent or anything I'm an unrepresented, unemployed comedy writer.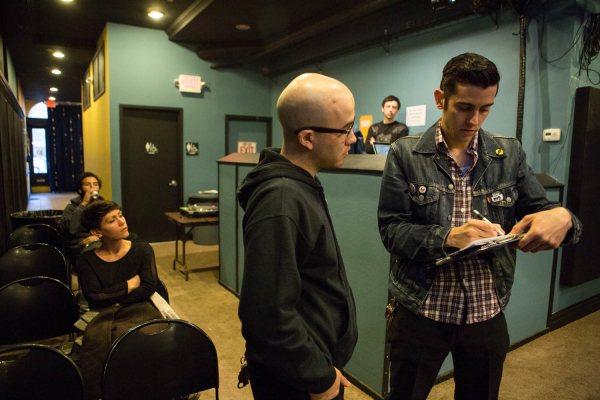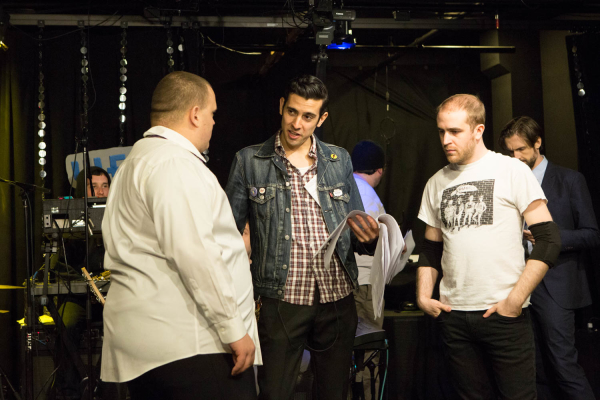 I had this writing packet and the first show of Prove It All Night, [it] was just things I wrote for other talk shows. Like "The Ghost Heckler," I wrote that with a show like Late Night with Conan in mind. In college, I interned with Conan O'Brien, and that was one of the best experiences, other than WFMU, that I've had.
I would take anything, I mean I'm hungry for it, but no matter what I did, I think I'd still be a part of WFMU and still try to do a show here just 'cause it's so different and unique. It's what I am, it's a DIY radio station, this is a DIY late night talk show.
I have a team of writers I work with who are all brilliant performers and are friends of mine in the New York City area, I have a great house-band, I have producers that help me book bands, and it's a team effort.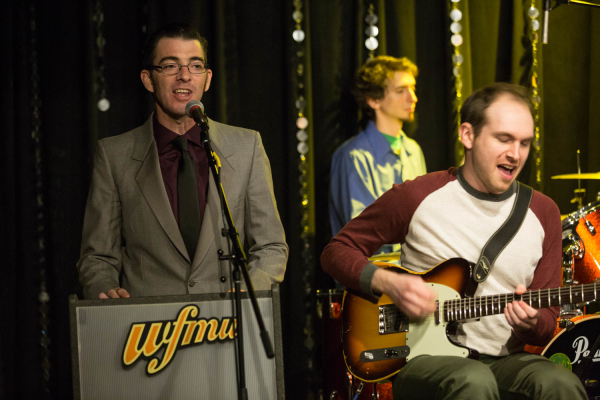 Do you ever get nervous on stage? Yeah, of course, it's weird though. I actually feel more comfortable up there than I do sometimes at a party or in a social atmosphere because I'm in control. It's pre-thought out, I write everything out on cards just like any other talk show. I've learned how talk show works from my internship on Conan. I lay out my whole show, it's all in order on index cards. I have a set order here, I can motion to the band with things, Neal, the announcer, has scripts so in case I miss a line. The only thing that is written and planned out are the sketches, everything else, the interviews, are casual and loose and a lot of fun things have happened through those.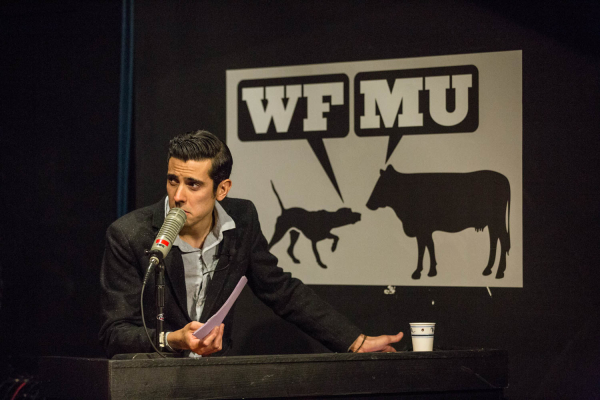 How long have you been in Jersey City? And how do you feel it has changed in the past couple of years? I've been here almost ten years. It's changed significantly. I jokingly say, it's "America's Golden Shower." It's a politically flawed city and that I think, blends itself to its neighborhood and its residents. I have loved my life on Bright Street and my life here, I've helped start the Bright Street community garden, which lost its land last fall due to a development, and that's sort of how I feel about Jersey City.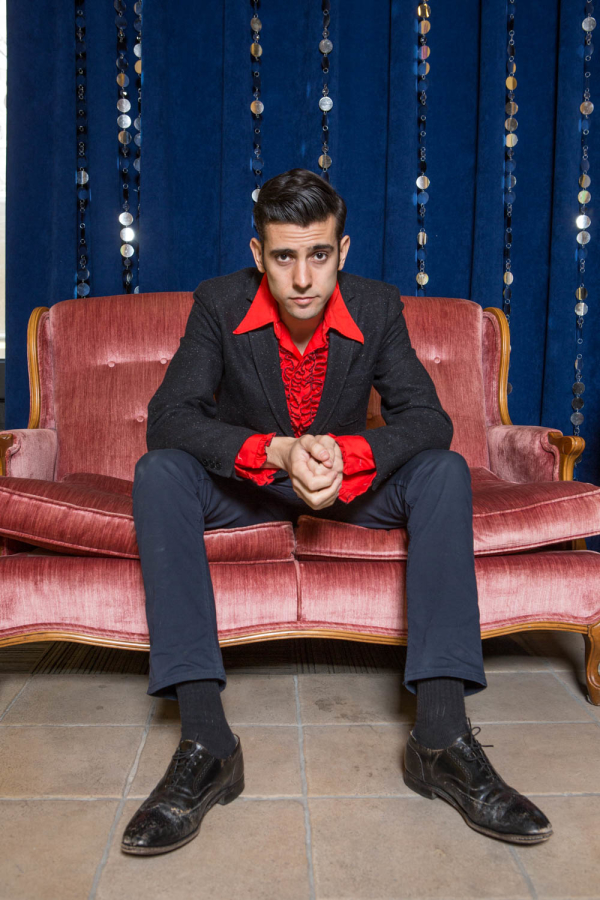 I think some of the best things are the older things that are still here. That's my favorite part of Jersey City and like not to say that everything new is bad. 'Cause I mean there are so many friends of mine that own businesses that just blow my mind that there's nothing like it anywhere else, like even in Brooklyn, or other places in the country or the world. You can only find it here…for right now I wouldn't live anywhere else. WFMU is one of the prime examples of that, and I mean I don't know what other city this radio station could exist [in].
Do you have a favorite Jersey City hangout spot? Yeah, the White Mana. The original one is in Jersey City, from the 1939 World's Fair. I've spent many a night there, I know people on the staff. I used to box across the street at the gym, which is a rough place, but it's got a lot of heart. That neighborhood is a perfect example of something that I love about Jersey City. Everyone knows about Lucky 7's, but I've gotta give them respect because they employed me for years as a DJ.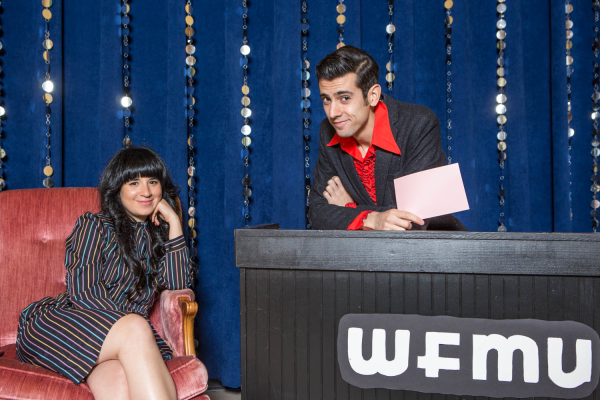 What do you play on your show and what do you listen to? I grew up listening to Punk Rock and playing in bands in high school and college. The show is rooted in Punk, but I also am a huge fan of sixties Soul, forties and fifties American R&B. I love seventies Funk, I love crazy stuff like Afrobeat and sixties and seventies Reggae. Generally speaking, it's a show that focuses on Rock 'n' Roll, when I do play music in the off weeks.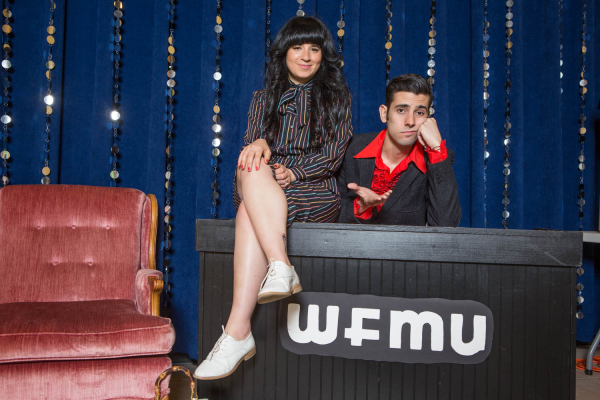 Is Pat Byrne your real name? Yeah, in fact, I'm not even a Byrne. My grandfather was adopted in the thirties in Chicago, so we don't even know what I am. On the last show, we had my uncle in the crowd, his name is David Byrne. So I told everyone in the crowd "We have a surprise guest, not many people know this, but my uncle is David Byrne." And there was a gasp in the crowd, and I was like "He's here tonight if you don't believe me, come on up." And then the band played him on to The Talking Heads, and then my uncle Dave comes up and he's just some guy.  I did like the shortest interview in the world with him and then at the end of it, I'm just like, "I should also point out that you're not the guy from The Talking Heads," and he was like "No, I'm a professor from Texas" And I was like where can people find your work, he plugged himself in and he got played off immediately by The Talking Heads.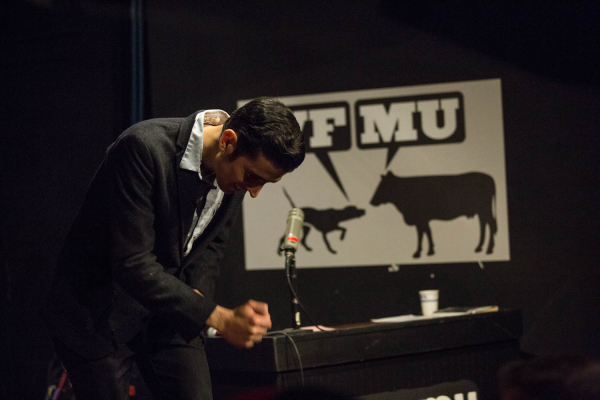 Anything else you'd want people to know about you? I don't have a website or anything, but you could follow me on Twitter @1800PatByrne.
---
This Saturday on Prove it All Night:
Matt Koff (daily show) Michelle Wolf (late night with Seth Myers) and music from The Hamiltons! Plus surprise guests.
Prove it All Night happens every last Saturday of the month!