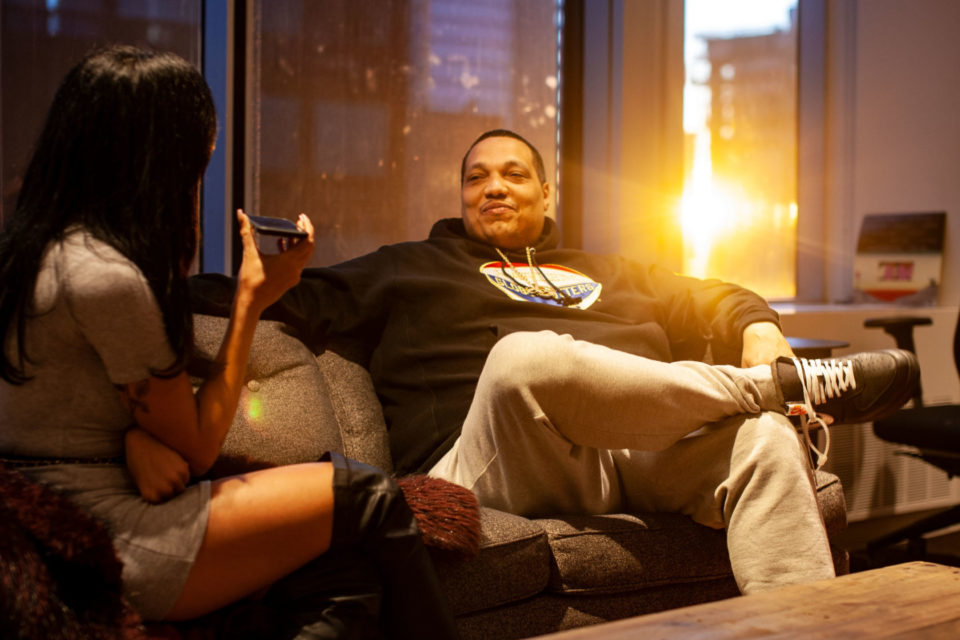 Never in a million years would I think that I would be sitting at Atlantic Records interviewing someone like Orlando. Can we fast forward real quick to my college days? I used to be the Hip Hop Director of my College Radio Station- CIXS. Part of my job was to cultivate relationships with record labels across Canada and the US so we could get new releases, swag to give out to students and concert tickets. I remember talking to these record label interns and thinking to myself, "One day that will be me." Well clearly, that didn't happen, but being here today, writing this blog and the blog somehow bringing me to Atlantic Records in New York fucking City… Wow. Blows my mind.
So how did we get here? Orlando Wharton is a Senior VP of A&R at Atlantic Records and he is a Jersey City Native.
I posted something on my Instagram asking my followers to tag interesting locals. A few people had tagged him and I reached out to ask if he would be so kind to let me interview him. Orlando signed Fetty Wap, Kodak Black, PNB Rock, and has some more rising stars under his belt.
Orlando invited us to his office in Times Square to meet.
Funny enough, that same day, our CCAJC students were invited by another awesome local Zeena, who interviewed me for her podcast and works for Atlantic, and was gracious enough to invite our kids for a tour (which was amazing, by the way).
Orlando's story is inspiring, and I am so thankful that I got to sort of live out my dream of being at a big Record Label and absorbing the history, the music, the art, the culture. Anyway, I will shut up now! Meet Orlando.
What's your name?
Orlando Wharton.
What do you do?
I'm the Senior Vice President of A&R for Atlantic Warner Bros.
You said you've only been doing it for three and a half years. I want to know the whole story. How did you get to where you are now? 
Hard work, dedication, passion, and a dream. And a lot of luck.
When did you start in the music business?
I've been doing this since I was about 22. I'm 38 now. I had a friend that was rapping and I was helping him. In helping him, I learned the business. I just moved up.
How did you get to Atlantic?
I was at 300 Entertainment with Lyor Cohen and Kevin Liles. I worked with them for a year, and we signed Fetty Wap and did really well. After that, I came to Atlantic.
So how does it work? You find an artist that you think is going to do well. What's the process?
We scout artists, we see who we think is going to sell records. We sign them to a deal, we produce an album for them, and then we put the album out.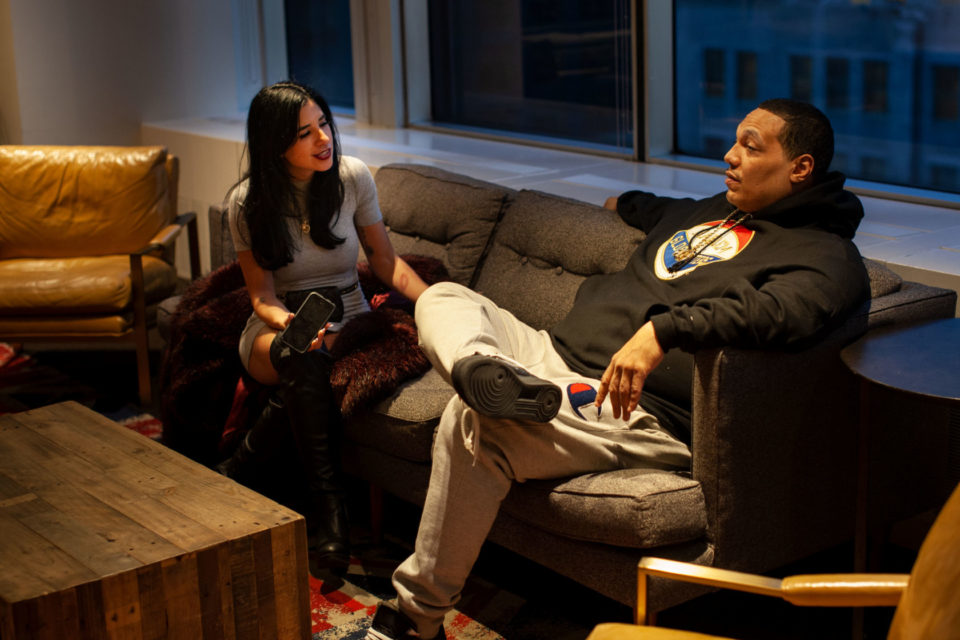 How did you find Fetty?
I was actually in Downtown Jersey City with a friend of mine. He wanted to go to a Mexican bar in Teaneck, so I went with him and there was an open mic. Fetty Wap was performing, I liked it and I offered him a deal.
You just saw him perform. You never know who's watching. That's huge!
You never know. I was just there hanging out, watching. It changed both of our lives.
When you see somebody like that, what kind of feeling does that incite? Is it a gut feeling, like "This is a star?"
I saw him and the girls still liked him even with one eye, I found that intriguing. I wanted to see what was going on, I liked him. I got to know him, we started working. He's a nice guy. We made history. Sold 15 million records.
That was your big moment, in a way.
Yes and no. I still don't feel like I've had my big moment, like I'm just working.
So after Fetty Wap, what happened?
I came here, started working at Atlantic. Then I had to sign some artists. I came with Kodak Black, A Boogie wit da Hoodie, and PnB Rock. We started selling a lot of records.
Why those three?
They were the first three I brought to the label. PnB Rock, I saw him singing on Instagram and I liked him, so I gave him deal. A Boogie with da Hoodie, I saw him perform in Brooklyn. Kodak Black, I was in Florida and somebody told me about him. He was 16 at the time. I went to meet him, I liked him. We've had some tough times with Kodak, but now he's doing really well and selling a lot of records.
How I see it is that you're finding talent in people and making them big stars, you're making their dreams come true. People watching this or reading this who have a dream or maybe want to be in music, what kind of advice would you give them?
Follow your dream. You never know what could happen. Put in hard work and preparation. You have to make good music.
What did you listen to growing up? Who were your favorites?
I listened to a lot of Black Moon. Jay-Z, obviously. Big Pun. Mary J Blige.
How do you connect with newer music?
I would say, you wouldn't listen to your parent's music, at least not when you were 15. You would listen to what's new. The kids control the cool. Cool factor starts at 13, 14, 15.
I'm just here to give people what they want. If you want something that sounds like Jay-Z, I'm going to sell that to you. If you want something that sounds like something else, I'm going to give it you.
Do you have anybody new that you're working with that you signed? 
Shoreline Mafia, we're doing really well with them. That's a new act we signed. Shout out to Atlantic with Cardi B, Bruno Mars, Ed Sheeran, Gucci Mane, Wiz Khalifa, Lil Uzi, so many out here.
What's a typical day here? What goes on?
It's really relaxed. This is the most laid back job you could have.
Let's go back – you said you were raised in Jersey City. Tell me about where you were raised, the area, etc.
I was raised in Downtown Jersey City. I went to PS 37, Ferris. I just love Jersey City, Downtown's a great community.
How do you feel about the changes?
It's good and bad. It's good because it's nice, bad because it's really expensive. When I was growing up in Jersey City, I would know everybody. Now I don't know anybody there and all the families I knew don't live there anymore unless they live in Villa Borinquen or the new houses. Other than that, everything else is really expensive. It's unrealistic, it's a different place.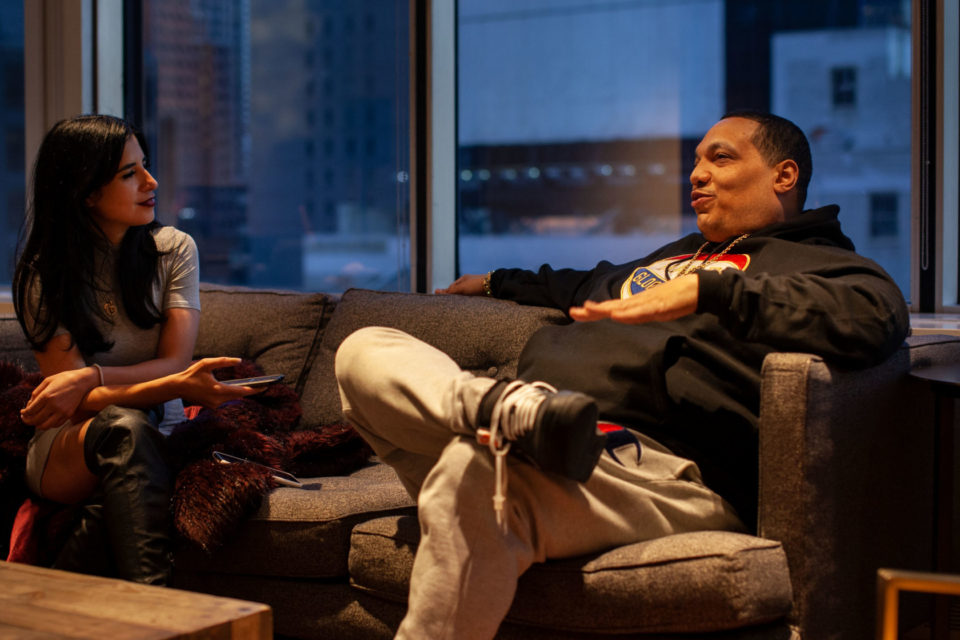 How was growing up in the downtown area growing up?
It was a good mix of people, everything was like a family. It wasn't too packed, there wasn't so much traffic down there. You could drive your car and get from one street to another without having to constantly stop. There weren't even lights.
Do you have a favorite hangout spot in Jersey City?
I had one – Tommy's. Tommy's was the greatest hangout in Jersey City food history. That was the last real place I really liked where people would meet up. To be honest, there's a lot of restaurants in Jersey City and they're just OK. I think they could do better. I like Carmine's, Laico's, Edward's Steakhouse. I haven't really explored the new Jersey City. Helen's has been around, I've been going since a slice was 75 cents.
There are some good neighborhoods spots I think you'd like! There's still charm. 
Jersey City's a good place to be, you can see the passion in it. It always feels like home. Anywhere else, I feel like I'm lost.
What's next for you?
Atlantic-Warner, we're going to keep trying to stay the number one record label in the world.
Do artists hit you up all the time?
Absolutely. I try to listen to everything or have someone else listen to it.
If an artist is reading this, how could they make themselves get to you? 
They should keep working and don't get to me, I'll get to you. If you're working hard, I'll find you when it's time.
How do you find them?
I watch everything. You just have to have an ear for what people are looking for. There's a lot of indicators. Talent beats everything. You need an ear for talent. Work hard and I'll find you. There's a lot of word of mouth.
Anything else you want people to know about you? What do you do for fun?
My job is fun, I just work with artists all day.
Are you friends with the artists you sign?
Some of them, yeah. It's different when you sign somebody before they're famous and you meet someone before they have anything.
On that note, thank you so much for the interview!
You can find Orlando Wharton on Instagram.