I love interviewing people who are OG Hudson County residents and hearing storied about growing up in this area. I was recently invited by Roger Muller to visit his office in Hoboken and sit for a chat. This guy is a character and deserves his own reality TV show. His office was goals; he's very into aquariums and plant life. We were there for a few hours, talking about his life in Hudson County and the history of the insurance company. All that being said, he's clearly the one to go to for your insurance needs. He knows everyone, he's invested in the Hudson County community. They pride themselves on providing great customer service. You can call them, email them, walk in.
Why deal with an insurance company outside when you get that personal touch?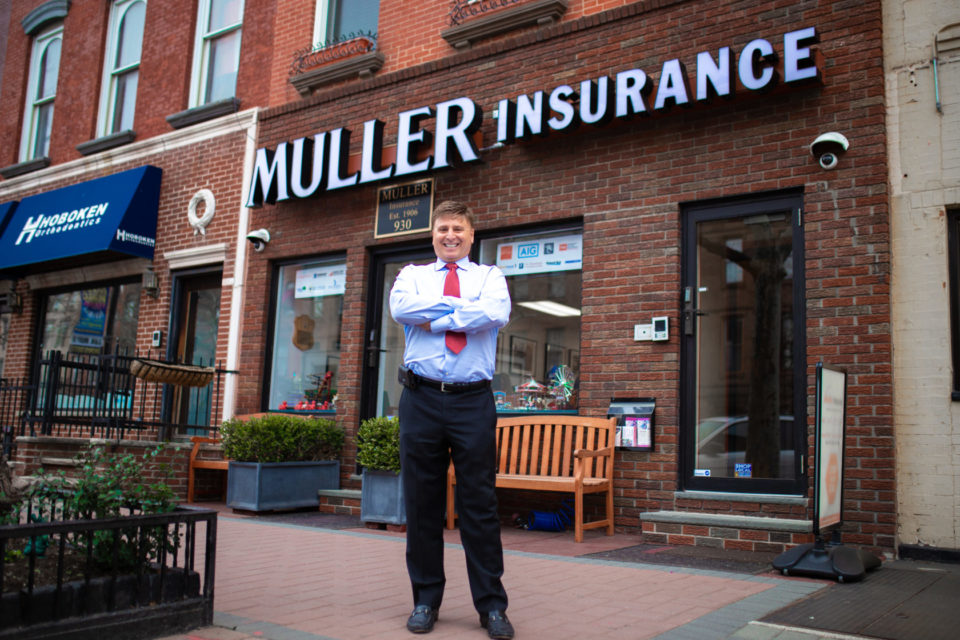 What's your name?
Roger J. Muller Jr.
What do you do?
I'm an insurance agent and the majority owner of Muller Insurance with my sister Erika S. Muller.
How long have you been doing it?
I started working for Muller Insurance & Real Estate in 1980 and got my real estate broker's license in 1982. I initially decided not to do real estate and work solely in insurance. My father at the time had three different insurance companies and he wasn't selling much insurance. In 2018, as an Independent and Trusted Choice Agent, we now have 20 different companies and sell insurance in 25 states – including all the East Coast, Texas, New Mexico, Arizona, California and Oregon. We sell a lot of insurance in Chicago, L.A. and San Francisco since we have people who come to Hudson County and, when they move back to where they came from, they are able to keep their insurance with us because we are licensed in other states.
So, it's a family business.
Yes. My grandfather started Muller Insurance in 1906 and as of January 2019, we will be here for 113 years. We are the oldest business in Hoboken, and we might be one of the oldest businesses in Hudson County. My grandfather had offices throughout Hoboken and he also had an office in Jersey City on Kennedy Blvd.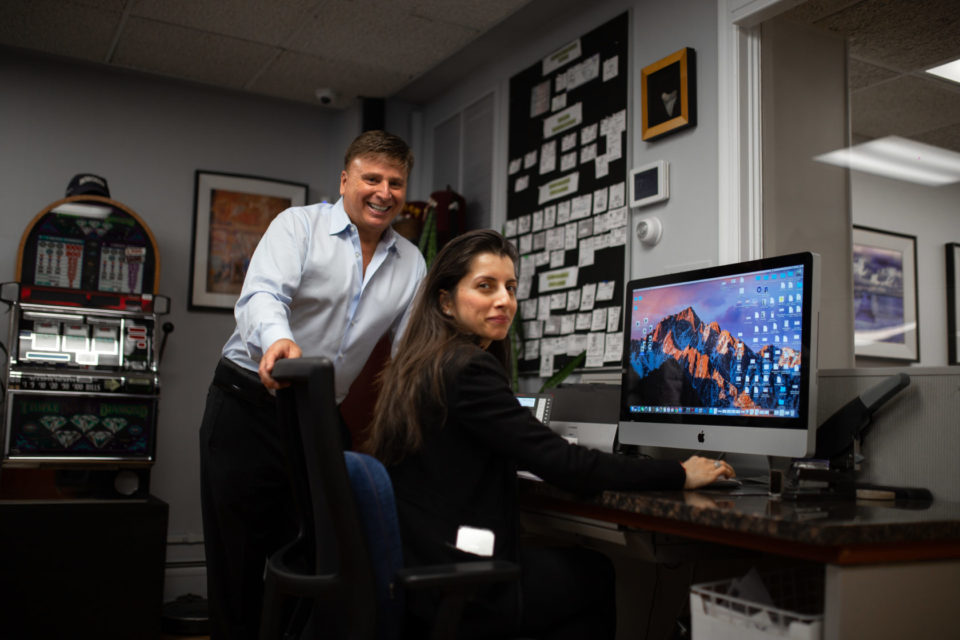 And then your dad took over the business. 
My dad R. John Muller, who graduated from Upsalla College and attended St. John's Law school, started working in the office in 1948. His father wanted him to be an attorney, but he decided to get married and join the family business instead.
That's awesome. Did you always know you wanted to be part of the family business?
No, I was going to University of Mahwah and my father said, "You will not work in the office until you graduate from college." That was the first step, and then while I was in college, one of my friends was selling real estate and talked me into doing a real estate course during our winter break. Since I was studying geology and environmental science, my father was always encouraging me to do try a different field and the more he discouraged me to join the office, the more interested I became.
What did he finally say when you decided this is what you wanted to do?
He was surprised and very happy.
How has it been, being in Hudson County for so long?
Hudson County has really changed in the last 40 years. We used to have a lot of really nice friends who were Spanish-speaking, and it seems like a lot of those friends could not afford to live in the area and had to move out.
It's an interesting county where there's so many different things to do. I have my boat in Liberty Harbor Marina, which is a beautiful marina in Jersey City. I think Jersey City's bypassed Hoboken as a cool destination to hang out. Jersey City has a ton of different types of restaurants, from Filipino to Spanish. I was up on Central Ave two weeks ago eating Puerto Rican food, which I love. In Hudson County, there are a lot of interesting restaurants, people, culture and diversity. The people from Hudson County that I've known my whole life seem to be more loyal, even as customers, than people I've just met from other areas.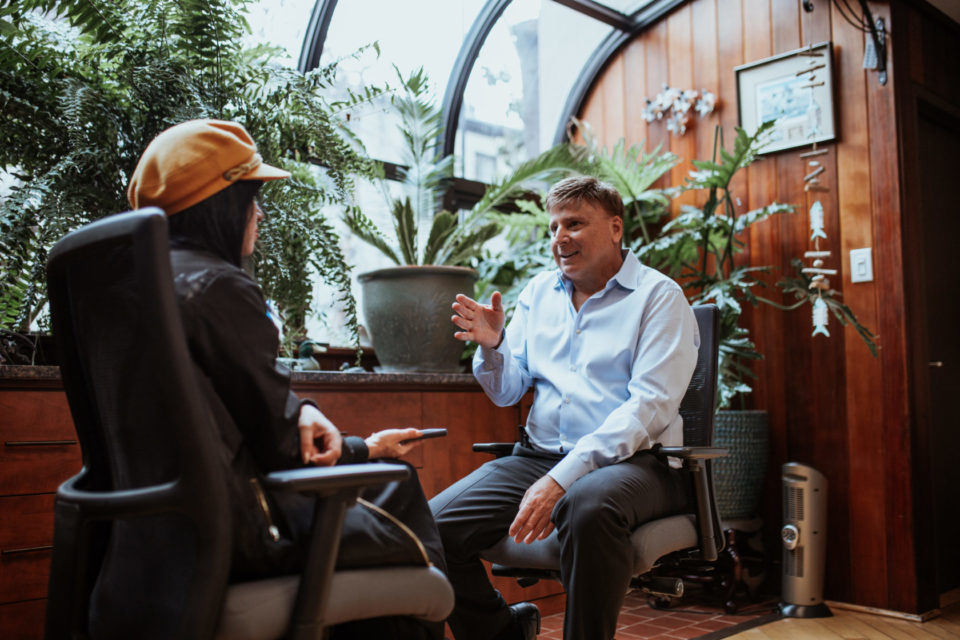 People like to support each other here. 
Yes. But there are a lot of people who have moved in from other areas that love the area so much and fit in so well.
Tell me a little bit more about what you guys do, the services you offer, and why people should come here.
We are a Trusted Choice Independent Agent and we have 20 different insurance companies, so instead of you having to go to all these different agencies to get a quote, we can give you quotes from all different companies in one spot. We are also a Cornerstone Agent, which means we are the highest rated agent for Chubb Insurance Company. Chubb has the best reputation when it comes to paying out on claims. We have companies that sell in 50 states, which would include Chubb, Traveler's and AIG. We also have a lot of New Jersey-based companies, which includes Franklin Mutual, FMI, Farmer's Mutual of Salem, Cumberland and Progressive.
For our specialties, we're really competitive with any kind of building insurance. Whether it's one to four family dwelling or a 100-unit condo association, we're super on pricing. At the same time, we offer quality products and we write a lot of homeowner insurance in Hudson County. A lot of other agencies that are out of the area are scared to do business here because they don't know the area and will mostly likely not come to inspect the building because it's too far from their office. We're in Hoboken and we're centrally located to all of Hudson County, so I can jump in a car and drive down to Jersey City and look at a house on York St or wherever. People can walk into our office, and I have employees that average about 21 years working here, so they know what's going on and they're good working with people. Some people want to save money, others want the best possible coverage, and we work with what people are looking for. We're representative of all these different companies, so people come to us for a more personal service.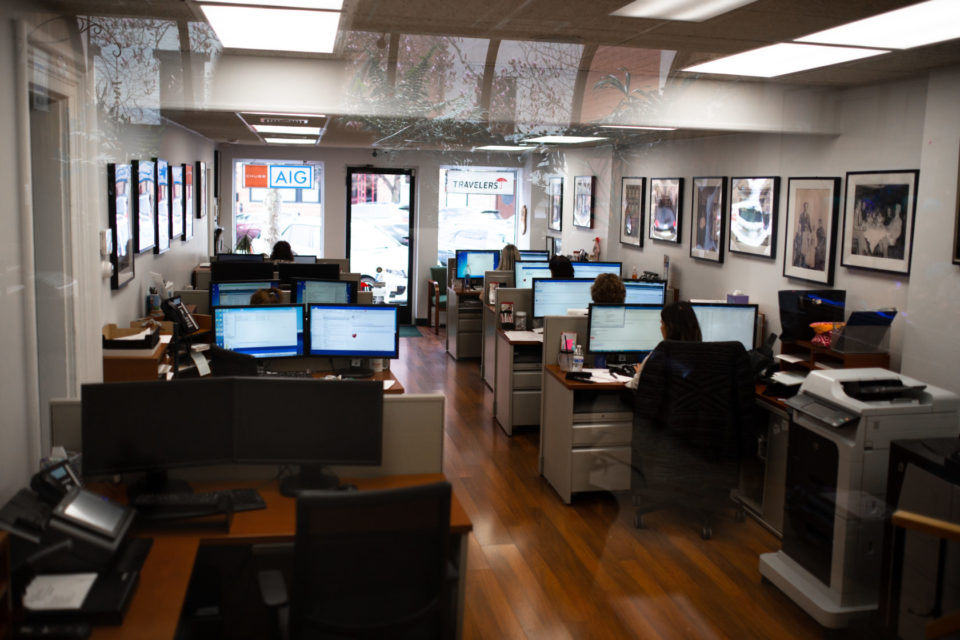 We are also very competitive with homeowner insurance, condo insurance, co-op insurance, and renter's insurance, which pretty much covers all of Hudson County. We also write Condo Associations and we work with management companies in New Jersey, New York, and Connecticut. We also write apartment buildings with mercantile and blow away everybody's pricing.  We sell workers compensation, commercial auto, commercial umbrella, personal umbrella insurance, directors and officers liability insurance, and all different types of retail store and restaurant insurance.
Insurance in Hudson County is not the easiest to get because we're close to the water. We don't have any problems with insuring properties near the Hudson River or the Jersey Shore, which is great. Over the years, we expanded to get contracts from different companies because companies my father had would not write attached buildings. Everything in Hudson County is pretty much attached, and we're able to insure owners in a row house and apartment buildings attached to other buildings. We have special policies for churches, as well, along with flat roofs.
So, people can just walk in here?
Yeah, people can just walk in. We're open 9AM to 5:30PM from Monday to Friday. They can walk in, I have 8 people sitting in the office who are all licensed. You can come in, tell us what you're looking for, and we'll figure out how much coverage you need. People can also call in and we do the application over the phone.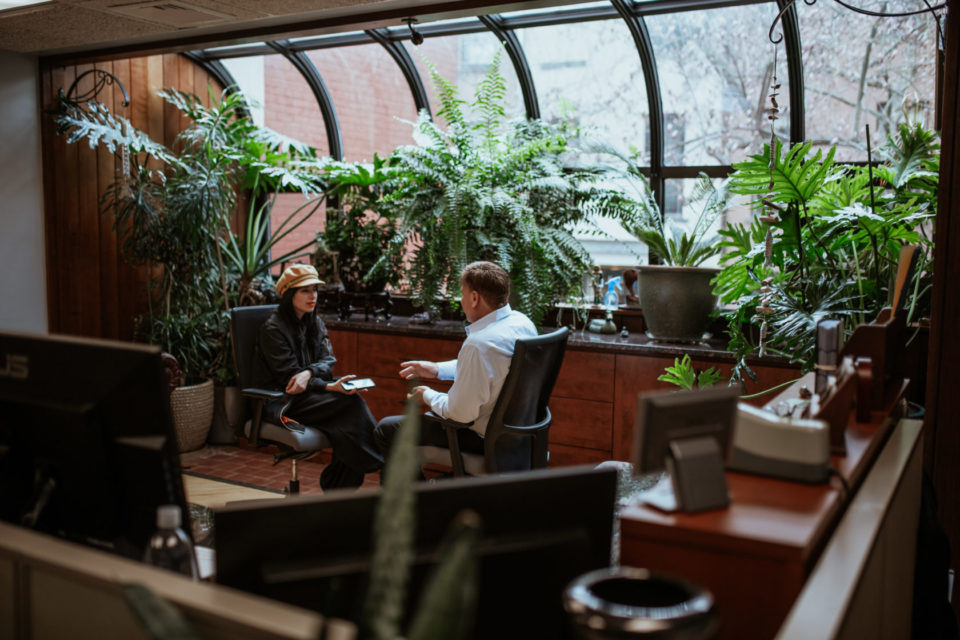 Tell me a little bit about your office. It's very eclectic. 
I used to live upstairs, and I moved my fish tank from upstairs to downstairs. We have a 150-gallon fish tank here. I have coral, sea anemone with clownfish and palette surgeonfish in it, and we even have shrimp in there. People really enjoy that. We recently renovated. We used to have old black-and-white pictures of our building from the 1930s, of my family with the business. I feel lucky that my grandfather left photographs.
That's great. Anything else you'd like people to know?
Here are some things that make us different. In Hudson County and all of NJ + NY, we can insure your home: for guaranteed replacement cost, if you gave a shore or country property, live near water, are in a flood zone, have a flat renovation, have oil heat or expensive jewelry,
While a lot of people know we're here, there are some newer residents who don't know about us. We have some great pricing in Jersey City and all of Hudson County for homeowners and condo unit owners. We're a friendly office, we like to answer questions, and we're easygoing. We have an atrium in the back filled with plants. It's a nice, clean office with sweet people who are knowledgeable about insurance. Come and get a quote, its free and see how great we are to deal with!
You can find more information about Muller Insurance on mullerinsurance.com as well as Facebook and Twitter.