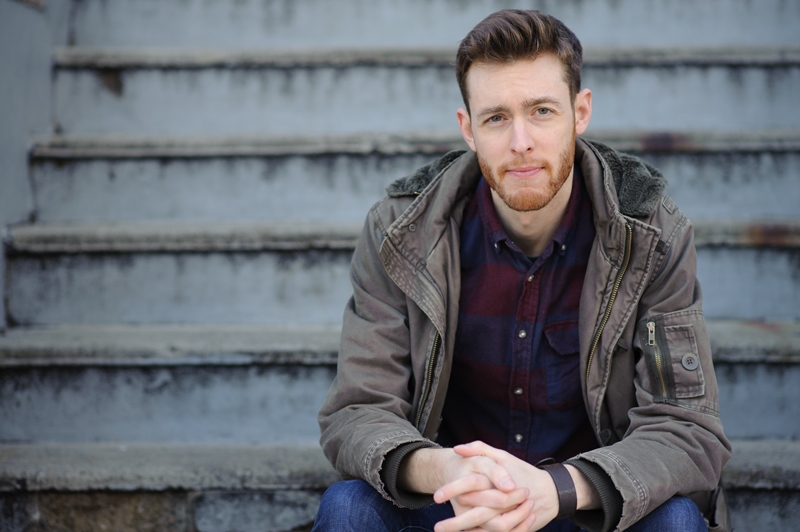 The Terminal of Terror Halloween party is taking place tomorrow night in the Historical Central Railroad of New Jersey's terminal in Liberty State Park. When we started planning Terminal of Terror, I knew I wanted to somehow incorporate a theatrical aspect to the event. I thought it would be cool to try and bring out the history of this amazing venue in a spooky way.
Lillian Bustle, who I interviewed a few months ago, suggested I reach out to Mason Beggs, a local director and producer. Mason has put on some very successful shows in Jersey City, most recently The Handless Maiden at Art House Productions. When we spoke on the phone and I told him about the event, he was super excited to help us put it together. So tomorrow night, expect a really fun treat!
I invited Mason to drop by ChicpeaJC HQ to get to know him a little better.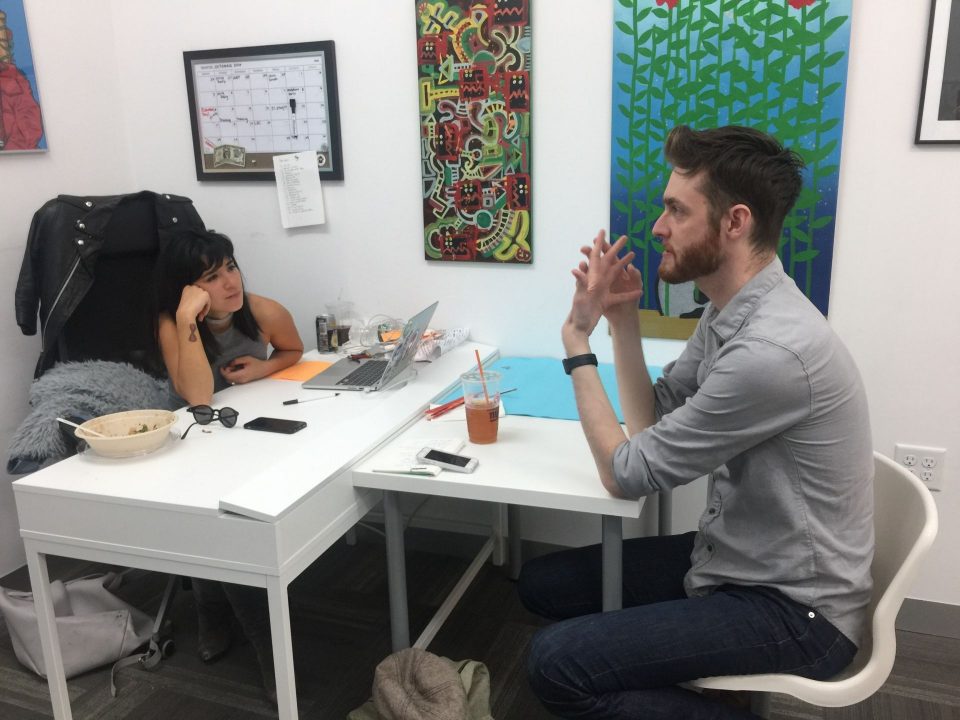 What's your name?
Mason Beggs.
What do you do?
I'm a director. I also produce, and I teach at The New School for Drama.
What do you direct, produce, and teach?
Well, for The New School, I'm in their directing program. I teach a staging course and a critical inquiry course. I produce all over the place. With directing, I've mainly been directing for Art House Productions and Saint Peter's University over the last couple of years, doing a whole range of shows. In the last year and a half, we've explored a lot with immersive theatre and devised theatre, and bringing that to Jersey City.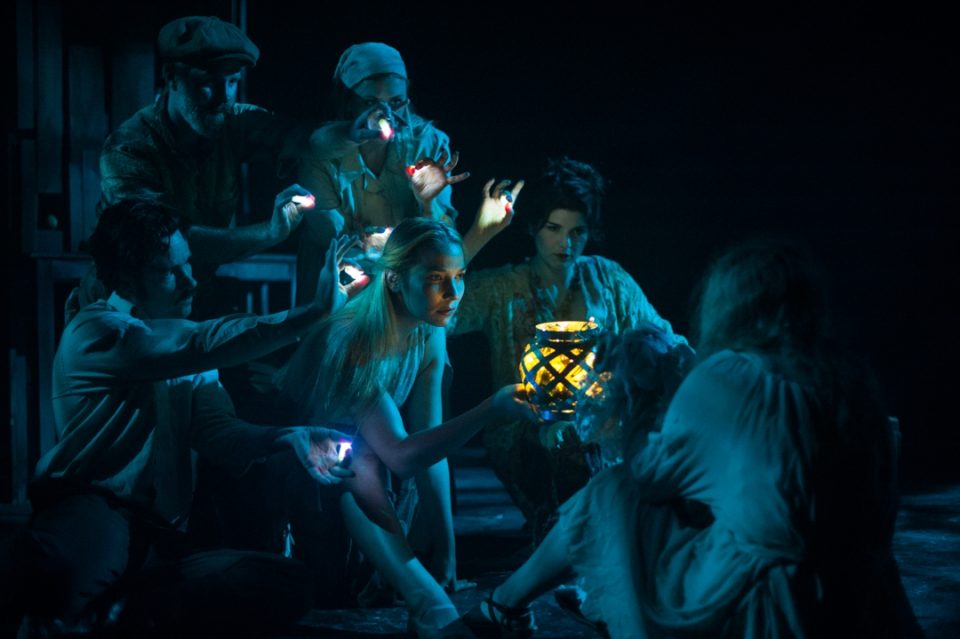 Awesome. So how did you get into it? Were you an actor or a writer? How did you get to be a producer?
I feel like everyone has their stories, but I've been directing since I was 4. It was my thing! I did acting for a little bit, which was fine, but it wasn't what I wanted. For my undergrad, I went for film and animation. Then I somehow steered my way back toward theatre.
Amazing! Since you were 4? What were you directing?
You know, just directing stuff in the living room. I will say, I drove my mom insane. I was doing Beauty and the Beast, and I walked up to her during one of the rehearsals – at this point, I was about 8 – and said, "I'm gonna need a dry ice machine. Probably a hazer and a fogger, too. I'm not sure how you're gonna accomplish that, but this is what I need." I didn't get it, but we got free pizza!
That's so funny! So was there something that inspired you to get into directing? 
I didn't really know what a director was, at this point. I just knew I was in charge of putting all the pieces together. I think because I was into visual art and there are a lot of musicians in my family, I found a lot of interest in different art forms. Directing was the one position where you could create cohesion between all of them.
How long have you been doing it in Jersey City?
I've been here since 2007. Three of those years were grad school, so since 2010. With my first piece, Christine Goodman saw something I did in the East Village and she brought me on to do their main stage at Art House. That's how I got the ball rolling.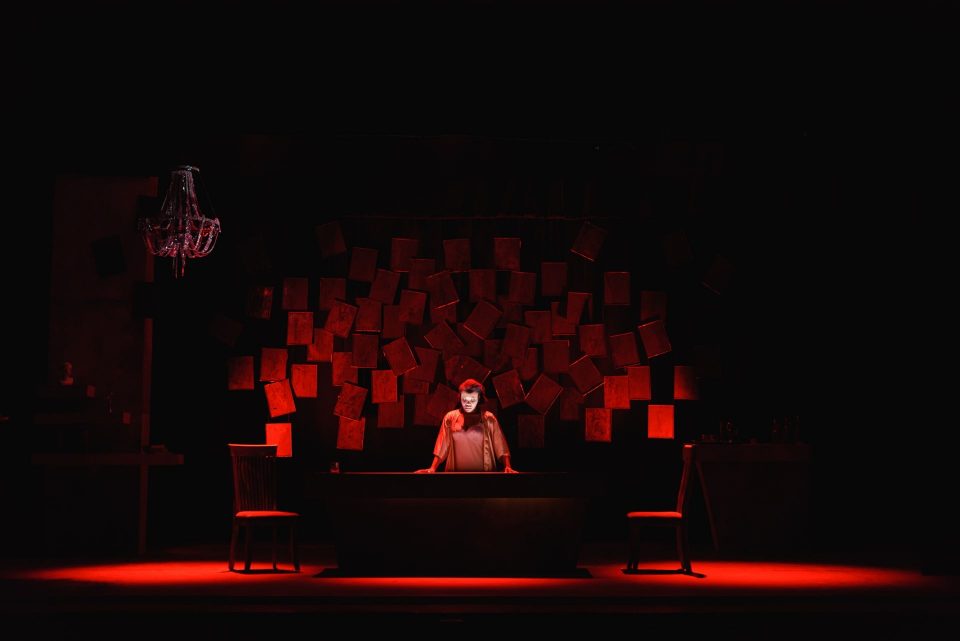 I love Christine. She's awesome!
She's lovely. She's really why I've been able to create here in Jersey City.
So tell me about the shows you've done in Jersey City. You had The Handless Maiden recently. How was that?
That was excellent! It was super stressful only because Shayfer James and I took this old Grimm's fairy tales, "The Girl Without Hands." Creepy as hell, super dark like many Grimm fairy tales. With a group of actors and a violinist, we created a full-length, immersive devised piece in a month. We told everything through physical story-telling, all non-verbal. Shayfer had prepared piano.
He's the best!
This girl I went to grad school with wanted to introduce me to a composer for her theatre company, and I was stressed at the time. She dragged me to this concert at Rockwood in the city. Within the first 30 seconds, I was like, "There you are! Found you."
He does theatre music. He tells a story and makes you feel everything. It's crazy.
I feel like, when I first heard his music and started chatting with him, I found a good composing counterpart. Same thing with Andrea McKenna. She came on House of Aetrus last year at Art House. You know, she's not a designer, she's a decorative painter. It was kind of a risk in a way, but as soon as we started our conversations, I knew I found another one of my artists.
That's great.
There was instant communication. We get in each other's heads.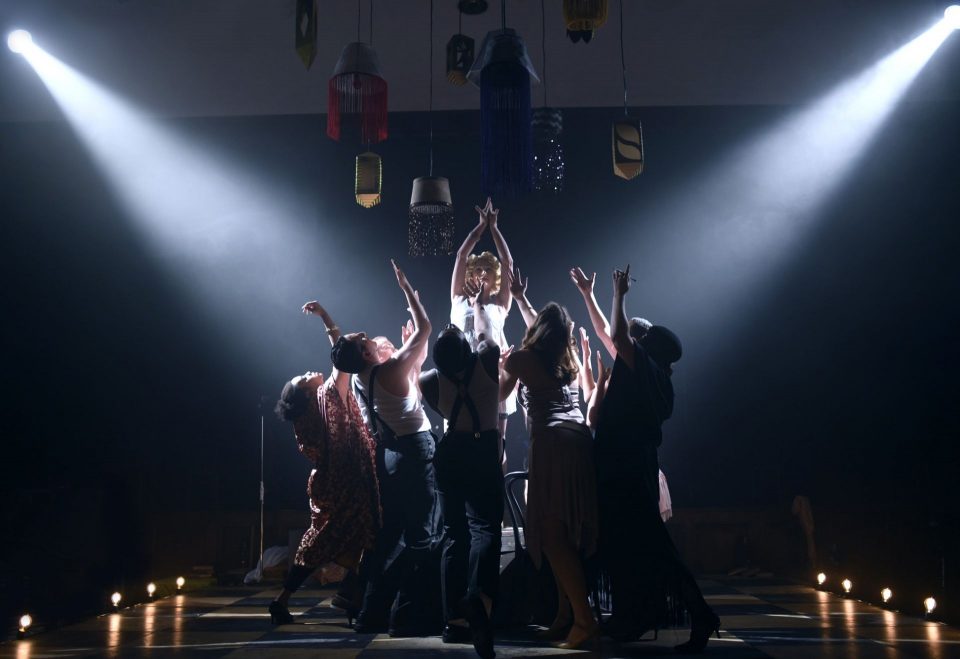 So for anyone who may not know – what is immersive theatre?
Immersive theatre is essentially the lack of a division of audience and stage. It's where the audience and the action and theatrical elements are all part of the same unit. Sleep No More in NYC certainly wasn't the first piece of immersive theatre around, but it made it popular. It's a different form of storytelling. It's almost more event-based, in a way, because it's less formulaic and scientific. What I love about immersive theatre is that it's revitalizing the theatre scene, which I feel has started to slip into an archaic art form. We don't, as a culture, go to the theatre anymore. Hopefully, that's starting to come around.
My mom is a huge theatre fan and she's an actress. In Israel, she did theatre and brushed it aside once she got married, but she would always drag me to shows. At first, I didn't appreciate it until I became a certain age. Now, every time we go to NY, we go to Broadway or off-Broadway. It's interesting to see that people don't push for it today.
I think part of that is because it became very formulaic. It is an art form, and as you evolve, people's tastes change, and there's nothing wrong with that. People had huge issues when they started adding projections and technology into theatre.
So you're okay with it changing to appeal to more people?
I'm okay with it. If it becomes, "We're doing this for the sake of commercial success," then it starts to lose it.
Back to immersive theatre – this is what we're doing for Terminal of Terror. I don't really know anything that you're about to do. 
The main thing is that there's a great party that's happening and we don't want to detract from that. We want to just add an extra layer to that, like another immersive layer. Meagan Woods and I have asked actors and modern dancers to be a part of this event. Essentially, what we're doing is creating this layered world where the performers are part of a purgatory and unable to leave this concourse, this train station. All of them, throughout the event, are going to be living in their own personal hell and reliving that traumatic moment. It's going to be different. Some of it is going to be just physical storytelling, some of it will be more dramatic in monologue-format. Not all of it is going to be in English.
So good. Beware, everyone! 
Most people will be in costume, so you can't be sure who's a part of it.
That's what I love about it! You don't know who around you is "stuck there." How did you come up with the concept?
I never really create performances just for the sake of performance. I like to create worlds and a cohesive atmosphere. Part of the challenge in that was you and your team created this modern party that was its own event, and I was wondering, "How do I add in to that?" Knowing that we'd be working with Another Man's Treasure, which would have clothing from a specific period, I thought, "Well, what about the people who were left behind here?" That's where it started.
It's a modern party in a historic location, and the idea is preserving that history. We're not going overboard with decorations because the space itself is kind of creepy. You hear noises, things are moving, but it's cool. Then you add the modern aspects with the DJs and the stage, so there is some respect to the old and then the new. 
It's funny, a friend – Nick Bruder from Sleep No More – was talking about a piece he was doing at Rutgers and the entire inspiration, I think, was the space. As a director, the space will tell you what it wants.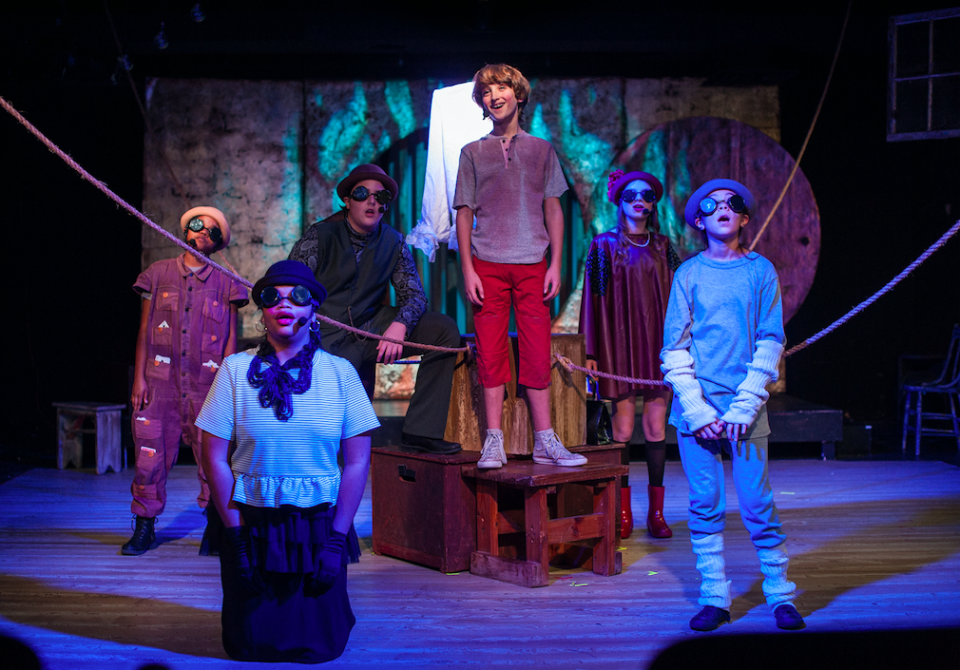 That's awesome. I'm so excited! So what's next for you?
I'm production directing TedX at the Loew's Theatre again, which is December 3rd. I'm also producing a series of workshops for Saint Peter's University, and we're right in the middle of it. The latter half will be open to the public. We have everything from a comedy improv workshop with a guy from Upright Citizens Brigade to a Diversity in the Arts panel discussion on December 7th, which is a needed conversation and should be fun.
Amazing! Do you have a favorite Jersey City hangout spot?
Yeah. It's kind of embarrassing. Van Vorst Park. The fountain there, I call that my office just because I live right across the street from it. I go and sit at that fountain area and feed the squirrels. You're not supposed to… You know that pigeon lady in Home Alone 2? I'm the pigeon lady. I feed them almonds. I don't do it daily, though!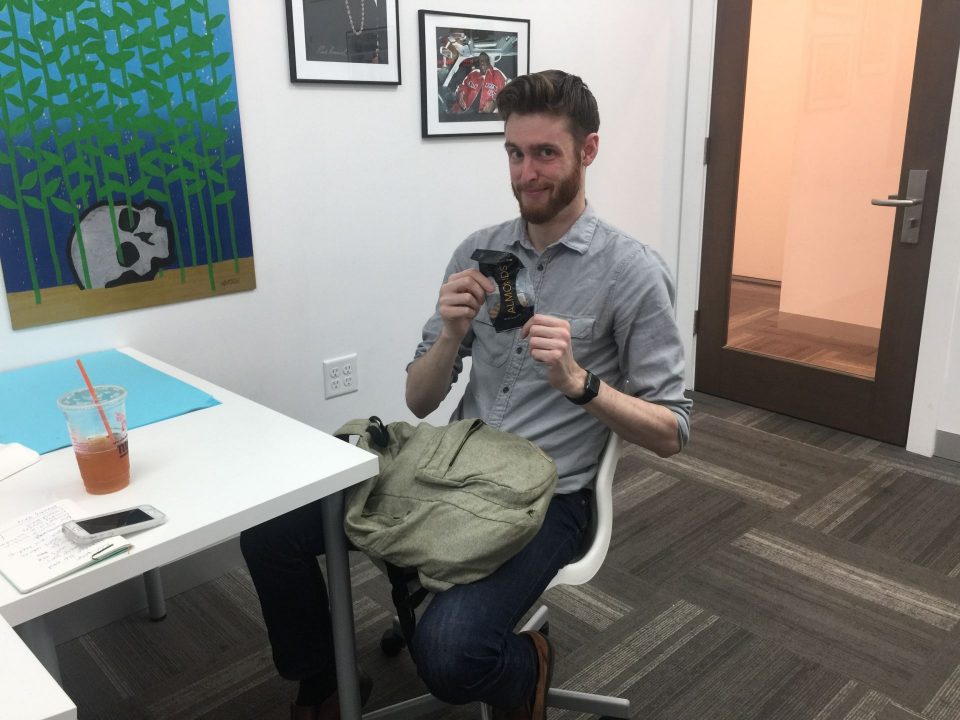 Do you listen to music while you do it?
Aside from art theatre, I'm a huge gamer and geek. I listen to tech blogs and gaming blogs. I'm a hardcore video gamer and even with board games. I really like action-adventure, fantasy-type stuff.
Anything else you'd like people to know?
I occasionally watch The View because I love Joy Behar. By "occasionally," I mean every other day.
---
Keep up with Mason on Instagram or his site: masonbeggs.com.