Photography by Greg Pallante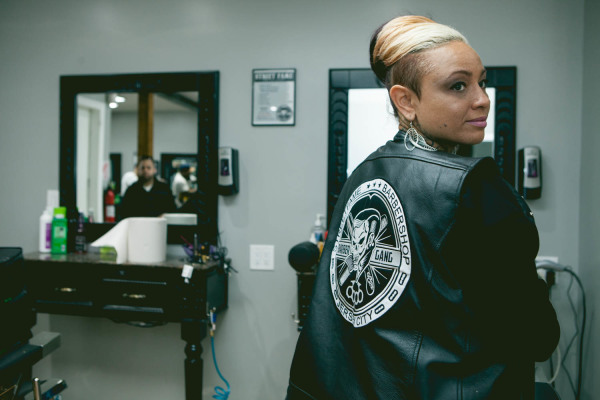 Barbering is an art form and unfortunately women are still a minority in this trade. Lady Jaekutz, is a female barber that works at Street Fame and she's made quite a name for herself. Proving to all the naysayers that she can not only barber but she can be at the top of the barbering game. I found Lady J on instagram a few months ago and I loved her style, I also found her to be such an inspiration. She shares her love for barbering and gives messages of encouragement to her followers to keep going and keep pushing to succeed.  Naturally I had to interview her, so I went to Street Fame for a visit and got a chance to sit in her chair. Lady J styled me while telling her story. I don't say this often but I really think Lady J is destined for greatness. #girlpower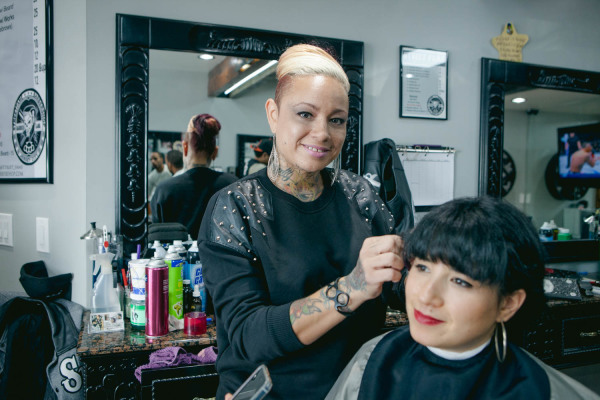 How did you start barbering? I started barbering at a young age. I have 3 brothers and I am the only daughter… My dad would send them to a local barber to get their hair cut in a way I didn't like…. When I got older, I was able to do it myself or try to clean it up. I learned to mimic what the barber was doing, to a point where my dad thought the barber was getting better but it was actually me fixing it up! Then my baby brother decided to keep the money and spend it on other stuff instead and I cut his hair. I didn't really get too serious with it until the year 2000 and then I went to barber school.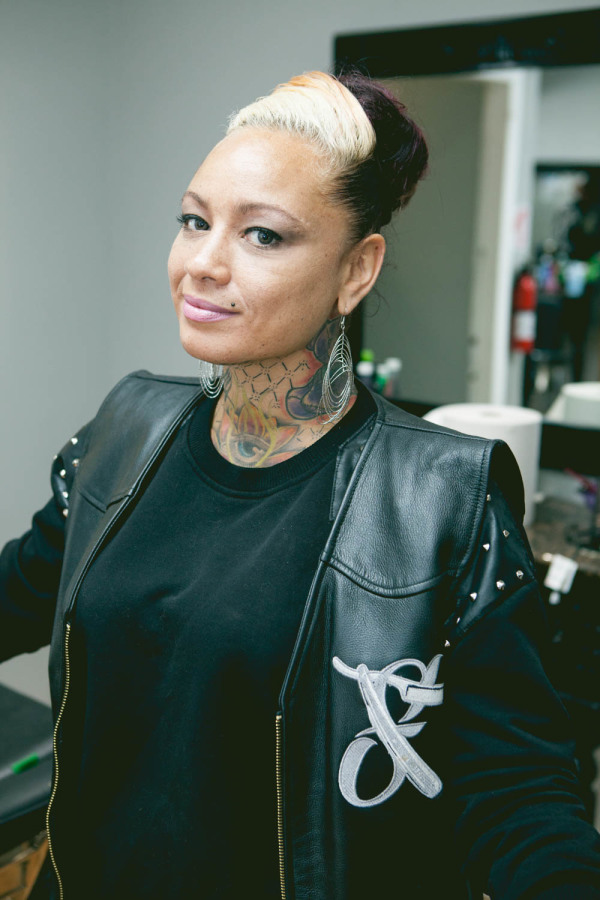 The place where I went to school they didn't feel girls where able to barber. I wanted to prove a point that girls can barber.
How did you feel about that? It's annoying. I don't want to be looked at as just a woman barber. I want to be looked at as a barber period. There are people who will come in and say "I don't want a woman touching my hair" which I think is ignorant.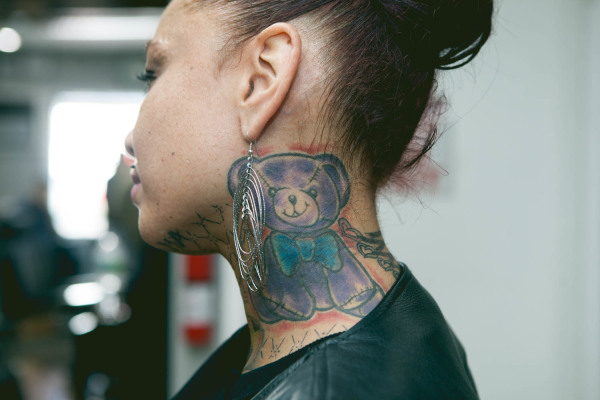 How have you proven them wrong? By keep doing what I am doing. If you want to do something you stick to it.
What do you specialize in? Designs. It's freestyle…. I like it a lot. It's artwork, it's fun. It doesn't even feel like a job!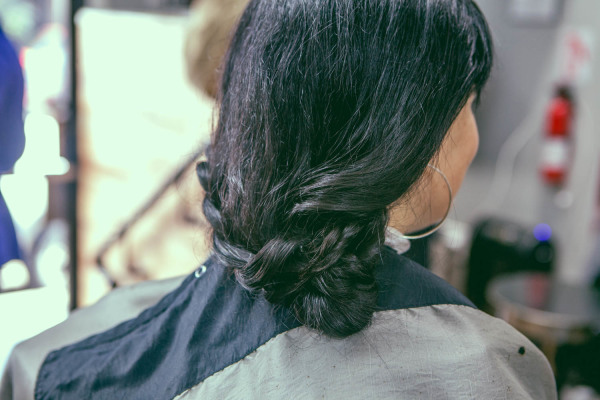 How long have you been at Street Fame? Going on 3 months. I love it, it's awesome. The boss is great, the people are great. I like how people have accepted me here… I was a little nervous at first being a female but the guys here are great, they are funny, we all get along, it's like a big family. It makes me feel like I am around all my brothers again.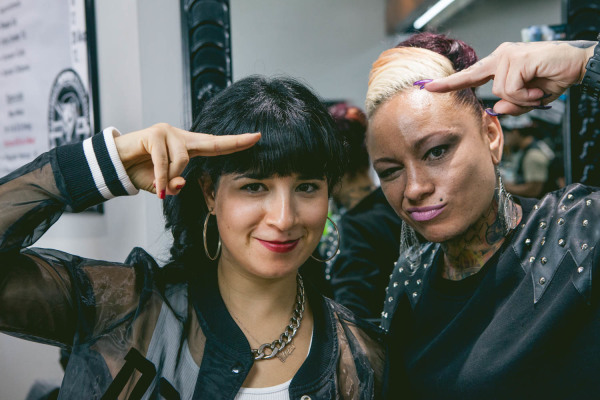 Do you bust each others chops? Yes we do!
Do you also do woman's hair? I do, depends on what they ask me to do. It's a barbershop so you mostly see men come here.
Johnny was telling me about your recent competition… Yeah. We did a competition recently and I came in third. I am not going to say I am upset about my placement because of the circumstances….I am proud that I at least placed. It was my first time, and I am a female so to place among 25 barbers is great.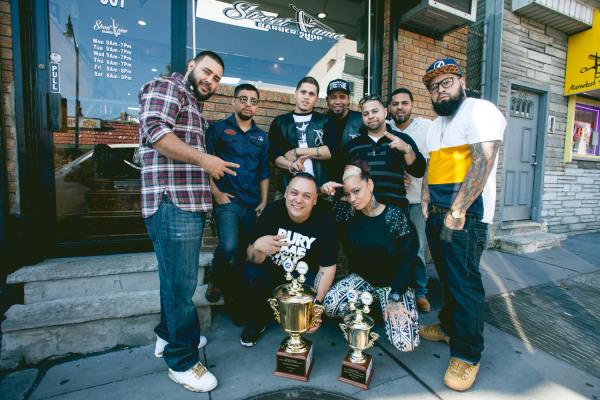 Are you planning on doing any more? Yes. definitely. I want first place and I want to prove that I can do it.
How would you define your style? Very edgy, skateboard… Cali and punk.
Do you skateboard?  I like to ride BMX bikes with my friends. I love fix gear riding.
Do you have any other hobbies? I do like making dream catchers. I am native american and french Canadian.
No way! I am from Montreal! Yeah my mom is Native American from Quebec. My dad is West Indian, Native American.
Nice combination. No wonder you are so pretty! Aww thank you.
What are your future plans? Truthfully, I want to be a celebrity barber. I want to see my cuts on TV.
I can see you guys on your own reality TV show. Oh yeah, definitely. We have a lot of hidden talent in here. It's a great bunch of people. I can't describe it… they all have their own personality. I like being here… Everyone is positive here.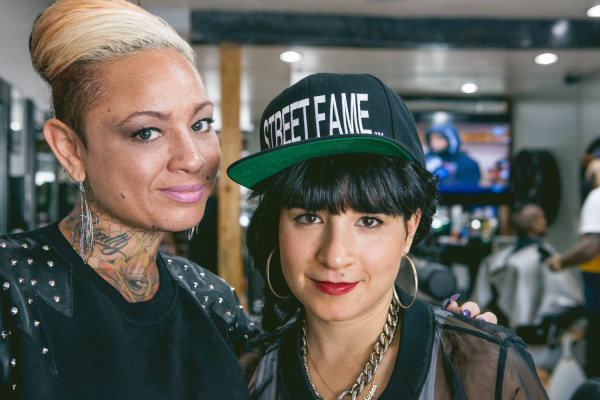 Do you have a favorite Jersey City hangout spot? I actually really like Surf City, during the summer of course. I love trying new places but I love tacos so Taqueria is awesome.
Is there anything else you want people to know about you? The best thing I could tell people is that if you have a dream, keep going and don't stop. Don't let nothing hold you back or stop you.