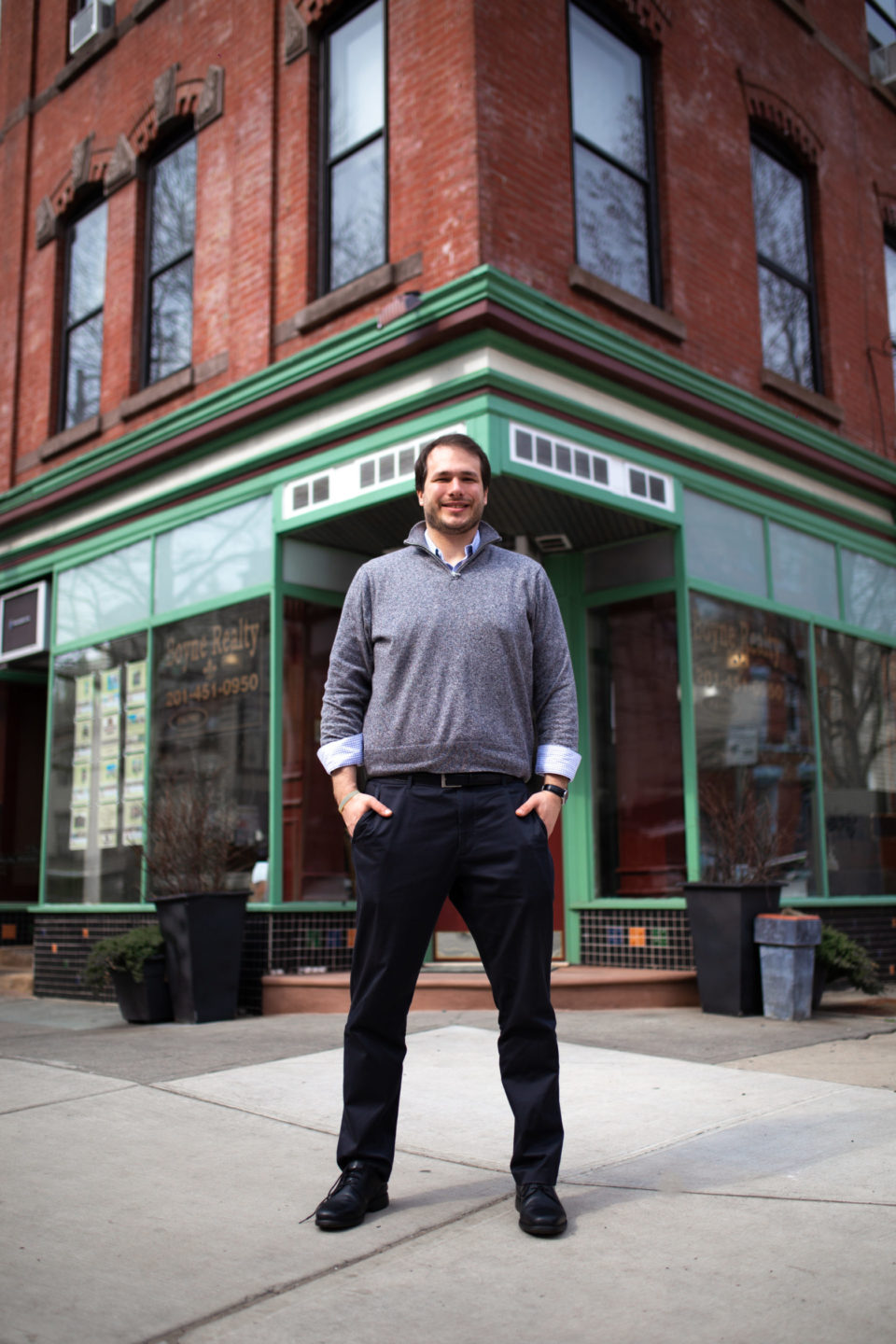 If you've been following us since we began, ChicpeaJC is primarily a culture blog. We tried our best to steer away from local politics and let the professionals cover it. But alas, as proud members of the community, it was inevitable for us to get involved in the last election.
We endorsed Rebecca Symes for the downtown ticket, we threw a fundraiser for her and hoped she would win. During the campaign, one early morning while walking out of the gym, I saw James Solomon knocking on doors while holding his morning coffee. I remember thinking to myself, this guy is not messing around.
Rebecca Symes won the first round and made it to the run off, in which she lost. James Solomon was elected as Councilman for Ward E. Yes, at first we were a little bitter about the loss, but the people have spoken and if James were to be councilman, we would support him too. In December while attending a tree lighting ceremony downtown, James approached me and introduced himself. He said, "I love everything that you're doing, let's grab a coffee soon to catch up." I congratulated him and we hugged it out and just like that, he won me over. James is really down to earth and clearly cares about his JC community.
We set up to meet at his favorite local Dominican spot, El Sazon De Las Americas.
---
What's your name?
James Solomon
What do you do?
I am a city councilperson in Jersey City representing Ward E, and I'm also a professor at NJCU and Saint Peter's.
What do you teach?
Political Science and Urban Policy.
So you've always been into politics.
That is correct! Ever since I was a little kid, I've been into politics.
You recently got elected. Congratulations! How did it feel?
Thanks! It was honestly shocking. I did not expect to win at that moment because we had two rounds, and in the first round I had been behind by 700 votes. It's been really fun since I've started, and really impactful because you sense this seriousness and importance of the job the moment you walk into City Hall.
What made you decide to run?
I think there were two things: the first was a personal thing, just for me as a human being. About two years ago, I was diagnosed with lymphoma. I recovered and I'm in full remission, but I had one of those moments – "Life's short. What is it that I really want to do?" Then the second reason, which I think is the most important for the whole city, is I felt like the city could do better. I felt there was public policy in the city, whether it came to real estate development or basic services like filling potholes, that I felt we could do better. I wanted to talk about those things and see if I could help push the city in the right direction.
That's awesome. Tell me how you got to Jersey City.
My wife. We were dating at the time. I was living in Boston and she was in Connecticut, and we were thinking about her moving to Boston and us making our career and home in Boston. She had a great job offer in Newark working for the school district there, and it really made sense for her career to take the job. At that point, I figured if we're going to be serious and in this relationship, I'll leave my job in Boston and move down to Jersey. I'm from New Jersey, so it was easier for me to come back here. When we started looking for places to live, my interests and professional background is in cities, so we wanted to live in a city. My wife grew up in Williamsburg, Brooklyn before it changed and when she came to Jersey City, she said it reminded her of home. She wanted to live here, I wanted to live here too, so that's how it happened.
People might say, "Oh you just moved to Jersey City five years ago. Why are you qualified to represent the Downtown area?"
They have a right to ask that question. I think the thing that matters the most is what you can do for people, whether you've been in Jersey City for a day or for generations. The ideas I talked about and we're hopefully going to be able to implement in City Hall – getting fewer tax breaks and better deals, improving government services, improving education – that's going to help everybody. For folks who have lived here and asked me those questions during the campaign, I told them the things I can do to make their lives better and that's what I'm trying to do in City Hall. The other piece of it is to operate with humility. I understand that there's a lot I don't know because I'm new.
Let's go back to the campaign trail. How was that experience?
Campaigns are exhilarating if you like people. You spend the entire campaign talking to people, meeting new people. I get such a better feel for Downtown by knocking on people's doors and having really authentic conversations with people. At the same time, campaigns are tough. They're tough in terms of the amount of time you have to devote to them, and they're tough in the sense that people's emotions get fired up and people say nasty things about everybody involved in the race. That was the first time I had done a campaign, and that was the first time I got through the process. I learned a little bit about how to handle it.
I once saw you knocking on doors first thing in the morning. 
There's no substitute for working extraordinarily hard in politics. I like people, so I like going out and talking to them.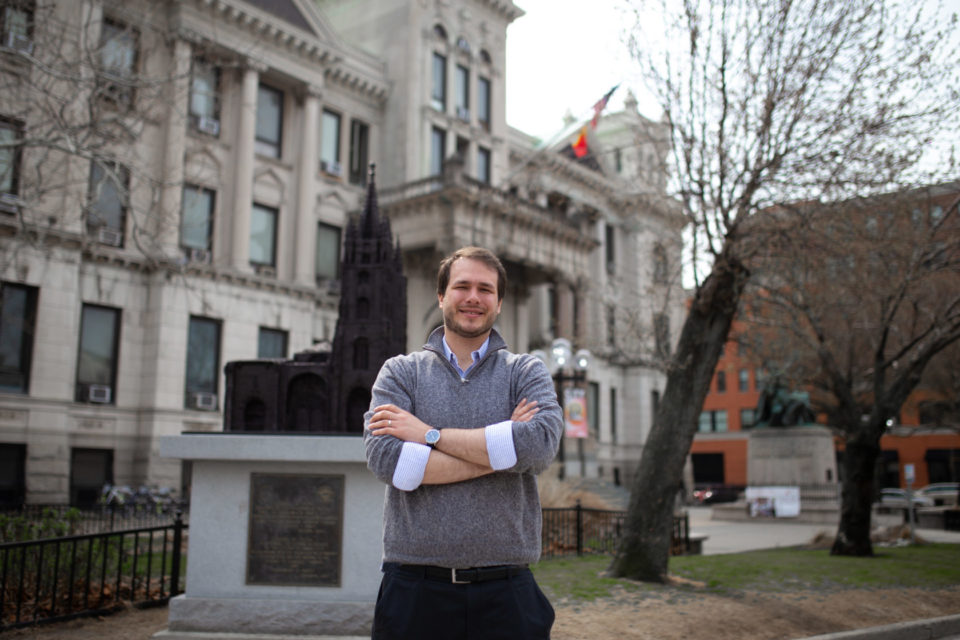 What's your plan now?
I'm one of 9 people on the council, so one of the big parts of my plan is really getting to know the other 8 members of the council, try to understand what they're priorities are, and find wins for all 9 of us and what we're all united on. In the short term, it's making sure streets are safe. We've sadly had kids killed in our streets hit by cars. two kids on a stroller were hit the other day on Columbus. Another grandma with her kids was hit on Jersey. In the short term, improving our street safety and pedestrian safety is a top priority. I give the mayor and city credit because in the budget coming up, they put significantly more resources into street safety than ever before. Then it's my job that those resources show up on our streets and you feel the impact of that spending.
You were criticized a little bit during the campaign for being anti-Fulop.
Yes. One of the things we want in our politicians is authenticity. We don't want people who are hedging every statement, and I had genuine criticisms of the mayor. I think it's important for me to say as part of government, if we have a disagreement, I will criticize him. If he does the right thing, like on safe streets, he deserves praise and credit. I think that's the right attitude to take – your partners when you're on the same side, and then you have honest disagreements when you're on opposite sides. We're professional.
I've been to a few city council meetings and they're brutal. 
They're tough, and the public has a right to comment. I respect that. It's our job to listen. At the same point, they're long, they're torturous, the comments are oftentimes not particularly applicable to what we're discussing. I'd love to think about ways that we can respect the public comments yet make the meetings shorter because that'd be better for everybody.
We actually have meetings on Mondays, where we talk about legislation and you learn way more on the Monday meeting than you do on the Wednesday meeting.
The people of Jersey City, especially natives, are super concerned with rent prices and taxes. People feel like they're getting pushed out, and all these new people coming in. 
People have a right to be upset. You've grown up in this community and it's a special place. All of a sudden, you're worried – Financially, can I stay here? Any person who's dealing with that has a right to be upset and ask their government to do more. I always want to be honest with people. No city that's growing has figured out how to solve this gentrification problem, but we can always do better. As an example, the city has rent control laws but I don't think we enforce it well. There are folks getting pushed out of their apartments that have an affordable apartment. We have the laws in the books to keep them in that apartment. Over the summer, one of my plans is to go door-to-door downtown to every unit that should be rent controlled to make sure the landlord is following the rules we have on the books and ensure those tenants are protected and can stay downtown.
Does that help everybody? No, but it is the type of thing we can do more of, which will make a difference. Even helping one family can be useful because these families keep Downtown a special place. If we totally gentrify and become a city of folks who are just wealthier, it's not a place I want to live in and raise my kid in.
In an ideal world, what do you think the solution would be?
In a totally ideal world, there are cities that have most of their housing controlled via public housing. In the city of Singapore, which is one of the best-run cities in the entire world, 85% of the housing units are owned by the government. When you do that, you're actually able to significantly increase the number of units that can be affordable. There's huge challenges with that, as well. In an ideal world, we'd have a lot more public housing that is well-run, and you can do it. It's so far from where we currently are as a country, but I think we can try to do more of it through small steps. We can also try to ensure we give more financial assistance to people looking for apartments.
Your focus is on the downtown area, but what about the other areas in Jersey City that feel underserved?
As a city, we have to make it clear that if Downtown is developing or spreading into Bergen-Lafayette, the Heights, and Journal Square, that development is benefitting the whole city. The roads should be paved and filled, the parks should be upgraded, we should see more officers on the streets. Some folks feel like they're seeing those improvements, while other folks say they're seeing those improvements but it's too little and not enough. I want to make sure we work really hard on improving government services citywide. The issue I'm most concerned with is gun violence. As a city, we have between 20 and 30 murders every year, and over 60 shootings every year. That's really concerning because the trauma of gun violence lasts for generations. As a city, I'm going to be looking to what extent we're using our resources to solve the problem of citywide gun violence.
Great. So, what can people do if they want to take action or feel like they have no voice? 
At a minimum, you can always contact members of City Council, even if we're not in your ward because our votes count in every decision. Call us. My cell phone and email are on the city website. Email us. That's step one. Step 2 is, there are some really wonderful organizations that are doing great work. Jersey City Together is a group of community organizers. Safe Streets Jersey City push for pedestrian safety. Bike JC is specifically for bicycle infrastructure. There's great people getting involved in the Board of Education. People are out there, and it's always easier to find like-minded people to do things together than to do it on your own. As a politics guy, I really believe in getting involved. Even if you disagree with me 100% and want me to do everything the opposite way, the fact that you're involved makes the city a better place.
Do you think it makes a difference?
Absolutely. If 10 people call us on an issue, that's a big deal. It'll have an influence.
What about for developments?
For downtown, I'm going to try to make those decisions a little clearer before they come. The thing people need to keep in mind is a lot of the development plans are already written in place. For example, by the Holland Tunnel, a guy is proposing 250-story towers. Those are already written-in plans. Those plans were approved 15 years ago. If you don't want the tower, we have to go and change the plans before they come up with the proposal. That's something I'm going to be working on and trying to update those redevelopment plans, but people should know a lot of this stuff is written into code already and your councilor can help you understand what's there, but never just throw your hands out. If there's a development coming that you don't like, call your city councilperson, set up a meeting. There's a way. Another thing about developers is they don't want controversy. I can't promise they're going to scrap their plans, but they may be willing to listen and make some adjustments that meet what you're looking for.
I think people feel powerless sometimes, like they're not being heard and think the government in Jersey City is on the corrupt side. How do you feel about that?
My sense is that we're in a better place. We don't have the same degree of just blatant corruption. At the same point, it's still politics. People give donations, they get favors, and I genuinely believe we're losing trust in government throughout the whole country. I think it's my job to try to go above and beyond to be as honest as possible, as transparent as possible, to not lie about these things.
Did you ever get a donation from a developer?
I got one from a local community developer who lives in the neighborhood and we returned it. We said we weren't going to take them, so we returned it. Then we got a couple from people in the development world that we could've kept but didn't want, like from brokers and property managers. We returned those, as well. People can influence people in other ways, not just donations. There are ways to influence the system. Politics is a messy business.
What do you do for fun?
I'm simple. I love politics, sports, my family, and food.
Oh right, you had a baby during the campaign! It was the day before the election.
It was the November election and my wife went into labor on Friday, delivered on Saturday, we got discharged from the hospital on Monday, and then the election was Tuesday. I just feel very lucky and blessed to have Camila. The fact that my wife was willing to have me run this campaign while she was pregnant was not something she had to do. We have a really strong partnership, we've been through a lot in a short period of time, so we have real trust and faith in each other. She made sacrifices to let me run this campaign and I'm very grateful for that. Being a dad is awesome. Having a kid is a lot of work, it can be tiring and exhausting, but there's nothing like having your kid smiling at you.
Do you have a favorite Jersey City hangout spot?
I do! I live in the Village area, so Gia Gelato – they're awesome. They're your neighborhood go-to. If we're going somewhere nicer, Third & Vine. Those are my two spots.
Nice. Anything else you'd like people to know about you?
Just that they can always reach out to me: jsolomon@jcnj.org. Email me, call me, tweet at me. I may not be able to get to you immediately, but anyone should always feel they can call me or talk to me and I will be honest with them about what's happening in the city and in the political world.
Do you see yourself running for mayor in a few years?
Not in a few years, no. I think with the job as mayor, you can make such a big impact on people's lives, but I'm a new dad and a new city councilperson so my focus is just doing the city council job effectively.