I met Imani-Starr, founder and CEO of Starr Style Life Brand at a Christmas Toy Drive held at the ChicpeaJC Headquarters one evening. Not only was I attracted to this warm and welcoming spirit, but her accessories, especially her "door knocker" earrings drew within me a deep nostalgic feeling of the 90s when I watched hip-hop music videos with these beautiful women adorned in these cultural fashion staple piece. I was immediately drawn to her jeweled-out earrings and her even shinier spirit, and knew that I just had to get to know her; this woman who is not only a designer, but a stylist and wonderful artist.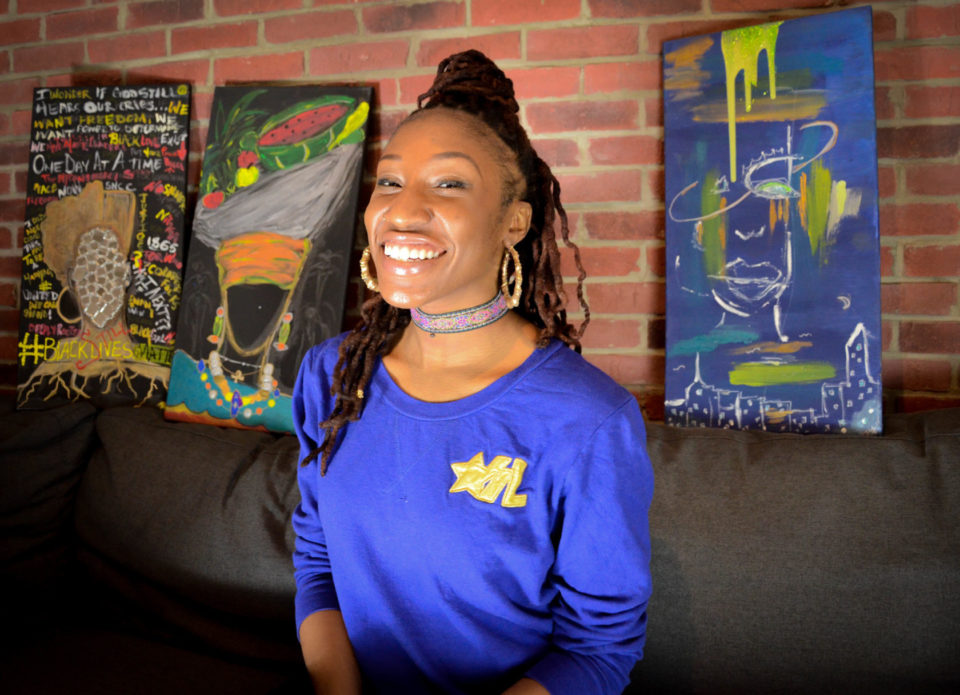 Along with your accessories such as your earrings and headwear, are there other items that are included in your accessories line? 
Yes, so I make earrings, chokers, and headwear. 
What does Starr Style Life Offer? 
Initially it started out as head wear and accessories, and now we have incorporated art and entertainment which includes everything that embodies art, fashion and music. I host open-mics for local up and coming artist.  
We met and you were selling sneakers by adding jewels and hand painted sneakers. 
How long have you been in business? 
3 years.
How did you get started and what was your motivation to get your business started? 
This was always something I was always into, art- it was consistently there for me. However, my son passed away and I was going through a lot, and didn't know myself. I moved to North Carolina and found that wasn't a place for me at the time. So, when I returned to the East Coast I began interning for an indie design company in Brooklyn, and my mentor encouraged me to discover myself. One day it hit me: "I LIKE HATS" but I never saw the one that I wanted, and my mentor encouraged to design my own. It was the spark that I needed. So that same night I went home, I designed my hats, I had my company name, and my brother who is a tattoo artist designed my company logo in one evening. The next day I went back to show her, and to let her know that was the motivation I needed.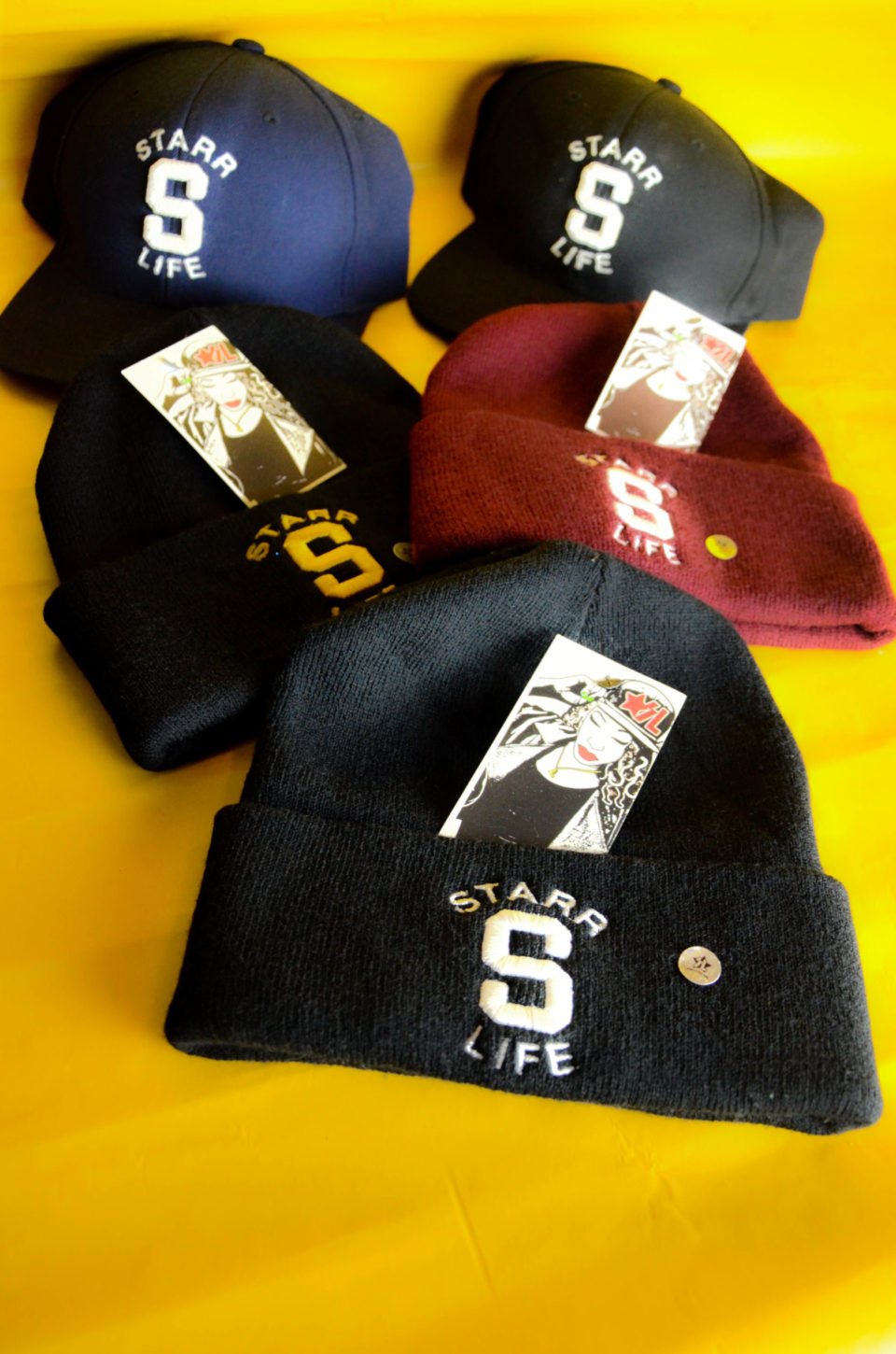 What is your mission for Starr Style Life? 
My mission whether it be from my art, my accessories, the events that I create, or to being hired to style someone, is to leave my mark on someone. I just want to leave people with a smile and feeling better than they were when we met. I make these accessories because I feel accessories are the things that add that extra "UMPH" to an outfit, but I want to be a part of that extra "umph" in someone's life. Hopefully they'll remember the conversation and the interaction that led us to that "umph" moment and they'll leave with a smile, or simply just feeling better about either their outfit or simply themselves after our encounter. I just want to leave people feeling better. 
As a young Black woman that has started down the path of being an entrepreneur, what drives you to bring your brand to the forefront? 
I want to leave my future children with something, to leave a legacy. Even if they decide this isn't something that they would like to do, I definitely would love to leave them with an option. How long have you been in business?  
As a business owner, stylist, and event coordinator in Jersey City what are you looking to provide to your community here? 
Well I want to encourage shopping at local and smaller businesses; we can go to a huge department store, but it's the people in your neighborhood that provide great quality products that don't get enough exposure, so that is something that I would love to bring that to the forefront; SHOP LOCAL AND SUPPORT YOU SMALL OWNED BLACK AND LATIN BUSINESSES.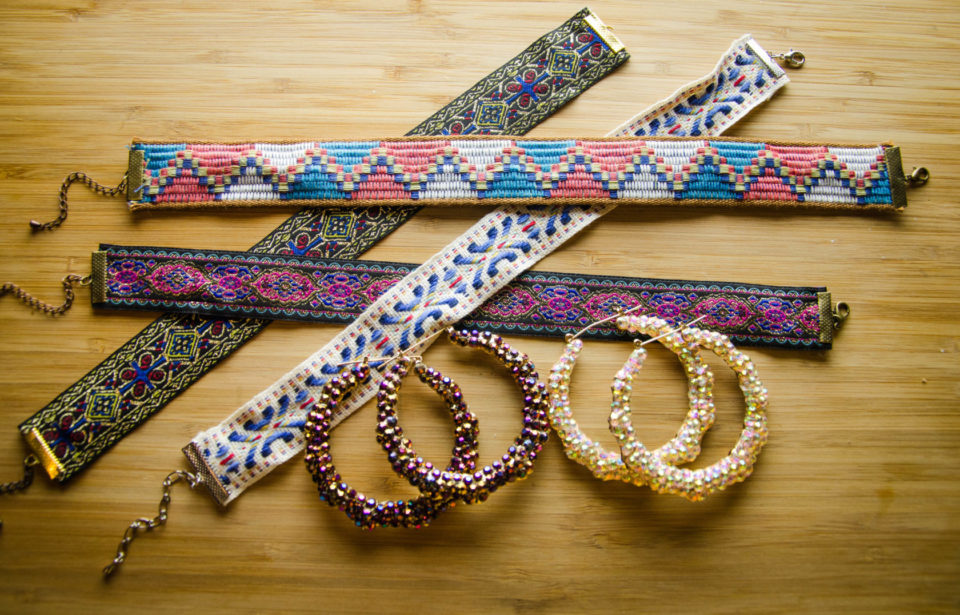 Do you ever plan on incorporating a brick and mortar location? 
I definitely plan to, I would love to be able to provide a space for people to be able to rent the space and do community activities, because we just don't have enough of that in our neighborhoods. 
What advice would you give to young women seeking to start their own business? 
There are going to be times where you lose focus and things are going to be thrown on your path to attempt to knock you off path, but keep at it, this is my baby, this is my vision, and at the end of it all I have myself to thank for this for sticking with it and following through. 
Online store: www.starrstylelife.com
Instagram: @Starrstylelife / @starrartlife