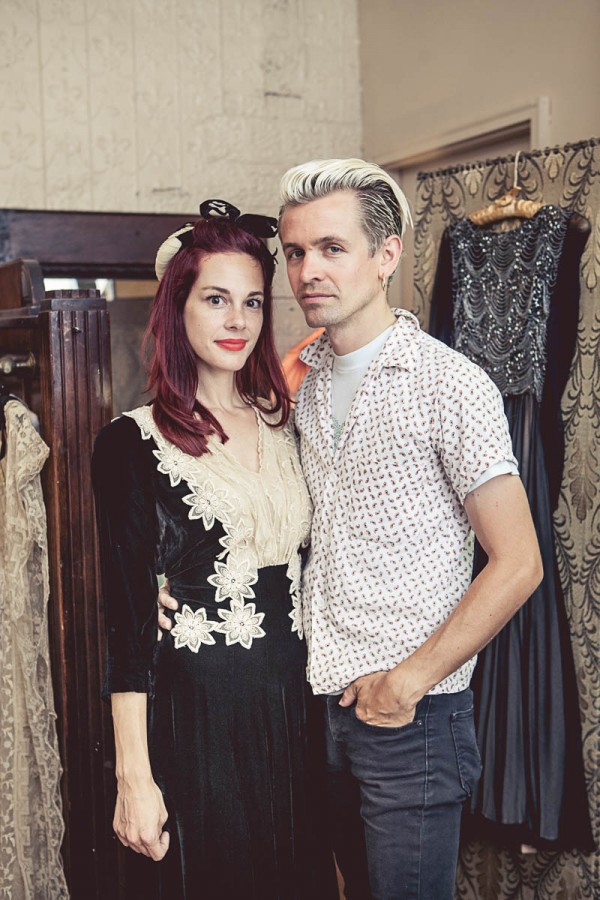 I've been shopping at Another Man's Treasure for years now; and I've seen Meika and Warren working the shop many times and always wondered what their story was. They both look like they came on a time machine from a past era to 2014 to open a vintage shop. In the past year I've upped my vintage game and started getting to know them on a personal level from frequenting the store on a weekly basis. Meika and I both have little girls the same age and we both "hustle" hard to make our work/life…. work!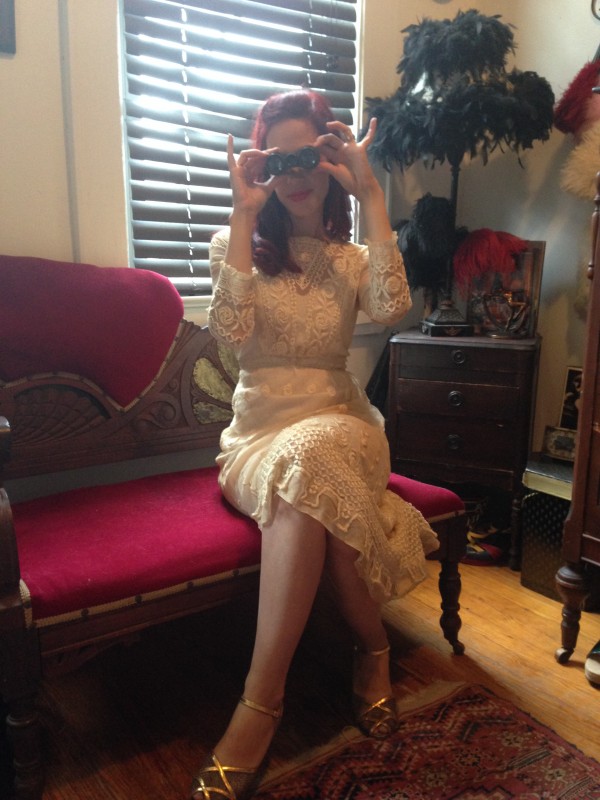 After launching ChicpeaJC it was a given that I had to dedicate a week or so to one of my favorite stores and finally get to sit down with the Franz's to hear all about out how they started, how they met and what's in store for them (no pun intended).  I spent almost a week with Meika, getting to know her, hearing her story, playing dress up in the showroom and store, talking about our kids and how we balance everything… We even attempted a playdate with Biba and Mia which didn't really go over so well… but was fun nonetheless. Meika, Warren and Biba are truly the first family of vintage.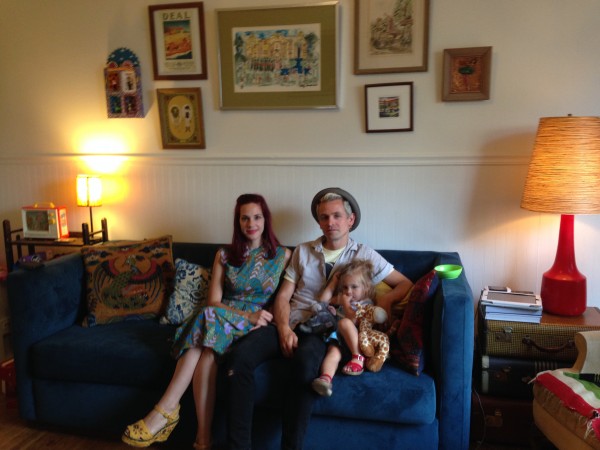 Meika, How did this whole vintage obsession come about? I guess you could say a few things inspired me into vintage.. My family was a part of old hollywood, and they were also in the sewing industry so I grew up from an early age around fashion. My great aunt May she was the MGM principal and teacher to the stars in the golden age of Hollywood. She taught Judy Garland, the three stooges, Mickey Rooney…. Elizabeth Taylor. My great grandmother was also an actress so growing up I was always incredibly inspired by these amazing woman in my life. I remember going to my great Aunts house and she would have head shots of everyone she ever taught on her wall and I remember just being in awe and so inspired by the fashion and the looks. And I guess you could say I was just always drawn to old things…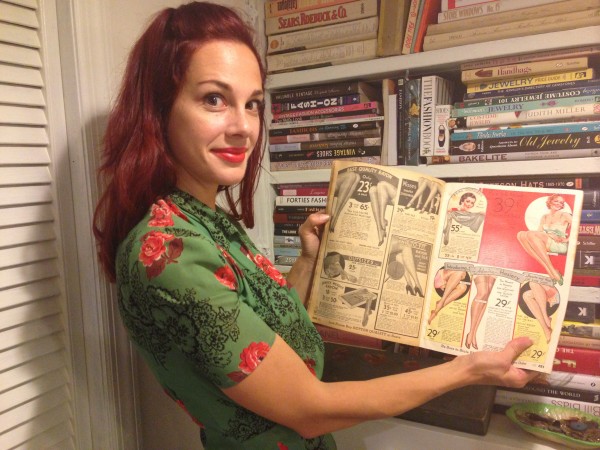 Ever since I can remember I loved clothes… At age 4 I would sing songs about them and when I was 5, I started making my mom take pictures of me modeling them!  When I was about 11, I started working with my family doing sewing/craft trade shows, they used to have these tables where you would fill a bag for a $1 with vintage fabrics, so I would by all this fabric and make stuff with it.  I would then take the money I earned and go shopping at the salvation army and other thrift stores buying anything I thought was cool, whether it fit or not and make it work for me.   I think back now and can't imagine how awful some of them must have been! haha!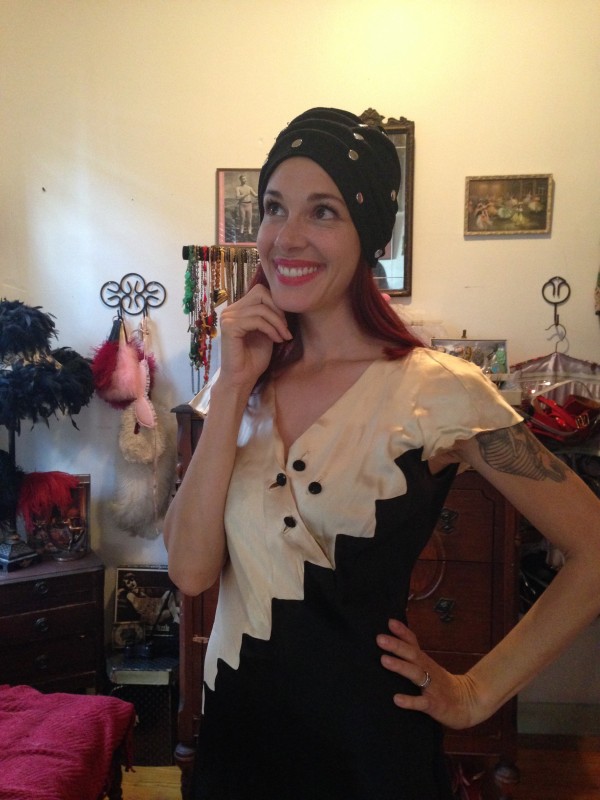 Did you ever shop at new stores? I definitely did, it took me a while to realize that every time I shopped at those store, even though I liked my purchases I wouldn't wear it because I hated the idea that so many other people were wearing the same thing!  Being unique and finding myself without influence from anyone else has always been super important to me.. for whatever reason.  And shopping in thrift stores meant I could buy something that nobody else had.  This was all way before I knew what a vintage store was of course. I grew up in a more suburban area and there were no vintage stores around so I didn't really know they existed at that time. I do buy some basic things new now however, like Jeans, and black tank tops.. things like that.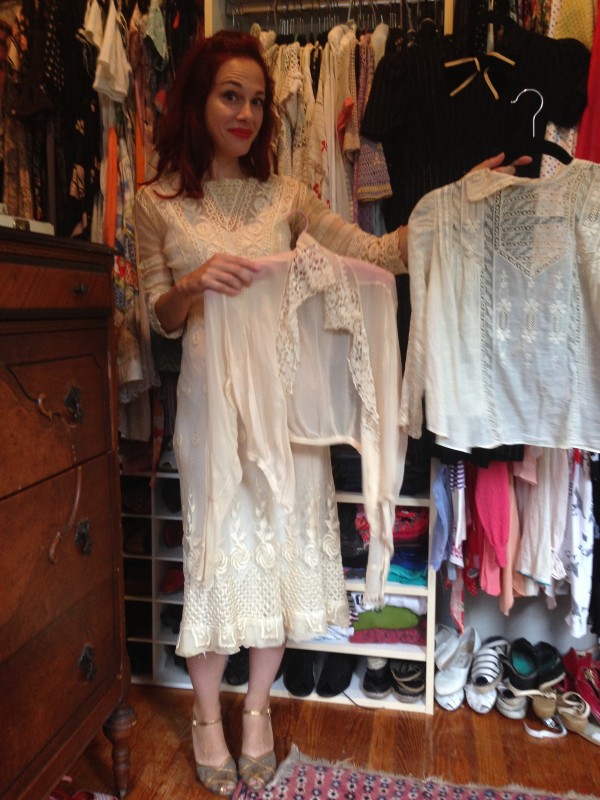 The basics. So that's all you have in your closet that's "newish" ? Yeah if you look in my closet; my jeans, a striped tshirt. I have my salt waters which are classic. Biba and I have matching shoes! Besides that everything in my closet is vintage.
How did you and Warren meet? We met in New York. Through mutual friends… actually through music. I played in a band at the time, as did he. I was a guitarist in all girl band!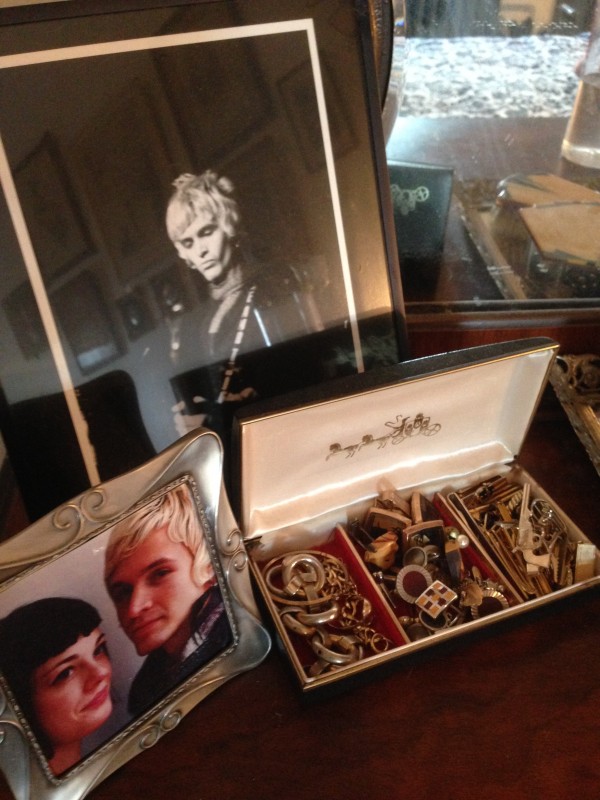 Oh wow! What were you called? The Frantic Romantics
Were you wearing dresses and playing guitar? Yeah I would wear skirts, dresses….we were a post punk/garage girl group… Warren came to New York to play with friends and we met in a bar and we had an instant connection. He was only here for a week and we ended up spending as much time as we could together. We just knew that we wanted to be together so we decided to do the long distance thing and 3 months later I went to visit him, then 3 months later he came to visit me then 3 months later I moved to London. 3 months after that we were married!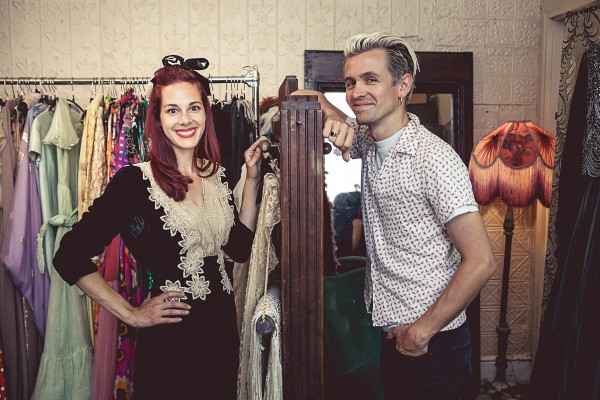 When I moved there I got a job working at a vintage shop, it was a cute shop that Kate Moss used to frequent. Then I got another job not long after working at a shop called Beyond Retro which is one of the biggest vintage shops in the world these days with a few stores in London and a couple in Sweden….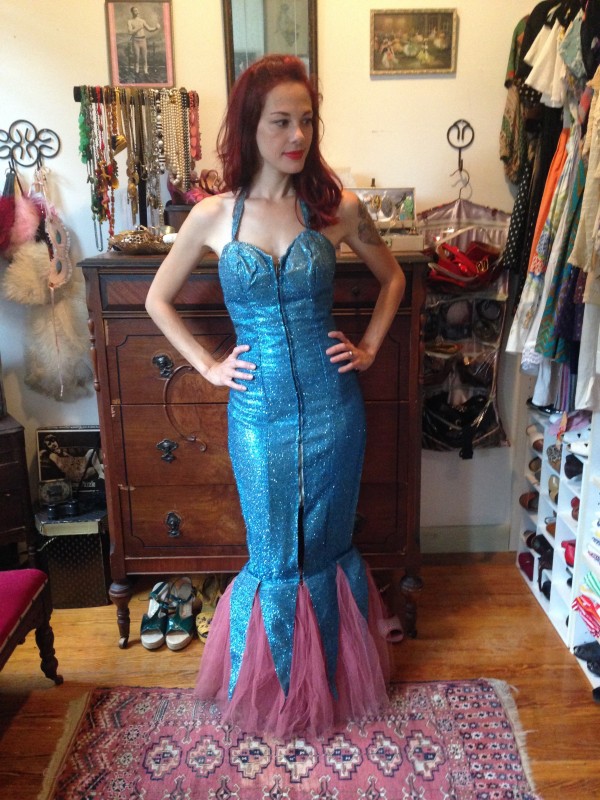 Then we moved back to New York so I continued to work in vintage shops as well as for a street wear fashion company in the East Village. Beyond Retro then offered me my own shop in Chicago, however I didn't want to move there so I said "What about Jersey City?". But it didn't end up happening, it was kind of what made me go "You know what, I have to do this and lets just make this happen"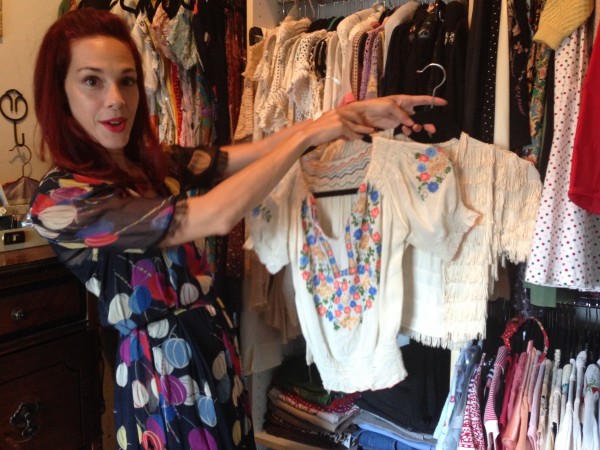 How did you get to Jersey City? I moved to Jersey City back in 2003 after attempting to move to New York.. not able to afford it, I discovered JC through a friend who was already living here. Then after I moved to London and when we decided to move back we again looked into New York city and still couldn't afford it.. haha! Then we just stayed here and it worked out for the best as we were able to open a store!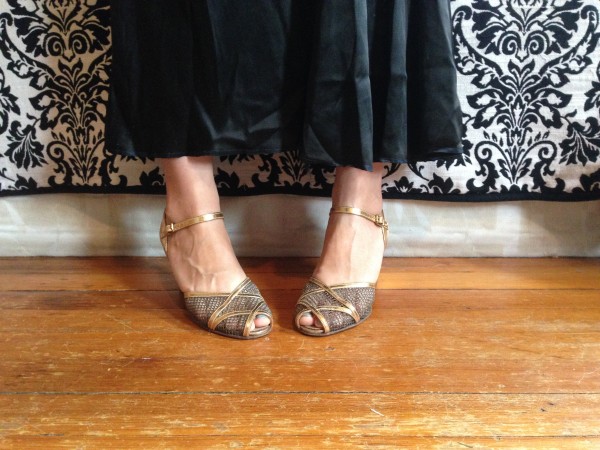 Do you have a favorite hangout spot? One of our favorite places to eat is Madame Claude Cafe. There is nothing better than Madame Claude on a Thursday night… they have Gypsy Jazz. You feel like you are being transported to another time. When I am not working we go to the park, zoo's… Biba loves animals. We walk the doggies.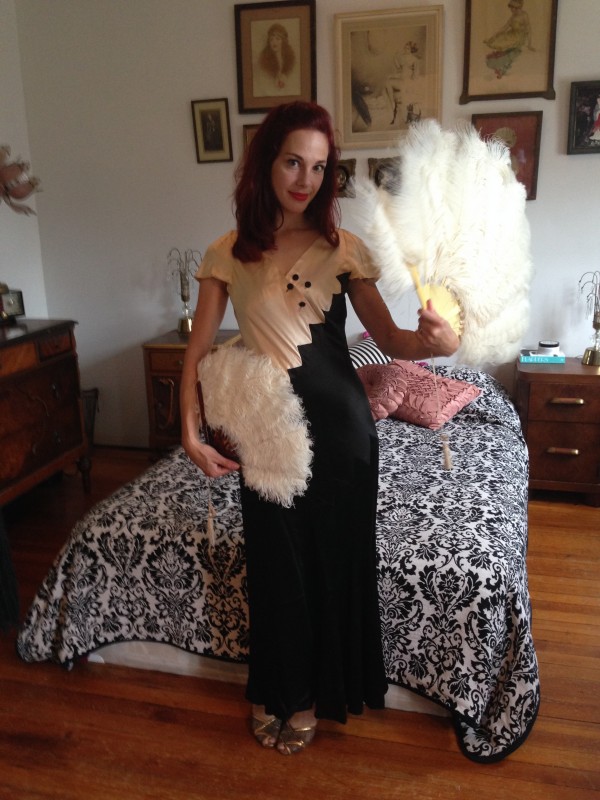 Biba is a cute name. What inspired it? Her full name is Biba Harlow May. Biba after the legendary 1960's London shop/clothing line, Harlow after Jean Harlow and May after my great aunt.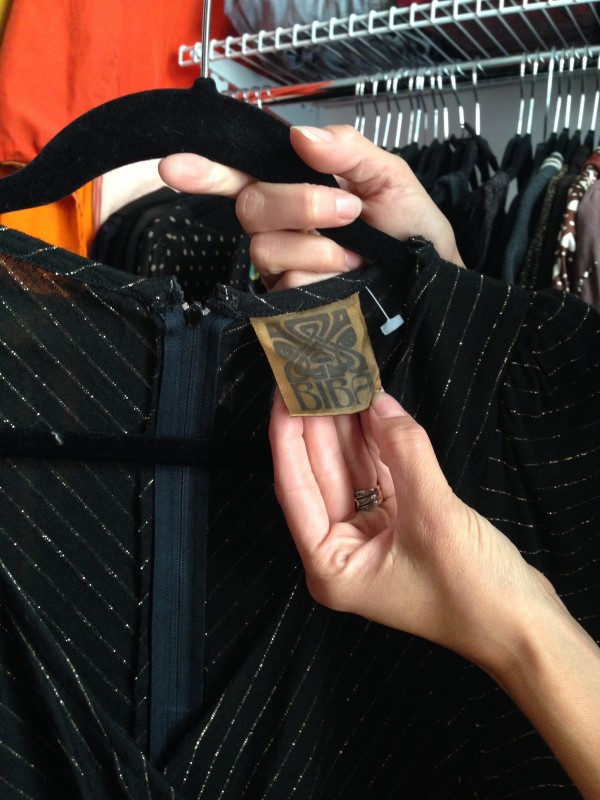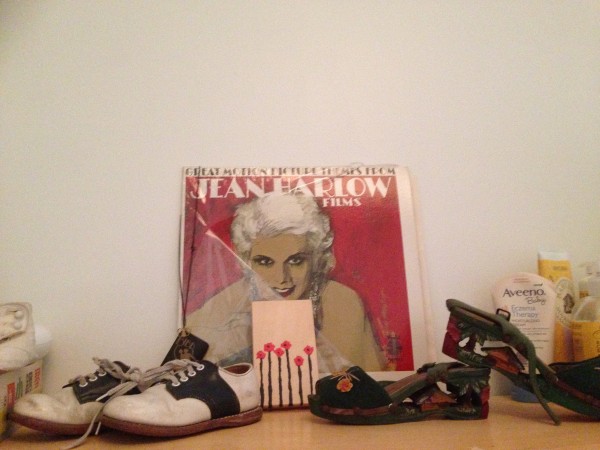 Warren, were you also always into vintage clothing? Yeah I've always worn vintage since I was young. I used to play in a band so I was always looking for things to wear on stage. Something different that no one else had… Also I am really small and I was always trying to find something that fit me. In England in the 90's fashion was more baggy and I hated it… I didn't want any of that. Also the bands I was into like punk and new wave bands  all wore skinny pants and tight jackets. I couldn't find any of it… So the only options was to get it custom made which cost a fortune or find it in vintage shops so thats what I did.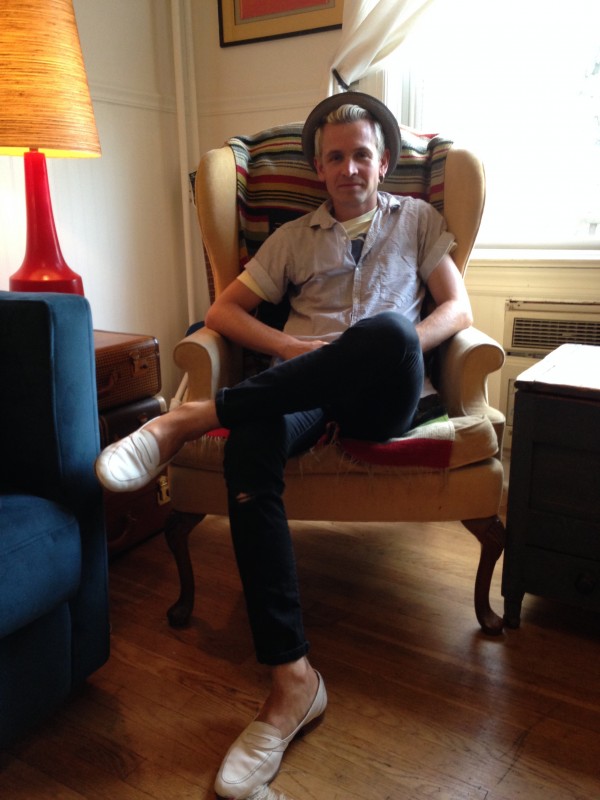 How was it moving from London to Jersey City? It wasn't massively different. I find it quite easy to live anywhere. I left home when I was a teenager and I've been on my own since I was 18/19. I knew people here so it wasn't the hardest change. The thing I find that is most different is culturally, alot of my points of references, or things I talk about, jokes go right over peoples heads.
Like the dry british humor? haha. I think just things I talk about sometimes they dont know about.
What is your favorite part about running a vintage shop? Its definitely the buying side of it. Going to different places, meeting different characters, finding everything. On the flip side its cool to see the customers buy the stuff we found, and to see them get excited about it, so I guess its 50/50. But definitely the thrill of finding it is the best part. Which is just as rewarding as going vintage shopping and finding something for yourself.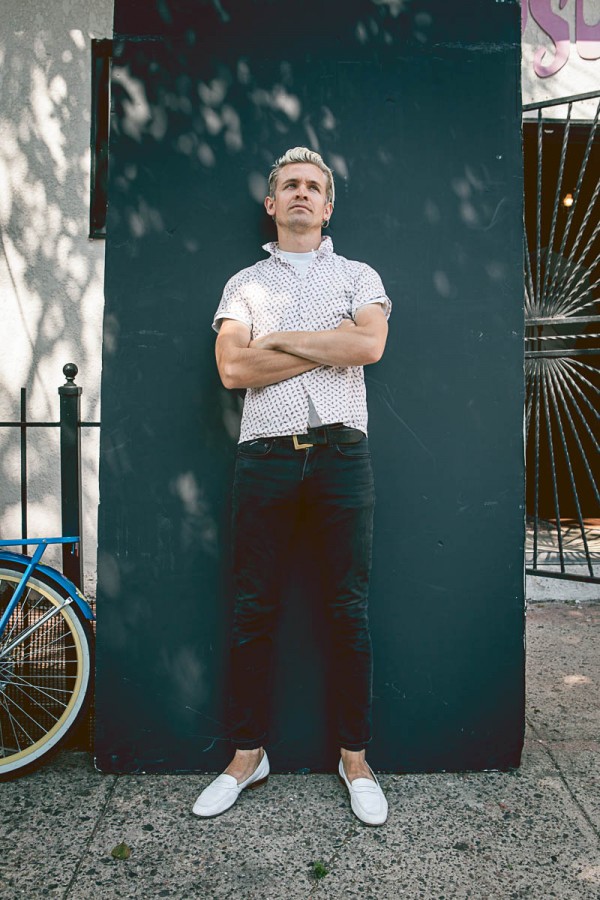 Do you have a favorite thing in your closet?  I have some things that have got sentimental value. I have got a story about one thing… I found this suit from the 60's in a shop in London,  I tried it on and it fit great. I was going to buy it but it was too expensive. So I decided I would come back after I got paid… I used to get paid monthly so I went back 3 weeks later and the shop closed down. So I was like "I need to find this suit, nothing fits me so well" so for the next few months I went to every vintage shop in London to ask them if they knew where this suit was. No one knew… so I gave up. About 6 months later, I was in Camden market and I saw this guy walk past me and I remembered that he worked at that vintage shop where the suit was so I started chasing through a crowd of people… I followed him into one of the stables market vintage stalls where they had moved in the last month or so… and they still had the suit! So of course I bought it and it was actually cheaper than it was originally.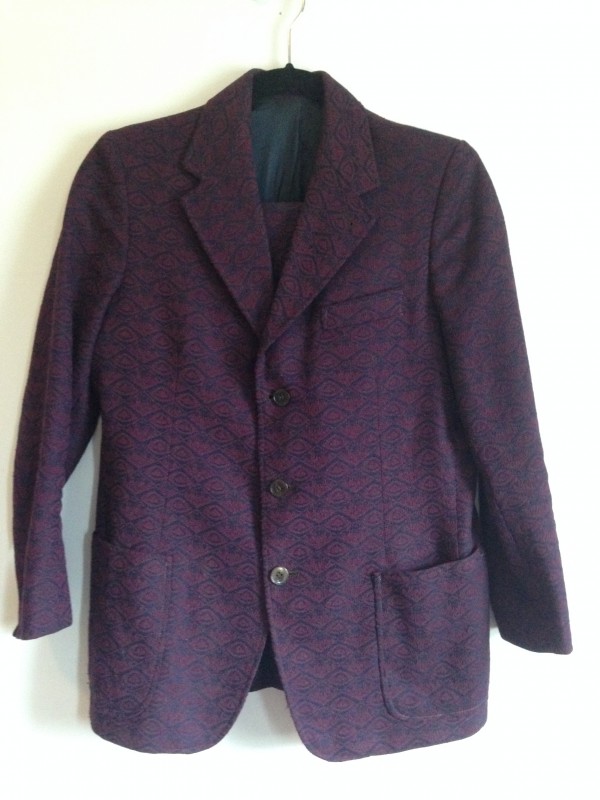 Do you have a favorite Jersey City hangout spot? I guess ModCup coffee, we go there every day.
Do you have any style influencers? My biggest style inspirations come from English bands in the late 70's like the Clash, the Jam… I always reference those bands in the way I dress and my haircuts… I actually don't care about fashion. I like cool clothes but I am not into fashion… my angle is music and sub cultures, british youth culture.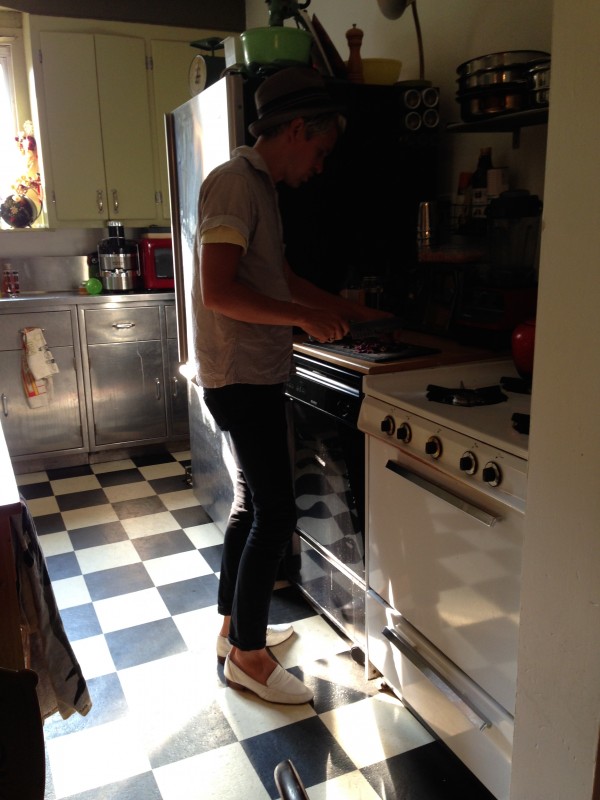 What about you Meika? I think Vintage is all about finding your own style. I think if there is someone in the modern world I would say Kate Moss cause her style is so eclectic… it's rock and roll meets vintage and she mixes it in an edgy way…and of course there is Audrey Hepburn… the fashion icons; Bridgitte Bardot, Iris Apfel… and all the advanced style ladies!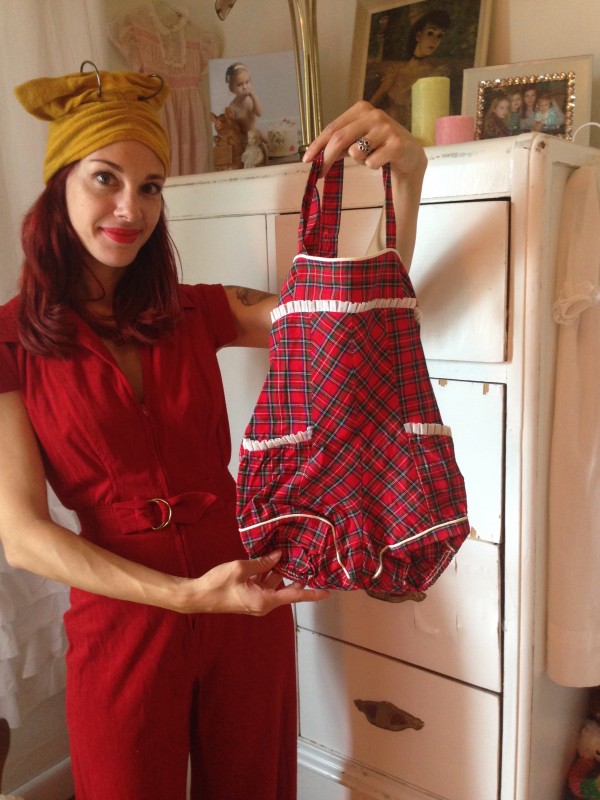 What's your favorite era? I love all of them but I do especially like the 30's. The mix of femininity with an edge.. Schiaparelli, the dark color palette, edgy prints but still with a flattering feminine cut.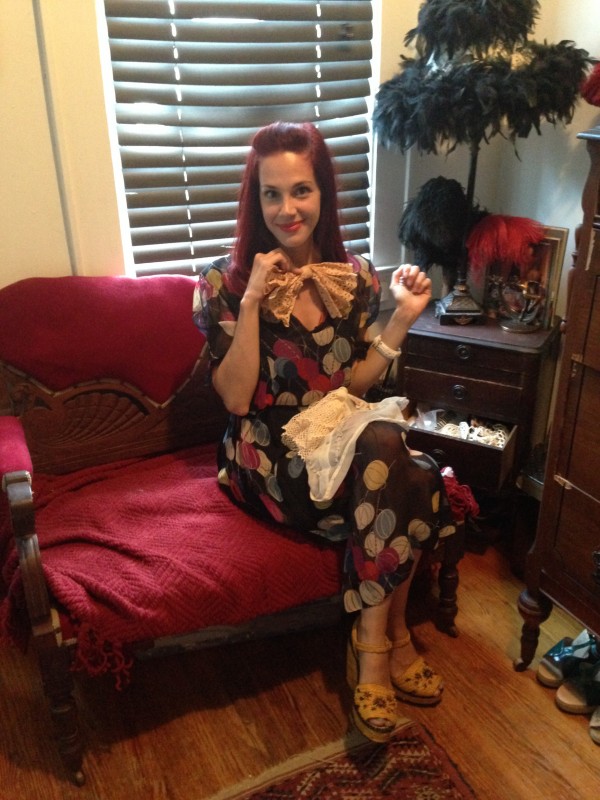 Is there something you wouldn't wear that is vintage?  When I was younger I would wear alot of 80's but not so much anymore. Although, we do sell it better then anything else.
Yah I love the 80's! 90's is also really big now… Grunge, minimalist… kind of your basics… army jackets. Plaid is always huge… Doc Martens are huge again. Although anything really goes now.
Can you describe a week in your life?  Yes.. its pretty crazy…. Buying appointments, paperwork, pricing, researching, steaming/fixing/restoring, restocking, merchandising, working the store, etc.. Not to mention all the parental duties!
You guys need your own TV show…