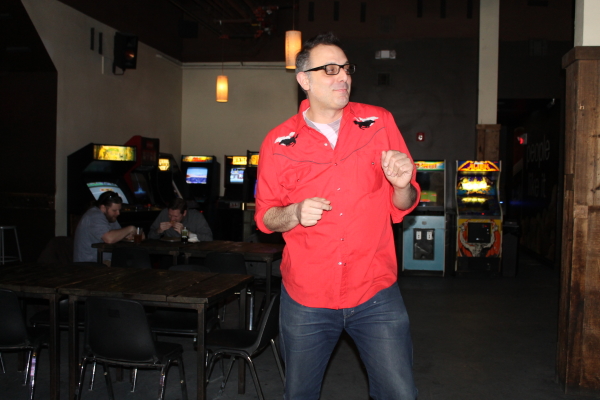 On Friday, I celebrated ChicpeaJC's one year anniversary with the biggest post of my blogging career; my interview with Mayor Steven Fulop. The day after the post, I thought to myself "Who/what would be a worthy post to follow the Mayor?!" and right away I thought about the guy who "runs fun" in Jersey City: Dancing Tony.
If you've been in Jersey City long enough, you've probably seen him. He is the backbone of all the local events; he is in charge of booking bands, setting up the sound equipment and also DJs himself. "Dancing Tony" has been running the fun in Jersey City for many many years. He is also quite the character! Every time I see him he is in a good mood, smiling and he is always dancing-even at his own parties!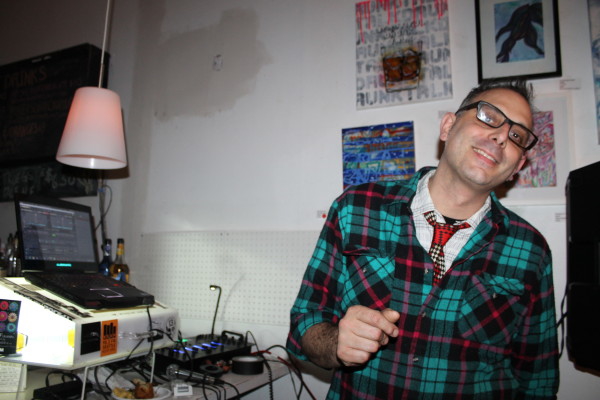 I met up with "Dancing Tony" at local hangout spot Barcade to chat and drink beer… I love Dancing Tony, he is so funny and has so many great stories about the Jersey City party scene before it was even a "thing".
What's your name? Dancing Tony
Why is it Dancing Tony? I picked up that name from a dance club called Aldo's Hideway in Lyndhurst,NJ… actually I didn't pick it up it was given to me.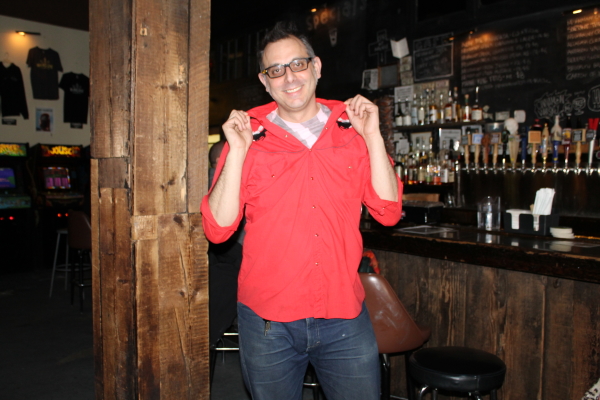 It was given to you why? It was given to me because when you go to a club you don't know people's names, a lot of times people will refer to you as "oh that's" and I was always dancing… that was always my thing, I was never drinking…
I was always the designated driver, in college we used to go the Loop Lounge which is in Passaic and I would drive everyone. I'd get a pint of Coke and I would be in the back and dance til the very end. People would refer to me as the "Dancing Man" and when they found out my name was Tony it changed to "Dancing Tony"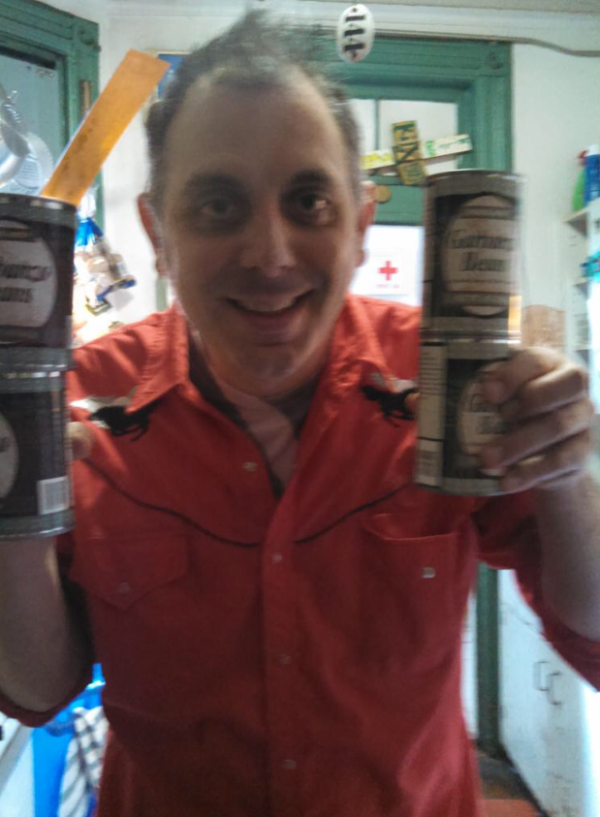 What do you do? I run fun.
You run fun, can you elaborate? Yeah I'm an event planner, I do community oriented events, fundraisers, I DJ, I rent sound equipment. Rock-it Docket started out as an email list that I used to do for a friend showing people whats going on in Jersey City, then after that it graduated into a blog.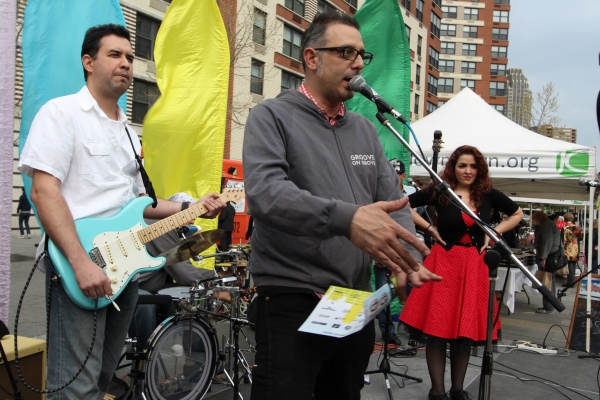 [Stylish Peep Dave Feldman walks in]
Dave do you have any dirt on Dancing Tony ? We got loads of dirt, a lot of dirt how big of a hole of dirt can you fill stuff from Dancing Tony? A lot , like the whole Harsimus Cove cemetery, which is a perfect segue…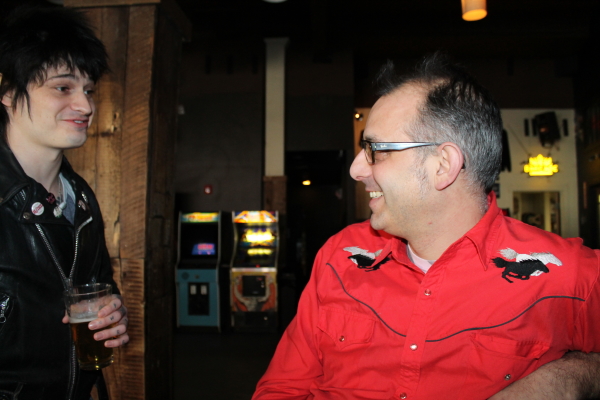 (Tony) I will be buried at Harsimus Cove that is my plan.
Tell me more about that.  We are going to go back to the New Jersey folklore days, the Uncle Joe's days (a Jersey City bar) which was during Halloween….local bands would dress up and cover other bands and when Uncle Joe's was sold we didn't  know what we would do, and at the time I was hosting bands at Gallery 58.
We would have art openings and I would set up the bands, so when Uncle Joes closed down we were like "what are we going to do without this event?" I decided we were going to have a party called "The Ghost of Uncle Joe's" which was the same thing it used to be… a Halloween party. We threw it for about 3 years at Gallery 58.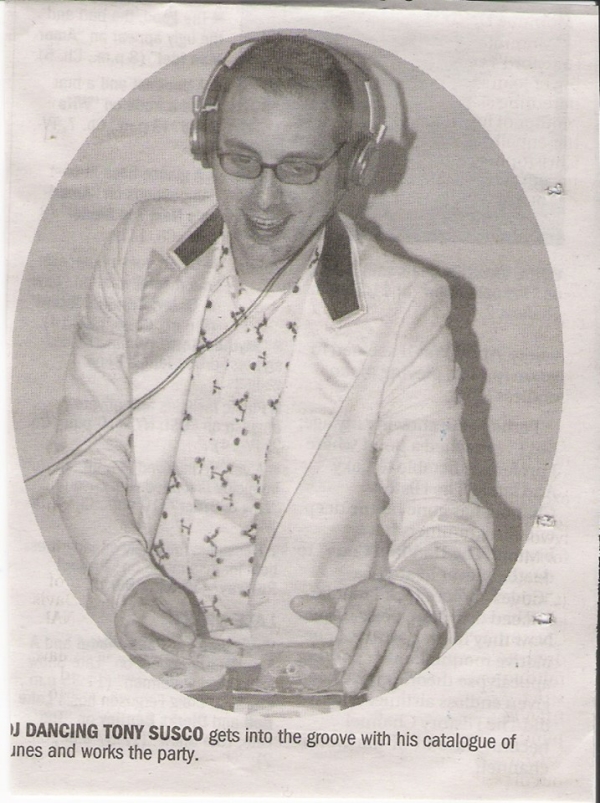 There was one year where we had to deal with zoning and police issues and it seemed like we are not going to be able to have this party anymore. Then I noticed that some of the bands that played, played at the Harsimus Cove cemetery. After that I came up with the idea to have the Halloween party at the cemetery. I asked Eileen who runs the Historic Harsimus Cemetery Association, "would you be down with having a Halloween party in the cemetery?"  And she was like "Hell Yeah!" first year we raised $4,000 for the association and she was just flabbergasted.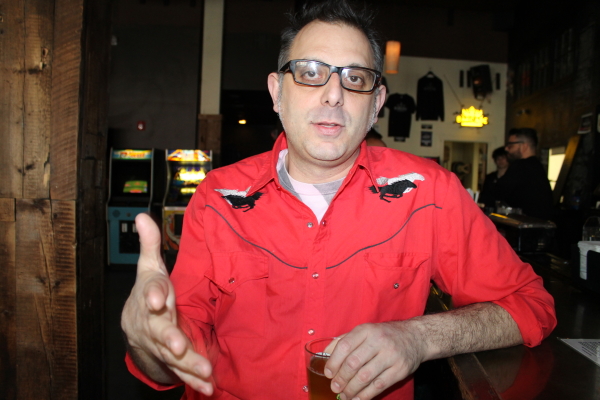 How did Rock-it Docket start ? When we used to work at a law firm and all the calendars were on a docket so that was kind of how that half of the Rock-it Docket name came from, and a lot of people confuse it with "rocket" when its "rock it" so that's how I put the two together it was available and that's why I took it…
How long have you been DJ'ing ? Since high school.
How would you describe your style ? I'm a crowd pleasing, button pushing DJ.
Do you play Beyonce? Of course I will, especially on ladies night!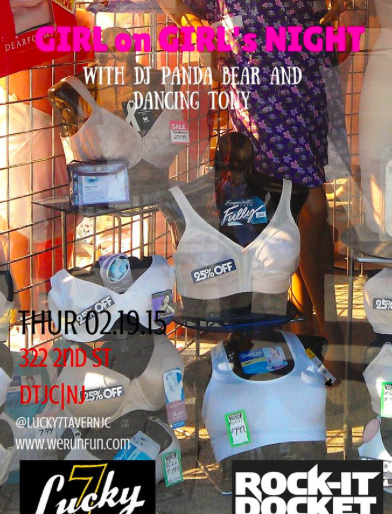 Dave (Feldman) says no. No, I always get requests
If you were to have your own party for yourself, what would you play ? My favorite bands are Super Chunk and The Front Bottoms… indie rock bands, that would be my kind of thing.  As a DJ I stray away from the things that I like because a part of being a good DJ is looking at the crowd and seeing what they like.
So you want to get people to dance? Yeah it's about seeing people have a good time, it loosens things up. I don't always DJ, because a part of what I do is putting an event together…  I'm used to the back-end side and sticking to the party planner aspect of things.
So basically you are Mayor of booking in bands Jersey City? I do have a good amount of clout on that, and a lot of that has to do with the fact that I was the only guy with a sound system…. that's what got me where I'm at… I had the equipment. Now you got to look at The Dopeness opening up , the rooftop at Porto is going to be opening up, I really want to get an event done called Shangri-La which is a music conference now with all these venues in town it can be something at little bigger than that. The first year we did it we got shut down by the cops.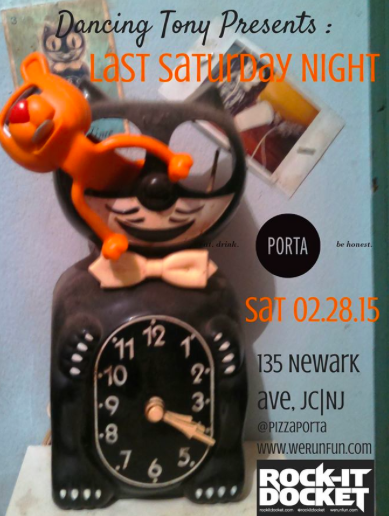 Oh really. It was actually perfect because we started out in the morning on Saturday and I had an intuition like "I hope this runs ok, but what if it doesn't " so probably after the second act it was singer song writer with an acoustic guitar, they got visited by the fire department and they told us we can't have this event here, and they shut it down. So I had a plan B and I called Christine from Art House Productions and we moved 3 bands to there and we moved the rest to the Lamp Post.
Well it aint a party until the cops try to shut it down. I had that experience recently. I saw an article about people in LA renting houses to have wild parties… and I was like if you're going to have a crazy party and the neighbors don't know then it's going to be a problem and that always happened, so when we used to have parties at Gallery 58, I didn't know this til afterwards but when the cops used to walk in and be like "Where's Tony?"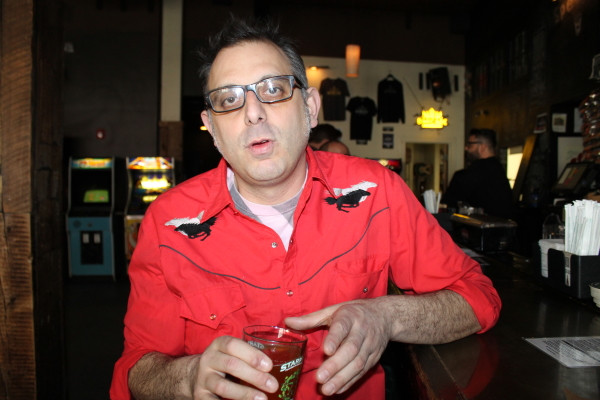 We had some of the best parties there… the best party we had there that got shut down was a beach party, there was a 4,000 gallon inflatable pool…. It was literally like 2 in the morning when the cops came to shut it down. The best part about that night is that they ended up calling the district officer in to come over, and the best part ever was showing him the pool, and he was like "this is good".
Haha. Great story! How long have you been in Jersey City?  I'm celebrating my 20th year.
What area do you live? I live above Sushi Tango and I haven't moved since.
It's a good spot. How to you feel Jersey City has changed in the past couple of  years? The only downside about the change is that I don't like when people don't say hello to one another, everything else I can deal with.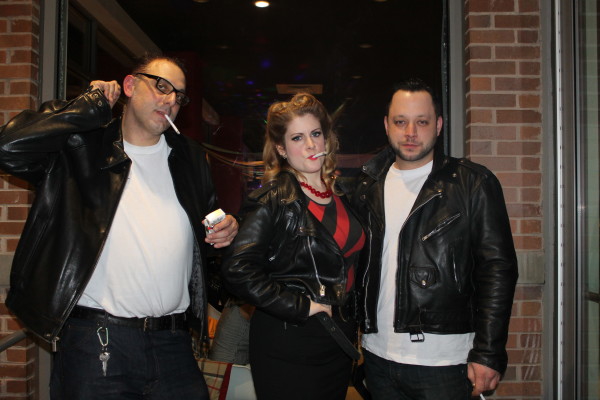 The change is  something that I was looking forward to, because the downside to everything that I have done in the past, is that you did so much but everything was on the down low and it had to be quiet and now you have all of the venues, real spaces… One of my favorite parties is at Porto that I'm doing monthly, the great thing about it now is that there is a dance floor!
You also write a blog? Yes, I anguish 4 hours to write 3-4 paragraphs.
Why do you anguish? What do you write about? It's really tough, I really want things to be specific, and for me it doesn't flow together quickly. Usually I write about what I am doing, talking about new places..
Do you know a band from Jersey City that you think is going to make it ? Well they kind of already made it and they just moved to Jersey City they are called The Front Bottoms they're real good friends of mine. I met them when they first played…I checked them out with 8 other people and they put on a really good show. I asked them to play a show that I was doing at City Hall and they agreed, on that day I showed up on my moped and we've been friends ever since.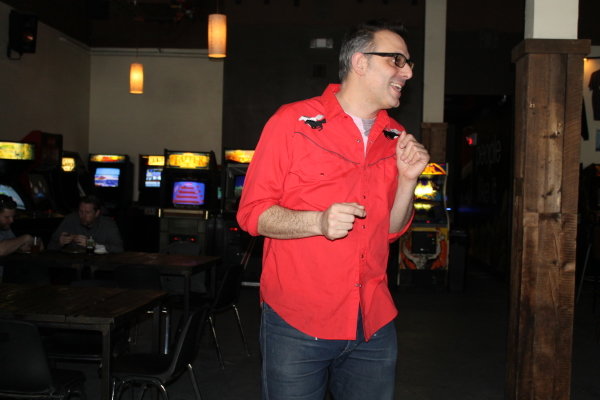 Any one else? Kiwi is a great band , Black Wail… there is a lot of strong groups in town.
Your favorite hangout spot in Jersey City? Other than Lucky's because I'm always there. I like Ringside, White Mana, and Parkside Tavern.. but my apartment is my favorite.
Is there anything else you want people to know about you and your craft ? I started with a core group of friends those are the people who support me and help me when needed and we still kinda do things on the down low which holds you back in a way. I have really talented people who is great, the idea that you can transform a room into a great party is a blessing.
What's next? The 4th Annual "Pushing Up The Daisies" A historic fundraiser for Harsimus Cemetery. Live music by RocknRoll HiFives, Miss Ohio, Higgins​, Bodega Dream, AMINAL​, Vincent, The Owl, Cicada Radio​, Hey Anna​, Cold Fur​ and Black Wail​.
I will be there!