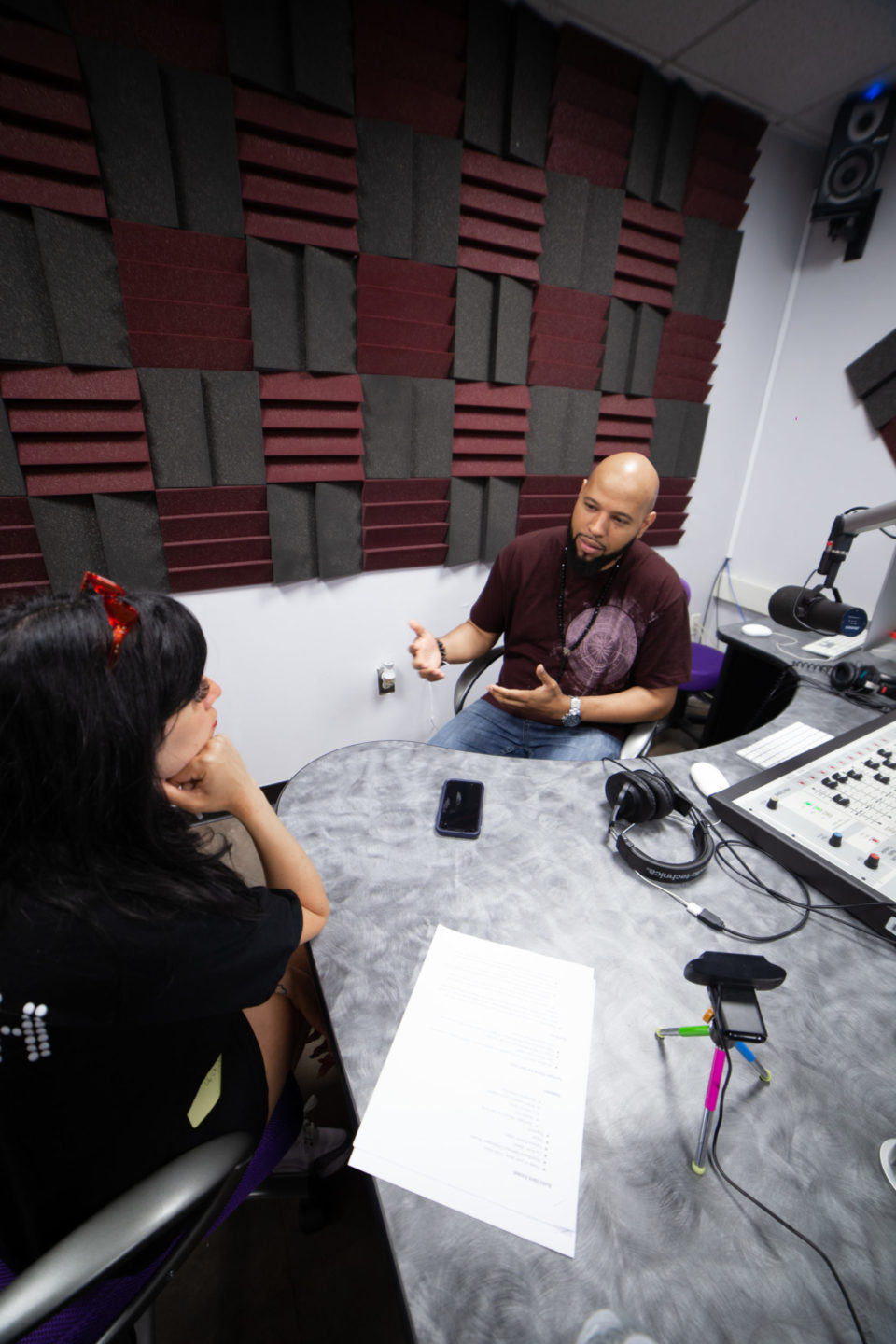 I have a special place in my heart for the creative youth; growing up as a teenager I was interested in all things creative and I never felt like I had someone to look up to. In my high school there weren't many creative classes where I could feed my needs. And now, it's my whole life. That is why I started Content Creators Academy because I wanted to create a program for teenagers interested in digital media and arts. I have a huge respect for adults who dedicate their lives to inspire the younger generation so when Wilkis Figuereo, Music instructor at the Hudson County School of Technology reached out to tell me about their amazing music program I had to pay them a visit and learn more.
To my excitement, a few of his students interviewed me for their radio show (watch the full thing at the bottom of this post!)
I really had a great time getting to know Wilkis and the students. There are some really talented kids in his class and I am so excited to follow their journeys!
What's your name?
Wilkis Figuereo.
What do you do?
I am the Music Technology instructor at Hudson County Schools of Technology – County Prep High School.
Can you tell me a little bit more about the program?
Our program is a 4-year program where students learn music production and audio training & recording. By the time our students are juniors and seniors, we train them and certify them in Avid Pro Tools, which is the industry-standard production tool for music and audio production.
Do they have class every day for this program?
Yes, we meet every day. At the high school level, the training we do here is comparable to the college level. We try to spread it through the course of a year to make sure they get the skills they need to move forward.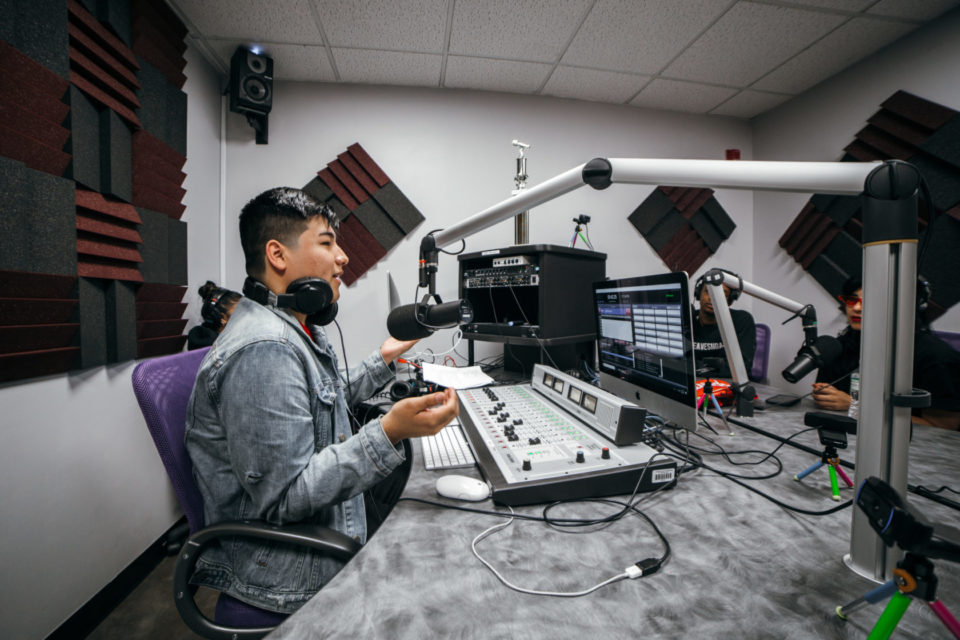 How did the kids get into the program?
When students apply to enter the school, we have majors because we're a vocational district. Kids who are interested in music will come in as freshman year or sophomore year, take a class, and from there they'll decide if they want to pursue this as their major. They can pick their major, similar to a college.
What's your background? How did you get into teaching? 
I'm a product of the district. I graduated from High Tech in 1998 and in my senior year, I took a class. Once I took a class, when I went to college for undergrad, I studied music and was in a hip-hop group. I was an artist and the producer of the group, and I was volunteering my time at the high school and started a mentor program. The Jersey Journal gave me the Everyday Hero award in 2000 and, because of that, they asked me to establish a program. I didn't have any interest going into education and that kind of bloomed into everything else I'm doing. From there, you meet young people, you impact them, you help them find their way with their music, and that's something that I do. Besides teaching, I also work professionally with different artists as an engineer, producer, and I own my own facility – Itec Audio Studios in Clifton. I do a lot of training there, but I try to relate that to the students so everything that I do besides teaching, I try to tell them they can learn these skills or make a living with these skills.
That's amazing! What do you love about being a teacher?
The biggest thing for me as a teacher is seeing the progression in the students. Even yesterday, I was listening to a song I did with TJay when he was a freshman. Seeing the growth when he started doing music, falling in love with that process, and critiquing him harshly to get better. By the time they become seniors, they're totally different people, you see them being confident and pursuing their dreams. Sometimes, they don't get that support at home when it comes to the arts, so when they see somebody who's been doing it for a while and I try to share my experiences, it kind of gives them guidance and confidence so they can pursue a career.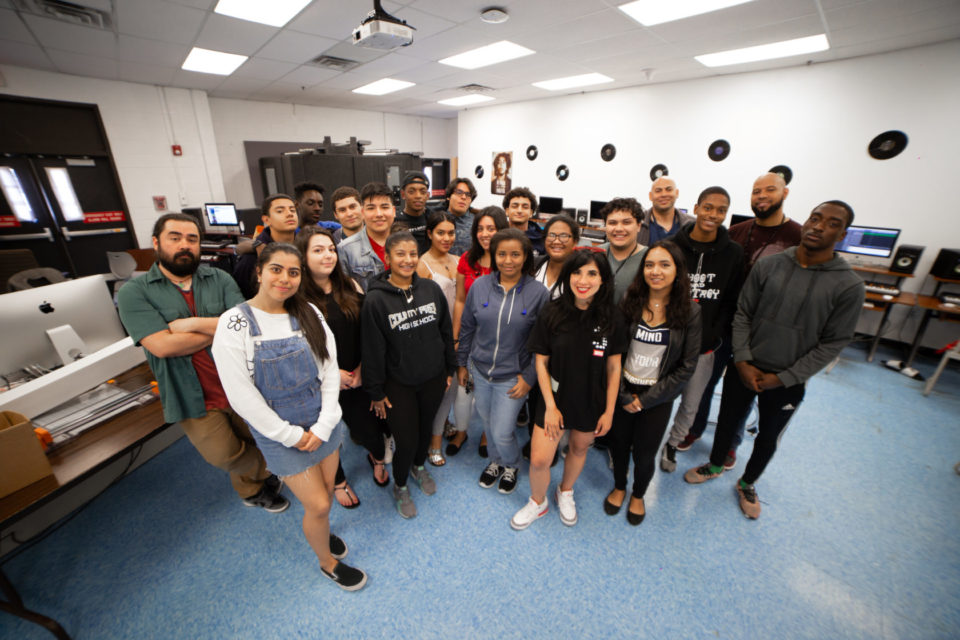 Making a living from being an artist is very hard. What do you usually tell your students?
The biggest thing is to be a jack of all trades. You can't just focus on one skill. Learn multiple things. If you want to be a producer, maybe the production is not a thing to make money but if you're running a recording studio, that's one aspect. Having a knowledge set is going to help you, and also the way you conduct yourself or relate to people when you're networking. It's a hard thing to do, so you need a Plan A and Plan B, but believe you can do it. I've had students who have been super successful, and I always encourage entrepreneurship – do it yourself, don't try to work for somebody else.
You love your job. 
To me, it's fun. I make music every day. I have production competitions with the students just so they can get to the next level on their sound.
What's next for the program?
We're expanding our facility next year. They're going to give us a whole dedicated section of the school where they're going to build a full-blown recording studio separate from the classrooms. We're going to have the classroom aspect of it and then a full professional recording studio, which will give me an opportunity to teach certain things I haven't taught yet as far as analog recording and things of that nature. I'm working on a partnership with Berklee, they just purchased a $30 million studio in NYC that I do work out of. I'm just trying to bridge a gap where I can send some students as interns to their professional facility called Power Station Studios.
That's awesome. Are you from Jersey City?
I grew up in Jersey City. I went to PS 40.
How do you feel Jersey City has changed in the last few years?
There's a lot of positive things going into Jersey City. Of course, you're going to have some negative things but from when I was growing up in the 90s, the energy is totally different. Kids are comfortable with each other and I think there's this huge outlook of music. It's a lot easier for people to get into media and create content now. I think Jersey City is going to go back on the map. We had a lot of artists, like Queen Latifah and the Flavor Unit. Now we have a bunch of different artists coming out of Jersey City.
It's a nice creative scene. 
Yeah, and I impact a lot of those guys who do music in Jersey City. They've been exposed to my program.
Do you have a favorite Jersey City hangout spot?
Taqueria is a good place. I like Mordi's food truck, I get that every day. I love it. We also get Krispy Pizza all the time. I like to hang out by the pier in the summertime and Liberty State Park.
Is there any album you're listening to right now?
Currently, definitely that Pusha T album DAYTONA and the Black Thought album Streams of Thought Vol. 1. I'm into more conscious hip hop.
---
Check out my interview with the County Prep radio show: