Two years ago we founded Content Creators Academy, a non-profit mentorship program for local youth interested in Digital Media and Entrepreneurship. The students meet twice a week and learn a variety of skills related to digital arts; graphic design, photography, video, branding and blogging!
I had the pleasure of teaching one of the classes and assigned them a task to interview someone they are inspired by! Check out Part 1 and support our students! I think we have a few new contributors in the making!
---
Fashion Designer Helen Castillo
Written by Angel Asencio
I'm a Content Creators Academy Jersey City student, currently being taught the foundations of business and entrepreneurship. We were given an assignment by Lynn to interview those who inspire us and to tie it back to entrepreneurship, and I chose to interview my teacher Helen Castillo. She is my biggest inspiration, the main reason I fell into the dream of wanting to own my own fashion brand and design. I never met anyone as caring and committed as her. In a sense, this is my way to commemorate her for helping me develop my skills as a designer, constantly pushing myself to be the best version of myself.
First and foremost, what is your name and what do you do?
I'm Helen Castillo, a New York City-based fashion designer. Graduating from FIT in 2012 with a bachelor's degree in Special Occasion Fashion Design, I pursed the TV show Project Runway and was cast for three seasons, which built the foundation for my brand focusing in the custom evening and bridal gown design.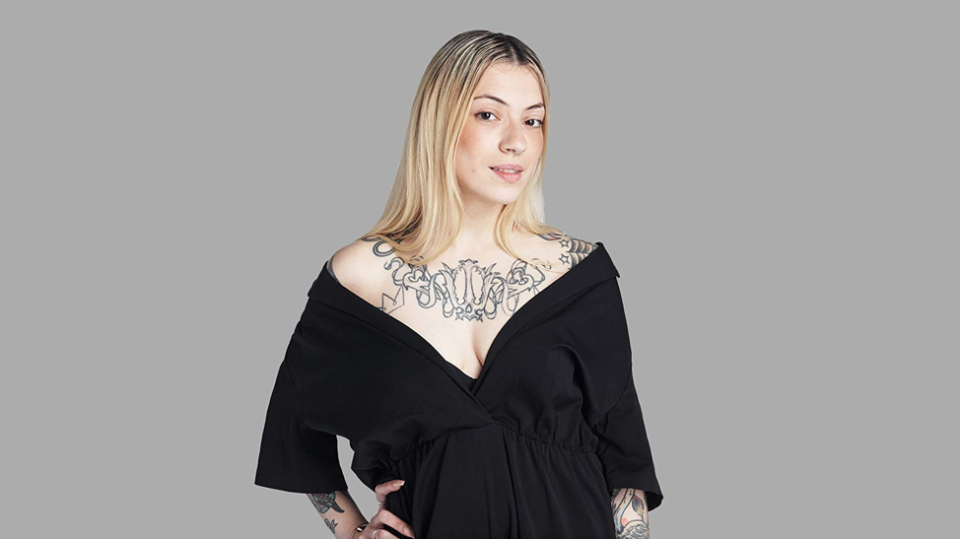 When and how did your interest in fashion begin?
I took my first design class at my middle school in 4th grade as a club; it was 'Fashion Show Club' where we had to make a dress and model it at the end of the semester. I can only remember butchering it to hell and having nothing to wear, my teacher at the time wasn't much help but that was on me for being a rowdy, disruptive brat! My parents had just bought their house I grew up in, and the 1st-floor tenant was a designer. She cut, sewed, and fit a dress on me overnight for my show the next day. I didn't revisit design for some time after that because my interests were in arts and music. The summer of my 8th grade graduation, my mother worked in Manhattan and instead of having a babysitter, convinced me to take SummerLive courses at FIT. I registered for a 'Design Room Techniques' course and that was the first time I had sat at an industrial sewing machine and knew it was what I wanted to spend my life doing.
Oh wow. Did the fact that you felt your "calling" in a classroom have anything to do with your choice in being a fashion teacher?
I never thought of that being a reason I enjoy teaching, although my teaching philosophy is that I feel knowledge is definitely priceless and to share it isn't at any loss to me. After having done my first season of Project Runway, I got tons of email requests from f
ans who wanted to become designers so I thought, 'Why not start mentoring?' I worked with mainly design students whose ambition was applying to fashion colleges. Working with one of my childhood friends who ran the performing arts department at Union City High School opened the door to teaching at an establishment, where I am now full time as a fashion teacher in the CTE (career and technical education) program. Ultimately, which I'm working towards now, I would like to be a college professor and fulfill a masters in fashion design while balancing my custom design gown business.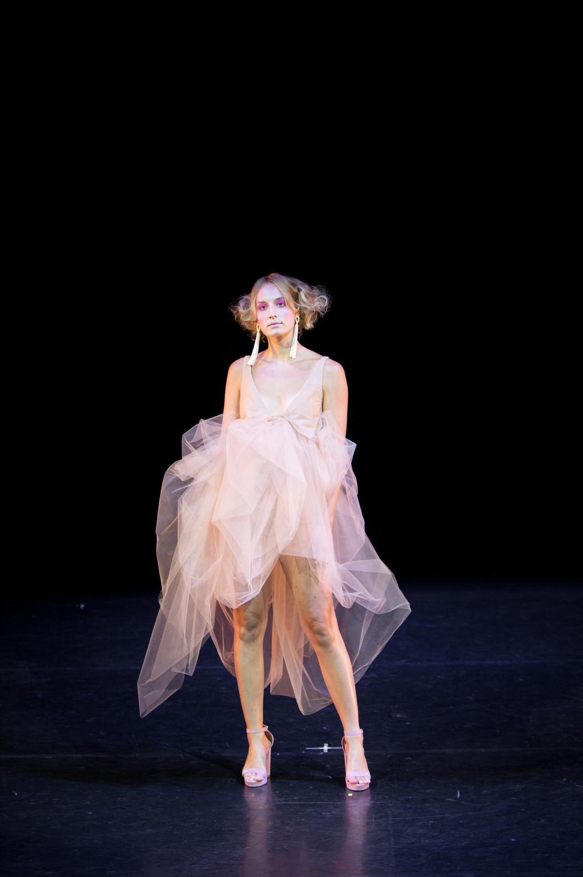 Being that this is for a blog focusing on the Hudson County area and you came from there, would you consider yourself a role model for the local youth also interested in fashion? You certainly are to me.
I think Union City will always be my home, and home is where the heart is. Whenever I feel overwhelmed or need to unwind, I definitely go back to my roots (aka my mom's house, where I grew up). In this industry, it's easy to lose yourself in what expectations people have of your brand and especially your personal aesthetic, it's always about keeping ahead of trends and bringing a freshness to the fashion audience. My story definitely is sort of a beacon of hope to the youth of my community, I certainly think style and self-expression are big interests in Hudson County, and for people to see that following your passion to a path of success in and outside of Hudson County has limitless possibilities.
When you were just starting, who were your inspirations? Who were your inspirations for your personal style? It's an interesting juxtaposition that you have a gothic style for your personal wardrobe and your work is very colorful and on the softer side.
One of my biggest inspirations are my parents, they both struggled to raise me and my two half-siblings while working full time and doing their art out of a walk-in closet converted to an art home studio in their first apartment in Weehawken. They've always supported all of my ambitions with the right amount of constructive criticism to help guide me. Vivienne Westwood is practically my God, anything she touches just naturally manifests into greatness and I hope to one day be as effortlessly successful as her.
As for my personal style, I'm mostly into black because it never goes out of style. The Olsen twins are my favorite as for personal style, I think any garments that have a classic element but aren't too forward or oversaturated in the market, never go out of style. I collect a lot of vintage designer suits and blazers and love pairing them with 'mom jeans,' tee shirts. Not a fan of graphic tees, I think they aren't the best form of self-expression when you're wearing/promoting someone's logo, and ultimately if you had to name my personal style I would say Lydia Deetz meets Winona Ryder when she dated Johnny Depp.
As for my design aesthetic, I just create what's in my head, and although I dress lazily in all black, I'm always thinking of beautiful weightless dreamlike pieces. There's serenity in creating beautiful things.
Are you happy with where you are currently, in terms of your brand? What is your end goal? How will you achieve it?
I'm happy that I'm my own boss, ultimately I would like to have my own shop or boutique where I have a team of people working for me. But you have to have a lot of money to start any business, that's why I'm happy with where I am.
Now working on a smaller scale with no overhead. I'm in full control of my brand and I do all of my design and production myself from my studio in Hell's Kitchen.
Project Runway brought on a lot of collaborative opportunities and I hope to continue expanding my brand and working with more artists and celebrities who have true value for original designers work that isn't corporate/fueled by endorsements that don't have the same values and authenticity as a designer who runs their brand based on passion and dedication to creating garments to make their clients look and feel beautiful.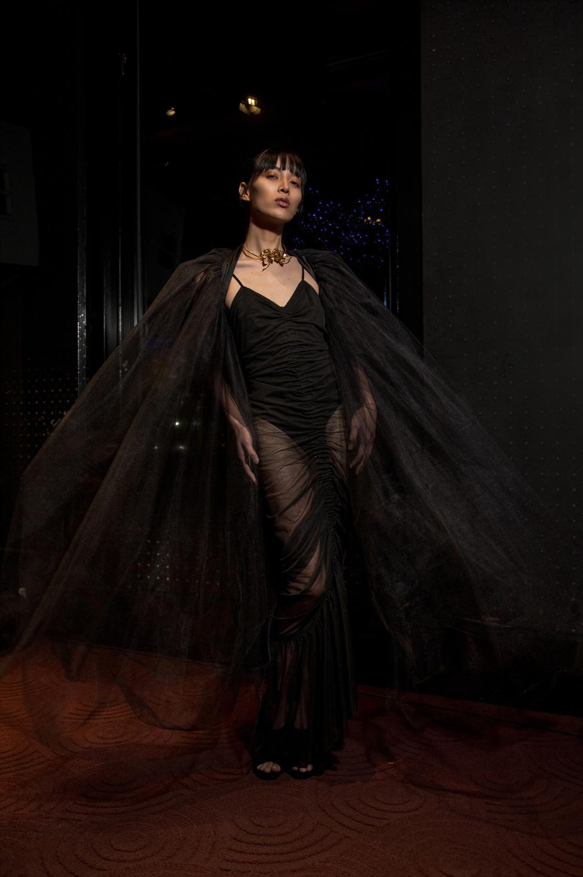 I'm excited to see your progression, you certainly deserve more recognition. Any tips for those hoping to one day be entrepreneurs?
If you're dedicated and stay committed to your vision, don't hesitate to try starting your brand and following through with seeing it grow. Take one day at a time, don't stop doing what you're doing, and take risks.
See more of Helen's work on her website.
https://www.designerhelen.com
Instagram:
---
Chef Edgar Neftali Soto
Written by Damon Guarente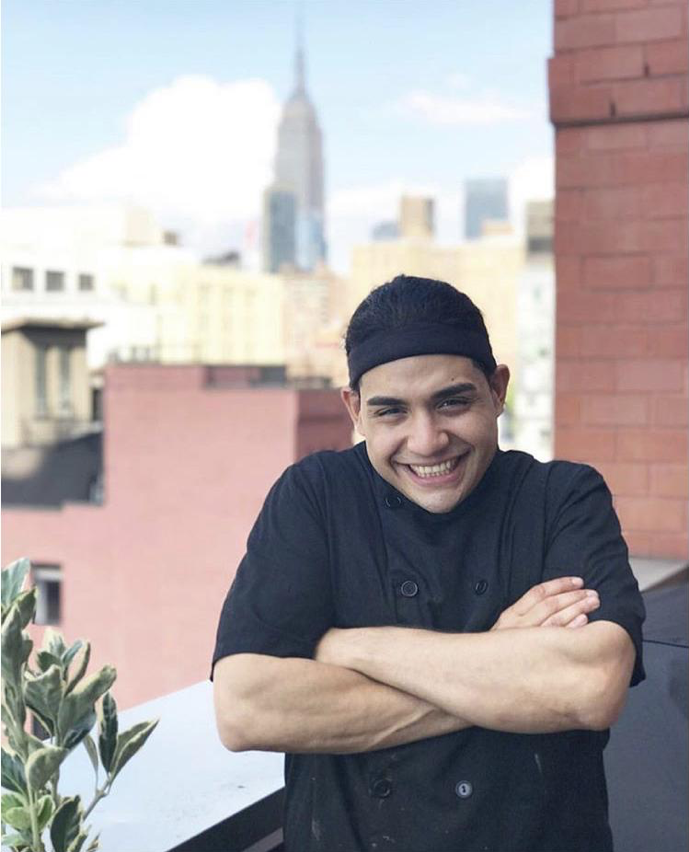 How long have you been a vegan & what inspired you to become one?
Rather than saying that I've been "vegan" for approximately 8 years, I prefer to say I've adopted an all plant-based diet abundant in organic super fruits & vegetables without the help of animals since I was 19 years old. The inspiration to adapt this life-changing diet came in triggers for me. Before transitioning, I'd experienced being overweight, developed unprecedented allergies to raw fruits, headaches and stomachaches, and I just felt deficient on a cellular level. I then followed my excitement to do some health research & was led to popular documentaries such as Food Matters (2008) and Raw for Life (2007). Both films inspired me to omit animal protein out of my diet and resort to consuming living fruits, vegetables, nuts, & grains. In less than a year of changing my diet, I reversed being allergic to raw fruits, lost 40 pounds, and created a positive momentum in the ultimate hydration & healing of my cells. Most importantly, by eating vegan, I feel like I'm saving the earth, the animals, and myself.
What's does your daily diet consist of ?
My daily routine varies when it comes to my diet. For the most part, I wake up in the morning and consume water infused with organic apple cider vinegar and/or lemon juice to kickstart my digestive tract and alkalize my body. I then incorporate fresh fruit and good fats such as pineapples and blueberries, and avocados and coconuts. A favorite breakfast of mine is rolled oats with cashew milk, cashew butter, chia seeds, and a ripe banana cooked in. During lunch and dinner, I like to eat beans, lentils, quinoa, cauliflower, sweet potatoes, all seasoned with soul and flavor with a side of raw organic greens, and a freshly squeezed juice to give my body all the nutrients it desires.
A lot of people say when you become a vegan you'll miss out on proteins. How do you respond to that?
What people fail to realize is that most plant-based foods contain enough protein the body needs. Look at elephants and gorillas, two of the strongest animals in the world and they only eat plants! Foods such as beans, hemp seeds, nuts, spirulina, and most veggies contain lots of proteins.
Do you think this information hasn't been shown to the world?
The information is out there. In each individual's head is the "world." Each individual may have the responsibility to learn and find these life-changing ideas at will. Luckily, with the help of social media, this health revolution is evolving quicker than ever. The old program that wasn't working for humanity is slowly but surely being replaced with a healthier way, in my opinion.
Becoming a Vegan Chef – how was that, substituting ingredients, etc.?
Becoming a chef was just me putting a label to what is my first passion and that is preparing food with layers of flavor like if it was a dance between love and life. The music are the herbs and spices mixed with the melodies of satisfied taste buds. With that said, to me, substituting animal ingredients with plant-based food felt normal and simpler than ever. The real flavor is in the animal free ingredients.
So besides being a chef, you wrote a song on being vegan and consciousness. Can you break down some of the lyrics, and tell the public why you made this?
The song you're referring to is titled "I'm Channeling Myself." In my own creative way of expression, I speak of a flow state unique to myself which is also unique to each individual alive. I personally believe in the power of exercising the Mind, Body, Soul, whether it's with yoga, meditation, good food, good relations with people, and harmony with the earth. The song starts with me saying "ong guru dev namo," which means "the divine teacher within." And I also say "this message is for you, you, you, and most importantly this message is for me." I start off like this because I prefer to create poetry in such an effective way where it helps remind me and others to grow, succeed, and simply to make better decisions than before. At the beginning of the verse, I say, "I'm channeling myself, I don't need any animals to promote my health, all I need, herbs and fruit…" To me, this locks in this powerful state of mind I prefer to be in. A positive flow state fueled by herbs and fruits without negativity, and the exploitation of animal life. Throughout the whole song, I describe a conscious omnipresent state. I also provide a different perspective where materials shouldn't override the value of nutrients and self-care. "They'll pay less for their shoes, but won't pay less for their food…" I simply believe most of us have the ability to express words and write any story with the help of the alphabet and subjective definition. I choose mine to express a high frequency sound that when people listen they'll reply with, "I see what you're saying!" If my words can touch a few minds and hearts for the positive, I can humbly thank myself and others for recognizing that divinity in all of us.
If you can finish this interview off with a word of advice to people thinking of becoming vegan and vegetarians what would it be?
To anyone who wants to gradually transition to vegan or vegetarian, all I would say is take your time, and do your research because questions are answers! Now with social media, you can subscribe to hashtags you're interested in, which is a way to reprogram your old beliefs and interests by constantly exploring a different world. Another tip is experiment with different recipes and cool vegan products on the market. Some can satisfy your old cravings while you're on the ultimate transition to give the body what it really needs when it needs it!
Find Edgar on Instagram – @ImEdgarSoto
Listen to Edgar Soto's latest song on SoundCloud:
https://m.soundcloud.com/erepdom/clinical-in-tuition-edgar-soto