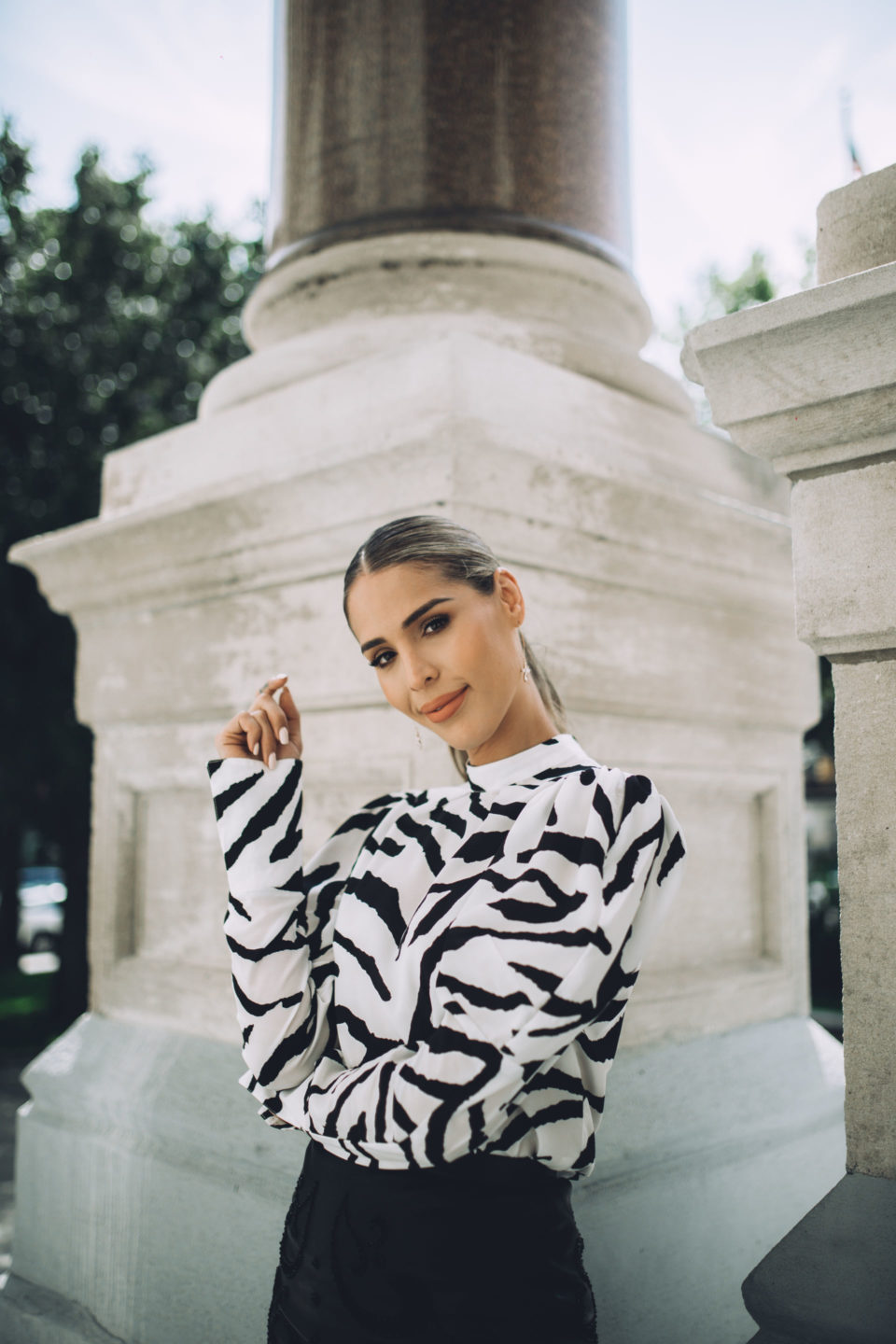 It is officially Pride week in Jersey City, and it is one of the most exciting celebrations of the year. After 3 years of blogging about Pride, I am so proud to be an official sponsor this year. I've seen it grow tremendously and I am so excited to be part of it this year.
This year's theme for the Jersey City LGBT Pride Festival on August 26th is: Celebrating the "T" in LGBT. The goal is to raise trans awareness and to show our love and support as a community to our trans brothers and sisters.
Carmen Carrera is a superstar, model, social media maven, burlesque dancer, actress, former reality TV personality from RuPaul's Drag Race, and trans advocate. She was appointed as the Grand Marshall for pride this year and received an award for her activism. She is an incredibly positive role model and when I heard the news she was getting her award at the Flag Raising at City Hall, I knew I had to meet her.
Carmen walked into City Hall like she was on a runway. She is so pretty and exudes confidence. I got the chance to sit with her and get to know her a little bit before she received her award. Carmen is amazing and I know she is only getting started. I love her story.
What's your name?
My name is Carmen Carrera.
What do you do?
I am a model, an actress, an activist, a television personality, and a burlesque performer.
Wow! You do a lot. What are you doing here today?
Today, we are raising the flag and celebrating the T in LGBT, which is huge because obviously that's the area in the community that I represent. It's celebrating our pride. We've gone through so much over the years, it's always so rewarding and fulfilling to know that there are people out there in our government that still give us the appreciation that we deserve.
Where are you from, originally?
I actually grew up here in New Jersey! I went to Elmwood Park High School, graduated from there, and then went to Bergen Community College to study photography. From there, I became a makeup artist and got my first job at Garden State Plaza. At night, I would perform and that'd be my feminine form of expression. That was my art. Then I got on television and everything changed.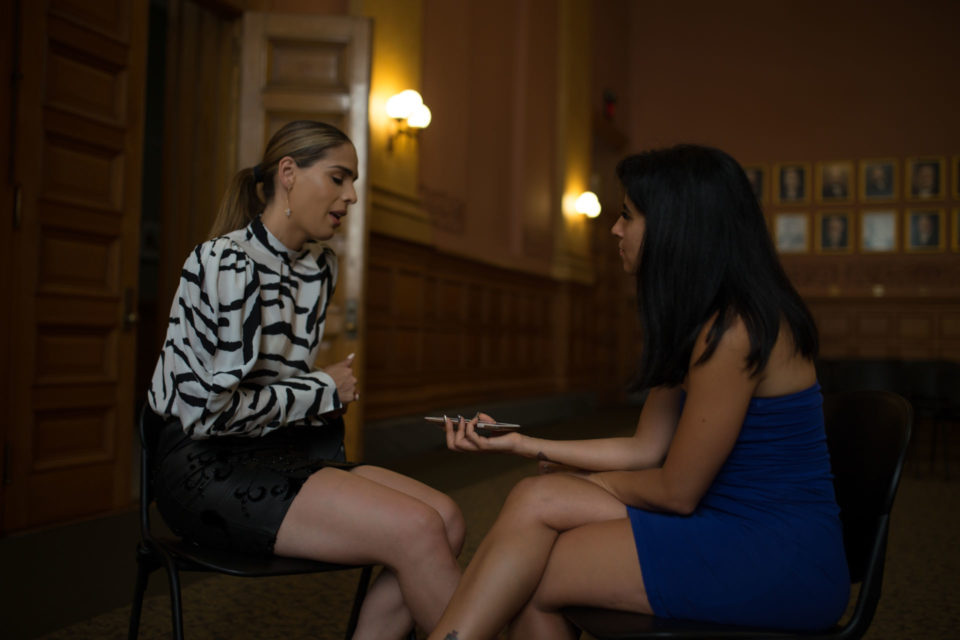 How do you feel, being such a positive role model for younger people?
I feel honored to be a positive role model to anyone who can relate to what I do or to my experience. It's definitely an honor, and I also kind of feel responsible. It makes me want to work on myself as a person and be even better than I was yesterday.
I love it. How do you feel about the support you've been getting from the community and being a part of Pride?
Honestly, I would have never expected any of this 10 years ago. When i first came out to explore my self-identity, I wanted to absorb as much as I could from my community. I would actually come to Jersey City and I had friends who lived here, and we would go to the city and experience as much as we could. In our hometowns, there wasn't a lot of informational resources for who we were or how we identified. Coming here now and receiving an award for the work I've done and being able to honor how far we've come, it's almost like a dream. It's surreal. It's a great feeling.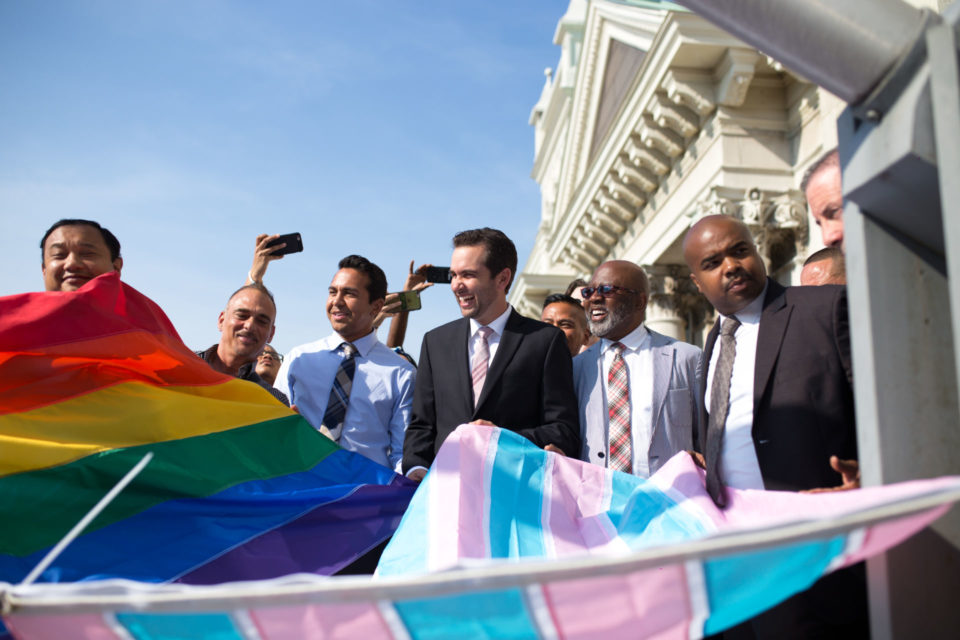 Is there anything you'd like to tell people about yourself?
I just want to thank everyone for following me, and if you don't know who I am, feel free to follow me! I definitely keep it fun and interesting. I do have an impressive list of hobbies and list that I do in my career, and I just love to share my art. I'm an artistic soul, so that comes through in variations.
Are there any big projects coming up?
There are two huge opportunities in the works right now for me that will propel my career even more, so I'm keeping my fingers crossed and hoping for the best! It looks good right now, you'll have to wait and see.
How do people find you?
You can find me on Instagram as @carmen_carrera, and it's the same on Twitter and Snapchat.