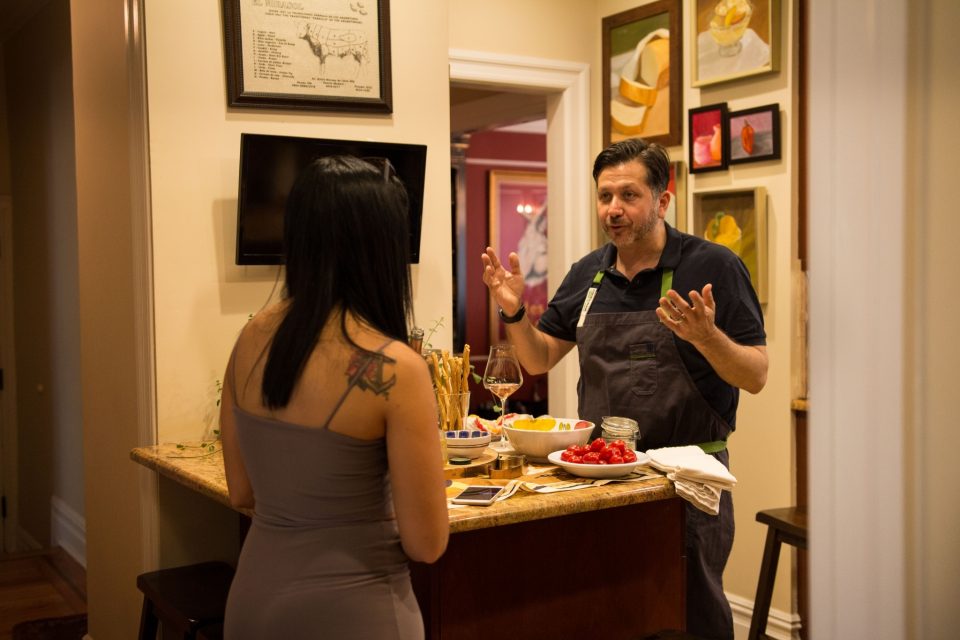 A few months ago, while interviewing pop singer Chrissi Poland, she mentioned that her next door neighbor was THE Anthony Giglio – Food & Wine writer, author, sommelier, and entertainer. I was in shock. When she told me Anthony was born and raised in Jersey City, I nearly fell off my chair. I asked her right away, "Can you please introduce me to him?"
A few weeks later, I came back to the same apartment building in the Heights to have lunch with Anthony in his beautiful home.
I love my life.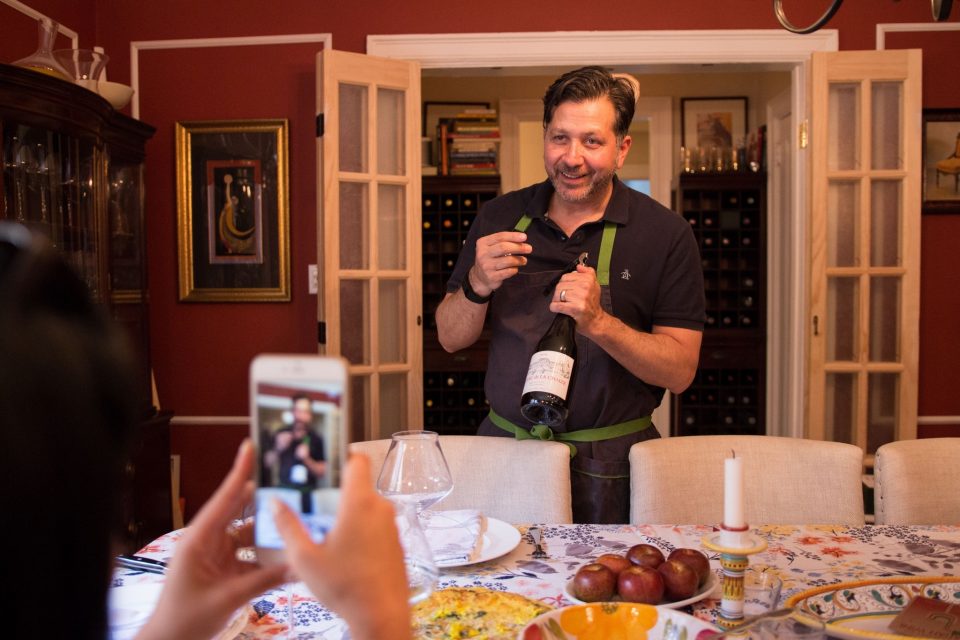 As soon as we walked in, Anthony gave us a tour of his apartment, which included a room with over 200 bottles of wine. I said, "Let me take my shoes off and kick back for a minute…" I knew this was going to be a fun interview. Anthony is an amazing host; we started off the interview with a bottle of champagne and an assortment of cheeses and snacks he picked up earlier in the day.
I had the opportunity to watch him make a delicious meal and to hear his story. Honestly, as a blogger, it was such an honor to interview Anthony. What a cool guy.
What's your name? Anthony Giglio. While it looks like Gigolo, it's Gee-lee-oh!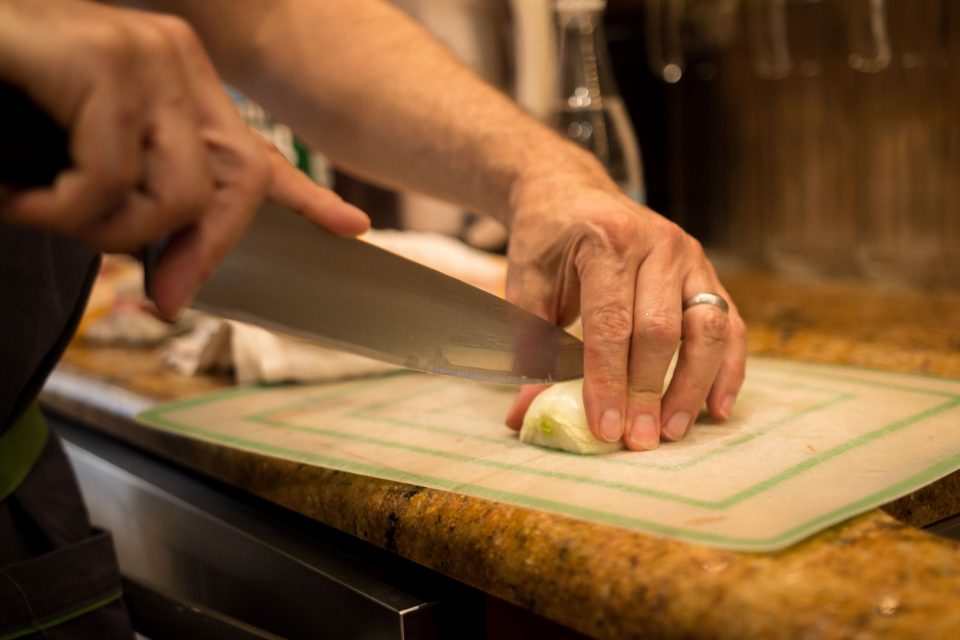 What do you do? I wear many hats, but first and foremost I'm a journalist who has managed to make a career out of writing about wine. It all started when got great advice from one of my first editors to become a sommelier so that I could write about wine professionally. I got a diploma in service from the Sommelier Society of America (a school for wine professionals in NYC) and went to work at Windows On the World on the 107th floor of the World Trade Center, where first I was a wine pourer in their Wine School, and then became a served wine in their Private Club. I worked there for two years there until the bombing in 1993 that temporarily closed the restaurant. I learned enough at that point to know that I wanted to write about wine for a living—because I had developed the palate and learned the vocabulary of a sommelier. But I also knew that I would never, ever talk about wine with any affectation because I'm a Jersey City-born-and-raised kid from a blue-collar family.
So you're making it accessible. Exactly! I speak in plain English. I like to say that I have founded my career on empowering the most opinionated people on the planet—my fellow Americans—to have even the smallest opinion about wine, because everyone thinks there's a right answer to the question, 'what kind of wine do you like to drink?'.
It gets very snooty. Yes! Corporations hire me to entertain their clients, so I'll be at a table with 20 guests whose collective net-worth is $300million, and I'll walk in and be like, "Alright everybody, let's just get this on the table right now: I am from Jersey City, New Jersey. Anybody have a problem with that?" And then I'm like, "So here's how we keep it real today: I grew up drinking wine… in utero—my mother was quite a party girl in her day."
And we were served red wine with our meals throughout my childhood, not even knowing that that was unique. We drank wine in rocks glasses—with ice, and they'd pour the wine "on the rocks," and then pour cream soda over it just for the kids. We called it a "spaghetti spritzer." Back then we had a milk man and a soda man who delivered to our house once a week with the glass bottles.
In Jersey City? Yeah; I grew up on Ege Avenue, on the West Side, between Mallory and Bennett.
I love this! So I grew up drinking wine without fanfare and my editor at the time—her name is Dora Hatras—was like, "Why aren't you writing about wine?" and I was like, "Because I'm 22 and nobody my age is writes about wine." She said, "Which is why you should write about wine, because you're 22 and nobody else is."
So food is part of your upbringing and the way you grew up in Jersey City, can you tell me a little bit about that? When I was growing up there were those marathon 'Sunday Lunches" that went on for hours. All of my relatives on both sides of the family lived in Jersey City. I was born in a spectacular house on Grant and the Boulevard in the late '60s, just as everything went berserk, and most of my family fled to the suburbs. So, my parents and maternal grandparents moved down to the far West Side to my father's neighborhood where he grew up. By 1980, my mother was like, "There's nobody here anymore, let's go." We moved to Lyndhurst when I was 13. My father still mourns the loss of his neighborhood and the neighbors. He complains that in the suburbs, "There's no neighbors! People don't come out and sit on their porches like they do in Jersey City."
I went to college in the city (Go, Fordham!) and after that I was living in Weehawken on Boulevard East in the attic of a beautiful mansion when I met my wife, Toni, who was born and raised in Jersey City Heights. Just before we moved in together in 1998 she bought a new apartment in the former Baker's Chocolate Factory, on the corner of Barrow Street and Columbus, Downtown." I told her she was insane; the apartment was nice, but the neighborhood was still in transition. She said, "I'm telling you, this neighborhood is going to explode." And so it did. Five years later had our first child, Sofia, and we couldn't afford to upgrade out of our 1-bedroom for less than a half-million. Everything at the time was inflated at the height of the real estate bubble, which didn't crash until 2006. So, we came up here [The Heights] in 2004 because it was half the price to get three bedrooms, a formal dining room, two bathrooms and our own laundry room.
Our neighborhood is very mixed; at times it feels like the blue-collar 'hood of my youth; and then I see the cool kids walking around with the tattoos and piercings, and I know things are changing. While Palisade Avenue has Mod Cup and Fox and Crow, we now have Bloomsbury Square and Choc-O-Pain right here on Summit, and Wonder Bagel and A Little Gelato on Central. Plus my all-time, old-school favorite deli, Andrea Salumeria, which I know you've discovered, too. Oh, and I'm psyched to hear that the old tavern that closed down the block (Monaghan's) is reopening as a pub called The Hutton. We need more bars and restaurants up here.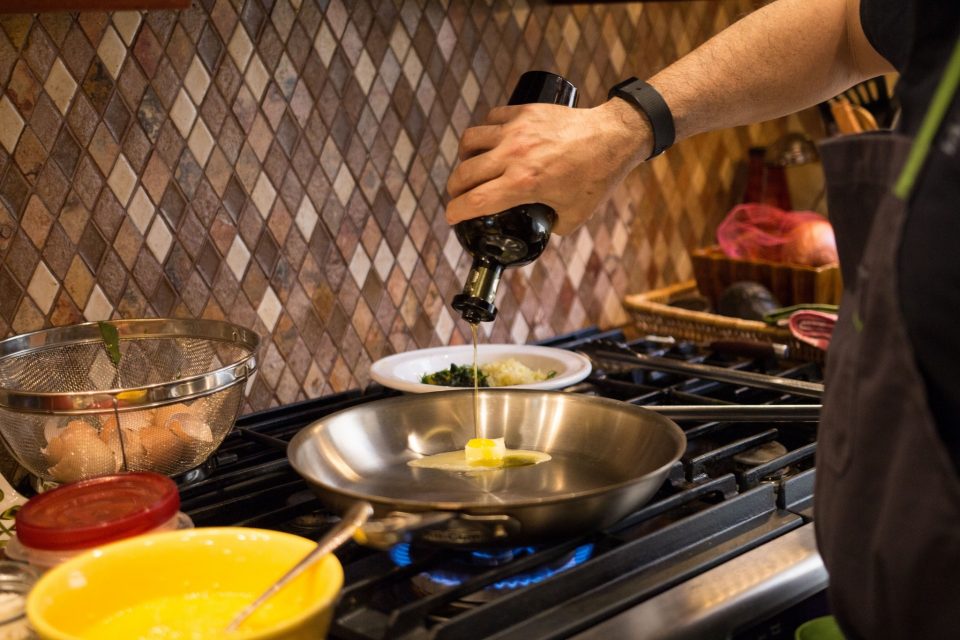 So tell me about writing for FOOD & WINE. All the connections seem to lead back to Kevin Zraly, the wine director at Windows On The World, because ten years after I stopped working there, he was supposed to be speaking in Aspen at the FOOD & WINE Classic; I was invited as press. At the last minute, he had to cancel and F&W's publisher, Christina Grdovic, asked me if I could take his place. It was an amazing opportunity. And I didn't blow it. I've been going ever since, and this year I went back for my 20th Food & Wine Classic. This year, a new editor came on board, Nilou Motamed, and she offered me a regular column and put me on the masthead as a contributor. I'm thrilled.
So you're obviously a good cook. Yeah, my grandmother was my muse. We lived in this two-family house down on the West Side. My grandmother was this terrific Italian seamstress who was the second-oldest of 12 kids (but only eight survived). She grew up on Mercer Street, Downtown, and was supposed to go to Dickinson High School, but her father forced her to quit to go work in a laundromat to support the family. She never got to go to high school. Her younger sisters got to stay home and cook (to her great chagrin), so she was a pretty terrible cook. My grandmother spent her later years in front of the TV watching all the cooking shows. She was this diehard cooker-baker but always with Depression Era substitutions—so olive oil became corn oil; butter became margarine; chicken stock became water. You get the picture. I used to run home for lunch from kindergarten at P.S. #24, and grammar school at Our Lady of Victories, and she had lunch on the table every day. So, I learned how to cook from her… for bettor or for worse(!).
How do you feel Jersey City has changed in the past couple of years? What really works in Jersey City's long, long-awaited rebirth is how we can all be in touch in seconds. I think Jersey City is just thriving because so much energy is here, and you can feel it around you. Social media has changed how quickly the message gets out and gets people moving, interacting, socializing. You are living proof of how this works!
Do you have a favorite restaurant in Jersey City? I am a big fan of chef Ryan Di Persio and his two places, Batello, with its gorgeous views in Newport, and The Kitchen Step on Jersey Ave., in the late-great 30 Acres space. I also love Maritime Park; it's definitely more of a fancy-schmancy destination but really pretty. I love Hamilton Pork; Talde; Porta. But the absolute best Pizza anywhere is Razza; chef Dan Richer is the bomb. But here's the truth, everybody thinks I'm out to dinner all the time, but now that I have two kids—Sofia, 13, and Marco 11, deep into school and homework we don't go out a lot. I cook every night; we have dinner as a family. And until they're sick of me, I'm staying home with them.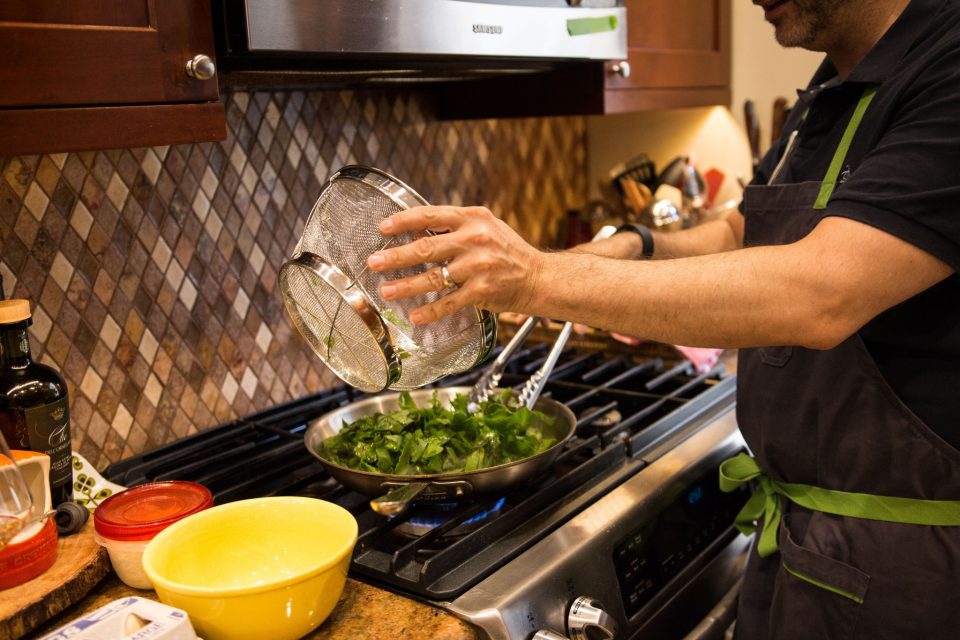 Your wife hit the jackpot! Please tell her that! But seriously, even if I have an event, I come home and go back out again. I go in and out of the City all the time because I don't want to miss out on that time with my family.
What do you like to cook on a typical night? Sunday is my big farmers' market run over at Riverview Park, and that dictates what I can get done that day and work it out for the week. Otherwise, it's just whatever I can pull together quickly. Pasta is a big staple in our house, and the sauce can be comprised of just about anything in the fridge on the fly.
How do you stay in shape? I'm really not; it's a struggle. I had a nutritionist a while back. It's ebb and flow for me because I live my work, which is eating and drinking. I have no regrets, however, though when I go to Italy on vacation I wish I was in speedo-shape!
I'm excited to see the next chapter in Jersey City! I love that my kids are here. We keep them grounded here, and that's what I love about Jersey City. That's what my wife and I both had in mind when we came up here to The Heights; like we're going to raise our kids in an ethnic neighborhood where everybody has to get along.
Are you going to have events in Jersey City? I was talking to David Trotta from Whealth & Co. because he does these beautiful pop-up dinners that are very much in the spirit of what I love to do. He and I are going to start working on events in here in Jersey City. I'm excited because, typically, my events are all over the place, and in that respect I'm not so connected in Jersey City like I'd like to be. David and I are working to change that.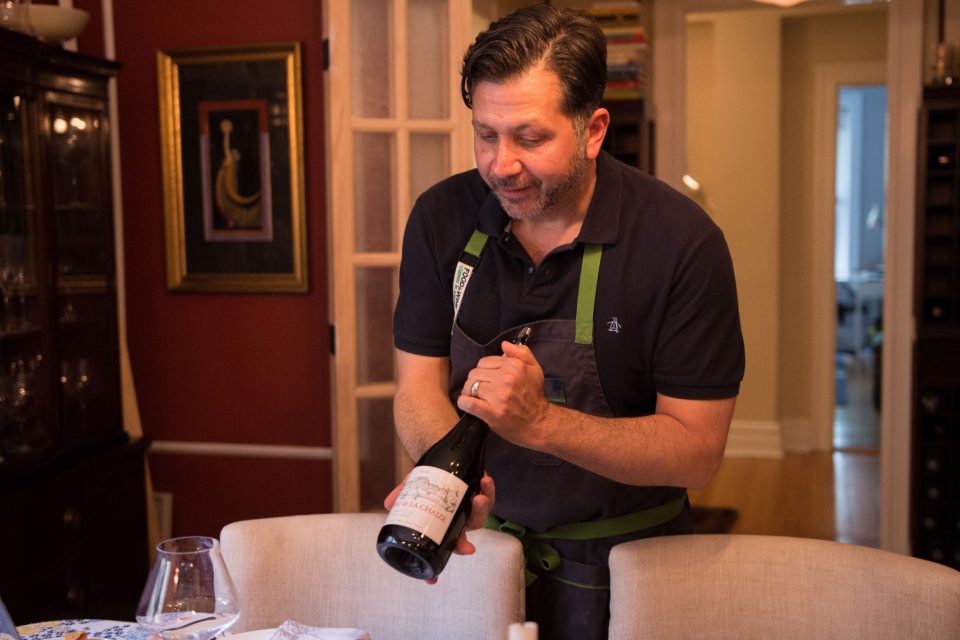 Do you drink wine every day? We have wine every single night with dinner. And as any doctor will tell you: Red wine is especially healthy because it has resveratrol in it that's really good for clearing arteries.
Do you have a favorite wine? To the disappointment to everybody who ethnic profiles me as an 'Italian Wine Expert, I love all wine, but especially French wine from the Rhône Valley. In general, though, I gravitate toward Old World wines in the context of how they pair with food.
What's the difference between Old World and New? We Americans drink our grape-named wines from California, Argentina, Chile; and these wines tend to be fruitier just because the New World is so much sunnier/hotter in general. These wines tend to be delicious completely on their own, without thinking of how they pair with food. European wines, which are named more often for the place they're made than the grape, are earthier and higher in acid, which makes them taste better with food and food taste better with them.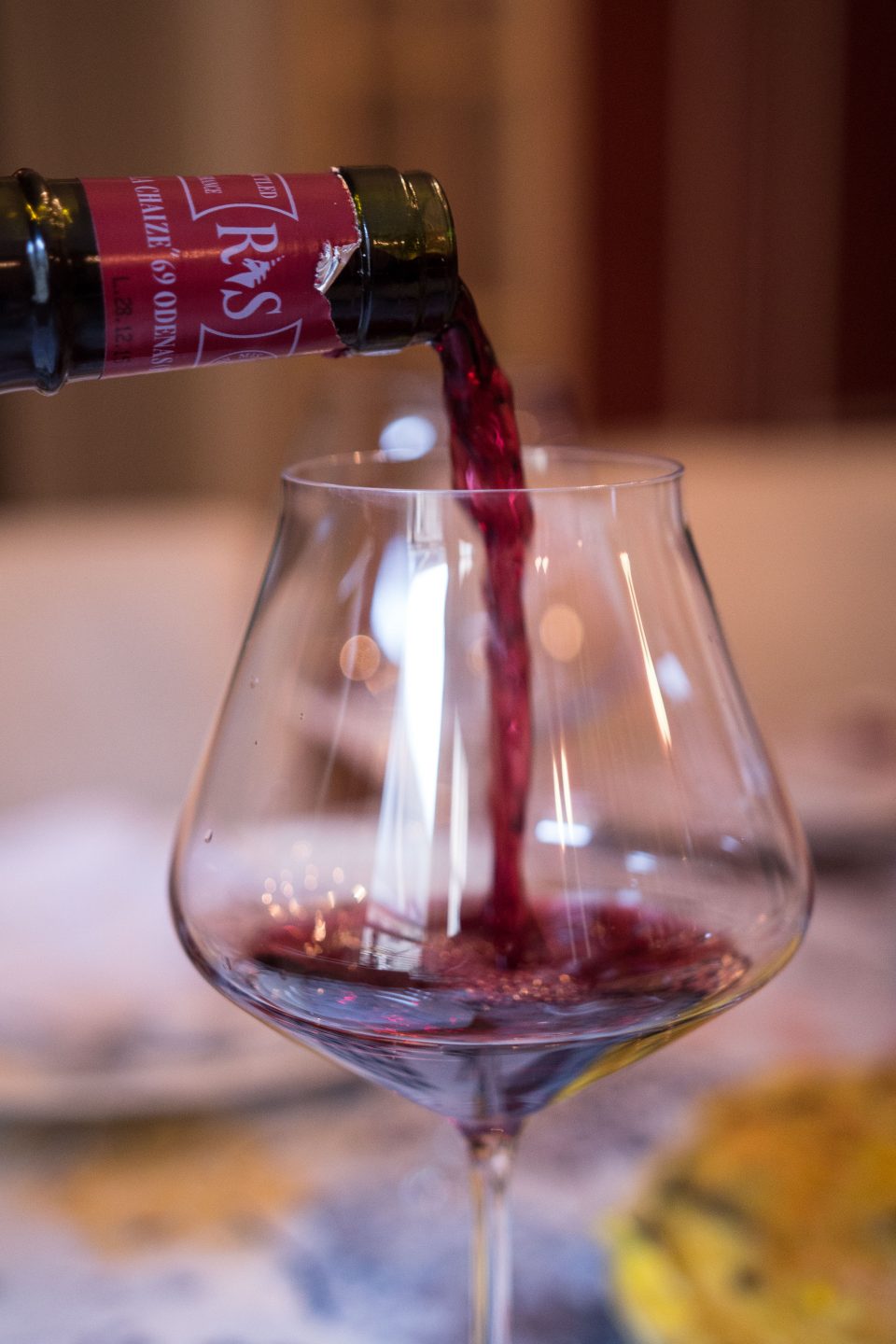 Want to taste some wine together? Here are the three sips of wine I beg everybody to take: The first sip doesn't count; I call it the rinse, because whatever you have on your palate before that sip will have an impact on the first taste. Take a sip, swish it around and swallow. The second sip is the neutralizer—and the deal is this: if you don't like it after the second sip, I respect your opinion, but there is a third sip that can change everything. And that third sip involves fat plus salt—it changes everything. Take a bit of cheese, anything salty/fatty, then take a sip. It's an entirely different wine. If you still don't like the wine after those three sips, no problem. Move on!
Cheese and wine go so well together. Yes! Fat and salt make the wine pop. If you go to a party, and they're offering six wines free by the glass, how many should you be trying? Six.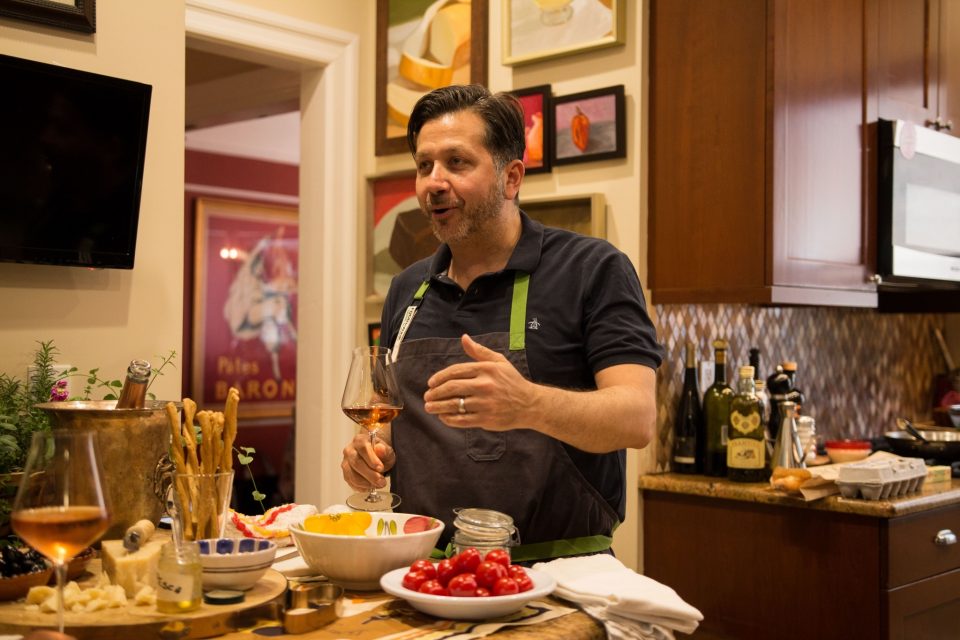 How do you choose what you drink? This situation here in my house is not normal. I am generously sent samples every day. I have an office in the City that has 800 bottles in it. So, I'm tasting all the time.
Here at home, Toni and I just love to get people together around the table to drink, eath and have fun.
Do you ever drink other things? I love beer. I've written ten books on wine and cocktails. And while I love a great Negroni, Sazerac or Manhattan, there's a shift in metabolism from our twenties to our thirties to our forties where two Manhattans before dinner can have me slurring. I drink a lot more wine than anything else.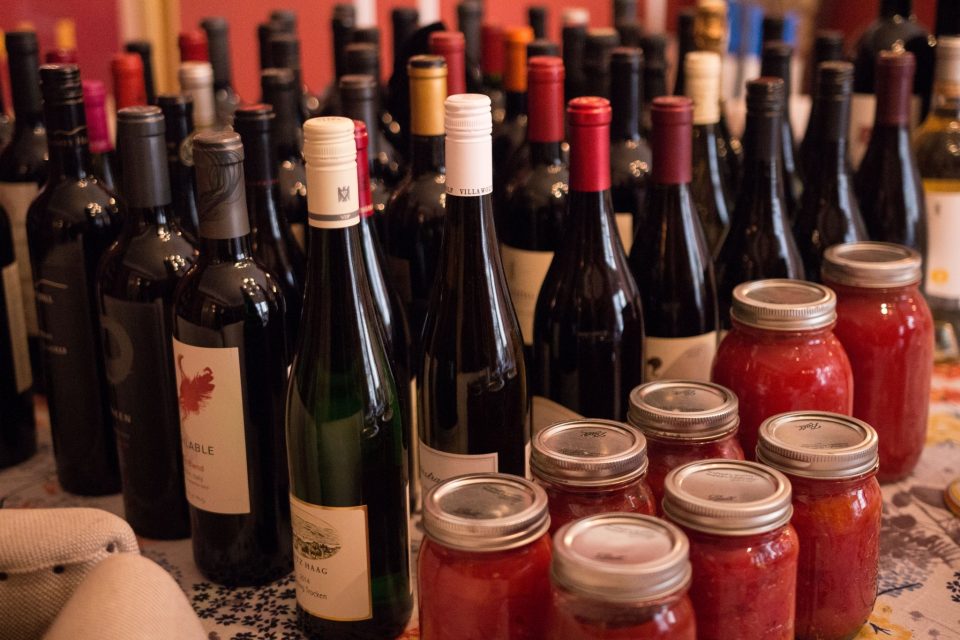 Be sure to keep up with Anthony Giglio on his site, Twitter, Instagram!