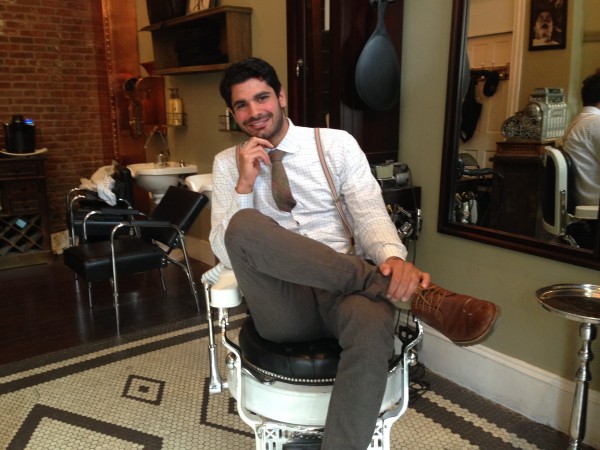 Today marks the last day of Virile week; I went from Dapper to Pin up and got to interview owner Adam and new apprentice Matt. I learned so much about their style, barbering and their love for Jersey City. Which leaves us with Andre….Andre manages the shop in Jersey City and I noticed him as soon as Virile opened; If you look up tall, dark and handsome in the dictionary you will see a picture of this guy…. just look at that smile! I can't deal.
What's your name? Andre Pierre Fersa
How long have you been working here? At this location since February, at Virile for about 2 years now.
What are you wearing? I am wearing a button down from Express, the pants are from H&M, the shoes are Rockport, I got the Tie from Marshalls.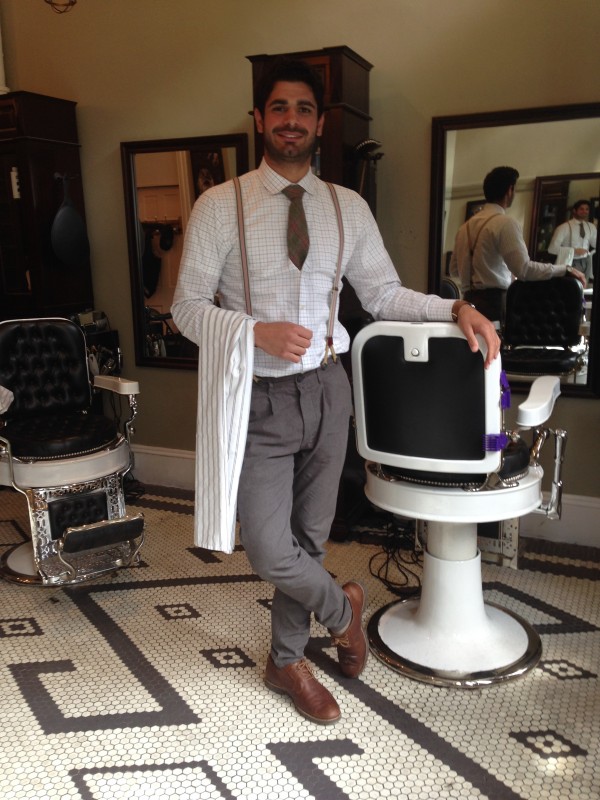 Do you always dress so dapper? I try to.
Is it just for work? or do you dress like this everyday? When I first started it was just for work and then I started dressing like this outside of work.
What's your favorite Jersey City hangout spot? I like Surf City a lot because its on the water, I also eat at Roman Nose. I probably go to Left Bank the most though…I like their burgers…. I also like Light Horse tavern.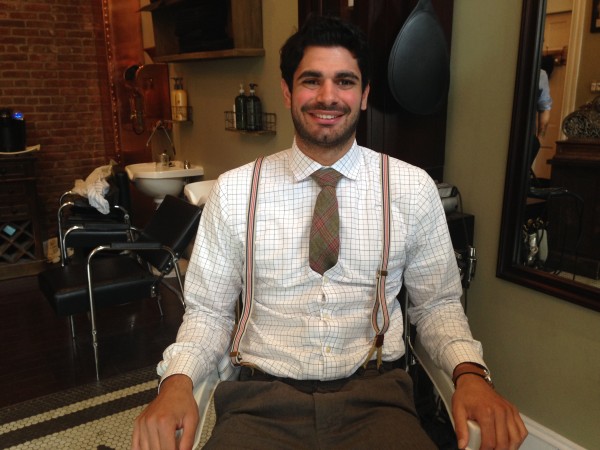 What do you do other than barber? I like to be outside, I go upstate pretty often to swim in a lake and cliff jump. I have some friends up there and we go fishing… I also like to play soccer, basketball and just hanging out really.
You used to have a pretty rad mustache right? what happened to it? Well when I had it the mustache became bigger than me and I was going on vacation so I decided to take it off but now I want it back.
Can you tell me the  different nicknames of hairstyles and beards? Well the mustache I had was called a Handlebar, Matt has a Walrus which is a full beard with no chin. There's Pompador's, jelly rolls and elephant trunks… It sounds silly…They are kind of official names. If you go to a barbershop and you want a specific hairstyle you ask for the name.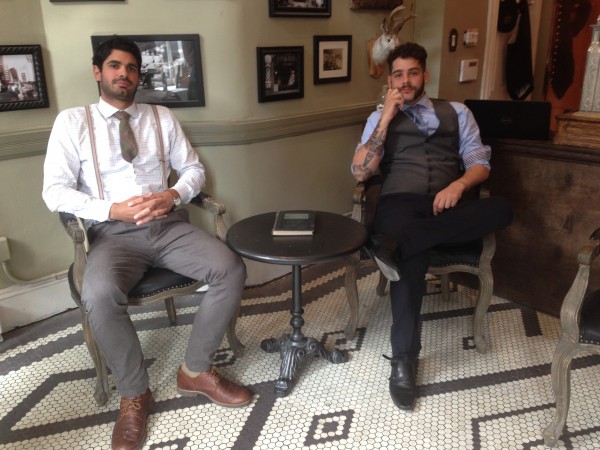 Everyone is doing the comb over these days? Well it is trendy now for 2014
What do you think is going to be the next trend?  The center part, butt cut… I am kidding! I feel like this trend with the tight sides and variations of a longer top is going to stick around for awhile but Europe usually sets the styles and they make it over here eventually.
What was the most ridiculous haircut someone asked you for? It wasn't here but in Waldwick, this kid went to a catholic school where the hair couldn't touch the collar….it had to be a certain length. He got a mohawk with a mullet in the back…. he looked like an idiot.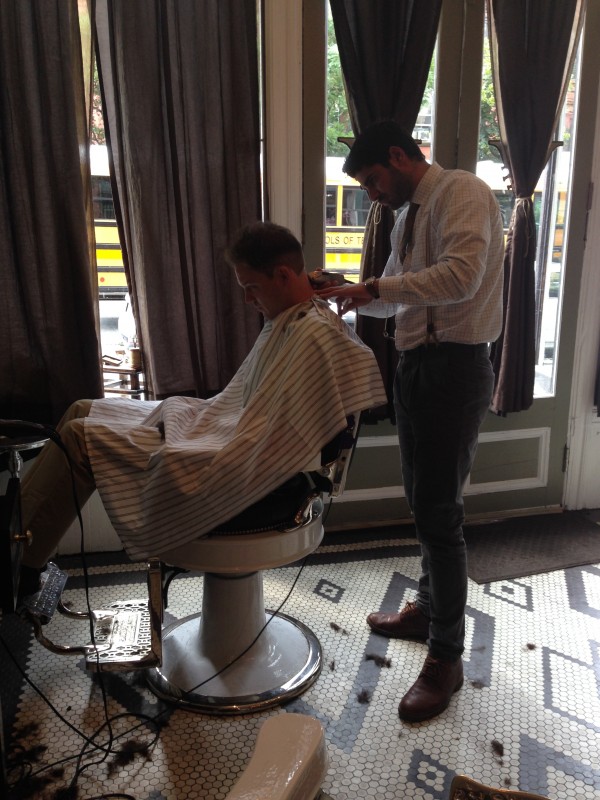 What are you listening to now? I just went to Europe so I am listening to alot of European trash…European pop.
What's a fun fact about you? I don't like fireworks…but that's not a fun fact. Can I just make something up?
No? Do you have like a secret basement or something, that's a fun fact! 
Virile Week Posts