I met Anadelia for the first time a year ago when she auditioned to perform at ChicpeaJC Turns 3. Her voice mesmerized me, her confidence was incredible, and I knew she was going to be a huge star one day. A few months ago, while planning a prohibition party at Corgi Spirits, I wanted to incorporate a burlesque performance, and I knew that Anadelia had started a showcase at GP's in the Hamilton Park area. I reached out and asked her if she would perform. I also wanted to cross off "doing a burlesque performance" from my bucket list. It's something I've always wanted to do. When I told her about my bucket list, she said, "Let's fucking do it." We got together one afternoon, choreographed the whole dance, and I decided that I also wanted to sing the number, which I've never done before and I'm not a singer.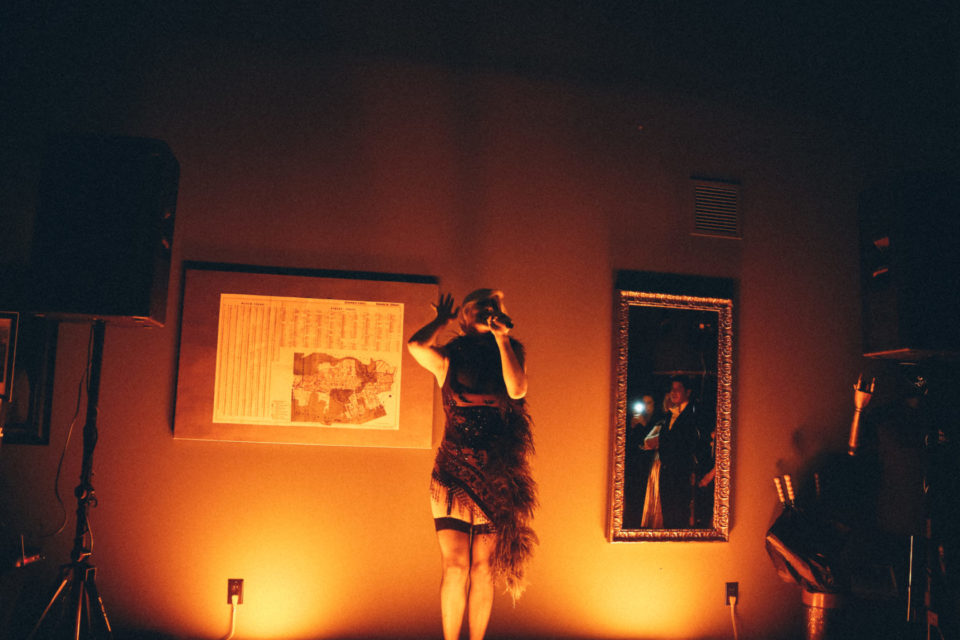 She's really awesome, so down to earth. It was really great working with her. We had a blast performing the number at Corgi Spirits, and then she did a few numbers herself after our opening number. She completely crushed it! She is so sexy and confident in herself. It was incredibly inspiring. Performing burlesque is not easy. It's extremely daunting, everyone is watching you basically take your clothes off and sing at the same time. It takes a lot of skill and effort, and she's incredible. She has a showcase happening this Friday at GP's. Click the link to check it out: https://www.eventbrite.com/e/le-cabaret-rouge-variety-show-tickets-44960516114.
Let's get to know Anadelia.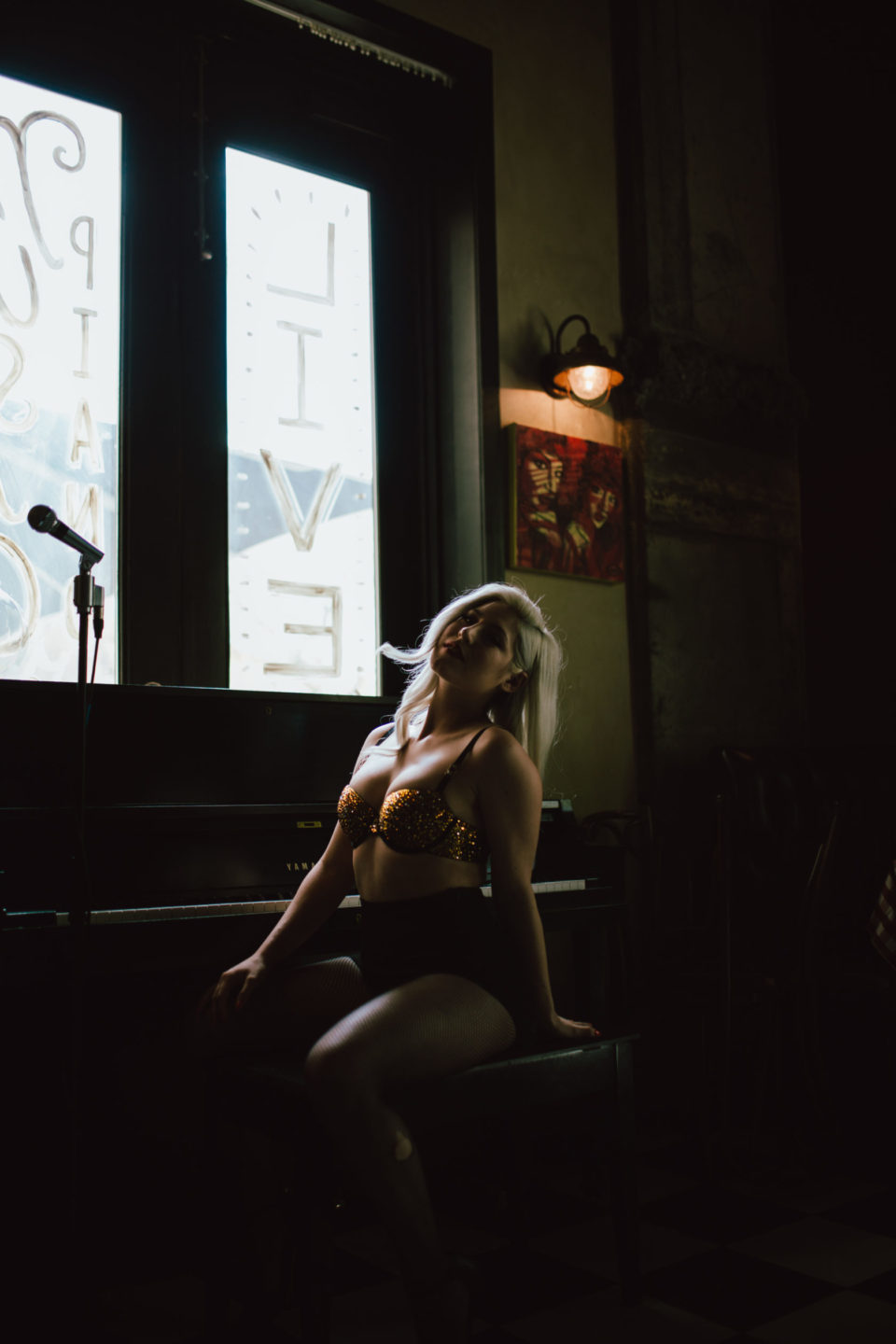 What's your name?
The one and only Anadelia.
What do you do?
I'm a singer and performer.
When did you start singing and why? 
I started singing to an audience when I was eleven years old. I had just seen the movie Grease, and became obsessed with the music and the era, so I signed up for the school talent show just feeling compelled to get on stage.
What are your biggest musical influences?
Vocalists from eras past mostly – Ella Fitzgerald, Billie Holiday, Peggy Lee…but I really enjoy contemporary artists that pay homage to the past like Amy Winehouse did, and producers like Jack White, Mark Ronson and Dan Auerbach. R&B, Jazz, and showtunes are probably what I listen to the most.
When did you start your Burlesque show and how did it come about? 
I've always wanted to get into burlesque. Naturally it was way out of my comfort zone and I had hesitations mostly brought on by what people were going to think of me. I was doing a residency at GP's for a month or so when George (the owner of the venue) approached me asking if there was a way to take the gig to the next level. We discussed my influence of musicals, and burlesque and my desire to bring back the classic show girl. Together, we brainstormed the idea of Le Cabaret Rouge.
Were you shy? Was it nervewracking to perform?
Yes! This time I was, due to the element of striptease I was adding to my performances, and premiering this new show I had planned and produced on my own, it felt like a big undertaking. Once I get out there though, all the nerves melt away and I just let go.
How do you prepare for a show?
Well, it requires a lot of effort from a lot of people besides myself. I have my dear friend Alicia Rosato who operates her own vintage boutique styling the dancers, and working very closely with me on my costume design. I get very crafty, mostly embellishing and making my own costumes. I have my main dancer Karla Morales creating choreography and my host Kristian Herrera is my resident drag superstar. All these elements create a great show, and become a support system for me to shine just a little brighter. We plan and practice for a few weeks, putting it all together because nine times out of ten there will be several mishaps and hijinks!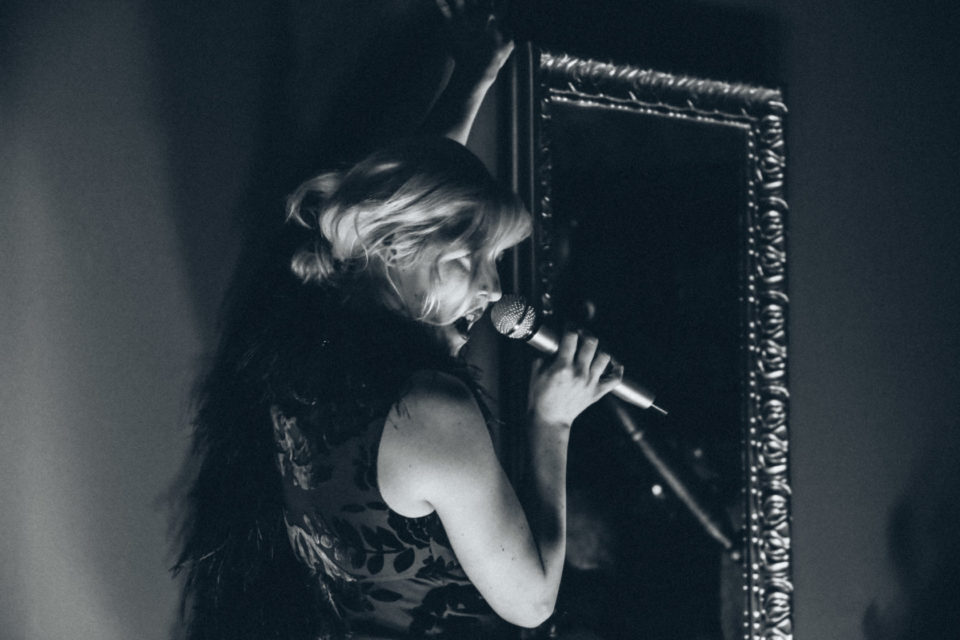 What can people expect when they come to your show?
Definitely expect to see a hard working cast that lives to please the audience. Expect to hear some great music. Maybe it's familiar and maybe it's stuff you've never heard before, but I'm delivering it in a sexy, flashy package. I show up with humor and some borderline inappropriate stuff that will make you blush, but light enough you can bring your mom and she won't be offended! Just an overall cheeky, funny, sexy performance showcasing awesome local talent.
What's next for you? 
I'd love to bring my show to different stages and venues, and have it grow and evolve into something bigger. More performers, more variety, and maybe bring full on burlesque into a comfortable living space in Jersey City. I love encouraging other artists to step up and find their performance style, and use my show to practice their craft. I want to just keep performing, and keep singing because it fulfills me in such a way that I don't want to do anything else.
How do people find you? 
I mostly operate from my Instagram account @_anadelia_. Bookings and inquiries usually come through there, as well as performance dates and announcements.
What is your fave Jersey City hangout?
GP's of course! I also like to hear live music at the Light Horse Tavern, and I like my little slice of bad girl heaven drinking whiskey at Lucky 7's.
Anything else you would like people to know? 
That I'm so grateful beyond words I get to do what I love everyday. When I get the audience support, they're also supporting living the dream and making that dream a reality.