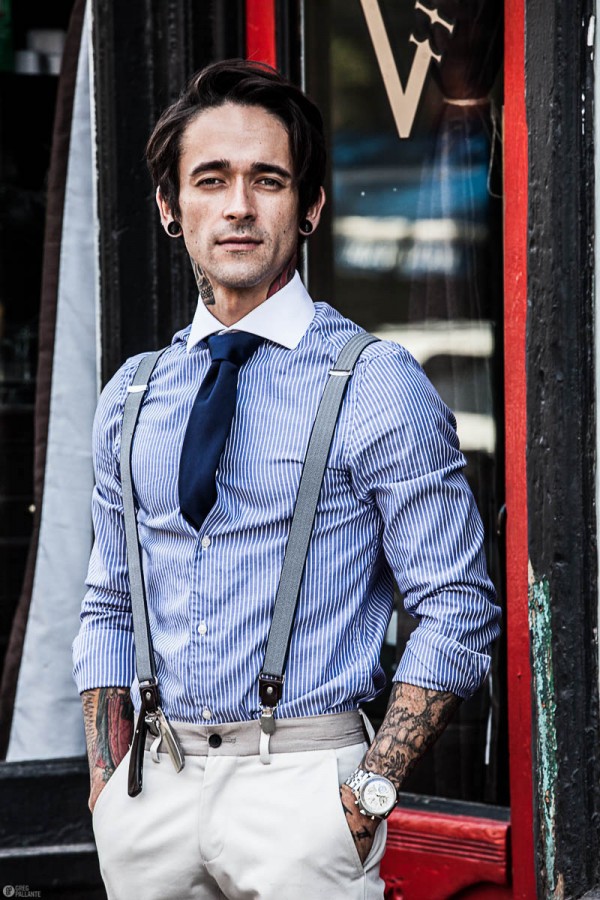 As you all know from reading my interview with Virile barbershop owner Adam, that I've been creeping around the shop since it opened. Every time I saw Adam, he was dressed from top to bottom in stylish fitted 1920's style menswear… even on his day off, dressed in just jeans and a T-shirt he looked put together.  I absolutely love his style and wished men everywhere would dress more like him! Guys take note. Adam is also such a sweetheart and truly passionate about his business, his craft and his adorable english bulldog Aiden.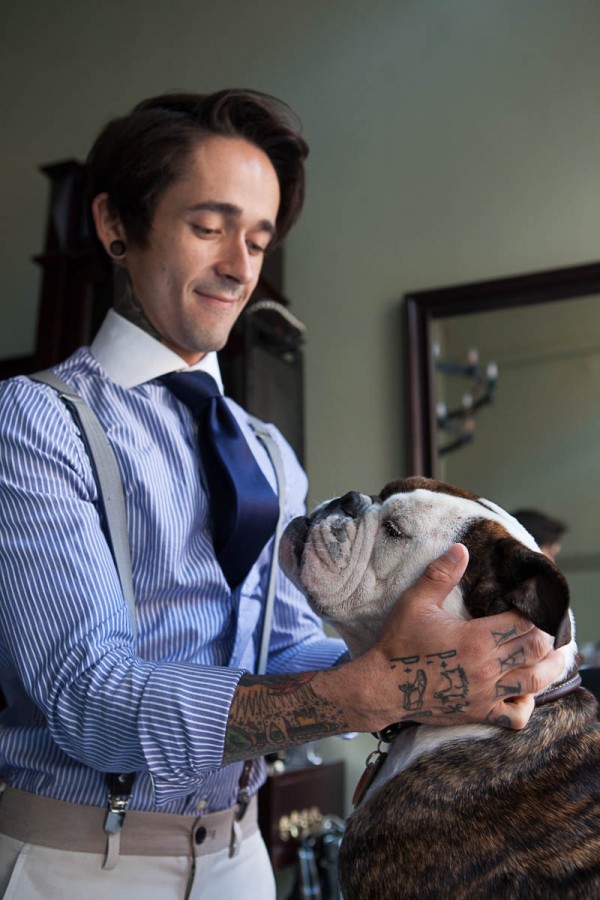 What are you wearing? Topman, H&M, and Louis Vuitton.
What's your grooming routine? It depends on the day and how hungover I am haha…Usually I just take a good shower, throw some pomade and let it air dry. It depends on how long my hair is…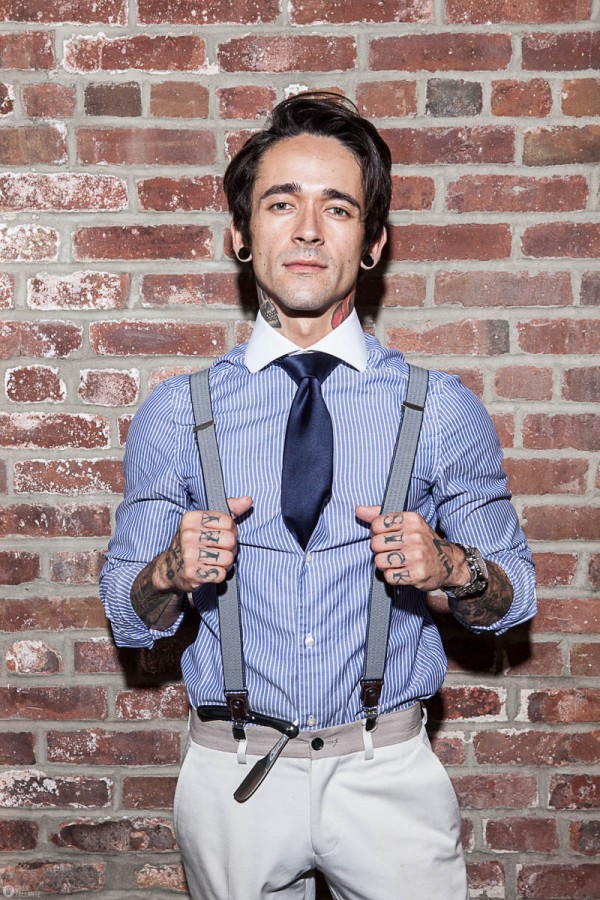 How would you define your personal style? I am all over the place. I think there is a huge difference between my barbering style look and my personal style. I suppose I am usually more rugged… Tshirt and Jeans when I am not barbering… but when I do work I keep things more dapper, very 1920's…Ties , suspendors all that stuff.
What got you into the art of barbering? My mom got me into it. I come from a family of barbers and I began with women's hair styling but as  I looked into traditional barbering and the history of it…. it stole my heart.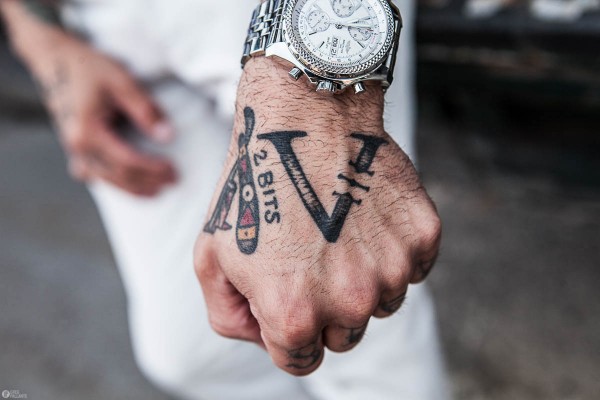 How was it growing up along other barbers? My great grandfather and grandfather were barbers and I unfortunately never got to meet them… My mom, she was a barber and she's been doing it since I was 16. Ever since I was a kid… I remember we had a chair just like one of these in our living room. When I was just a baby I would play with my toys on the chair and I would always watch my mom barber in the house since she was a stay at home mom as well…She had that little house shop going on. Her tools would always boggle my mind; she had this big aluminum flat top comb that looked like a giant fan so I would pick it up and…. I thought it was a sword the whole time. It also had a leveler built into it just to make sure the flat top was totally leveled… It was pretty cool. I was always enamored by it. Then when I was older, I was more into music and by the time I was 21 that's when I started getting into it.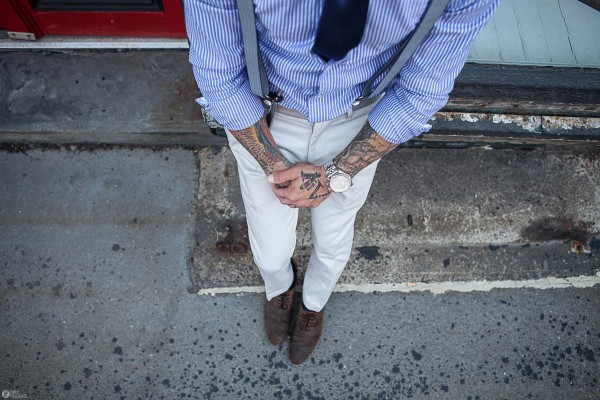 What is your favorite part about being a barber? Pffft. I can't answer this. Everything is. Just name it. There isn't a single aspect that makes me unhappy. Although I could do without the kids cuts. Don't get me wrong kids are cute but we don't have the proper distractions to keep them occupied.
Can you tell me about your little fellow Aiden? Oh boy. I may get emotional if I start. Haha I love my little man. I found him on a craigslist post which titled something like "ENGLISH BULLDOG PUPPY WILL TRADE FOR 98 HONDA CIVIC OBO". I had to check out the post since the title was so ridiculous and as soon as I saw his picture I thought "hm this could be worth entertaining. So I messaged the guy to meet up and drive out to Elizabeth, NJ. As soon as I laid my eyes on the little pup I knew I wasn't going to leave without him. Seeing as I didn't have a Honda civic floating around I cut the guy a check and went on my way.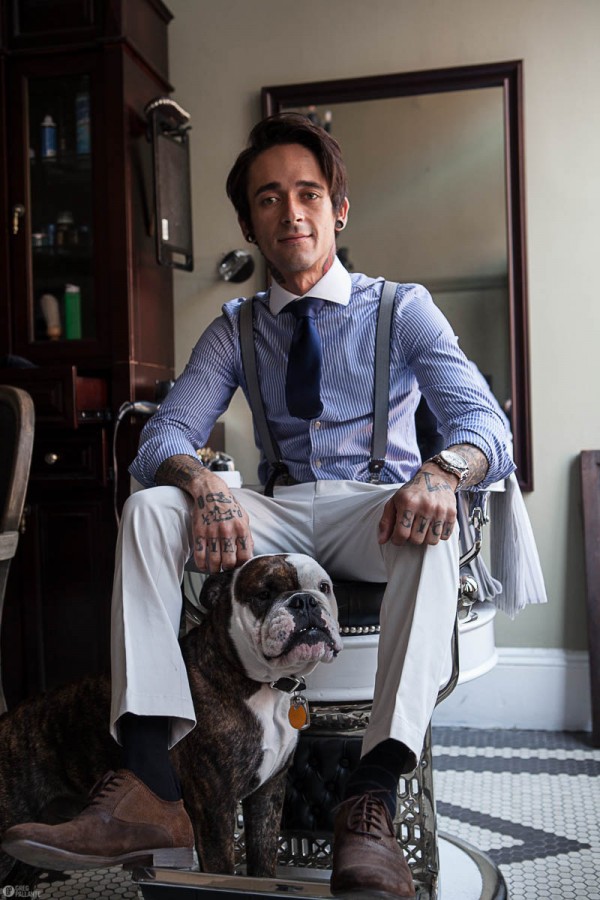 I feel like the luckiest guy in the world. Aiden has such an amazing personality and he is so good with dogs and kids. He's truly the perfect dog. He's spent most of his life in the barber shop with us since in always there. Clients become very disappointed if he isn't around. He brings a lot of charisma to Virile and enriches all of our lives!
Who cuts your hair? Anybody who the chance and the time, because at the end of the day none of these barbers want to give each other haircuts, hence why my hair is so long now. It's great to see them busy though so I don't want to cut into their free time.
Are you from Jersey City? Yes between Ramsey New Jersey and Jersey City Heights. I spent most holidays, vacations and summers in the Heights with my father.
Do you have a favorite Jersey City hangout spot? It's a tossup between Abby's, Johnny's and Barcade.
 What are you listening to? Woody Guthrie, Ceremony, Marty Robbins, Le Shok, and a few random things in-between. I like all sorts of music!
What is a fun fact about you? Hmm.. Hahaha How does someone go about answering a question like this? I guess it all depends on what one consider fun? Hmm when I 17'ish I packed up and lived in Puerto Rico for a year with 100 bucks in my pocket. Worked at a kayak stand on the beach. Just drank and surfed all day long. It was pretty amazing. In fact, I'm not sure why I came back haha.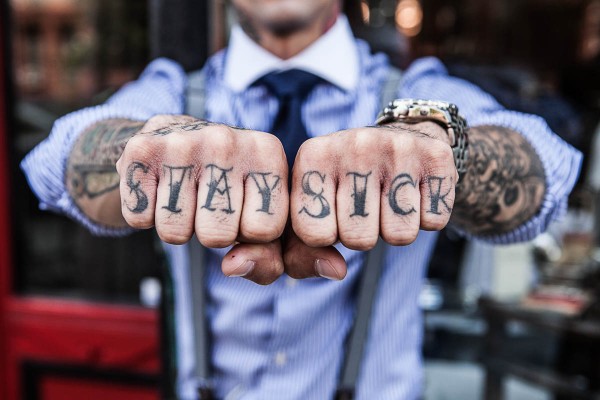 Shot by Greg Pallante
Virile