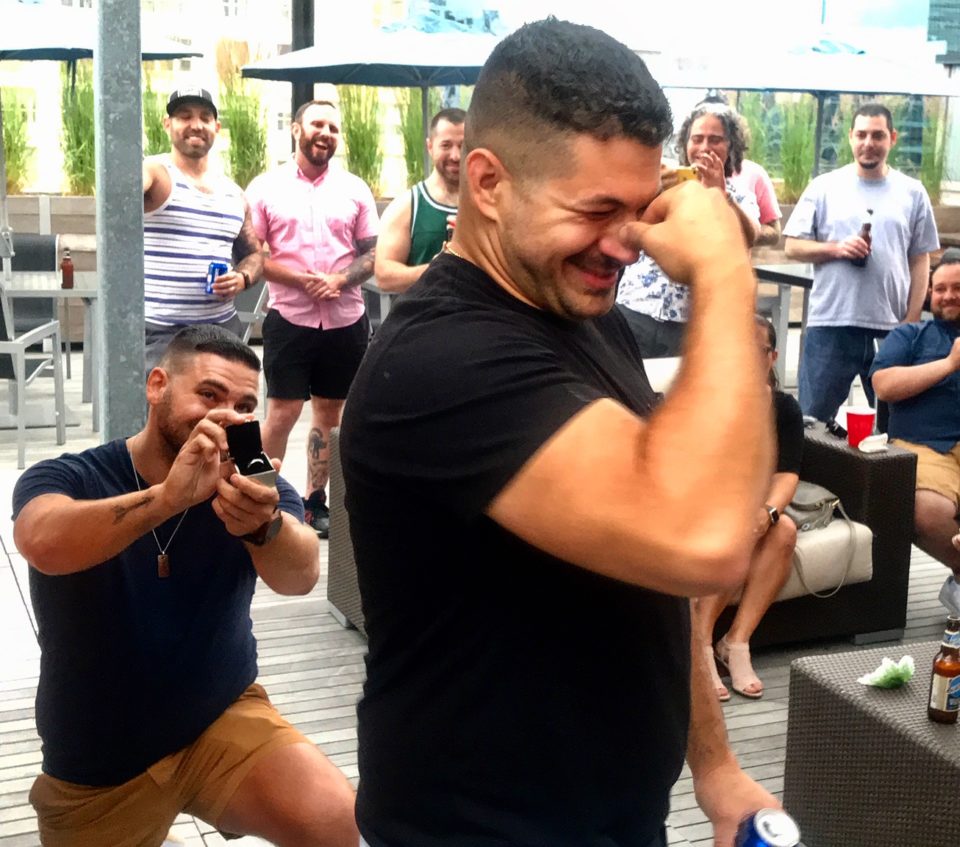 I met Dom and Vinny through my dear friend and personal trainer Andrew aka "The Everything Bagel" a few months ago. The've also been featured in our Babes of JC-Hot Couples edition back in February. They are the ultimate couple goals, they are so best friends, so in love and in tune with each other and just really fun happy people.
On Memorial Day weekend, Vinny posted a video of him proposing to Dom in front of all their friends and it was the most beautiful thing I have ever seen I was sobbing on my couch on a Saturday night. They give me so much hope that true love is really out there and that you can find "your"person and that forever happiness. If you met them you would get it!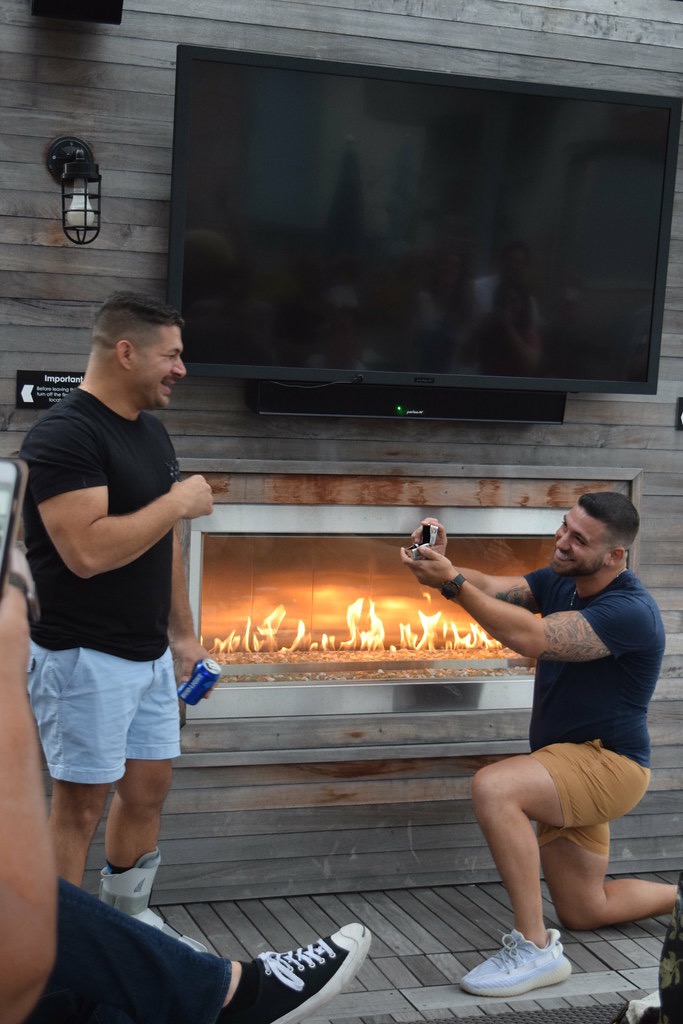 Today is Pride day, where we celebrate LOVE and the freedom of loving whoever we want. I love this day and everything it represents. Every day should be like this! So today I wanted to honor these two and share their love story.
Grab a tissue y'all.
Tell us about you guys…
Dom is a Physician Assistant in Cosmetic and Medicinal Dermatology at Chelsea Skin and Laser in Manhattan and I work in commercial real estate for NY, NJ, and CT. We just moved in together for the first time in June into the Modern Lofts in Jersey city and really love seeing the community grow around us the way it has. We always buy local and support the businesses that are growing in our area and love Jersey City for its food and nightlife scene. It really has become such a great place to call home for us.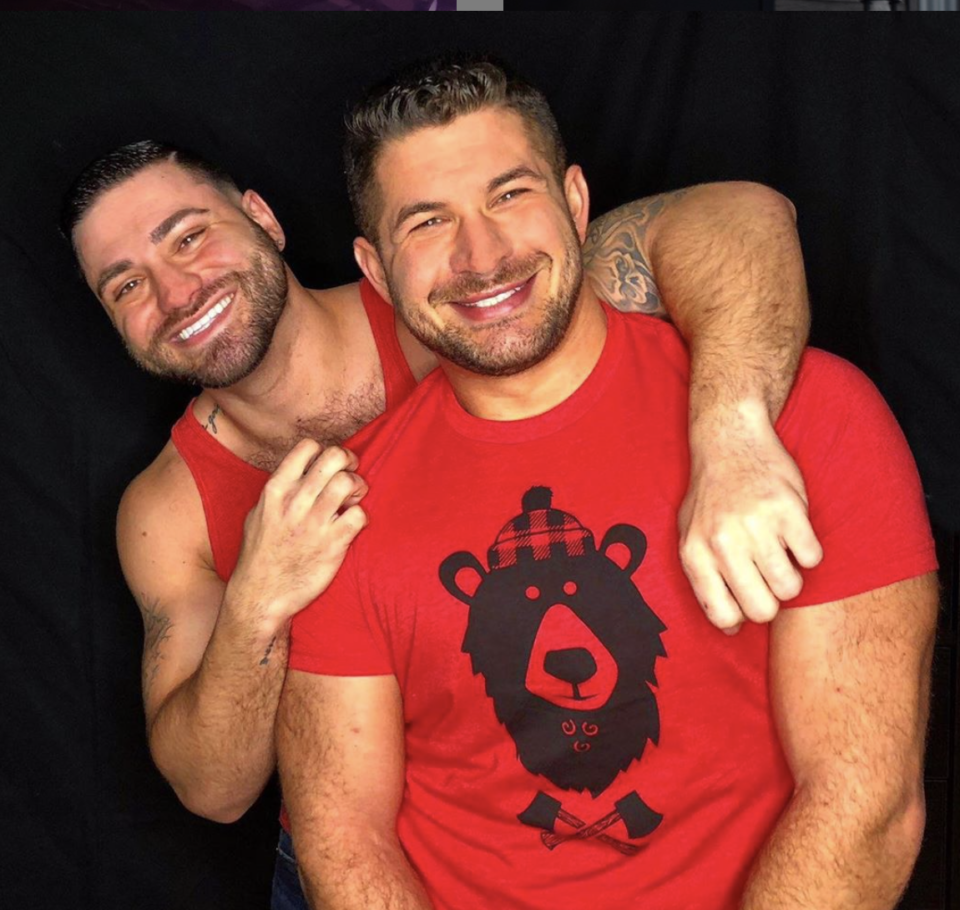 How did you two meet?
So Dom and I met back in 2017. A friend of mine was going through a rough break up so I took him out for a night in the city to be his wingman and help him find a great rebound guy lol. That's when he told me he invited some guy he had a crush on (Dom) and I was annoyed because it was supposed to be our boys night out and now we had a third wheel. Then Dom showed up and I was swooning the second I saw him. Luckily my friend and him didn't hit it off and a few weeks later, with his blessing, gotta stay true to bro code, haha, Dom and I went on our first date together at a Yankee game which neither of us know the first thing about baseball so we just ate and drank everything and I think the mutual love for food was what really sealed the deal for us that night.
What's your favorite Date Night Spot?
At first out minds went right to restaurants because we love to go out to eat together at places like Luna on Grove, Roman Nose on Newark, or Ani Ramen. But honestly our place together is definitely 626 Lounge. We went there when they opened and were just blown away by the vibe and the sense of community and acceptance. The staff and owners are absolutely amazing, welcoming, loving people and there's nothing like that rooftop at sunset having drinks and hearing all of our new friends there just laughing and dancing. Dom and I go all the time. It's a really great and safe space to just be you. I love that Jersey City has that now.
Any relationship tips?
The second we read this question Dom and I both said "communication." We had a talk very early on in our relationship that we knew we had something special here and we needed to make sure we do it right so we promised each other we would always tell the other one everything, even its uncomfortable or might hurt a little. We wanted this to be a fully trusting and transparent dynamic and neither of us can believe how well its worked. We're very, very happy and we talk about everything so there's never any growing tension or resentment its just all handled right away, upfront and honest and it really has made us such a strong couple. The trust factor is very important to us both.
What do we love about JC?
We both absolutely love living in Jersey City. Our favorite part is definitely how we live in a booming and bustling city but it somehow holds onto that small town feel where you still will say hi to friends passing in the street or run into people at our local gyms or bars. It really has such a diverse community thats growing so much but still feels intimate. And obviously the food scene. We try to go to a new place every single week and the restaurants here just deliver over and over again.
OK so lets get to the engagement story!
So this is pretty interesting because our engagement was actually a massive trick I pulled on everyone. About 3 months ago I realized my birthday this year fell on a Saturday. I was born on June 15th. I also knew at this time that Dom and I were moving in together for the first time on May 23rd so thats when I thought "Oh I should totally throw a giant birthday housewarming party for us on our rooftop and everyone can come because its on a weekend and there's two reasons to celebrate." And I know our family and friends, they would 100% be there for us and would all come so thats when I realized, wait, I'm going to have all of our friends and family on a beautiful rooftop in our first home on a summer night in June.
I have to propose. So I made the plans in my head without telling anyone for months and then finally told my best friends and of course called Dom's father for permission becauseI really love and respect Dom's parents and I wanted to be traditional. His dad literally just said "You don't have to ask me this Vin, I now you've always been Dominics guy. Everyone knows that." And I cried like a hot mess and Dom's mom was sobbing in the background. Clearly his parents and I get along well, haha.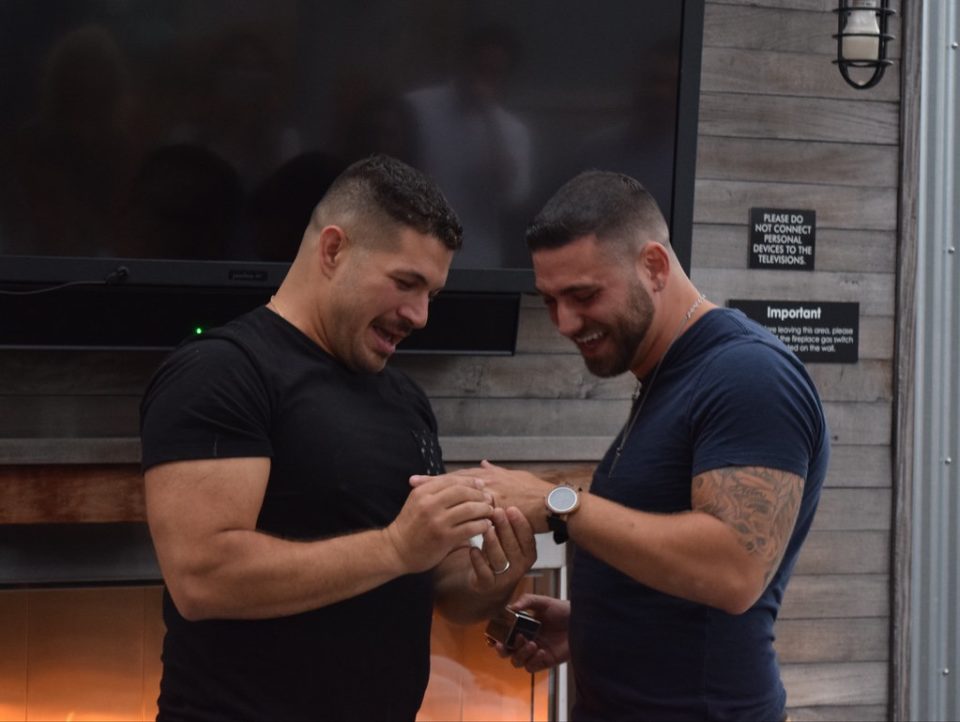 I waited until the last week before the party after we were all moved in to our first home together and hid them in the closet. Dom is oblivious so honestly I could have hung them swinging from the ceiling fan in the living room and he wouldn't have noticed but I still kept them safe and hidden. I invited our friends and family and 85 people ended up saying yes so we had everyone there. I was so nervous and excited I can't even describe the feeling.
And then at sunset I was looking around and everyone was talking and laughing, eating and drinking and the vibe was so great and thats when I went to the corner of the roof and took the ring box out and told everyone I was going to give a speech. All of our friends know I do this every year on my birthday where I say something to everyone and thank them for coming because I'm obnoxious and love to talk so no one was shocked that I was giving a speech. But they were shocked when they started to realize where I was going once I started talking about how undeniably happy this man has made me and the color and adventure he's brought into my life. And I just did it.
I asked him to make this a forever kind of thing and he was completely shocked. He started crying and hugged me tighter than I think he's ever hugged me before and all I could hear was our friends and family screaming and clapping and crying and it was just the most amazing moment of my life. The feeling of love and happiness on the roof that night was overwhelming. I'll definitely never forget it. thats how we got engaged.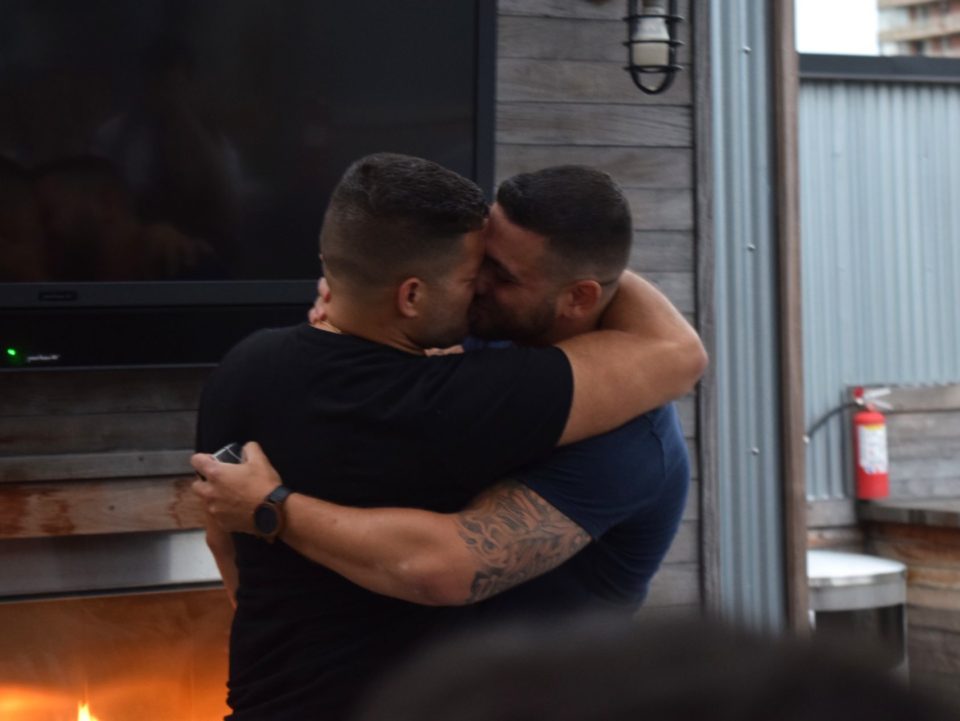 I'm not crying, you're crying!