Originally published 09/15/19
The Jersey City Heights is filled with gems, from coffee shops to pizzerias to fresh food markets. Recently, the Heights welcomed a new business to the neighborhood that promotes healthy living and plant-based treats – Vibez Juice Cafe.
Opened by Medjine Altino and her husband John "Jube" Altino, Vibez Juice Cafe was created through Medjine's connection to education. We decided to pass by on a Tuesday afternoon to get the full vibe of the space and learn more about the mission behind the cafe.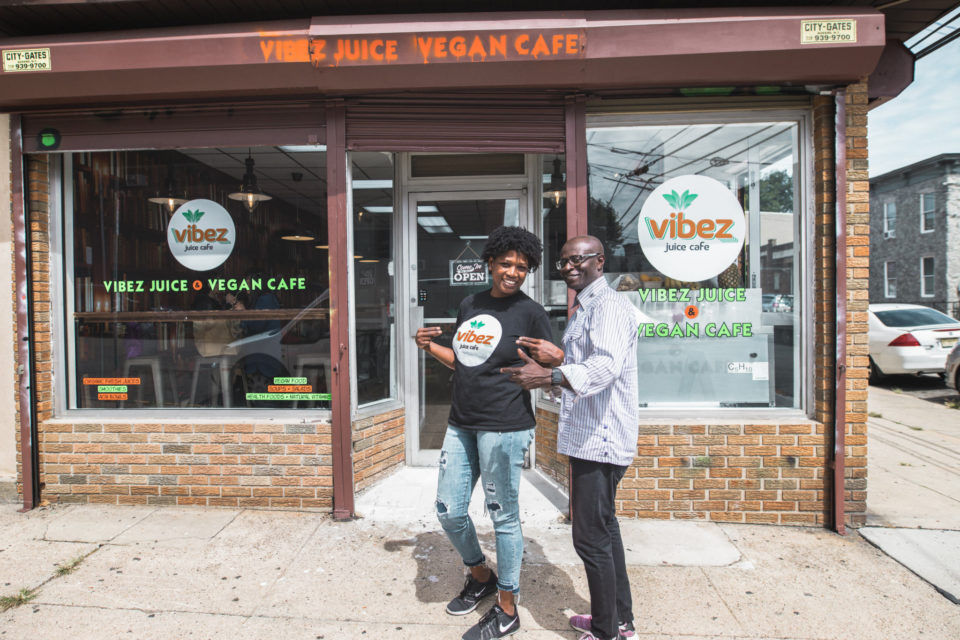 What do you do for a living?
Medjine: I'm a mathematics teacher of 19 years.
John: I'm a music producer; I write and produce music. I also have my own record label. I produced Wyclef Jean's last two singles and have worked with different artists from Justin Bieber to Mary J Blige. Music is what I do.
Where did the idea behind Vibez Juice Cafe come from?
Medjine: As a teacher, I saw a correlation in what we eat and what it does to the body. We wanted to serve and give back to the community. I thought it would be a great platform to give back.
John: Throughout all her years of teaching, she's always said there's a strong correlation between education and nutrition. The kids who were well fed and better nourished performed better, so with that in mind, she eventually thought to create a platform in the Heights, which is an up-and-coming neighborhood. We're both vegan, and so are our sons, and want to provide a platform for those who want a different choice when it comes to food. You don't have to be vegan, but you can eat vegan.
Is there a reason why you chose the Heights or Jersey City in general?
Medjine: We've lived in Downtown Jersey City for the past 27 years, so we wanted to open the cafe here.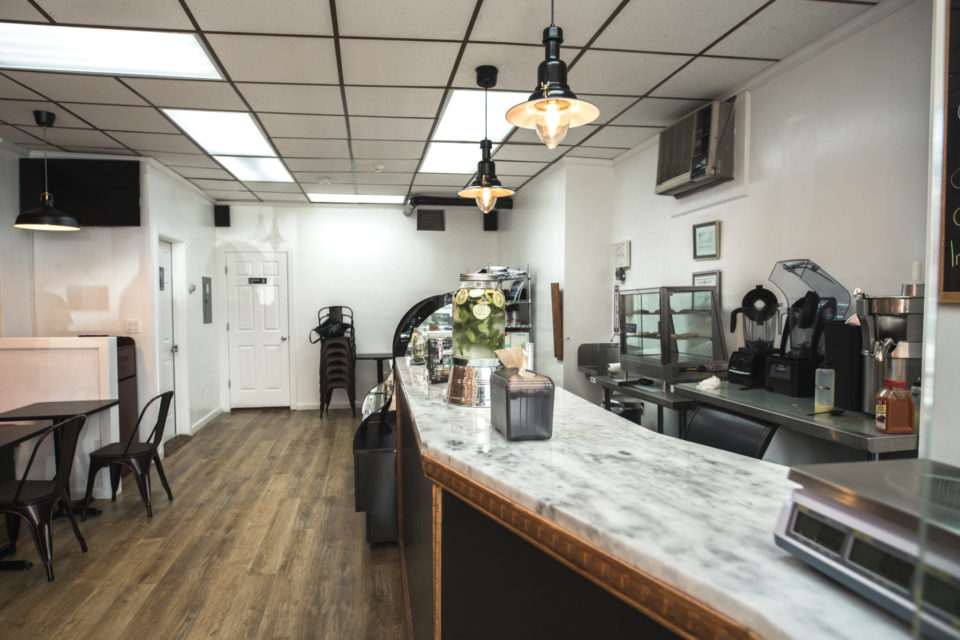 What do you hope the community feels upon walking in?
Medjine: When people walk in, they don't even think about the name "Vibez," they always say they like the energy here. They like the vibes. In terms of the community, we have a lot planned. As a teacher, I've spoken to some of the teachers at the M.E.T.S Charter School to introduce a weekly math tutoring program on Wednesdays. Students can come in here and I'll be tutoring those who may not be doing well in math.
John: We want to be part of the whole vegan ecosystem in Jersey City. Right now, with the Internet and technology, people are starting to become more aware. People are making the connection between food being the poison and food being the cure. People are making better choices. There are a lot of other vegan places popping up – like the new Plant Base on Pacific Ave. – and we're all together. We're not competing, we coexist. We're a part of the whole vegan lifestyle. The idea behind Vibez is to eventually be an element in the bigger picture of nutrition. We don't preach veganism, we just provide an option for those who want healthier choices. I'm a living testament – I've been vegetarian/vegan for the past 26 years and I've never gotten sick in my life. I come from a family of diabetes and high blood pressure, and everyone has it except for me.
Medjine: When your sister asks why you don't eat meat or why you only eat plant-based foods, you always mention that. There's a reason.
John: Proper nutrition and health is important. We want people to have an option. You don't have to be vegan, but you can come here and have that option. You can taste the food and say, "Wow, that's vegan?" Before, "vegan" had a bad reputation; now, it's cool. KFC is doing vegan food, McDonald's is doing vegan food in other countries. It's the "in" thing – Beyoncé and Jay-Z eat vegan, J.Lo eats vegan. I think it's the right time.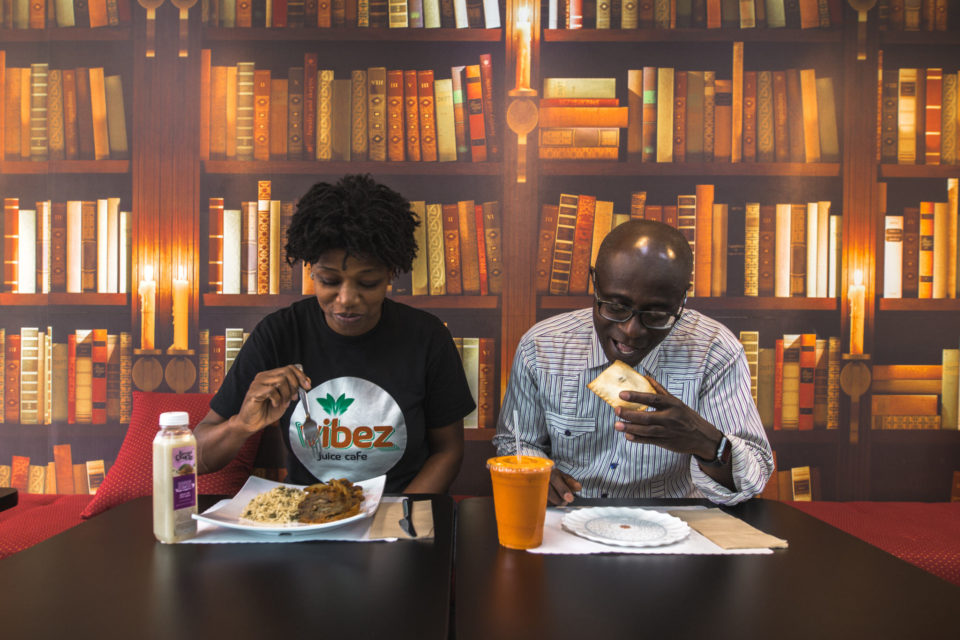 How did the vegan journey start for both of you?
Medjine: I started when I met my husband. Right before I had my kids – I have 2 sons – I decided that since John was vegan, I would stop myself from eating meat. Both of my boys are vegan. Of course, the pediatrician asks, "What are you going to give them for protein?" but there are a lot of other options.
John: My journey started around my last year of college. I was talking to a professor and he asked me, "Why do we have to kill a cow, philosophically speaking, to eat the cow for protein when the cow itself is vegan?" So I thought about it. I'm eating meat, taking their life, when they're all vegan? I figured I could save a life and eat what it eats – plants – to get that protein. He brought up that there's a correlation between the animals that eat meat and the vegan animals. You run into an elephant, there's no fear, there's no violence, there's no aggression. But a lion will show aggression because there's aggression associated with eating meat. There's a correlation in behavior. I can see it in my own life because I've never been in a fight. As a black kid growing up to not have one fight on my record, it's scary. I just lay low.
As far as the menu here, what can people expect?
Medjine: Every day, we have different dishes daily. There's hot food for customers to consume, as well as mixed vegetable patties that are quick and tasty. We also have grab-and-go juices along with our organic, fresh juices on the menu.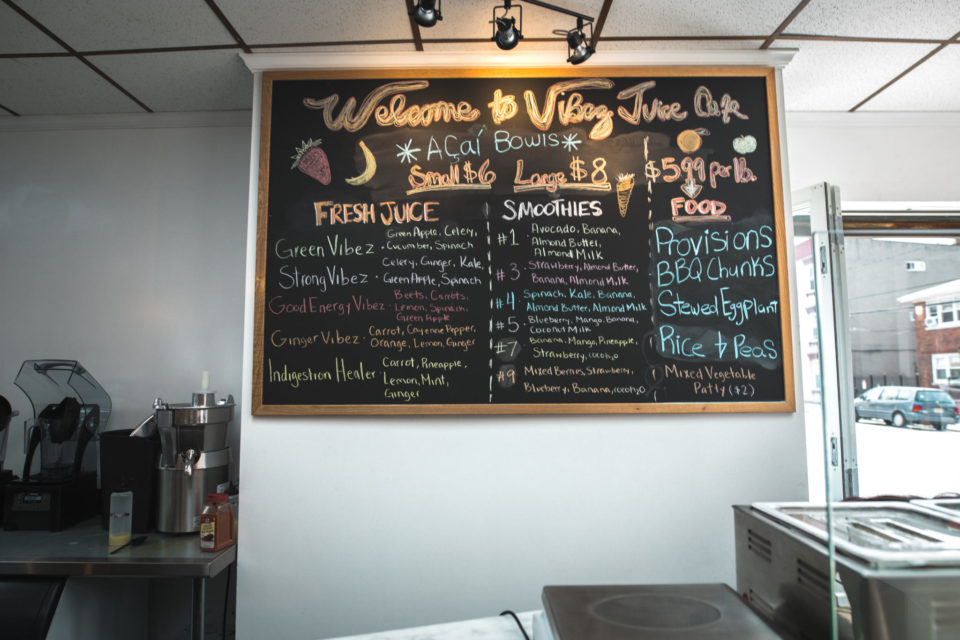 John: As far as the food, our menu is focused on tasty Caribbean vegan food. As Haitians, we wanted to bring our own flavor to make soulful, Caribbean food. It's all organic spices and it tastes great.
What do you hope to see Vibez grow into going forward?
John: We're hoping to see it become a franchise. For now, we want it to become a place for people to learn about proper nutrition and to discover themselves, discover a better diet, and discover health. At the end of the day, health is wealth. We want to be part of the real vegan ecosystem. Everything is plant-based. In the morning, we have vegan scrambled eggs and bacon. We're trying to offer anything out there. We met with a vegan chef who wants to make vegan fish and chips. It's all so people can discover veganism and trust that every ingredient is natural.
Is there anything else you want people to know about Vibez?
John: We want people to know that we are on all social media. We're also going to have live music here. We recently had Edwin Vazquez playing during our Latin Soul Brunch. Since I work with a lot of established artists, I plan on bringing them on, like Wyclef Jean.
We also do deliveries and we cater – people can contact us if they're interested.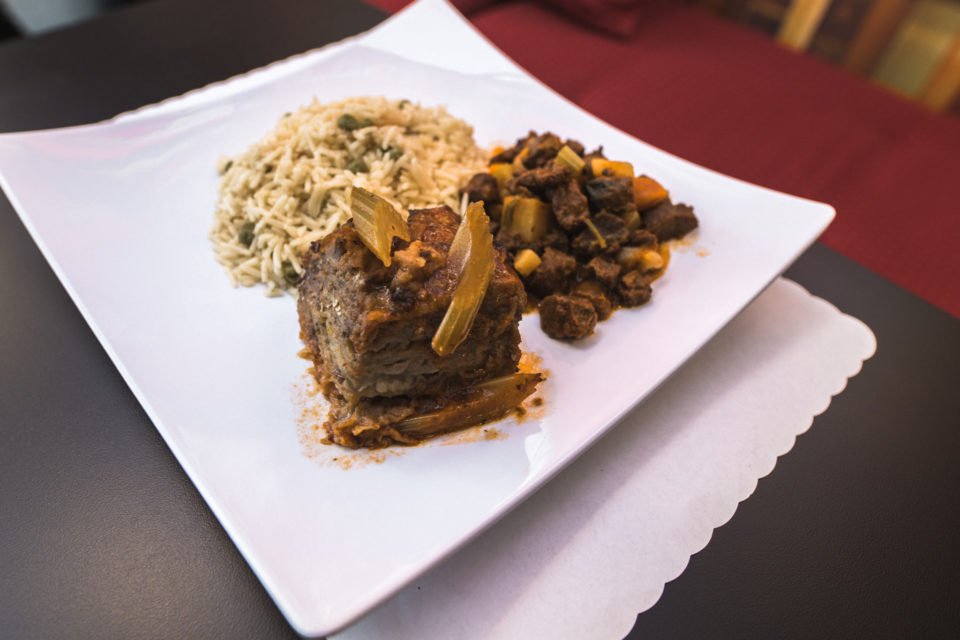 Visit Vibez Juice Cafe at 82 Hutton St in Jersey City.
You can follow Vibez Juice Cafe on Instagram and their website, vibezjuicecafe.com.
Check out the space and food in the photos below!