With the cooler weather and changing of the leaves, hikes are some of the greatest ways to view nature's foliage in all its glory. Here are 10 trails in New Jersey to check out for a scenic walk through nature.
---
Reservoir #3 – Pershing Field
Jersey City
If you're looking for something light and local, spend a Sunday afternoon at the Pershing Field reservoir. You can walk along the top walls or walk along the lower level and water. The entrance to the reservoir is across from the entrance to the Pershing Field pool along Reservoir Ave. You can check their Instagram for updates.
Liberty State Park
Jersey City
You can walk or jog along the Hudson River Waterfront Walkway trail at Liberty State Park for views of NYC and a taste of local history.
Tenafly Nature Center
Tenafly
With multiple trails to choose from, the Tenafly Nature Center is open year-round from dawn to dusk. The trails are only meant for foot traffic, and pets are not allowed.
Great Swamp National Wildlife Refuge
New Vernon
View wildlife while you walk throughout the Great Swamp! Waterproof footgear or old sneakers are recommended. For specific pet rules, along with other information, check their website.
Hamilton Veterans Park
Hamilton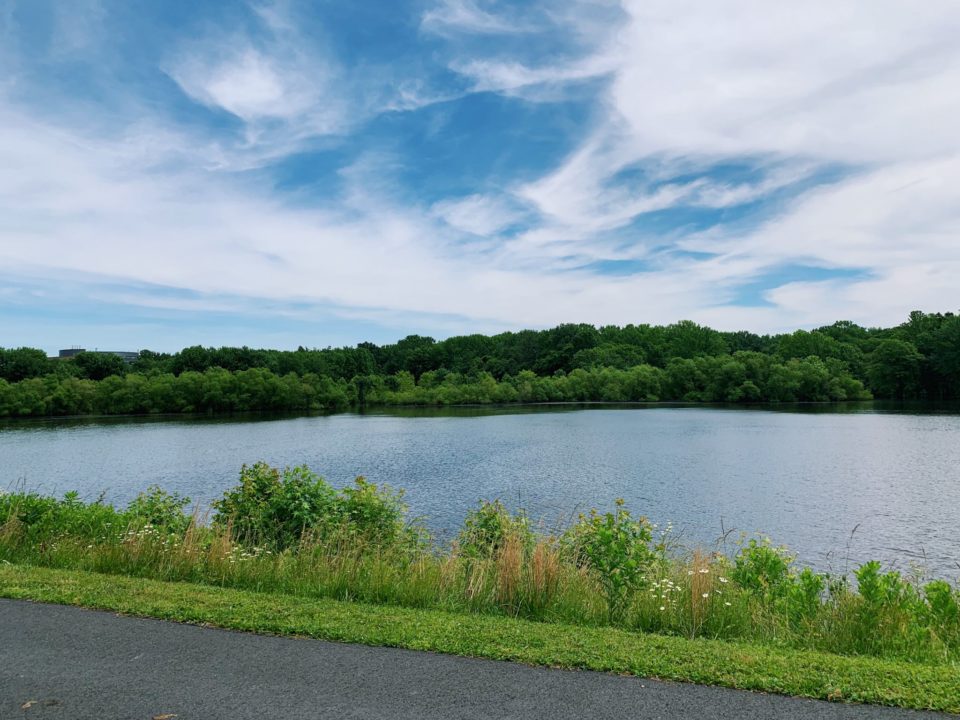 Whether you're biking, running, or going for a relaxing walk, Hamilton Veterans Park offers several paved trails. Pets are welcome, and there's a dog park where dogs can roam off-leash.
Palisades Interstate Park
Alpine
You can walk through several trails at Palisades Interstate Park, all pet-friendly and with access to picnic areas. If you'd rather go for a drive, they have a scenic Henry Hudson Drive route that starts at the Edgewater entrance. Check the map for all entry and exit points.
Watchung Reservation
Mountainside
Watchung Reservation offers scenic trails and interactive nature walks, perfect to admire fall foliage. You can check out the map to guide yourself, or stop by the Visitor Center for an idea of where you should begin.
Manasquan Reservoir
Howell Township
You can walk through the moderate trail around the reservoir with wildlife viewing areas scattered throughout the park. The trails are open to walkers, runners, hikers, bicyclists and equestrians.
Cheesequake State Park
Matawan
Learn about the different habitats within Cheesequake State Park and walk through the 5 trails in the park. One trail in particular is designated for hiking and mountain biking, while the others are perfect for walks and hikes.
Hemlock Falls – South Mountain Reservation
South Orange
If you want to enjoy a long hike, walk through the 6-mile Lenape Trail at South Mountain Reservation and view the Hemlock Falls along the way. South Mountain Reservation has 5 other trails that are shorter in distance that you can also check out.