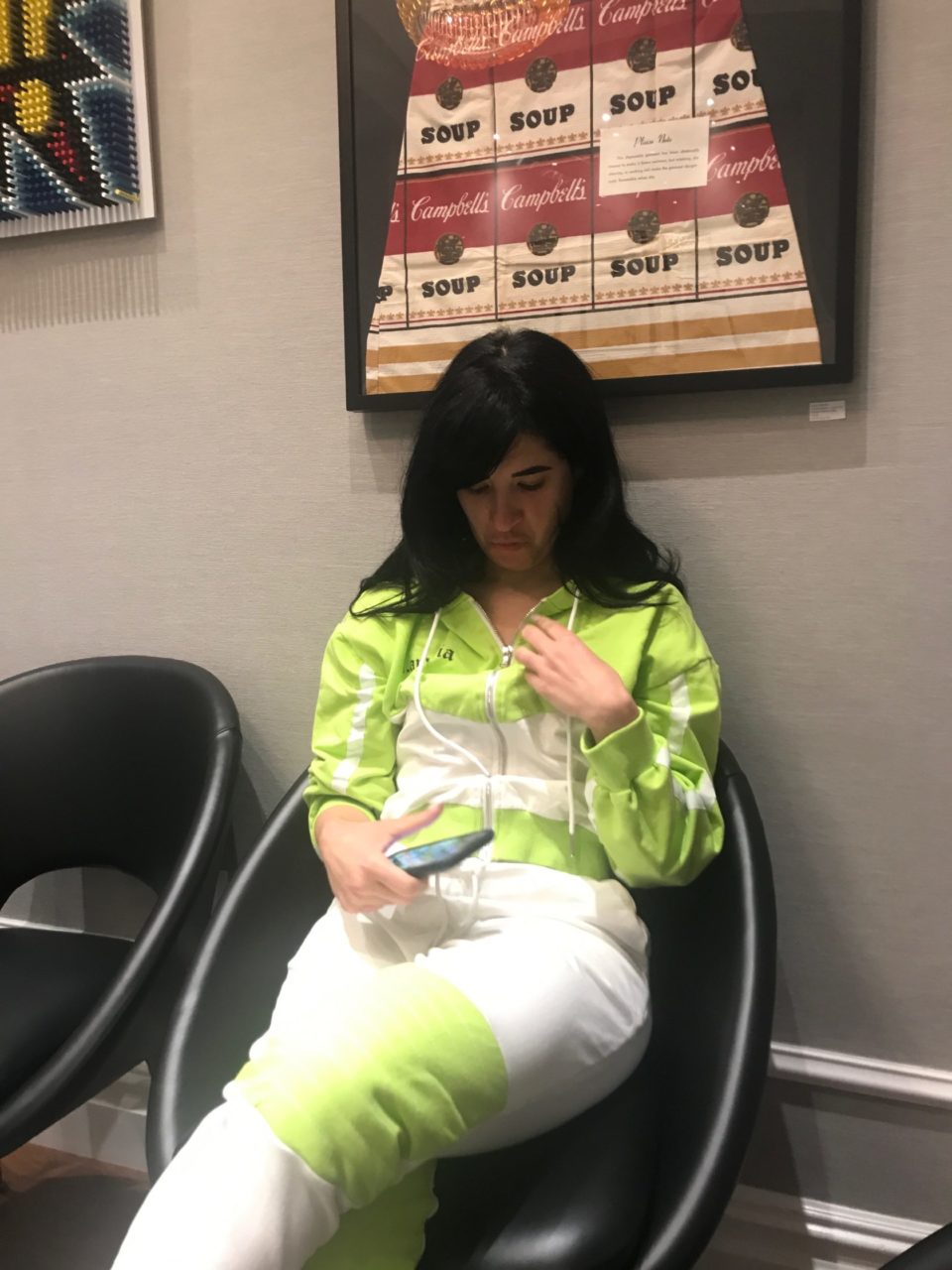 I wasn't planning on outing myself on my blog and social media channels, as this was a very personal decision and frankly no one's business. That being said, I pride myself on being open and honest with my readers and followers about things going on in my life. This blog is about all things Jersey City but, at times, it's also a lifestyle blog that talks about current issues and things we are passionate about.
Like breasts.
I'm kidding. Well, sort of…
A few people have tried to call me out on social media, so instead of avoiding the topic, here it is in full flesh (no pun intended).
So I got a boob job.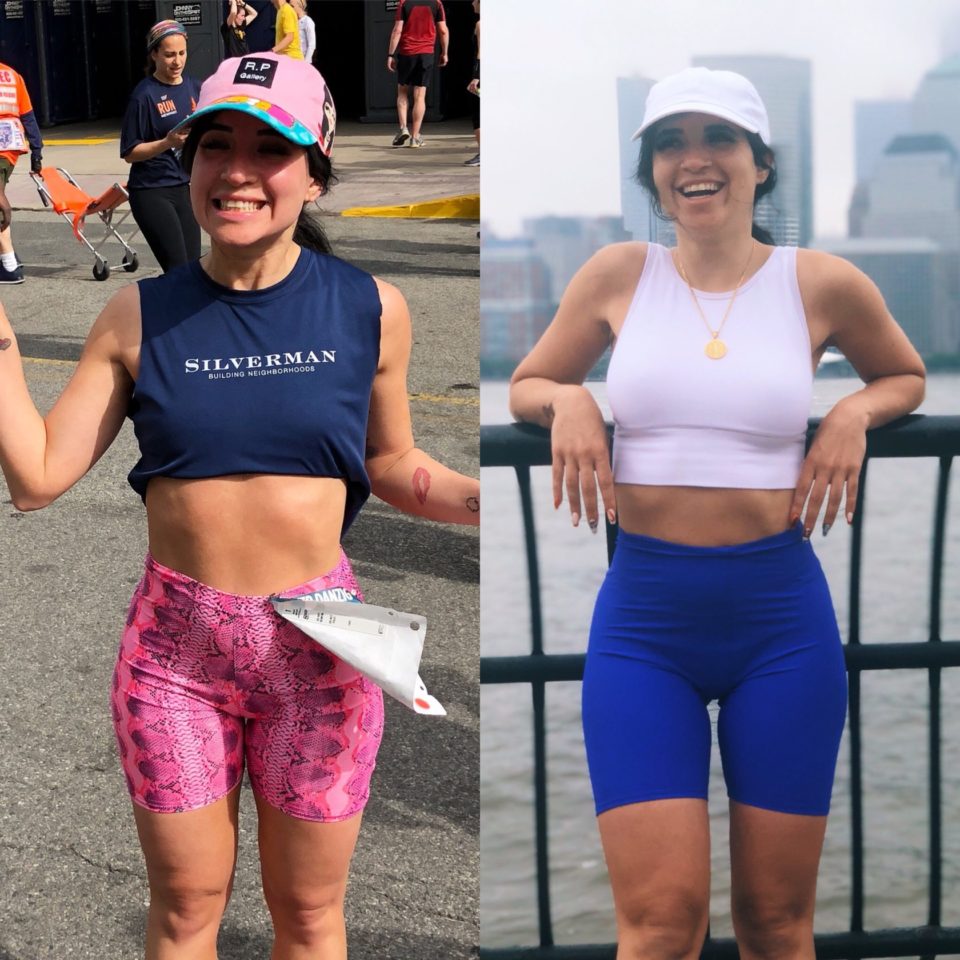 Since my early 20s, I wanted to get breast implants as I was always insecure of my boobs or lack thereof. But I was too young and far from mature enough to make a decision about changing my body. I also think that, at that time, I was too insecure with myself to get plastic surgery. I needed to first love my body as it was before trying to make it better, if that makes any sense.
Years later, I had a baby, nursed her for a year and grew to really appreciate my breasts and my body in all its glory. After losing my baby weight and getting into the best shape of my life, I fell in love with myself, cellulite, small boobs and all.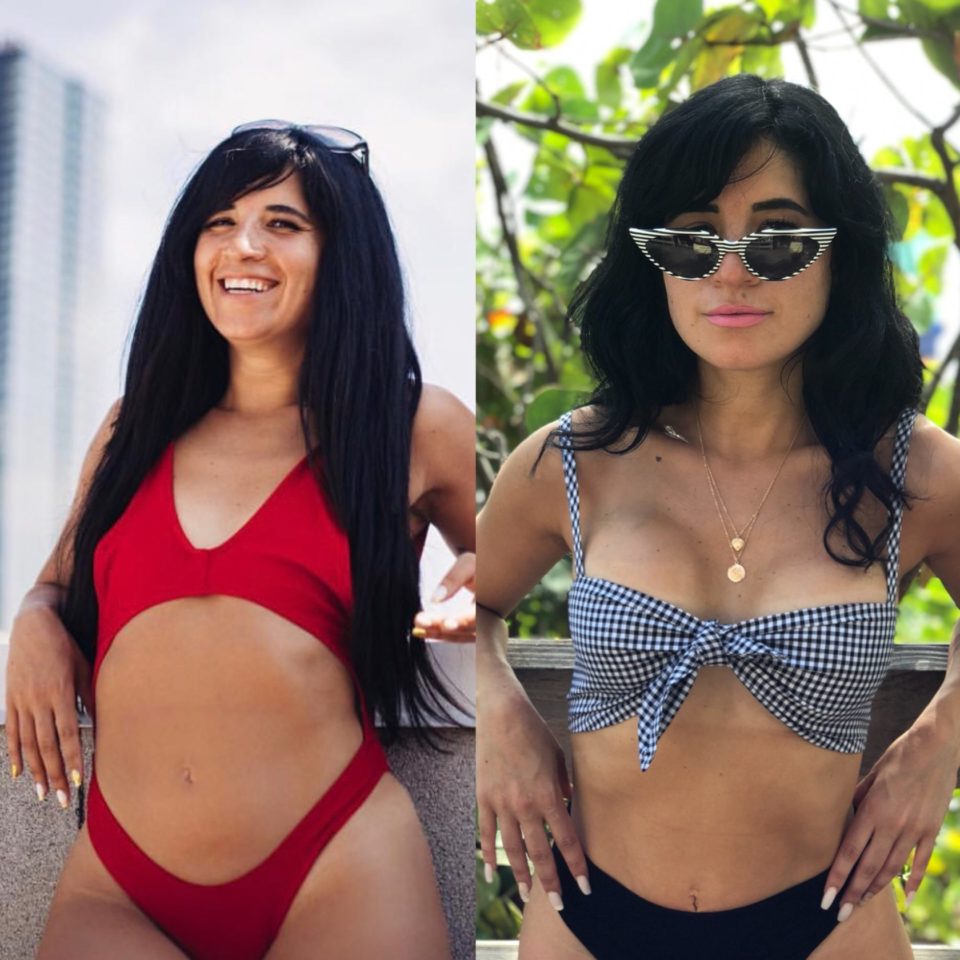 As I reach my 35th birthday, which is only 1 month away, I decided I wanted to finally go for it and get a boob job. I want to be the best version of myself and look hot in a bikini. I called my mother to tell her I was getting breast implants and she said, "I don't know why you waited this long, and don't go too big."
The first step was to find a good doctor.
I asked my dermatologist in Manhattan to recommend a doctor, and she recommended Dr. Lara Devgan.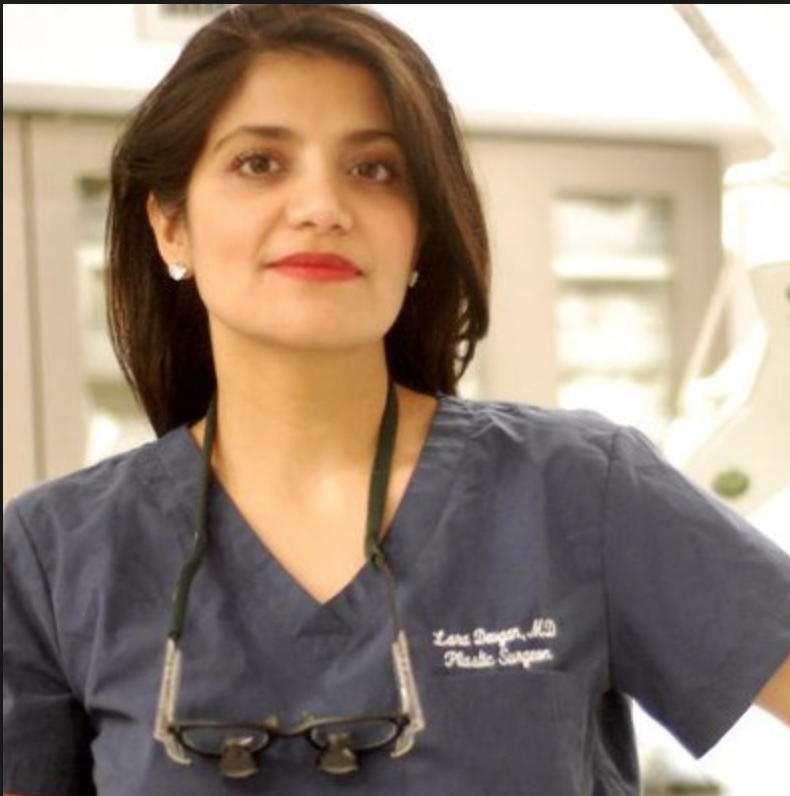 So aside from being a female board-certified plastic surgeon, Dr. Devgan is a boss bitch who is not only at the top of her game but she is also a mom of 5 young children and pregnant with her 6th. What I love about her approach is that she goes for the natural look. I wanted to get implants, but didn't want to look like I got them.
Since Dr. Devgan is so on top of the game, I knew that this would be a good investment. I've heard of people going out of country to get implants since they are much cheaper, but I thought to myself… if I'm going to do this, I am going to go with the best in the industry. I want the Rolce Royce of titties.
I set up a consultation with Dr. Devgan at her office in the Upper East Side. Her team is so professional and friendly. I didn't have to wait for a long time and they gave me all the information I needed. It was white glove service, I felt like I was a Real Housewife of NYC.
Dr. Devgan came in, we talked about what I wanted and I basically said to her, "I don't want to look like a porn star, I want to look like me just with boobies."
I sent her inspo photos of celebs boobies I liked, such as Taylor Swift, Selena Gomez and a few random instagram models with great natural looking racks.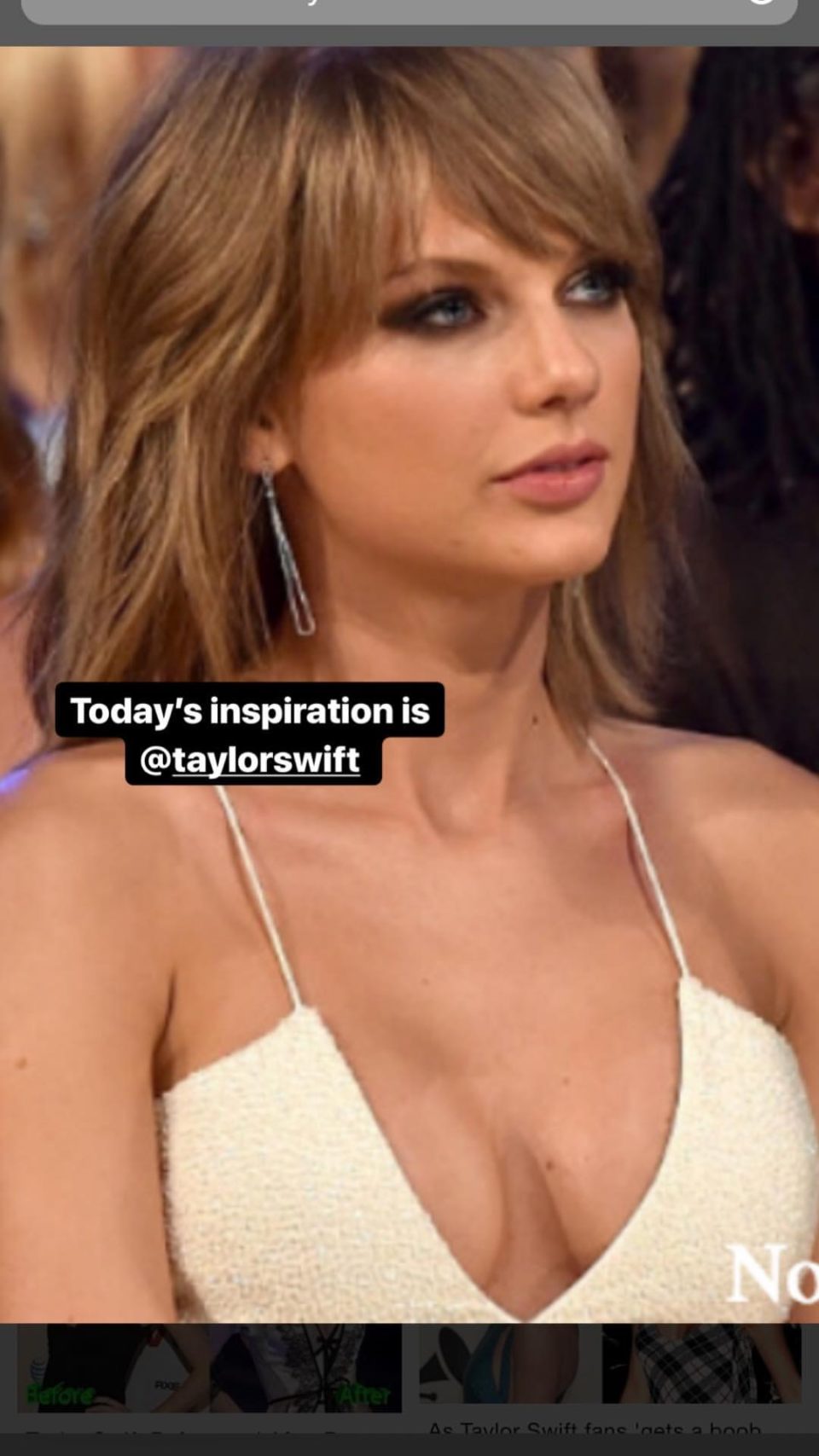 She was so great that I decided right then and there that I am going to go with it. We set the date and I gave a deposit.
May 8th. I'm getting titties.
10 Things You Need to Know Before Getting a Boob Job
1. You won't be able to work out for 4-6 weeks (this really sucked for me).
2. No sex for two weeks. SUCH A BUMMER RIGHT?!
3. You will need someone to escort you home after surgery and preferably stay with you for that first night. My best friend Kyra was my rock that day and was a huge help.
4. It's expensive, but you can get a loan from one of those online care credit cards and pay it off within 2 years without too much of an interest. Lay away boobies.
5. You can't wear an underwire bra for 6 weeks.
6. The first 2 days were the worst for me, but it's crazy how quickly you'll feel better (you have to take care of yourself and follow instructions).
7. Be mindful of size. I've heard horror stories of women getting breasts that were too big for their body and they were in a lot of pain as a result. I think I recovered so quickly because I went with just the right size.
8. The first week after you get them done and you are out and about talking to people, it's a little awkward. They will look at your chest and wonder… My approach is to say, "Hey, whats up? Look, I got boobies now." It either makes things more awkward or breaks the ice. Side story, I was talking to JC business owners on the pedestrian plaza after the expansion and the Mayor swooped into the convo and asked what we were talking about… "Lynn got a boob job!" Mayor didn't even flinch and just said, "Congrats!" I have a weird life.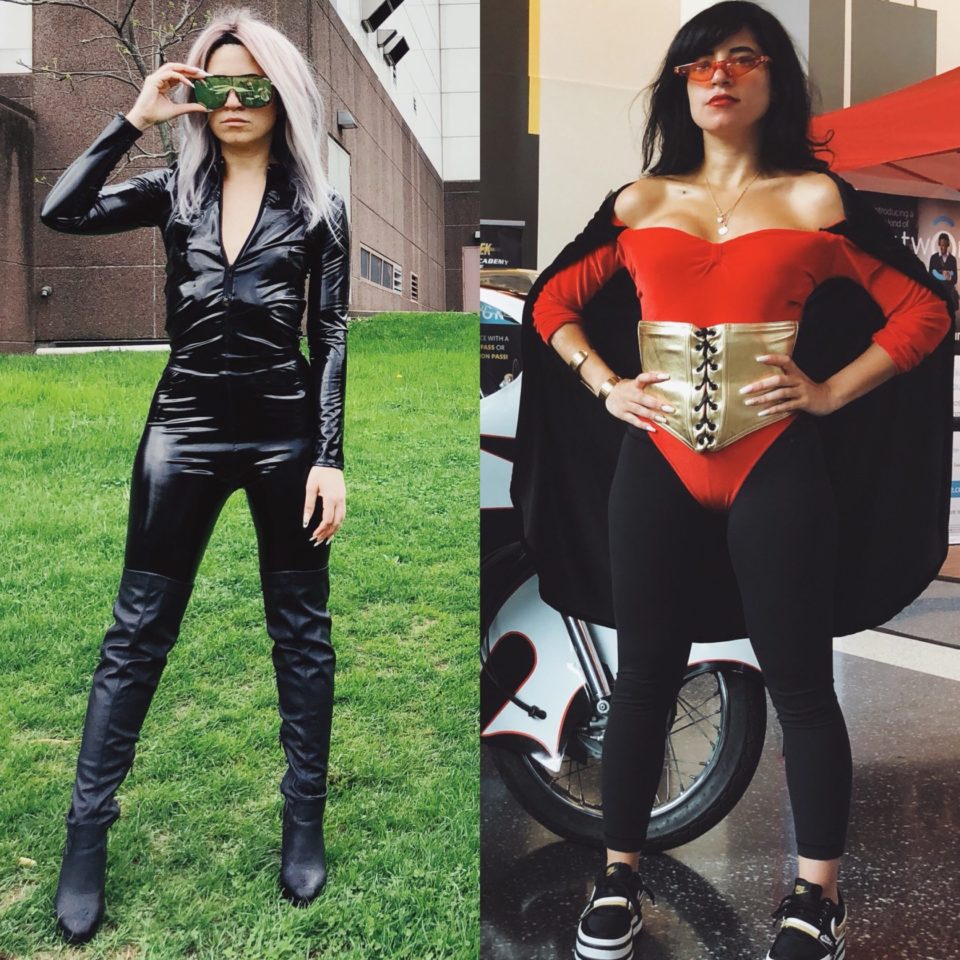 9. If you go with a size that fits your body, you won't have to change your whole wardrobe. I didn't have to get rid of anything! All my clothes just fit me better now.
10. Men will most definitely look you less in the eye. Get used to it. They are animals haha!
Back to May 8th…
We arrived to Dr. Devgan's office at around 10:30 AM. For about an hour, I had to fill up a bunch of paperwork, take "before" pics, and wait for my time to go into the room where they would perform the surgery.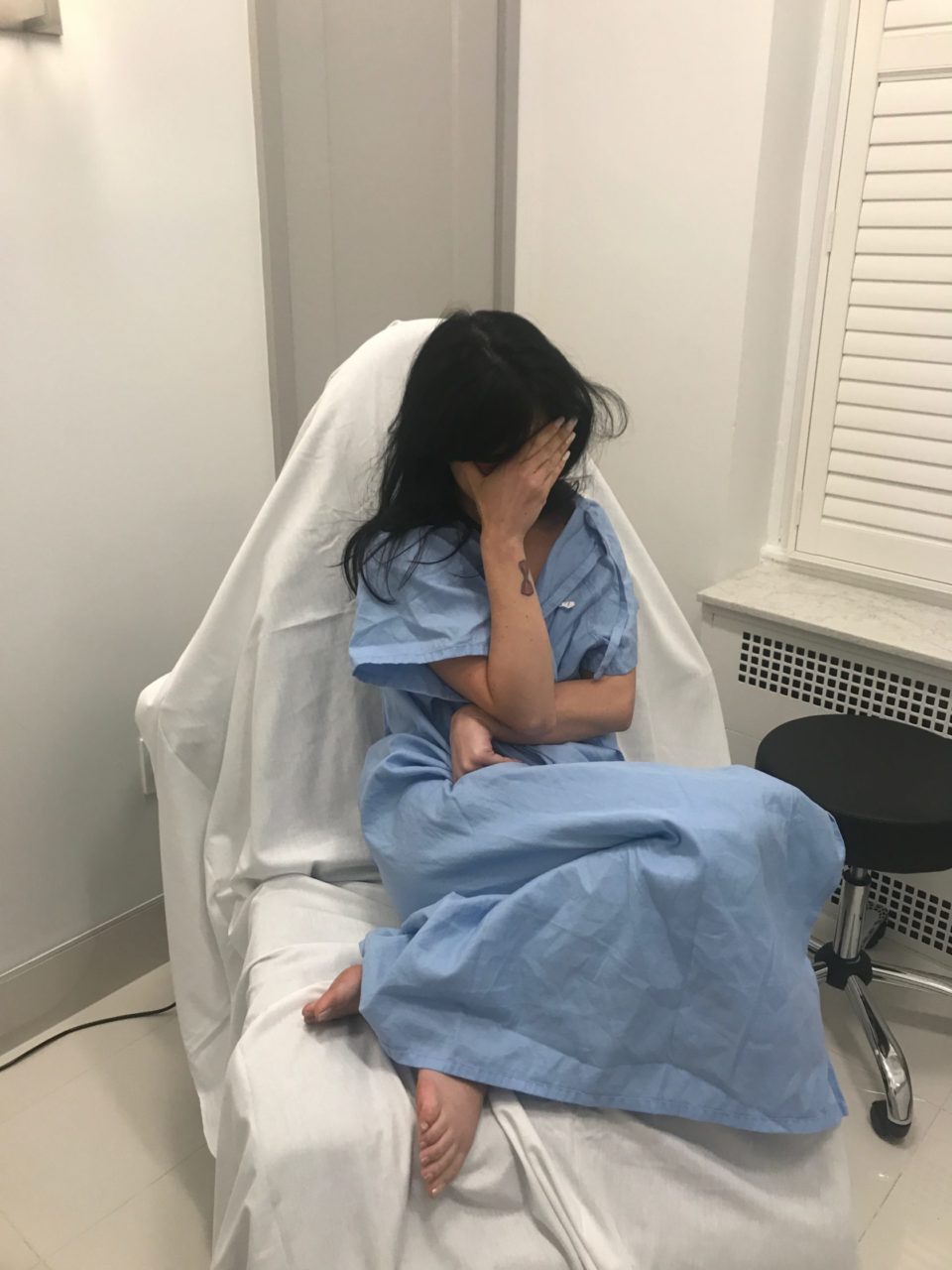 At noon on the dot, they took me in. The anesthesiologist gave me my drugs and I knocked out. An hour later, I woke up and apparently the first thing I said was, "Can I see my new tits?"
Now I don't remember much from after the surgery, so I will let my best friend tell the story.
KYRA:
After leaving Lynn for a short hour, I went back to the office to scoop her. The surgery went great! Her anesthesiologist, nurse & surgeon said Lynn was one of their easiest patients, if not the easiest. 
BUT, the best part is one consistent story. What Lynn was saying while under anesthesia…
There was nothing Lynn cared about more than knowing if she had boobs. While in and out, she continuously asked, "Do I have boobs now?", "Can I see my boobs?", "What do my boobs look like?" over and over again. 
The funny part is, this didn't shock me – Lynn knew she wanted boobs – it was happening and she just wanted to see them in all their glory (mere minutes after surgery). 
After having a laugh with all the receptionists, nurses and Dr. Devgan, it was time to bring Lynn home, but not before putting her back into everyday clothes.
I passed a GIA sweatshirt set to Lynn's nurse, and a pair of Calvin Klein booty shorts. I thought it was a comfy, easy out of surgery look. The nurse came back minutes later to tell me that Lynn would not put on that underwear, that she needed her lace thong, as she couldn't be seen with underwear lines. Of course, I laughed – and yet again was not surprised. So I gave the nurse her thong – and soon after, Lynn came out. 
Do you know the emoji that's aggressively smiley? That was Lynn's face. High as a kite. Smiling. Saying "I have boobs, I have boobs" in a soft dainty voice, I thought she was about to cry of happiness. 
As we walked out to our Uber, she was still in awe. "I have boobs"… but the mood shifted once we got in. The pain quickly hit. Now, stuck in NYC traffic, with Lynn coming off anesthesia was not the easiest to deal with (though is she ever?).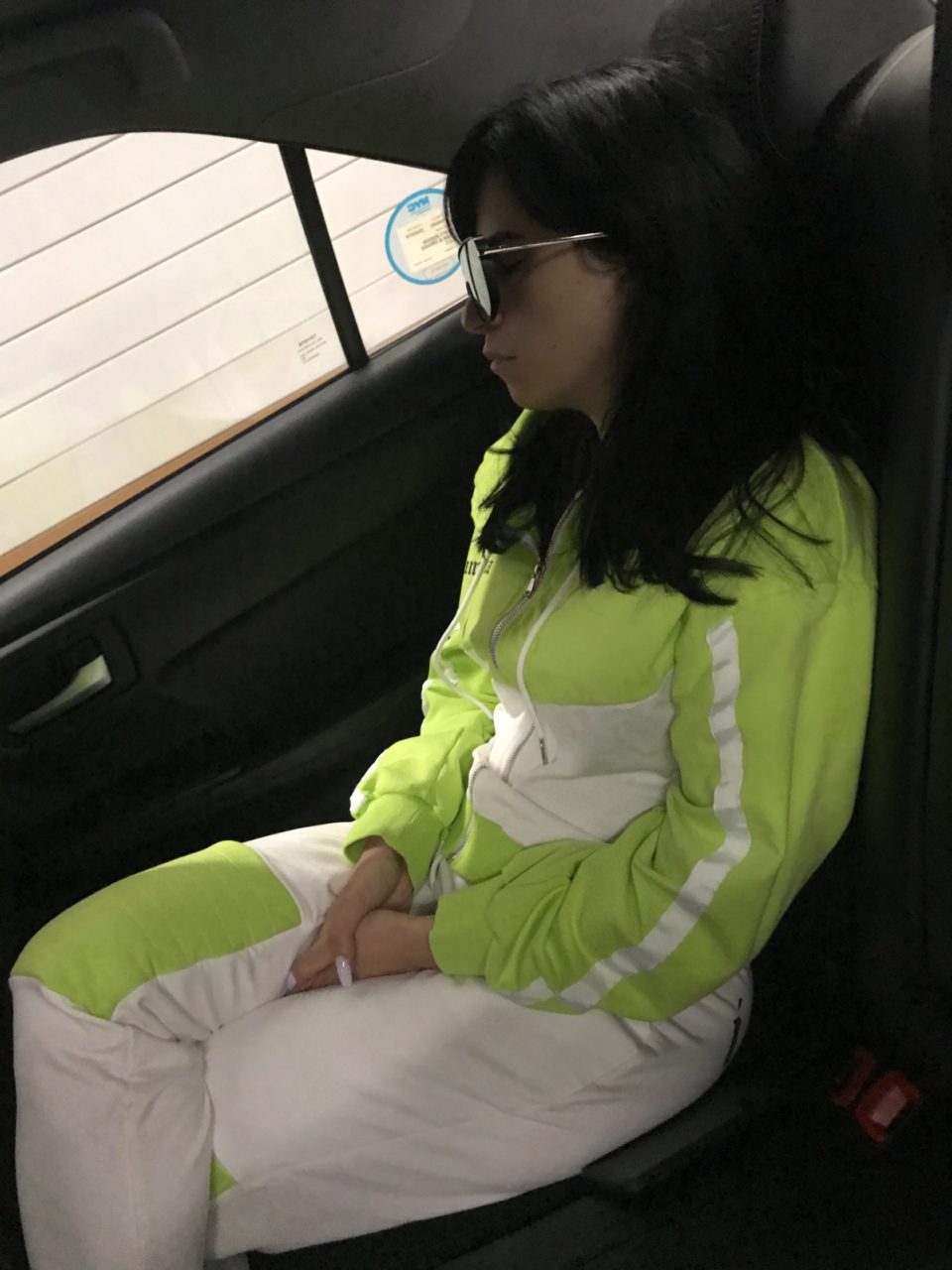 On our way home, we quickly scooped up her necessary pain meds, and thus began the 2 days of complete rest – and Kyra being Lynn's bitch. 
Here are the top questions I got from friends and family! I am guessing everyone is thinking the same thing!
Frequently Asked Questions
1. How long did the procedure take?
I was there from 10 AM to 2 PM. The surgery itself was around half an hour. I went home that day.
2. Did it hurt?
First two days sucked but they gave me pain meds, which I tried not to abuse, but they definitely helped. As soon as I felt a little better, I stopped taking them. It still surgery so yes it hurts, and if you go to the right doctor and choose the right size appropriate for your body its not that bad.
3. How big did you go?
I actually don't have a clue, I went with Dr. Devgan because I trusted that she would go with a size that suits my body. I didn't want to go big! Right before the surgery, I told her I trusted her, and I am super happy with the results! Haven't tried on bras yet, but I will update you guys once I do!
4. How many days did you have to take off?
Personally, I have a high tolerance for pain. I was at home the day of the surgery, posting and responding to emails. The second day was the hardest for me, but I was still able to get a few things done. That being said, I worked from home! So I do not recommend planning to go into an office for at least a week.
5. Are you happy?
Fuck yes! I am really happy with my decision and I feel really great about how the surgery turned out.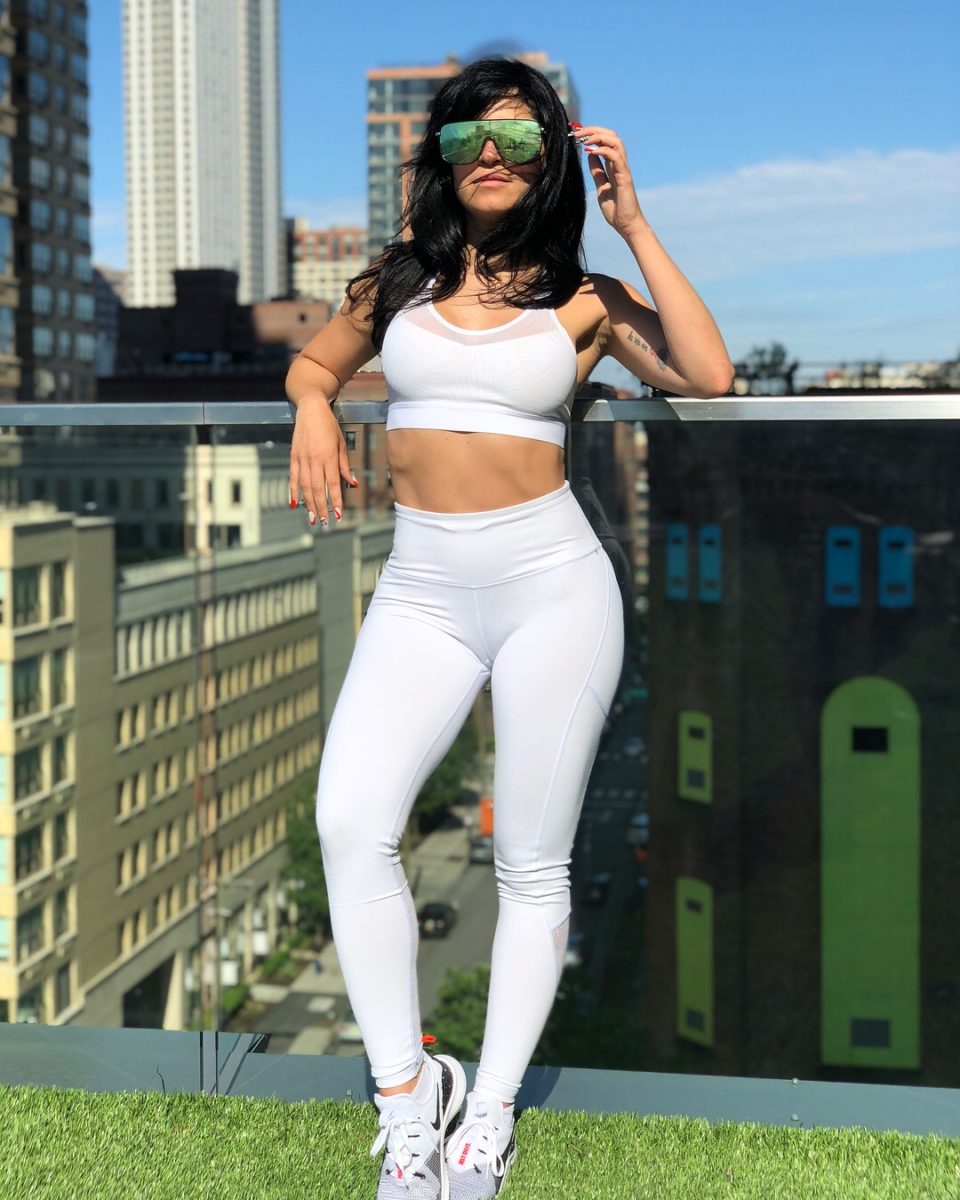 6. Can I touch them?
If you're a friend of mine or someone I'm dating, absolutely. Otherwise, hands off!!
7. Are you going to get any more work done?
Probably not until I'm older and wrinkly! Haven't really thought that far yet. I'm content with my body as is right now but I'm not opposed to getting work done when I am older.
8. Did you have to buy all new clothes?
Nope! Since I didn't up in bra size significantly all my clothes still fit, they actually fit better now! Even my bikinis.
Recovery
I stayed in bed for the first 3/4 days and tried to not do anything crazy. I was still able to work and do mom things and to be honest it was the first time in a while that I got to just netflix and nap. So thanks boobs! A few days later I flew to Miami to end my recovery in style and take these new boobs out for a spin.
6 weeks post op I went back to see Dr Devgan to make sure all was ok, Im glad to report my boobs are healthy! I couldn't be happier. I'm back to working out and my life is pretty much the same!
Full Disclaimer! This is not a sponsored post!
For more information visit: