Plant Base recently opened on Pacific Avenue in Jersey City and has already started to make a name for itself. Owners Andy Hertz and Dhruva Latorre wanted to provide a community space in Bergen-Lafayette, one of the several Jersey City neighborhoods that are often overlooked when it comes to providing resources and plant-based food options to the community. I, along with our photographer/videographer Laura, had the opportunity to sit down with them and get to know the mission behind Plant Base and what residents can expect when they walk in.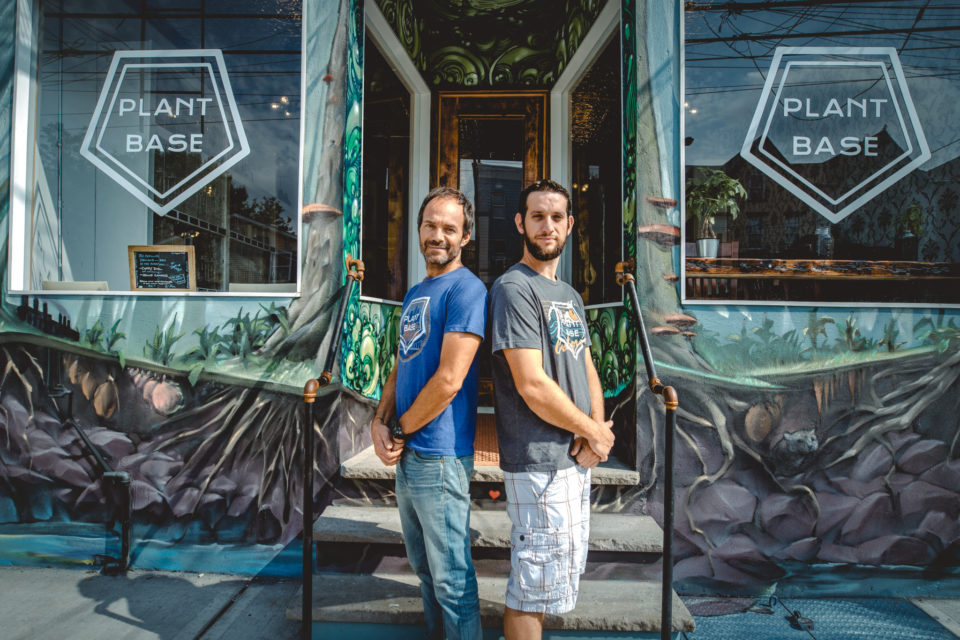 Where it all began
Through Andy's animal rights activism background, he noticed a lack of activism within neighborhoods. Andy and Dhruva wanted to create a brick-and-mortar location together to encourage the neighborhood to learn about veganism and the lifestyle. That's where the idea behind Plant Base started brewing.
Plant Base is currently situated in the former location of Nicole's Farmers Market, which sparked Andy's interest in creating a vegan market in Jersey City. After hearing that Nicole's Farmers Market was in the works to be sold, Andy and Dhruva decided to take matters into their own hands and start planning the concept of Plant Base. They also run Airbnbs in Jersey City for vegans to create a destination for people to come, specifically targeting vegans so they feel they're staying within a vegan destination they've coined "Vegan Lafayette."
When going vegan, it's always difficult to know where to start or how to jump into it. With Plant Base, Andy and Dhruva are providing a space where you can come in, ask questions, and try the food within a hands-on learning experience. Everything, from the Airbnbs to the market, is ultimately based in education. They have a library with resources about the plant-based lifestyle where people can come in, learn about veganism, and even take books home with them to finish reading. As they settle in to the space, they aim to bring cooking classes and guest speakers to Plant Base to further the community engagement and provide education to encourage residents to make the switch to veganism or to at least consider minimizing their intake of animal products.
The space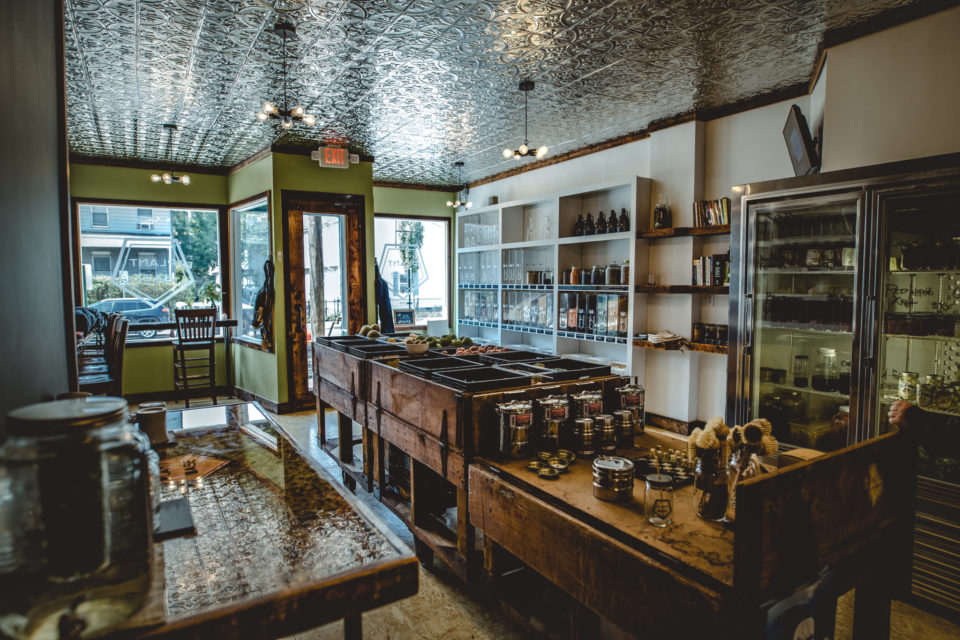 When you walk into Plant Base, you immediately feel comfortable and welcomed. The design of the space stands out, from the mural along the entryway to the tiles on the ceiling. Many of the items are recyclable materials to add to the "zero waste" message implemented through Plant Base. By using recyclable materials, they felt it was good for the environment, it adds character, and it ultimately goes with the natural look of the space.
As an inviting community space, you'll be greeted and asked if you've been here before; if you haven't, they'll gladly guide you around so you can see what they have to offer. As you walk around, you'll find that Plant Base offers more than just fresh produce. You can also find some pantry staples like lentils, nutritional yeast, garbanzo beans, quinoa, and spices.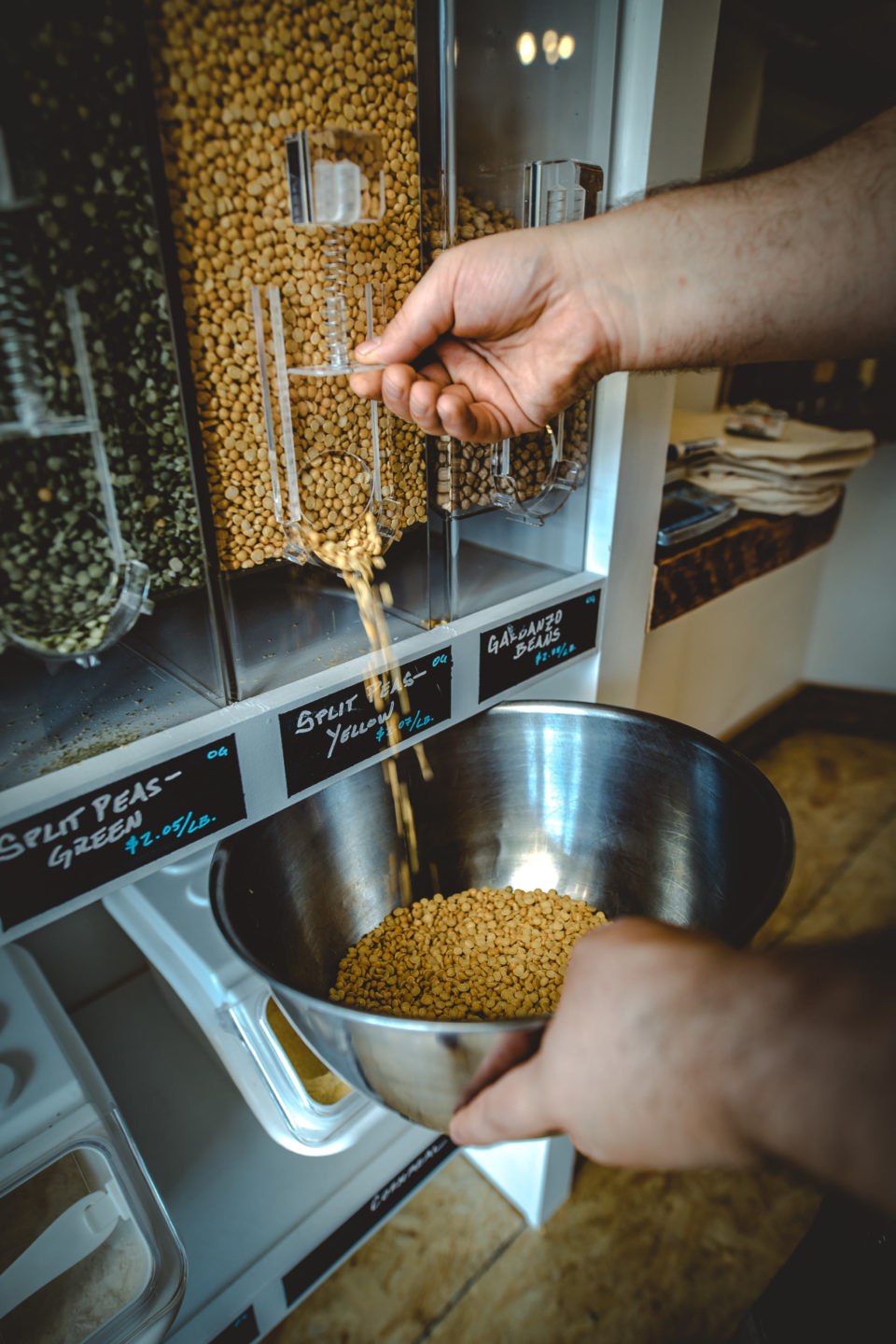 You can buy essentials products including toilet paper and in-house made laundry detergent, toothpaste, and body butter. They even repurpose shirts and add the Plant Base logo, which are available for purchase, along with products from local vendors including: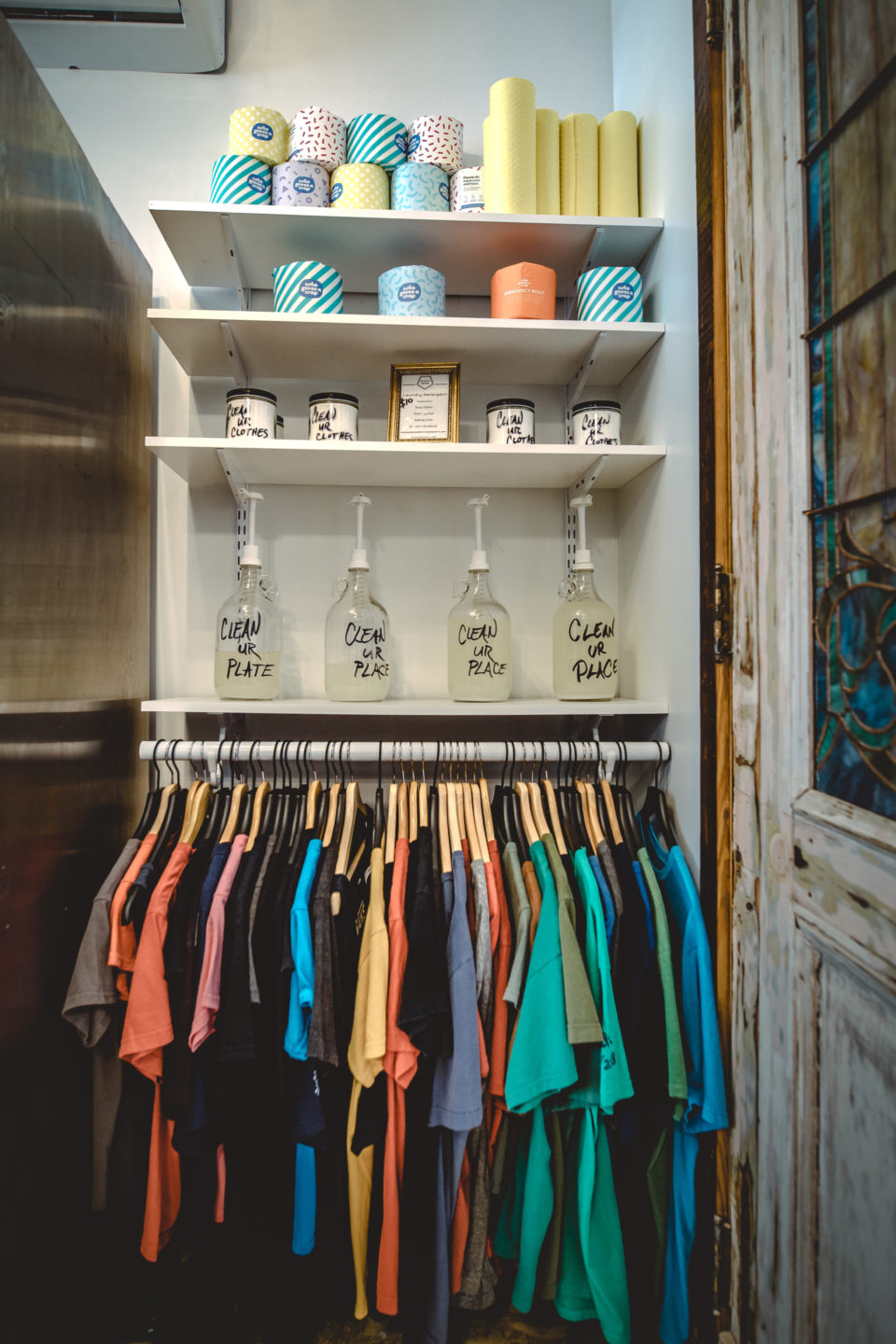 Zero Waste
While being completely zero waste can be difficult, Plant Base encourages a minimal-waste lifestyle. Dhruva mentioned that the idea for their "zero waste" mission was rooted in their personal lives.
"We were trying to move in that direction with our daily lives in general. Being vegan isn't just about not eating animals, it's a lifestyle. It's about being friendly to the environment and to your neighbors. It's about your overall impact on the planet. Even if you don't want to be vegan, you can at least try to be less wasteful."
A vegan lifestyle follows the principle of doing the least amount of harm, and a zero-waste lifestyle encourages doing the least harm to the environment. Even down to inevitable pliable plastics in packaging, Plant Base will send the plastics off to be remade into reusable items like cutting boards and coasters, which will then be made available in the store for purchase.
While it's encouraged to bring your own reusable storage items when shopping at Plant Base, you can purchase mason jars and produce bags to minimize the amount of single-use waste.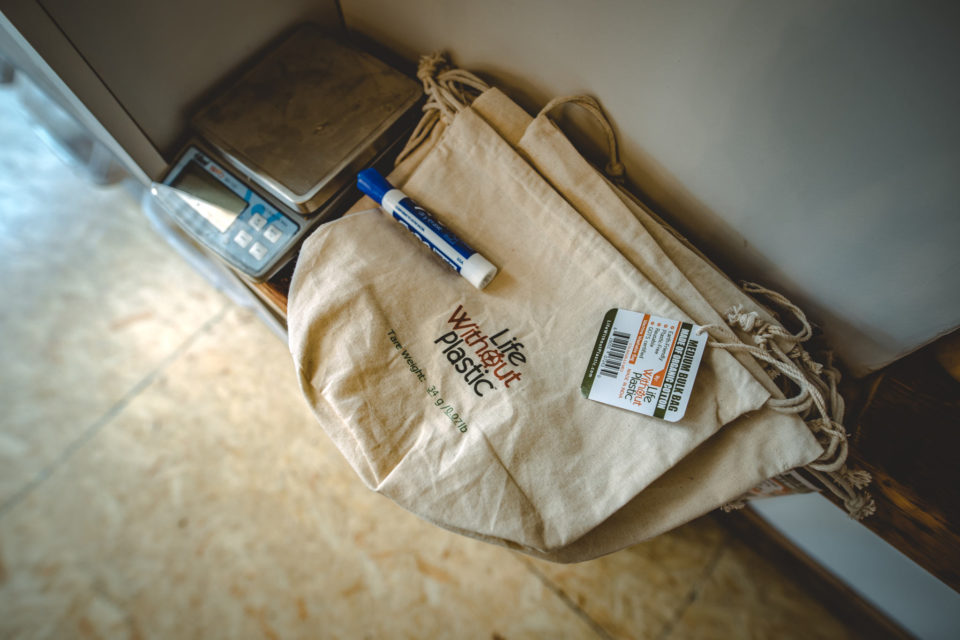 The menu
Chef Ethan is the man behind the recipes for both the weekly menu and the in-house products, and owner Dhruva is co-chef and menu creator! After our interview, we were able to try two of their tasty dishes – a French Onion Chowder and some Chorizo Tacos.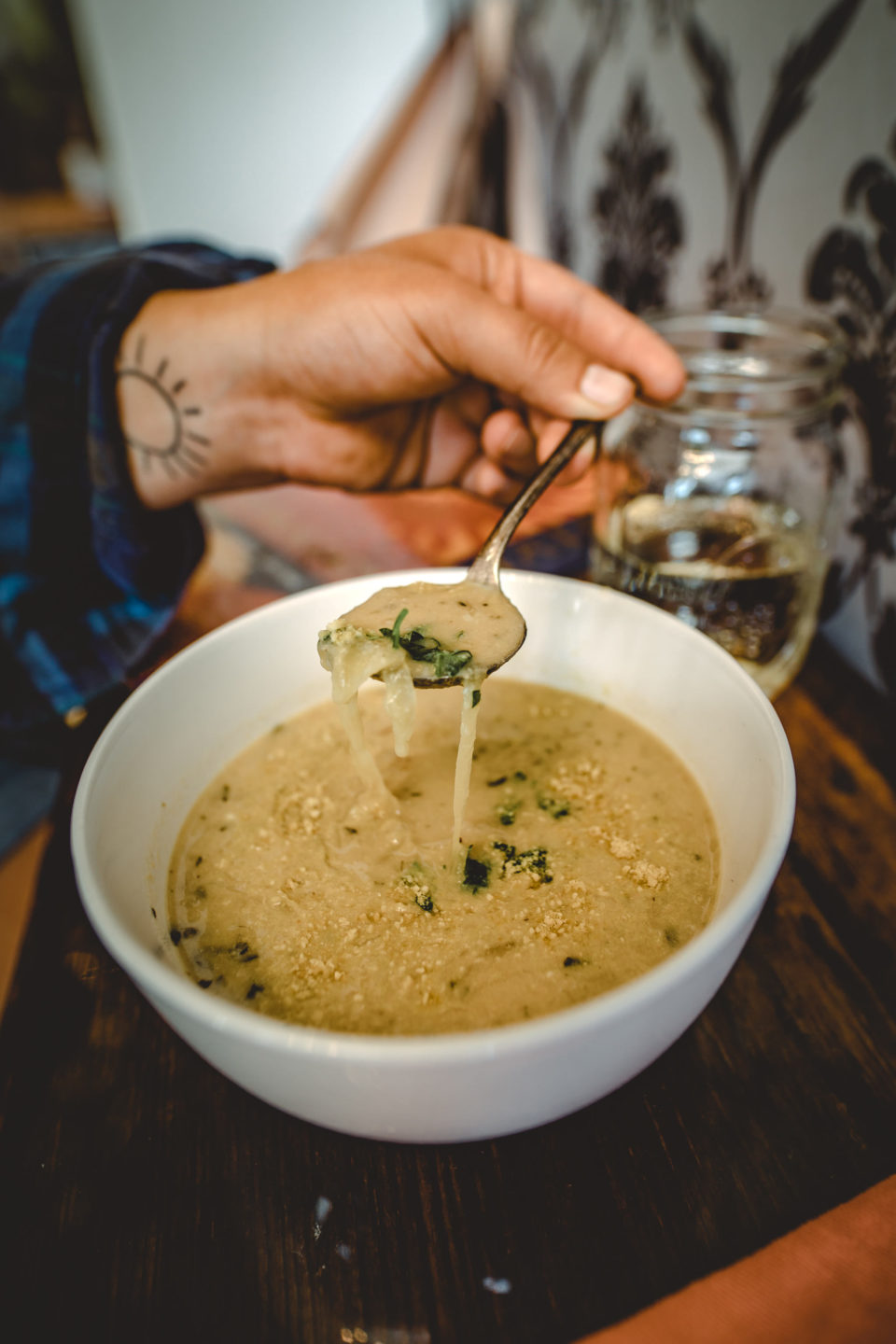 As someone who's never had French Onion Soup or any type of chowder, I didn't know what to expect but this was incredible. Soup in general is one of my personal favorites, so this was perfect for me. Following the soup were the tacos, and the mushroom and walnut-based "meat" was so delicious, even Laura couldn't believe it! Topped off with sauerkraut and a cream sauce, it's no surprise these are a crowd favorite already.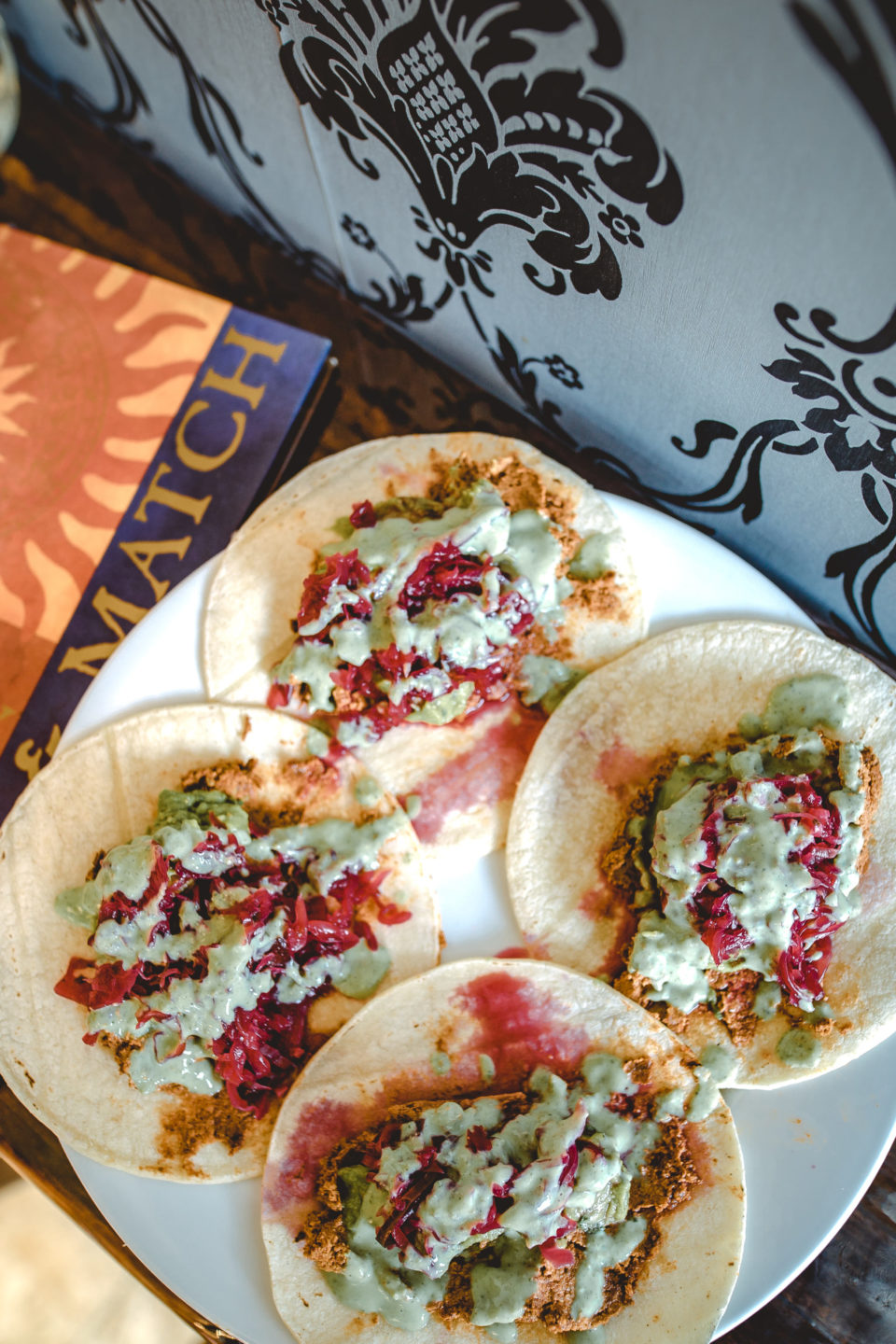 Simple to-go foods like overnight oats and granola are offered for breakfast. Lunch and dinner items are typically based on a rotating menu. In order to minimize waste, they focus on a set daily menu.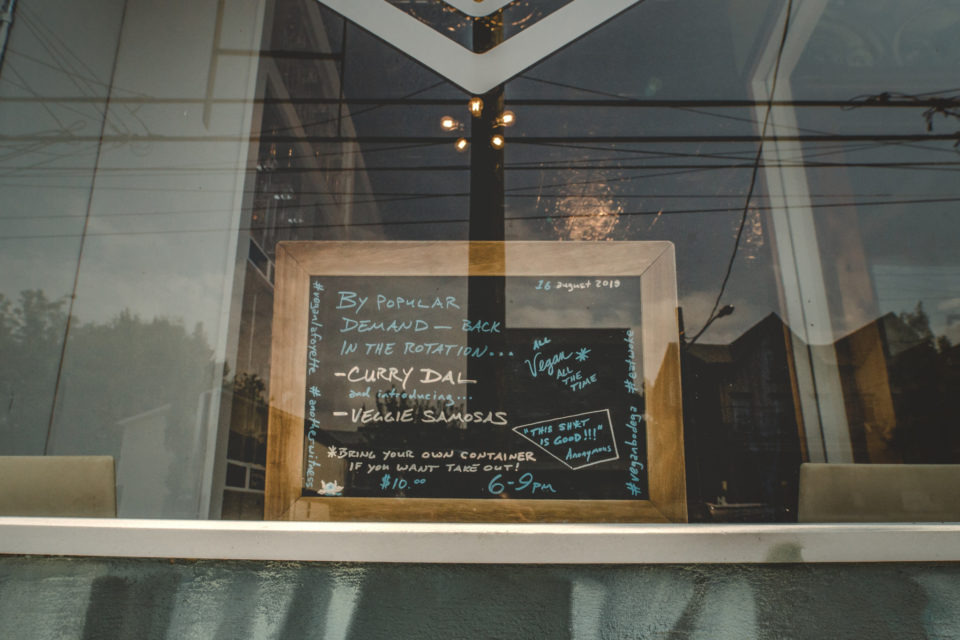 One of Andy and Dhruva's goals for Plant Base is to provide the community with good food that you can make at home. One day, you'll be able to eat your meal and leave with recipe and raw items to make it for friends and family. Not only does this encourage everyone to eat healthier foods, but it ties into their mission: people becoming activists and spreading the vegan lifestyle.
Community involvement
Andy and Dhruva describe Plant Base as "an immersive experience where you can come in and get the gist of veganism, but you can get more information if you want to learn more." It's all about education and providing resources, even down to recommendations for holistic health practitioners if you're struggling with certain ailments. They've seen great feedback from the community, especially from local vegans who wanted a space like this in their neighborhood. In the future, they're planning to hold speaking engagements for the community, providing a place for residents to tell their story or to learn about everything related to veganism and conservationism.
Whether you're looking to start a healthy lifestyle or you're a fellow vegan looking for a new spot in the area, Plant Base is your one-stop shop for all things vegan.
Plant Base is located at 370 Pacific Ave. in Jersey City. You can find Plant Base on Instagram, Facebook, and their website.
Check out photos of the space and food below!