Staying at home doesn't mean you can't be active! Try these at-home workouts in a live class or at your own time.
---
HipFit Dance Fitness
HipFit Dance Fitness with Laura is currently offering classes via Zoom! You can join a class livestream for $10 via Venmo, or you can purchase a 5-pack of classes for $40 on MindBody. To join a class, you can Venmo @LauraHipfit $10 with your email address and class date/time in a note.
Brazen Athletics
Brazen Athletics is currently offering classes through Zoom this week as well as free at-home workouts and yoga session on YouTube. You can sign up for Zoom classes through MindBody.
Mary – @nycfit
Mary of Aaptiv, a program that offers audio fitness classes, has posted at-home workouts on IGTV to keep everyone motivated to stay fit with what they have at home. You can also check her out on Aaptiv's YouTube page live-streamed workouts.
DDP Yoga
DDP Yoga combines yoga with calisthenics, sports rehab therapy, and dynamic resistance. They offer a personal training app with workouts to help you achieve your goals, along with free classes for children if you want to get them involved.
SusanTee – @susanteefitness
https://www.instagram.com/p/B-XssuEj5G_/
Susan is a personal trainer based in Hoboken. She's currently offering free live workouts and yoga on Instagram Live, and she's offering training sessions through Zoom.
ClassPass
ClassPass launched livestream classes that can be purchased with credits. You can find their calendar of live events on their website with class options like barre and Lunar Vinyasa. They also offer audio and video workouts on their app with everything from HIIT to meditation.
Out of the Box Athletics
Out of the Box Athletics is part of a a 3-week online CrossFit competition filled with at-home workouts. They also offer live classes, all available on YouTube if you miss the live stream.
Peloton
Peloton provides live and on-demand classes, all of which can be accessed through their Peloton app via TV, desktop, phone, or tablet. They recently extended the Peloton App free trial to 90 days, so you can enjoy it for a few months before committing to a full membership.
UFC Gym – Hoboken
https://www.instagram.com/p/B-TDdw3jBvJ/
The UFC Gym in Hoboken offers boxing, kickboxing, Brazilian Jiu Jitsu, TRX, yoga and more. You can sign up for their weekly classes, which includes daily live classes and nutritional advice. Contact them if you're interested!
Jane DO
Jane DO focuses on cross-training workouts through 5 classes. You can use their membership and class packages to join in on live classes, including kids classes on Jane DO On Demand.
Barre3
Barre3 provides full-body workouts with low-impact movements. Try one of their many at-home workouts free for 15 days on any streaming device.
Pump Hoboken
https://www.instagram.com/p/B-ZbzXJjMn0/
Pump Hoboken describes their fitness program as "pilates, repurposed." You can check out their full schedule of live workout classes on MindBody with morning, afternoon, and night options.
Bum Pilates
Bum Pilates is offering athletic-based pilates classes on Zoom. You can find their Virtual Bum and Virtual Prenatal classes on their website and sign up with your existing class package or purchase a single session.
AARMY
AARMY combines an athletic training regimen with cycling cardio. They're currently offering bootcamp & cycle livestream sessions live on Instagram.
Base
Local gym Base is offering workout classes live on Instagram! If you miss a class, it will still be available for 24 hours so you can catch up when you have time.
Asana Soul Practice
Asan Soul focuses on all things meditation and yoga. You can find on-demand classes on their website and tune into live streams of workshops via Zoom.
Do You Rumble
Do You Rumble has brought their boxing and training methods to Instagram with boxing-inspired HIIT workouts streaming live on the app.
Urban Souls
Urban Souls is a yoga and meditation studio in Hoboken. You can sign up on MindBody and stream daily classes via Zoom, including free online classes for healthcare professionals and Yoga for Kids and Teens throughout the week.
Kali Crandall – @kalikays4186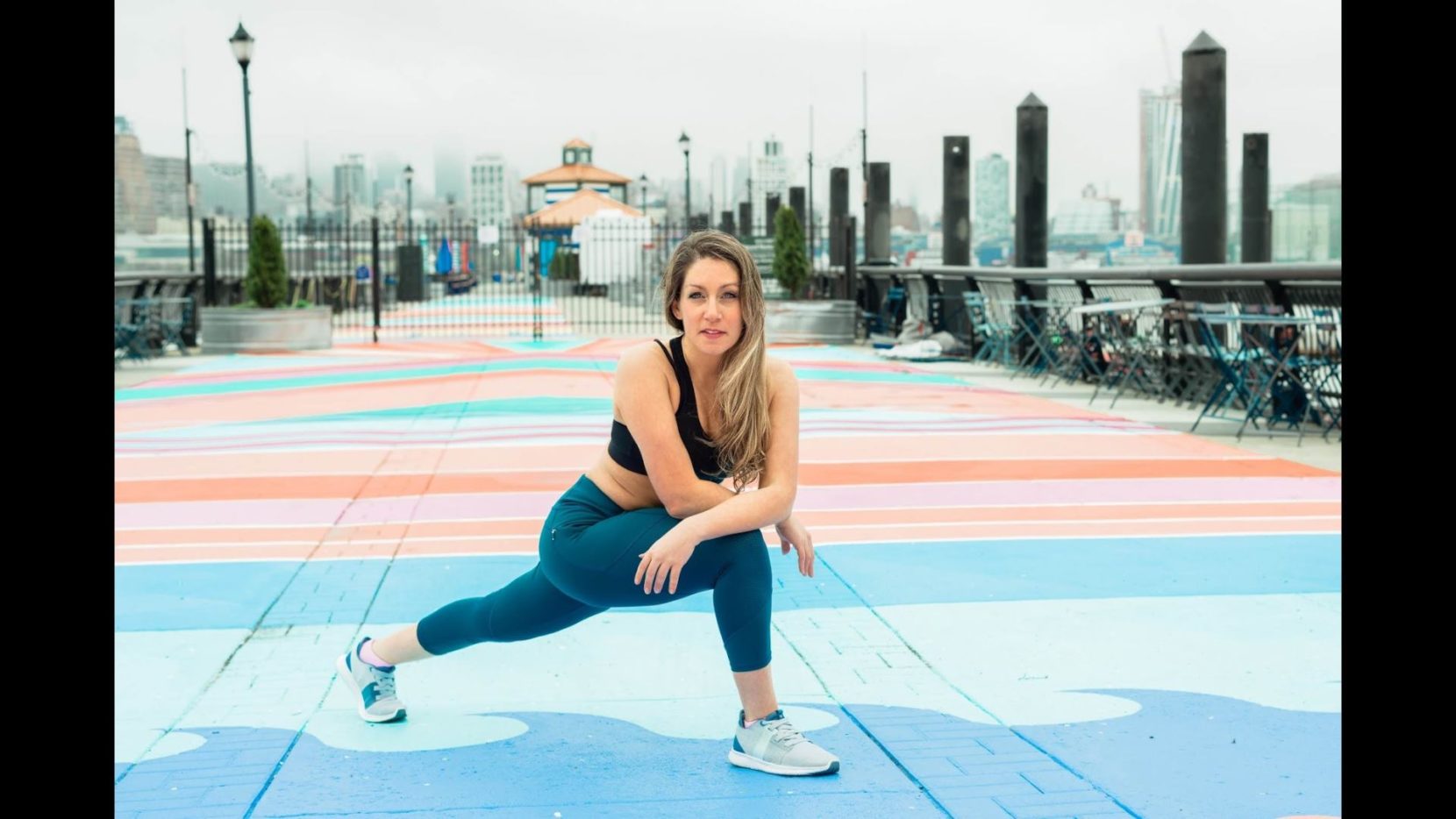 Kali is an independent fitness instructor, and she's offering free (donations accepted) 40-minute Zoom classes 3 times a week – Tuesdays @ 8AM are full body, Fridays @ 8AM are lower body, and Sundays @  10:15AM are mega/slider-based classes. You can DM Kali with your email to be a part of a class.
Zuri Ruiz Yoga
Zuri is a yoga teacher who offers prenatal yoga 4 times a week through Zoom. The classes are also great for postnatal moms! You can join through http://www.zuriruiz.yoga/ or zuriruizyoga.punchpass.com.
Marieliz – @fitnesswithmarieliz
Marieliz is a personal trainer offering live classes Monday through Friday on Zoom and Instagram live. You can find her schedule and live streams on @fitnesswithmarieliz.
Stacey Lawrence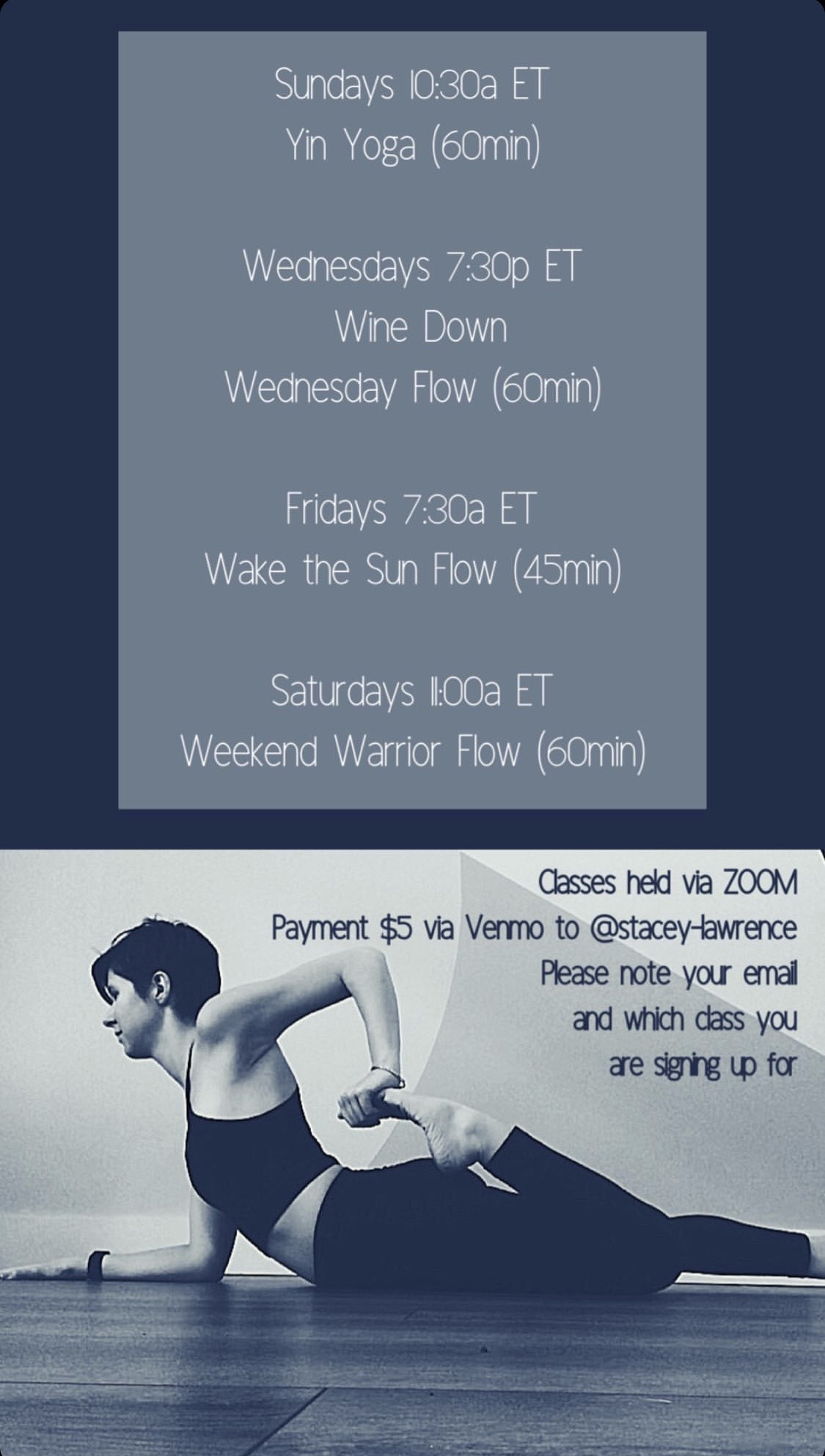 Stacey is a yoga instructor at Asana Soul Practice offering offering $5 classes 4 times a week on Zoom. You can join a class by sending payment through Venmo with your preferred class and your email address to receive the link.
Sabrina Sarabella
Sabrina Sarabella is a fitness and nutrition expert offering unlimited classes online for $25 a week through her Fit Club program. You'll have access to daily weekday workouts streamed on Zoom, healthy recipes, and more on http://www.sabrinasarabella.com/the-fit-club.php
Kaseedee – Pilates BKLYN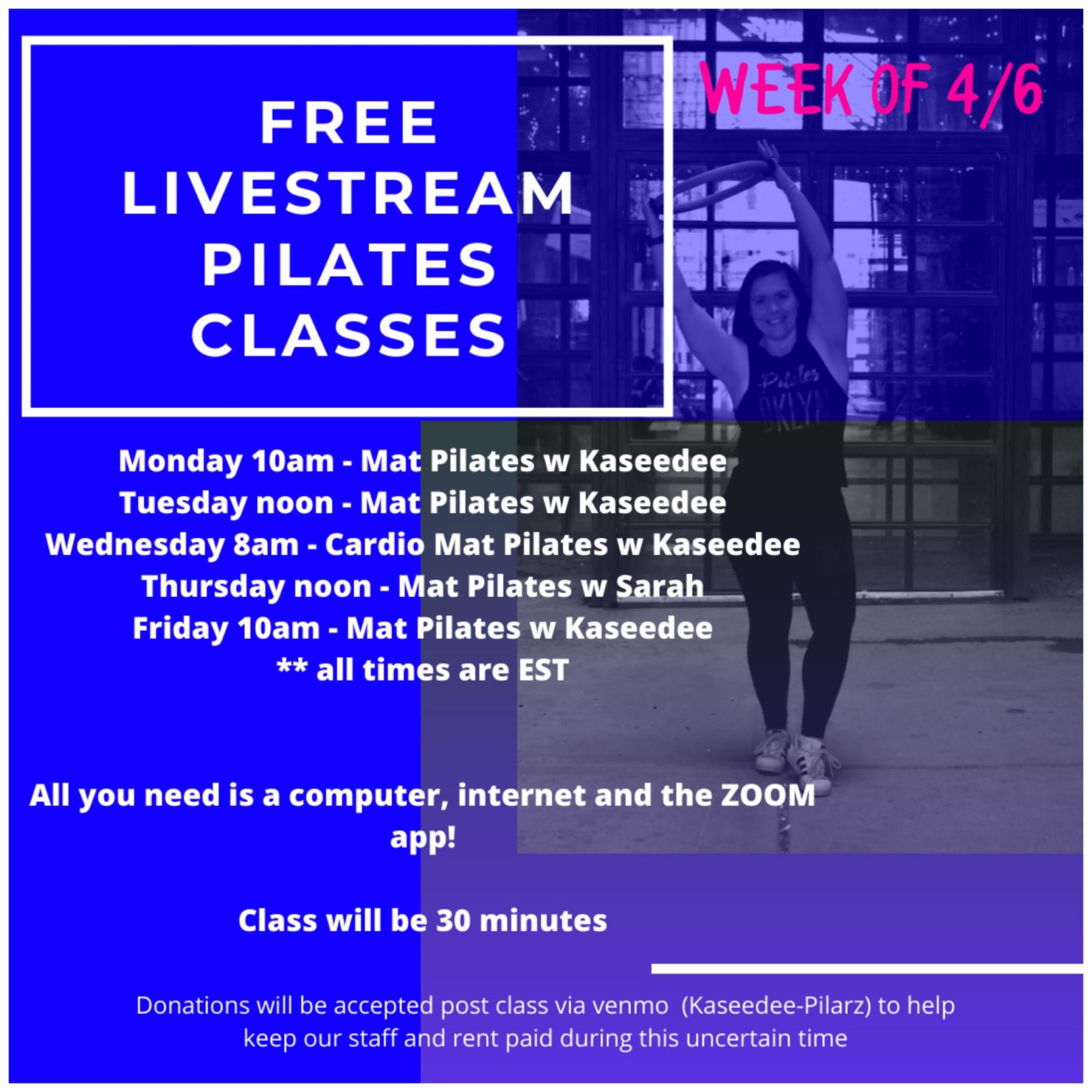 Kaseedee is a Jersey City-based health and fitness coach offering free Zoom pilates classes. You can email her to join a class or DM her on Instagram – @KaseedeeJ.
8 Springs Studio
8 Springs Studio free 25 min megaformer inspired classes on Instagram live with any donations benefitting the instructors, as well as Zoom classes with can be purchased for $10. Be sure to visit their Instagram for both schedules!
CKO at Home
CKO in Jersey City and Bayonne  is offering at-home workouts on their new Instagram page, @cko_at_home. There'll be daily 1-hour live kickboxing classes, 15 min CKO Short Workouts, weekly 15 min technique workouts, and weekly quarantine nutrition tips. It's $25 a month and you can sign up online.