We all know the importance of being healthy by making good food choices, exercising, and keeping up with regular medical visits. The trick is to apply this knowledge during our daily activities.
Given that Jersey City has been named among the top 10 most walkable cities in the country by Expedia, local residents can effortlessly keep up with health goals. Attending to your basic health, food, and fitness needs is as easy as taking a walk on our favorite main street, Central Avenue in the Heights section of Jersey City.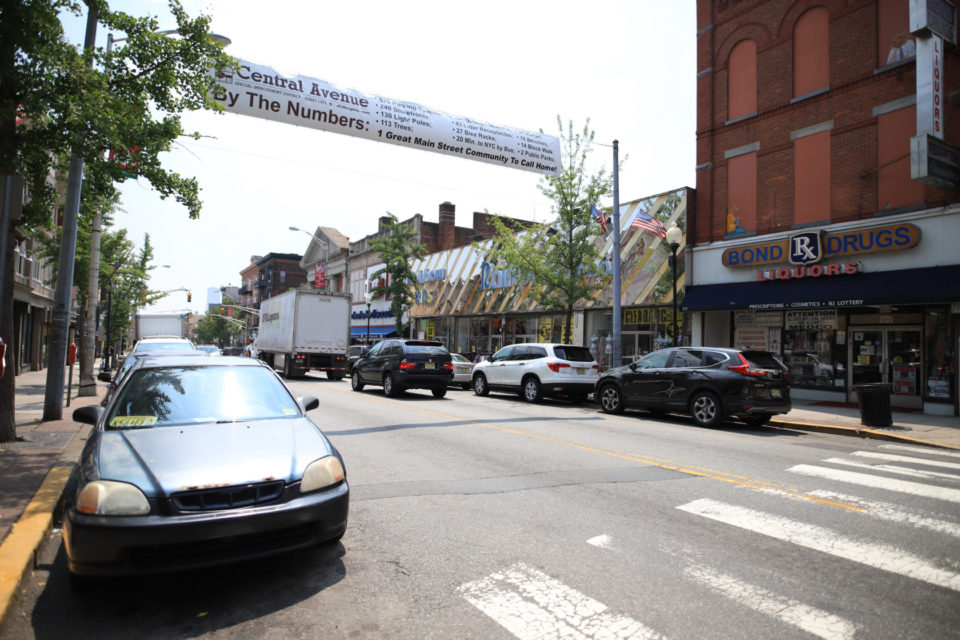 Health
When you walk along Central Avenue, you can find an array of health professionals – general practitioners, dentists, eye specialists, and more. We met with a few of them to share what they think are important points everyone should remember.
Pharmacist – Dave Tan of Jersey Drugs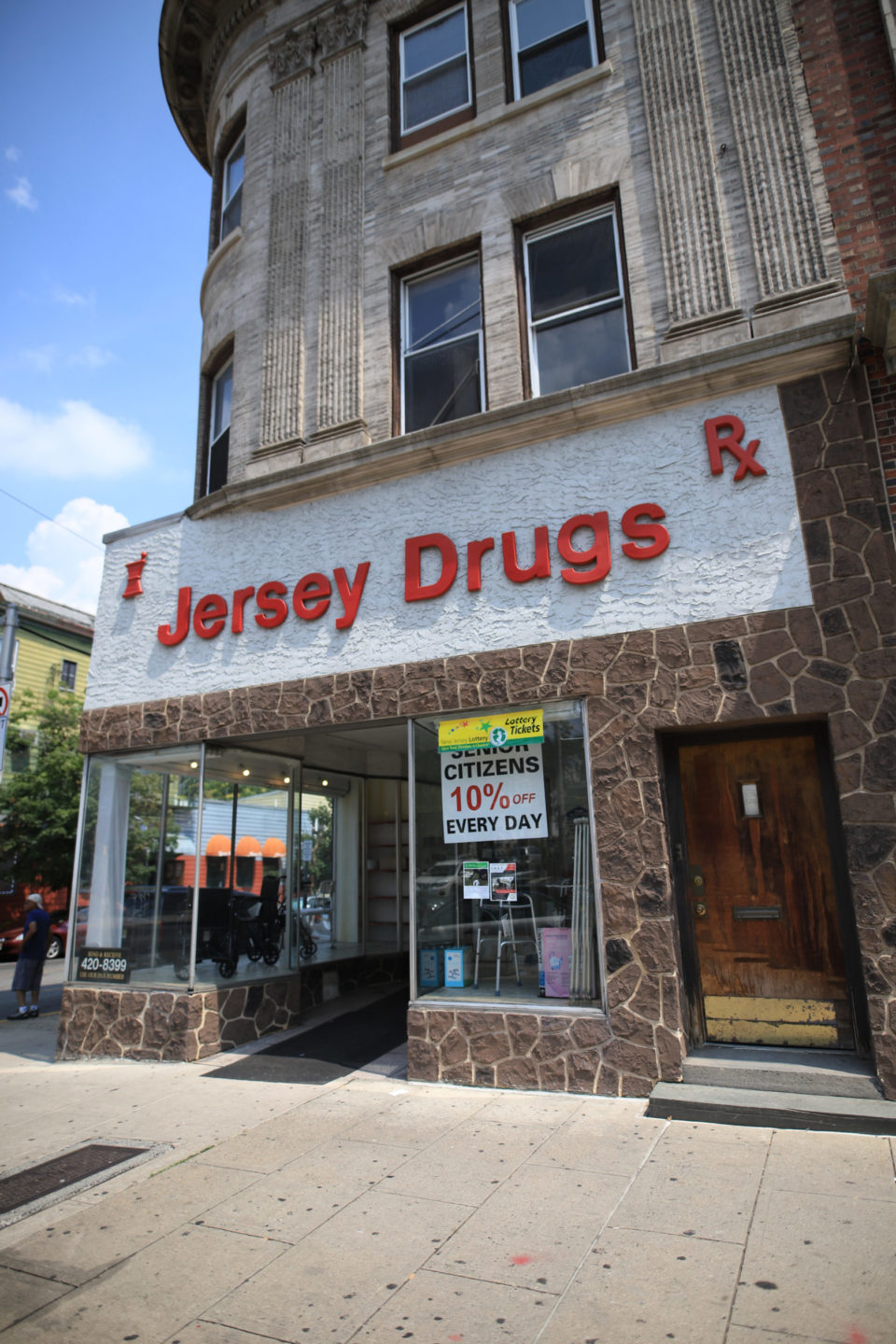 What's your role in a patient's healthcare process?
We get to see who's taking what in a particular time frame because it's all refills. When customers get a refill, it gets recorded electronically in our computer system. We know if they're late or not, and we can always keep up with customers on their medication intake. That's how we keep people on track. If they have any questions or concerns, they can come to us. We're the bridge between the doctor visits. In the period of time that they don't see their doctor, they can come to us for information. Patients don't go to the doctor every month or every two months. Other than the doctor, we're the only ones who know the medications they're taking. We're the healthcare contact within that period of time.
Are there any services you offer for patients?
We can take their blood pressure with a monitor or their blood sugar. Those are the top two things they ask about. Sometimes they'll ask for information on certain illnesses and we offer vaccines here. We're essentially the only place open all the time, so we can be that hub for patients when they can't see their doctors for information.
To a certain extent, we're limited but we take pride in our customer service and being honest with customers. We try to give people enough time with our staff to get the information they need. If people forget to ask their doctors any questions or get prescribed certain drugs, they can ask us for a more direct response rather than trying to get in contact with the doctor. If you go home with an antibiotic and there seems to be a side effect, you're more likely to call the place where you got your medicine. We're open 364 days a year, Christmas is the only day off.
Eye Care Specialist – Sergio Ferreira of Eye Contact Vision Center
Tell us a little bit about your business.
We are a cozy boutique style optical that provides eye exams and eyewear. We firsthand understand the importance of what routine eye exams could mean to those who do not visit regularly and those who do. For those who do regularly visit, it means they are aware of the health status of their eyes. On the other hand, those who do not visit regularly may not know if an eye disease may become a culprit of deteriorating eye health down the line.
People often put off appointments or don't prioritize certain services. What would you say to the individuals who haven't visited an eye specialist lately? What are the dangers of not visiting regularly? What are the benefits of making regular appointments?
A comprehensive eye exam is not only necessary for people with vision complaints but is important for individuals of all ages and physical health. Most common signs and symptoms of vision problems appear as blurry vision or abnormalities in what you usually see but there are also eye conditions that don't produce symptoms until the condition is far advanced and serious.
Very often children miss signs of poor vision which results in poor performance at school. However with annual or biannual visits to an eye care provider, visual problems such as Myopia, Hypermetropia, Strabismus and Amblyopia could be detected early and appropriately treated. There are also medical conditions such as glaucoma, cataracts, macular degeneration, diabetic and hypertensive retinopathy which if untreated could lead to severe or even permanent visual loss. However routine visits could allow the eye care provider to not only detect these eye threatening diseases early but treat and or possibly slow down progression.
The American Optometric Association (AOA) recommends annual exams for patients ages 5-18, biannual exams for adults 18-60 and annual exams for ages 61 and older or as recommended by the eye care provider. This is an important part of preventative healthcare as the earlier a vision problem is diagnosed and treated the less it will impact an individual's quality of life.
Dentist – Keith and Marshall Baines of Baines Family Dental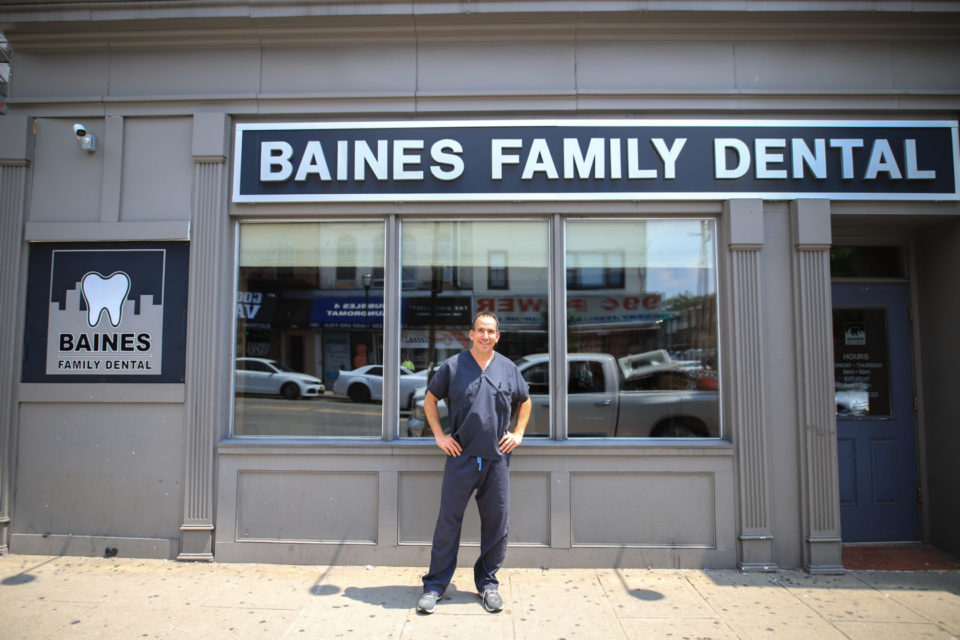 Tell us a little bit about your business.
Baines Family Dental is a family-operated business started by our father in 1975. When he opened the practice, it was located above the jewelry store next door (formerly Christian Jewelers). Several years later, he moved to the larger space at our current location. My brother, Dr. Marshall Baines and I joined the practice in the mid-90's. We are the only two dentists here and we provide general dentistry for children and adults, dental cleanings, cosmetic services, implants, extractions, and emergency care.
We care about our patients, treat everyone like they're our family, and try to treat them the way we'd want to be treated if we were patients.
What are the dangers of not visiting regularly? 
The dangers are that simple things become complicated. A filling is a treatment that stops tooth decay from progressing and restores proper function. It is a one-visit procedure that can last for many years – 10, 15, 20 years. If tooth decay is allowed to progress, it can result in pain, infection and even tooth loss. I saw a patient today who had a filling in his mouth for over 40 years, and certainly that restoration that was placed back back in 1978 was worth it.
What are the benefits of visiting regularly?
The benefits of visiting the dentist regularly is having a relationship with a healthcare provider who is able to follow up and monitor patient care and progress over time. Our patients should think of us as part of their healthcare team.
What's your favorite experience as a dentist?
My favorite experience was a young woman who was self-conscious about her smile after years of neglect. She was hesitant to seek treatment due to fear of losing her teeth, but one of her coworkers encouraged her to do so. We discussed the options and were able to find a simple solution that allowed her to keep all her teeth and regain her smile in only a few visits. She cried from happiness when we showed her the mirror and I think about this patient often.
Food
If you're going to eat out, why not make healthy food choices? Along the main street you will find 50 storefronts working in the food service industry. Rest assured, you can find plenty of options for healthy meals. Last year, the Central Ave Special Improvement District launched a Central Ave Health Menu for healthy local eats. The goal is to not only encourage everyone to try new foods, but to also realize that healthy eating is just a walk away! The CASID is working on a new menu, which will soon be available on their website jcheights.com!
Local residents can always shop for fresh ingredients and cook up something delicious and nutritious with the help of some local merchants. We met with a few in order to get a sense of what local vendors see as priorities.
Fruits & Vegetables – Katia Astudillo of Sweet Pineapple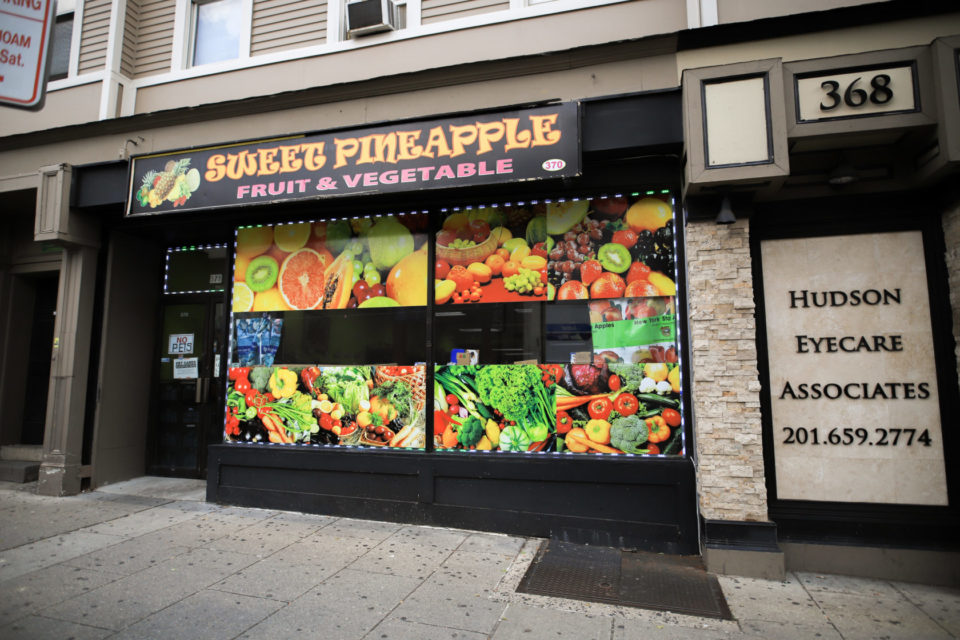 Tell us a little bit about your business.
I've had this business for 14 years. I love my store because I meet awesome customers and my customers like my vegetables the most. They always say my vegetables are fresh and crunchy. The fruit and vegetables are always fresh. I get deliveries 3 times a week – Mondays, Wednesdays, and Fridays. Most of the times, I have everything fresh.
What do you think is the importance of fresh fruits and vegetables, especially organic ones?
It's healthy! In this time, the newer generation wants to eat more fresh and healthy foods – fruits and vegetables, all kinds of seeds, all this stuff. It's healthy, it's good for you.
Grass Fed Meats – Patricia Baremboim of Pampita Meat Shop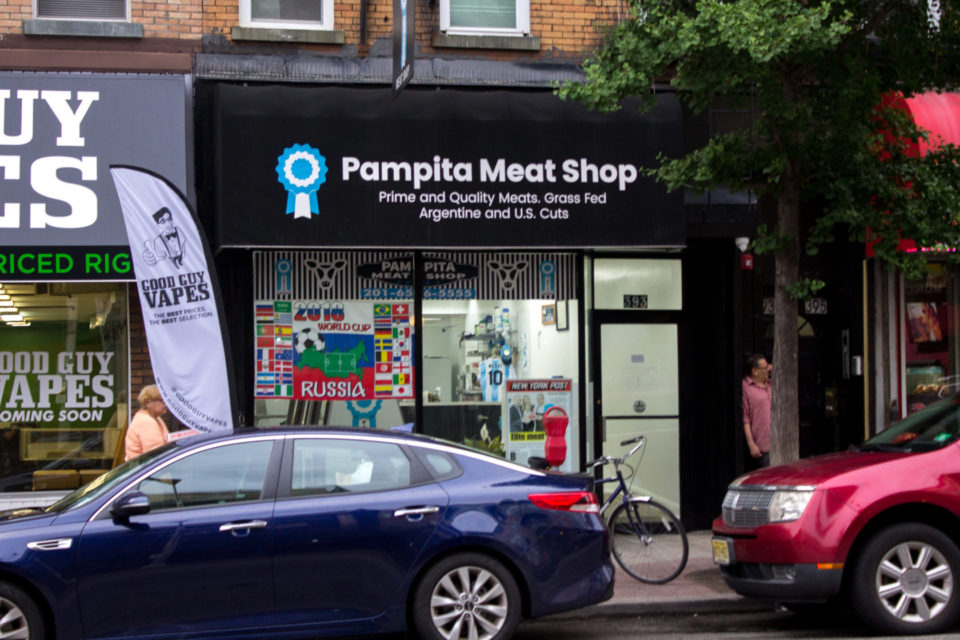 Tell us a little bit about your business.
Pampita Meat Shop opened on May 18, 2017 at 393 Central Avenue, Jersey City and since then it had been a labor of love and pride. We offer to our customers the best quality meats, both in US and Argentine cuts. We also have prime meat and grass fed meat, as well as chicken (hormone and antibiotic free), pork, lamb and by request, almost everything, that our clients would like, except for fish.
There are some people who don't visit local markets for meats. What would you say to those people?
I would tell them, in our case, that they are missing the opportunity to eat fresh, never frozen, finest quality meats at reasonable prices. Our meats come from the best farms in America. In addition, we make our own sausages (100% pork, and pork and veal), blood sausages, chicken liver pate, and many more delicacies. We deliver to Jersey City, Manhattan, Brooklyn, Westchester County, Long Island and in the summer, our delivery men are in the Hamptons twice a week. We started to mail our meat overnight to California and Illinois one month ago.
What has the feedback been in the community?
We were very well received in the community, for which we are so grateful! Our master butcher, Martin, has been in business for more than 22 years. In addition, Marcelo, a chef by trade and part of our team, prepares all the Argentine delicacies, our chimichurri, salsa criolla, pesto, chicken liver pate, four kinds of empanadas (meat, chicken, spinach and ham and cheese) just to mention a few of our prepared foods ready to bake or roast. Our customers come to pick them up every week and, during the summer, every two days. They appreciate us for our attention to service, our quality of meats, and how immaculate Pampita Meat Shop is kept.
Everybody asks us, "Why did you open in Central Avenue, Jersey City?" and we simply say "We are blessed to be here!!"
Fitness
Whether you like play hard or prefer a relaxed workout, Central Ave is filled with Fitness and Exercise options to meet your workout goals! This neighborhood has a great yoga studio, Fit Body Boot Camp, various taekwondo facilities, and is rapidly building up our bike infrastructure.
Jersey Cycles  – Luca Gentile of Jersey Cycles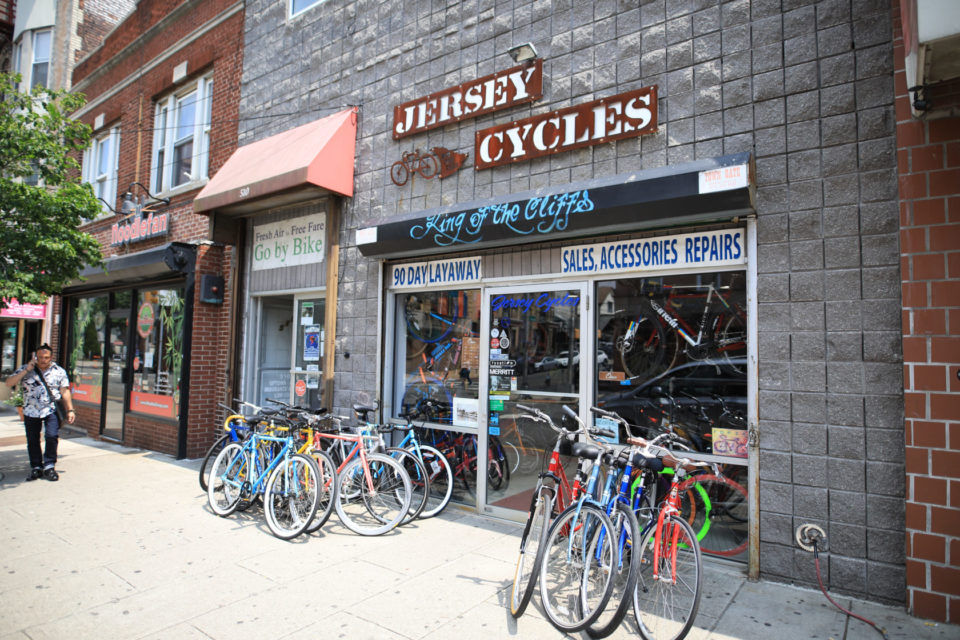 Whether you're an avid cycler or just looking to get into cycling, Jersey Cycles is your one-stop shop for all your bike needs!
Tell us a little bit about your business.
We've been here going on 8 years. We've been servicing all bicycles with rentals, repairs, sales, and accessories. As a bike shop, I would describe us as a local neighborhood shop. As more and more people start their commutes, we're finding a lot more people are bringing bikes in that are doing more of a commute than just leisure-type activities, which is nice to see.
In your opinion, why should people consider biking? What are the benefits?
Overall, cycling is a great way to stay healthy. All of us in here ride for fitness as well as commute to and from work. In terms of a healthy lifestyle, cycling can improve all kinds of things for you in terms of stress levels and overall health. I would encourage anybody to go to your local bike shop, even us, to purchase a bike and stay healthy.
What has the feedback been from the community?
Since the beginning, our feedback has been very positive. A lot of people stop by, whether it's to take advantage of the free air out front or our expertise on bicycles. The overall impression has been extremely positive. We've been here for almost a decade at this point and we're happy to be here.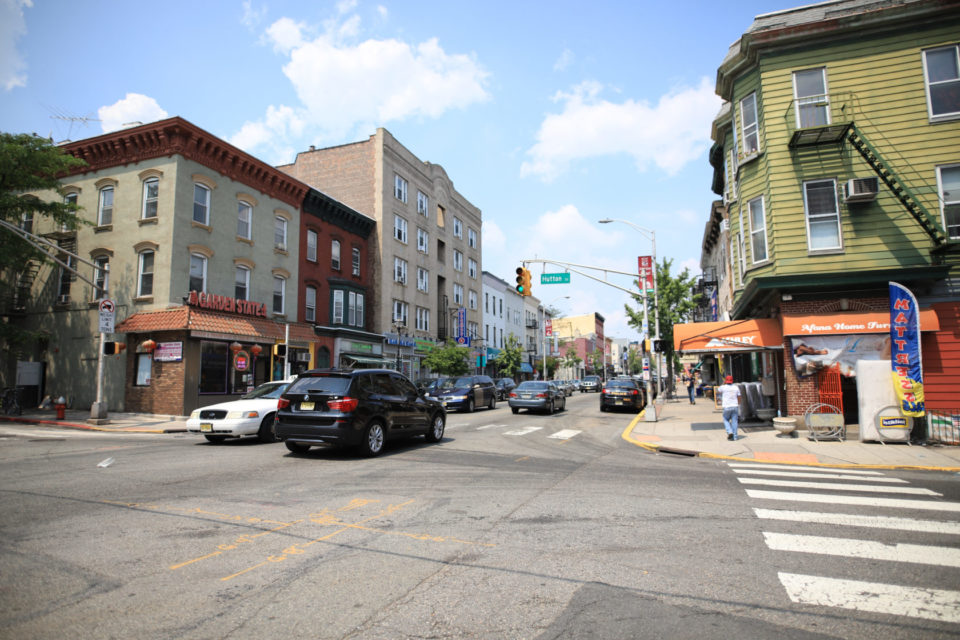 For a full directory of local businesses and restaurants along Central Avenue, visit www.JCHeights.com.